My All Time Favorite Hair Essentials from Amazon
Happy Wednesday! I am very excited to share this blog with you because it is filled with some of my favorite products ever! I am giving you the full scoop on all things hair essentials that have transformed my hair recently. My hair type is very specific, and needs some extra love to get the correct style I am going for. I have thick, coarse hair. I do have quite a few gray hairs, so I color it regularly to hide them and keep a vibrant look. So for my friends that have thick, coarse, gray, colored hair I GOT YOU! Check out all of the items below that I have fell in love with over the last couple years!
CLICK HERE to check out more beauty favorites!
**This post contains affiliate links. Thank you for shopping and supporting me. All opinions are my own**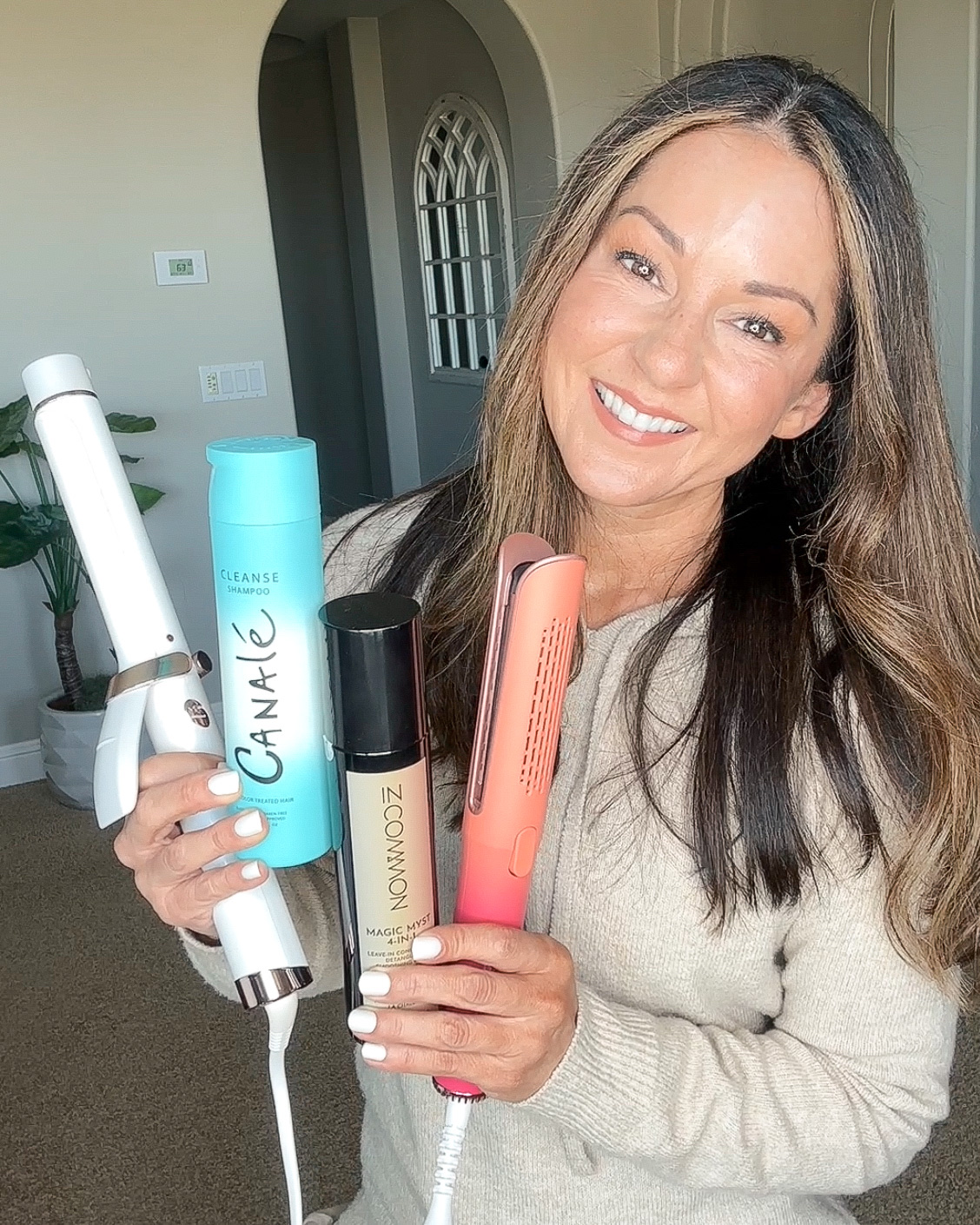 JOIN ME TONIGHT ON MY AMAZON LIVE!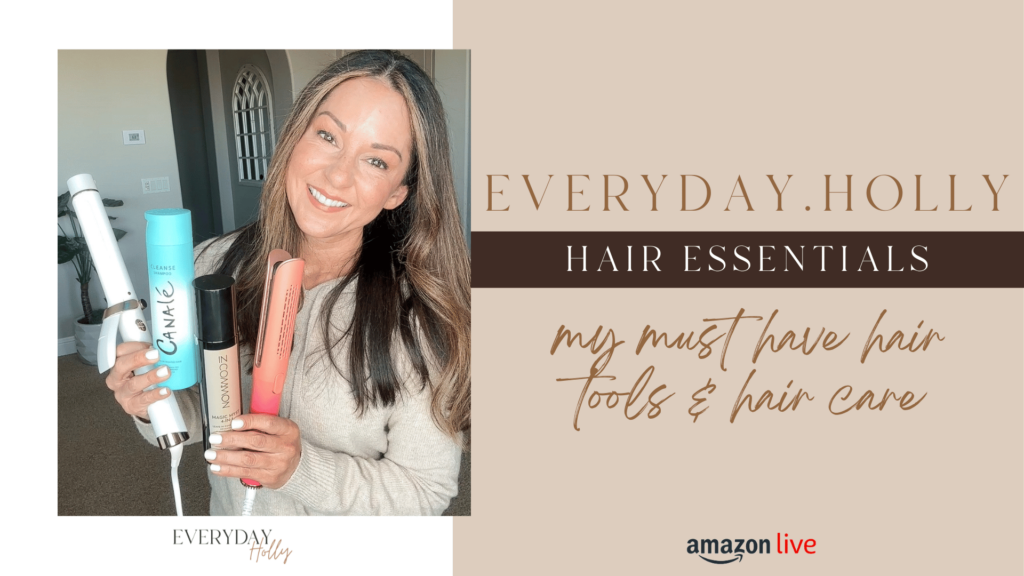 Join me tonight at 6PM PST on Amazon LIVE, as I talk about each of these hair essential products, tools, and more! I have been using these products for years, and want to give you the inside look on how they work for me.
CLICK HERE to follow me, to get notified of when I go live!
GIVEAWAY ON TONIGHT'S AMAZON LIVE!
2 Special Winners will receive Canalé products that I am OBSESSED with right now! Plus, I will have an exclusive discount code for Canalé products during the live. So make sure to jump on in tonight and check out these amazing hair essentials with me. You may win some amazing products for yourself!!
My Go-To Hair Tools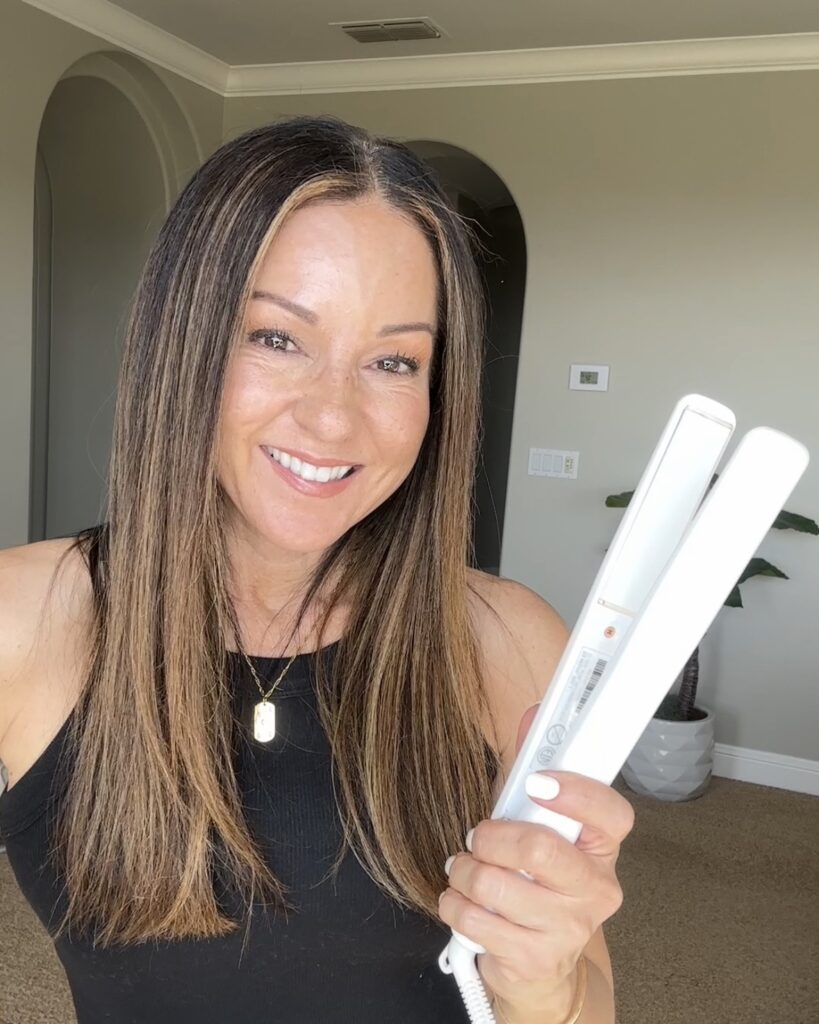 T3 Straightener | Calista Curved Straightener | T3 Curling Iron
See how I style my hair different ways with all of these hair tools! Whether you are looking for a straight, blowout, and curled look I got all the products for you! I like to change up my looks throughout the week, and these hair tools are my all time favorite!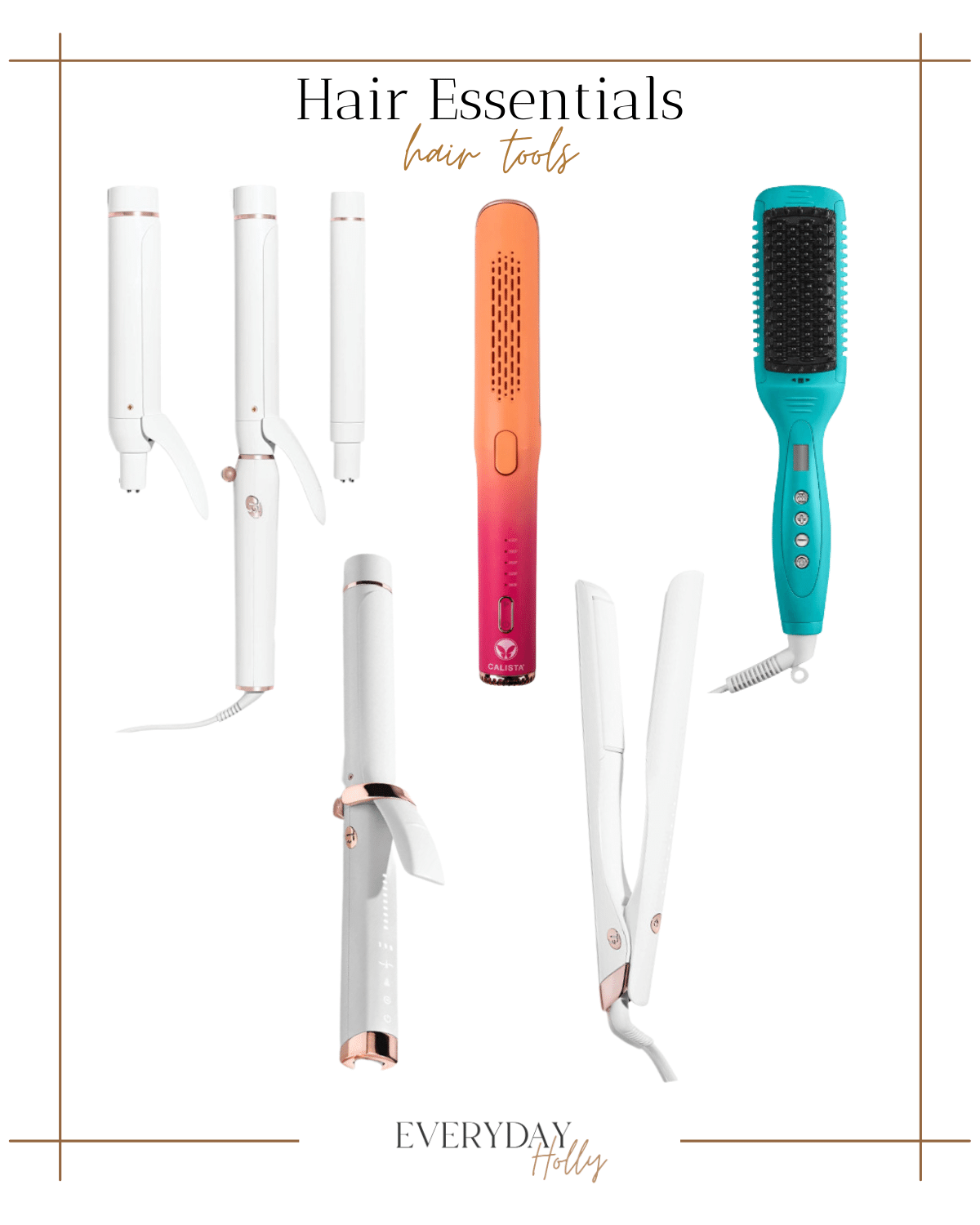 T3 3-in-1 Curling Iron | Calista Curved Edge Straightener | Heated Hair Brush | T3 Curling Iron | T3 Straightener
Here are all of the hair tools that I use! I am a big T3 fan, however they are pricey. The technology behind their hair tools though is impressive. I use heat on my hair quite frequently so having quality hair tools is essential for me. I highly recommend all of these. The Calista Curved Edge Straightener I use ALL of the time. When you are looking for a straight, toned down look with a little curl added to it this is perfect! The curved edges keeps creasing from happening, and it's definitely one of my favorites!

Hair Essentials | Everyday Hair Essentials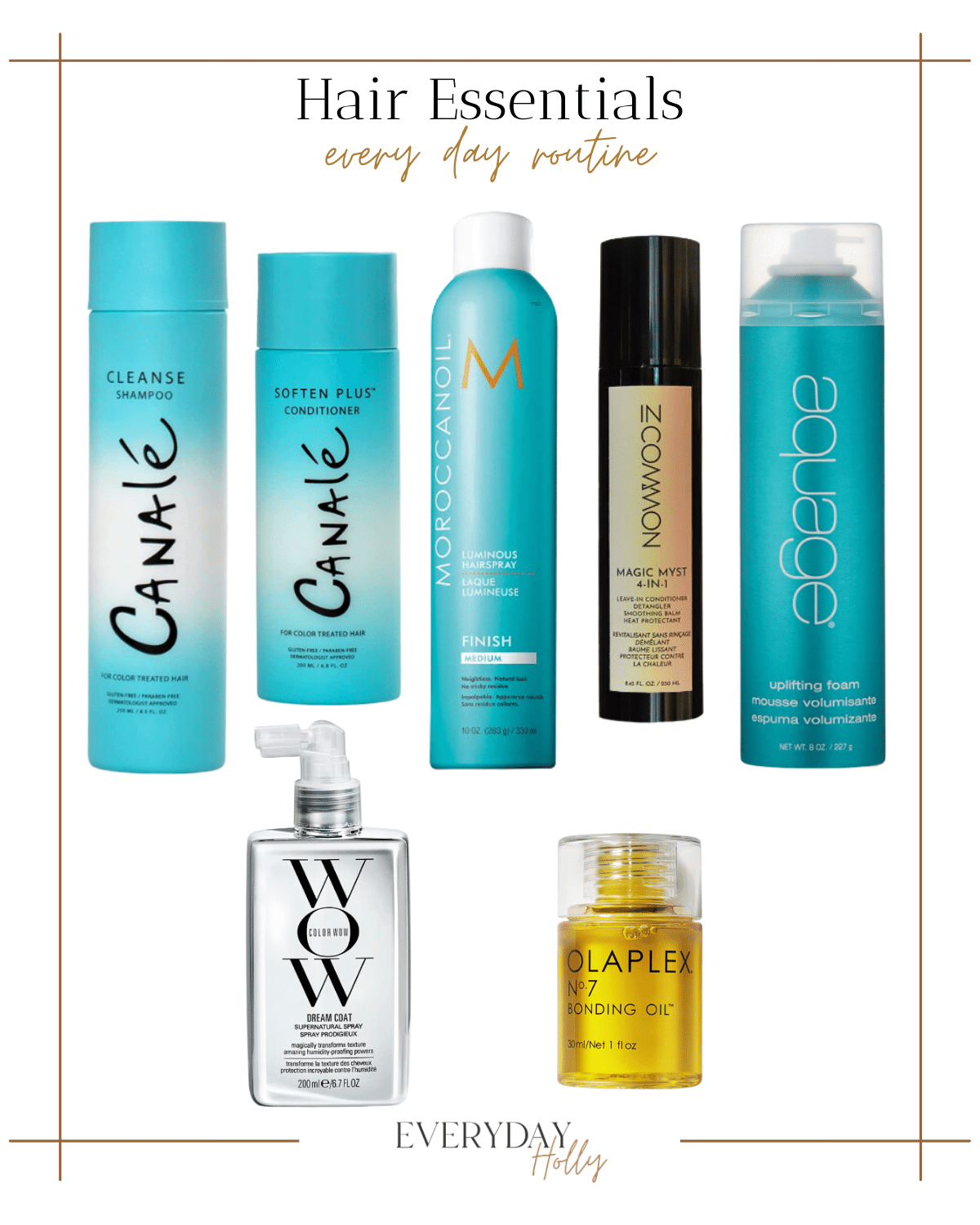 Canalé Shampoo | Canalé Soften Plus Conditioner | Moroccanoil Luminous Hairspray | In Common Leave-In-Conditioner | Aquage Mouse | Color Wow Dream Coat | Olaplex Bonding Oil
These is my current haircare products that I am LOVING! I use these everyday, and I am here to give you the step by step routine that I love.
Shampoo – My hair has never felt so smooth or nourished! I am amazed by the results of this shampoo and conditioner!
Conditioner – This conditioner leaves my hair feeling so soft, smooth and light.
Color Wow Dream Coat Supernatural Spray – Over 56K amazing reviews and multi-award winning anti frizz spray keeps hair frizz free for days! No matter the weather, this product has moisture repellant anti humidity technology; glass hair results!
In Common Magic Myst – 4 in 1! It does everything and doesn't weigh your hair down or make your hair feel sticky. It leaves our hair feeling silky and smooth.
Aquage – root lift – I've been using this for over 15 years and nothing else compares!
Olaplex Bonding oil – Over 38K amazing reviews. I use this right before the finishing spray – Shine, Strengthening, UV Protection, Heat Protection, Frizz Control
Moroccan Oil Finish spray – super lightweight, so it won't weight your hair down.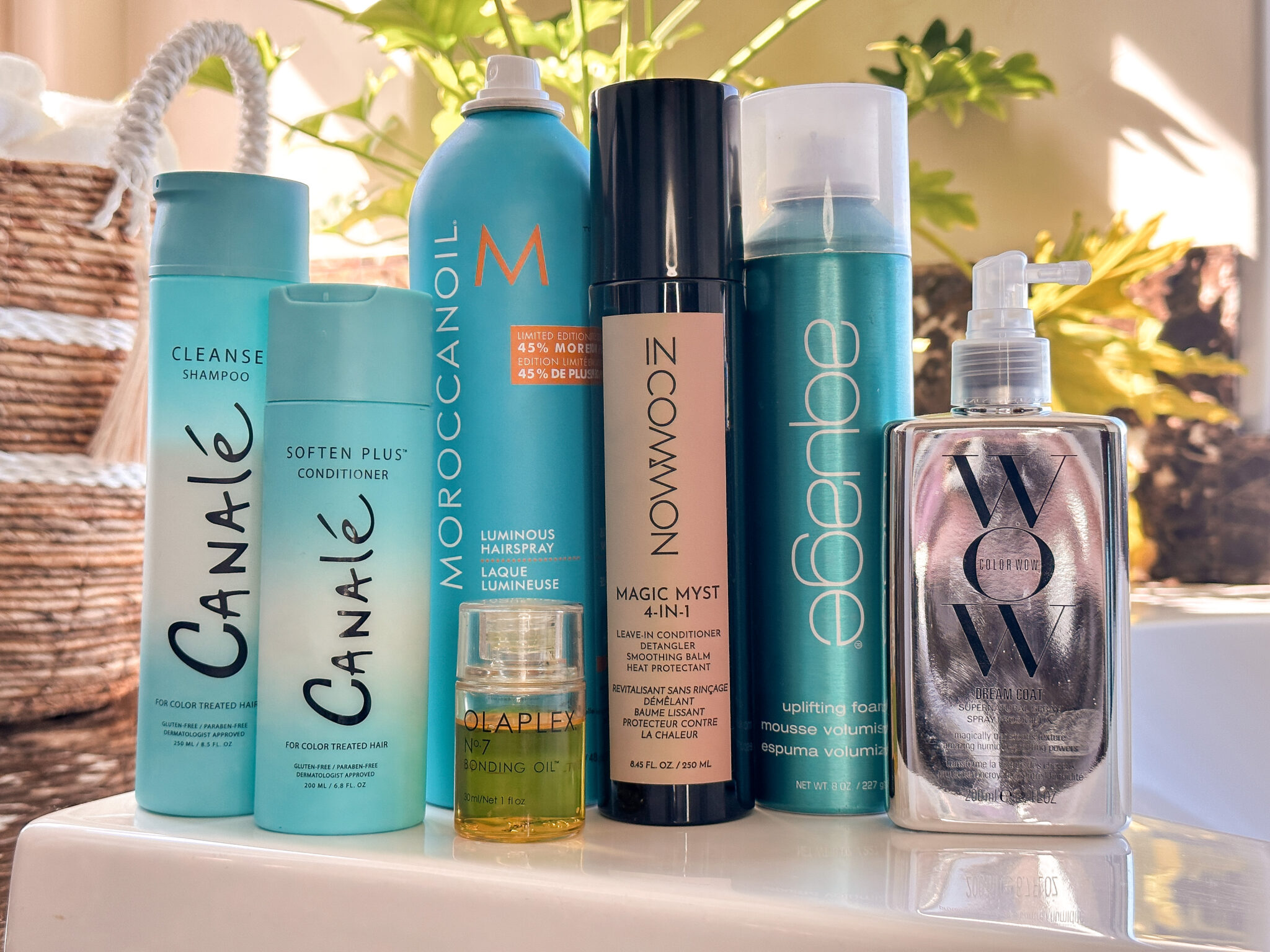 Hair Must Haves | Heat Protectants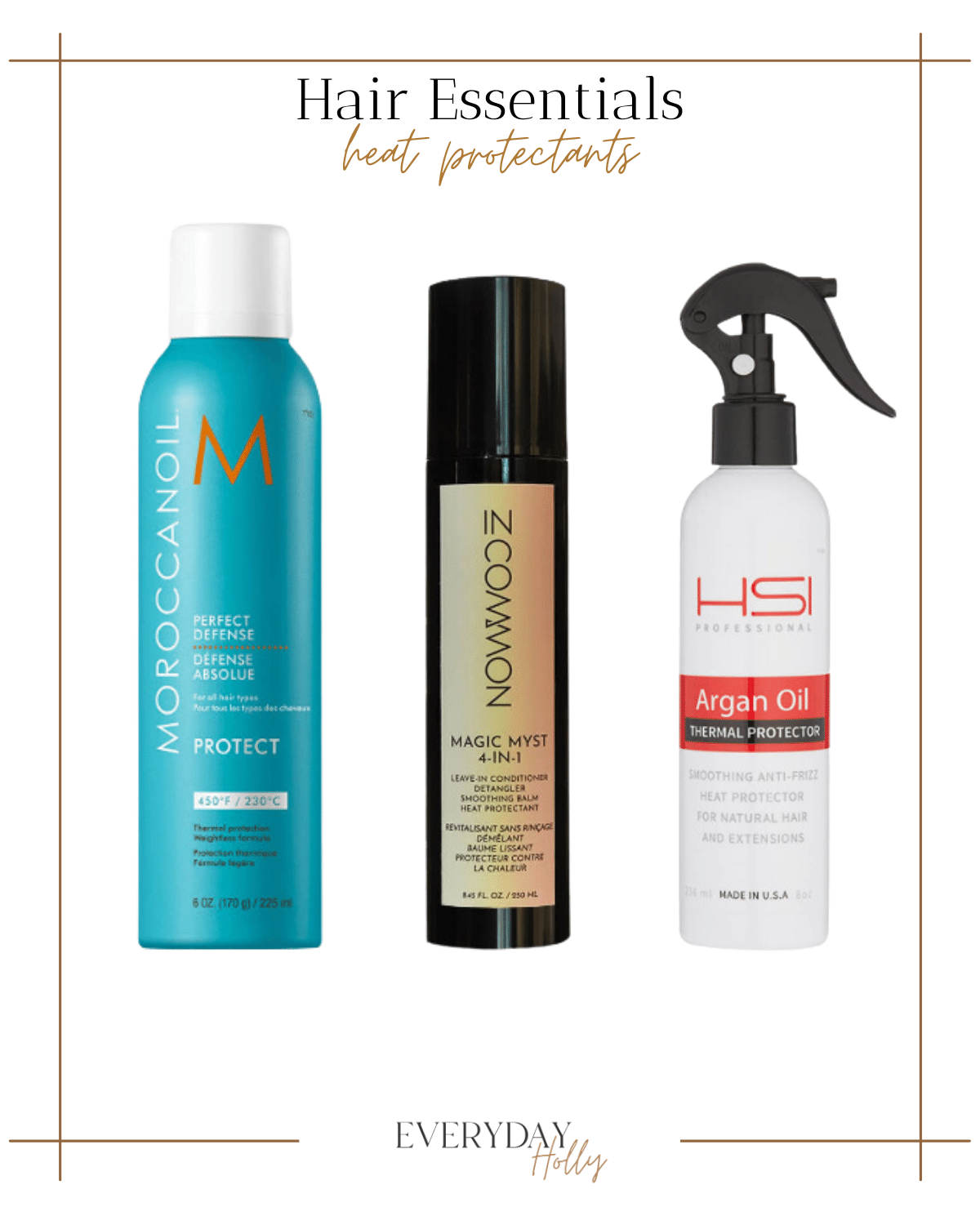 Moroccanoil Perfect Defense | In Common Leave In Conditioner | HSI Argan Oil Thermal Protector
PRO TIP: If you do not use heat protectant, start NOW! This is one of the biggest products that will save your hair! I love all of these heat protectants because I feel like they actually work!
I use the In Common 4-in-1 Magic Myst (leave-in conditioner, detangler, smoother balm, and heat protectant) or the HSI Thermal Protector after I wash my hair, when it's still wet. Mix these into your wet hair and brush it through to disperse the product all throughout your hair. On days when I don't wash my hair, I use the Moraccanoil Heat Protectant on dry hair, before I use any hair tools!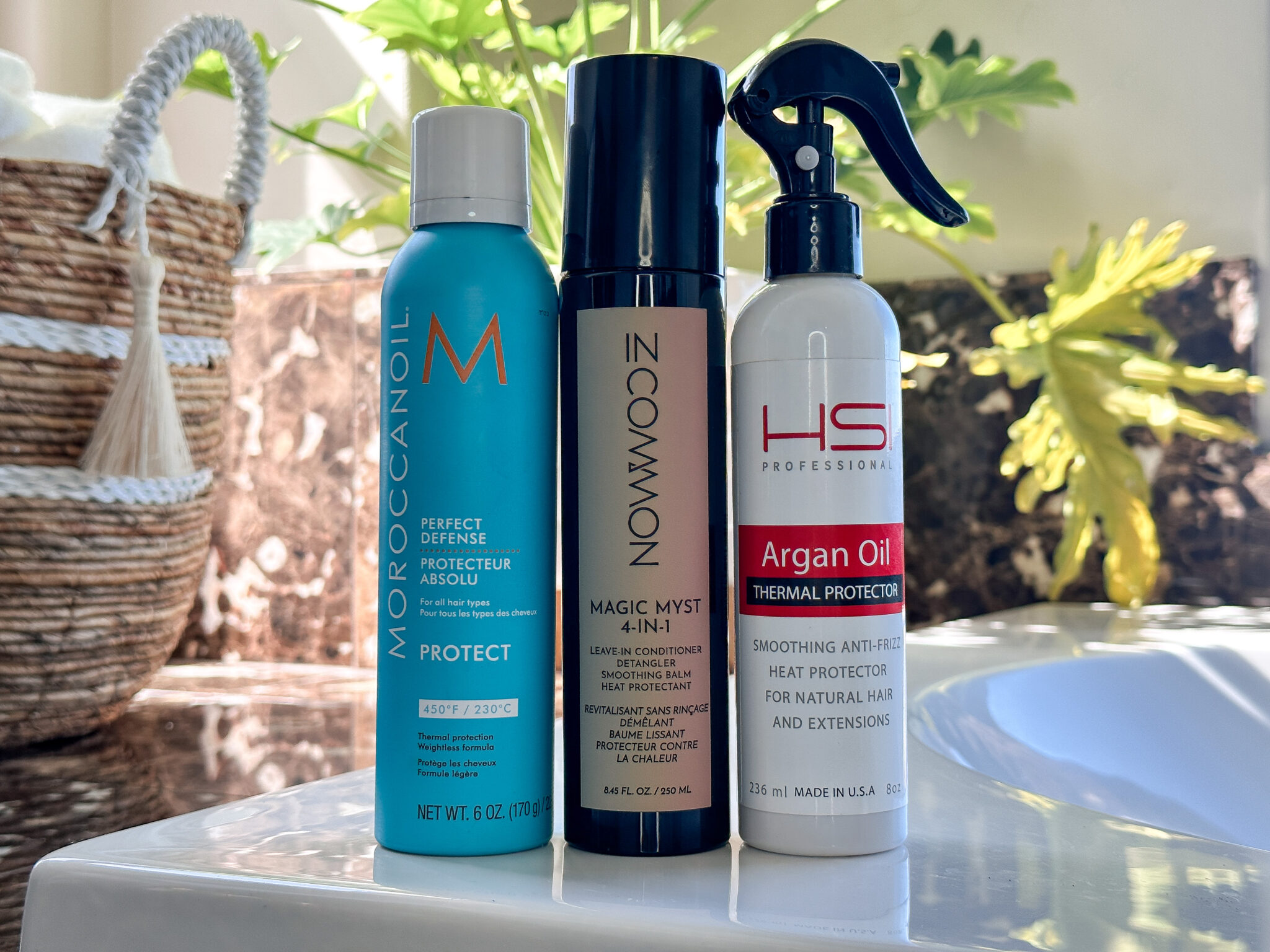 Hair Essentials | Hairspray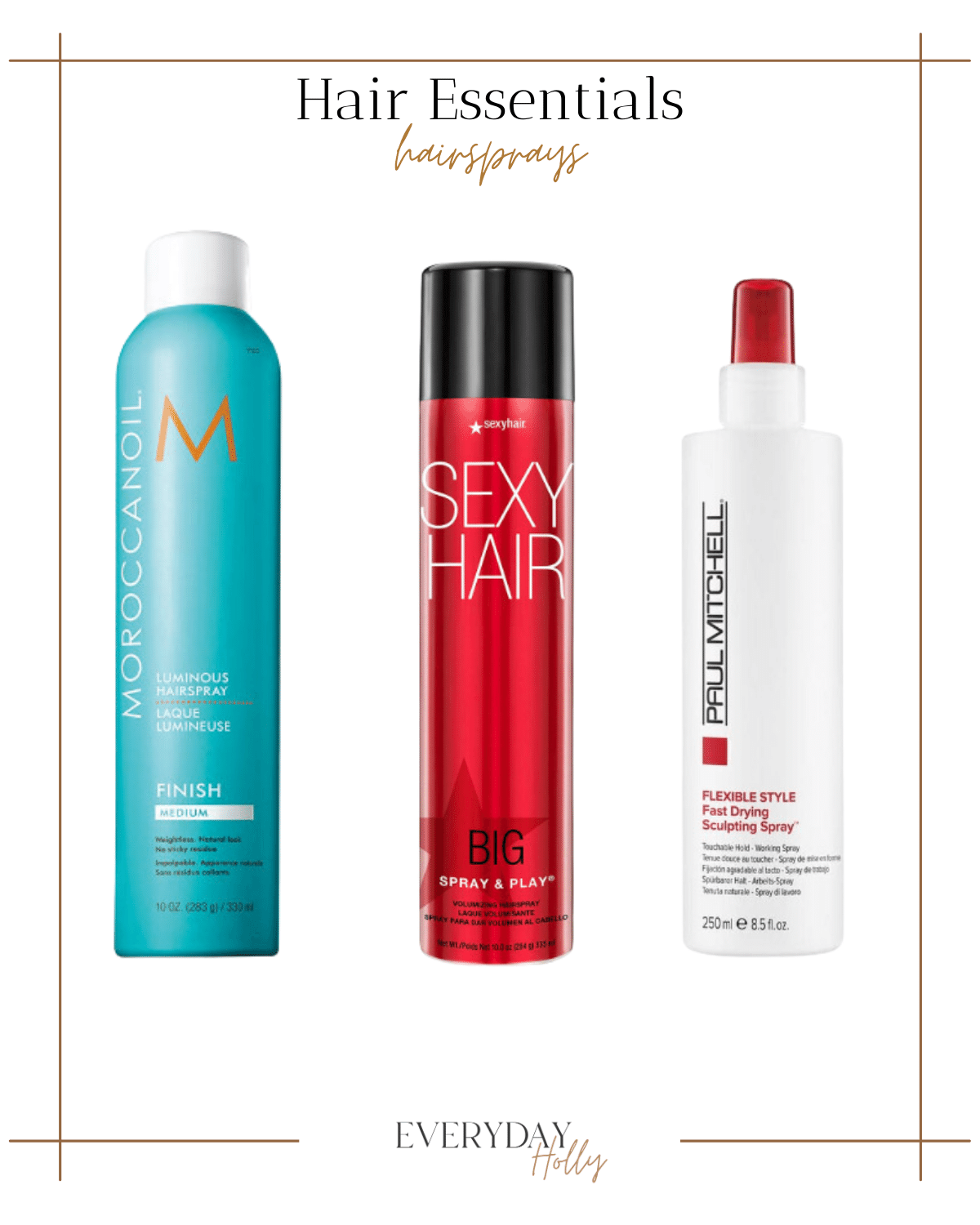 Moroccanoil Luminous Hair Spray | Sexy Hair Big Spray Hairspray | Paul Mitchell Fast Drying Sculpting Spray
These are my go-to hairsprays! I use different ones for different occasions. I use the Moroccanoil Hairspray for everyday styling. It's super lightweight and just tames down the flyaways. When I need a little extra hold for my curls, I use the Paul Mitchell Hairspray. It is stronger and helps keep the curls bouncy longer throughout the day. When I need a STRONG hold, so for a special occasion, wedding, or big event I will use the Big Sexy Hair Hairspray! This will have your hair stay put and not move throughout the entire night and keeps everything in place!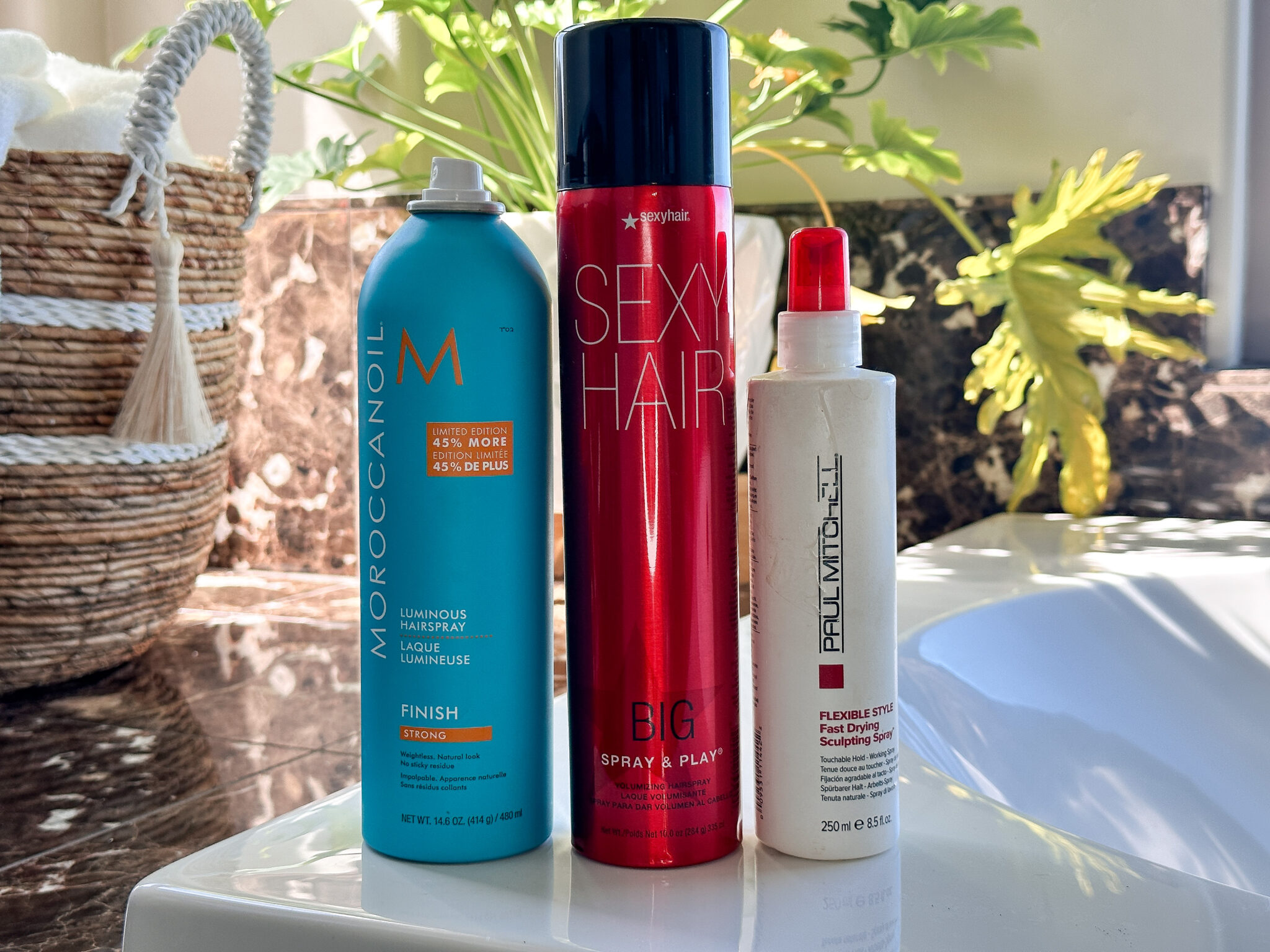 Styling Hair Products You Need!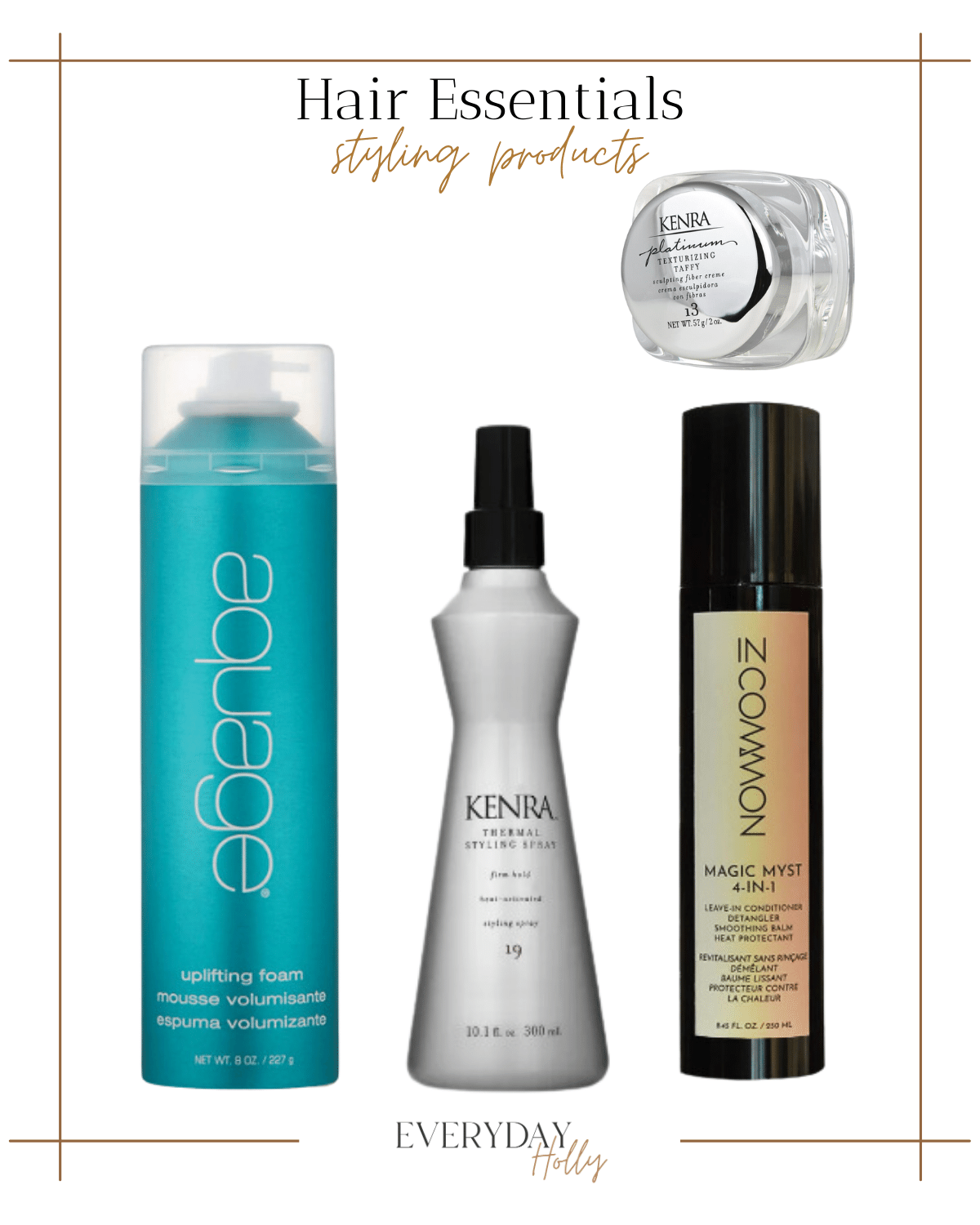 Aquague Mousse | Kenra 19 Hairspray | Kenra 13 Texturizing Taffy | In Common Magic Myst
Styling products are used for specific things. Example, hair mousse is used for adding in extra volume, hair spray to hold in place, texturizing taffy to tame the flyaways, and more! Here is what I use all of these products for, on my own hair!
Aquage – Give my roots a lift, apply to wet hair before blowdrying.
In common Magic Mist – Smoothing Balm + leave-in Conditioner, Detangler, Heat Protectant. The 4-in-1 amazing product!! Use on wet hair before blowdrying.
Kenra 19 – A must for long lasting curls! This locks in your curls like no other and also doubles as a heat protectant. I've been using this for over 20 years!
Kenra 13 – Great for fly aways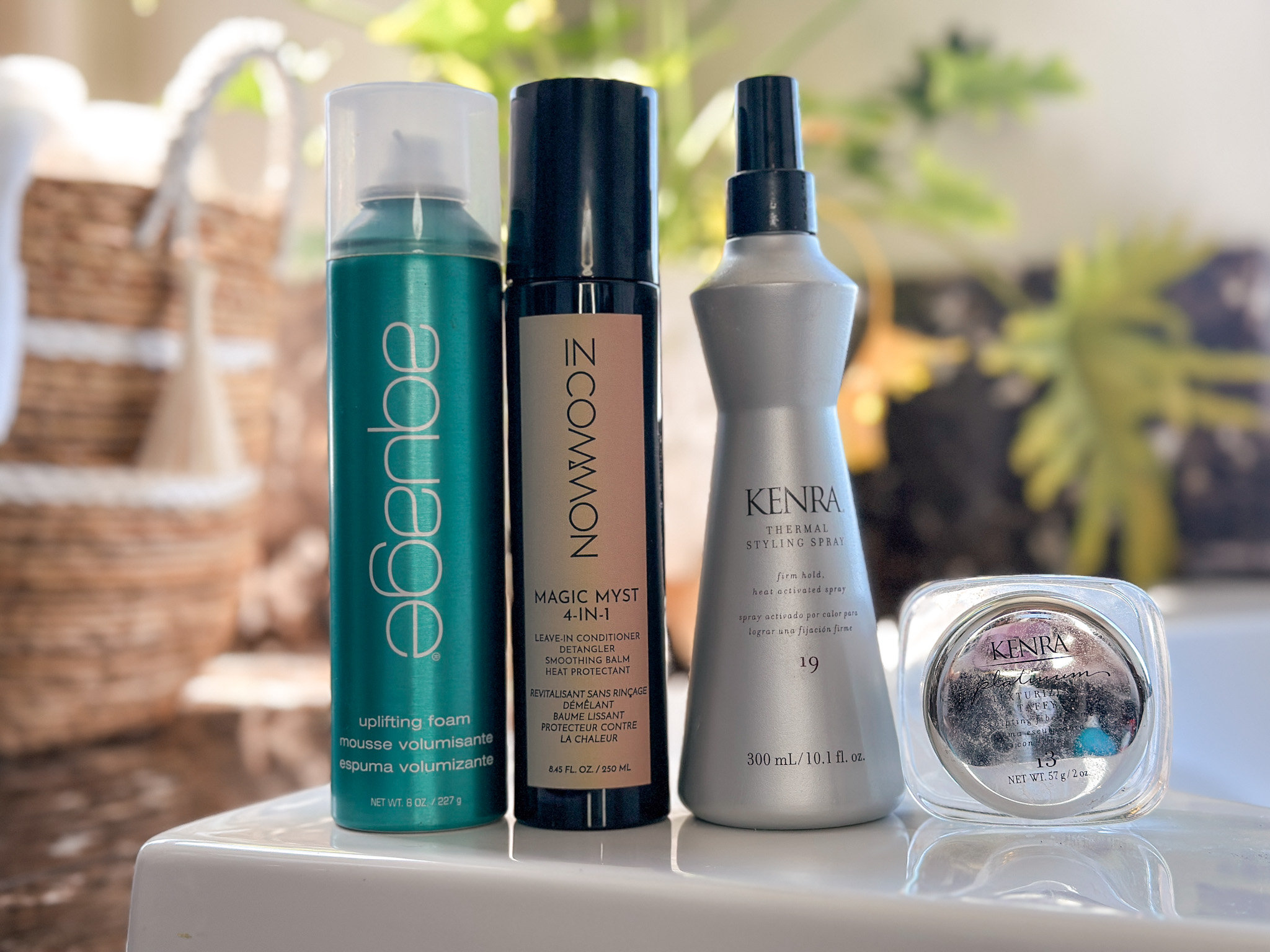 Hair Favorites | Dry Shampoo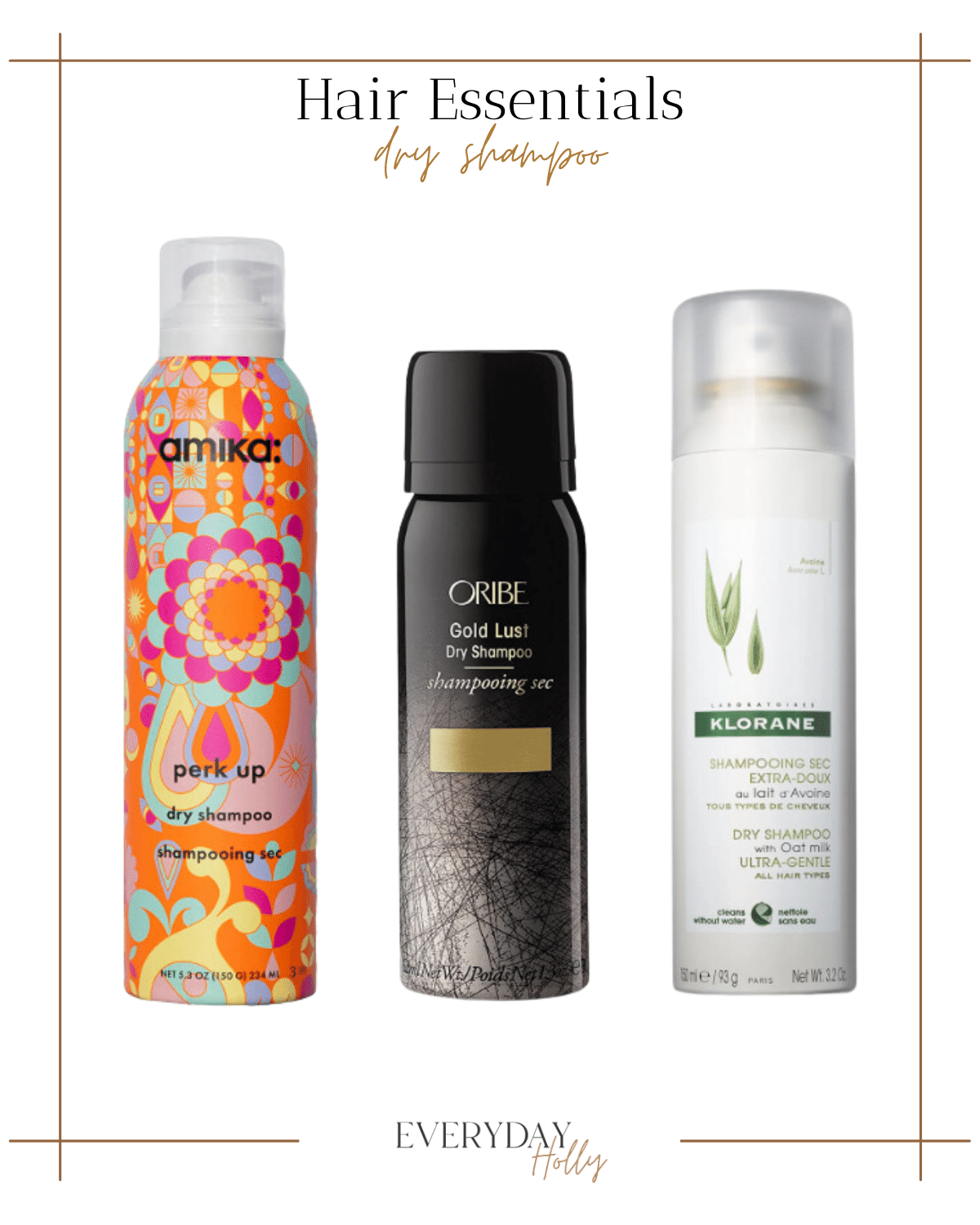 Amika Dry Shampoo | Oribe Gold Lust Dry Shampoo | Klorane Dry Shampoo
I have gone through and tried a TON of dry shampoos… too many probably. But going through that many has brought me to these top 3!
Oribe- Is my absolute favorite, but it's pricey. It's lightweight, no build-up, no white cast, and it smells incredible.
Amika- Is my second favorite. a little heavier than Oribe, but it smells amazing and doesn't leave a white cast.
Klorane- is my third fave. Comes out a little fast, leaves a white cast that can me smudged away, smells good.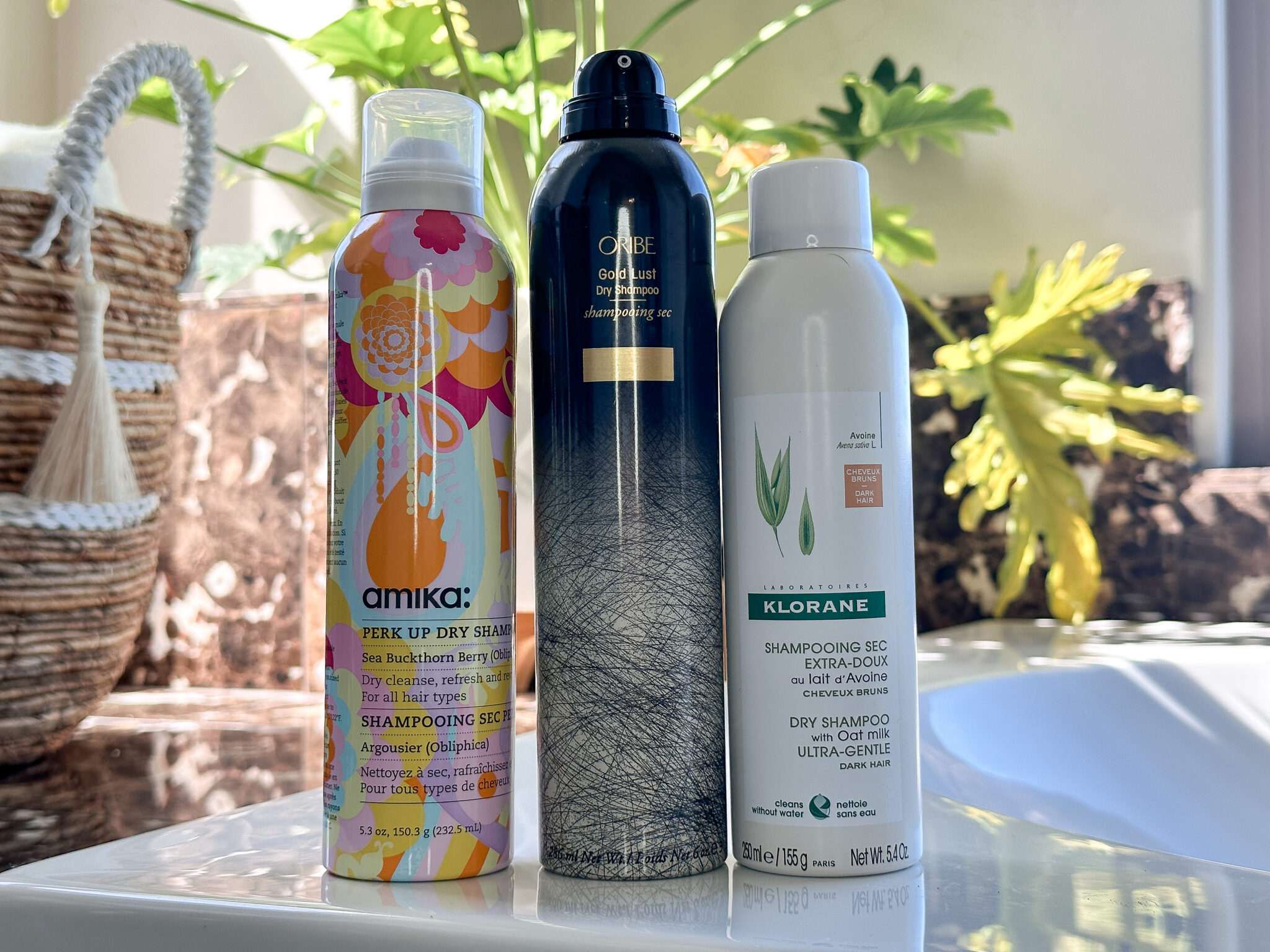 Hair Must Haves | Root Coverups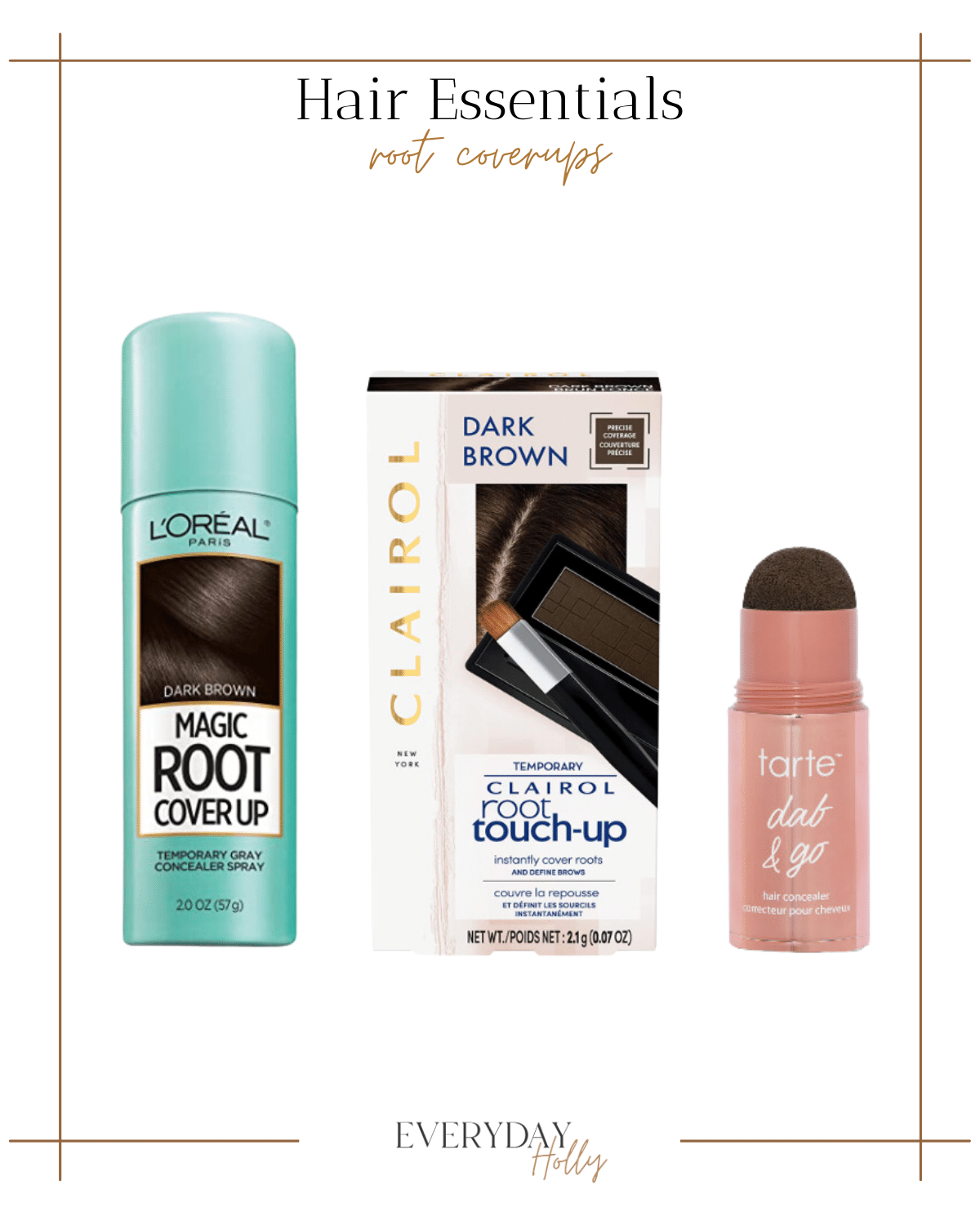 L'Oreal Magic Root Coverup | Clairol Root Touchup | Tarte Dab & Go
If you're like me and have a few gray hairs that you want to hide, or have a little bit to go before your next hair appointment. I have the holy grail of hacks to cover those grays and get that fresh look quick! These root coverups are my absolute go-to's that I use quite frequently.
Loreal Magic Root Coverup – This gets the job done! Great for the top of your head, but harder to use on the sides of your head.
Tarte Dab and Go – My Favorite! It's self contained, easy to use and apply anywhere you need it and it stays on great! Perfect for on the go/travel, too!
Clairol Root coverup – This works great, easy to use all over your head.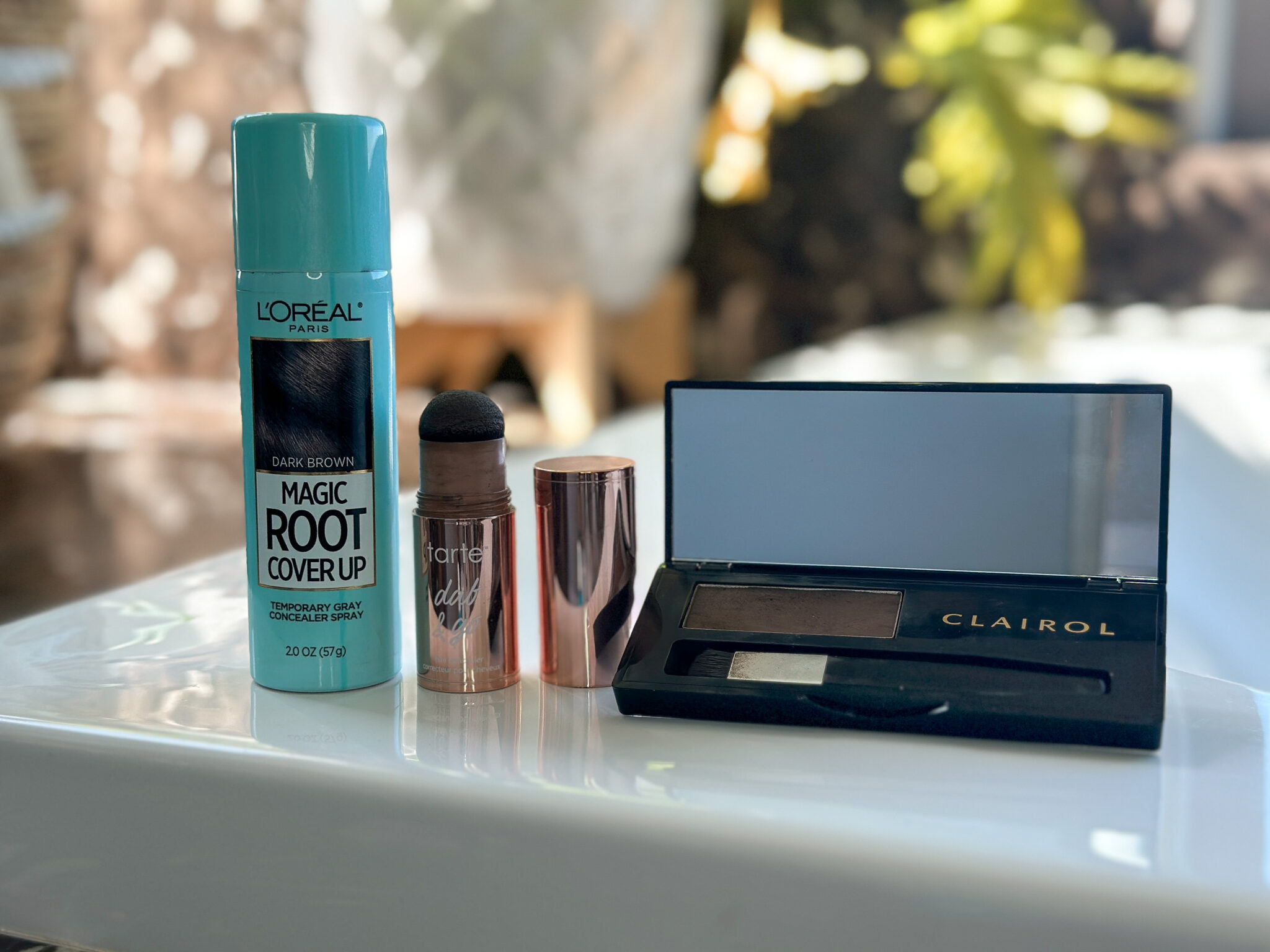 Canalé Full Hair Care Line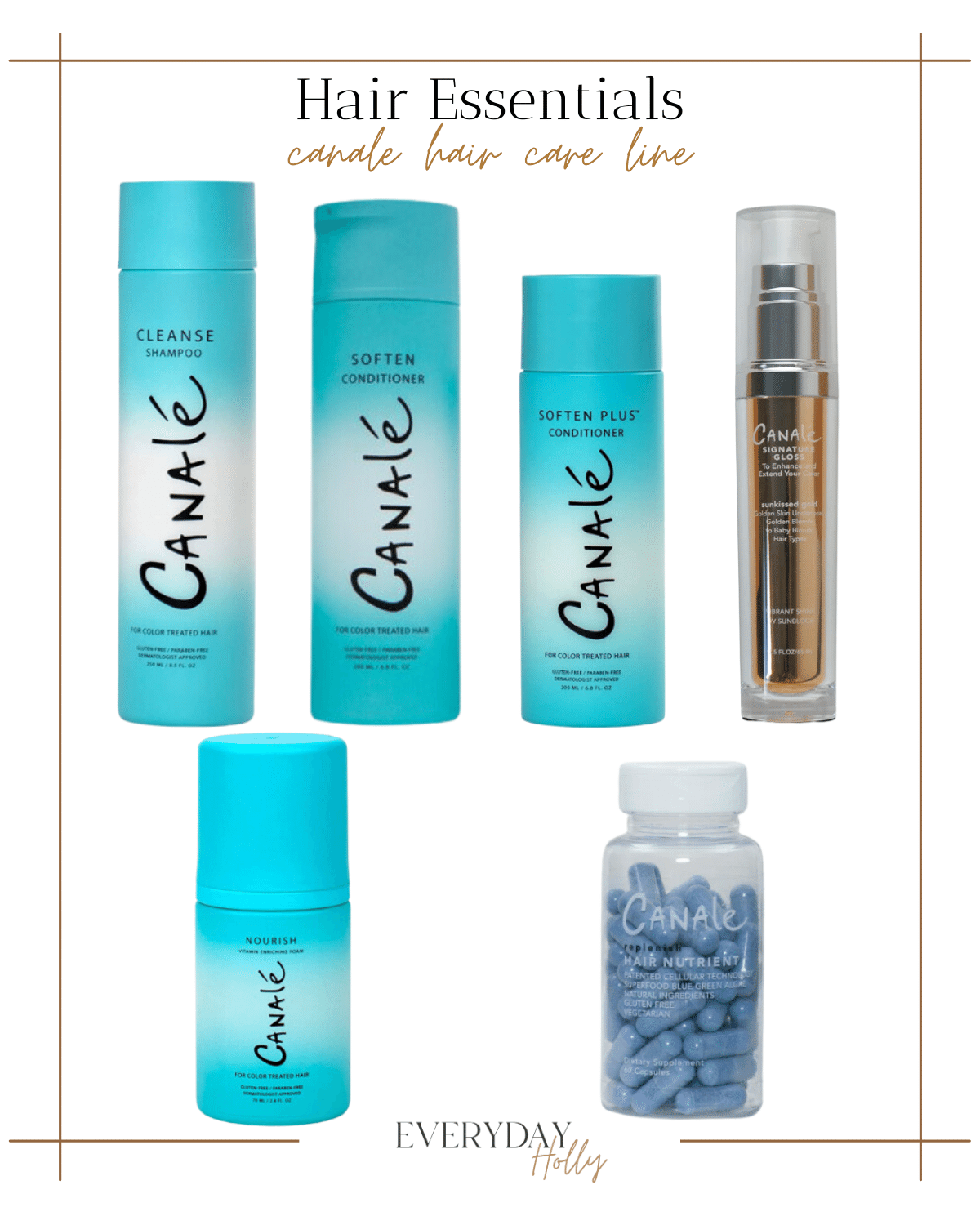 Cleanse Shampoo | Soften Conditioner | Soften Plus Conditioner | Signature Gloss | Nourish Hair Treatment | Hair Vitamins
Here is the entire hair line up that I have from Canalé! This line has really impressed me recently, to the point where it has been my number one shampoo and conditioner that I use all the time. If you have not tried this haircare line, I HIGHLY recommend it! Especially with my hair being naturally thick and coarse, this nourishment is exactly what I need!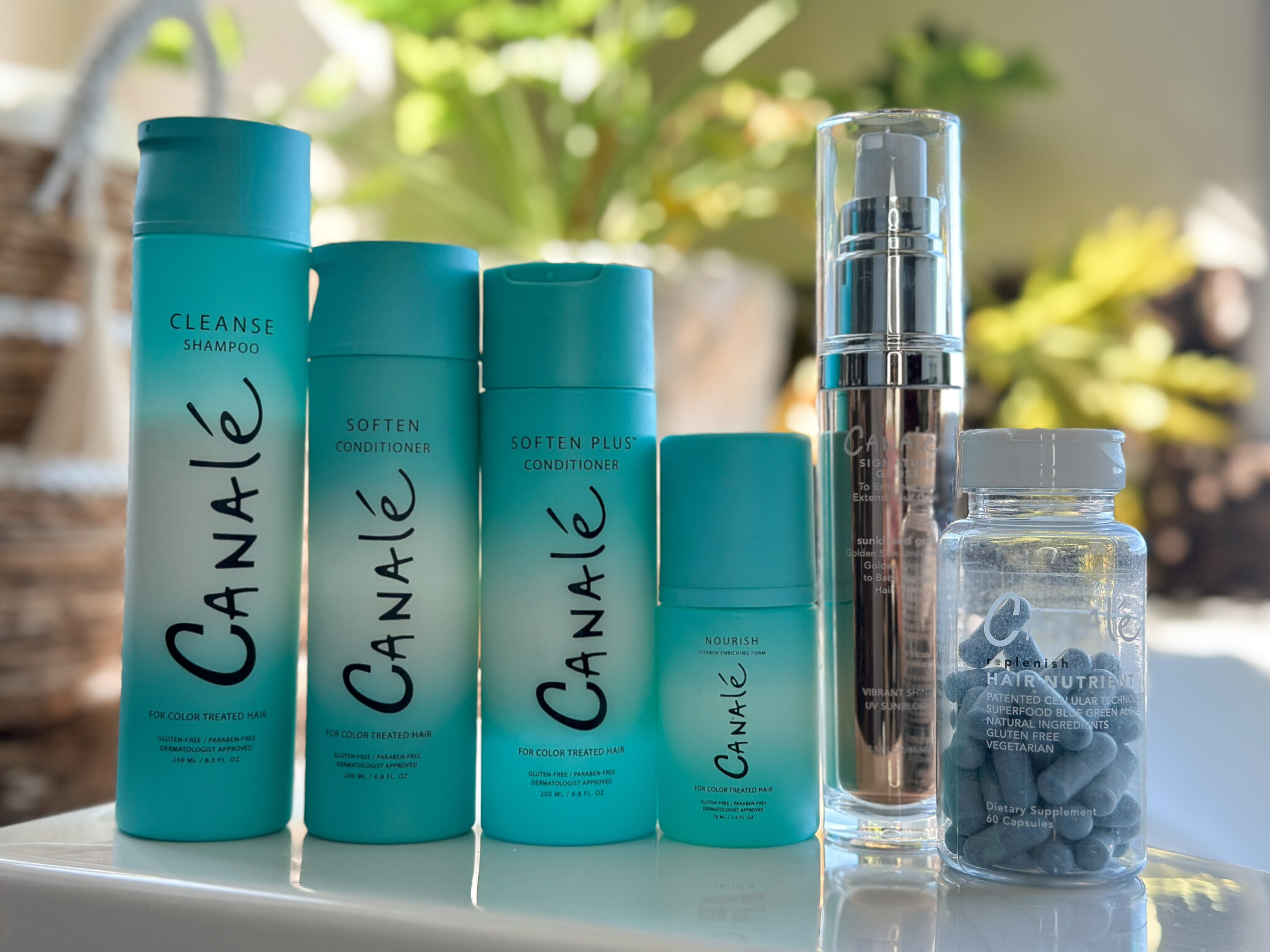 Hair Essentials I Recommend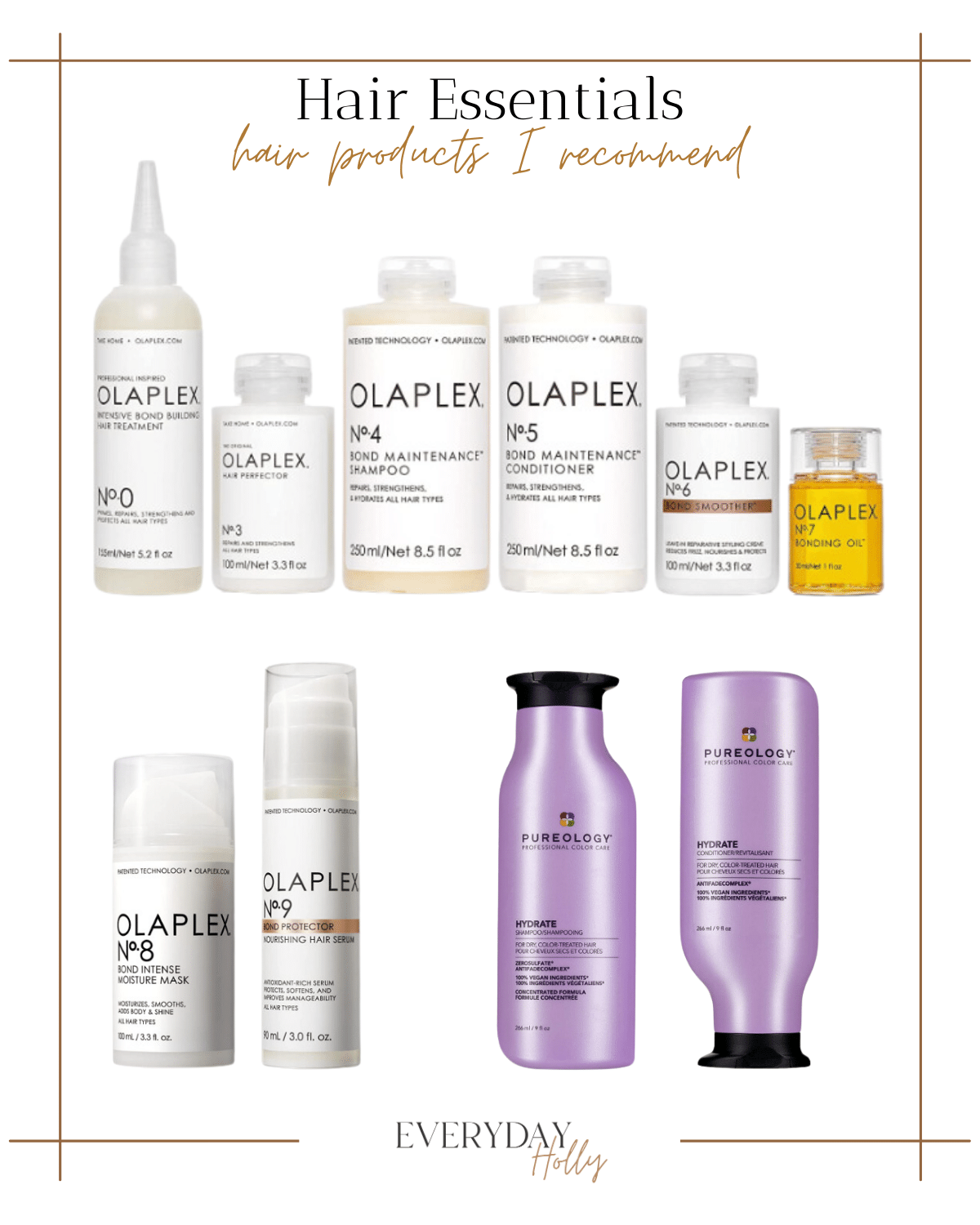 Olaplex No. 0 – No. 7 Kit | Olaplex No. 8 | Olaplex No. 9 | Pureology Shampoo | Pureology Conditioner
All of these products above are ones that I have personally used and highly recommend! Currently, I am obsessed with Canalé products for my specific hair needs at the moment. However, Olaplex and Pureology are GREAT for colored hair and hair that needs a little extra love!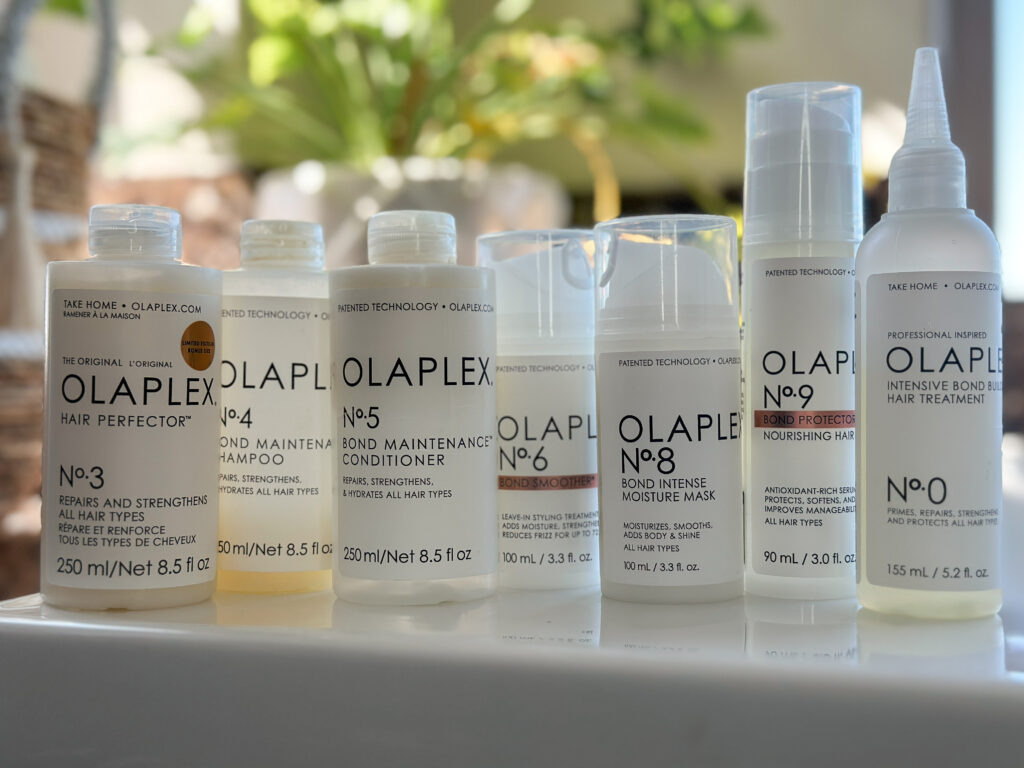 Shop More Beauty Favorites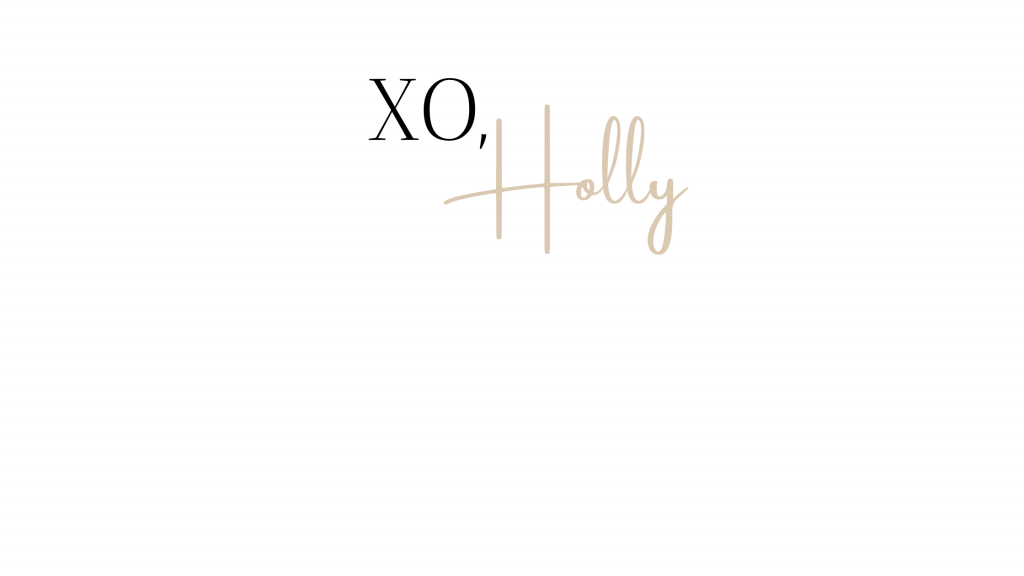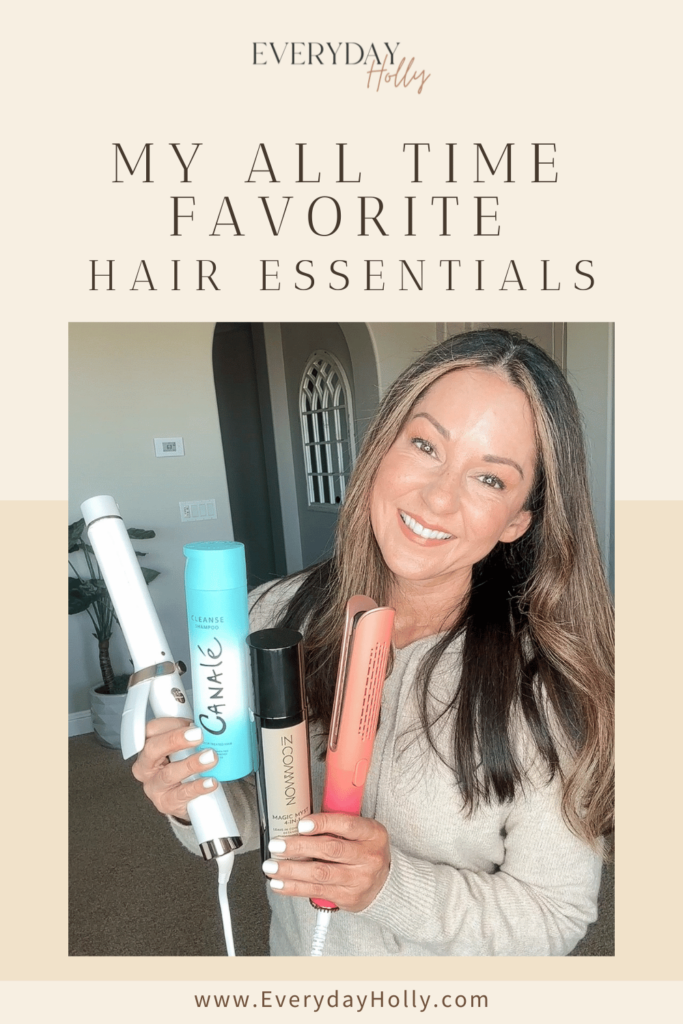 SHOP THE POST