The Top 10 Best Sellers from April You Love!
WOW! Another month down and we are officially in May of 2023! Time is flying by but the weather is warming up, people are graduating, Mother's Day is around the corner and outdoor activities are in full swing. This month I shared a ton of items that are great for spring and summer. You guys loved a TON of them! I have compiled a list of the top 10 best sellers in fashion, home and beauty. If you have not gotten a chance to use these products for yourself, try them now! Not only am I loving these items, but so are you. Check them out below!
CLICK HERE for more top sellers!
** Everything shown is unaltered – sizing details are below in my styled pics at the end of the post. I'm 5'1″, 110lbs.
**This post contains affiliate links. All opinions are my own, and I appreciate the consistent support!**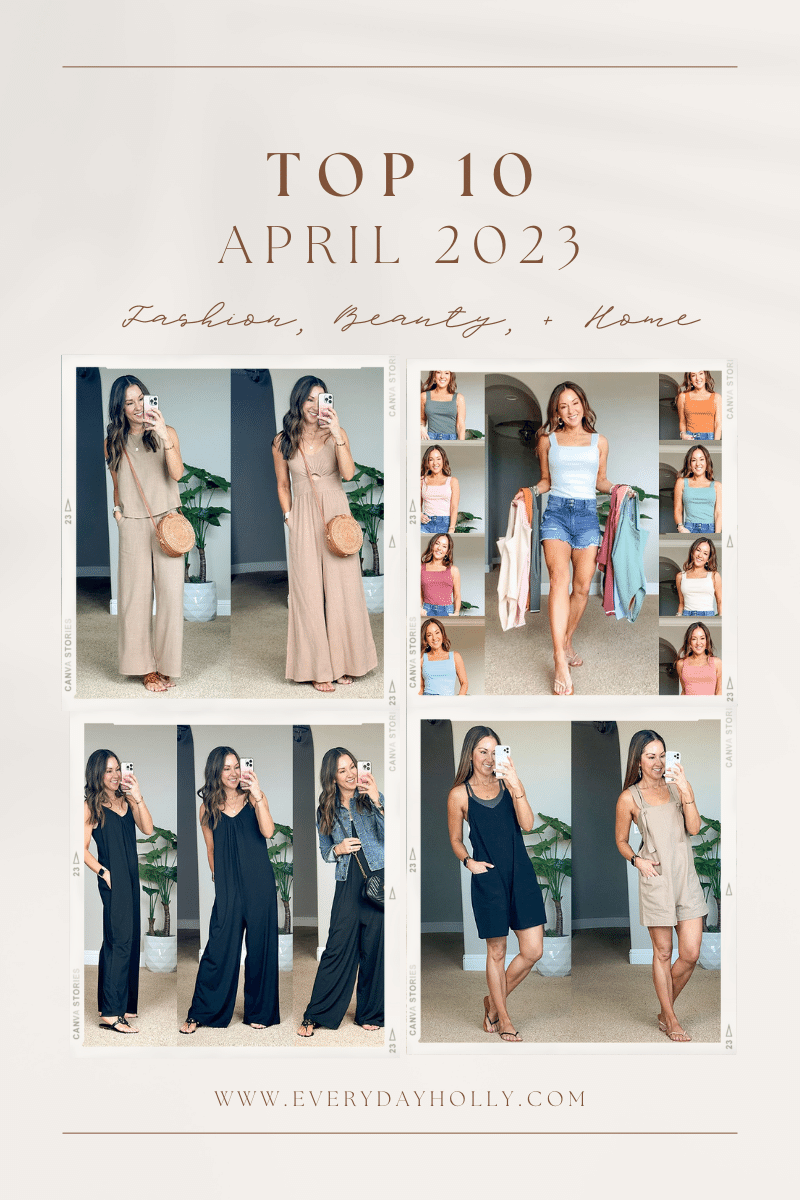 Set Your Alarms | Amazon LIVE Today!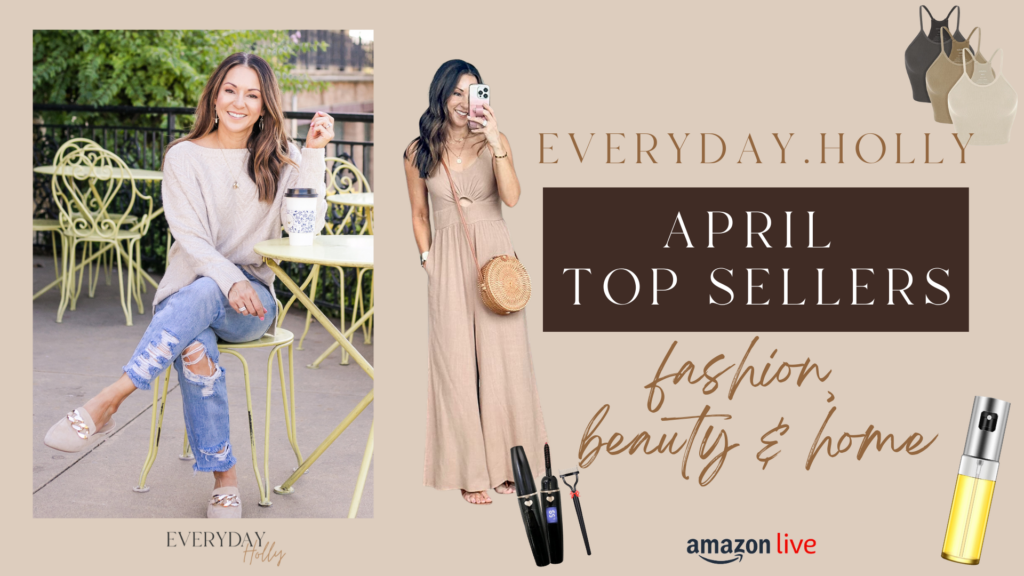 Join me this morning at 10:00AM PST on my Amazon LIVE to see these top sellers in action! I walk through a TON of these fashions, home and beauty products that not only I love, but a bunch of you did as well. I will talk about the feel and fit of the clothing, as well as how I use these beauty and home items.
CLICK HERE to follow my Amazon LIVE to get notified when I go live!
Top 10 | Amazon Fashion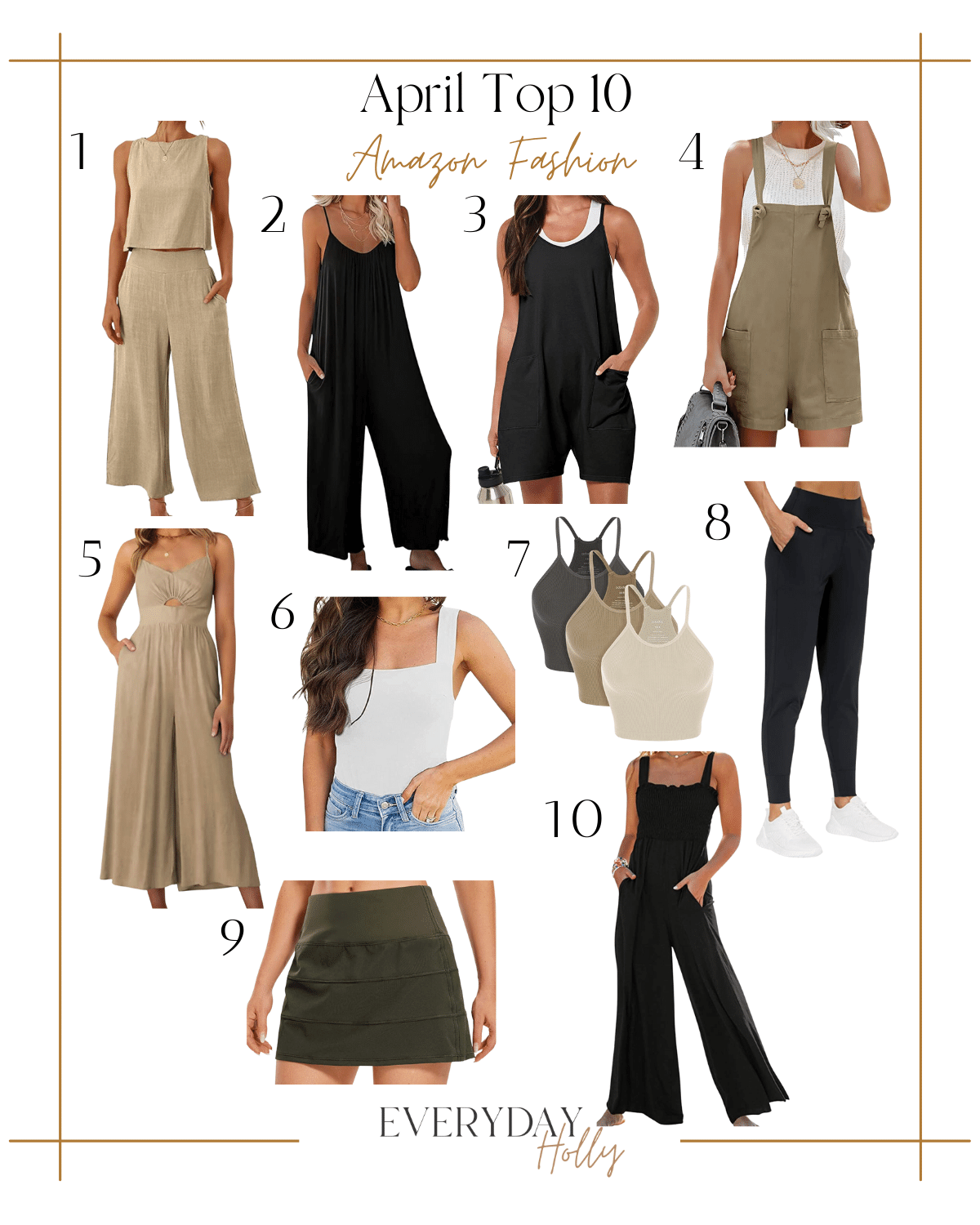 Tan 2 Piece Matching Set | Oversized Jumpsuit | Black Loose Romper | Tan Overalls (5% off coupon) | Tan Cut Out Jumpsuit | Bodysuit (5% off coupon) | 3 Pack Cropped Tanks | Joggers (17% off) | Green Tennis Skirt | Black Jumpsuit
This month I have found some AMAZING fashion pieces for spring and they did not disappoint. I wear these pieces all of the time and have definitely become staples for myself this season. All of these items are very affordable and great for everyday wear, vacation, going out on the town and more! When i discovered this oversized jumpsuit I was immediately hooked. You feel like you are wearing pajamas and it's so light and airy. Super comfortable for spring time! If you have been following me for a while then you know that this bodysuit is my FAVORITE one ever. I talk about it all the time because the fit, the material and the colors are perfect! I have this bodysuit in just about every color it comes in.

Top 10 | Beauty Must Haves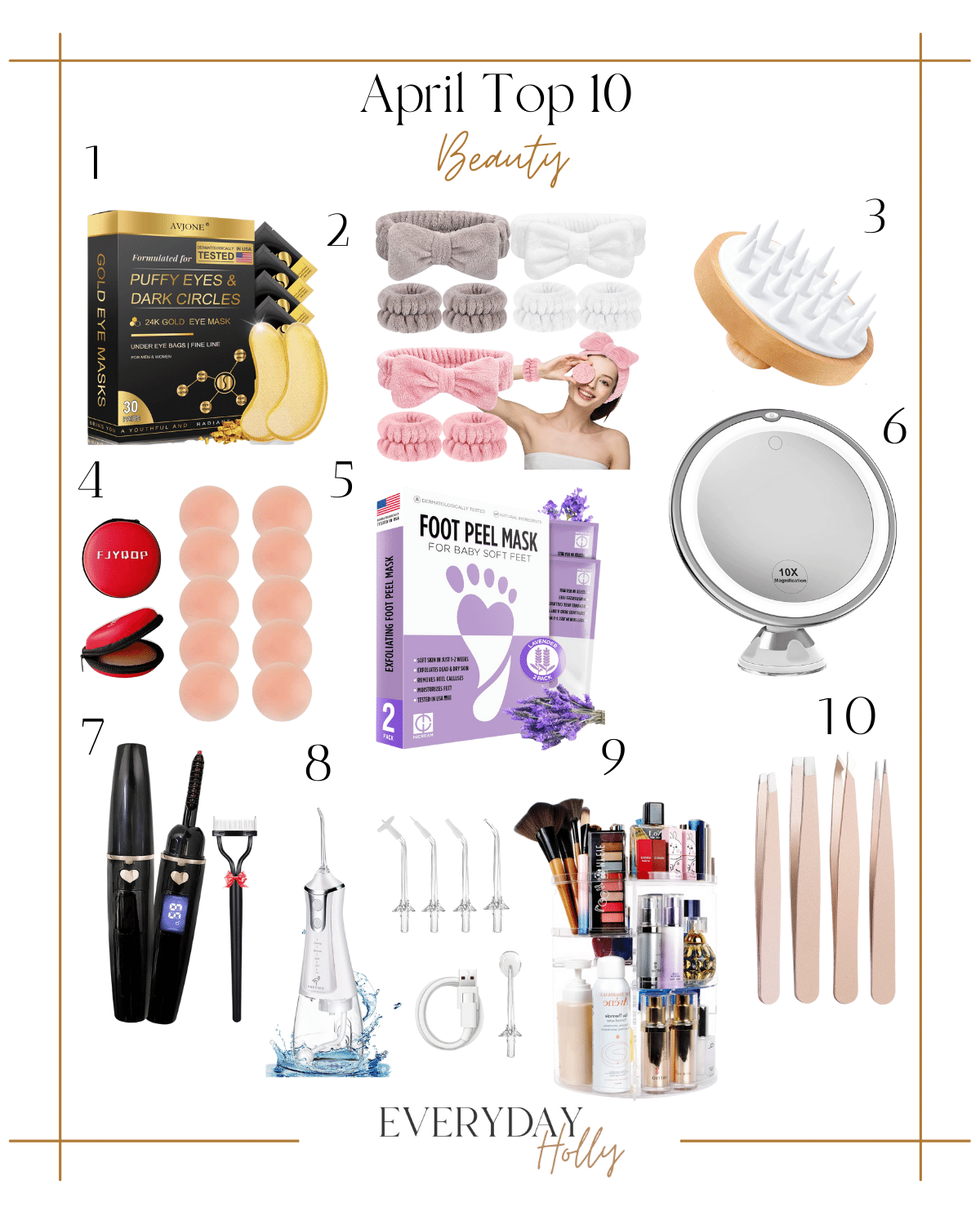 Under Eye Masks | Face Washing Hairbands & Wristlets (33% off) | Scalp Massager (40% off) | Nipple Covers | Foot Peel Mask | Vanity Mirror (53% off + 5% off coupon) | Heated Eyelash Curler (14% off) | Water Flosser (60% off + 5% off coupon) | 360 Makeup Organizer (24% off) | Tweezer Kit (27% off)
You know I love finding beauty products that actually work and that I will use on a regular basis. I recently purchased the face washing headband and wristlets! When I say that these actually work, they are amazing! I always felt like I made a mess with getting water all over the sink and down my arms when I would wash my face. These wristlets contain the water so it doesn't run down your arms and holds a lot of the loose water that falls! If you have not tried these, you need to! Plus, you will feel super cute doing it.

Top 10 | Home Favorites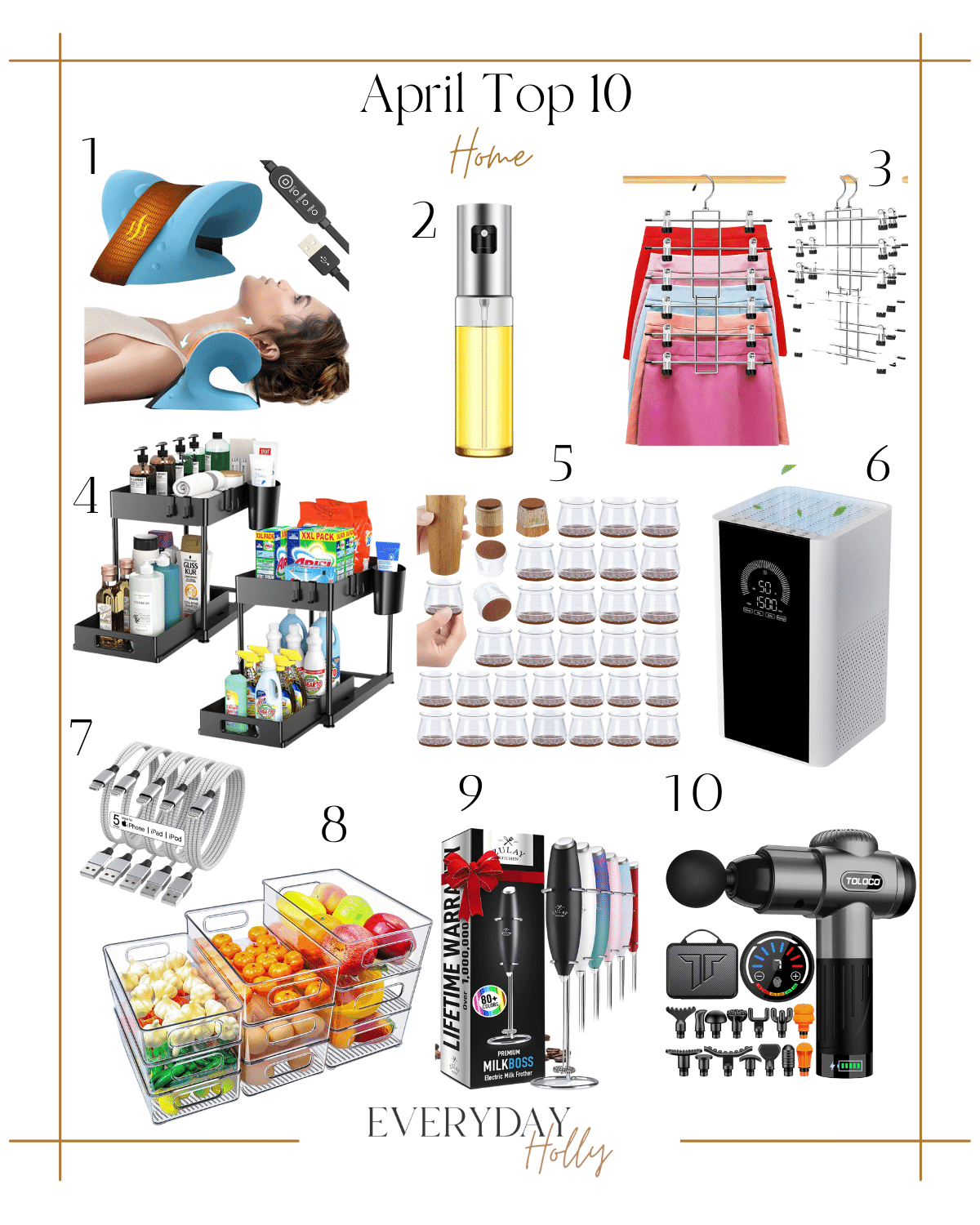 Neck Stretcher | Oil Sprayer (7% off + 15% off coupon) | Hanger Organizer (55% off) | Under The Sink Organizer (30% off) | Chair Leg Protectors | Air Purifiers | IPhone Chargers (10% off) | Fridge Organizers | Milk Frother | Massage Gun ($20 off coupon)
One of my favorite things to find is home essentials, gadgets and home hacks. It's one of those finds, where you didn't know you need it until you find it. Anyone struggling with neck pain, this neck stretcher is not a want it's a need! Whether you struggle with neck pain, or even as we get older our neck just gets tighter. This will help relieve a TON of your pain! I will always showcase these Under-the-Sink Organizers because they really are a game changer for organization. If you're like me I have quite a bit of cleaning supplies, cosmetics, and just house items. With these organizers being 2-tiered it gives you more room under your sink, and looks so much more organized.

Top 10 | Fashion Faves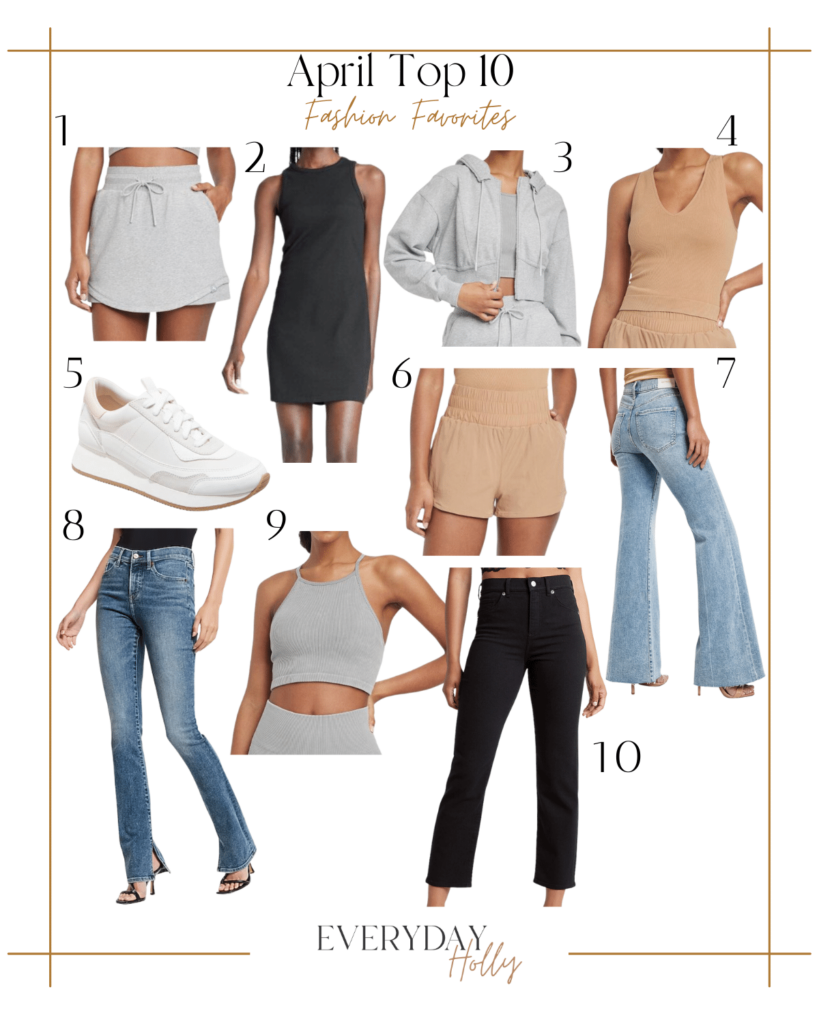 Active Gray Skort | Black Racerback Dress | Gray Cropped Jacket | Tan Tank | White Sneakers | Tan Active Shorts | Light Wash Flare Jeans | Split Hem Jeans | High Neck Cropped Tank | Black Cropped Jeans
WOW! 7 out of the 10 items above are from Target! You all loved these Target finds this month, and let me tell you… they are great! If you are looking for comfortable and quality activewear pieces, Target is where it's at! This gray skort and cropped jacket is a set that I paired together and get compliments on all the time. It's super comfortable and great for an easy everyday look. The tan tank and tan shorts I paired together as well. If you need an easy athletic outfit for your workout, or for an on-the-go look this is another great athletic style.

Styled Best Sellers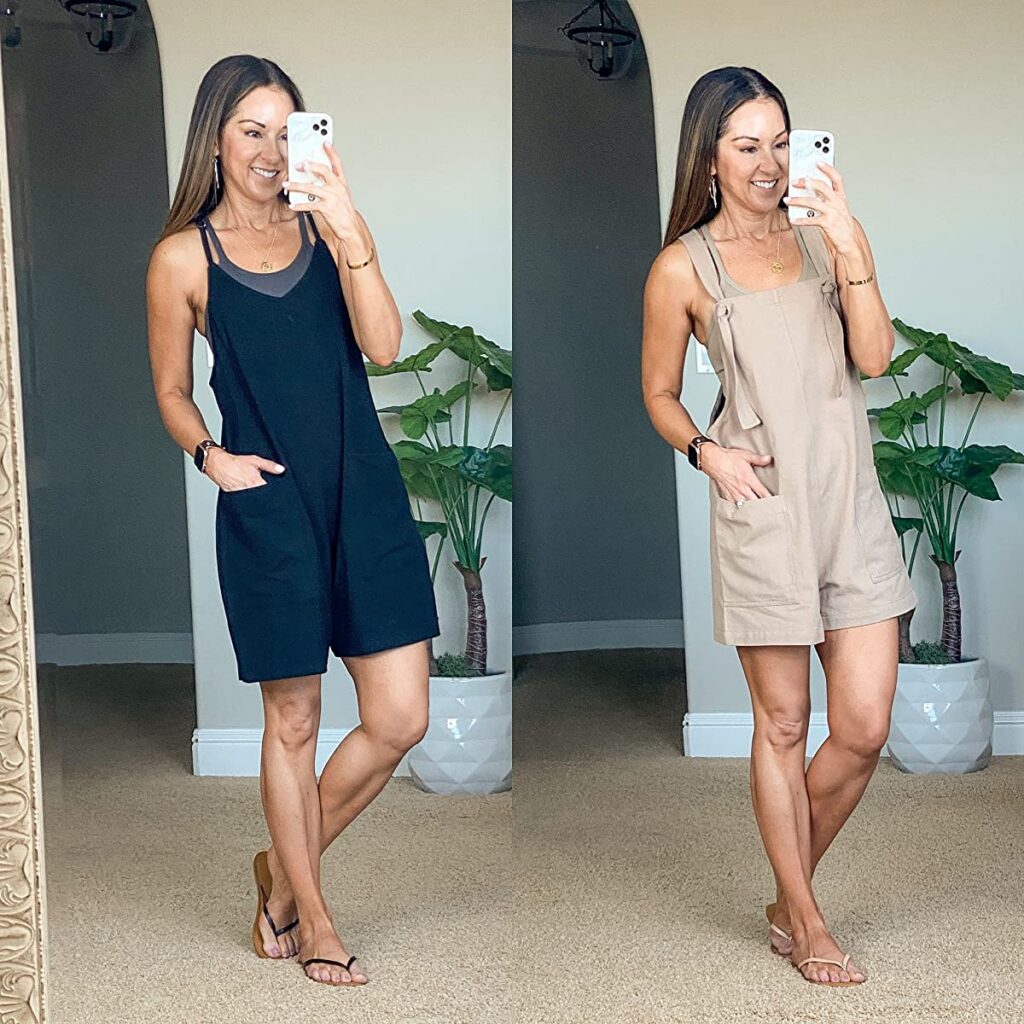 Cropped Tank xs/s | Black Loose Romper s | Tan Overalls (5% off coupon) s | Flip Flops TTS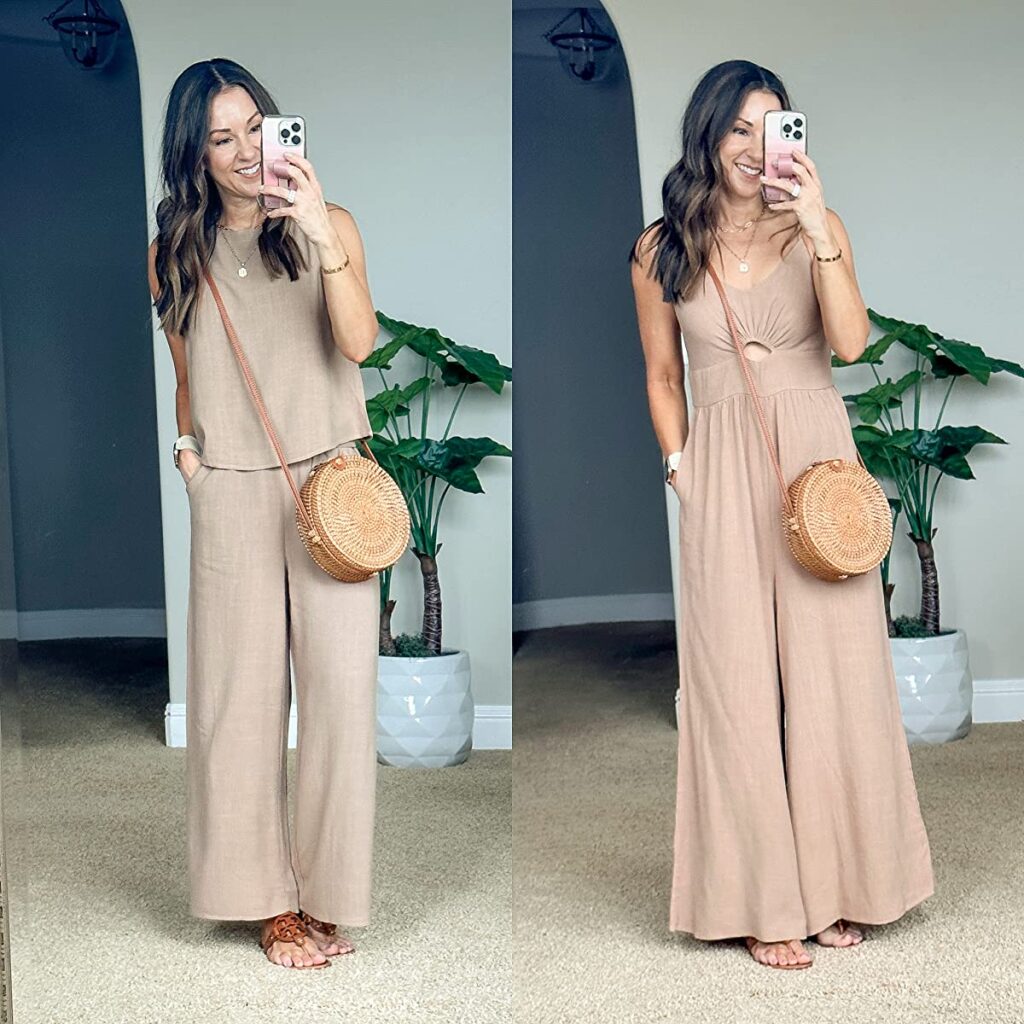 Tan 2 Piece Matching Set S | Tan Cut Out Wide Leg Jumpsuit S | Circle Crossbody | Sandals go up a 1/2 size | Necklace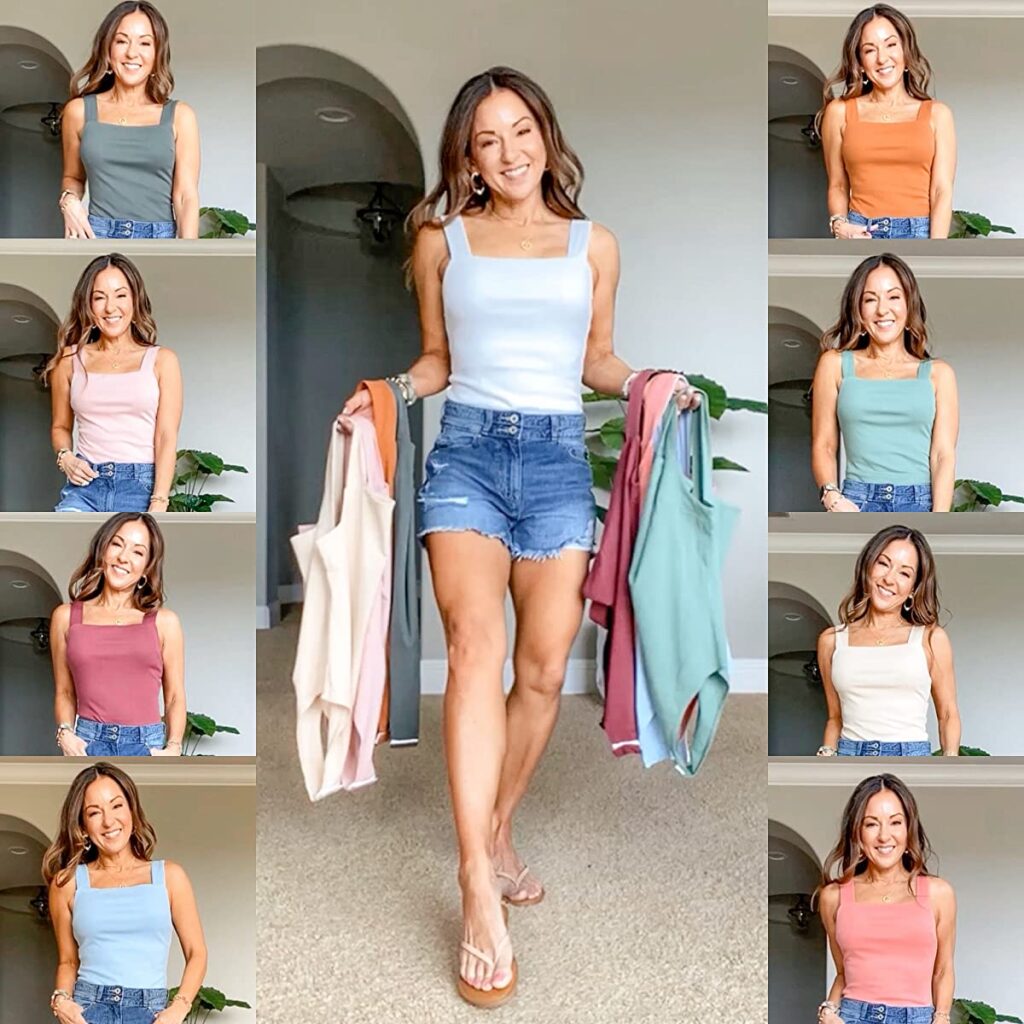 Bodysuit small (5% off coupon) | Shorts 25 | Flip Flops TTS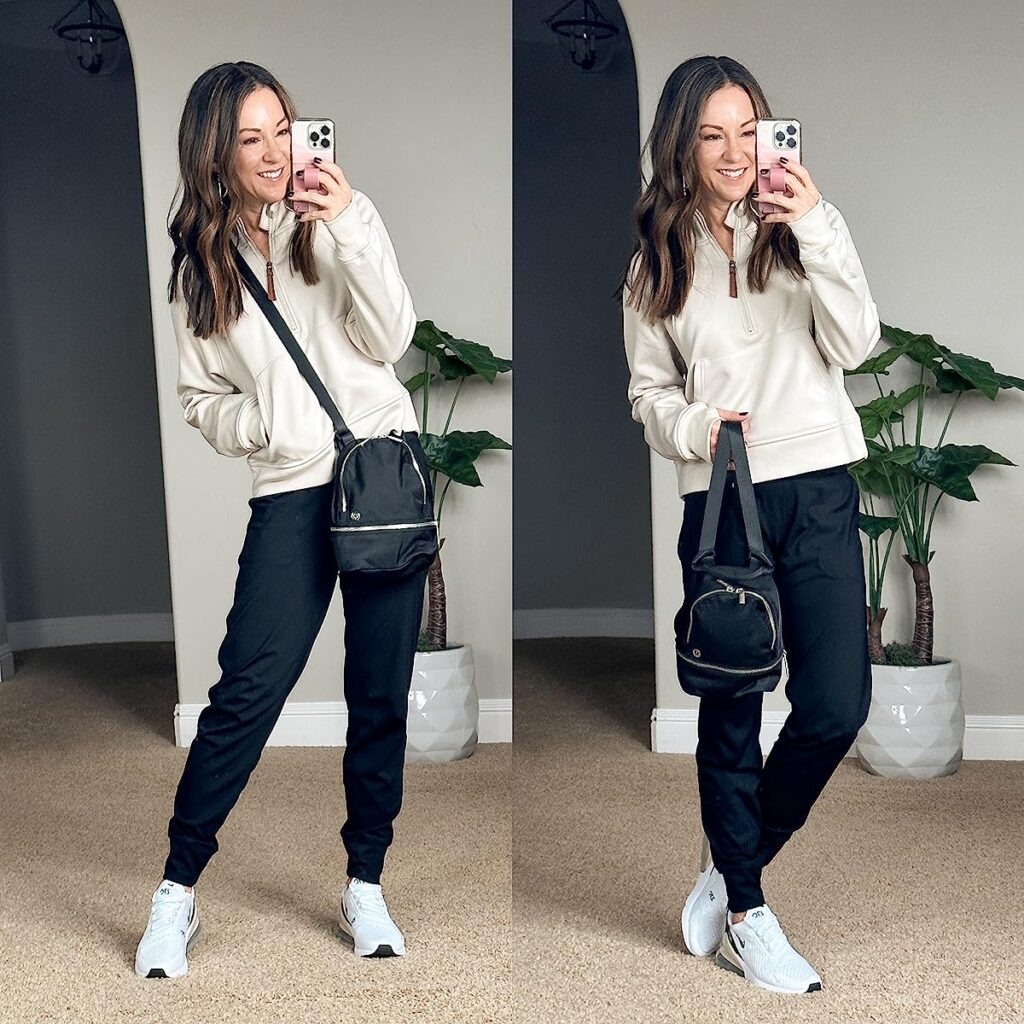 Lululemon Lookalike Scuba Hoodie s | Lululemon Lookalike Align Joggers xs (17% 0ff) | Sneakers go up 1/2 size| Lululemon Mini Backpack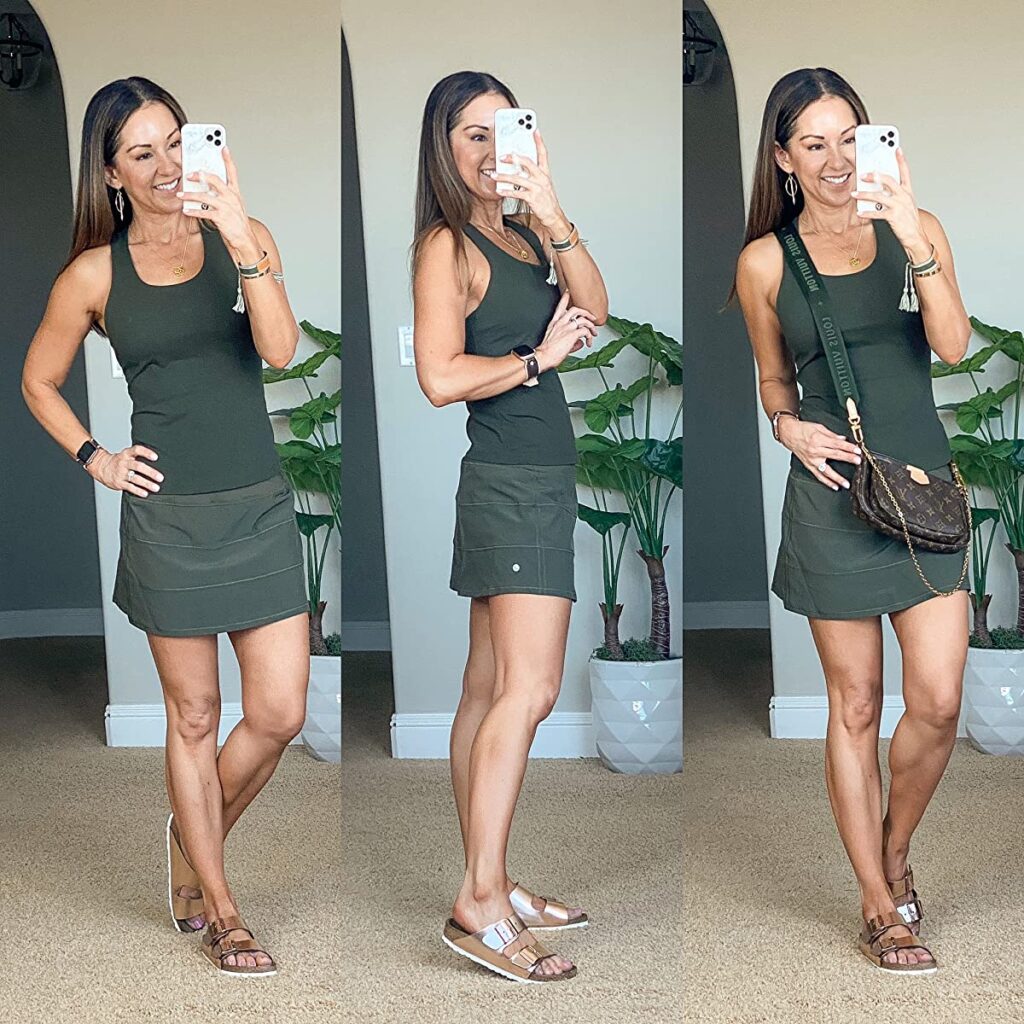 Workout Tank/built in bra xs | Green Tennis Skirt xs | Champagne Sandals TTS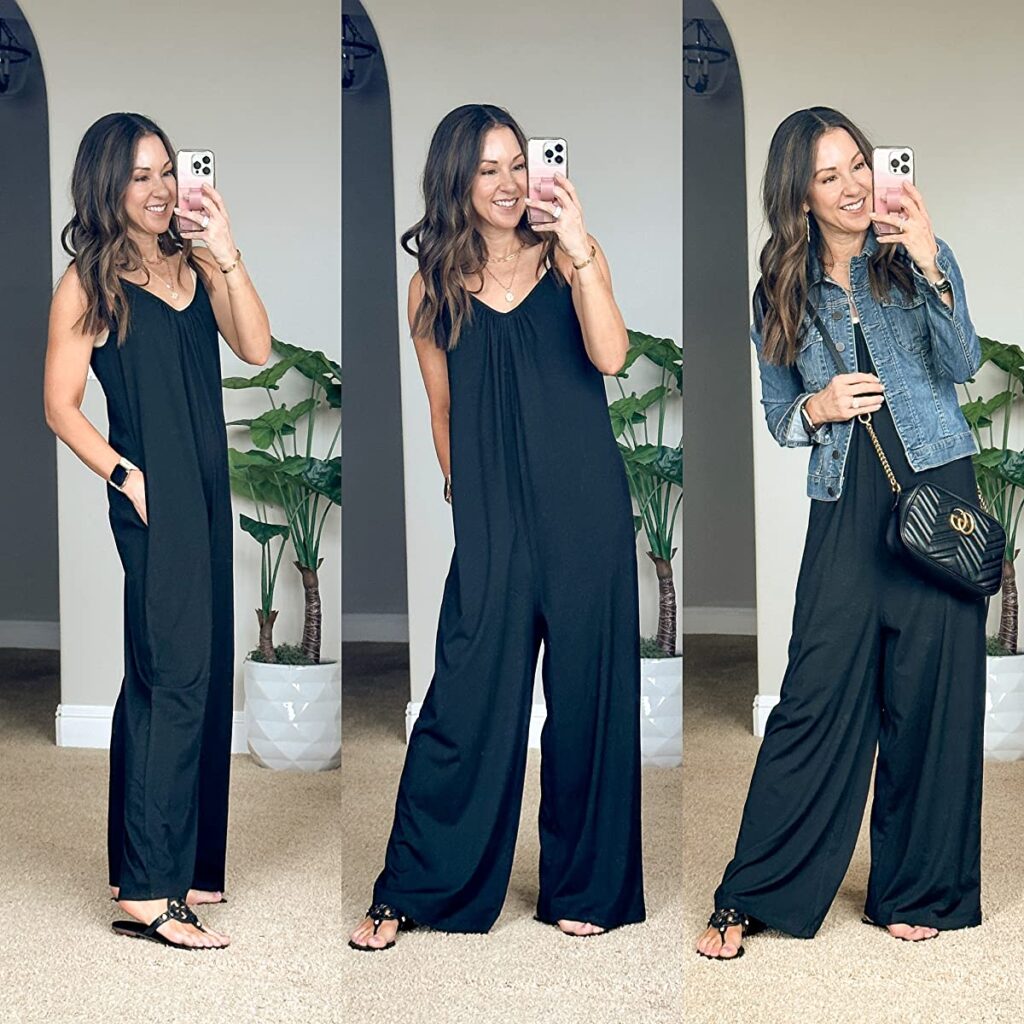 Black Oversized Jumpsuit S | Bralette s | Jean Jacket xs| Black Sandals go up a 1/2 size | Crossbody Bag | affordable version of my bag from Amazon

Shop More Fashion, Home & Beauty Favorites