The Best Loungewear + Cozy Finds For This Fall Season
I don't know about you but I LOVE getting cozy and cuddling up on the couch in the fall. Name something better than an oversized blanket, flickering candles and a cup of hot cocoa – I am not sure you can! I wanted to share my personal favorites for loungewear sets and the best cozy fall home decor I could find. It isn't too early to start decorating for this upcoming fall, there is no timeline to when you can start to get comfy and cozy.
CLICK HERE to see my all time favorite undergarments for every occasion!
**This post contains affiliate links, all opinions are my own. Thank you for supporting me!**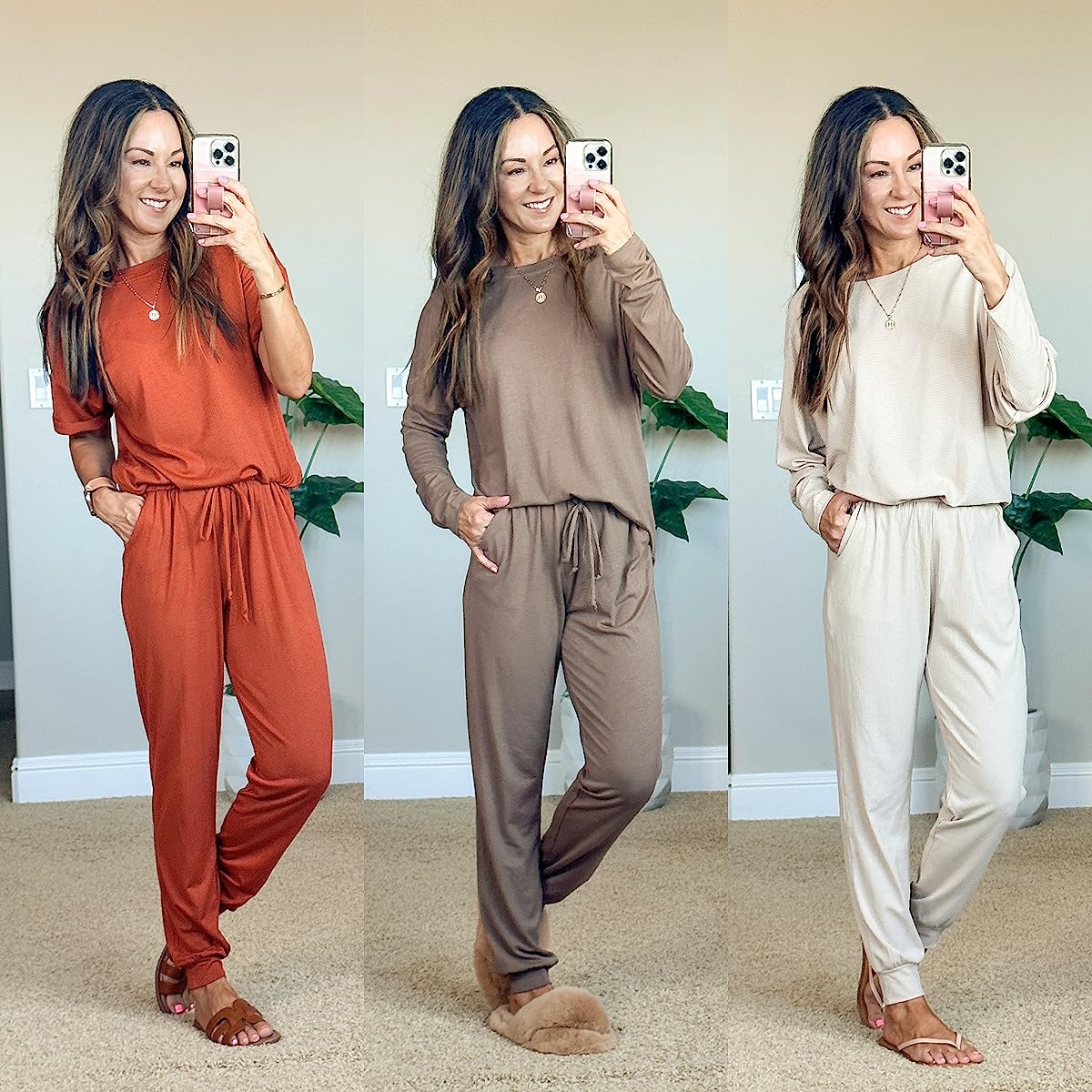 Two-Piece Set (Brick Red) tts, S | Two-Piece Set (Dark Khaki) tts, S | Two-Piece Set (Khaki) tts, S | Slide Sandals 7 | Slippers | Flip Flops 7 | Gold Initial Layer Necklaces
As I love to share my latest finds with you–be sure to visit my Amazon Storefront and my LTK where I share daily deals, fashion finds, home items, beauty staples, and more.
Shop These Fall Cozy Favorites
I loved shopping around for all of this cozy fall decor and loungewear sets, it has me excited for this season! The best part about fall decor is that it can be used for years to come and some of it it can even be enjoyed until the start of the New Year! I have everything from pillows and blankets to sit arounds and candles. Happy shopping!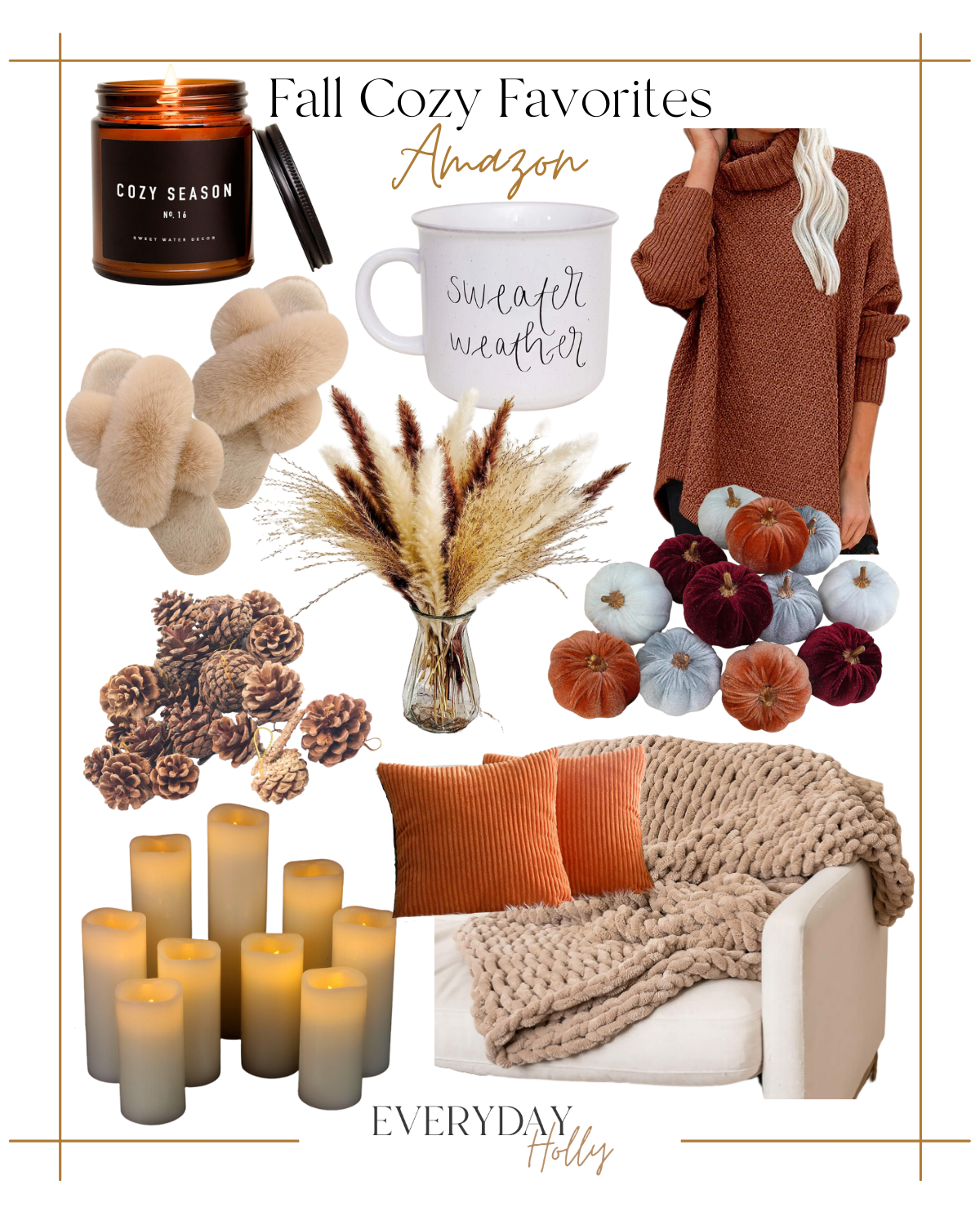 Cozy Season Candle | Sweater Weather Mug | Oversized Sweater | Fuzzy Slippers | Pinecones | Pampas Grass Bouquet | Velvet Pumpkins | Flameless Candles | Pillow Covers | Chunky Knit Blanket
Decorating for fall is one of my favorites things to do to get ready for the season! I am most excited to put together a gorgeous centerpiece for my kitchen table with these velvet pumpkins and pampas grass bouquet!

Check Out This Fall Cozy Home Decor
These are amazing fall finds to make your home the coziest this fall. I love the colors that fall brings but the SCENTS too – cinnamon, spiced pumpkin, the works! You can never go wrong with a seasonal throw pillow, pumpkins and faux florals. You don't have to pick only one, fill your home with as many cozy home decor finds as your heart desires!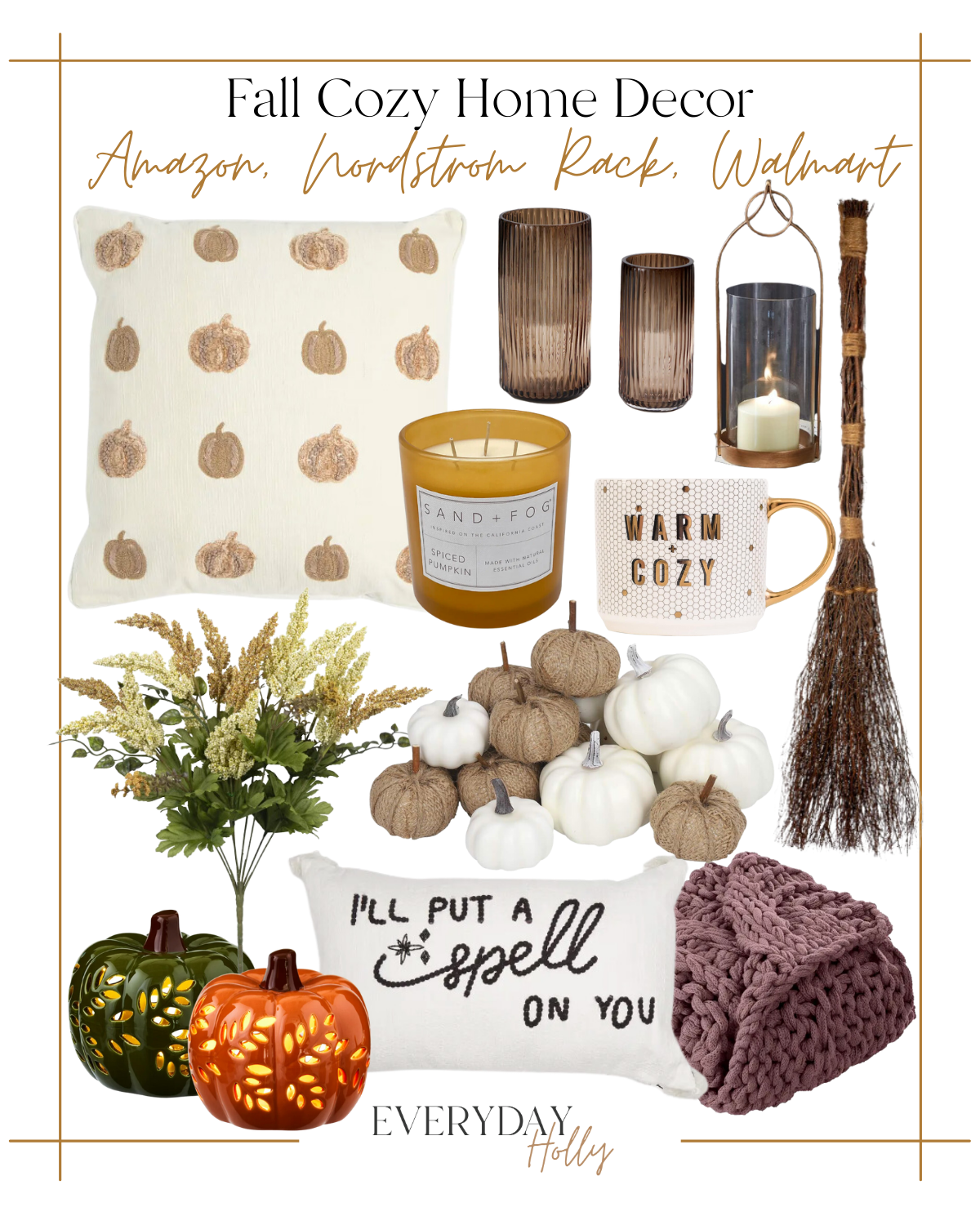 Fall Accent Pillow | Spiced Pumpkin Candle | Glass Vase | Brass Lantern | Cinnamon Broom Stick | Warm + Cozy Mug | Faux Flowers | Faux Pumpkins | Green Pumpkin | Orange Pumpkin | I'll Put a Spell On You Pillow | Chunky Knit Throw Blanket
"Warm and Cozy" is my mood this fall, just like the mug says! Decorative pillows are an easy and cost-effective way to spice up your home for the season. Every time I smell one of these cinnamon brooms, I instantly think of cozy blankets and cuddling up with my new favorite pillow to watch Hocus Pocus!

The Best Loungewear Sets
Some of these are my personal favorite loungewear sets that I literally never want to change out of! Others come highly recommended and might be making their way into my shopping cart soon. Cozy up in style this fall, you deserve to!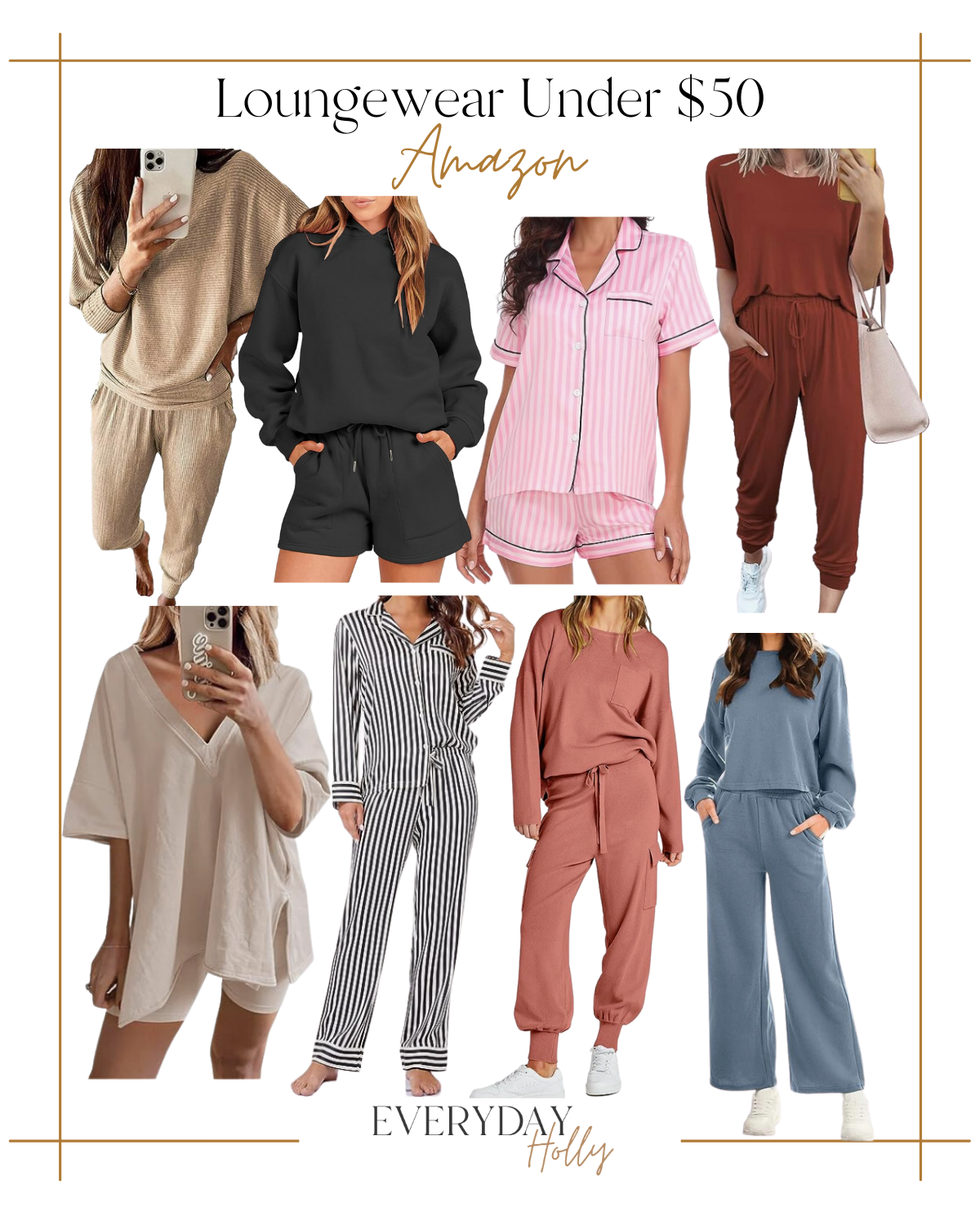 Khaki Sweatsuit | Black Hoodie Short Set | Pink Satin Sleepwear Set tts, XS | Brick Red Jogger Set tts, S | Oversized Two-Piece Set tts, S | Striped Satin Pajama Set tts, XS | Rust Sweater Set | Blue Knit Sweatsuit tts, S
Two-piece sets are the most effortless way to look put together, you can dress them up with accessories or put on some fuzzy slippers and call it a day. You have to get your hands on a few of my personal favorite ones below!

Shop My Favorite Loungewear Sets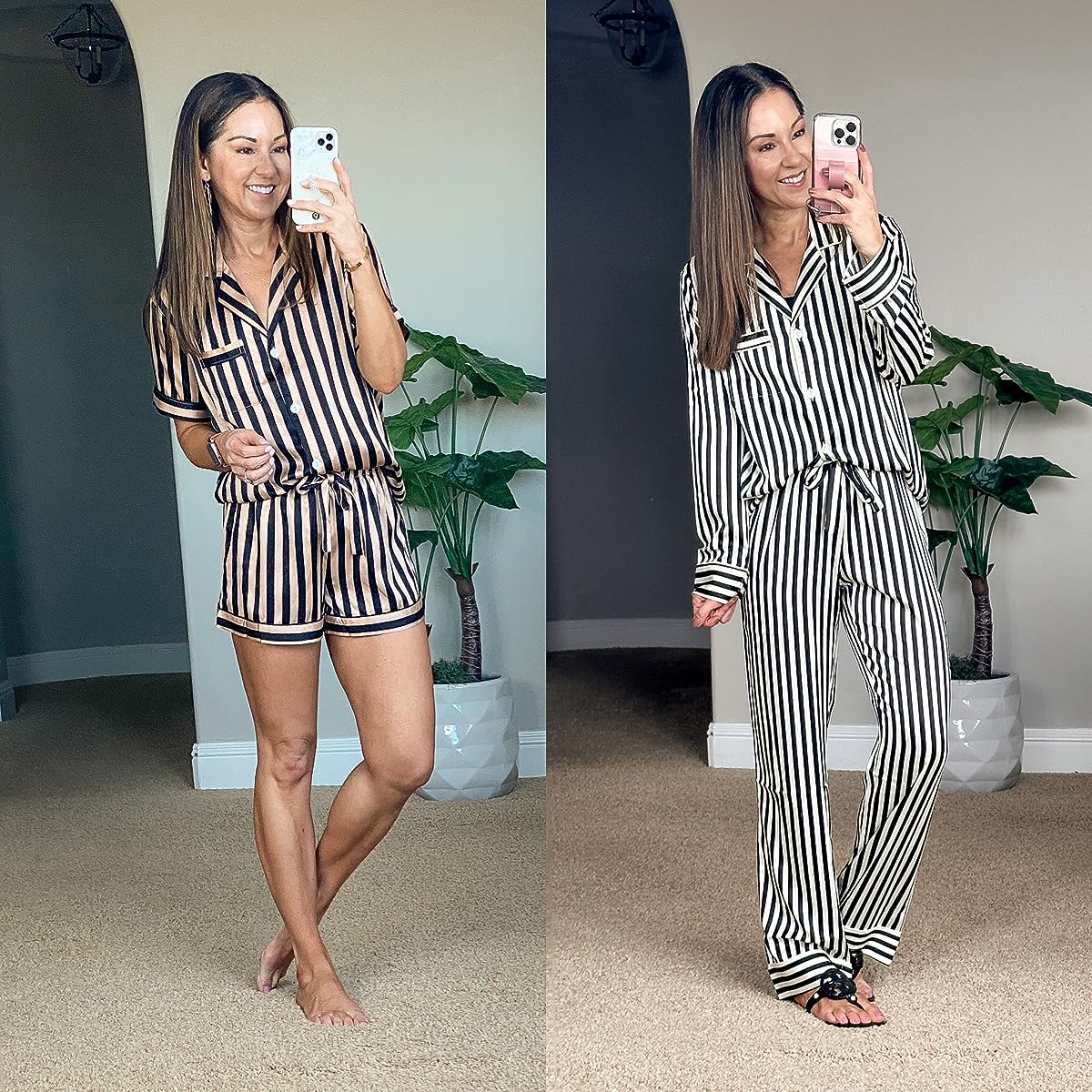 Satin Short Sleeve Pajama Set tts, XS | Satin Long Sleeve Pajama Set tts, XS | Tory Burch Sandals 7
It's time to upgrade your pajama drawer! These satin pajama sets are SO comfy and are perfect for a movie night in. Grab some slippers, a cozy blanket and put on your favorite movie!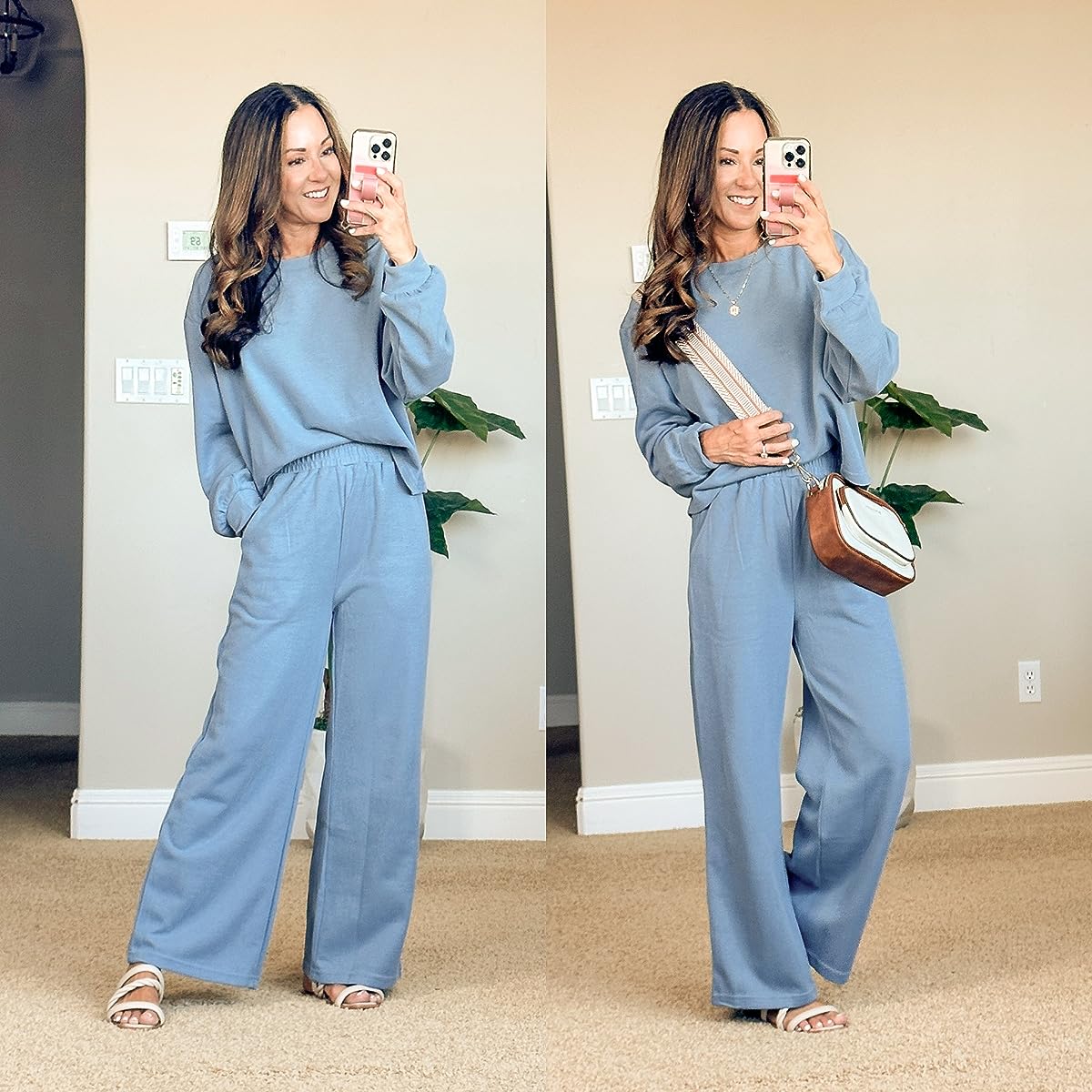 Two-Piece Loungwear Set tts, S | Sandals 7 | Crossbody Bag
Cute but make it casual! This loungewear set is such a versatile piece, you can wear it for a day full of running errands or a lazy day at home. Its available in 12 different colors, go and pick your favorites!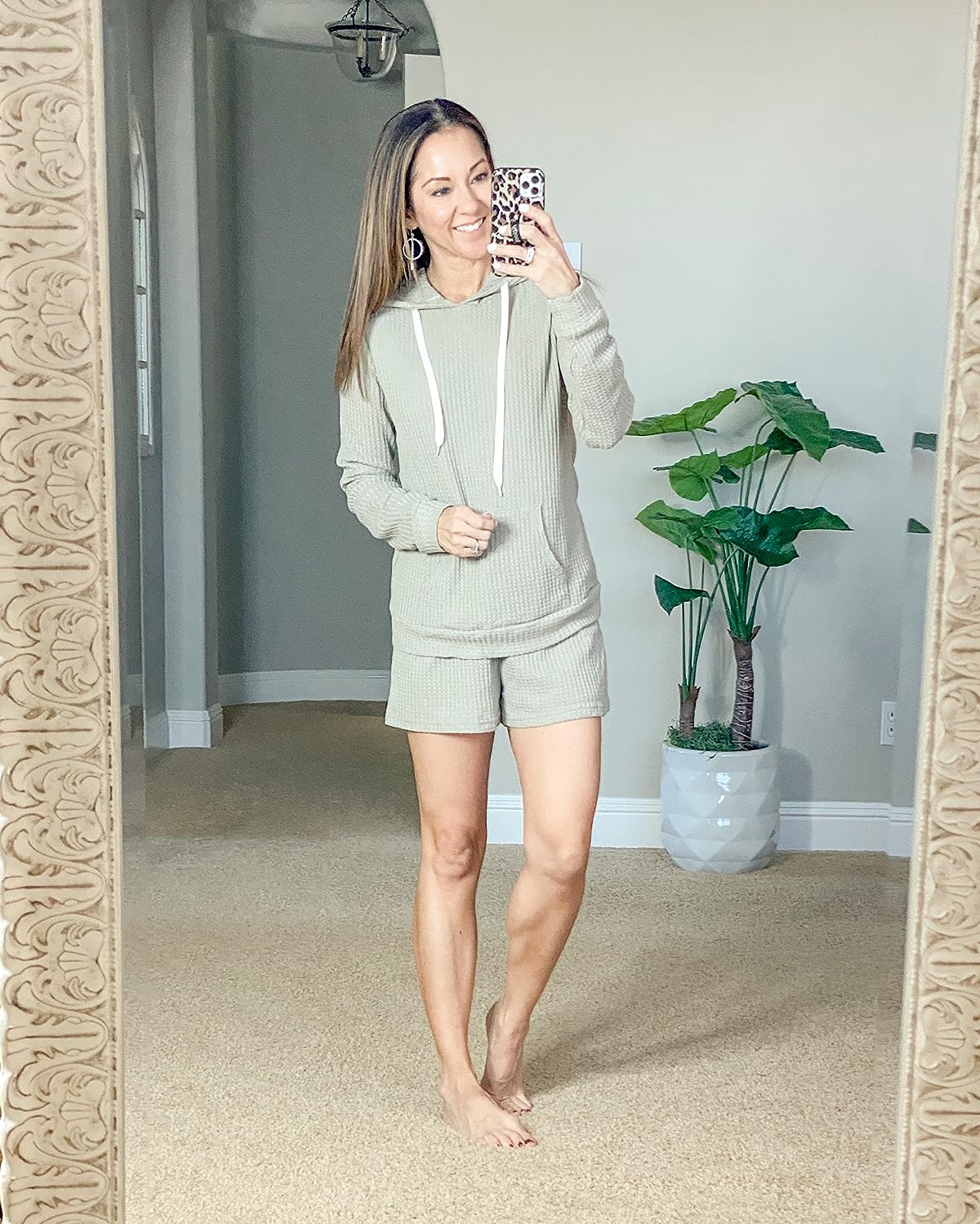 Two-Piece Pajama Set tts, S | Waffle Knit Pajama Set (something similar)
This particular set is unavailable at the moment BUT I found something similar that comes highly recommended. Give it a try, you won't want to take it off all day!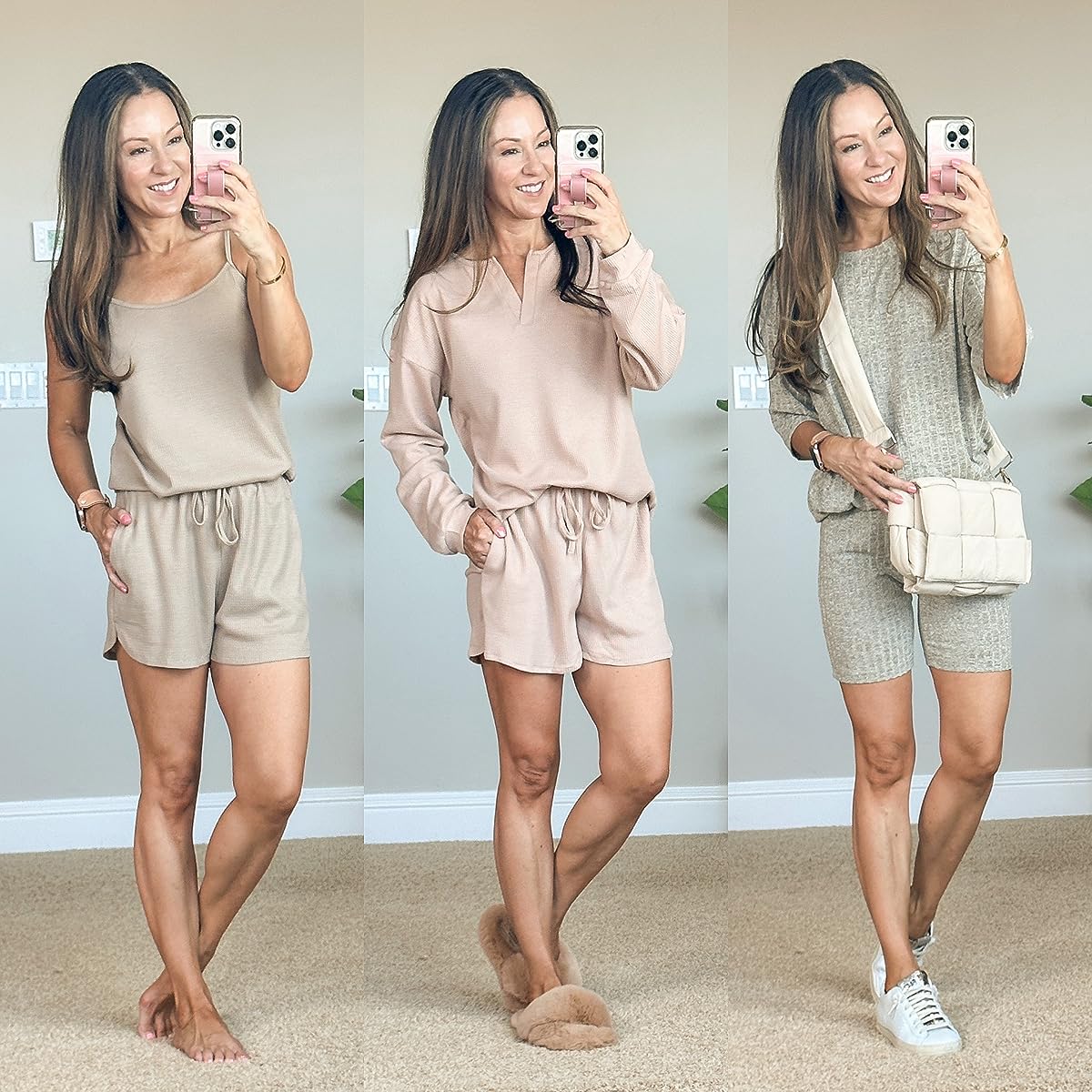 Waffle Knit Lounge Set tts, S | Waffle Knit Long Sleeve Lounge Set tts, S | Ribbed Knit Two-Piece Set tts, S | Fuzzy Slippers | Puffer Shoulder Bag | Longline Sports Bra
These two-piece sets are an absolute must-have! Treat yourself to one of these sets (or all of them) and you'll see what I'm talking about.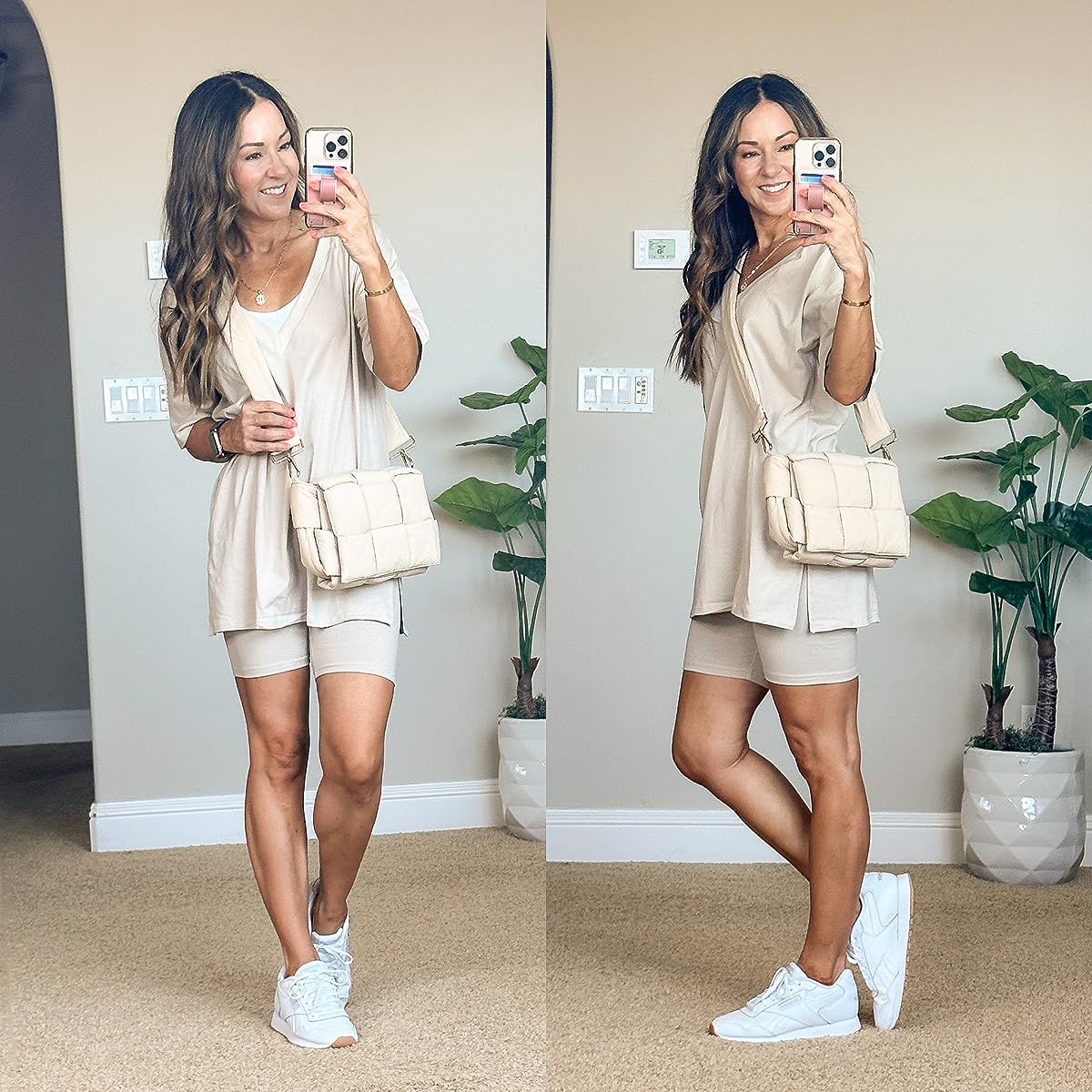 Oversized Two-Piece Set tts, S | Puffer Shoulder Bag | Sneakers 7
This oversized two-piece set is perfect for the upcoming fall season! You can be comfy while lounging around the house or be ready to head out the door, no matter what comes up! 10/10 recommend this outfit, it's one of my favorites!
Shop More Fashion, Home & Beauty Favorites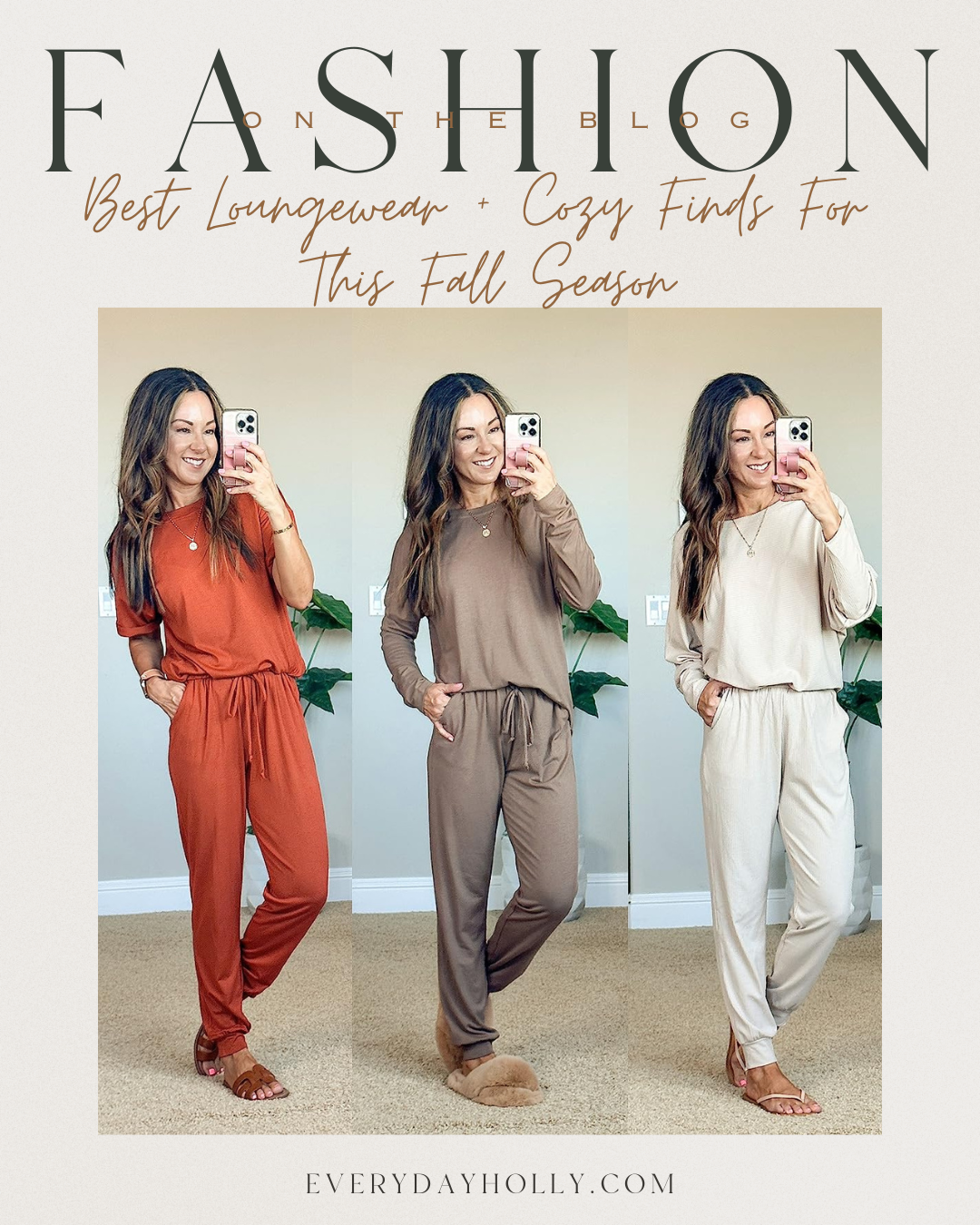 SHOP THE POST