The Full 2023 Graduation Essentials Guide For You!
Wow.. I cannot believe that we are even starting to talk about graduation. However, here we are! This is a bitter sweet moment for myself because my son will be graduating this year. For my other moms who are going through the same feelings I get it! You are so proud and happy, and also sad at the same time that your baby is actually graduating high school?! I wanted to relieve as much stress for you as possible, by creating an affordable graduation essentials list! Everything from gifts, to graduation party decor. This essentials guide works for both high school and college graduates! Get ahead of the game and get these awesome items that will make your graduate feel special!
CLICK HERE for more Graduation gift ideas!
**This post contains affiliate links! Thank you for shopping and supporting me!**
Graduation | Gifts for Her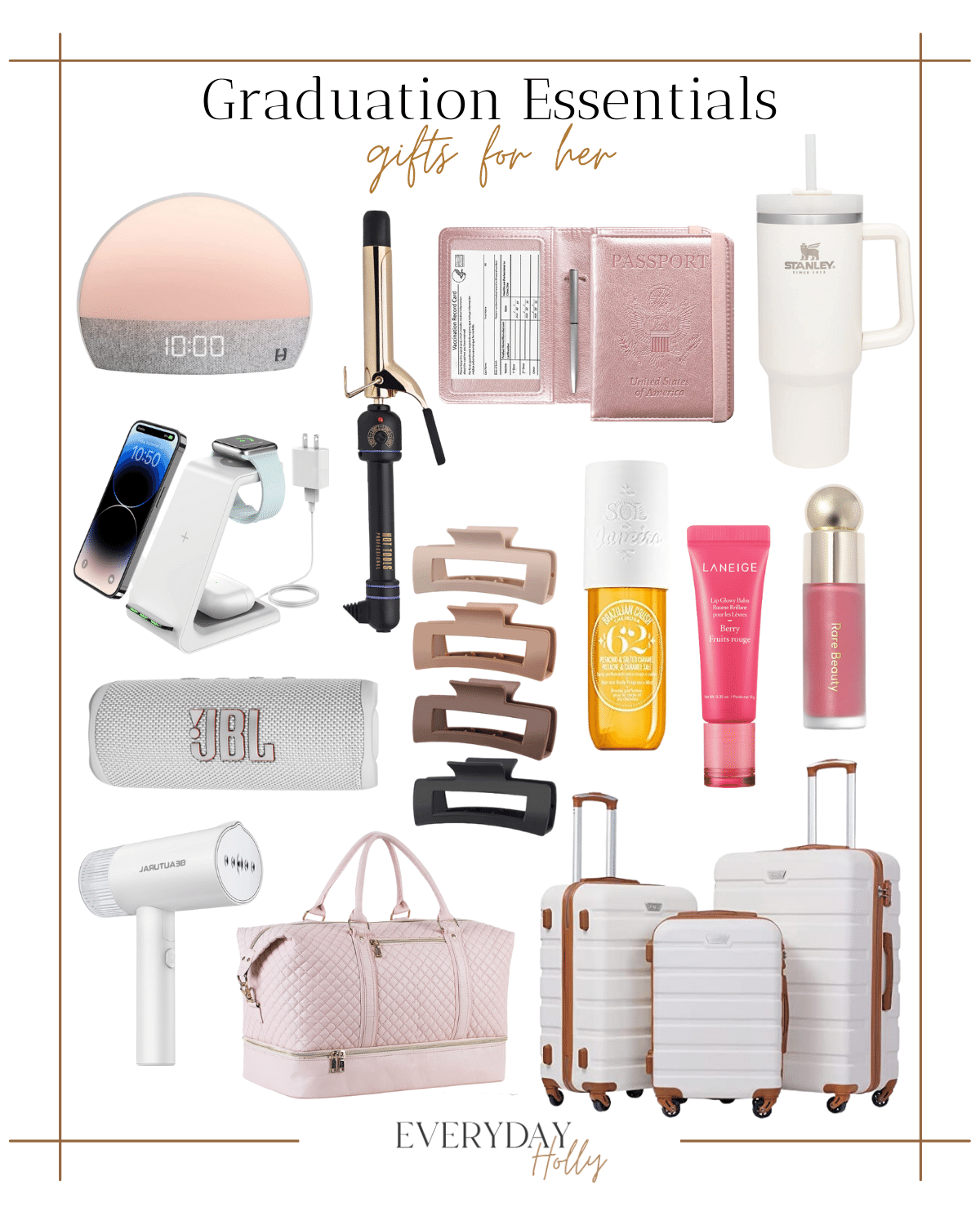 Hatch Alarm Clock | Curling Iron (31% off) | Passport Cover (24% off + 10% off coupon) | Stanley Cup | 3-in-1 Charging Station (17% off + 20% off coupon) | Claw Clips (58% off) | Sol De Janeiro Body Spray | Laneige Lip Balm | Rare Beauty Blush (31% off) | JBL Speaker | Portable Steamer (20% off) | Duffel Bag (14% off) | 3 Piece Luggage Set
I wanted to incorporate fun, highly requested items + actual gifts she'll need! Whether you are graduating high school or college, these items work for both. I like throwing in some goodies that I know are very popular right now like the Sol De Janeiro Body Spray, the Rare Beauty Blush, the Stanley Cup and more. However, they need durable items that will last a long time, and be an essential piece when they move to college, or move to a new place! Like this luggage set, portable steamer, charging station, and this Hatch Alarm Clock. (Definitely for the kiddos that have issues getting up early..)

Graduation | Gifts for Him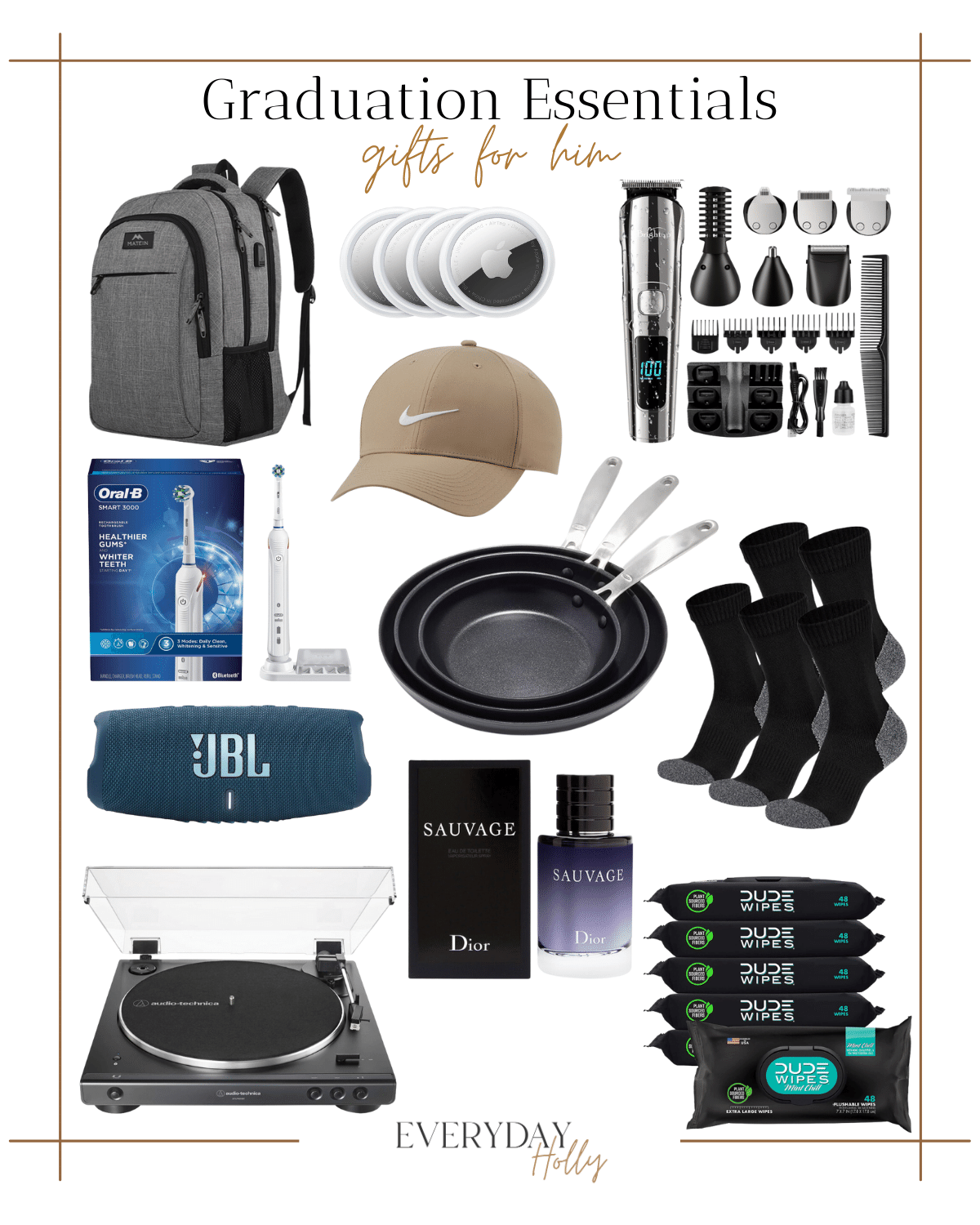 Gray Backpack (29% off) | Airtags (9% off) | Beard Trimmer Kit (46% off + 20% off coupon) | Nike Hat | Electric Toothbrush | Cookware Set | Socks | JBL Speaker (22% off) | Dior Sauvage Cologne | Record Player | Dude Wipes
Now onto the boys! Boys I would say are a little bit simpler because they just need some good basics! I don't know about you, but I know boys who use the same backpack for years… It's time to elevate and get a new one for the start of college or just to have! This record player is awesome because not only can you turn records, but it is bluetooth to connect to speakers or even your phone! When they move out, us moms are no longer able to make sure that they stay groomed, so this trimmer kit is perfect. It is also on sale right now for a great price!!

Graduation Essentials | Party Decor
Confetti Cannon | We Are So Proud Of You Banner | Grad Cap Table Runner (14% off) | Black 2023 Balloons (15% off) | Gold Balloon Kit (35% off) | Utensil Holders | Grad Decor Boxes | Card Box | Balloon Arch | Light Up 2023 Numbers
Now for the most fun part! The actual graduation party! I know many of you have different school colors, but all of these items above come in a variety of colors. They are perfect for whatever style you're going for, or your school colors! All of these items are very affordable. The most expensive item are these light up numbers, and even that is under $70! Whether you are hosting the party, or throwing it somewhere else, all of these items will look great to celebrate your grad!

Shop More Gift Ideas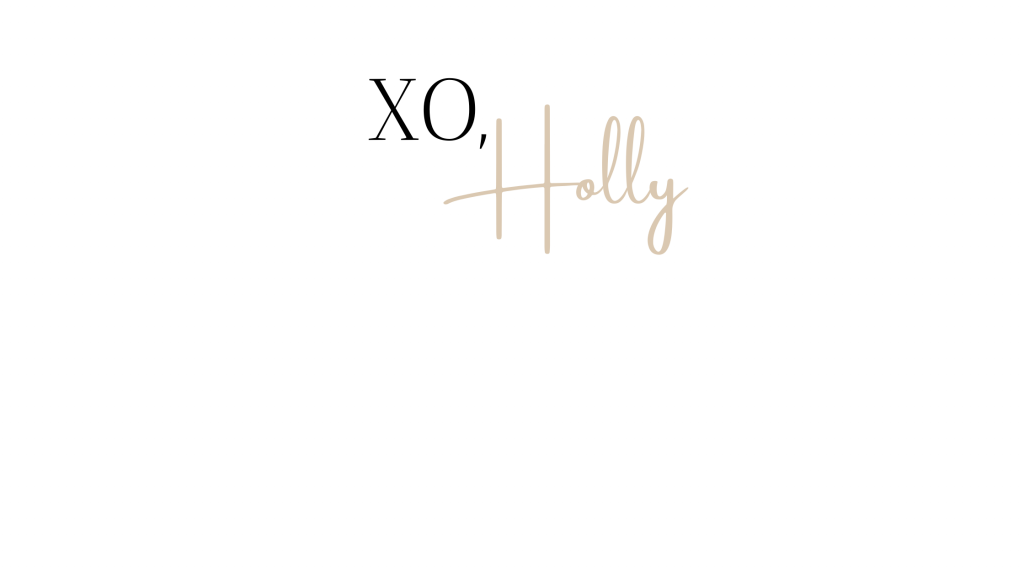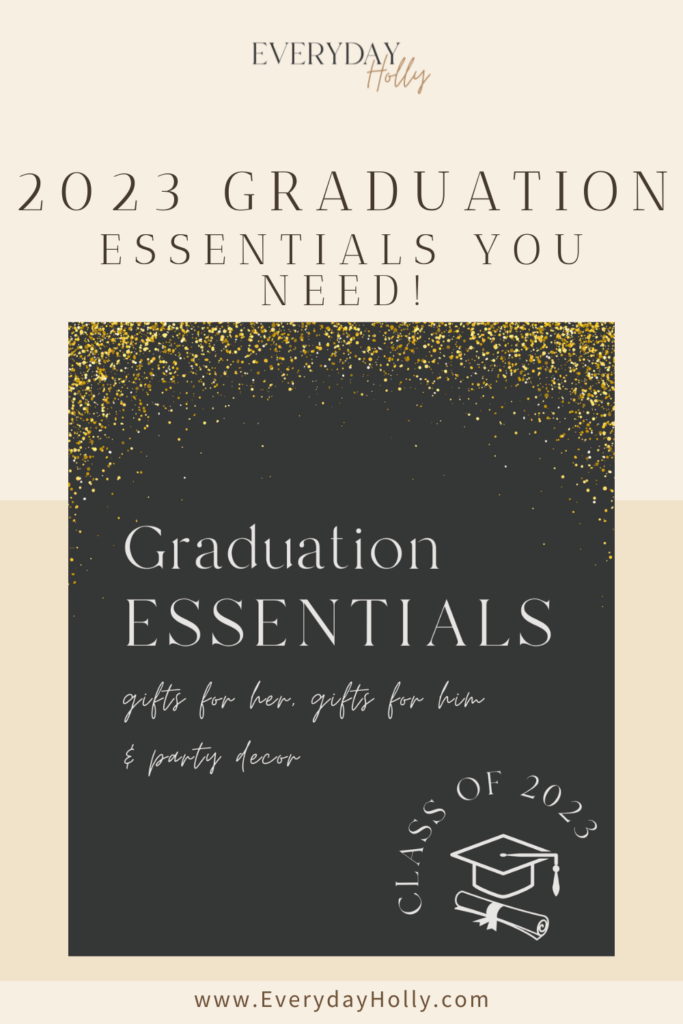 SHOP THE POST