The Best Over 40 Anti Aging Night Time Routine
In my previous blog you got to see my morning skincare routine, but I am here to give you my personalized night time routine! I think a powerhouse anti aging night time routine is key to strong skin transformation. Skin rejuvenates itself while you're sleeping, which makes the products you use even more important. Especially if you are over 40, you need anti aging fighters, strong hydration, and collagen boosters for recognizable results.
To check out my morning routine click HERE.
**This post contains affiliate links. It does not cost customers any more to purchase through my links. Thank you for shopping with my links!**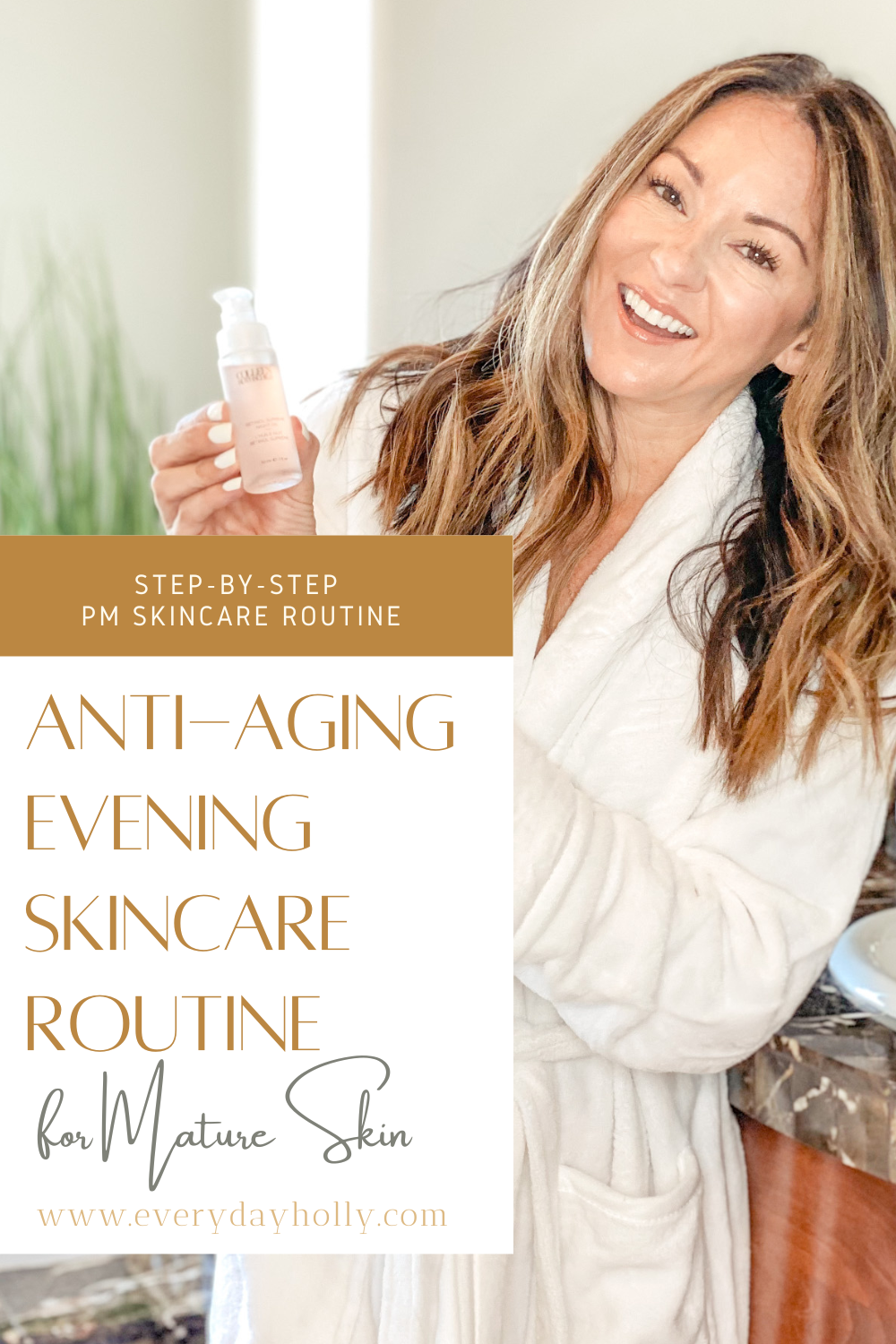 Take a look and see my current favorite night time products to revitalize my skin for a healthy, youthful glow! These products have become personal favorites! I have normal / normal to dry skin but these skin care products can be used on all skin types!
The Works | Anti Aging Focus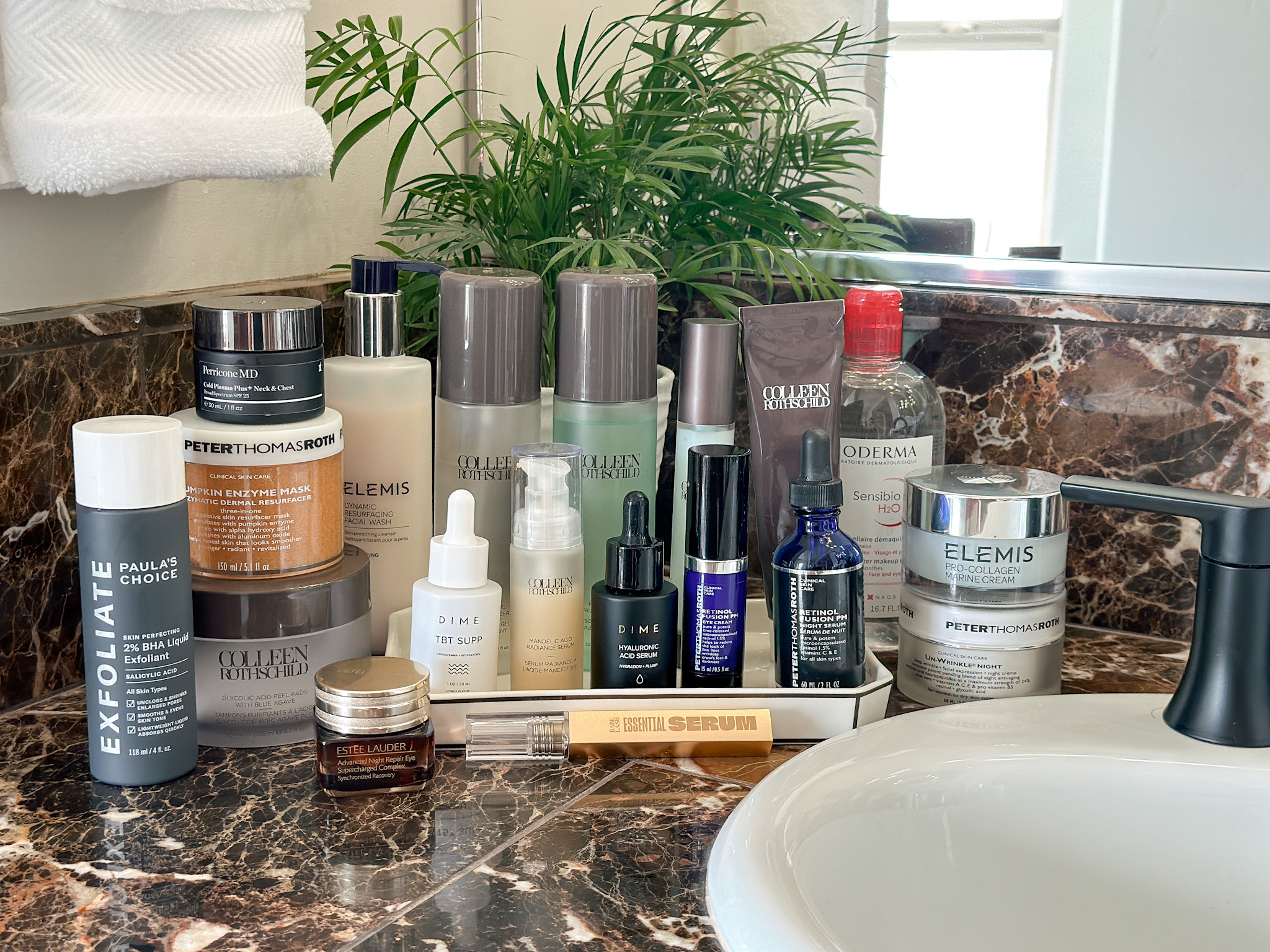 Paula's Choice Exfoliant | Perricone MD Neck Cream | Peter Thomas Roth Enzyme Mask | Colleen Rothschild Glycolic Pads | Estee Lauder Eye Cream (64% off) | Babe Lash Serum | Elemis Face Wash | Dime TBT Serum (save 20% code EVERYDAYHOLLY20) | Colleen Rothschild Toner | Colleen Rothschild Face Wash | Colleen Rothschild Radiance Serum | Colleen Rothschild Age Renewal Serum | Colleen Rothschild Sheer Renewal Cream | Dime Hyaluronic Acid Serum Save 20% code EVERYDAYHOLLY20) | Peter Thomas Roth Eye Cream | Peter Thomas Roth Retinol Serum | Bioderma Cleansing Water | Elemis Collagen Cream | Peter Thomas Roth Moisturizer

Below is my step by step night time skincare routine!
But First – A Savings Alert
As you might have noticed, I discovered Dime Beauty and I have fallen in love! I have never tried or used serums that are as amazing as Dime Serums! I love Dime so much that I decided to become a Dime Affiliate so you can save 20% with my Dime link which will automatically apply the 20% discount.
The best way to buy Dime is directly from their website and buying their already discounted bundles which you can stack my code on top creating huge savings! Here are few of my favorite bundles that include what I am sharing today. My discount will automatically stack on top with this link which take you to just a few of my favorites!
Step 1: Cleanse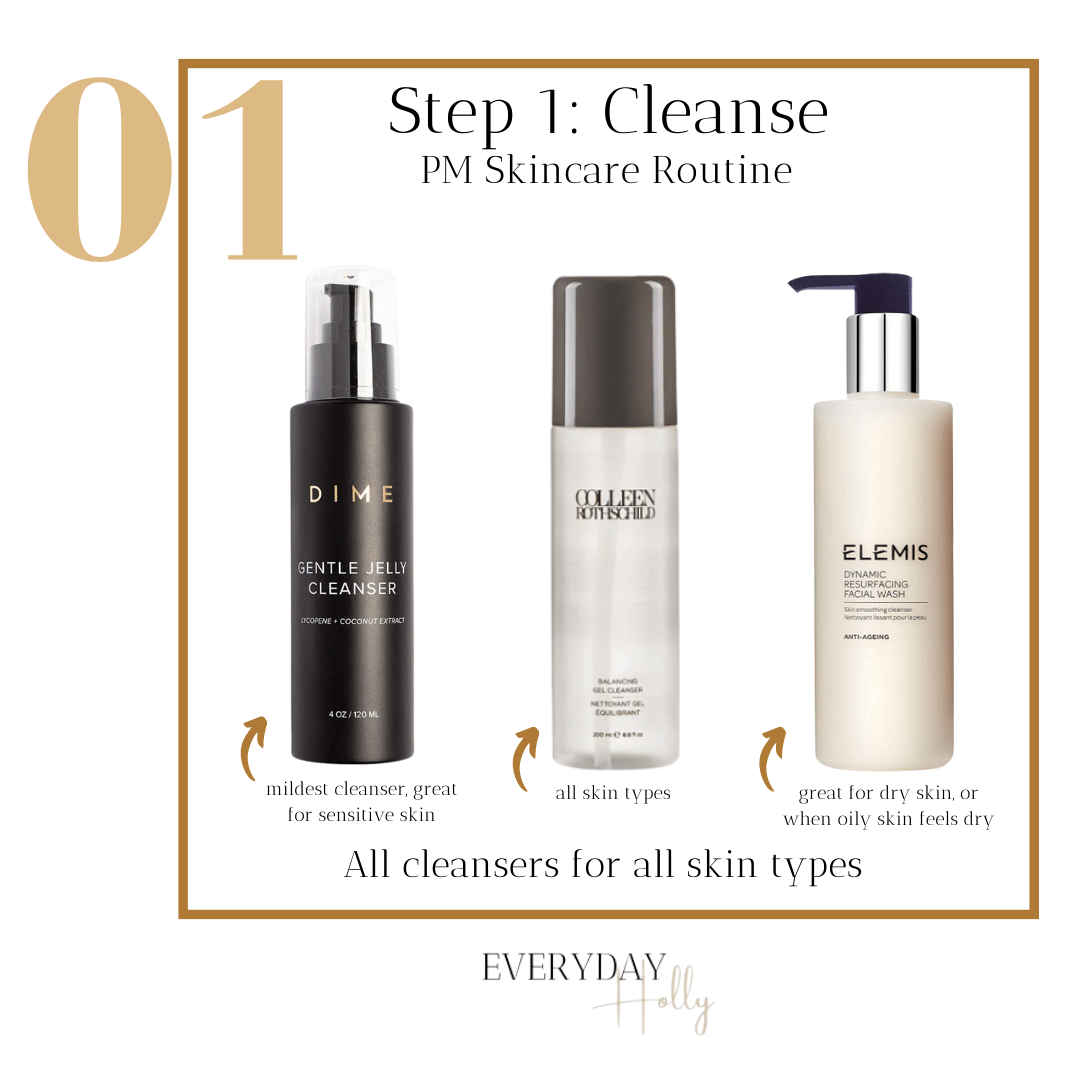 Dime Gentle Jelly Cleanser (save 20% code EVERYDAYHOLLY20) | Colleen Rothschild | Elemis Dynamic Resurfacing Facial Wash

After a long day, these are the cleansers that I like to use depending on how my skin is feeling. Changing our products is always a good thing, because it does not allow your skin to get used to one product and our skin is always changing with depending on our hormones and seasons. During the winter time I like to use the Elemis Cleanser for when my skin is feeling dry, because it puts deep moisture back into the skin.
Step 2: Extra Cleanse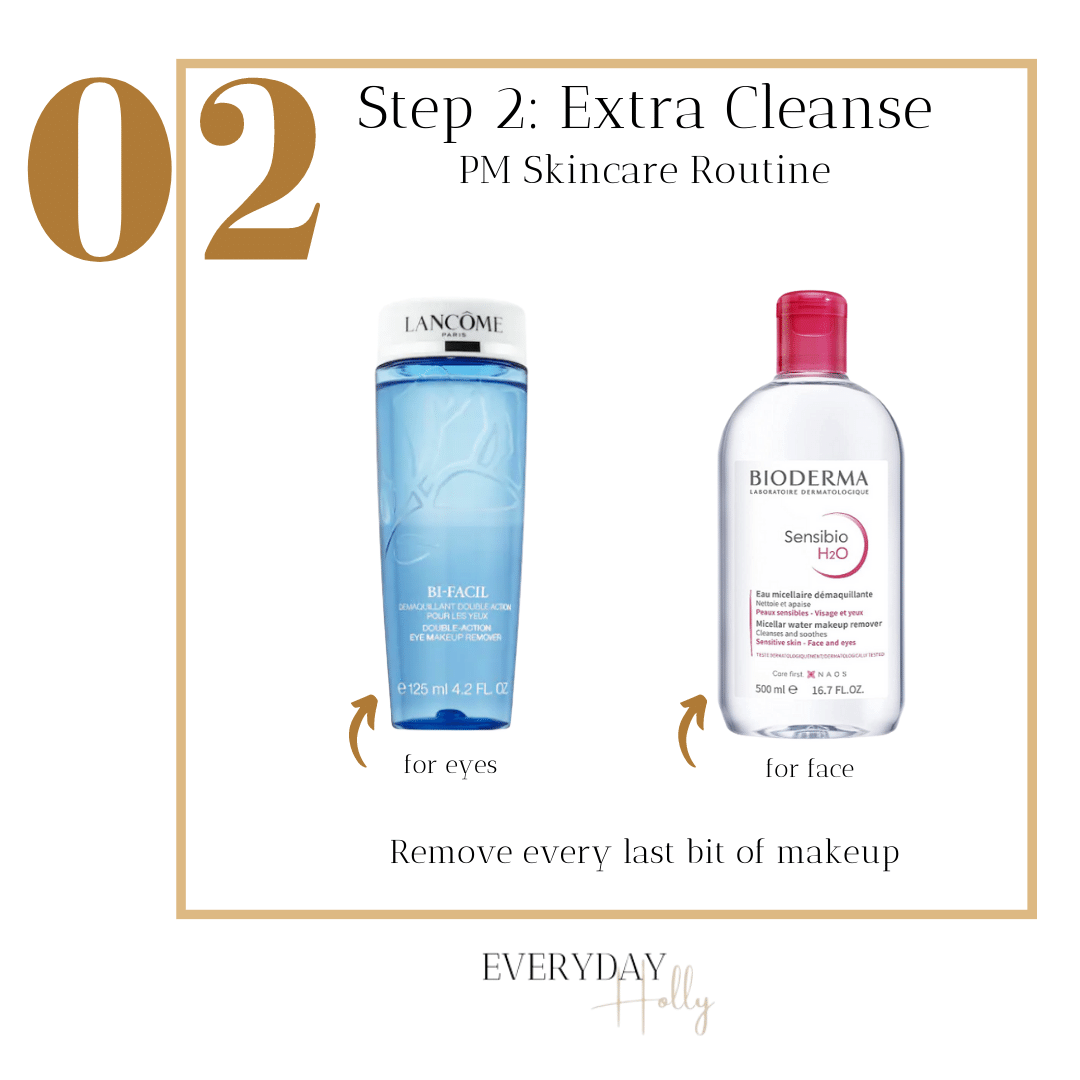 Lancome Bi-Facial Eye Makeup Remover | BioDerma Face Makeup Remover

I have been using Lancome Bi-Facil for over 20 years! It's THE BEST for removing water-proof mascara and liquid eyeliner. For an extra cleanse, I will use a micellar water to help remove any left over make up that may be still stuck on the skin after washing. This one is great one!
Step 3: Tone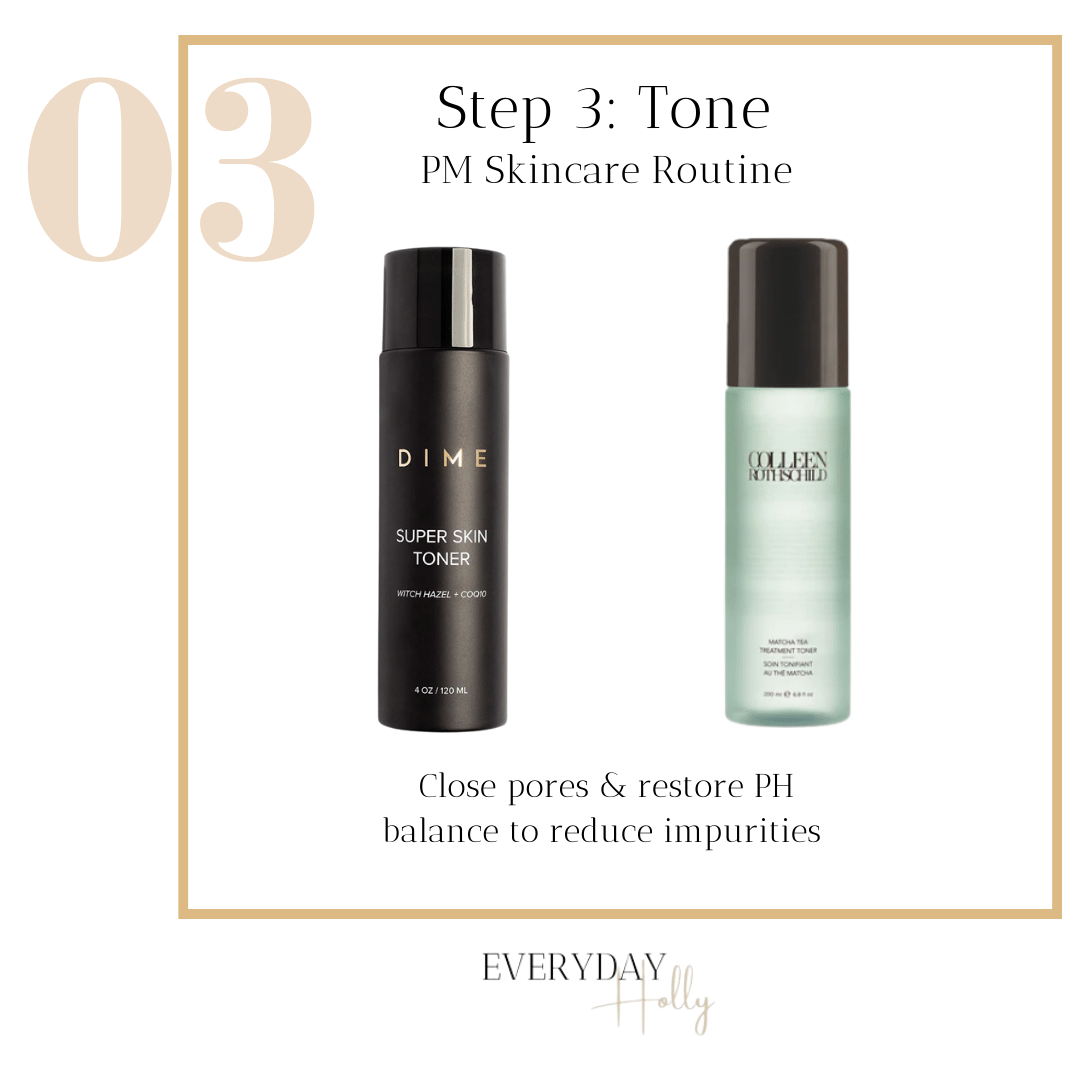 Dime Super Skin Toner (Save 20% code EVERYDAYHOLLY20)| Colleen Rothschild Matcha Tea Treatment Toner

Next, I use these toners to help remove dirt & oils from the skin but also, to help close the pores & balance PH levels to soothe the skin.
Step 4: Exfoliation
Colleen Rothschild Exfoliating Pads | Paula's Choice Exfoliant

One of the best steps in a skincare routine would be exfoliating. I recommend doing this daily for best results, but if you are just starting out, ease into it by only using if every few days. Gradually, work up to using daily. Exfoliators help remove dead skin, brings impurities to the surface & fights texture.
Step 5: Treat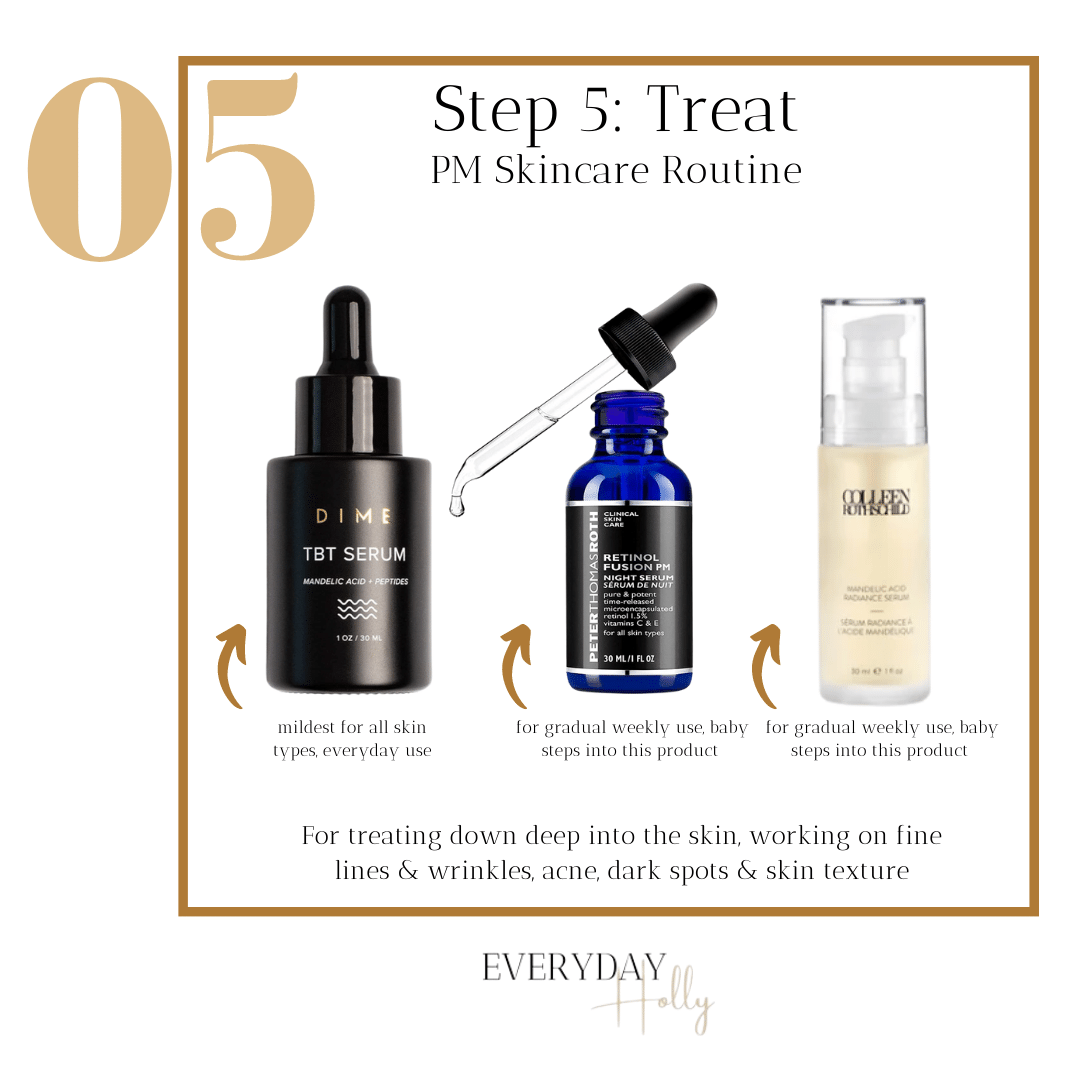 Dime TBT Serum (Save 20% code EVERYDAYHOLLY20) | Peter Thomas Roth Retinol Night Serum | Colleen Rothschild Mandelic Acid Radiance Serum

If you are over 40 this is a step that needs to be implemented into your routine, because these products are boosters for anti aging. For everyday use, I use the Dime TBT Serum, now like I said earlier changing up products can be good for your skin. The other serums contain retinol which is a very powerful ingredient because it treats deep into the skin tightening fine lines & wrinkles. I recommend only using these once a week to start & gradually work your way up to as many days and your skin can handle, because the retinol is a powerhouse for anti-aging!
Step 6: Age Defying Treatment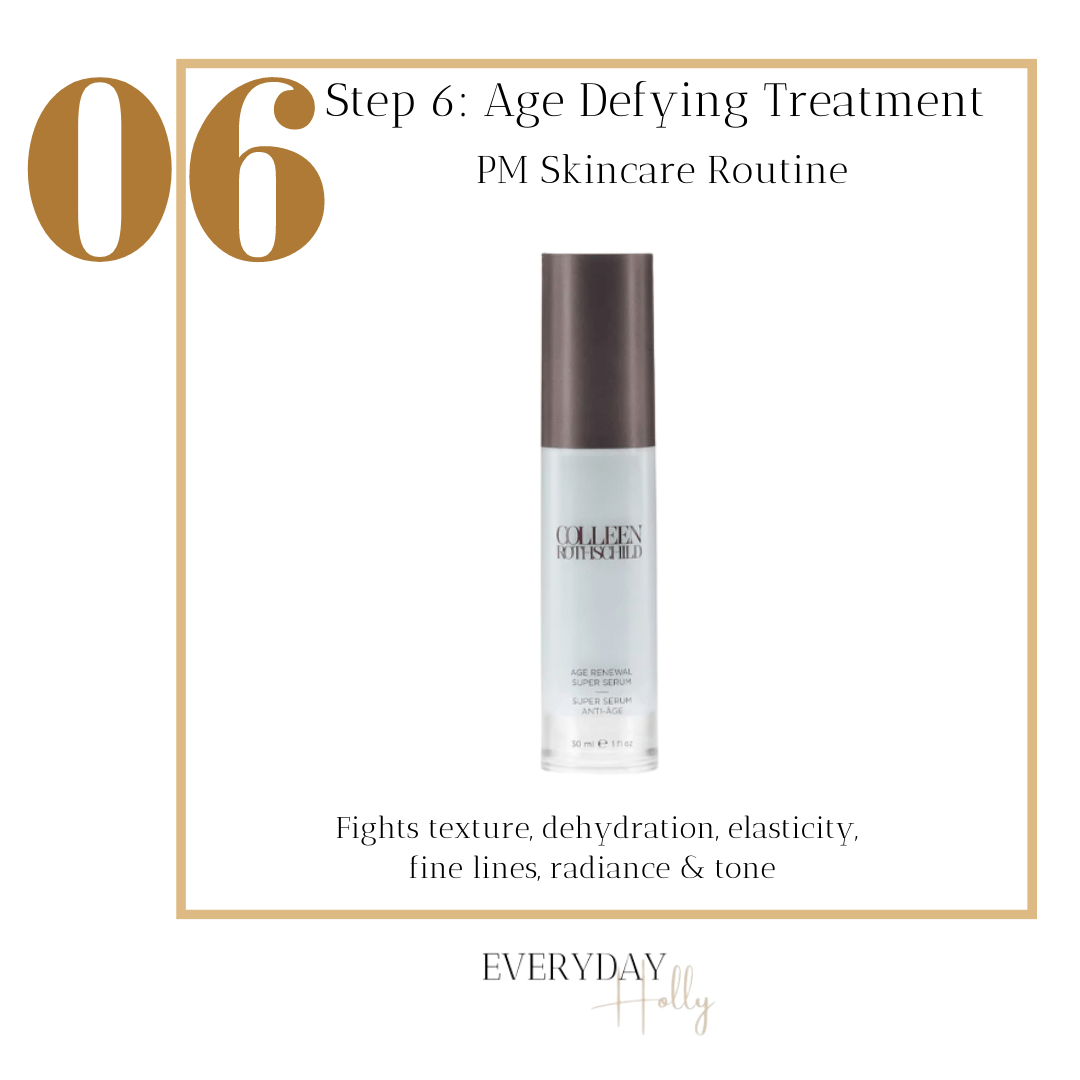 Colleen Rothschild Age Renewal Super Serum

Now after using the strong retinol serums, we want to continue to treat the aged skin by using a hydrating serum. This product gives the skin that boost of moisture while still working on texture, brightening the skin & gives you a more even skin tone. This is also a great product if you have sensitive skin that can't handle the products in step 6. This serum is great for sensitive skin!
Step 7: Moisture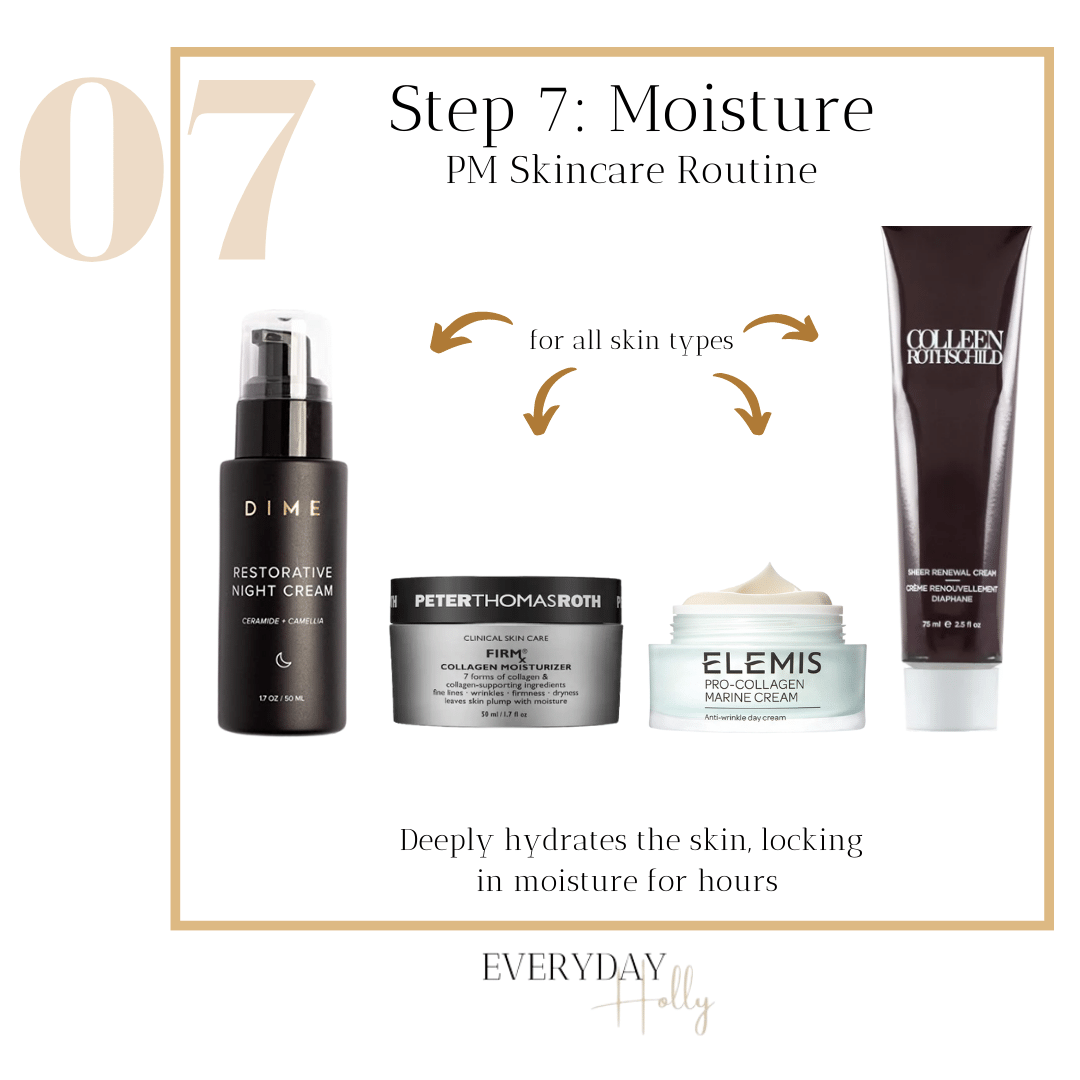 Dime Restorative Night Cream | Peter Thomas Roth Collagen Moisturizer | Elemis Pro-Collagen Marine Cream | Colleen Rothschild Sheer Renewal Cream

We should be moisturizing every day. Especially if we are over 40, our skin starts to lose elasticity & doesn't retain as much moisture. The earlier you start out with implementing this into your routine, the more your older self will thank you! These are my favorite moisturizers for night time because they are very hydrating & thicker than morning moisturizers. You can also add in the Dime Hyaluronic Acid Serum for that added boost of hydration at night.
Step 8: Eye Care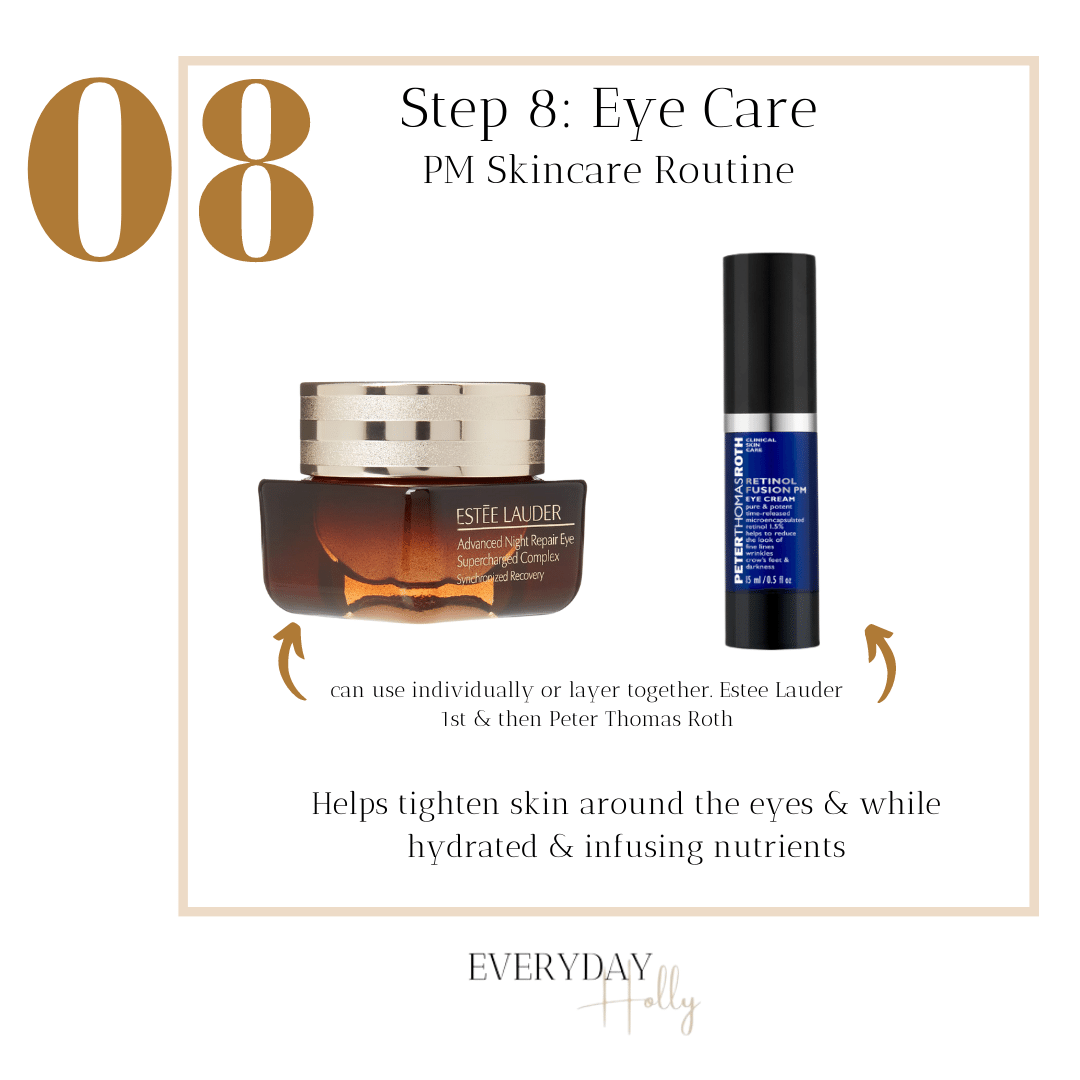 Estee Lauder Night Eye Cream | Peter Thomas Roth Retinol Fusion Night Eye Cream

Taking care of the skin around your eyes is one of the most important steps in any skincare routine. All of us smile, laugh & squint which stresses the skin & creates wrinkles. The skin around our eyes is very thin, which allows it to age faster because it is more sensitive that the skin on our cheeks for example. To tighten the area around the eyes I like using these products for strong moisture & fights wrinkles. These products work great on their own or can be used together for a magical power-duo.
Step 9: Neck Care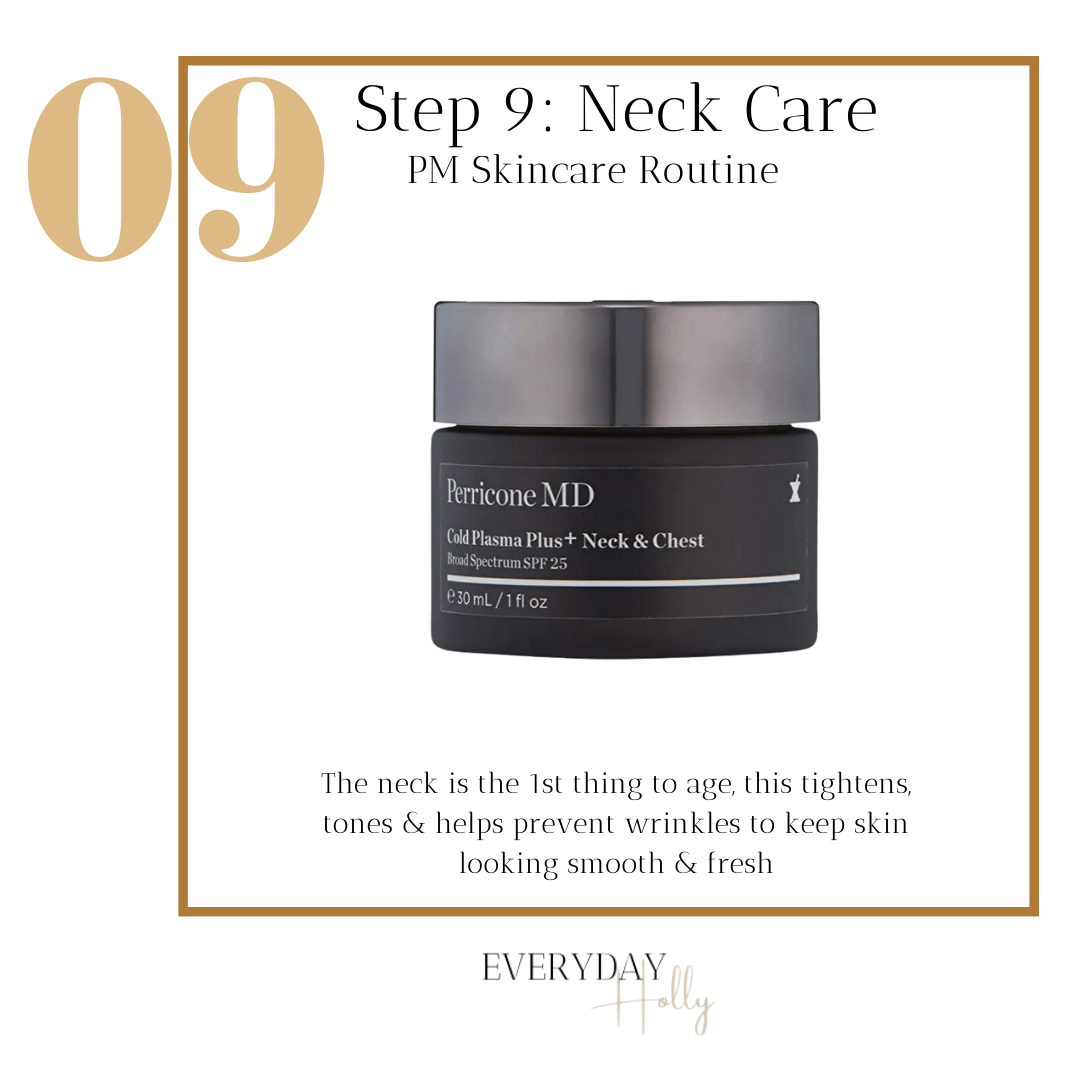 Perricone MD Neck & Chest Cream

Truth – your neck is the first thing that shows signs of aging because we all look down, move our head, & tend to forget about this area. The skin creases & we typically forget to moisturize it, which leads to losing elasticity quicker. Also, your neck & chest are places that constantly get sun, using a moisturizer that contains SPF is very important to protect from sun & dark spots.
Step 10: Lashes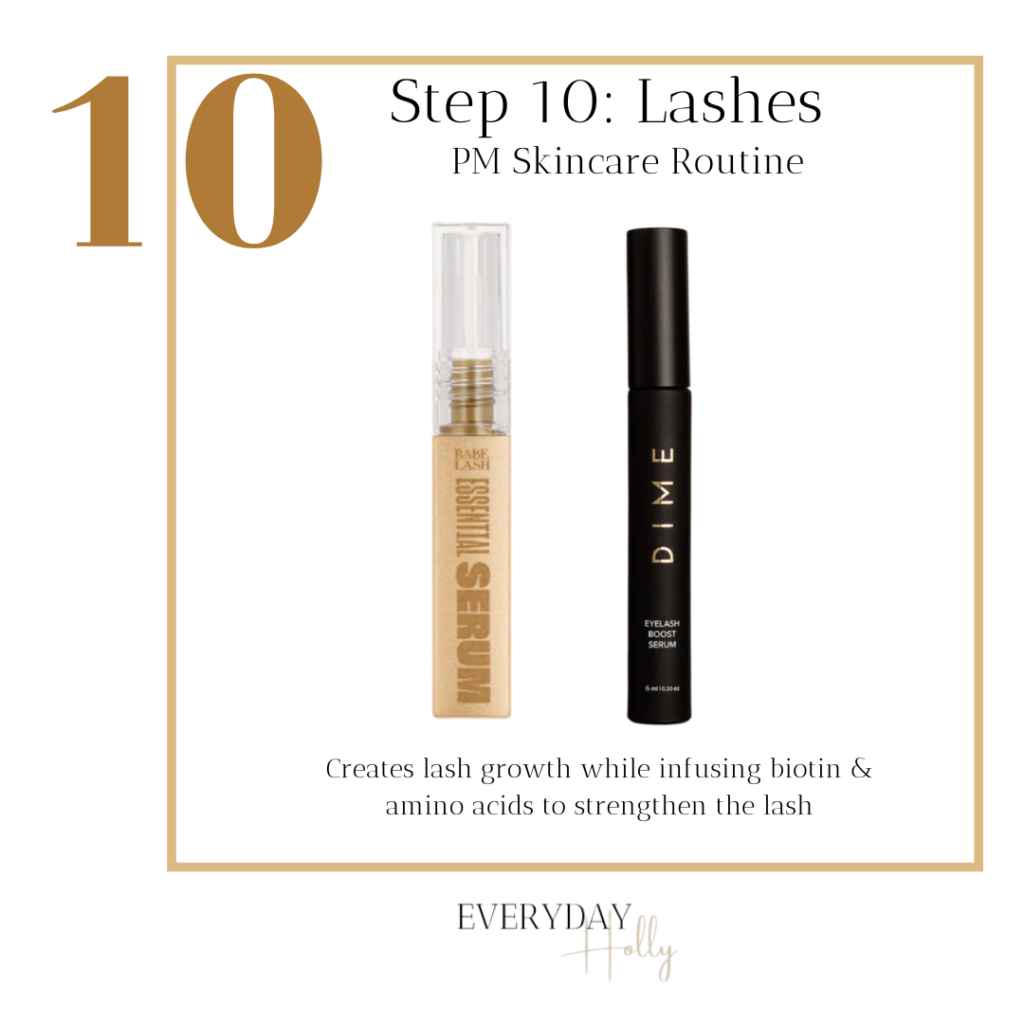 Babe Lash Essential Serum | Dime Lash Boost Serum (Save 20% code EVERYDAYHOLLY20)

For women like me who use mascara frequently, your eyelashes get tired just like the rest of your body. It's just like your hair & nails, it needs moisture & strength too. This lash serum contains biotin & amino acids to strengthen your lashes & rejuvenate them after being coated all day. This serum also helps your eyelashes grow to give you extra length that all of us want.
Step 11: Bonus Anti Aging Mask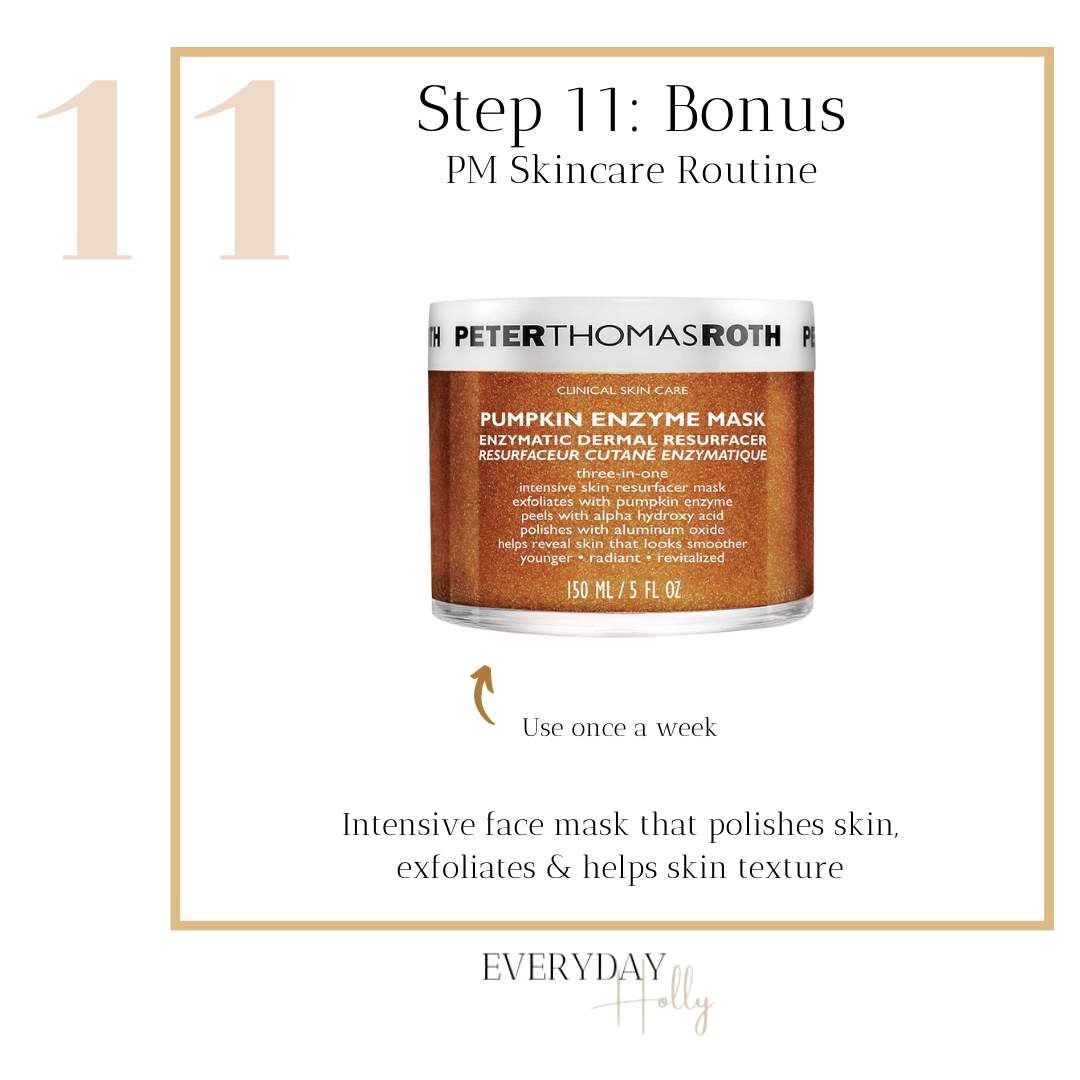 Peter Thomas Roth Pumpkin Enzyme Mask

To finish off a lovely night time routine, we use a great face mask. You can use this product in different orders than I have listed above. Some people like to use face masks after they cleanse the skin before putting on serums & moisturizers. However, if you are over 40 you need a good face mask! This Pumpkin Enzyme Mask is fabulous for fighting skin texture as well as polishing the skin. I recommend using this about twice a week for great results. This gives the skin a nice reset from the normal routine, and you will be able to tell a difference in the appearance of your skin, as well as see the change in texture.
Evening Skincare Routine Products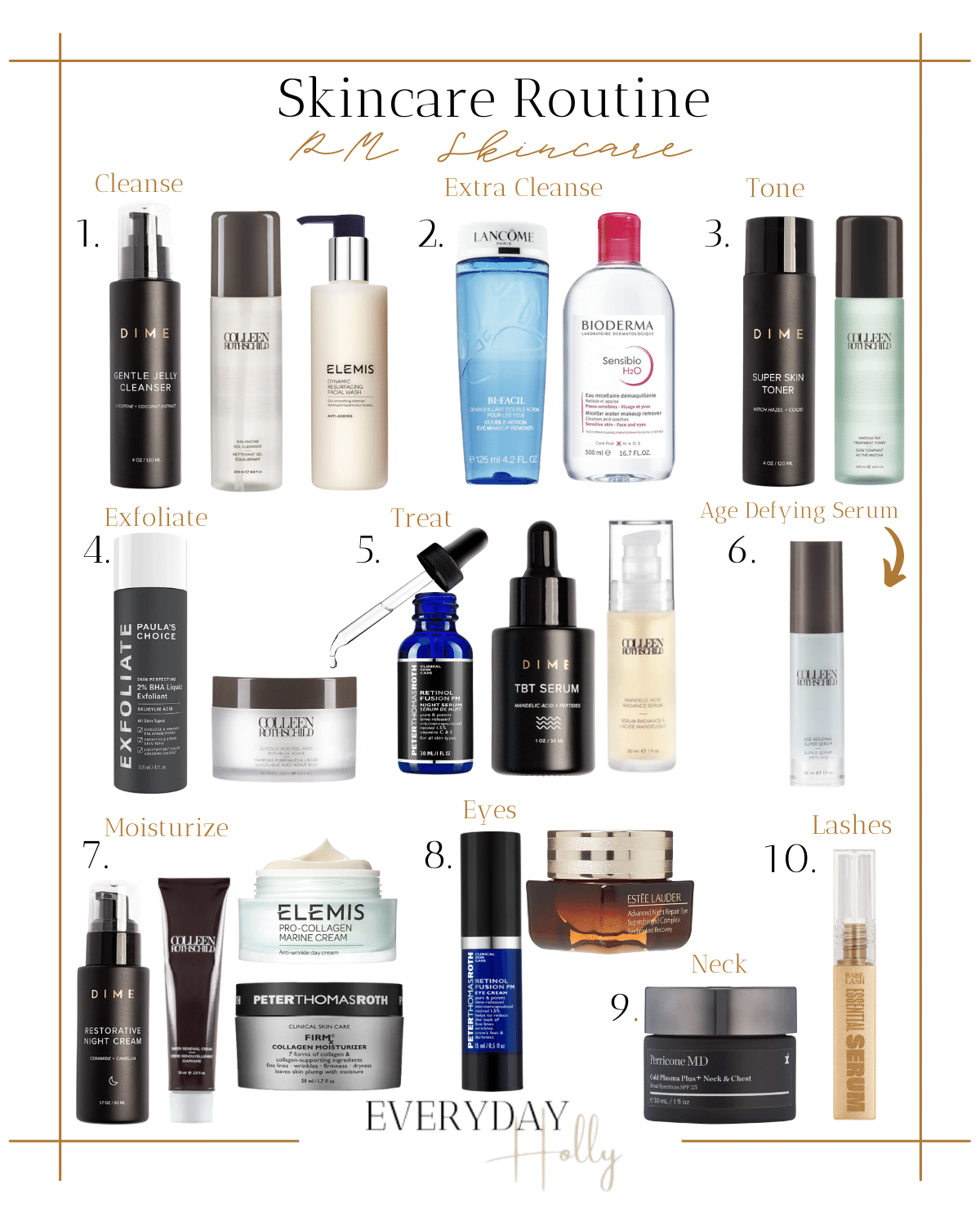 Dime Jelly Cleanser | Colleen Rothschild Facial Cleanser | Elemis Facial Cleanser | Lancome Makeup Remover | Bioderma Cleansing Water | Dime Super Skin Toner | Colleen Rothschild Toner | Paula's Choice Exfoliant | Colleen Rothschild Exfoliating Pads | Peter Thomas Roth Retinol Serum | Dime TBT Serum | Colleen Rothschild Radiance Serum | Colleen Rothschild Age Renewal Serum | Dime Night Cream | Colleen Rothschild Sheer Cream | Elemis Collagen Cream | Peter Thomas Roth Collagen Moisturizer | Peter Thomas Roth Eye Cream | Estee Lauder Eye Cream | Perricone MD Neck & Chest Cream | Babe Lash Essential Serum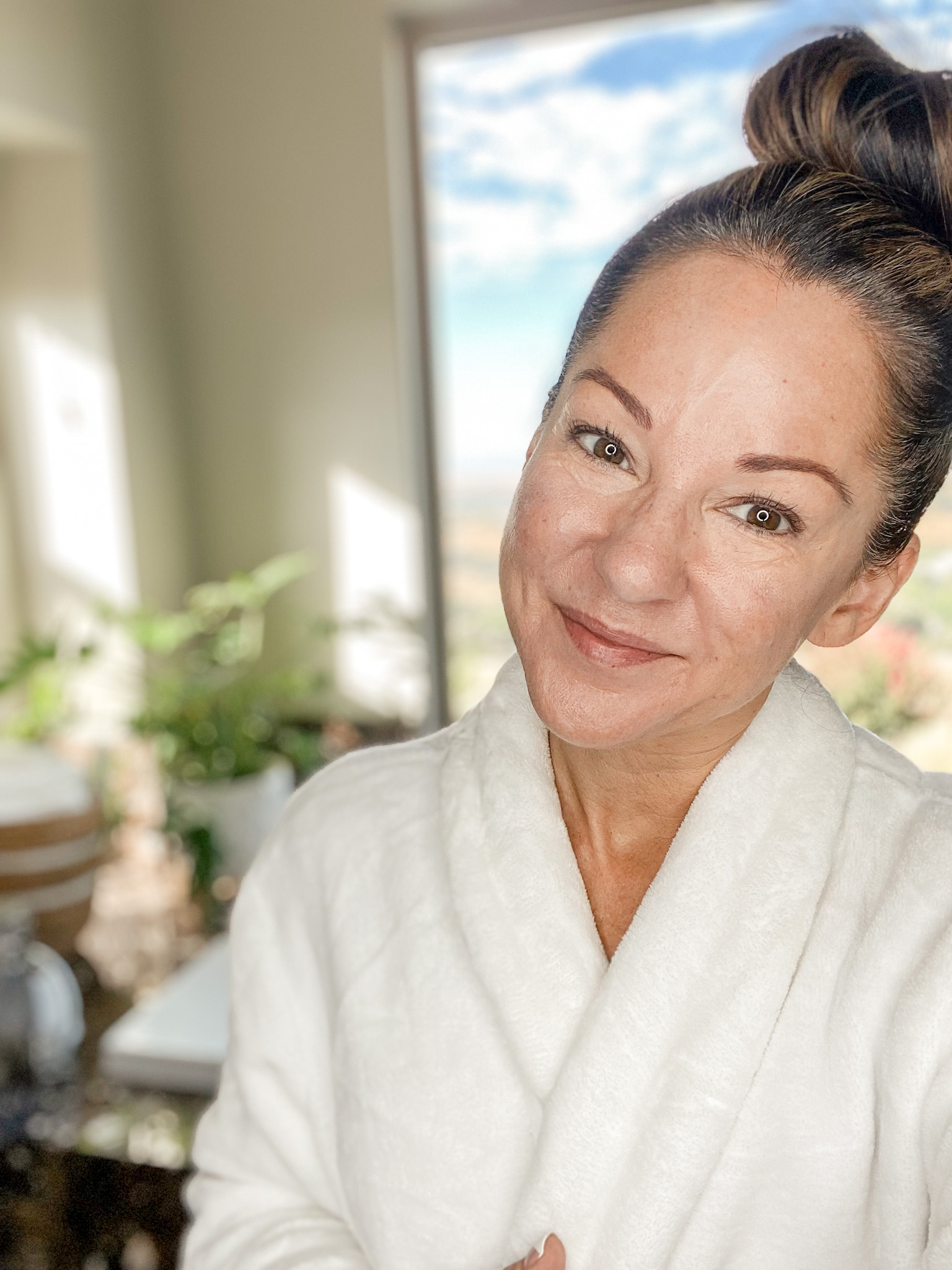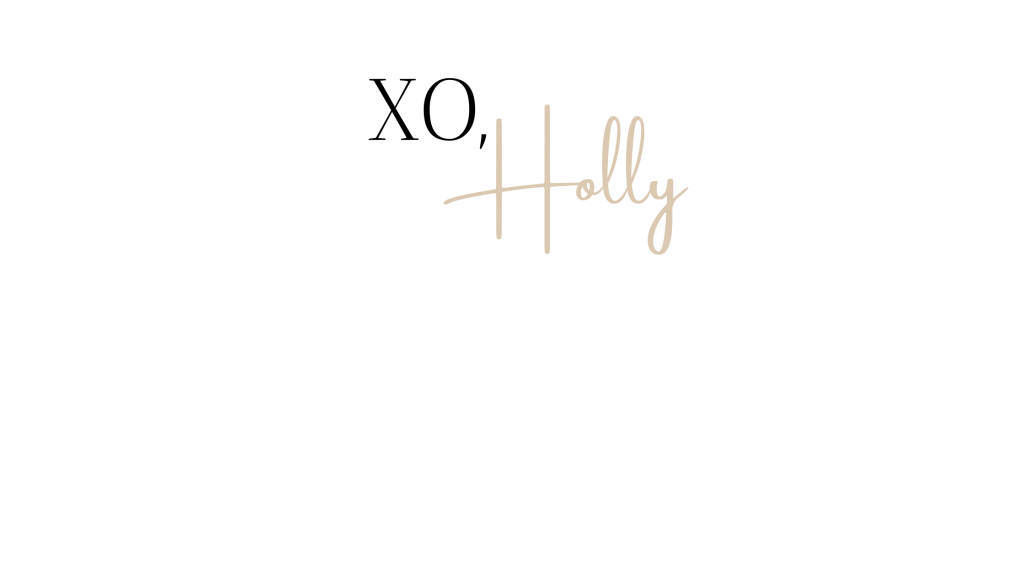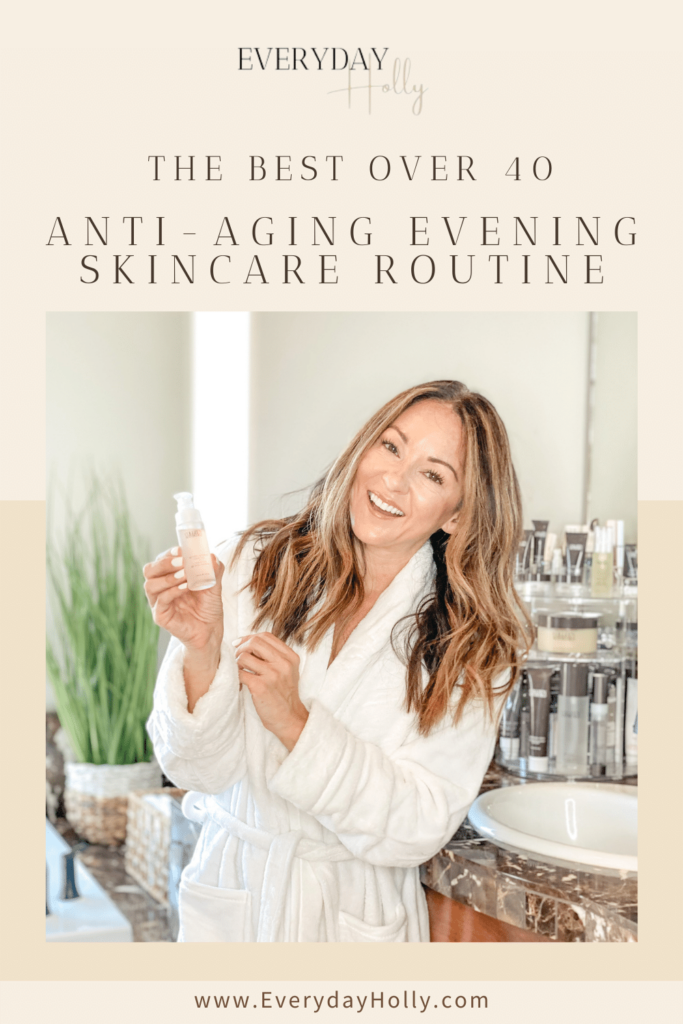 shop the post