Workwear Essentials That Will Carry You Through This Fall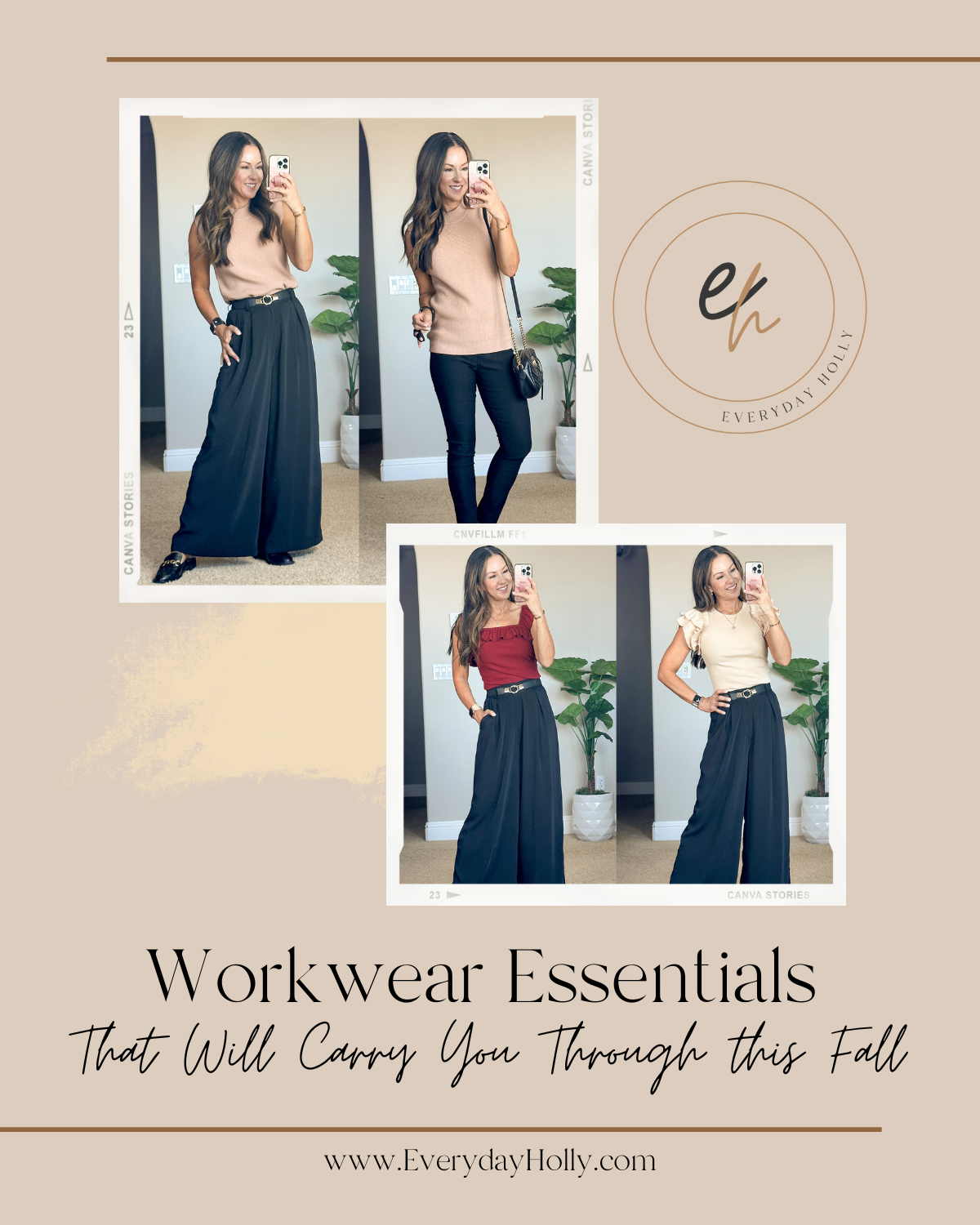 Shopping for workwear clothes doesn't have to be drab and boring! I am always searching for comfortable AND stylish wardrobe pieces. I am a firm believer that you can absolutely bring fashion into the office, is there a rule that says you can't? I have selected some of the best workwear basics that will carry you through this fall. Whether you are somewhere EXTRA cold or somewhere that stays a little bit hotter throughout the season – there is something in here for you. Keep scrolling for workwear basics from blazers, cardigans to accessories and more!
CLICK HERE for the hottest best selling items from August!
**This post contains affiliate links, all opinions are my own. Thank you for supporting me!**
Women's Suit Vest tts, XS | High Waisted Shorts tts, S | Square Toe Two Strap Heel 7 | High Waisted Wide Leg Pant tts, XS | Loafer Mule 7 | Budget Friendly Buckle Mule | Pencil Skirt tts, S
As I love to share my latest finds with you–be sure to visit my Amazon Storefront and my LTK where I share daily deals, fashion finds, home items, beauty staples, and more.
Workwear Basics | Blazers and Cardigans
You are able to dress up any outfit with a quality blazer or cardigan. Solid colors are always a solid investment since they are versatile and typically go with anything!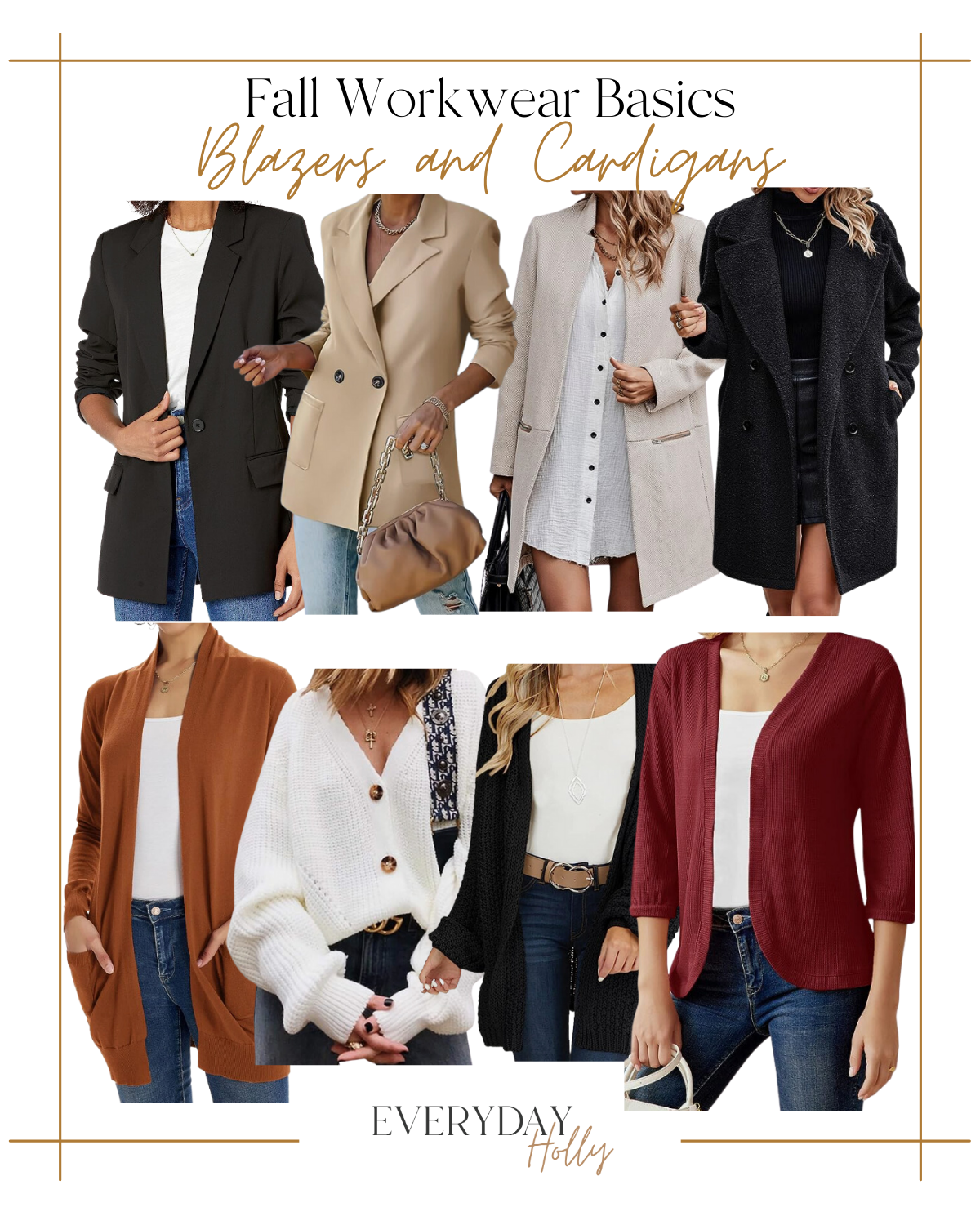 Black Long Blazer tts, XXS | Khaki Oversized Blazer | Beige Open Front Cardigan | Black Long Sherpa Coat | Bronze Open Front Cardigan | White Cable Knit Cardigan | Black Chunky Knit Cardigan | Red 3/4 Sleeve Cardigan
You can dress up any outfit AND keep warm with these blazer and cardigan selections. Each of these are perfect whether it's chilly outside or chilly in your office!

Workwear Basics | Stylish Blouses and Tops
Fall is the perfect season for layering – you're able to show off more than one or two items from your wardrobe at a time. These blouses and tops are perfect for layering or simply throwing a blazer or cardigan over!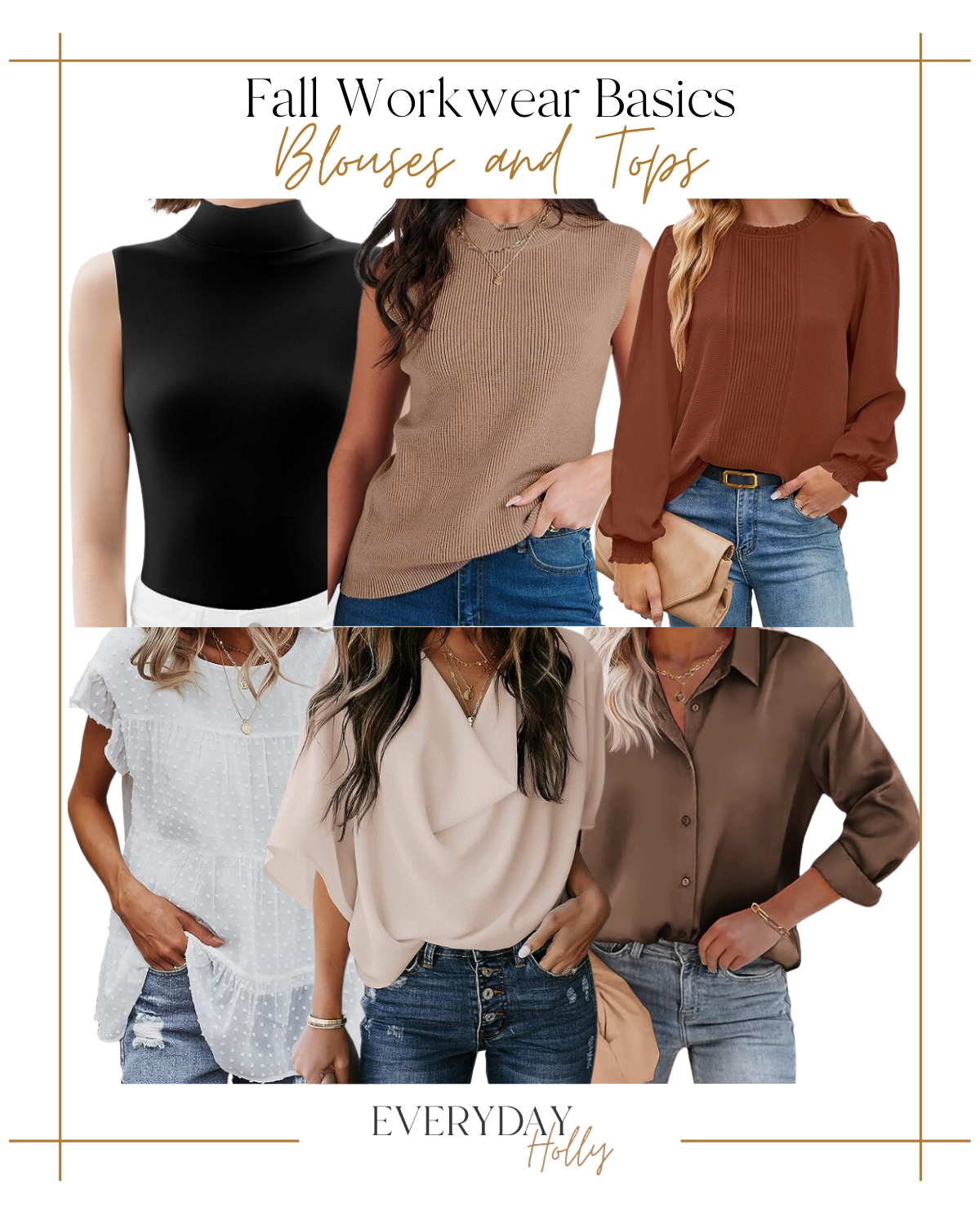 Sleeveless Mock Neck Turtleneck | Sleeveless Knit Sweater Vest | Frill Mock Neck Long Sleeve | Ruffle Tunic Top | Short Sleeve Chiffon Top | Satin Button Down
When shopping for fall workwear basics, it's important to stick to neutral and warmer autumn toned colors. These are much easier to layer and style with other fall workwear staples!

Workwear Basics | Seasonal Dresses and Skirts
One of my favorite things about fall is the changing autumn colors and these outfits certainly match the vibe! Even though it's fall, that doesn't mean we have to stop wearing dresses and skirts! I found some amazing styles, all available on Amazon.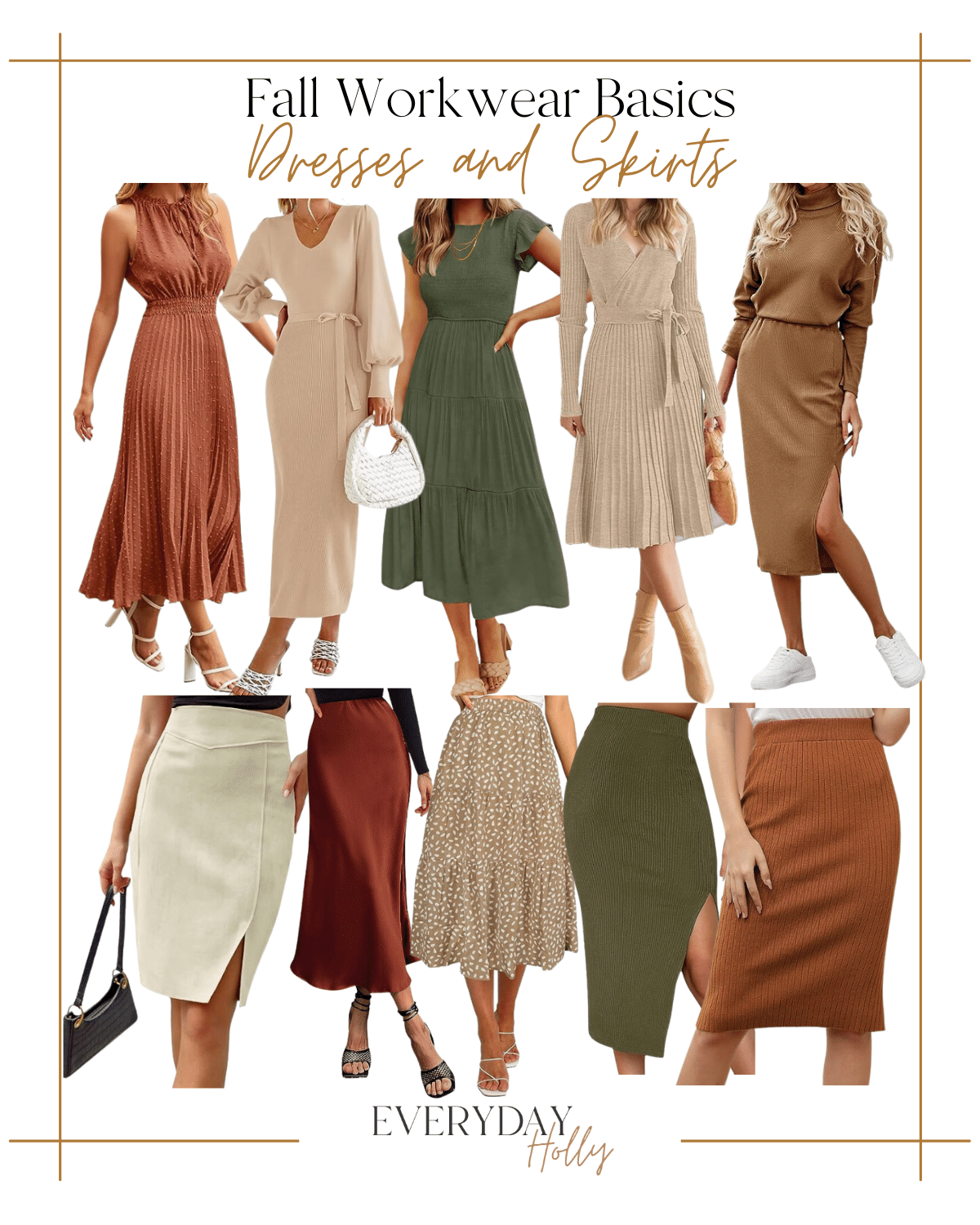 Midi V-Neck Swiss Dot Dress | Maxi Sweater Dress | Crew Neck Midi Dress | Ribbed Knit Long Sleeve Wrap Dress | Two-Piece Turtle Neck Set | Faux Suede Pencil Skirt | High Waisted Satin Midi Skirt | Pleated Boho Midi Skirt | Ribbed Skirt
Something I have realized over the years is that wearing dresses and skirts is actually pretty low effort but makes people THINK you put in tons of effort! These cozy sweater dresses are perfect for the upcoming season and are sure to make you the most stylish gal in the office!

Workwear Basics | Footwear
If you didn't know by now, I am all about fashion AND comfort. These footwear selections are the perfect way to bring your sense of style with you to the office. These two-strap block heels are my absolute favorite, don't ask me how many pairs I have… you don't want to know!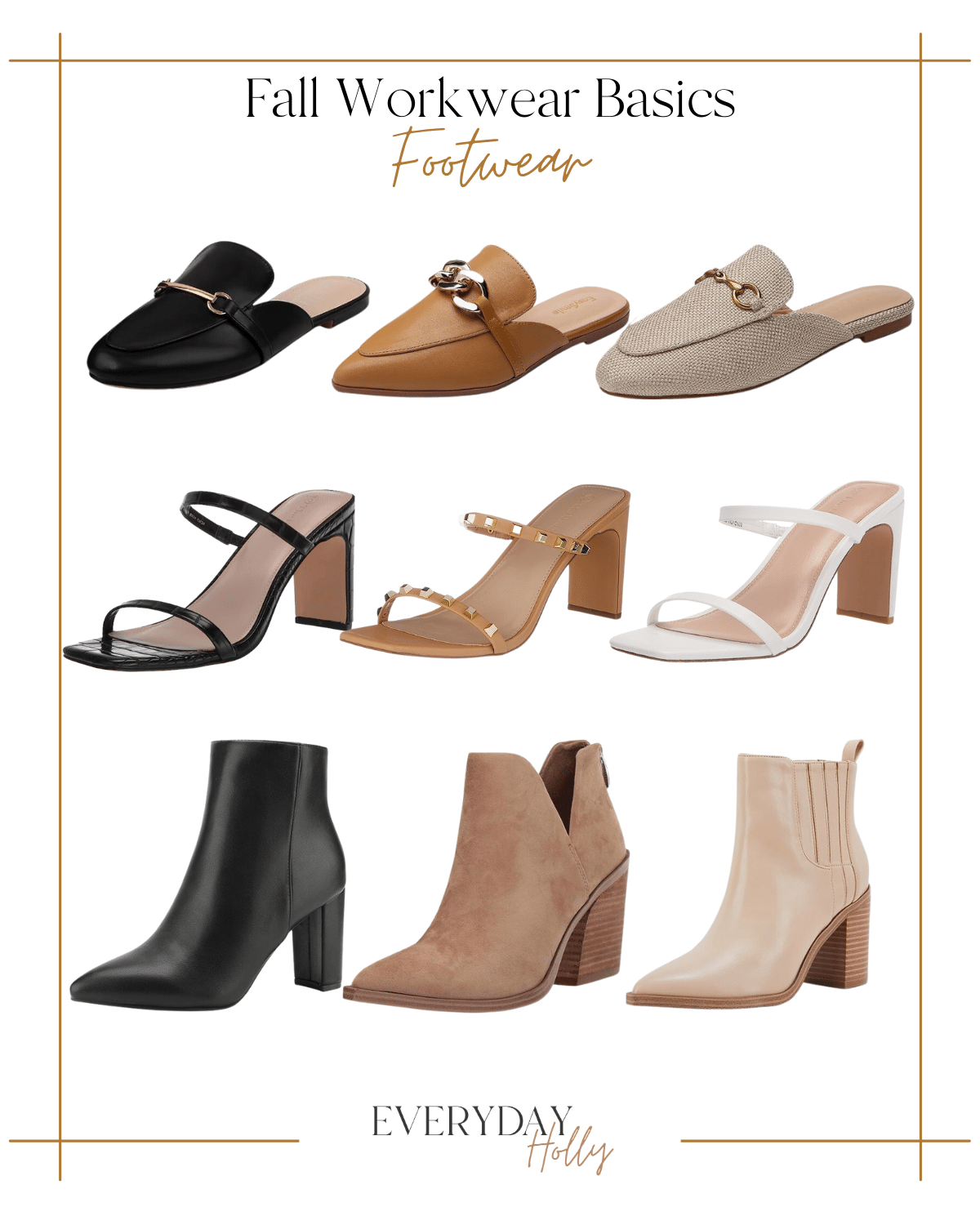 Black Backless Mules | Brown Pointed Backless Mules | Round Toe Backless Mules | Black Square Toe Two Strap Heel 7 | Studded Two Strap Heel 7 | White Square Toe Two Strap Heel | Chunky High Heel Ankle Boot | V Cutout Ankle Booties | Chunky Block Heel Booties
These boots (and mules and high heels) were made for walking! Elevate any existing style with ANY of these shoes. Pair any of these shoes with your favorite fall workwear outfit for an instant boost!

Workwear Basics | Must Have Accessories
Now it's time for the finishing touches to your fall workwear wardrobe. I always say that accessories have the power to elevate an entire outfit. Dress up your new workwear basics with these must have accessories!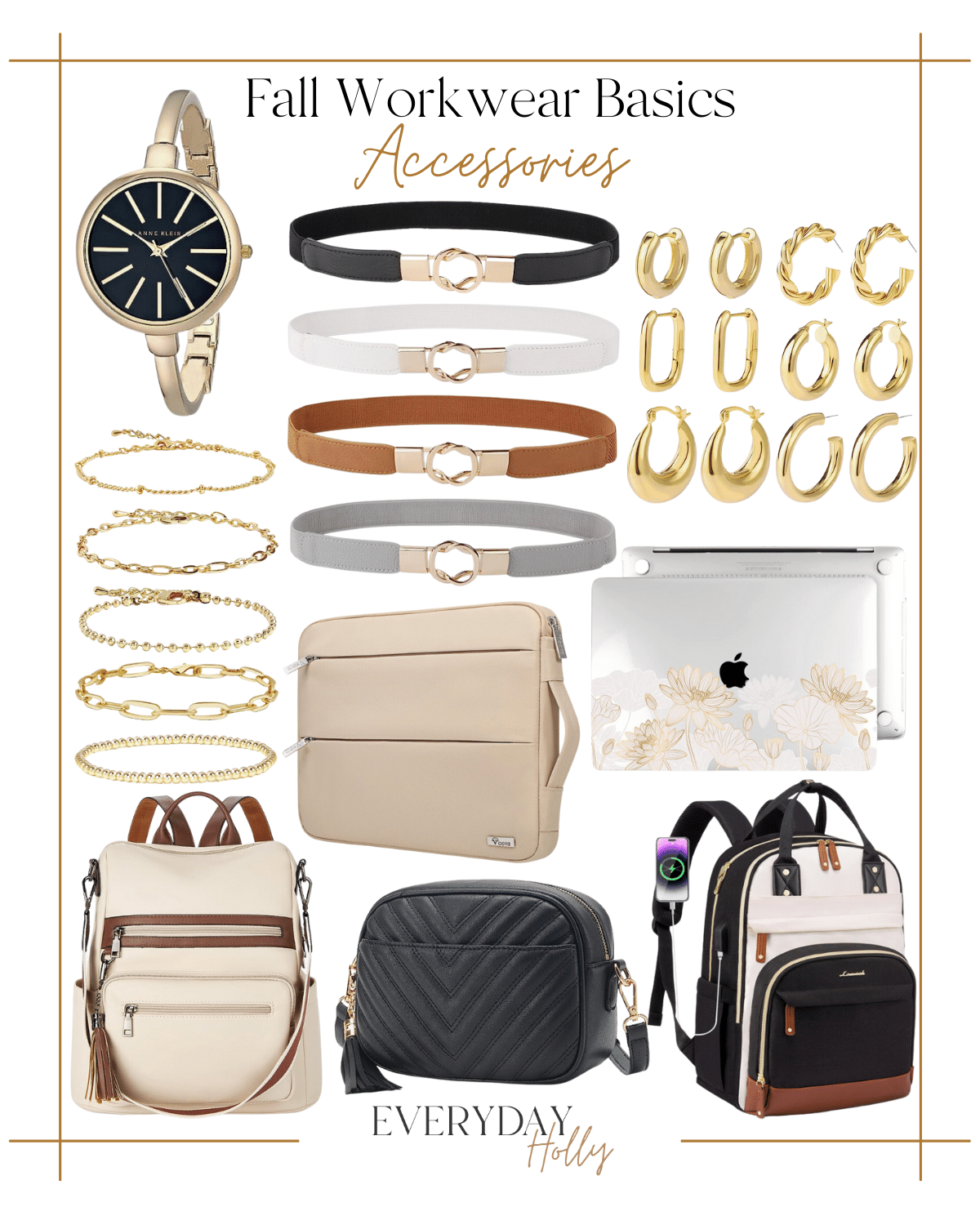 Bangle Watch and Bracelet Set | Set of Skinny Belts | Gold Hoop Earrings | Set of Gold Bracelets | Laptop Travel Case | Hard Shell Laptop Case | Large Travel Backpack | Crossbody Purse | Laptop Backpack
You can stop searching for the best accessories… I did all of the hard work for you! Imagine you have the PERFECT fall workwear outfit picked out but it still feels like something is missing. Gold jewelry is a great accessory to have whether it's for your office style or a night out! Of course you need to keep all of your items in one collective place, this laptop backpack is my personal favorite!

Shop My Favorite Workwear Basics for this Fall
Take a peek at my personal favorite workwear basics for this fall – there's a variety of styles and colors to choose from!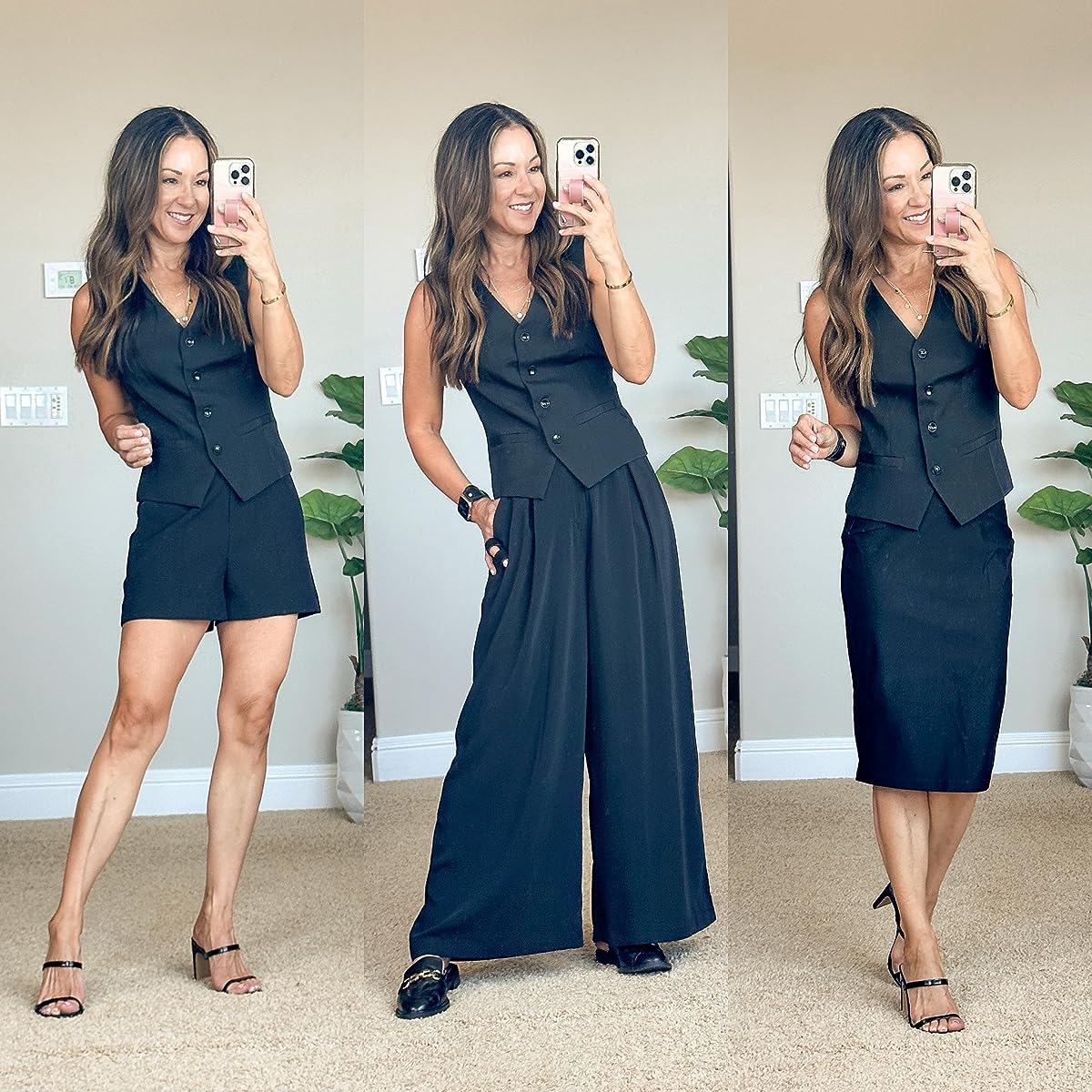 Women's Suit Vest tts, XS | High Waisted Shorts tts, S | Square Toe Two Strap Heel 7 | High Waisted Wide Leg Pant tts, XS | Loafer Mule 7 | Budget Friendly Buckle Mule | Pencil Skirt tts, S
What I love about this outfit is it's versatility. With the cooler months around the corner, simply layer a long sleeve under the tailored vest. It truly is an outfit for any season!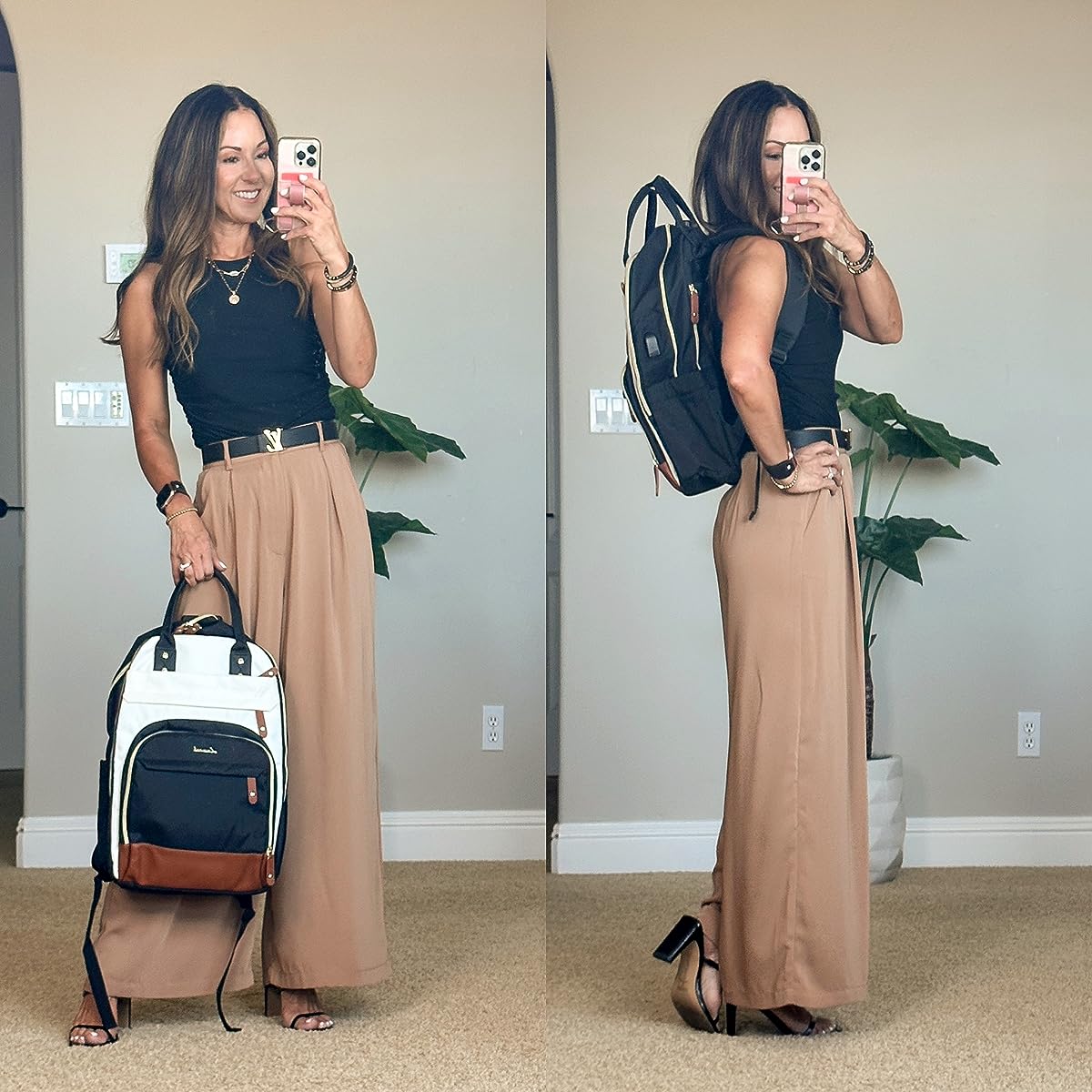 Sleeveless Bodysuit tts, XS | High Waisted Wide Leg Trousers tts, XS | Square Toe Two Strap Heel 7 | Strapless Bra | Laptop Backpack | Gold Initial Layered Necklaces
This is my favorite backpack to travel with – it fits my laptop beautifully, is waterproof, and has more than 26 pockets. It pairs well with this fall workwear style and is available in ten other color schemes!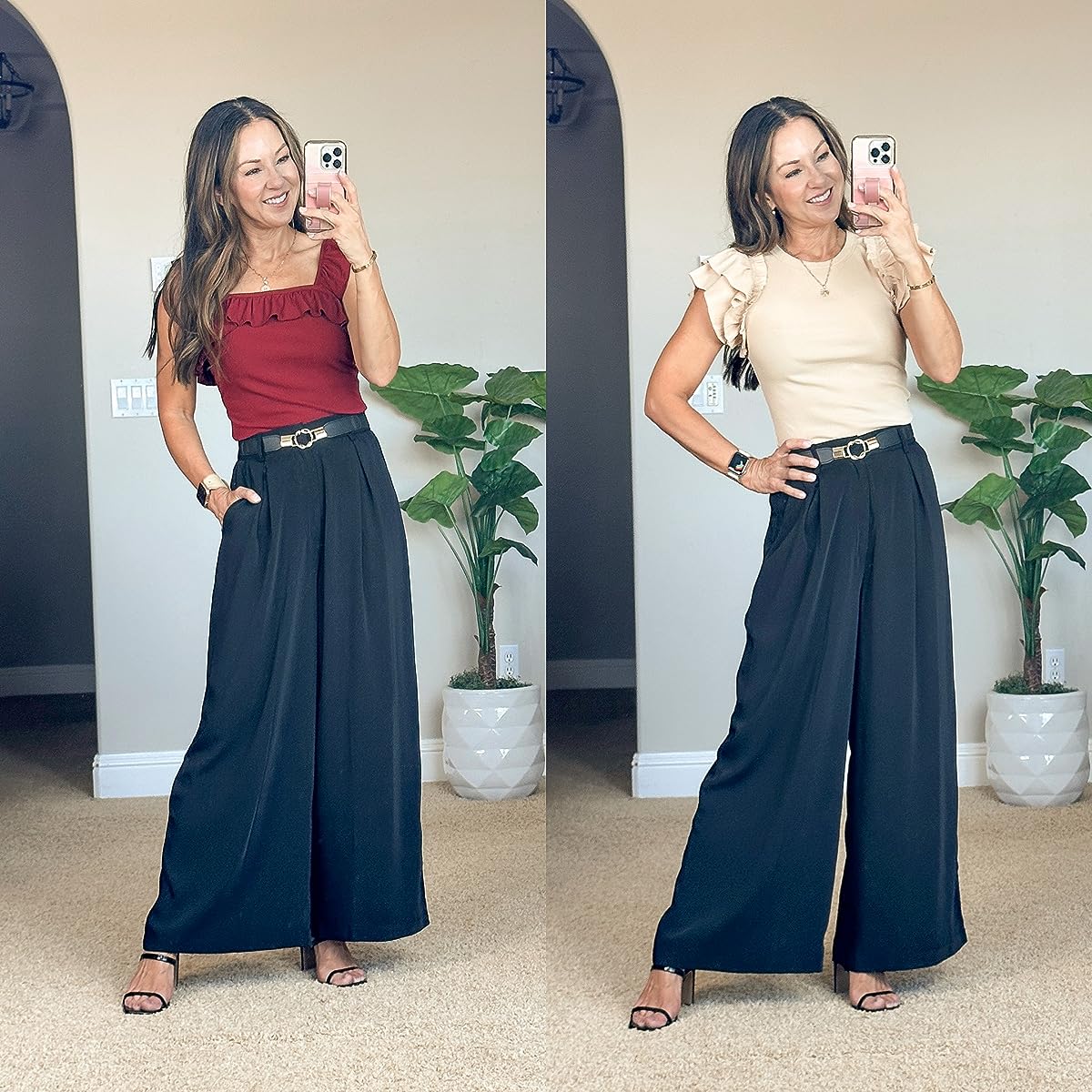 Ruffle Strap Tank Top tts, S | High Waisted Wide Leg Trouser tts, XS | Short Sleeve Ruffle Top tts, S | Skinny Belt | Square Toe Two Strap Heel 7
Like I said before, shop for neutral and warmer autumn colors! These ruffle tops add a little bit of personality to the outfit while also being stylish and functional.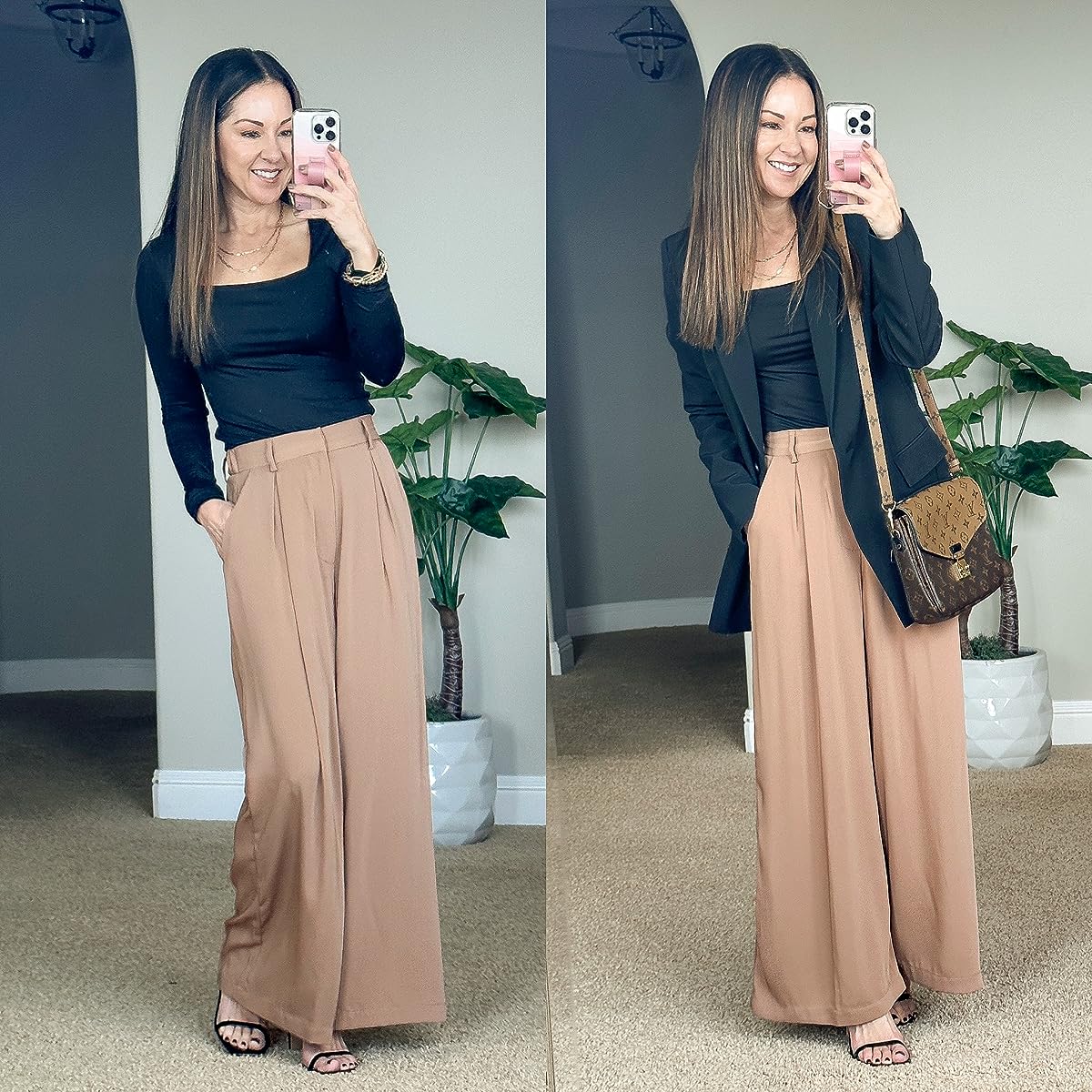 Square Neck Long Sleeve Bodysuit tts, S | High Waisted Wide Leg Trousers tts, XS | Blazer XS | Square Toe Two Strap Heel 7
Oversized blazers are totally in right now – I ended up exchanging this XS for a XXS, it had a much better fit! This bodysuit is also insanely buttery soft which makes it ideal for a long day at work.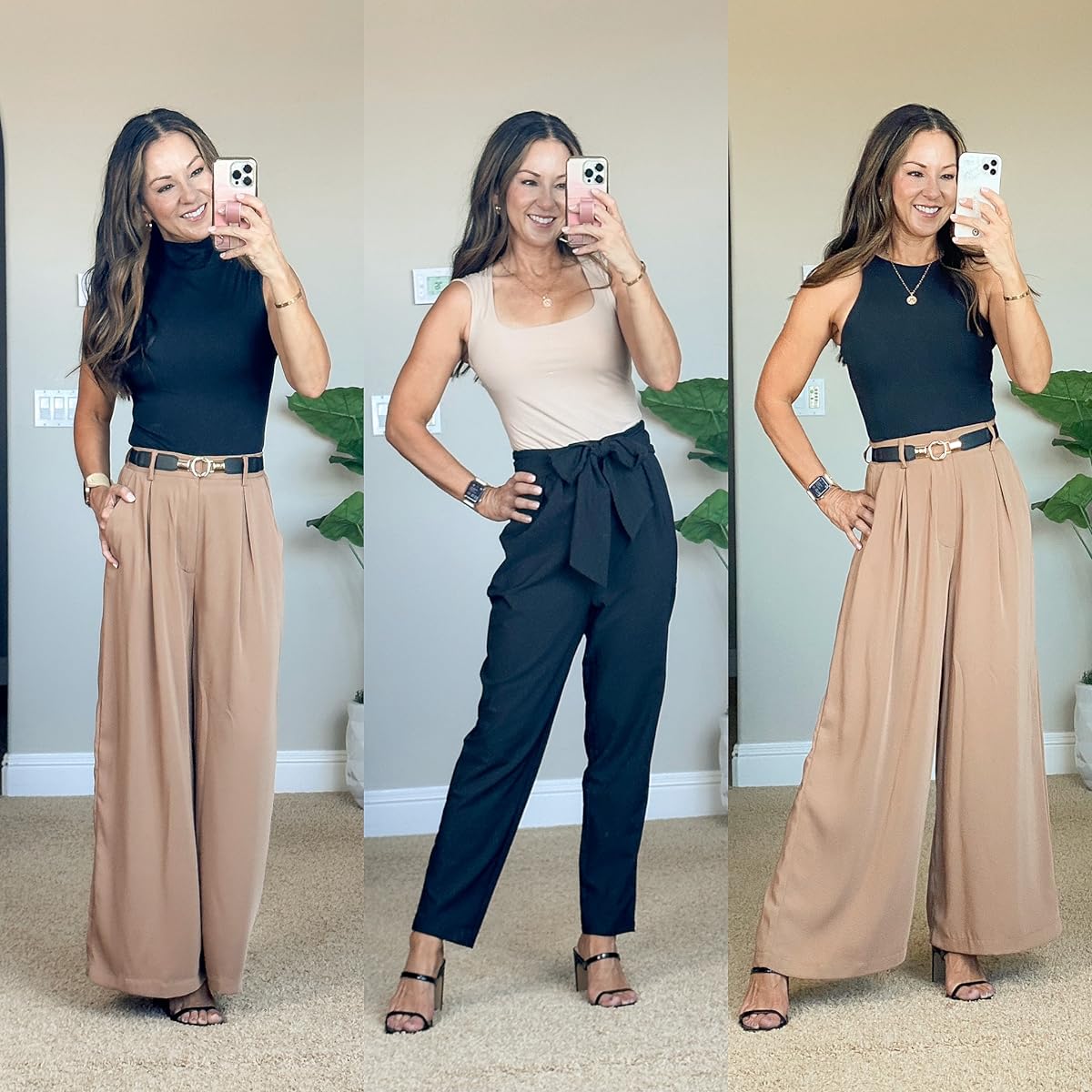 Sleeveless Mock Neck Turtleneck | High Waisted Wide Leg Trouser Pants tts, XS | Skinny Belt | Square Toe Two Strap Heel 7 | Square Neck Cap Sleeve Bodysuit | Cropped Paper Bag Waist Pants | High Neck Sleeveless Bodysuit
I feel like bodysuits don't get enough credit where credit is due. These are three different style bodysuits from Pumiey that are workwear friendly and great for any other occasion too! Wearing these is as comfortable as slipping into buttery soft PJ's!

Shop More Fashion, Home & Beauty Favorites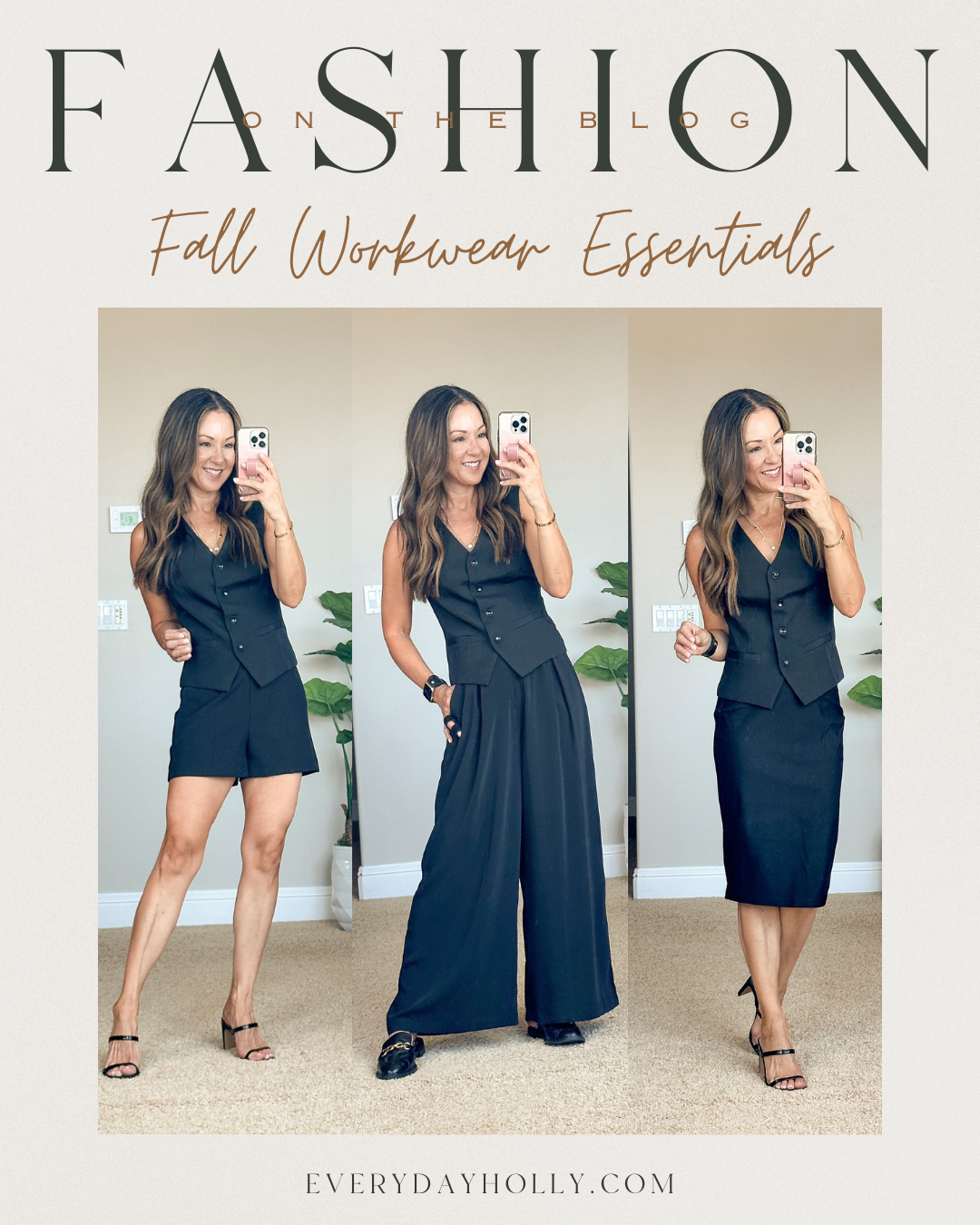 SHOP THE POST