Nordstrom Anniversary Sale | Items Worth Buying!
Happy Nordstrom Anniversary Sale! The amount of sales happening this week is crazy and hard to keep up with. However, I am here to give you the real authentic truth about my take on Nordstrom Anniversary Sale. I have been shopping this sale for over 20+ years. With each year, I feel like the deals get more and more narrow and specific. I am sharing with you the items that I have personally went and looked at in person, that I believe are worth the money. Sometimes we all need a splurge. Nordstrom Anniversary Sale is one of those for me. However, these are the items that I would actually recommend to anyone. If you are wanting to shop trustworthy products that are actually worth the splurge, check them out below.
**This post contains affiliate links. All opinions are true and my own.**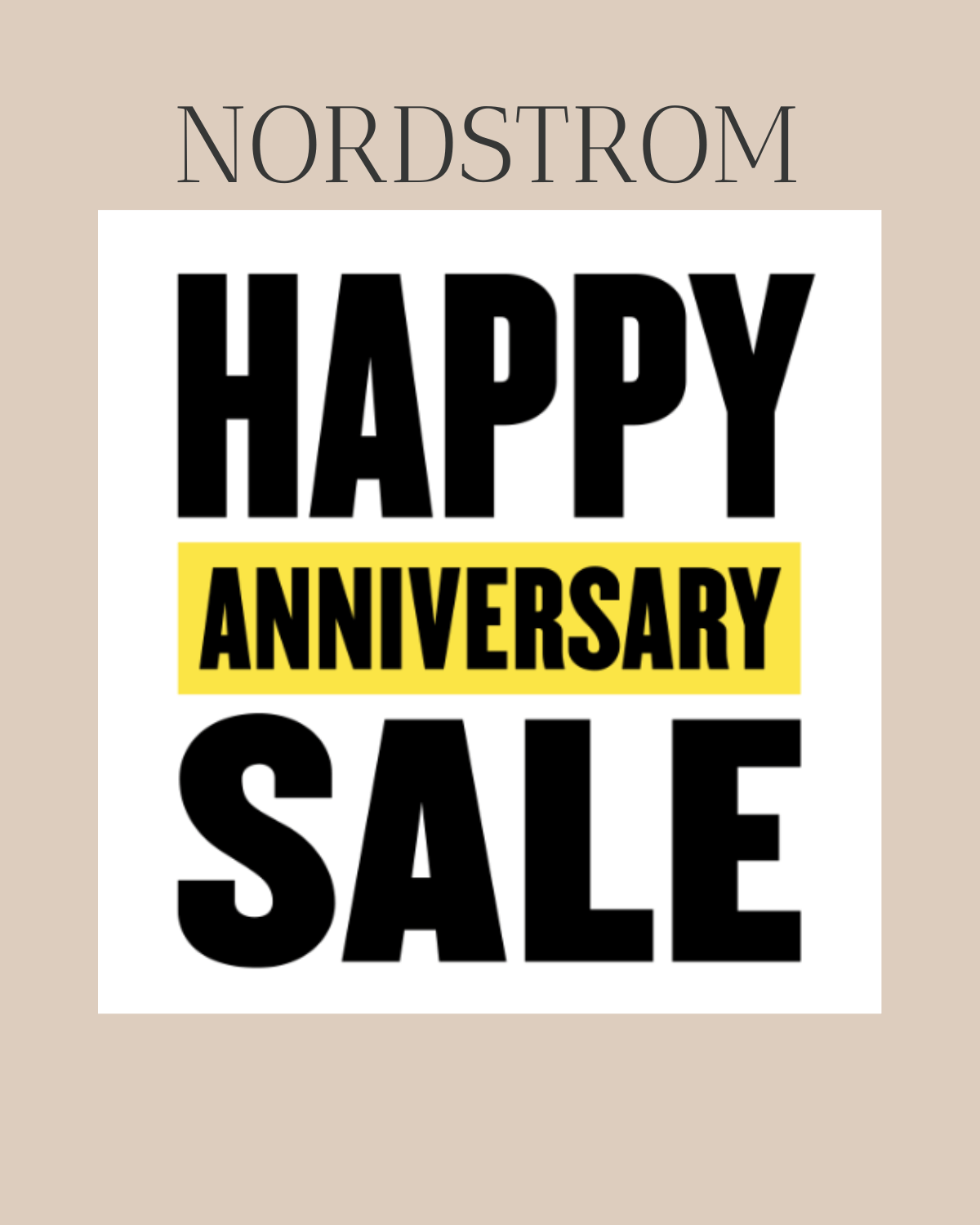 Nordstrom Anniversary Sale Dates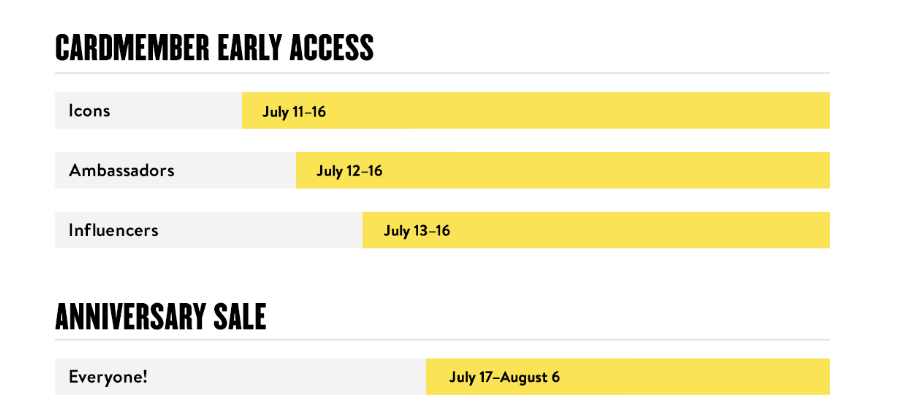 If you are a cardmember you can shop these deals NOW! These discounts will go live to everyone on the 17h so mark your calendars! Grab these while you can because they will sell out!
Workwear | NSALE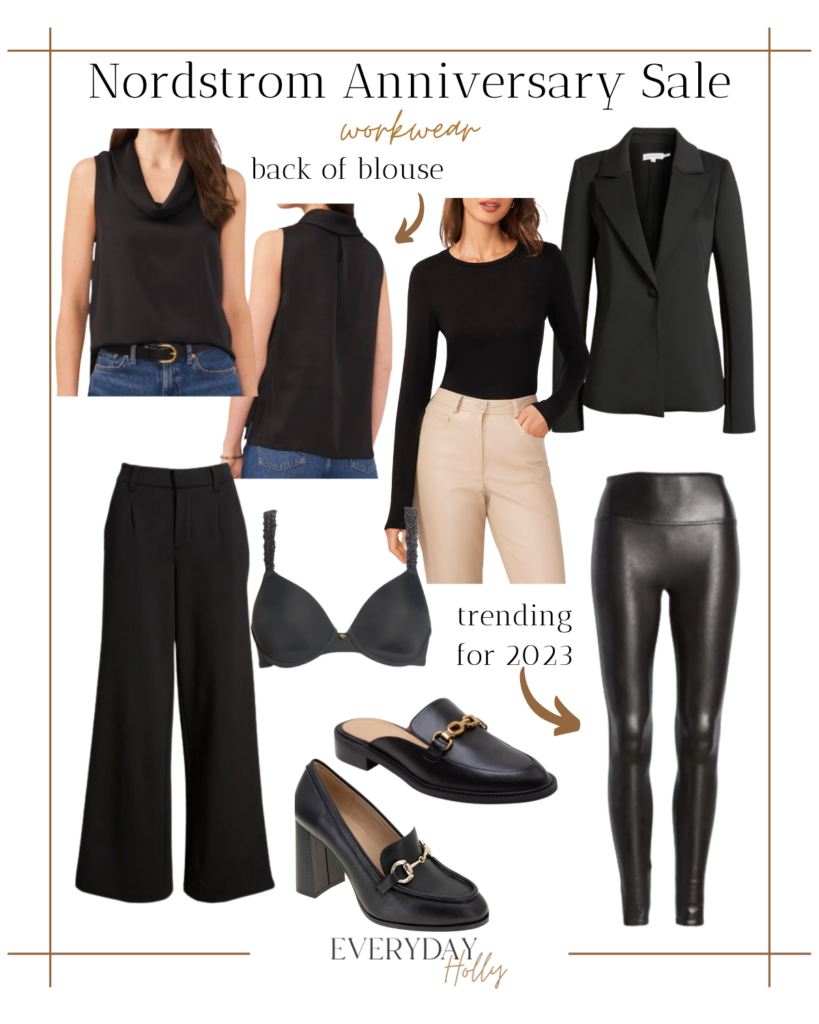 Black Blouse | Black Blazer | SPANX Faux Leggings | Black Flare Pants | Black Bra | Black Loafers | Loafer Heels | Underwire Bra
Nordstrom has so many styles that are going to sell out super quick. One of these is workwear items. Especially before school starts next month, people are stocking up for school, business outfits and more. These SPANX faux leather leggings were one of the top selling items of all of 2023. Before we know it, fall is going to be around the corner. I always like to stock up on a good pair before the season even hits. With the discount you can't beat getting it ahead of time.

Casual Style | NSALE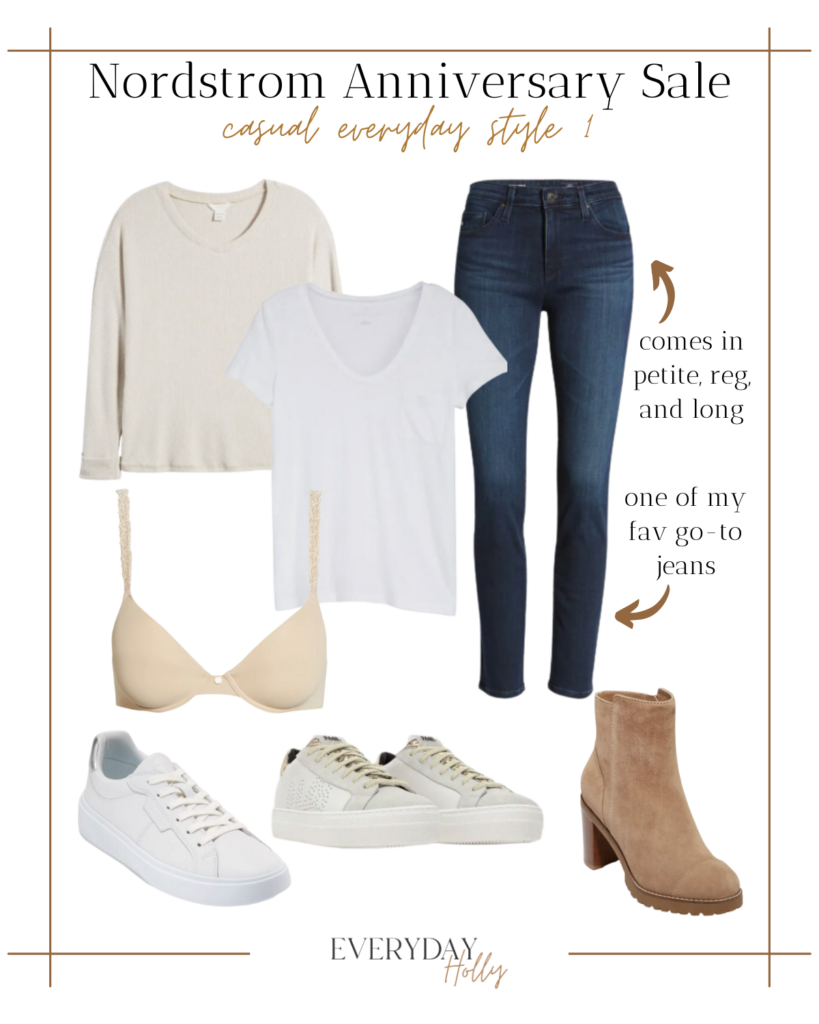 Cream Pullover | White Tee | Skinny Blue Jeans | White Sneakers | P448 Sneakers | Tan Booties | Underwire bra
Are you looking for an outfit that has great basics. These jeans are one of my go-to's all year round. The dark denim + fit are amazing. They come in petite, regular and long and have a hidden elastic waist band on the inside! You are able to shop the size that fits your body and legs best! This basic white tee comes in multiple different colors and I have so many of them. It is actually my favorite basic tee! Each Nordstrom Anniversary sale I restock on them, and purchase a few new white tees to have on hand!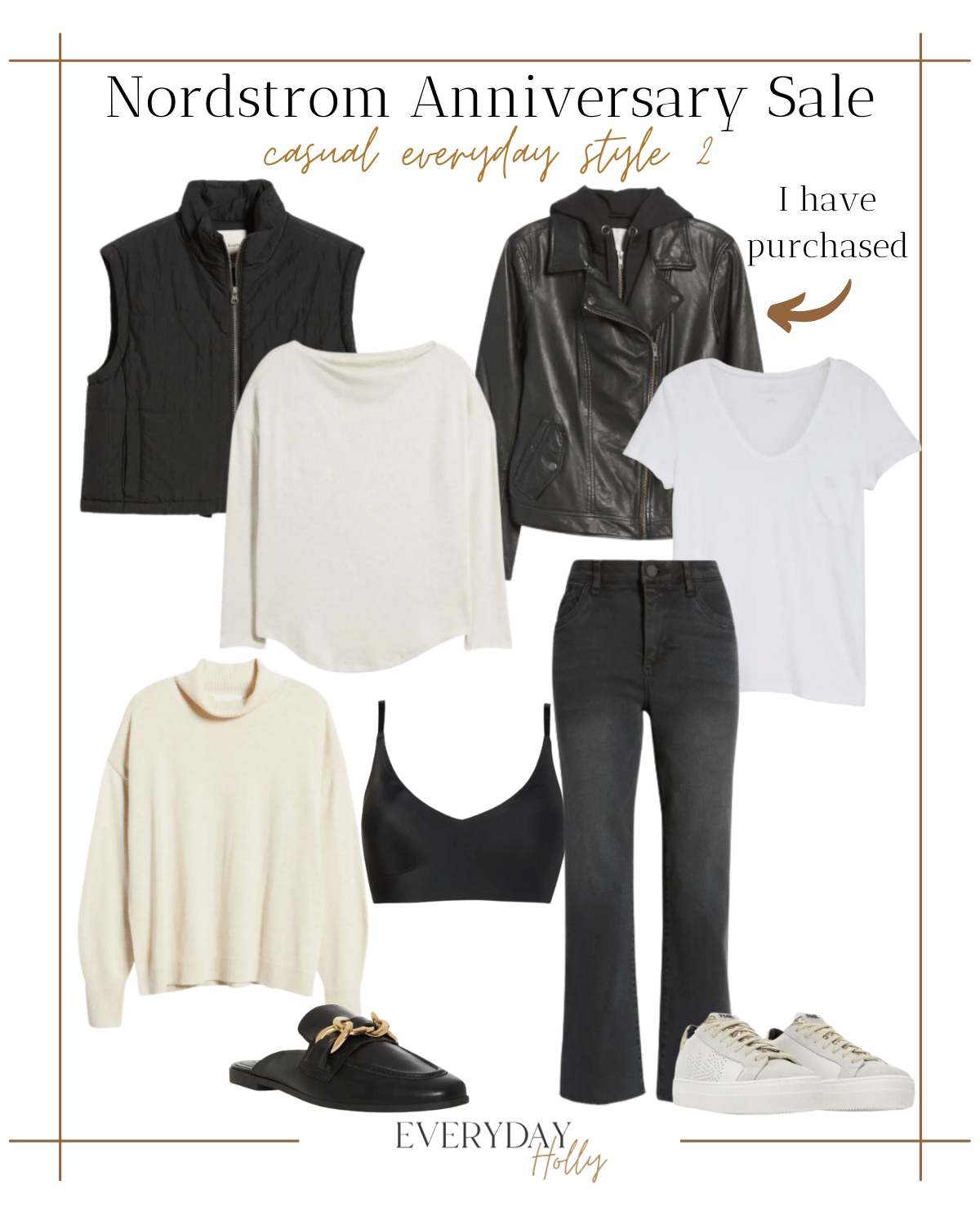 Black Puffer Vest | Ivory Long Sleeve | Black Leather Jacket | White Tee | Turtleneck Sweater | Black Bralette | Slim Flare Jeans | Black Mules | P448 Sneakers
I have purchased this leather jacket and I am a huge fan!! During the fall and winter I wear this jacket quite often because you can dress it up or down depending on the style you are going for. The hood is removable if you want to throw on some cute jeans and heels or you can wear it with a tee and sneakers. I am a big fan of all of the bras and bralettes that Nordstrom has. This black one above is one of my favorite and fits so comfortably. It is supportive and comfortable at the same time. I highly recommend shopping for clothes that are good quality for the cooler seasons now, because they will not be on sale for a while.

Athleisure | NSALE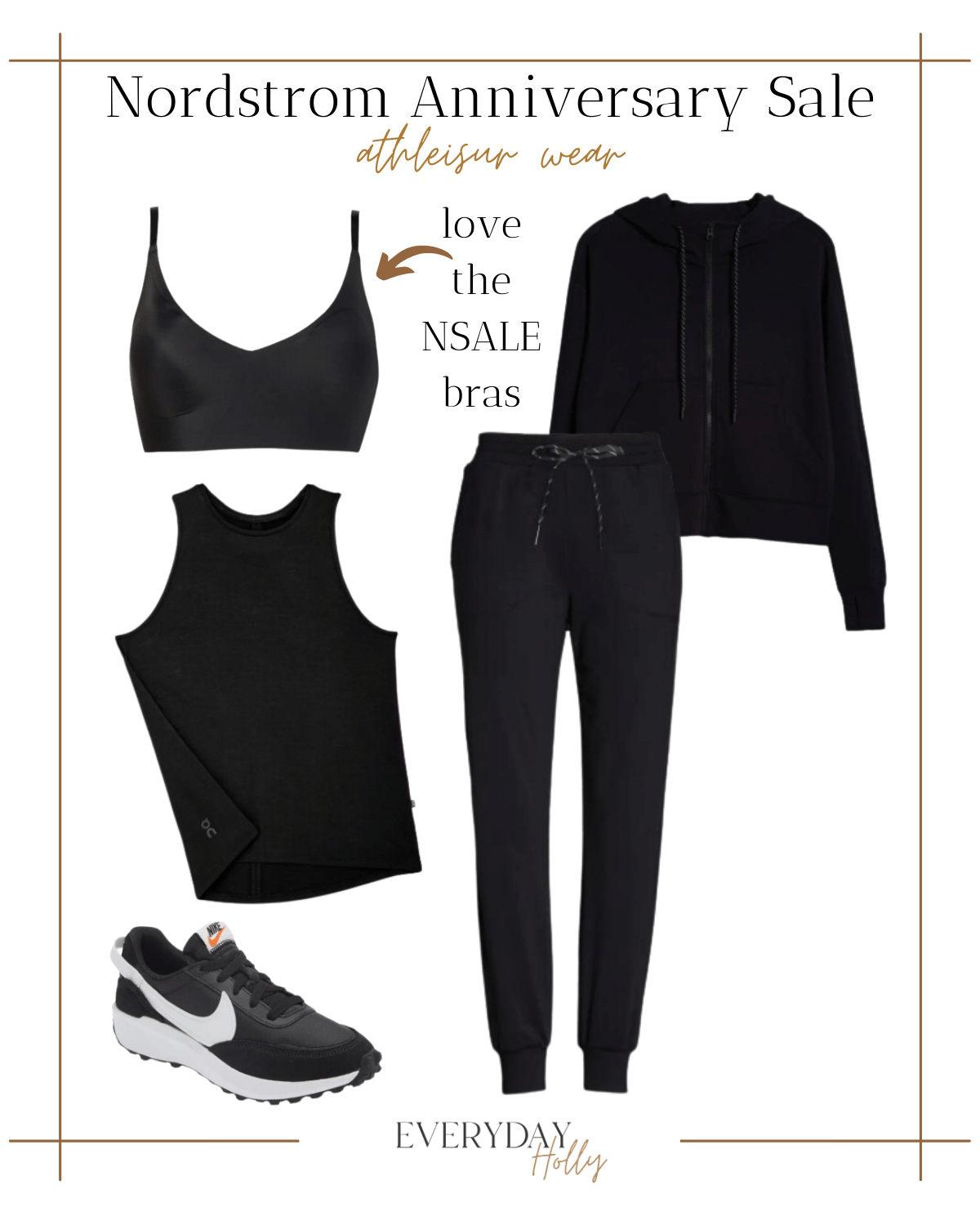 Black Bralette | Black Zip Up Jacket | Black Athletic Tank | Black Joggers | Nike Sneakers
One of my favorite finds is athleisure wear. When I went to go look at clothes that Nordstrom had, these were items that stood out to me. If you are looking for great quality and comfortable clothes this is. it. These joggers are ones that I will be wearing all the time because they are so cozy. I am a big fan of Nordstroms bralettes, mostly for how comfortable they are. They do not dig into your back while still giving you good support.

Beauty Faves | NSALE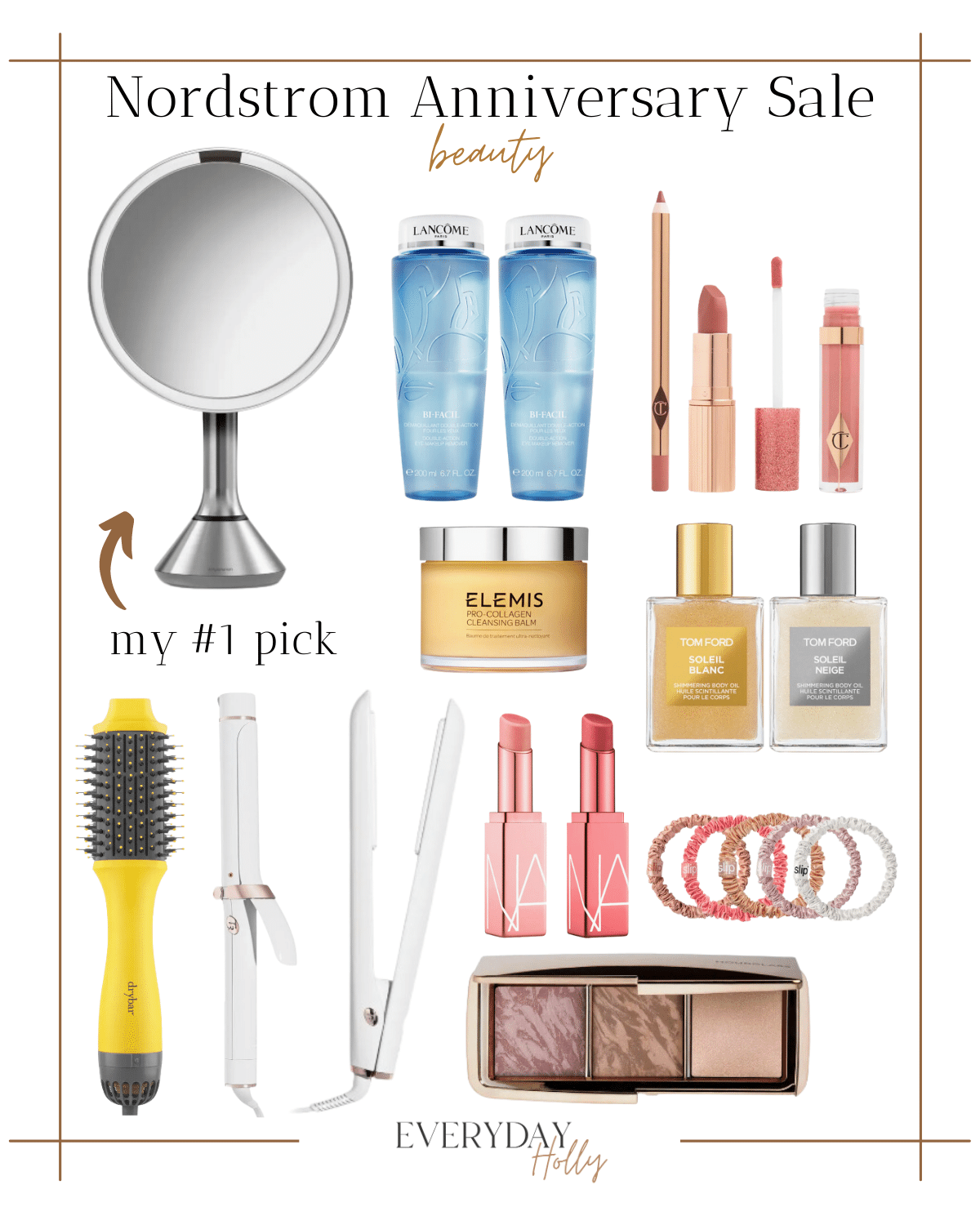 Simple Human Makeup Mirror | Lancome Makeup Remover | Charolette Tilburry Lip Kit Set | Elemis Pro-Collagen Cleansing Balm | Tom Ford Body Oil | Drybar Blowdrying Brush | T3 Curling Iron | T3 Straightener | Nars Lipsticks | Hair Ties | Hourglass Ambient Lighting Palette
This Simple Human makeup mirror is my number 1 pick of all of Nordstrom Anniversary sale! I have had mine for 2 years and it still works amazing! It is one of my favorite purchases I have ever made. All of the beauty products from NSALE are ones that I recommend! The makeup, skincare and hair tool collections are all ones that I highly recommend. You truly can't go wrong! I am not picky on these items because I approve of just about every beauty item!

Home | NSALE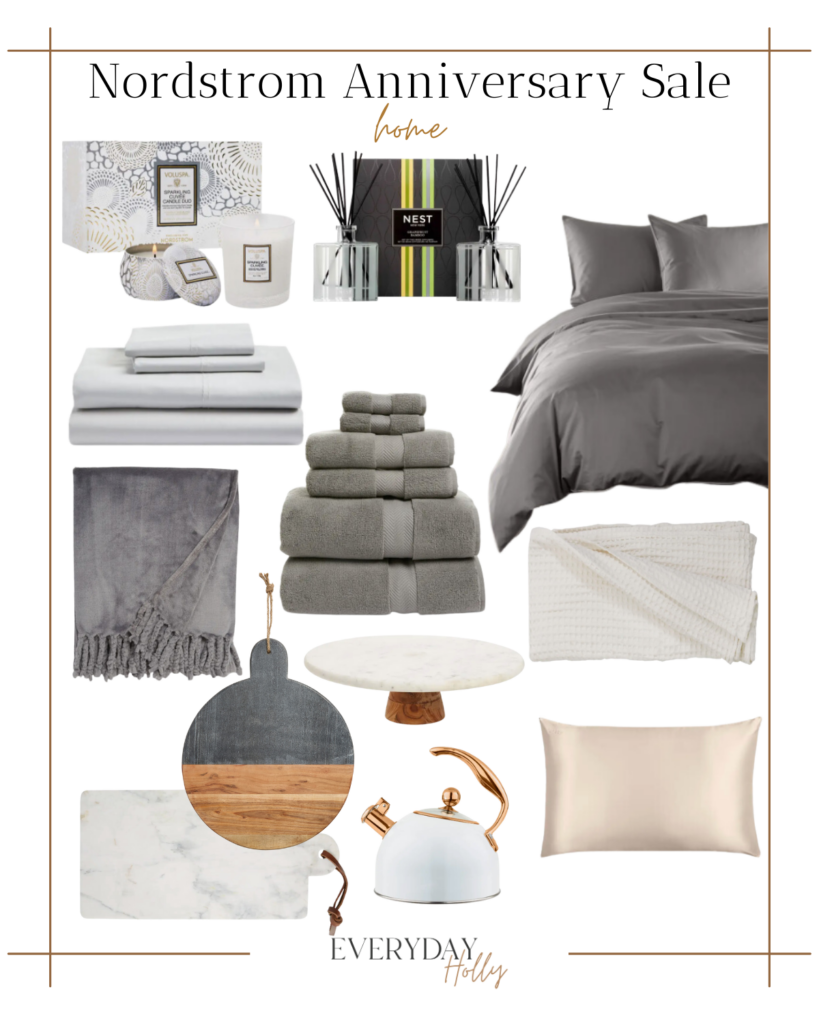 Sparkling Candle Duo | Nest Oil Diffuser | Gray Duvet Cover Bedding Set | Bedding Sheets Set | Gray Throw Blanket | Gray Towel Sets | White Throw Blanket | Marble Serving Board | Marble/wood board | Marble Cake Stand | Silk Pillowcases | Tea Kettle
Can't forget about the home items that are on sale! Are you interested in getting a nice little refresh, even just getting some new bedding. If you have not tried a duvet set yet… this is your opportunity to! One of my go-to items that are great for not only your hair but skin to, is using a silk pillowcase. These are mulberry silk which is probably the best kind of silk there is. It is so soft and extra luxurious to lay on! Everything from bath to kitchen essentials, are on sale right now. This is your time to shop one of the biggest sales this year!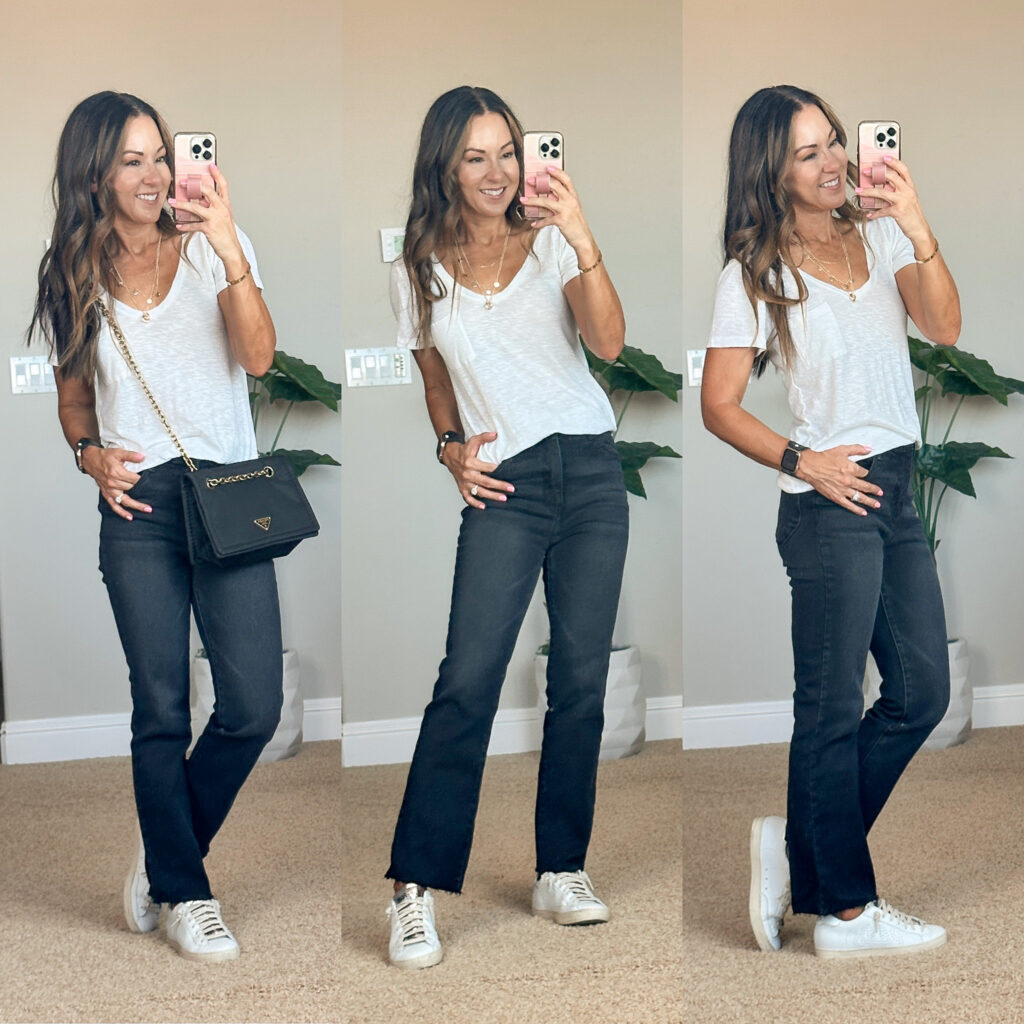 Shop More Deals With Me!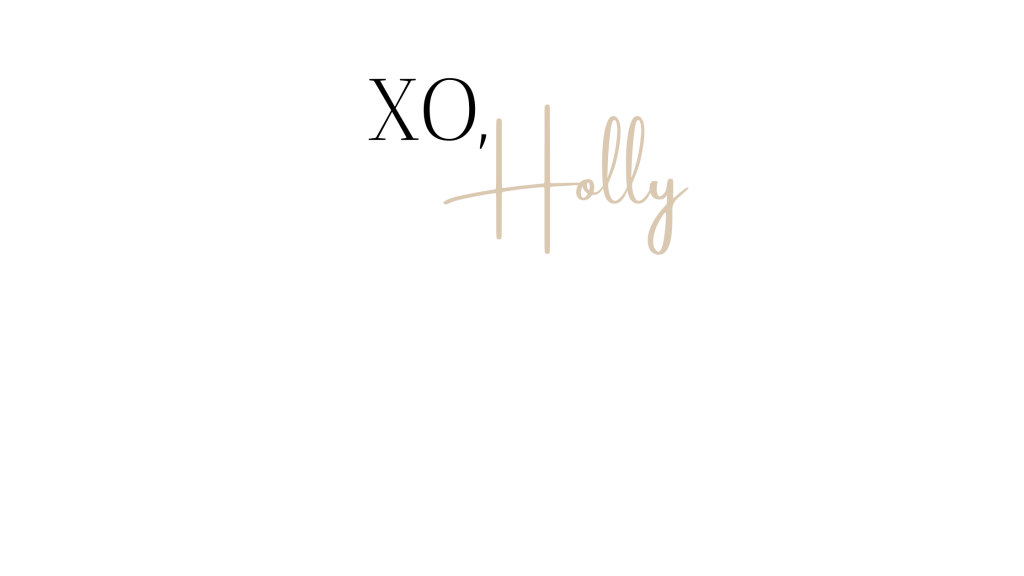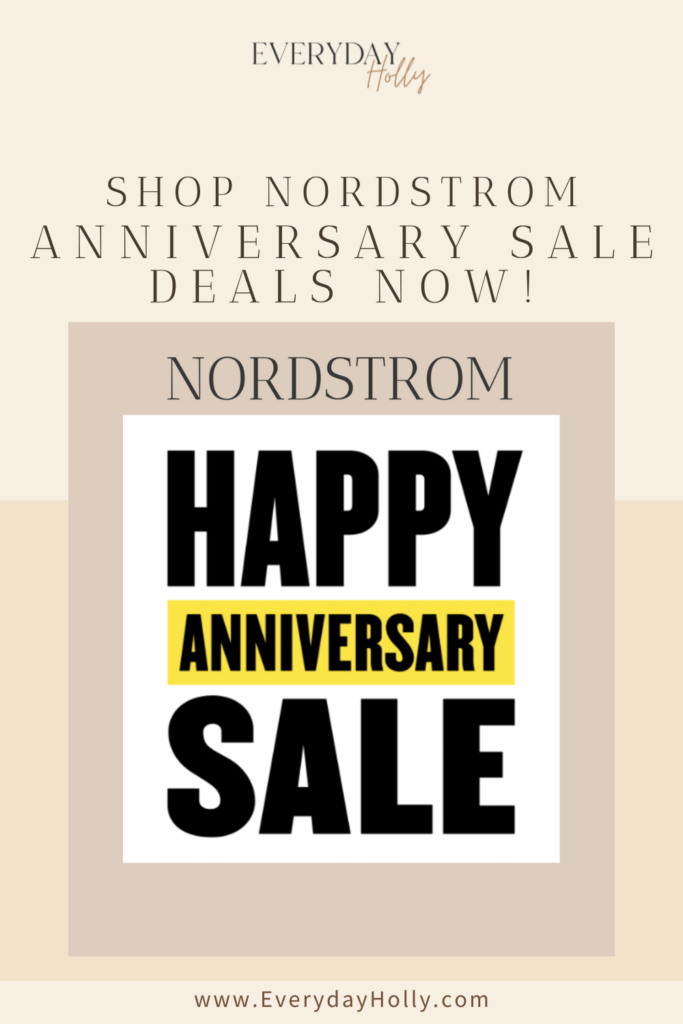 SHOP THE POST