Healthy Guide | Become Your Best Self In 2023
I cannot believe that we are 4 days away from 2023! This year has been filled with so many memories that I am genuinely grateful for. I want to especially thank all of you for following me and going on this journey with me. I love sharing my favorite things with you and I always love it when you end up loving them as well! As we are getting closer to January, Have you been thinking about New Year Goals and Resolutions, and how you want 2023 to look? If you are looking to get into a more healthier and fit lifestyle, I would love to give you the guide on how to get started! Starting a new workout and health journey can be seem intimidating, but it doesn't have to be! I have compiled list of workout fashion, gear, supplements and everything you need to start accomplishing your goals!
**This post contains affiliate links, all opinions are my own. Links do not cost buyer more money.**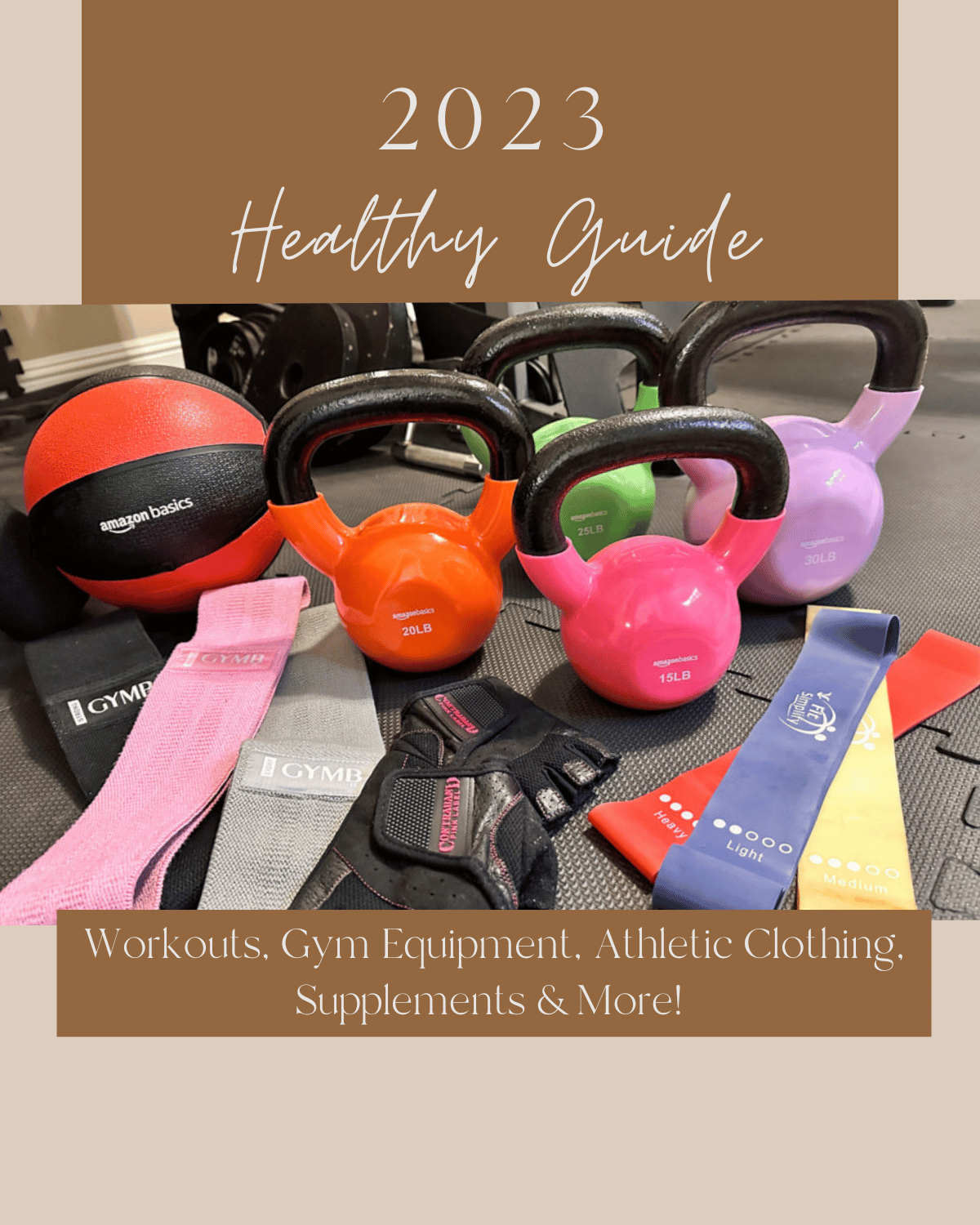 Gym vs. Home
The first thing you need to do is figure out if you will be more successful with your fitness journey if you workout at gym or at home.
Gym
If you feel that you need to get out the house and participate in a class setting or have a personal trainer that will hold you accountable, then find a gym that offers what you are looking for and that easy to get to and offers the classes/ trainings you love at the times you are available. Maybe even find a workout buddy that can meet you there! Whatever it takes to motivate you and keep you going!
Home Gym
If you don't like gyms for any reason then working out at home is a great option! Personally, I LOVE working out at home! There are a lot of advantages to working out at home! First, there is no commute! You can roll right out bed and workout, then hop in the shower and start your day! It's cheaper and you don't need worry if your outfit matches! You can wear whatever feels comfortable! There are so many workouts that you can do from home, too!
Favorite Workouts
My favorite workouts come from the Faster Way to Fat Loss program. A program that I started doing over 3 years ago. It's the only program that I have ever found that works! I get to eat the foods that I want and more of them and I work out less than I ever had prior! It's truly amazing and you can the full-blog post/review with before and after pictures that I wrote after I completed my first round of the program HERE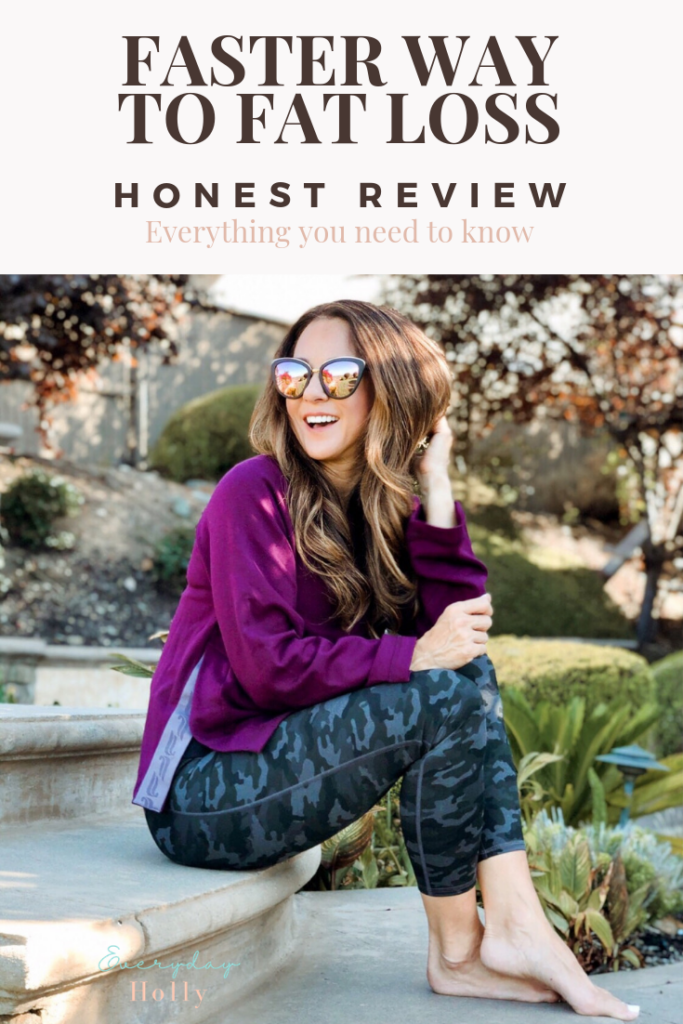 My Favorite Free Workouts
If you are not ready to take the plunge and start the program that I do then here are some free workouts that I recommend.

The Tracy Anderson Method

Time crunch – Betty Rocker's workout are 15-20 minutes and she offers a free 30 day trial.

Targeted quick workouts – Pamala Reif
Workout Equipment
Here is the workout equipment that I personally use in my at-home gym. I love all of this equipment because you can achieve a full-body workout with these items. The booty bands, dumbbell and kettlebells come in different colors based upon the weight! I recommend these workout gloves (I've owned this exact pair for 8 years and they are still going strong) because they give you that extra grip onto your kettle bells and bars for a stronger workout, plus they save your hands from getting unwanted calluses. Working out doesn't have to be that scary, start by doing little things at home. If you can do workouts confidently in your own home, you can do them anywhere.
For just starting out, I recommend dumbbells, booty bands, and kettlebells. These items can be used in multiple different ways and workout different parts of the body.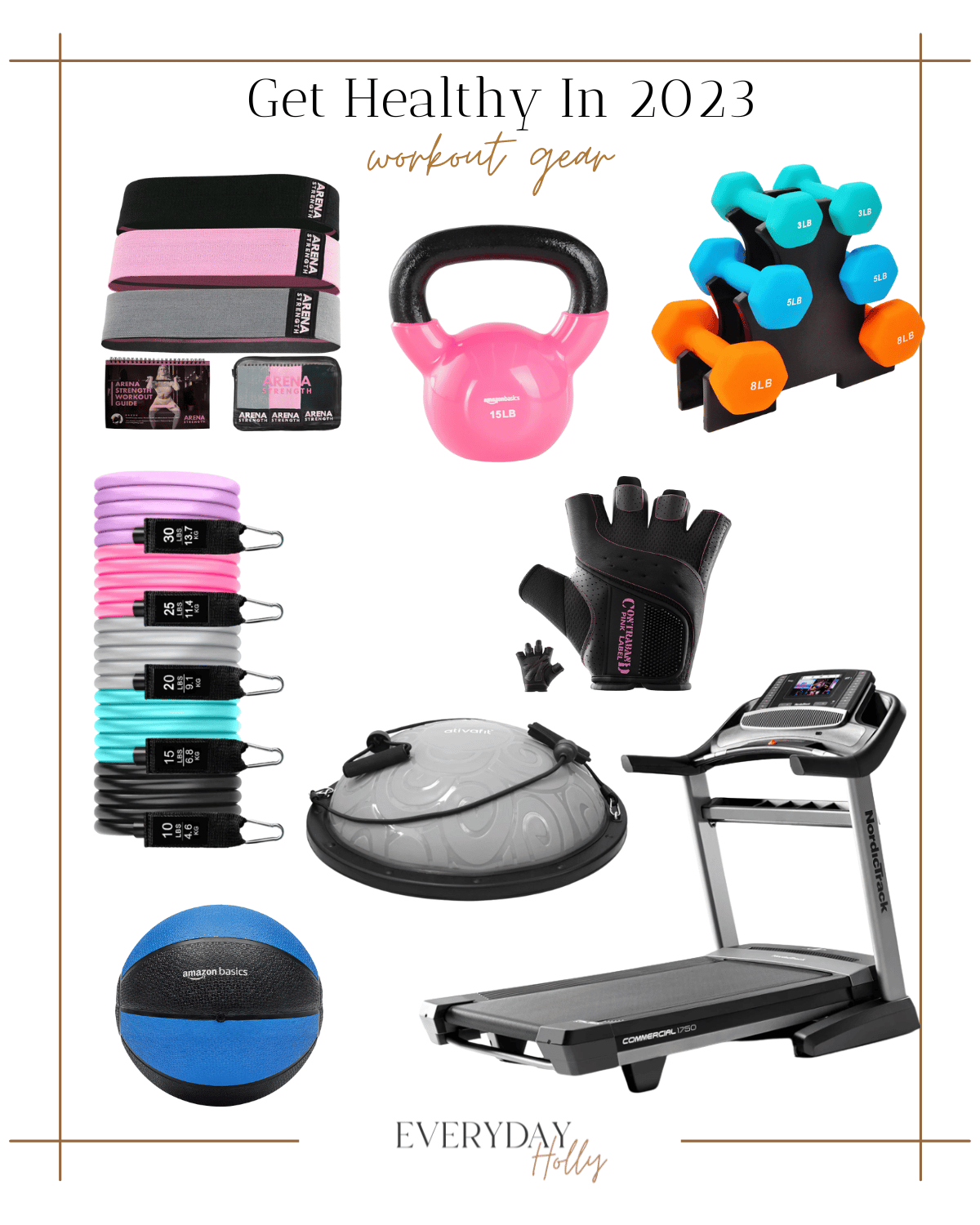 Booty Bands | Kettlebell | Dumbbell Set | Resistance Bands | Lifting Gloves | Half Balance Ball | Weighted Medicine Ball | Treadmill
Medicine Ball | Kettlebells | Booty Bands | Lifting Gloves | Resistance Bands
Workout Drink
I drink my BCAA powder before and during my workouts. BCAA supplements have been shown to build muscle, decrease muscle fatigue, and alleviate muscle soreness. This particular BCAA was created by women for women! They will also keep you in your fast if you are fasting. Save 10% code EVERYDAYH10.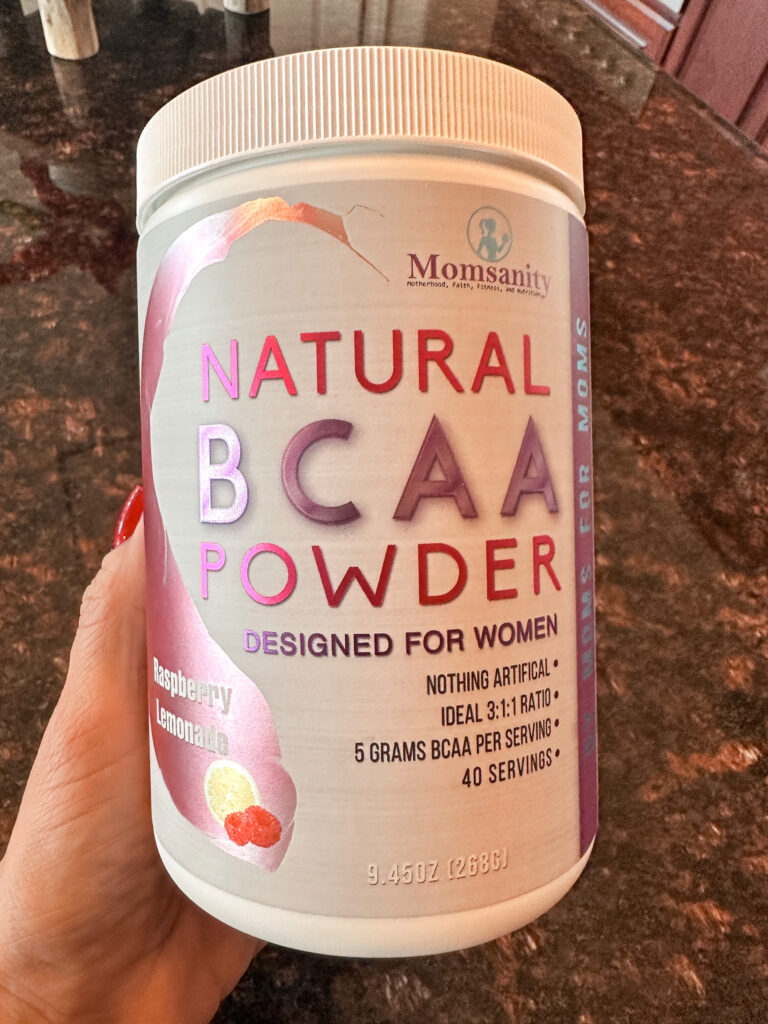 Momsanity Natural BCAA Powder – Save 10% code EVERYDAYH10
Workout Clothes
What to wear can be something that is difficult for some when starting out on their healthy and fitness journey. There are so many athletic wear brands to choose from. You do not need to spend a lot of money on workout clothes! My personal favorites come from Amazon! I wear these to workout in and they are fantastic quality. It's is not about being a fitness goddess or having the most expensive clothes. A t-shirt and shorts work the same as long as you show up for yourself.
Whether you workout at home or at a gym, you want comfortable and functional workout clothing! These are my favorites from all categories!
Workout Tops
These are the best tanks for working out. Trust me when you get the blood moving, you are going to be glad you're wearing a tank. They are super light weight and these sports bra give a ton of support. I really like how the cropped tanks have low cut arm sides, because it allows your body to breathe even more.
Pink Cropped Tank | Green Workout Tank | White Cropped Tank | Black Cross-back Sports Bra | Taupe Workout Tank | Gray Cropped Workout Bra (all come in multiple colors)
Workout Shorts
Personally, I like to work out in workout shorts especially in the spring, summer & fall, because I get so hot! They are These are all greatly priced, and a bunch of these shorts happen to be on sale right now!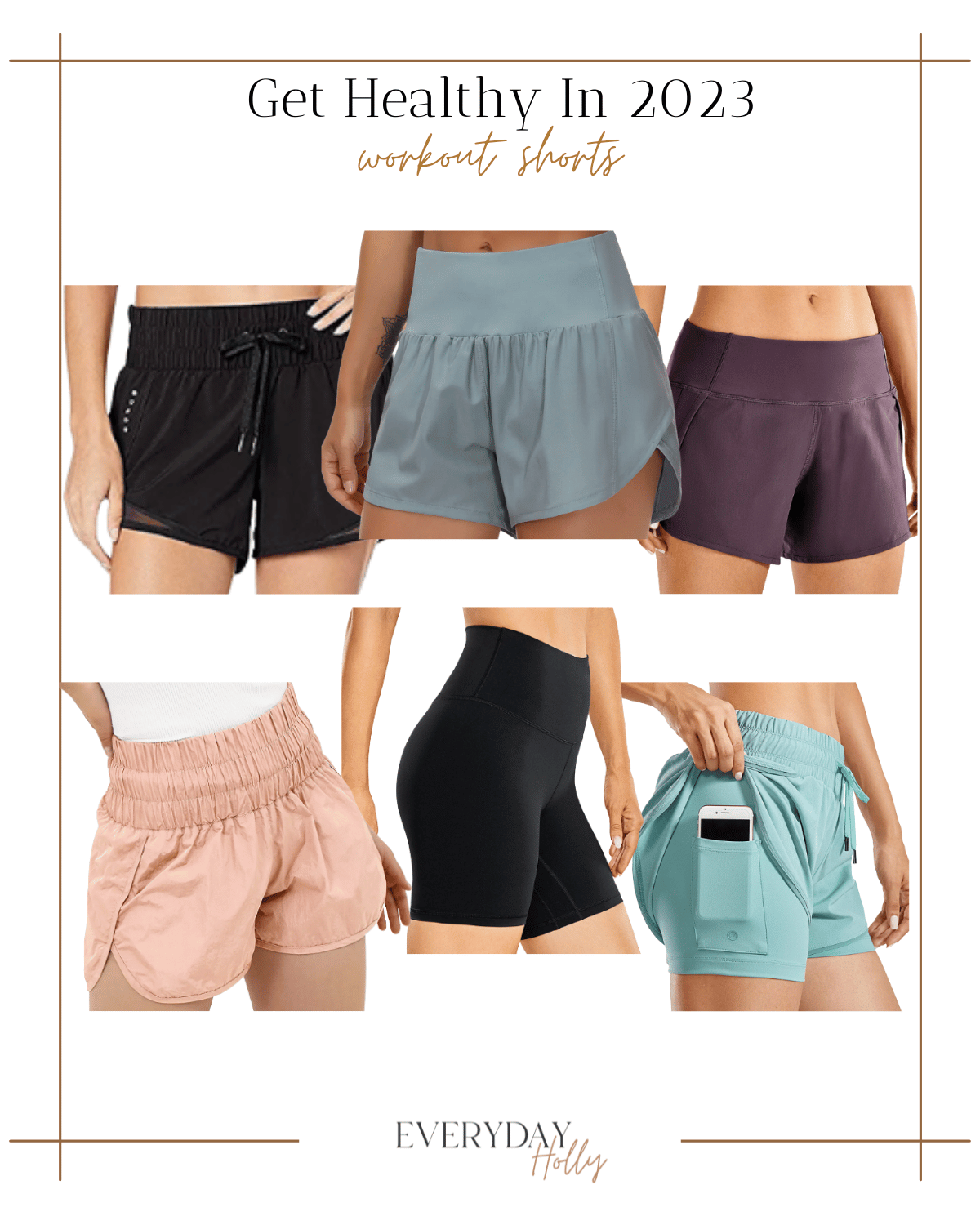 Black Workout Shorts | Gray Workout Shorts | Purple Workout Shorts | Baby Pink Shorts | Black Biker Shorts | Blue Workout Shorts with Phone Pocket (all come in multiple colors)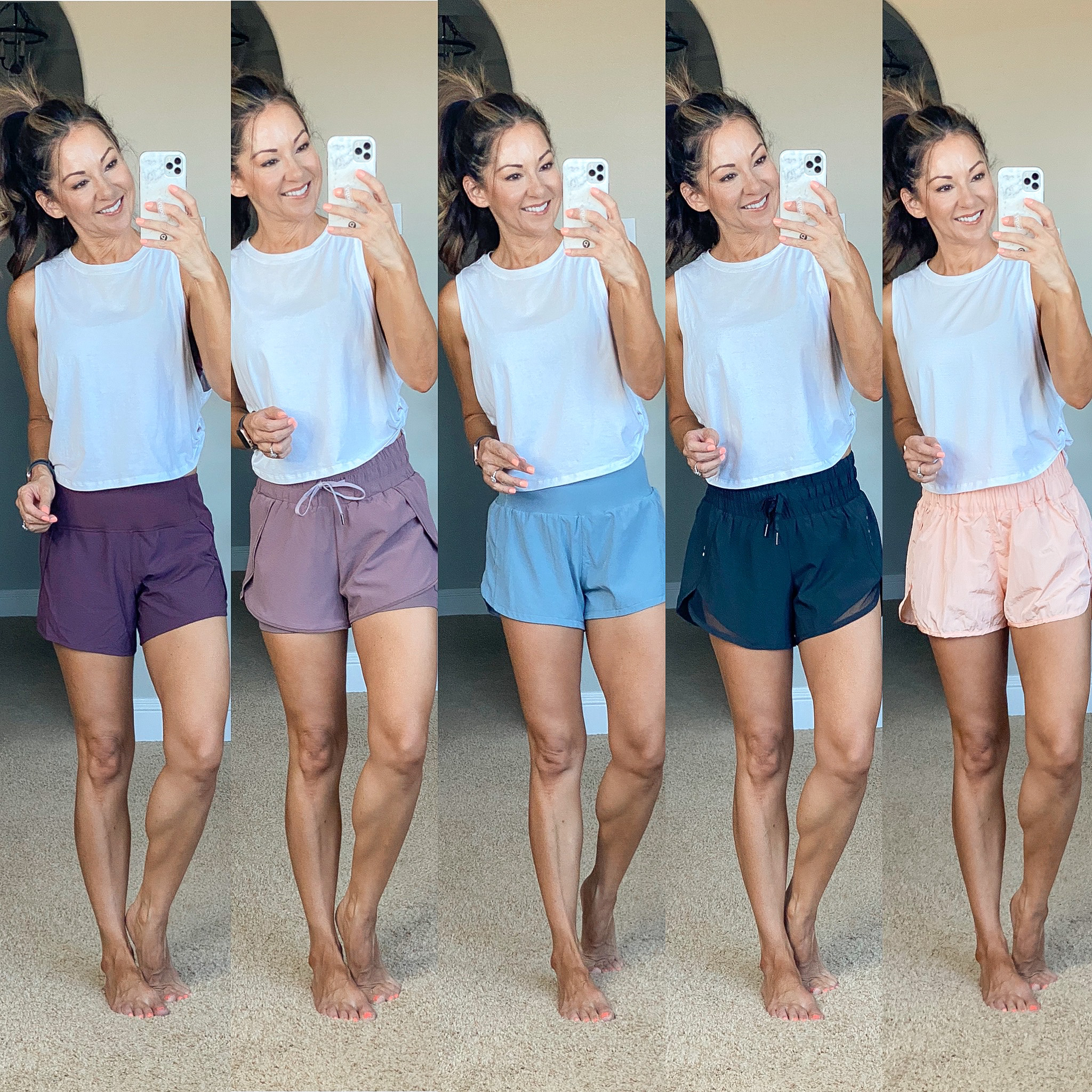 White Workout Tank | Dark Purple Shorts | Light Purple Shorts | Blue Shorts | Black Shorts | Baby Pink Shorts
Workout Leggings
I love a good pair of leggings, especially during the winter time. Amazon has very affordable and great legging options that come in all different lengths and sizes. I love wearing leggings when it's chilly and for everyday athleisure style which is usually my go-to style in the fall and winter. I LOVE these leggings and if you haven't tried them yet, I highly recommend them. They are a personal favorite of mine and I highly recommend when looking for a good quality legging. You will never overpay for designer leggings again!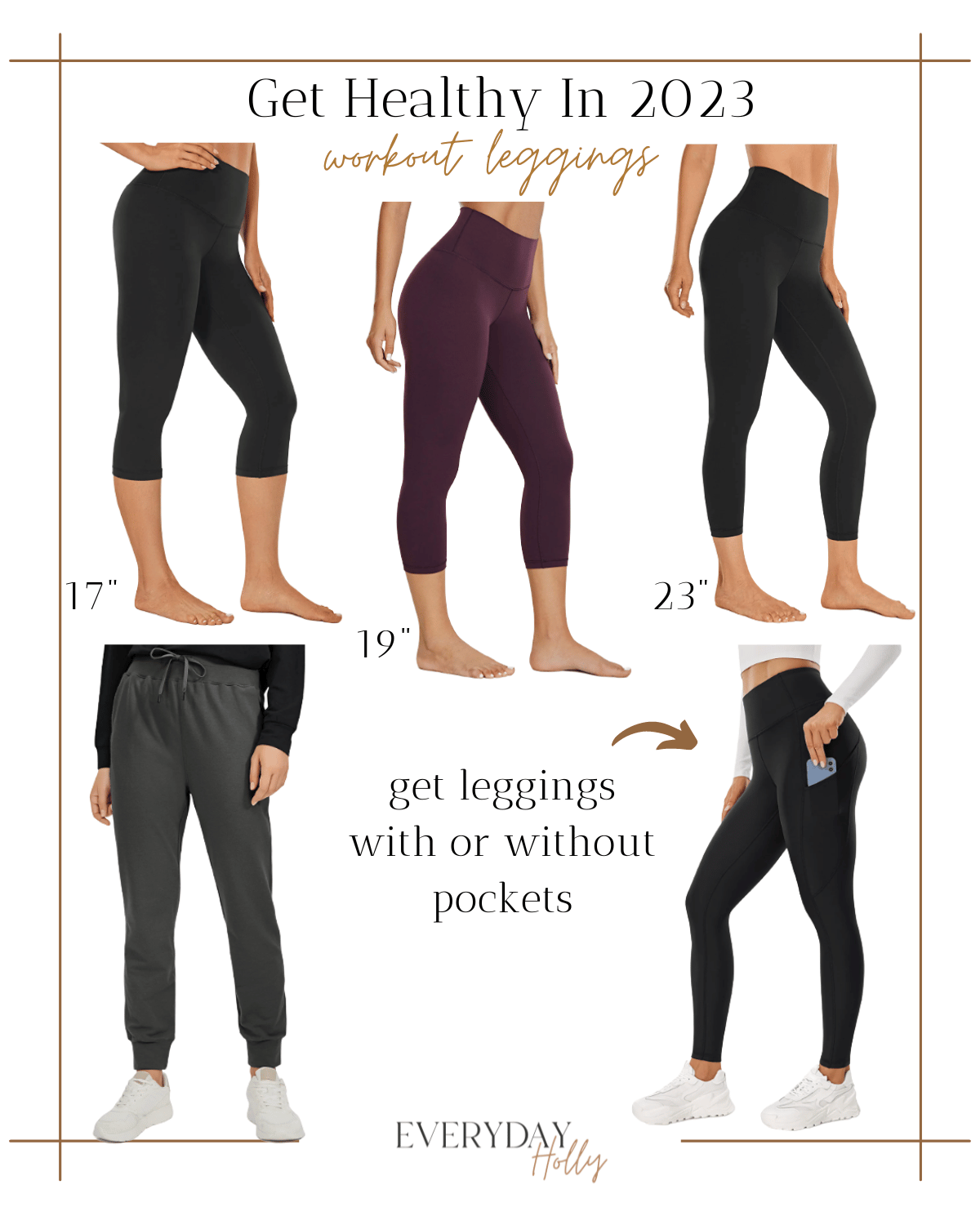 17" Leggings | 19" Leggings | 23" Leggings | Dark Gray Joggers | Black Leggings with Pockets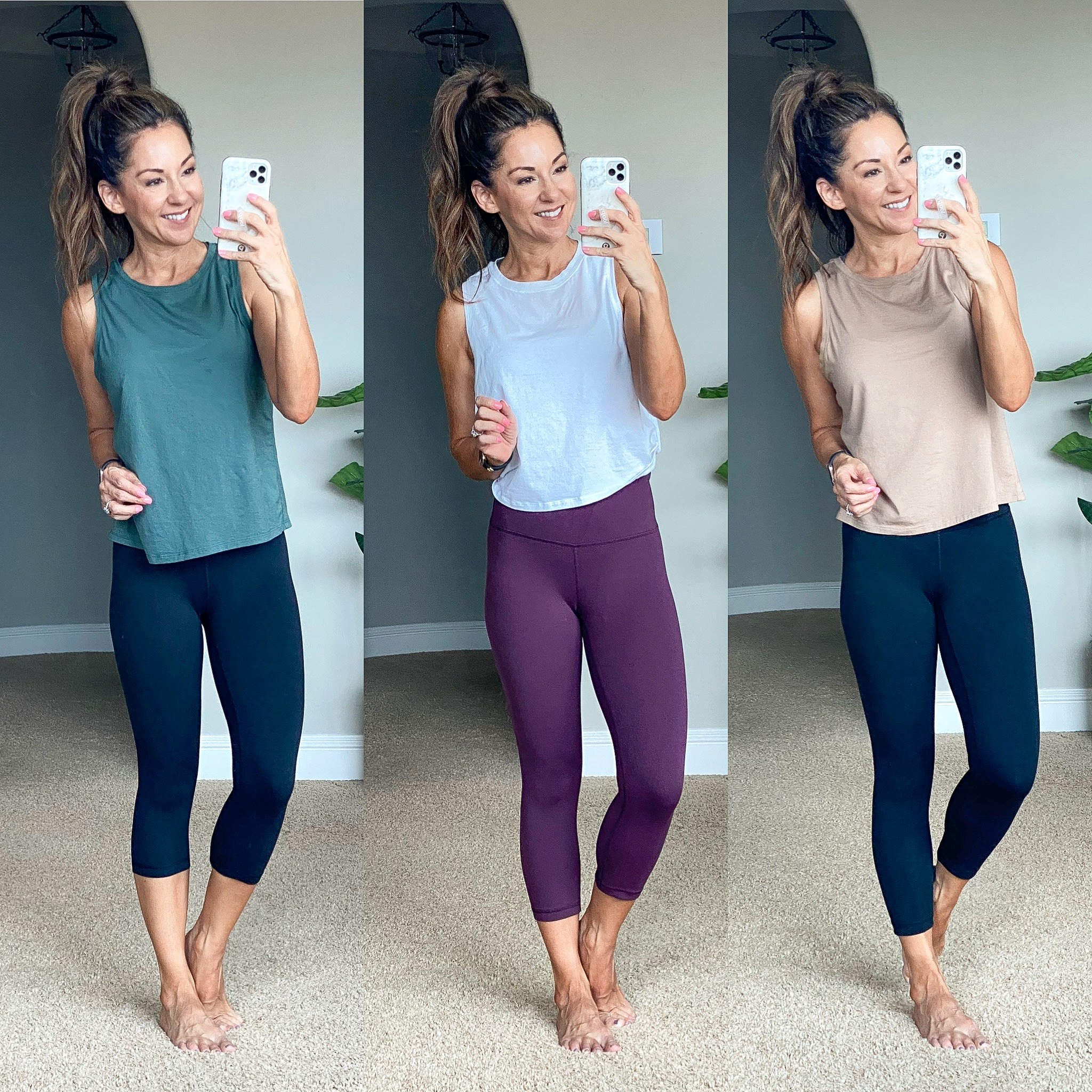 Green Workout Tank | 17" Black Leggings | White Cropped Tank | Purple 19" Leggings | Taupe Workout Top | 23" Black Leggings
Supplements & Nutrition
One of the biggest things to use when you are on a health journey are vitamins and supplements. A ton of people don't give their body the fuel it needs to perform its best, when it's only because we are uneducated on it. These supplements are my favorite and go-to's! Your body needs these extra collagen boosts, probiotics, and vitamins to retain the hard work you are doing. For my ladies who are going through "the change," these menopause relief supplements are amazing. When you get hot flashes it can be hard to complete a workout because you are seriously overheating. This calms down those hot flashes in your body to stabilize your hormones.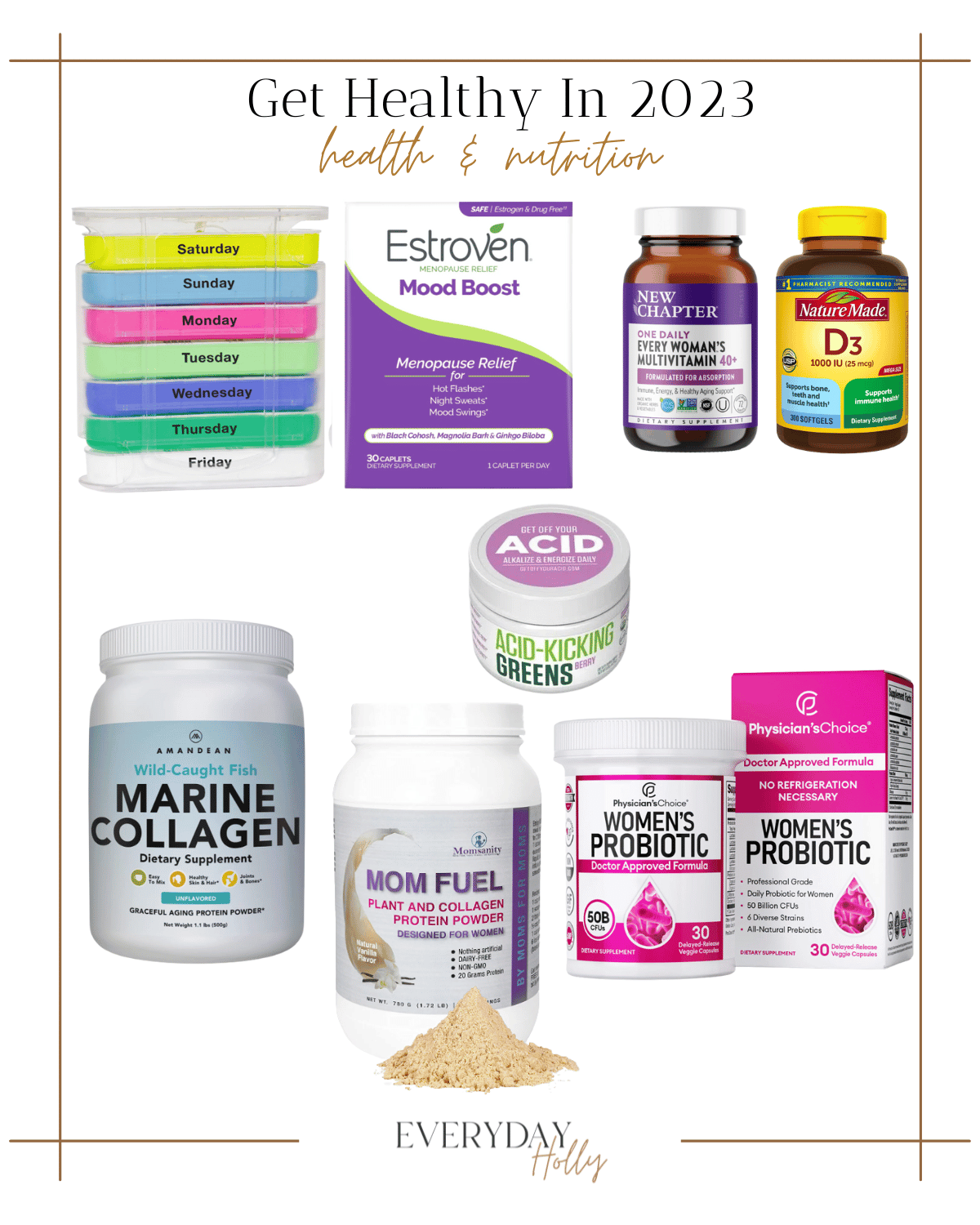 Pill Organizer Box | Menopause Relief Supplement | Every Day Women's Multivitamin | Vitamin D Supplement | Acid-Kicking Greens | Marine Collagen Supplement | Momsanity Mom Fuel Protein Powder (use code: EVERYDAYH10 for 10% off) | Physician's Choice Probiotics
My Vitamins and Supplements
These are the vitamins and supplements that I take daily and I also added my daily pill holder. It saves me so much time by filling it once a week. You would need to consult your doctor prior to adding any of these.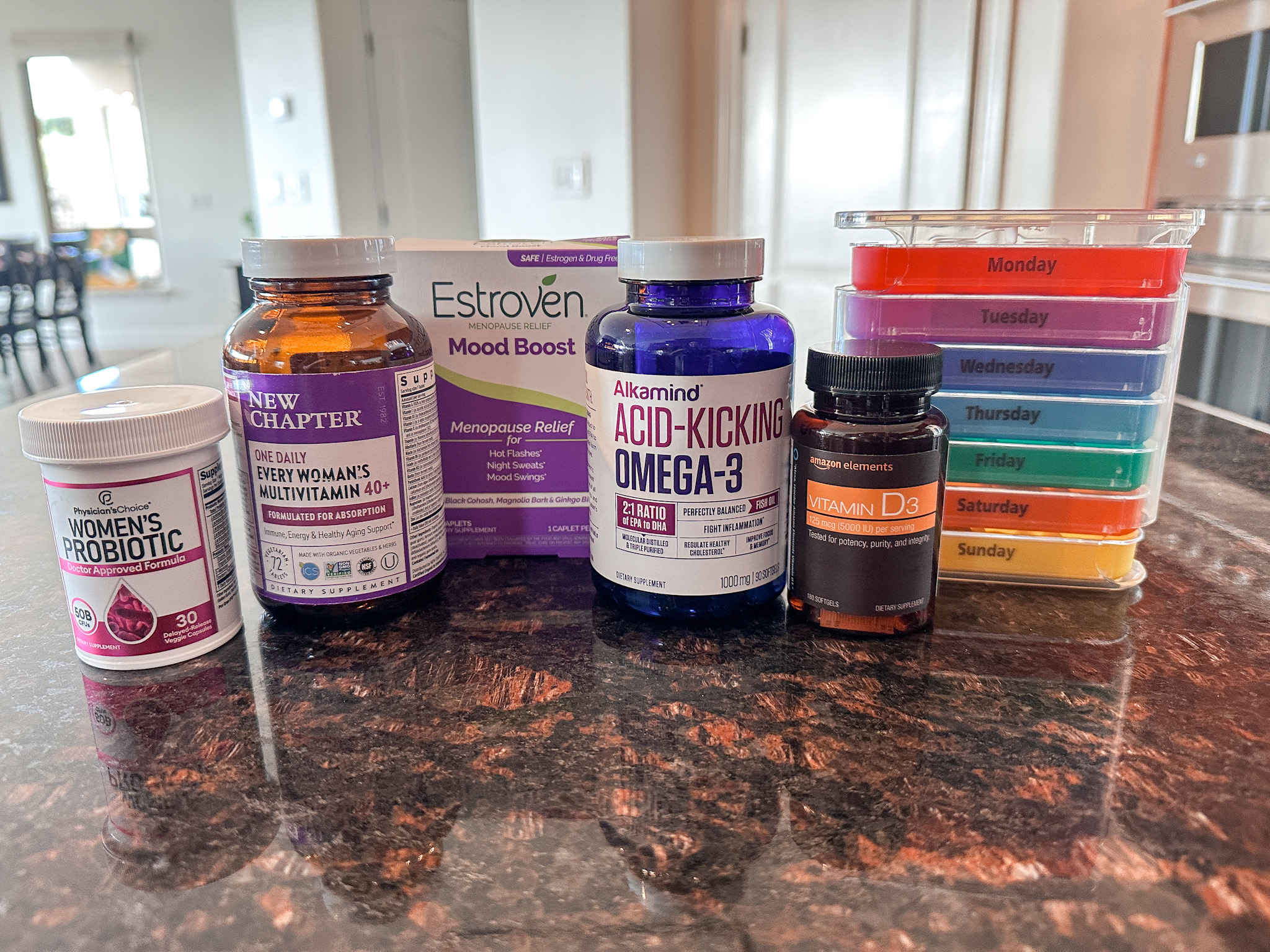 Physician's Choice Probiotics | Every Day Woman's Multivitamin | Menopause Relief Supplement | Acid-Kicking Omega-3 | Vitamin D3 Supplement | Daily Pill Organizer
My Go-to Protein Shake
This is my go-to shake for lunch! It's quick and easy and fills me the macros that I need. I will add some nuts or a portion or whole bar depending on how hungry I am. My favorite bars are THESE! They are so good!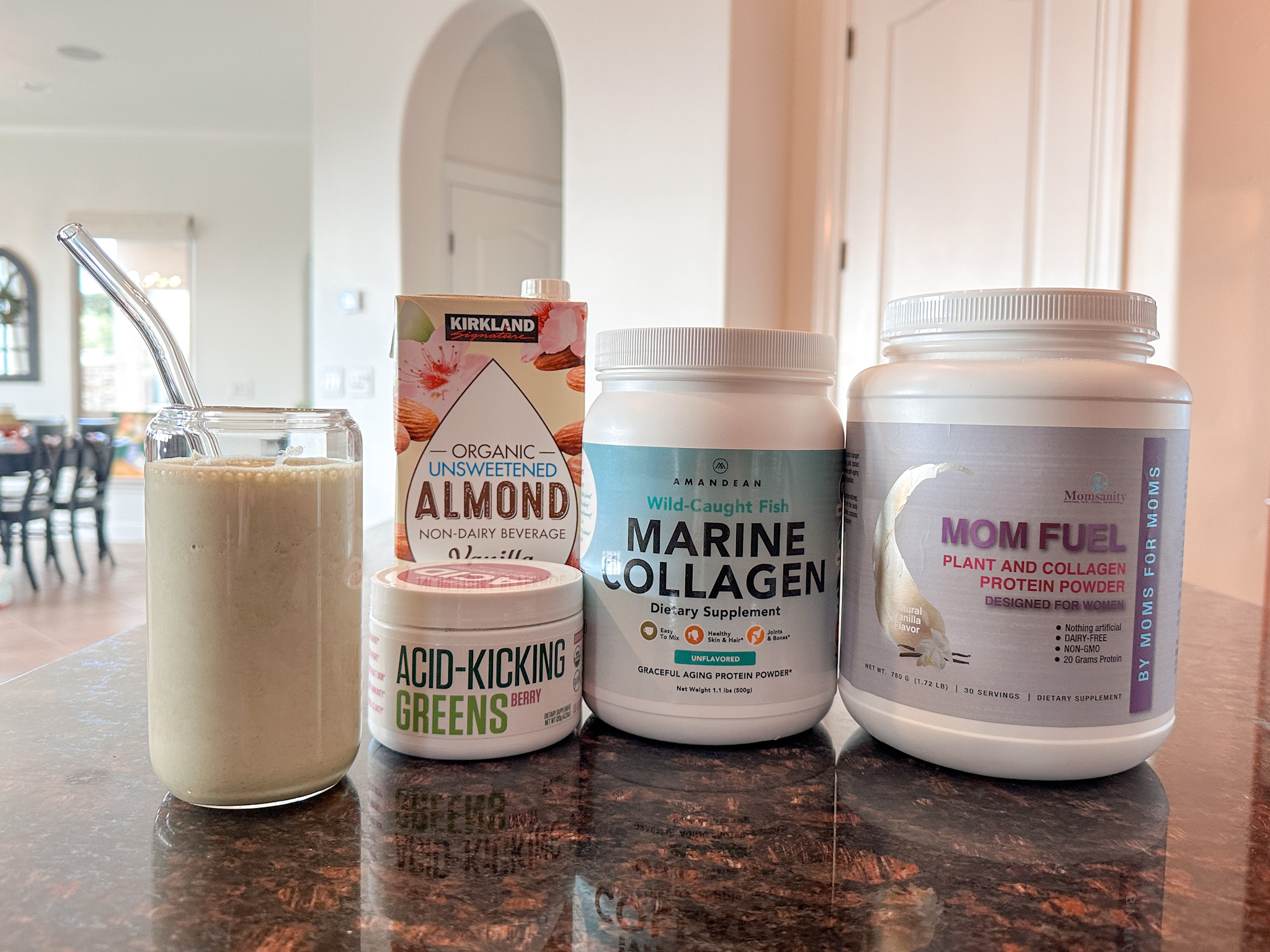 Acid- Kicking Greens | Marine Collagen Supplement | Momsanity Mom Fuel Protein Powder (use code: EVERYDAYH10 for 10% off)

Shop The Post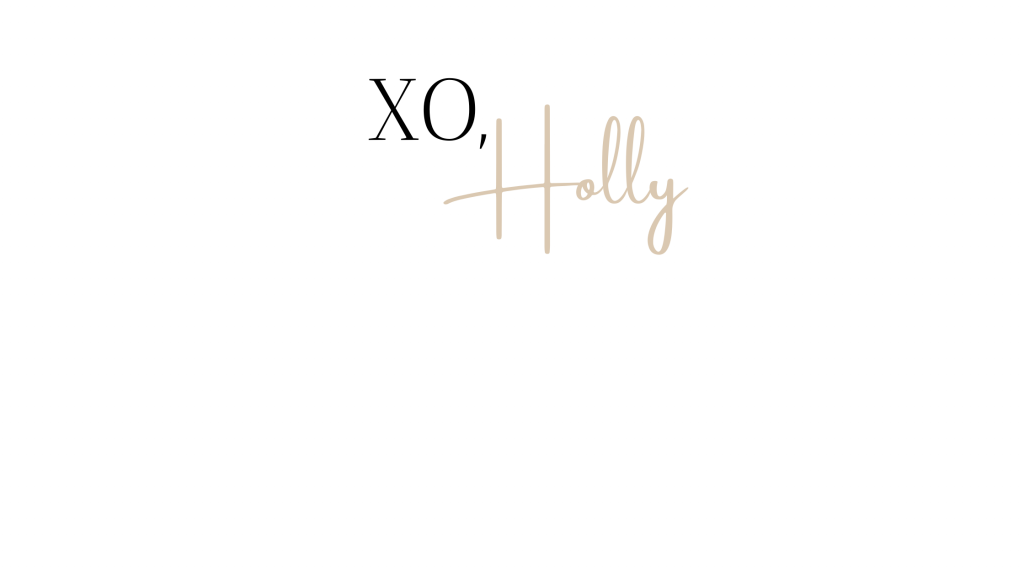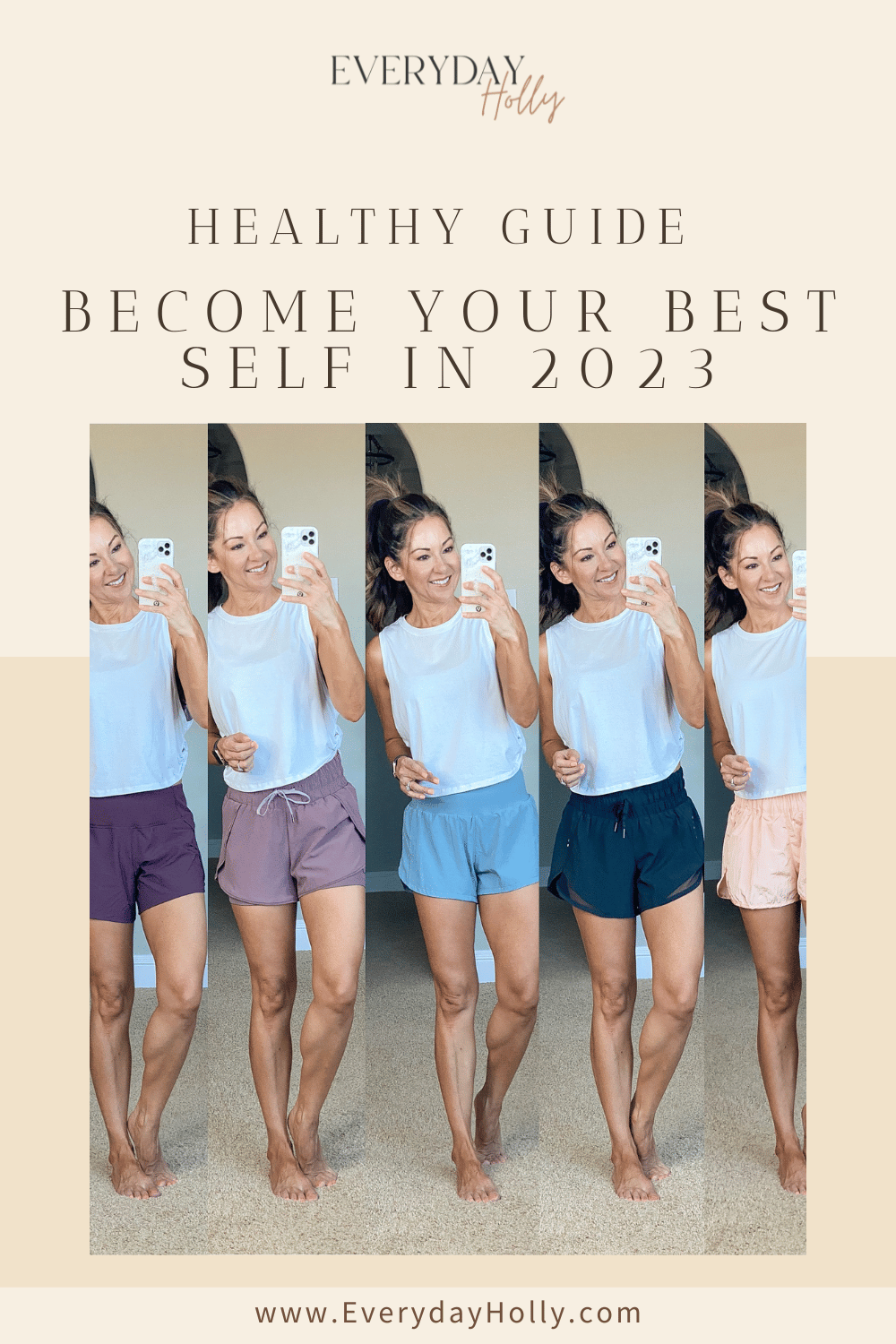 SHOP THE POST