Everyday Holly Weekly Roundup – May Week 3
In this weeks roundup:
10 Summer Must Have Essentials
YouTube: FabFitFun Unboxing
Outfit links
Elizabeth Bae Boutique try on
Last weeks Top Sellers
Kendra Scott Memorial Day Sale
Current Retailer Sales + links & codes
* This post is not sponsored, but it does contain affiliate links. All thoughts and opinions are my own. It does not cost you any more to use my links and thank you so much for using my links.
FabFitFun Unboxing
Crazy to think that it has been 2 years since our last unboxing! Well, we decided to film this one last minute and it was definitely unorganized, but we had fun. And, I had no idea my shirt was falling off by the end, but oh well! The next one will be better. Lol!
FabFitFun is worth every penny! If you have not tried FabFitFun yet, it's time! Trust me on this! Save $10 with my link. It's only $39 for your first box with my link. If you sign up for the year, you get a discount and you get to pick what you would like to receive each month. The value is always over $200 and let month up to $440!
New blog Post!
Check out my full blog post for 10 Summer Must Have Essentials!
Fabletics
I decided to give biker shorts a whirl. This pair fits great and they are perfect for workouts – they keep you cooler than leggings. I won't be wearing these out of the house, tho. I am still not sold on them for anywhere beyond my home gym. What are your thoughts?
Have you tried Fabletics yet? It's so fun to pick out a new outfit each month, but you can always skip a month or a whole season, too. They have the best leggings and you can get 2 for $24!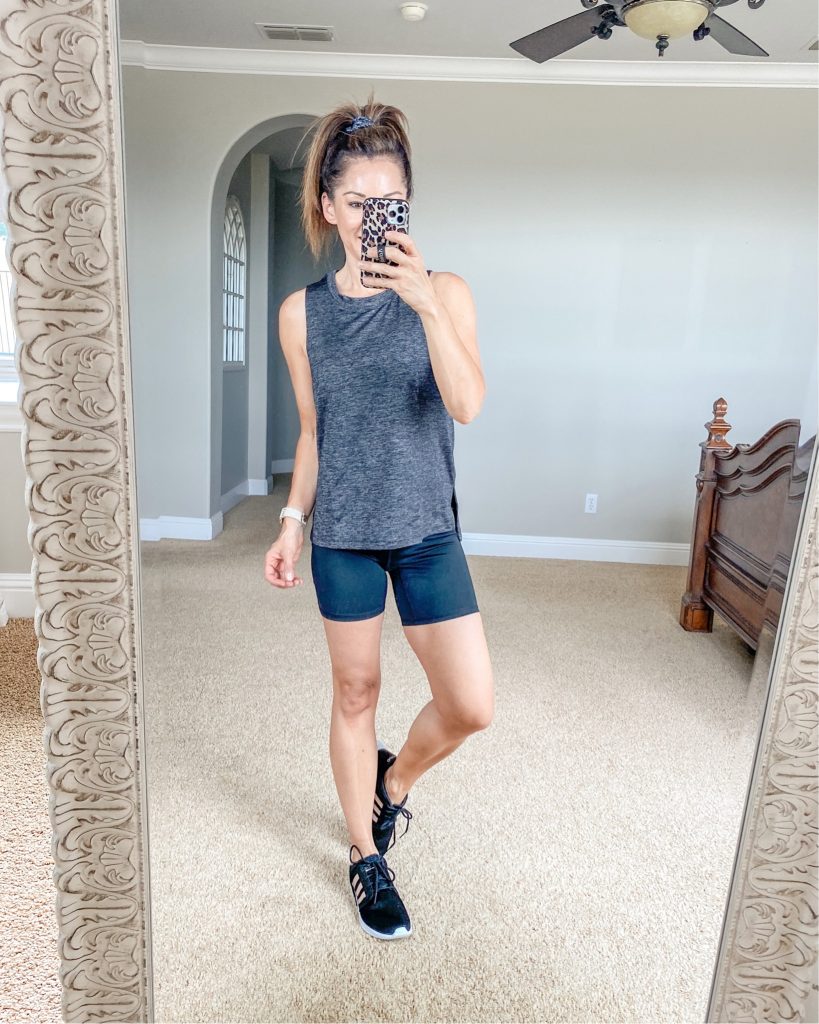 Casual repeat outfit with new shoes!
I know I keep sharing these shorts and top, but they are so good! I apologize in advance, because they are going to be on repeat.
If you have an Apple watch or a smart watch you need to get yourself a Sparkl'bands watchband. They feel amazing and they are absolutely gorgeous. The upcycled bands are made from authentic designer pieces, but they also have leather and animal print options if you aren't into upcycles. Save 10% on your order with code everydayholly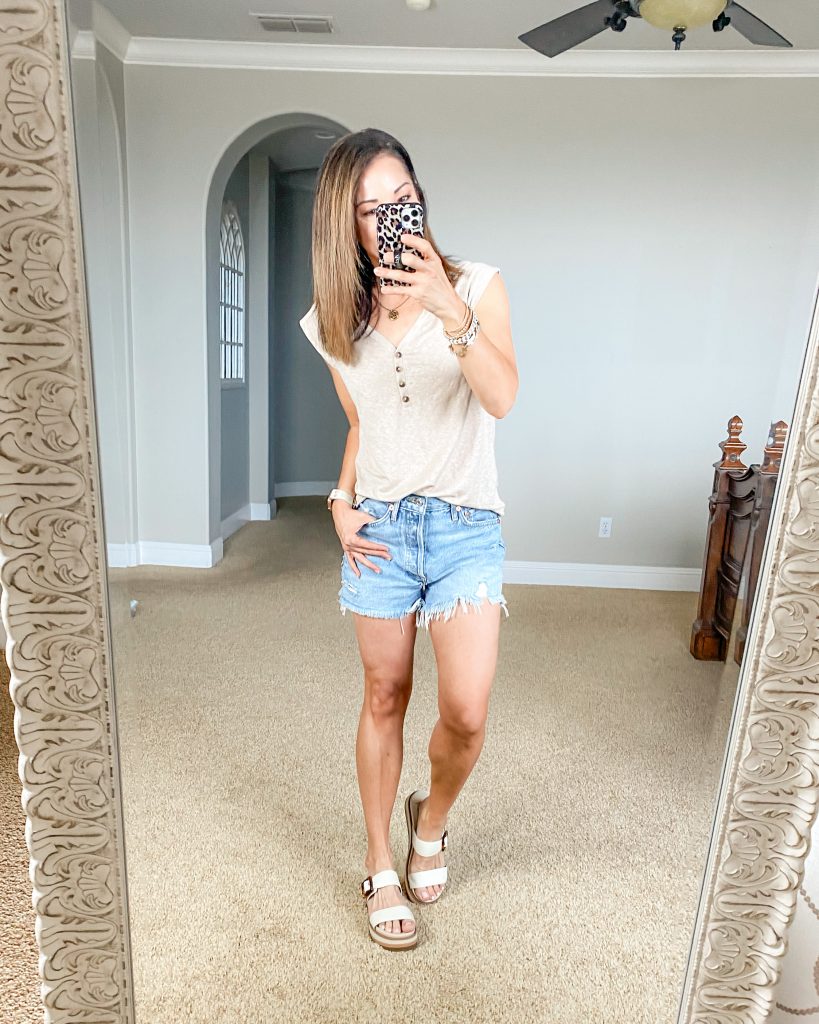 Shirt // shorts // shoes // bracelet stack // Coin bracelet // necklace // earrings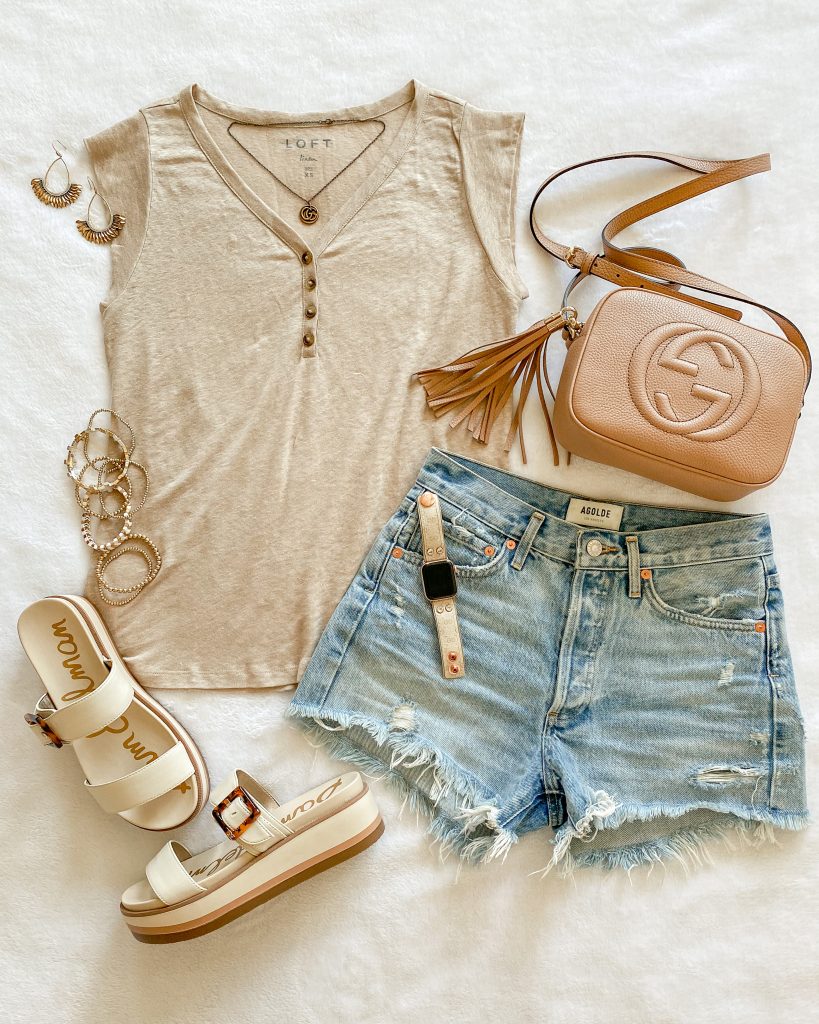 Shirt // shorts // shoes // bracelet stack // Coin bracelet // necklace // earrings // bag // watchband (save 10% on your order code everyday holly
Amzazon Tank & Fabulous shorts!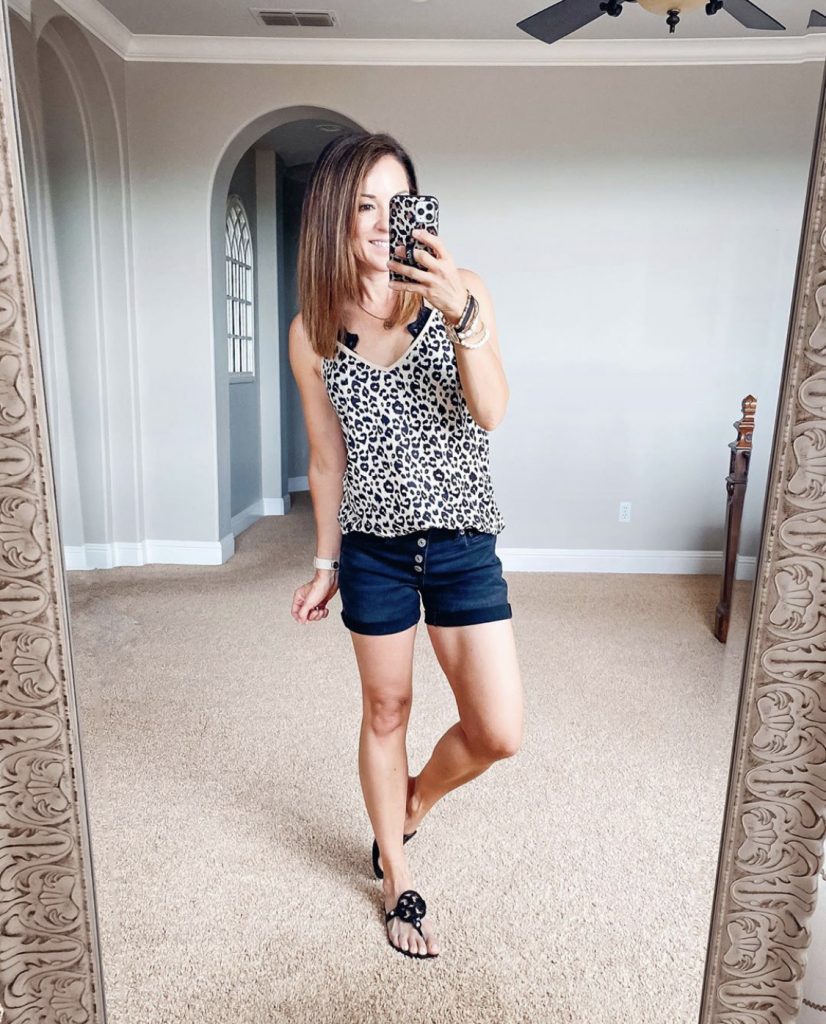 tank // bralette // shorts // shoes // bracelet
Elizabeth Bae Boutique
This week I had shared an Elizabeth Bae Boutique try on. Even though I was not planning on buying any tie-dye (been there, done that), I fell hard for this cute tie-dye set. It's so soft and comfy.
If you are looking for jeans, these jeans are so fun! The hem is just too cute and these jeans are the comfiest! My tops are both so cute and perfect for summer.
You can save 20% code EVERYDAYHOLLY and frees shipping over $75. She carries sizes xs-3XL. Shop her boutique here.
Last Weeks Top Sellers
cotton shorts // 3 pack tanks // henley top // wedges // midi shorts // facial sunscreen

SALES + LINKS
Sales + Promotions
40-60% off entire store
Additional 15% off select styles
American Eagle • 30-50% off Aerie collection (ends 5/19)
Take $50 Off $100+, $35 Off $80+ Or $25 OFF $60+ with code SOMUCHMORE (ends 5/27)
Sunshine sale – summer essentials starting at $14.99
Up to 70% off the semi-annual sale
Up to 40% off outdoor sale
25% off site-wide wExclusive Deals for Memorial Day!
+ 15% Off on Everything Else with Code: HONOR15
Big outdoor sale 40% off furniture, rugs, entertaining
Up to 30% off pillows and throws
Frontgate
25% off outdoor furniture and 20% off everything else
50% off everything Code WARM
25% off first box with code 25OFFBOX
Exclusive member sale
Free shipping over $40
Extra 60% off sale styles
50% off your purchase, loyalty members get 60% off with code FRIEND (ends 5/23)
Up to 50% off women's "We Made Too Much"
Clearance sale – up to 60% off thousands of items
Levi's up to 65% off, dresses up to 70% off
Tees, shorts, tanks, swim all 50% off
Memorial Day blowout – 70% off thousands of items
Up to 50% off the outdoor event
Up to 30% off dining and entertaining
Up to 30% off bedroom
Style savings 40% off the QVC price
Designer sale up to 50% off
Take an extra 50% off jeans with code JEANIUS (ends 5/23)
Buy one get one 50% off select sunglasses with code PAIRUP (ends 5/23)
Take an Extra 25% off Clearance Shoes & Bags with code EXTRACUT (ends 5/23)
20% off site-wide with code MEMORIAL20 (ends 5/26)
START OF SUMMER SALE: EXTRA 30% OFF SITEWIDE WITH CODE MEMORIAL30
Memorial Day sale – up to 50% off select beauty
20% beautiful ways to refresh your home with code ATHOME
TAKE 50% OFF SITEWIDE WITH CODE SUMMER50
Take 40% off select warm weather wardrobe
New daily beauty steals 50% off
Take an extra 30% off sale styles
Up to 70% off Memorial Day clearance
Up to 60% off bonus deals
I hope you all are liking these weekly roundups! Please let me know if you would like me to add anything else to my roundups!
Have an amazing week! And, thanks for reading!