March's Top 10 Best Selling Amazon Essentials You Need Now!
Here we are again, wrapping up another month of amazing deals, fashions, beauty and more! Who else is really feeling the spring spirit and warm weather? I am living in full spring mode and ready to hang out by the beach! Over the last month I shared spring styles, makeup favorites, home gadgets and more for you all. I have compiled lists of the top 10 best sellers for you to grab if you haven't already. Snag these items for summer, or before that vacation you're taking before they're gone!
CLICK HERE TO SHOP MORE TOP SELLERS!
**This post contains affiliate links. Thank you for your consistent support and shopping with me**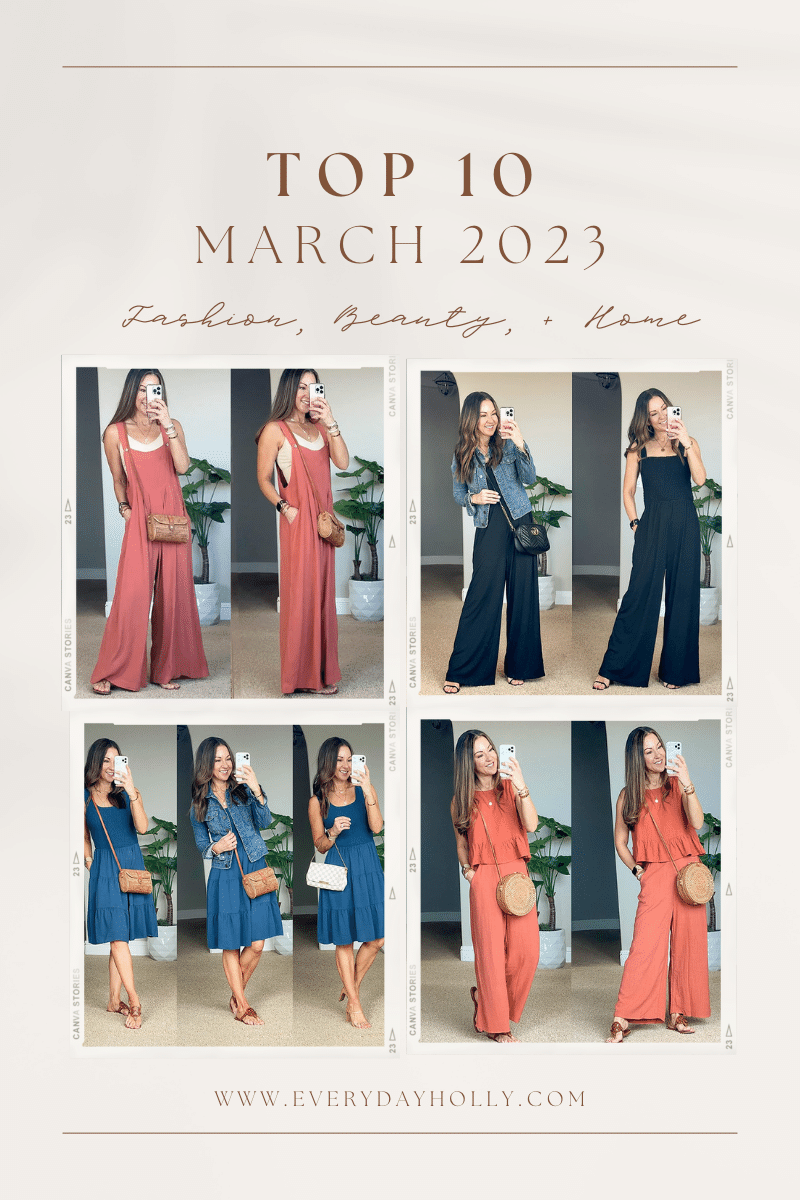 AMAZON LIVE THIS EVENING!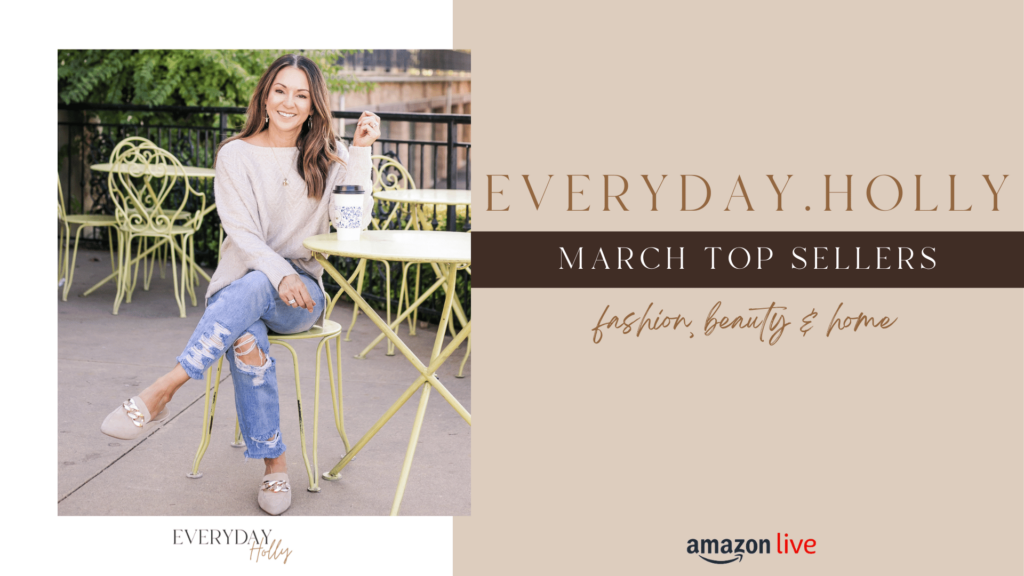 Join me this evening at 6:00PM PST to see these top selling items in action! I will be sharing all the details from how it fits, to the material and more!
Make sure to follow my Amazon LIVE's HERE, to get notified when I go live!
March Top 10 | Amazon Fashion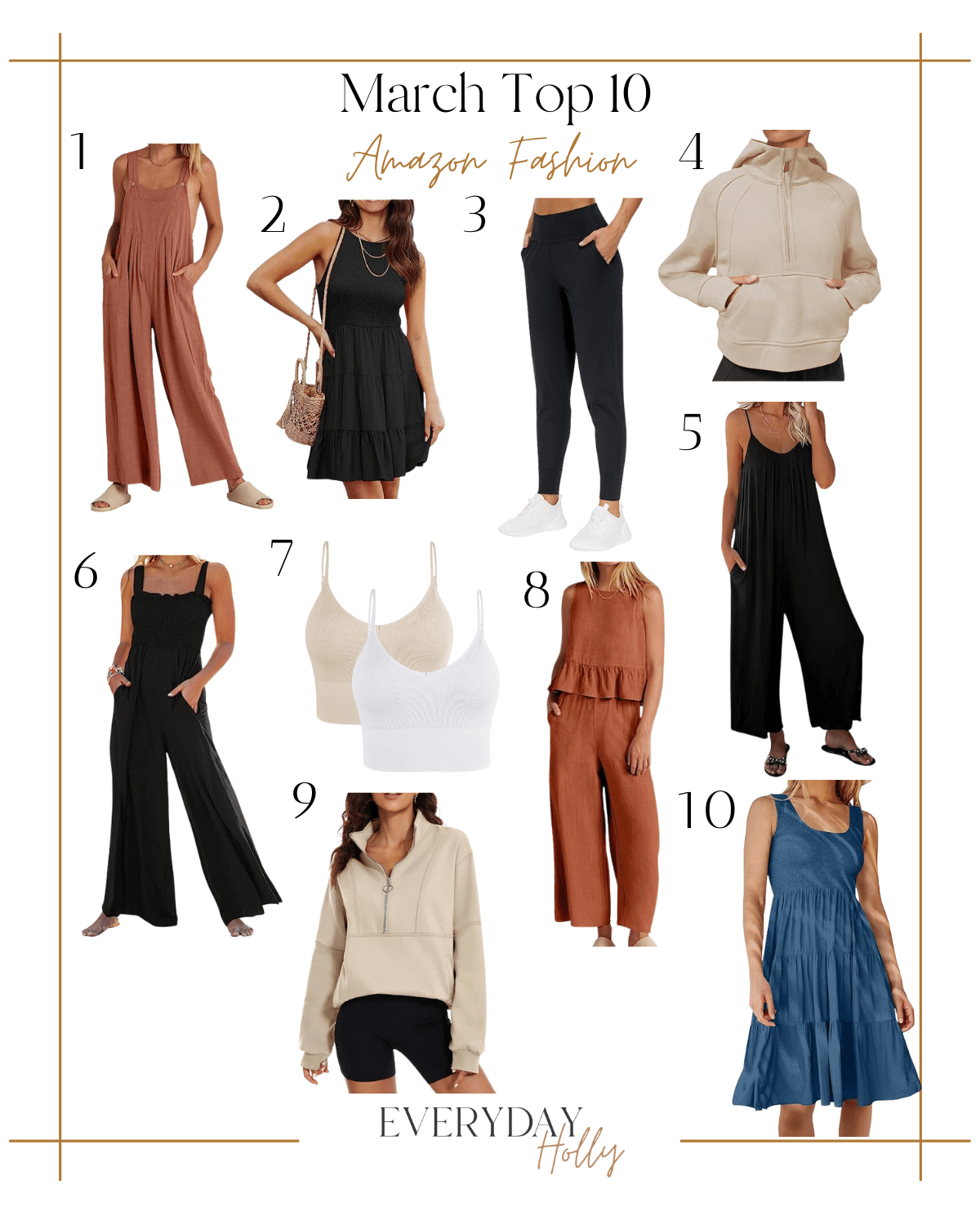 Deep Side Jumpsuit | Black High Neck Spring Dress (10% off coupon) | Joggers (17% off) | Tan Half Zip Pullover | Black Loose Jumpsuit | Black Wide Leg Jumpsuit | 2 Piece Cropped Camis | 2 Piece Ruffle Top Set | Beige Half Zip Pullover | Blue Spring Dress (5% off coupon)
I love how diverse these top 10 best selling fashions are. Everything from spring dresses, to jumpsuits, to athleisure wear. I've worn each of these outfits and really liked the way they felt and fit. With being petite it is hard to find jumpsuits that aren't too long. All of these fit great to where I can wear them with sandals or with heels to elevate the look. For my athletic and comfortable girls, these 2 pullovers are amazing. If you want to look and feel of higher end athletic wear, such a Lululemon but do not want to spend that price… these pullovers are for you. They are super comfortable, soft, cozy and I wear these quite frequently around the house.

March Top 10 | Beauty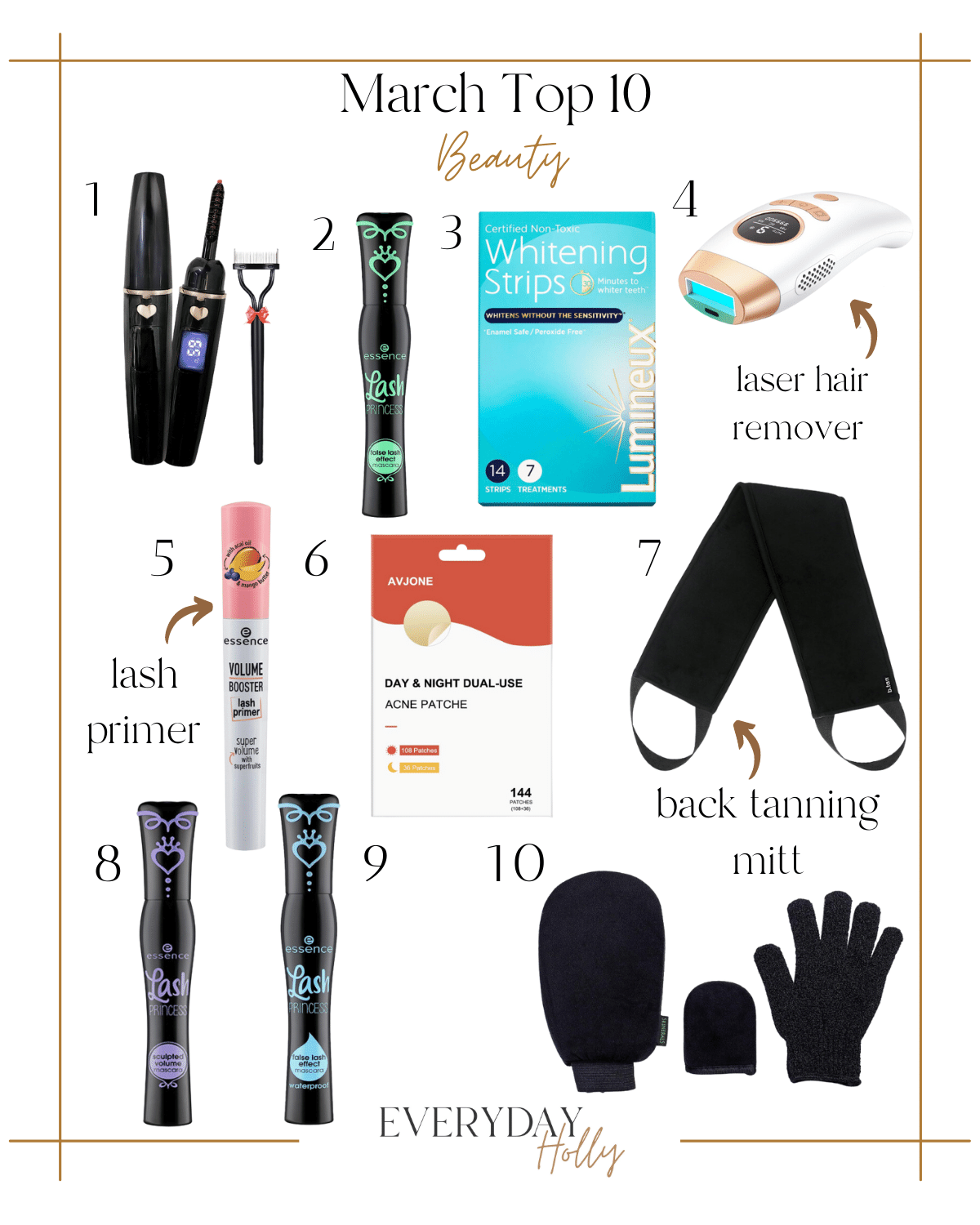 Heated Eyelash Curler (10% off) | Essence False Lash Effect Mascara | Teeth Whitening Strips | Laser Hair Remover Gun (58% off + 5% off coupon) | Essence Lash Primer | Pimple Patches | Back Tanning Mitt | Essence Sculpted Volume Mascara | Essence Water Proof Mascara | 3 Piece Self Tanning Kit (35% off)
I get to so excited to see what items you guys are loving the most. A bunch of these items were on my Amazon Makeup Blog last week, and the fact that these items are in the top sellers is amazing! If you haven't gotten a chance to take a look at that blog I share all the makeup that I use daily from Amazon! I will say this heated eyelash curler is a game changer for giving your lashes the curl and lift they need. My lashes look great all day long with the help of these Essence mascaras! These mascaras are only $5 and work SO WELL! They are one of my favorite beauty finds because you can get length and volume with the power of these mascaras! Try them now!

March Top 10 | Home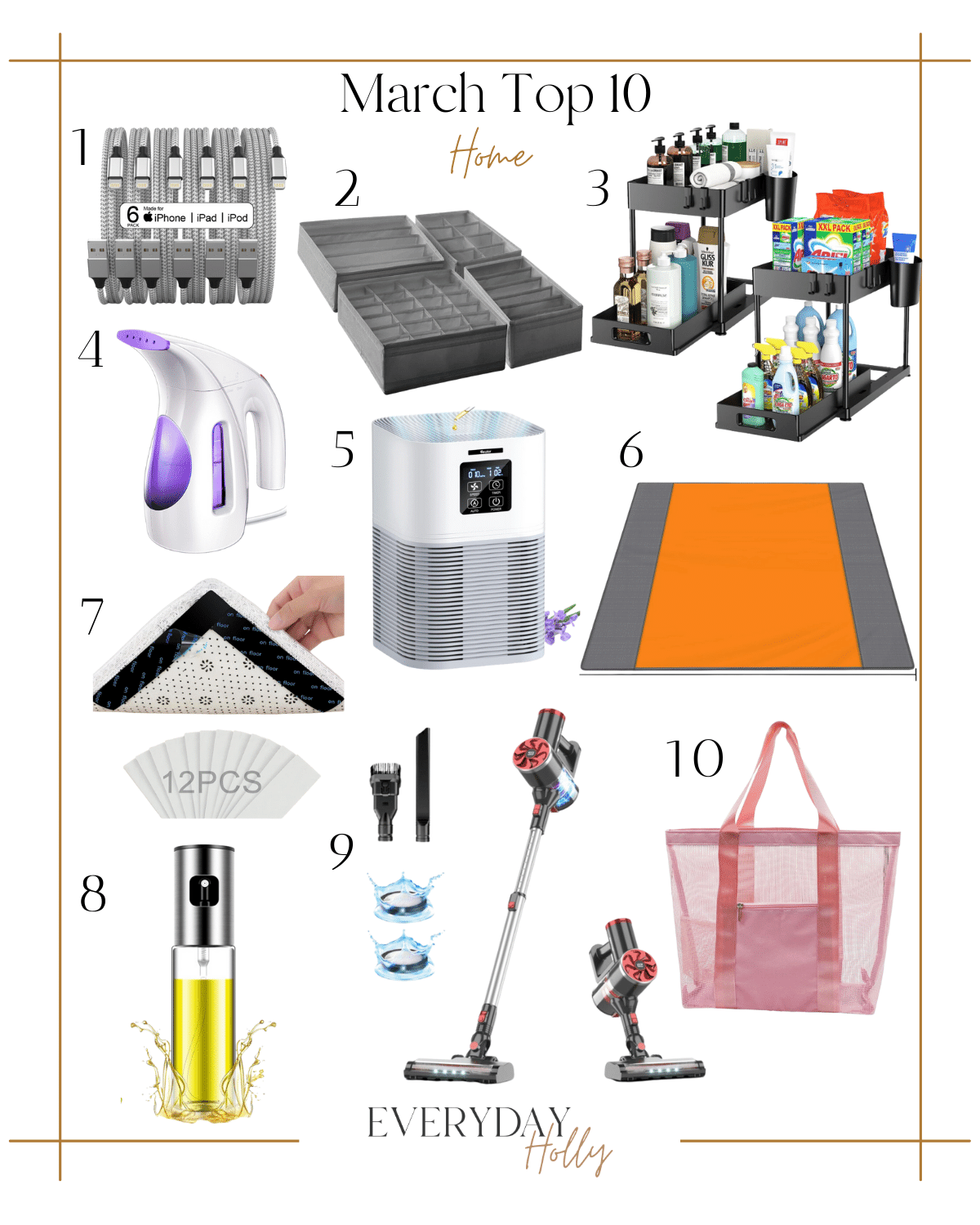 6 Pack IPhone Chargers (60% off) | Underwear Organizer (40% off) | Under-the-Sink Organizers (25% off) | Steamer (29% off) | Air Purifier (41% off +10% off coupon) | Sand-Proof Beach Mat (10% off) | Carpet Corner Stickers | Olive Oil Sprayer (7% off) | Cordless Vacuum (20% off) | Beach Bag (30% off coupon)
One of my guilty pleasure finds are different home gadgets and home hacks from Amazon. These under-the-sink organizers are a must have. I don't know about you but the space under my sink was not utilized to it's fullest until I got this organizer. You can put these in your bathroom and under your kitchen sink for optimal space and organization. If you are going to the beach, this sand-proof beach mat is a must have! When you go to the beach, and lay out on a towel, it is so hard to shake off all of the sand. With this mat, the texture of the material does not lock in the sand and make it stick. So when you fluff it out when you're ready to go, NO SAND!

March Top 10 | Fashion Favorites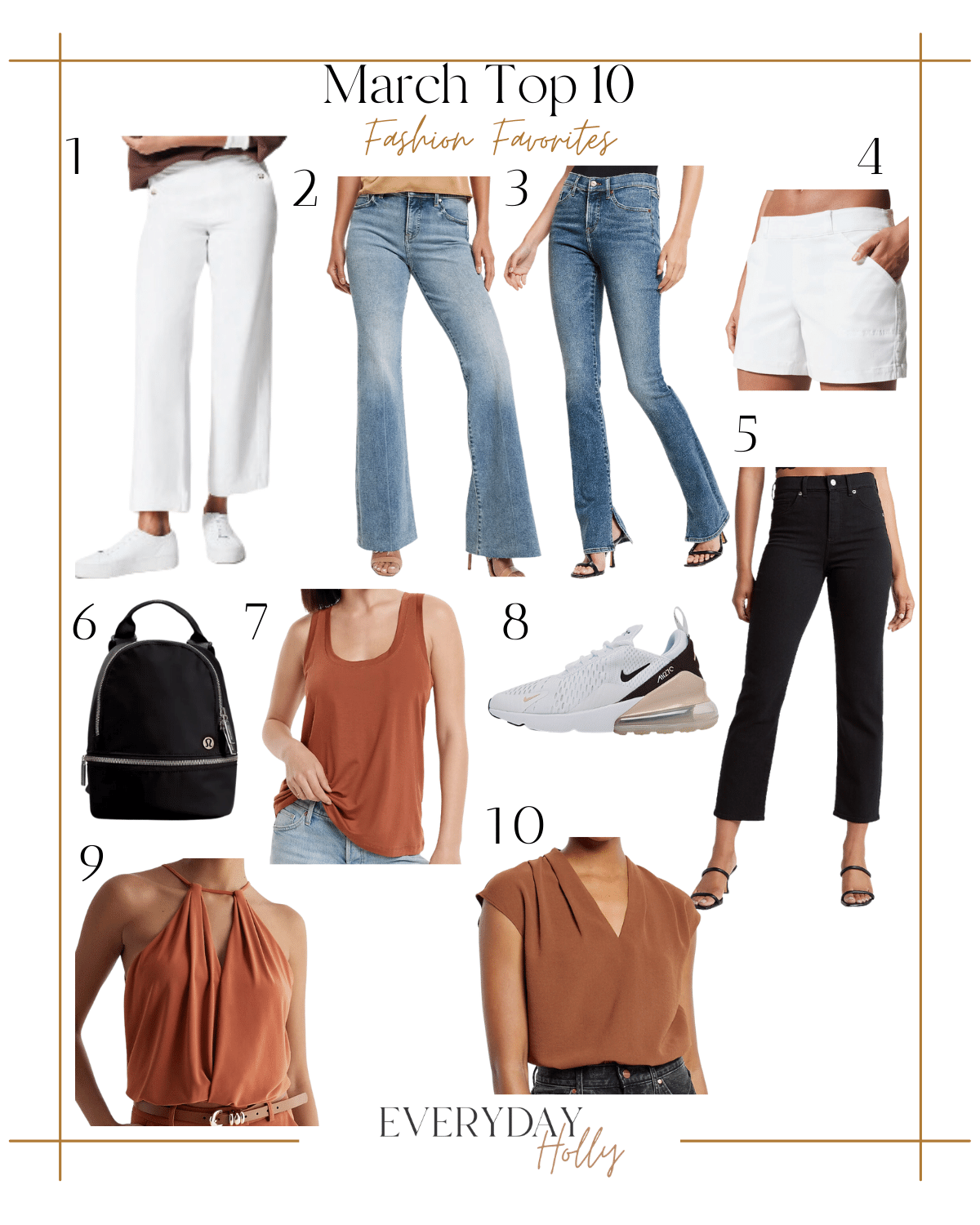 Spanx White Twill Pants | Express Light Wash Flare Jeans | Express Mid Rise Skyscraper Jeans | Spanx Twill Shorts | Express Black Cropped Jeans | Lululemon Bag | Orange Tank | Nike Sneakers | Halter Neck String Top | V Neck Burnt Orange Bodysuit
Over the last month, I have shared with you recent fashions from a multitude of different brands. I will say, I think Express was the top selling brand that you guys loved to shop from! If you have not tried their jeans, you have to. They way the fit and sculpt the legs. I am only 5'1 and these skyscraper jeans make my legs feel so long! They have styles that can be used multiple ways such as styling a cute spring time look, that can also be used for workwear. Their pieces are durable and great quality which is why I am loving these items just as much as you!

Style These Best Sellers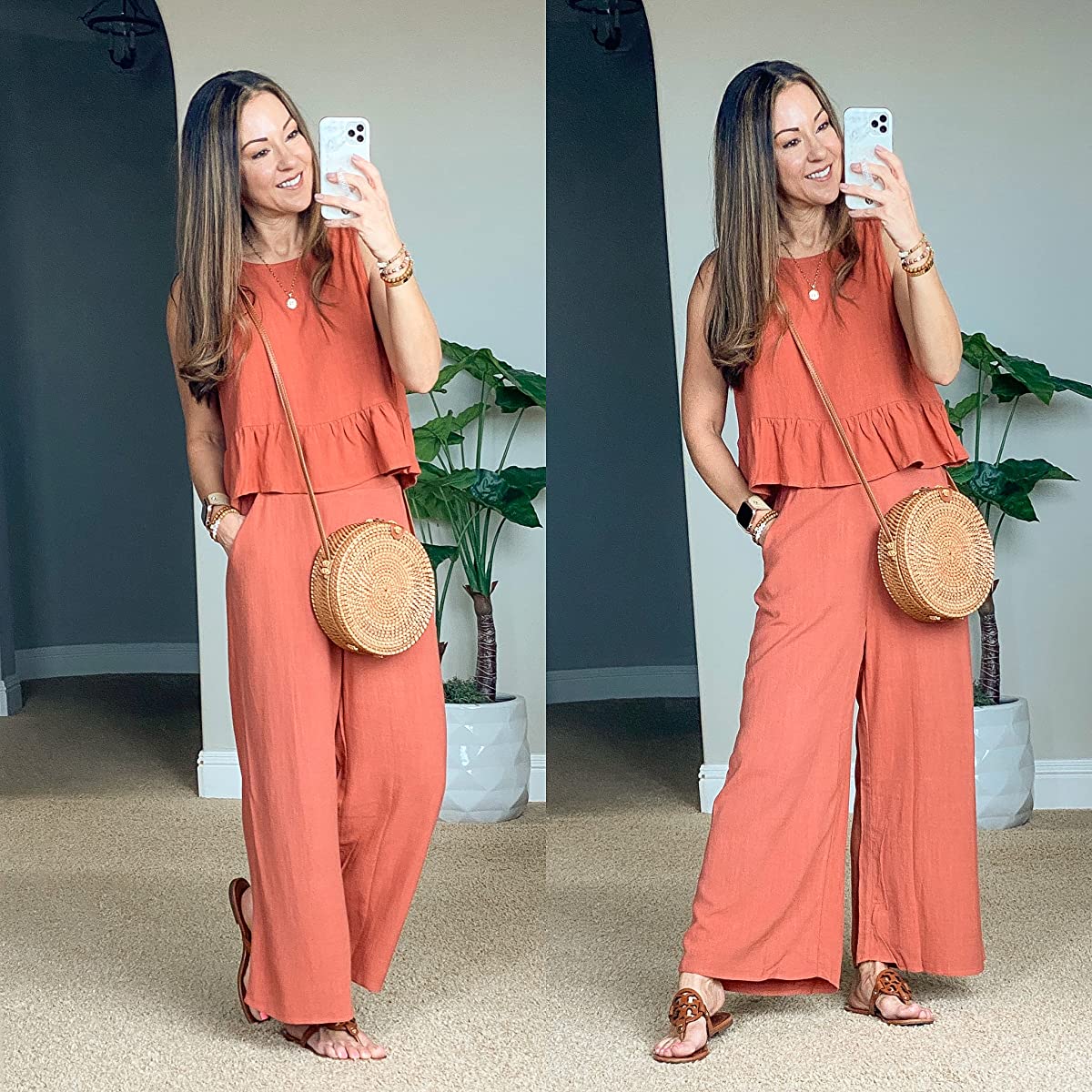 2 Piece Ruffle Set tts, S | Sandals | Crossbody Bag | Bracelets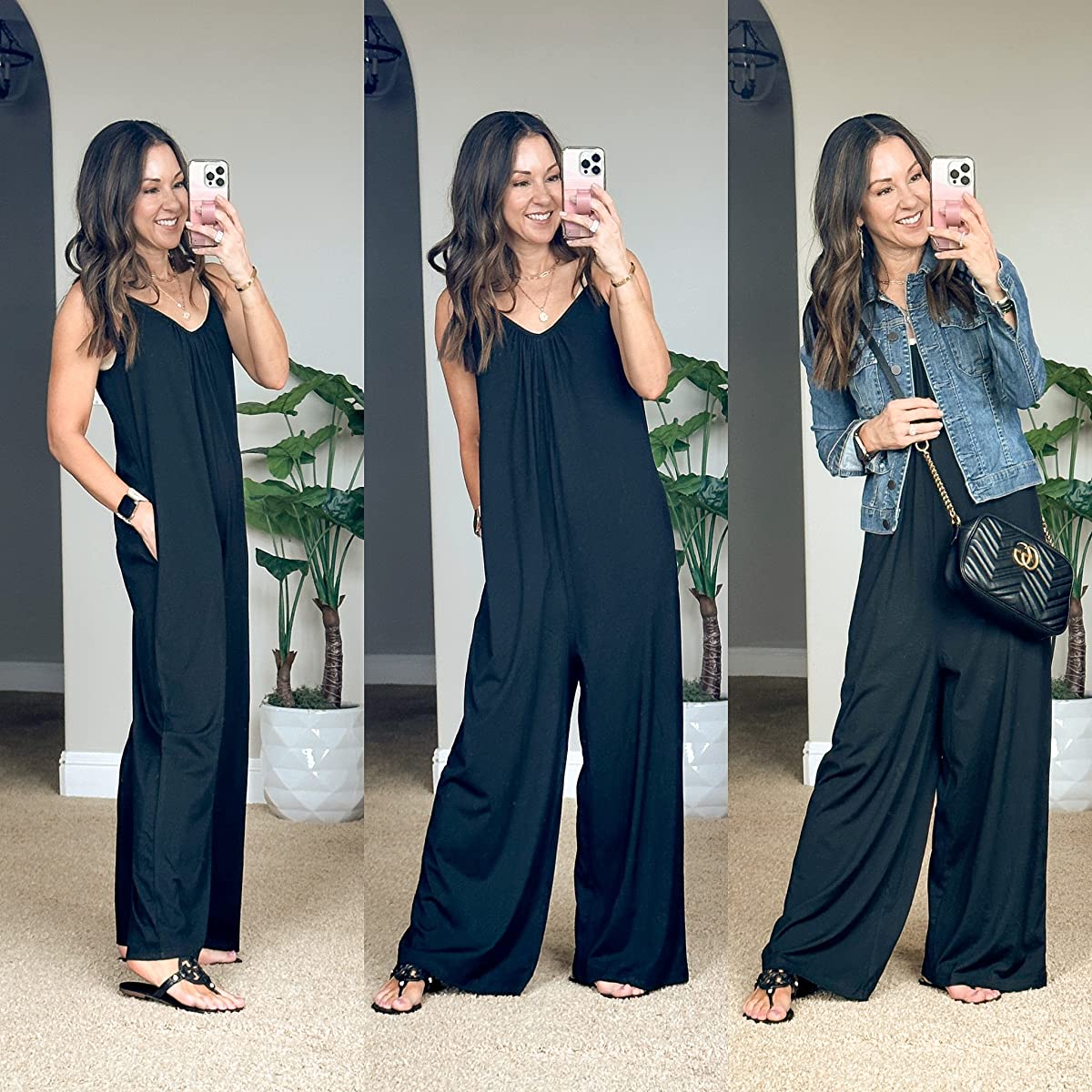 Loose Jumpsuit S | Jean Jacket tts, XS | Sandals | Crossbody Bag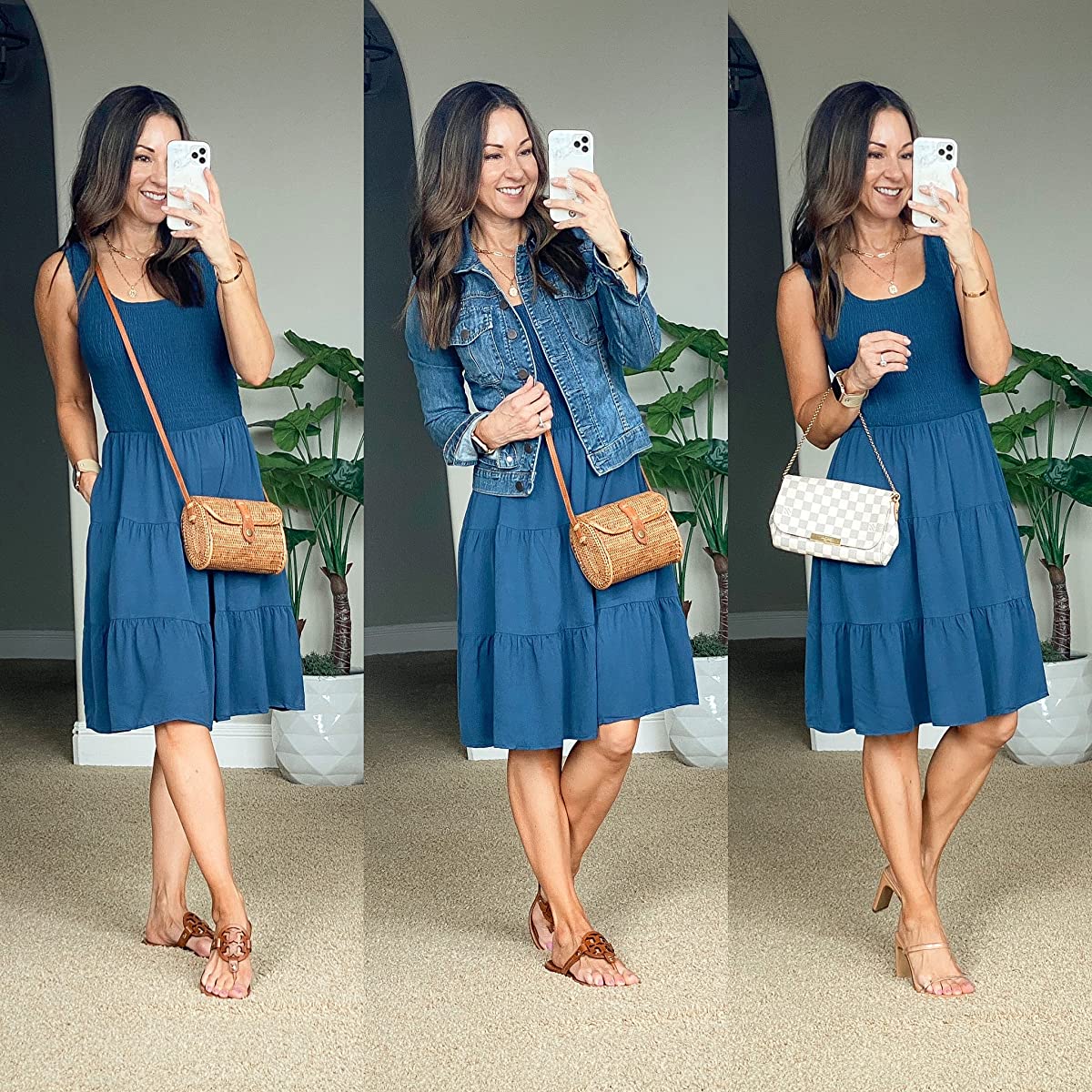 Blue Spring Dress S | Jean Jacket tts, XS | Sandals | Clear Strap Heels | Woven Crossbody Bag

Half Zip Pullover S | Flare Leggings tts, XS | UGG Mini Look-Alikes | Backpack (10% off + 5% off coupon)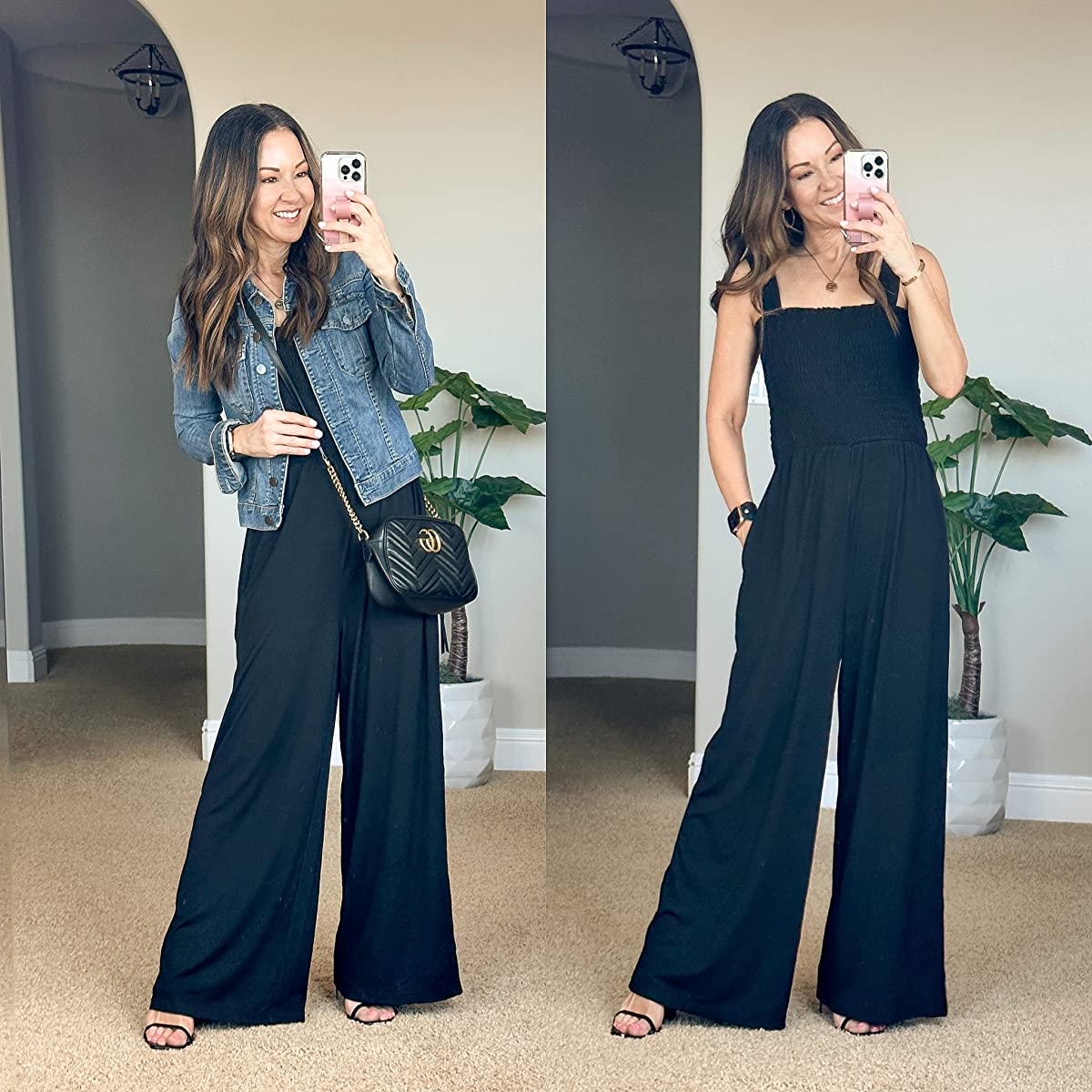 Wide Leg Jumpsuit S | Jean Jacket tts, XS | Black Strap Heels | Crossbody Bag | Bracelet (7% off coupon) | Necklace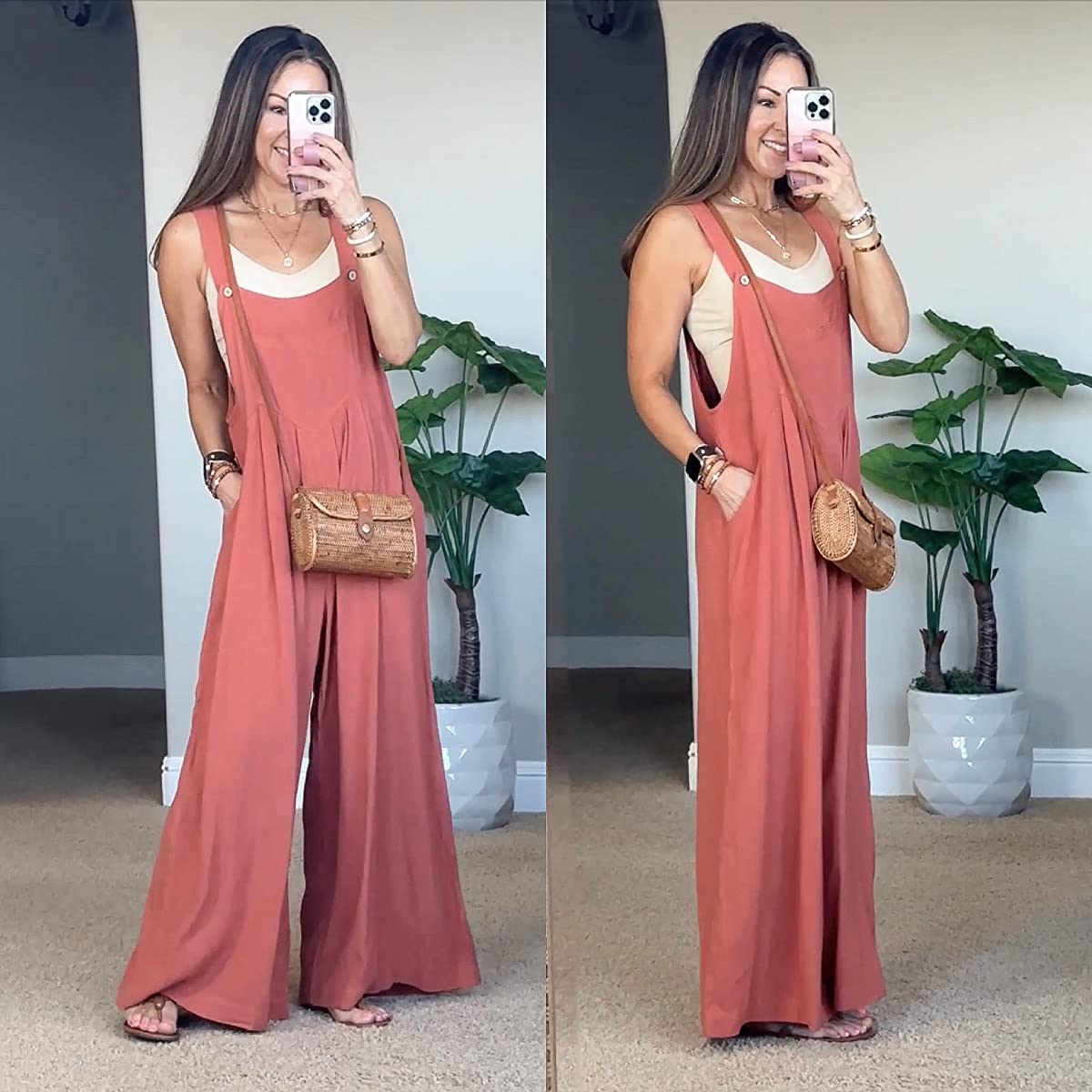 Deep Side Jumpsuit S | Cropped Tan Cami | Sandals | Crossbody Bag | Bracelets | Necklace

Black High Neck Dress S | Jean Jacket tts, XS | Black Sandals | Black Strap Heels | Black Crossbody | Woven Crossbody Bag | Hat | Sunglasses | Bracelets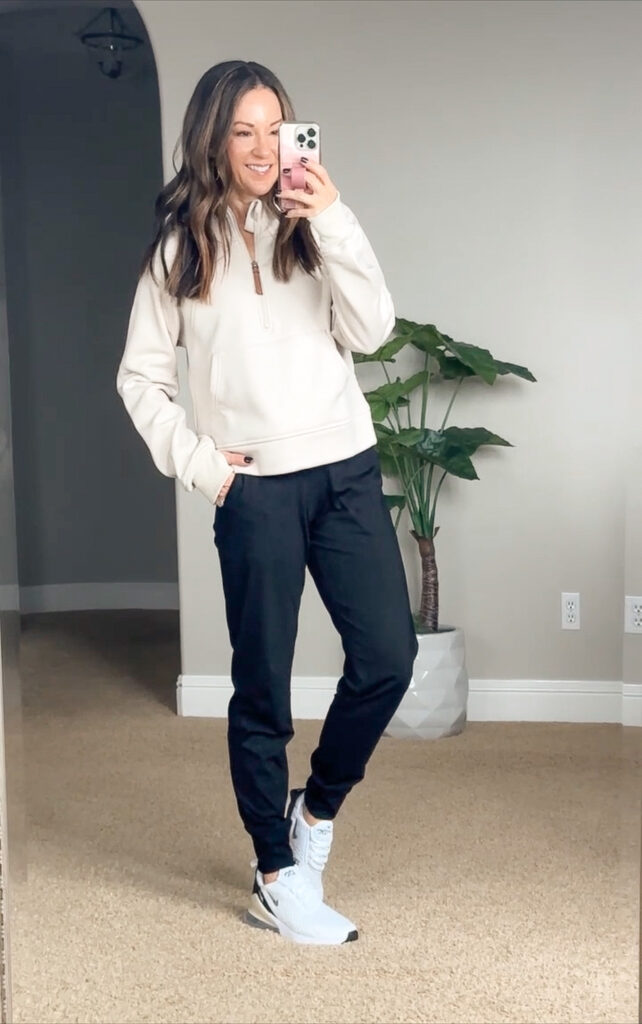 Tan Half Zip Pullover S | Joggers tts, XS | Nike Sneakers

Shop More Fashion, Home & Beauty Favorites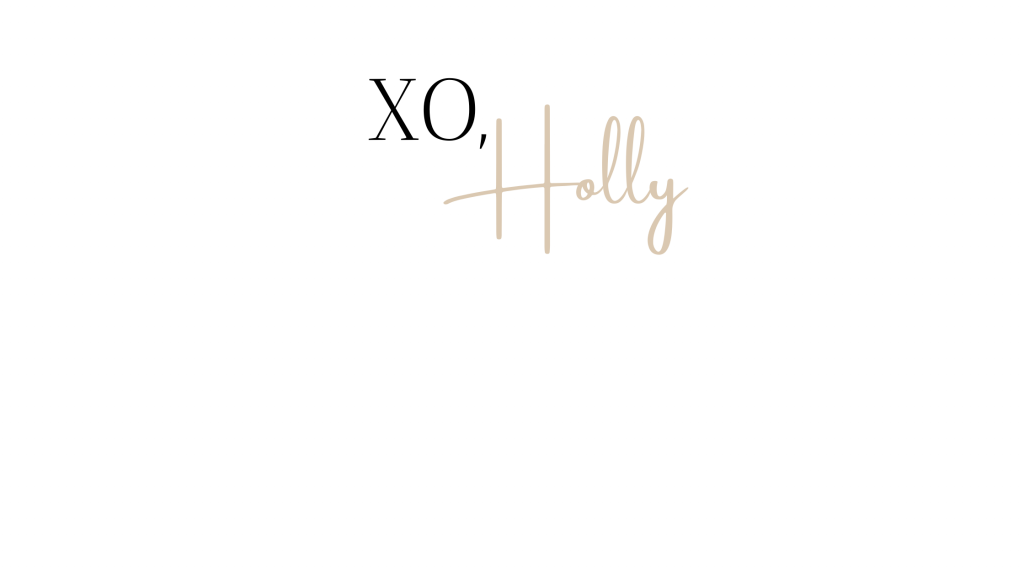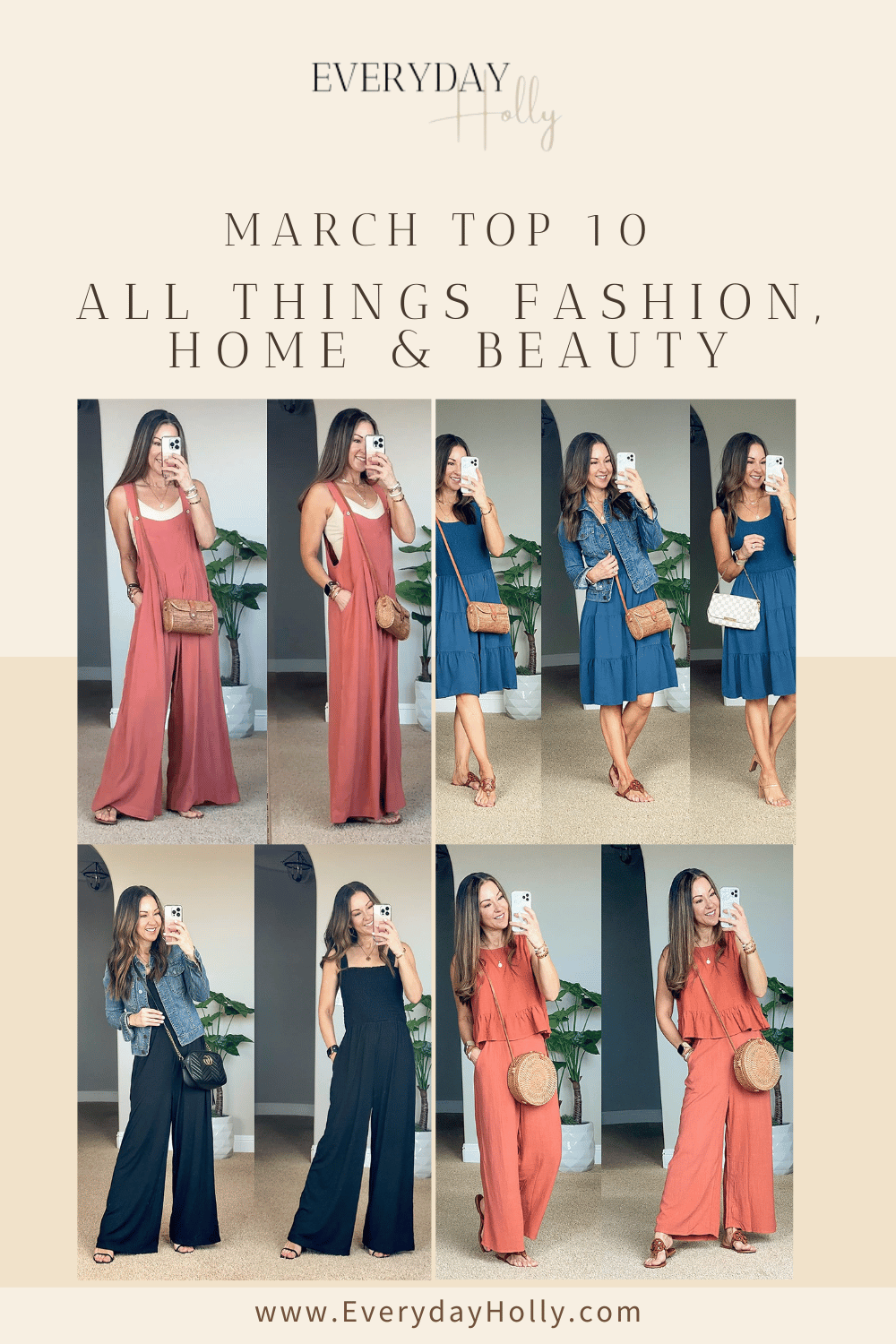 SHOP THE POST