SPANX Denim Staples You Will Love!
I am here to give you the inside scoop on one of the best denim staples in the industry right now! SPANX has come out with some of my favorite denim jeans. They have a ton of different styles from skinny flare, to wide leg jeans! For all of my friends going to country concerts this year, these jeans would be perfect for you! Throw on some boots, wedges or even heels to feel amazing in this sculpted material. SPANX has a great sizing range, to fit your exact body type. Not only do the sizes range from XS-3X, they also come in regular, petite and tall! If you are shorter, you will have jeans that are not too long, or if you are taller you get that extra length! Check out these denim must haves below!
For all SPANX items get 10% off with code: HOLLYFXSPANX
CLICK HERE for more SPANX Favorites!
**This post is sponsored, but all opinions are my own! This contains affiliate links. Thank you for shopping with me!**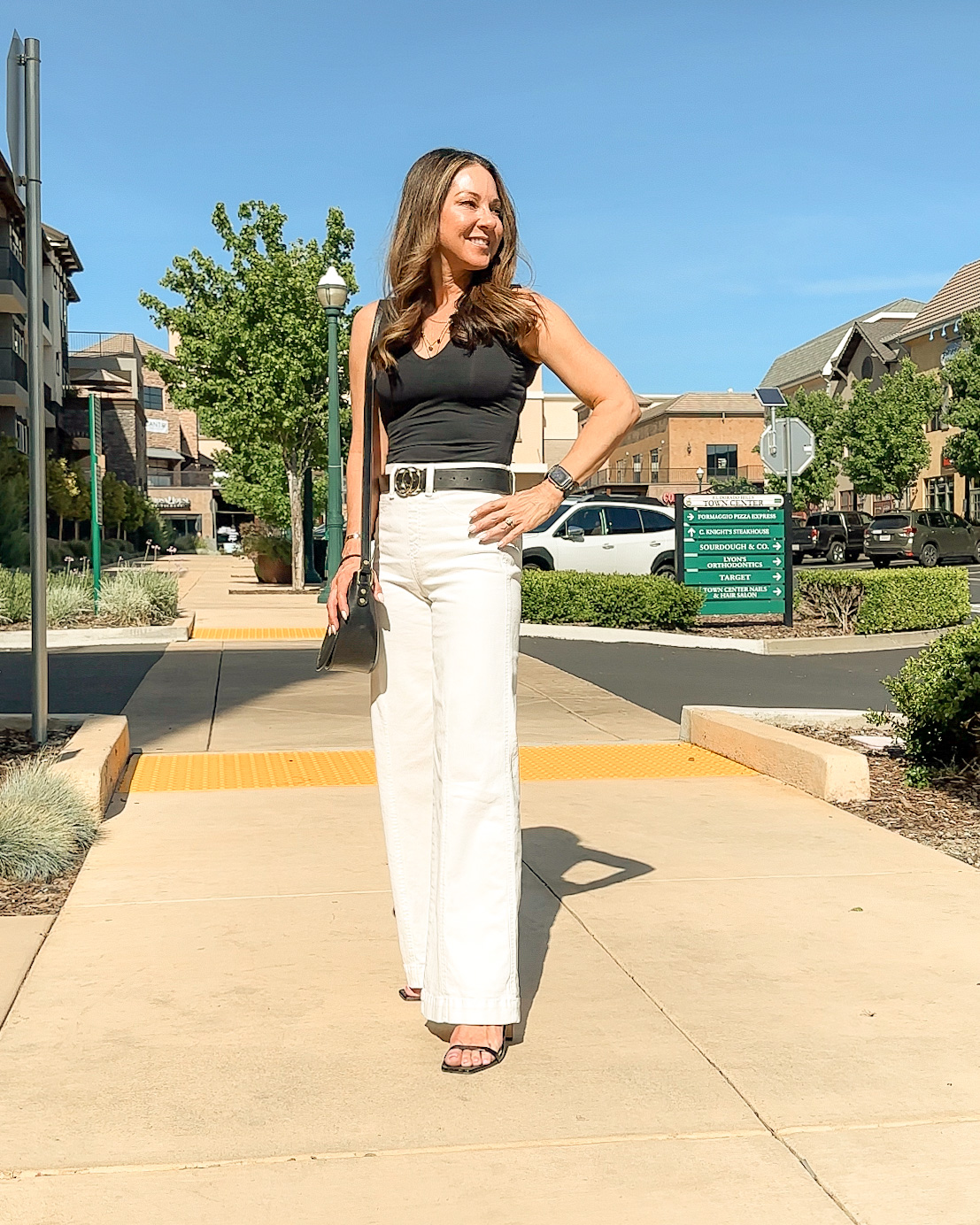 SPANX Denim Outfits | Denim Styles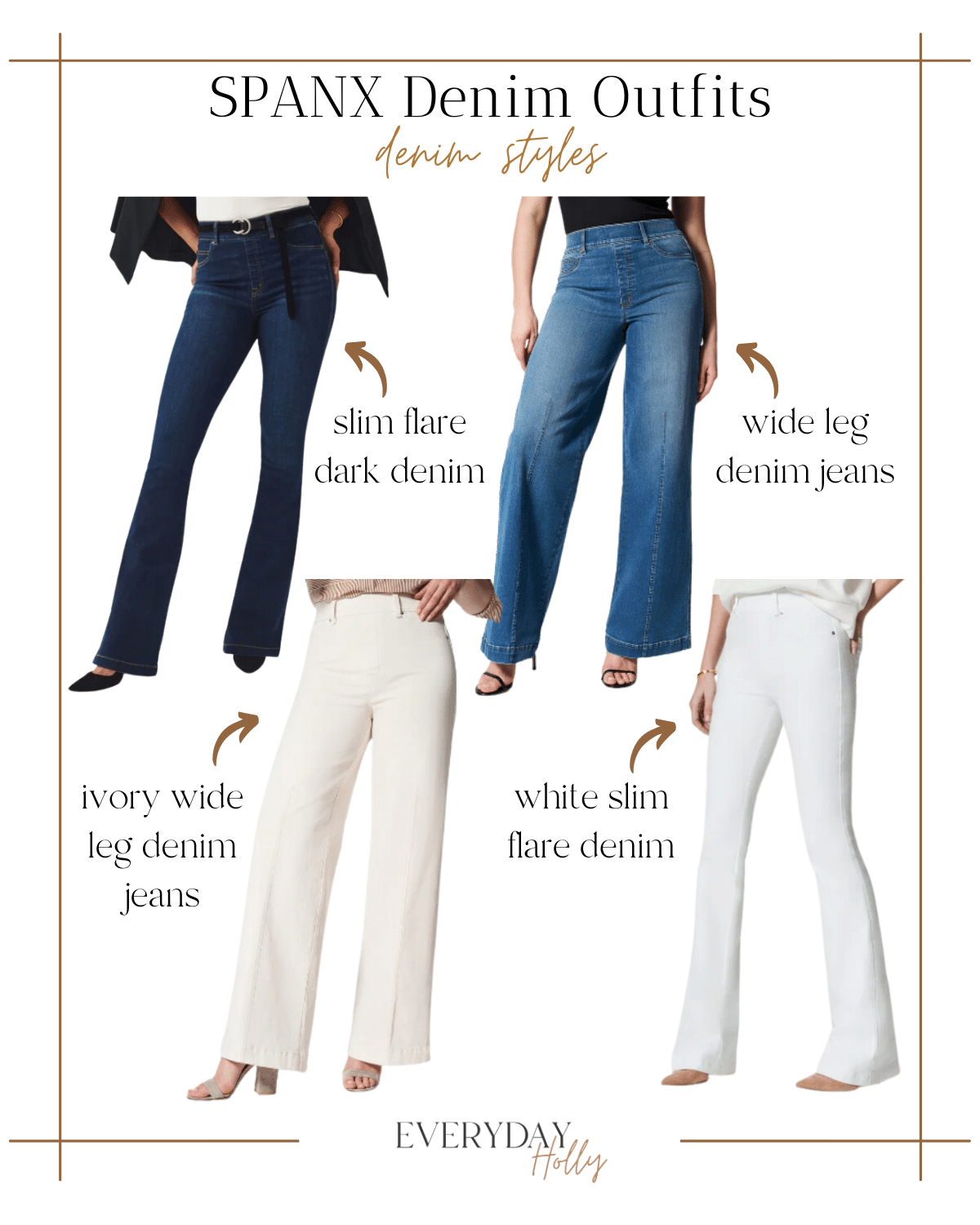 Dark Wash Midnight Shade Slim Flare Jeans XS, Petite | Ivory Wide Leg Denim Jeans XS, Petite | Indigo Wide Leg Denim Jeans XS, Petite | White Slim Flare Jeans XS, Petite
Get 10% off with code: HOLLYFXSPANX
If you notice these jeans do not have zippers or buttons! They are simply slip on jeans that are not only cute but extremely comfortable! The denim fabric has stretch and hidden tummy control on the inside. They form to your shape and help enhance your shape in a sculpted way! These jeans are great because you can dress them up or down. Throw on these jeans with a cute tee and sneakers, or style with a blazer for a work look. There are so many different ways to style these, which is why they are a smart purchase! SPANX quality is amazing and they have listened to their audience regarding clothing wear, and has come out with styles that actually work!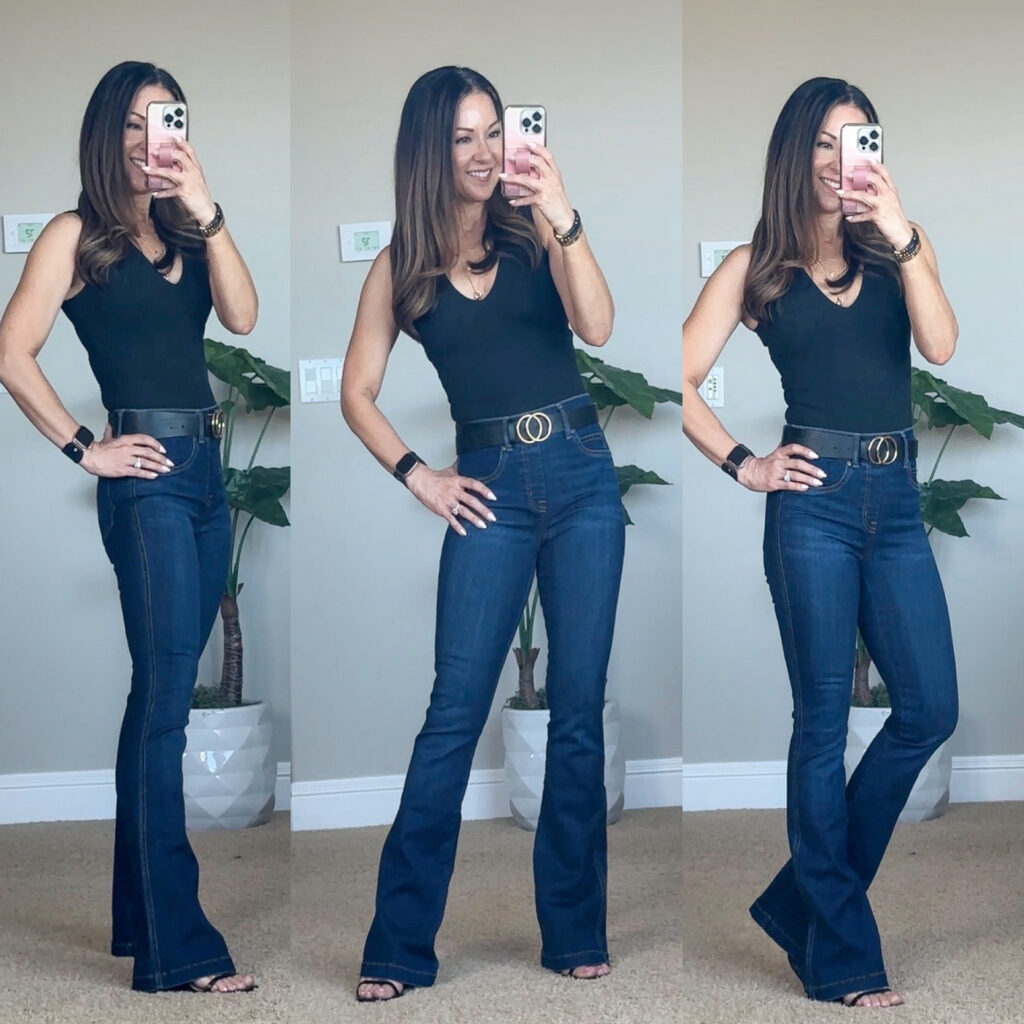 Black Bodysuit XS | Dark Wash Slim Flare Jeans XS, Petite | White Slim Flare Jeans XS, Petite | Belt | Bracelets | Necklace | Heels

SPANX Denim Outfits | Complete The Look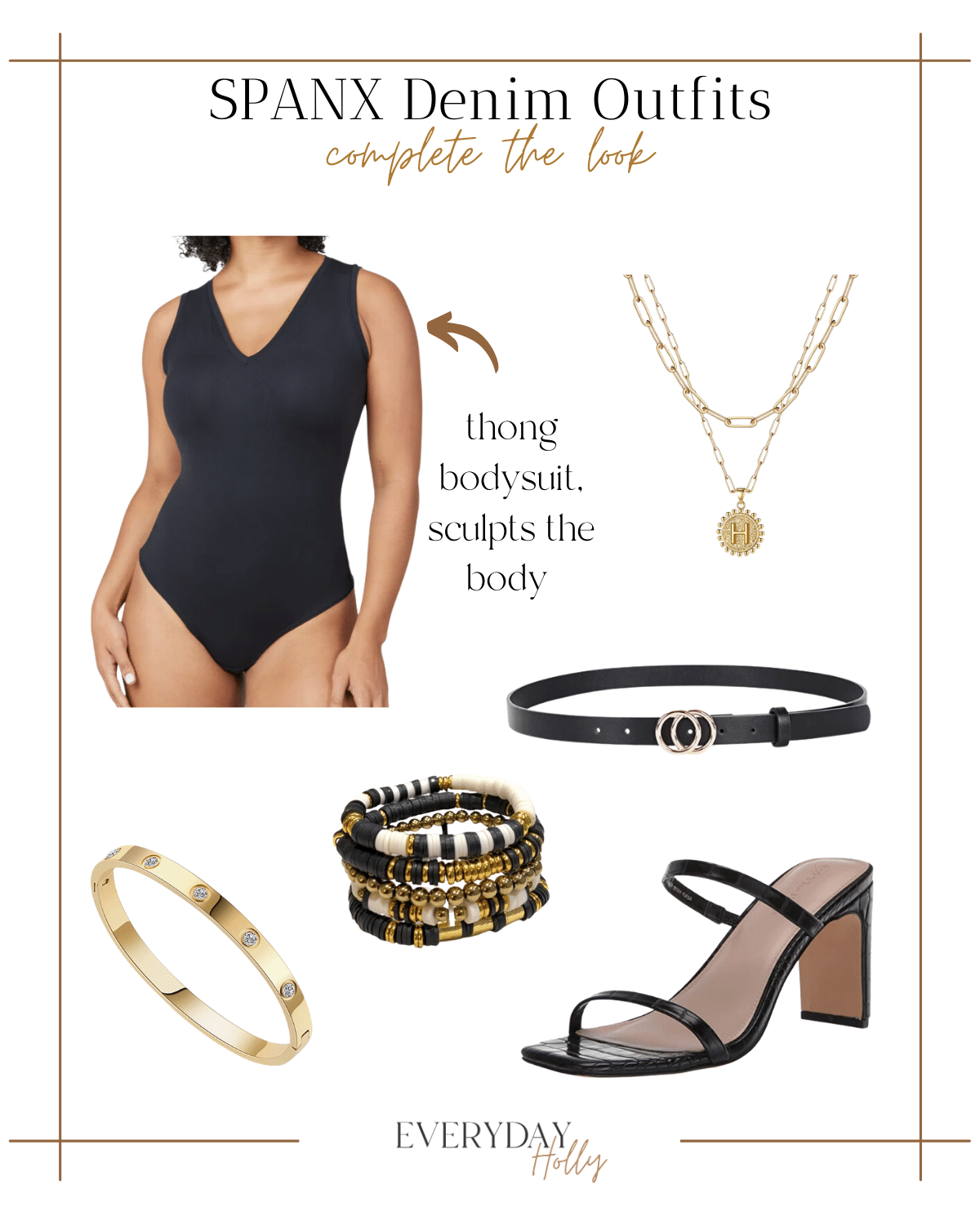 Black Bodysuit XS | Gold Necklace | Belt with Gold Hoops | Gold Studded Bracelet (12% off) | Stacked Beaded Bracelets | Black Strap Heels
Get 10% off with code: HOLLYFXSPANX
Let's complete the look! This bodysuit from SPANX is amazing… and I mean that! The material is like buttery soft, while sculpting and smoothing your body. If you are wanting to invest into some quality closet staples, add this bodysuit to your list! Definitely accessorize with your favorite items. I am definitely a gold jewelry person and have found pieces that I LOVE. This necklace and these stacked bracelets are my go-to's because it adds that extra sparkle to your look in seconds.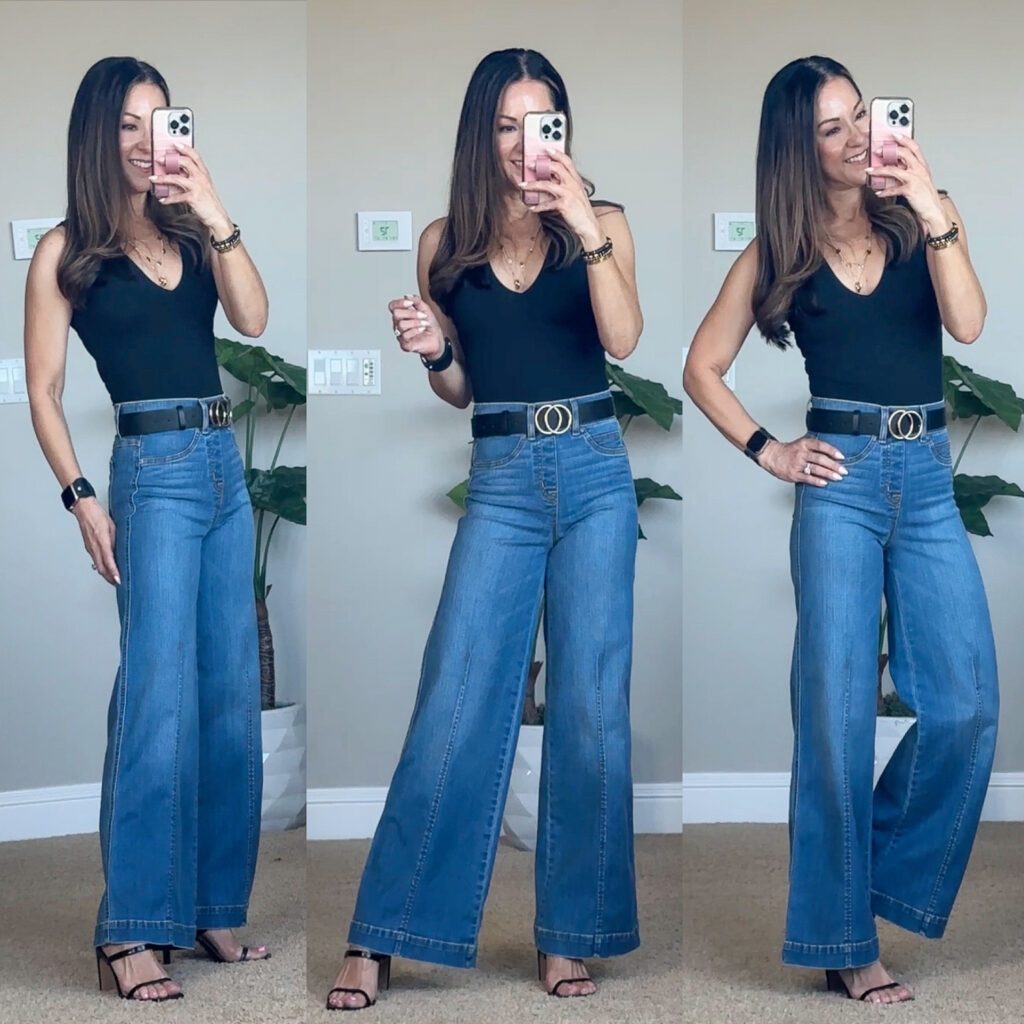 Black Bodysuit XS | Indigo Wide Leg Jeans XS, Petite | White Wide Leg Jeans XS, Petite | Belt | Necklace | Stacked Bracelets | Heels

Shop More Fashion Staples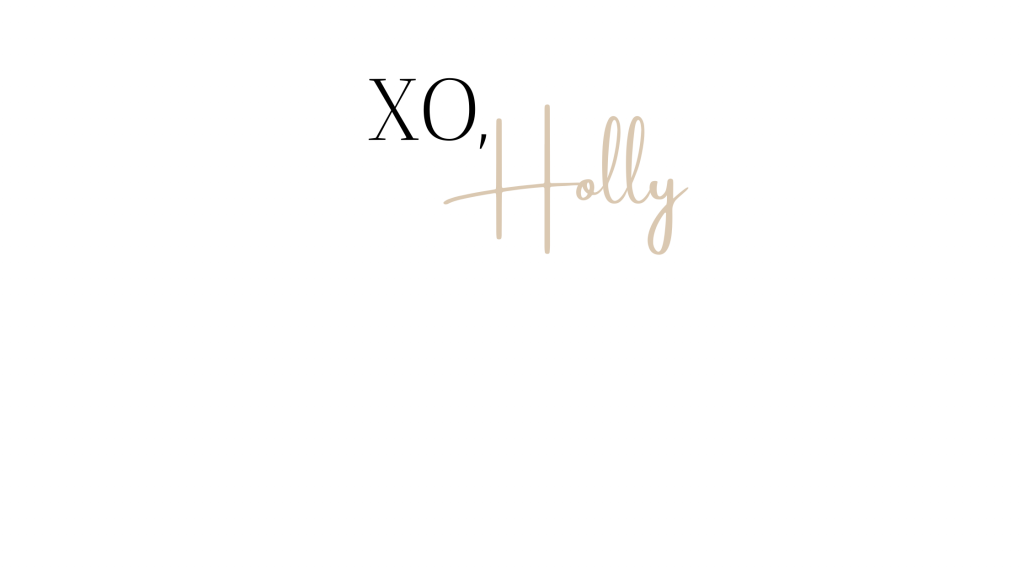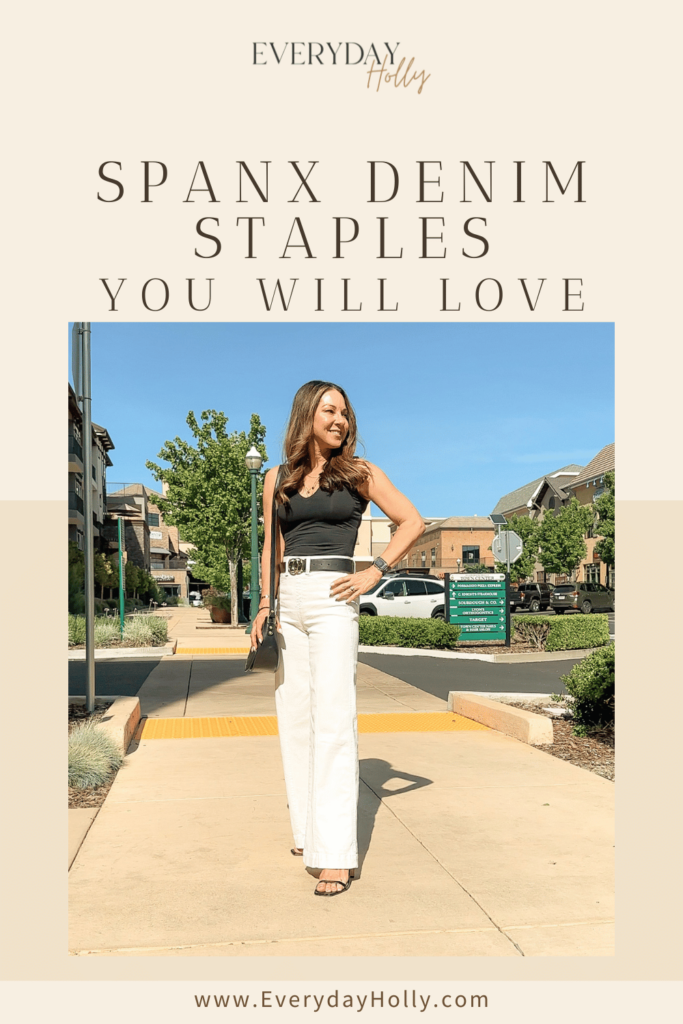 SHOP THE POST