Spring & Summer Outfits That You Need from Amazon Fashion
So many amazing spring and summer outfits came from Amazon in March! Cute & comfy wins with all fo these pieces! Read on to see March's favorites!
** This post contains affiliate links, however, all thoughts and opinions are my own. Thank you so much for using my links. It doesn't cost you any more when you use my links.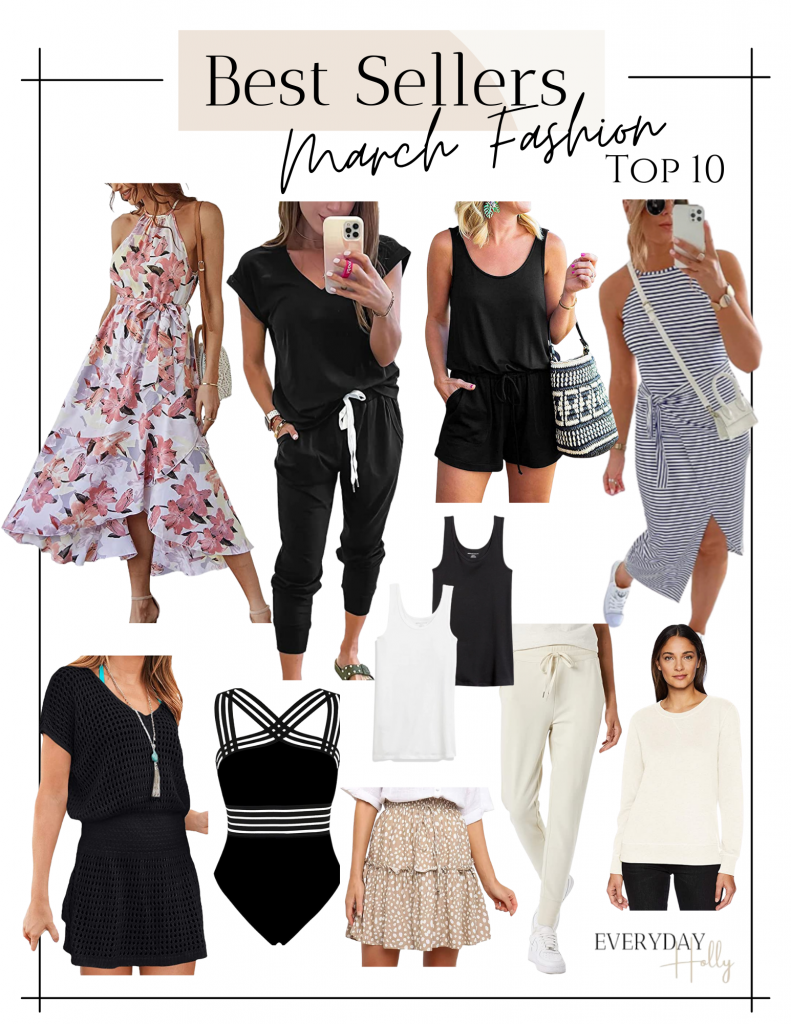 March Top 10
For reference, I am 5'1″, 108lbs, typically an xs.
Dresses
Striped Tie Waist Body Con Dress – Size small, fits like an xs/small. Comes in 6 color options. This dress is seriously the cutest! It is perfect for summer! There is so many occasions that this dress is perfect for! Casual every day, Sunday brunch, church, wine tasting…. It's extremely flattering and I love that you can adjust the tie to wherever you need it. You need to wear a strapless bra with this one.
Halter Neck Floral Print Maxi Dress – Size small, fits like a small. I am usually an xs, so this is little big on me. It's so flowy and beautiful! This dress is perfect for an outdoor summer wedding, Easter, Mother's Day, Sunday brunch and more! You need to wear a strapless bra with this dress. Here is link to my favorite strapless bra.
Square Toe Two Strap High Heeled Sandal – TTS – These heels go with everything! And they are extremely comfortable! Perfect for spring and summer! I cannot recommend these enough! They come in a so many color options! I own these in 3 colors!
Halter Neck Dress | Striped Dress | Shoes
Causal & Comfy Everyday Outfits
2-Pack Slim-fit Tank – TTS, (wearing xs's). Over 26K amazing reviews and under $15 for 2 tanks. These are the best tanks! They are super long, so perfect for tucking it (great alternative for a bodysuit). You can wear a regular bra with these and they are so soft and flattering.
High Waist Ruffle Skirt – TTS (wearing a small) – Has a functioning drawstring and great for all heights. My girlfriend is 6′ tall and it looks amazing on her! Perfect for summer!
French Terry Fleece Crewneck Sweatshirt – TTS (wearing an xs, in color oatmeal heather ) This is an Amazon best seller! Over 7500 amazing reviews. This is a great sweatshirt for not only wearing, but it's great for wrapping around your waist! It's a slim fit, so it lays nicely and isn't bulky. It's also very slimming when you wear it, because it's a slim fit. It comes in a ton of colors/patterns.
Terry Cotton and Modal Jogger – TTS (wearing xs in color sand) – these run TTS and have good length. They are long on my and I just fold the cuff up in 1/2. These are a slimmer, flattering fit. Amazing reviews and lots of colors!
Two-Piece Tracksuit – TTS (wearing a small). This set is so good! I was wearing this daily, so I had to grab another color. It's sooo comfy and easy to wear. It's loungewear that you can wear out and about! I LOVE this set! It's soft, has pockets and a working drawstring. Comes in 10 colors.
Romper – TTS (wearing a small). This is the easiest and comfiest summer outfit ever! It has pockets and a functioning drawstring. You can wear a regular bra with this one. It comes in a gazillion colors & striped options.
Sandals – I am linking an affordable version of my sandals. They run tts.
2-pack Tanks | Skirt | Sweatshirt | Joggers | Two-piece Tracksuit | Romper |
Sandals (affordable version)
Beach & Pool Style
One-piece Swimsuit – I wear a size 4-6 in this suit which is my normal size in one-piece swimsuits (I have a longer torso). It has almost 20K amazing reviews & comes in a gazillion colors/patters. This is the perfect swimsuit! It's ultra-flattering on all shapes and sizes and ultra comfortable! This is the perfect swimsuit for being active on the beach, in the pool, and perfect for waterparks!
Knit Coverup Dress – One size fits all. I am 5'1″ and I have a friend that is 6′ tall and it fits great on both of us! It's super comfortable and great for packing, because it won't wrinkle. Comes in 11 colors.
One-piece Swimsuit | Knit Coverup
More Favorites…
Comfy Casual
These Amazon Essential cropped joggers have been top sellers month after month! The cropped version are perfect for petites! Please fit like a dream, they have pockets and a functional drawstring. I wear the size extra small. These also come in a full-length version which you can get here.
These Amazon tank tops come in a two-pack and they also continue to be a top seller! They are so comfortable and so soft! They are super long so you can talk them in and they will stay tucked in like a bodysuit! And, you can wear a regular bra with them! I wear a size extra small in these tanks.
This jumpsuit is so comfortable! I am wearing the size small and in the Tryon I show you how to fold under the elastic waist band so it becomes the perfect length for petites. It has pockets and a button closure at the neck. The cute shoulder detail is what sets this one apart from all the rest.
Joggers | 2-pack Tanks | Sneakers | Jumpsuit | Similar Sandals
Bonus: Last Months Best Sellers from Pink Lily
Save 20% Code EVERYDAYHOLLY20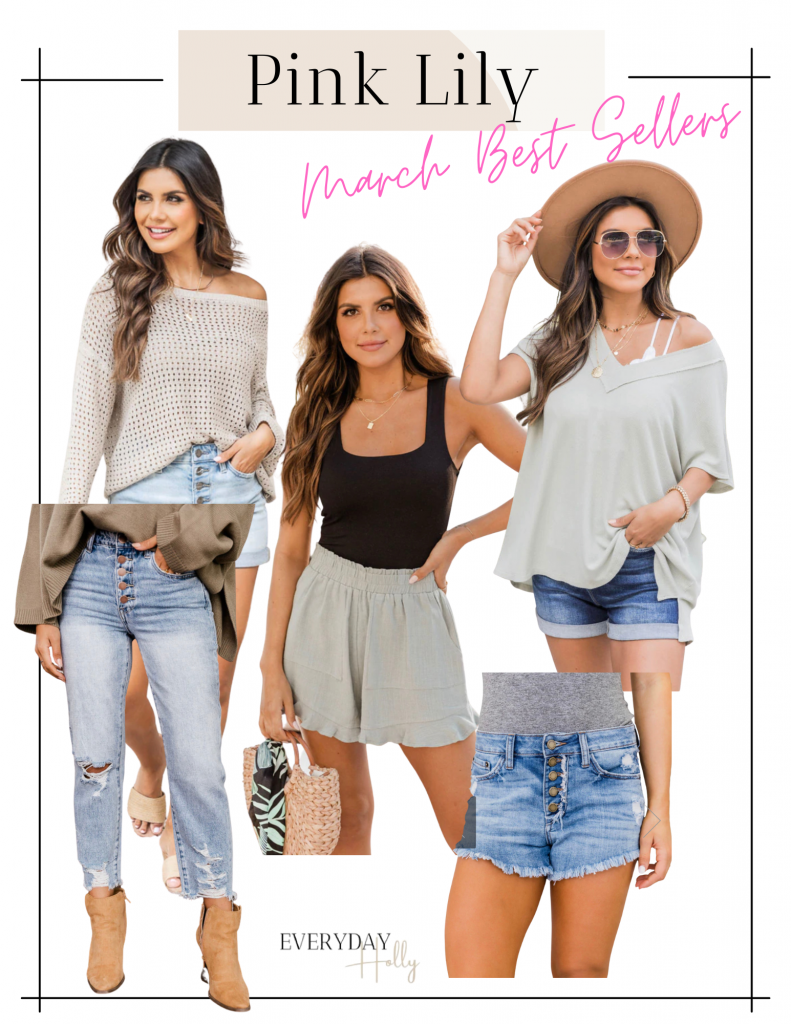 Open Knit Sweater xs | Linen Pull-on shorts xs | Casual top xs | Jeans 1 | Denim Shorts xs
---
Make sure to check out last months best sellers Here! They are perfect for spring weather, too!