The Perfect Mother's Day Gift Guide You Need!
I hope you all had an amazing Easter weekend spending time with your family! I just spent the last week traveling and spending time with my daughter as it was her spring break. Over the last week this had me reflecting on being a mom, and all the memories I have with each of my kids. It's wild to be talking about Mother's Day, but it will be here before we know it! With being a mother myself, I know what it takes to raise children. It is no easy task, and every mom deserves to be celebrated this year! I have compiled lists of the perfect gifts for you to get your mom this year! Make her feel special and appreciated with these amazing gifts!
To shop more Mother's Day Gifts CLICK HERE!
**This post contains affiliate links. Thank you for consistently shopping and supporting me!**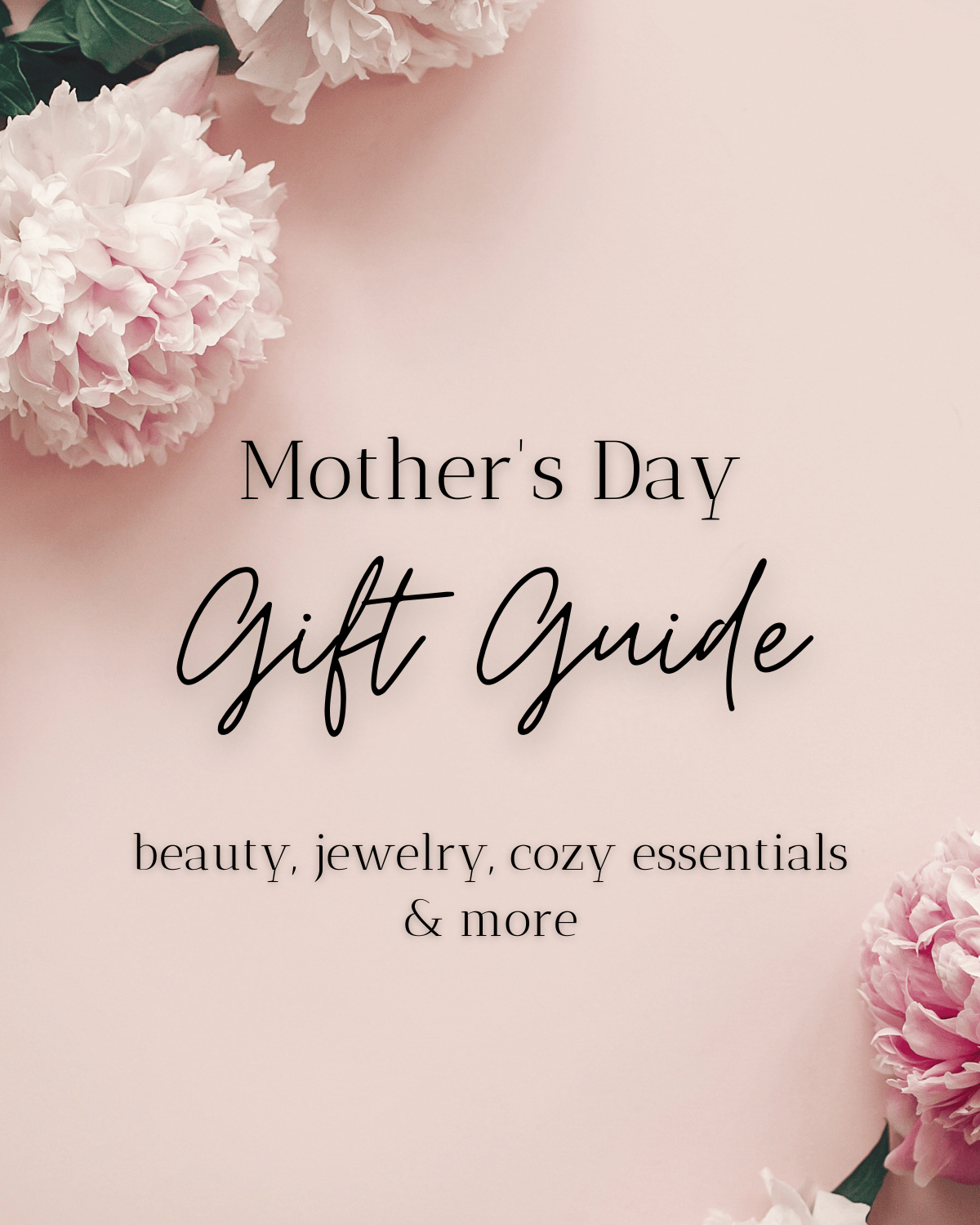 Mother's Day | Cozy Essentials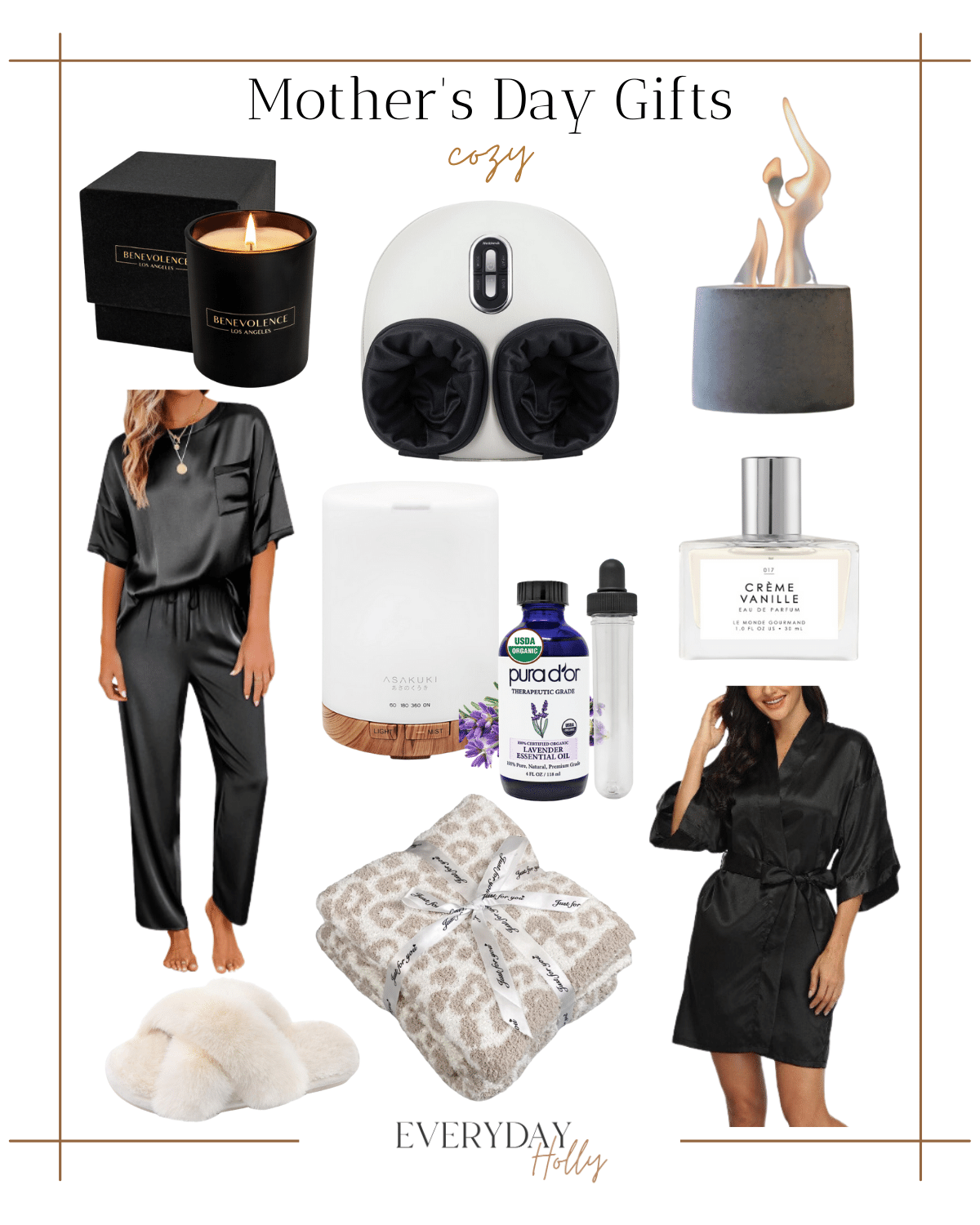 Benevolence Candle | Foot Massager (10% off + $15 off coupon) | Mini Coffee Table Fireplace (60% off) | Silk PJ Set | Oil Diffuser (29% off + 15% off coupon) | Lavender Essential Oils | Creme Vanille Perfume | Fuzzy Slippers (43% off) | Cozy Blanket (25% off + 10% off coupon) | Silk Robe
In all honesty I think what every mom wants for Mother's Day is a day of relaxation! A day where we do not have to do anything for anybody.. lol! Get your mom items that will help her relax and cozy, no matter what her plans may be. If she wants to spend all day in comfy clothes and binge watch that show she has been wanting to watch, let her! Or maybe that's taking a bath with a glass of wine. These cozy essentials will make for a perfect relaxing day. This mini fireplace is so cool, all you have to do is put a little bit of rubbing alcohol in it and light! It lasts SO long! Perfect for setting next to the tub. Then afterwards she has the perfect set of PJ's and silk robe!

Mother's Day | Kitchen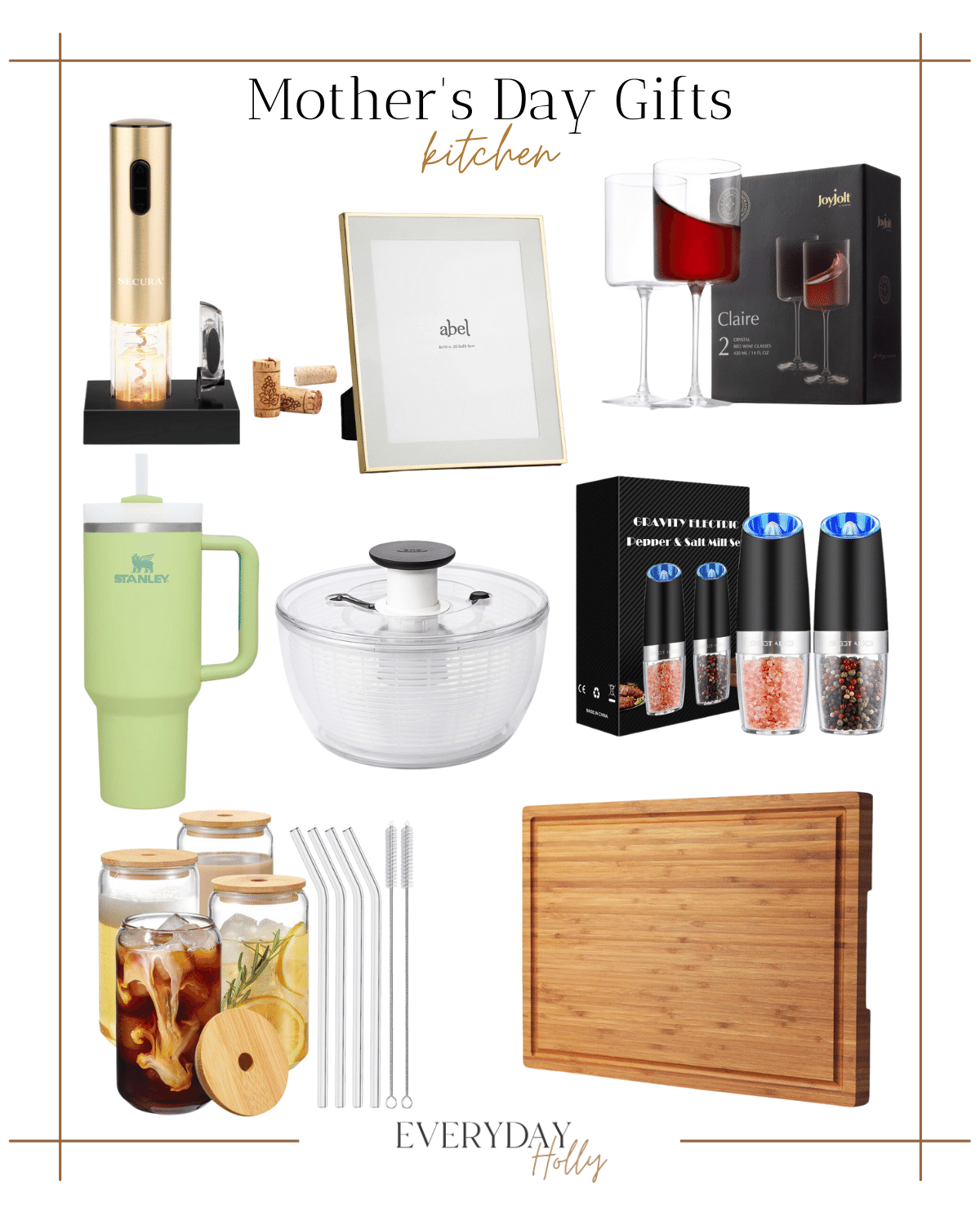 Electric Wine Opener (25% off) | Gold Picture Frame | Wine Glass Set (52% off) | Stanley Cup | Salad Spinner | Electric Salt & Pepper Grinder (17% off) | Glass Cup with Lid Set (20% off) | Charcuterie Board (11% off)
Remember when I said above that your mom may want a glass of wine. Well complete the entire day with an awesome electric wine opener and wine glass set! Trust me, she'll love you for this! Of course many of you know, Stanley cups have been the big hit this year well it's time you finally got one for your mama! Maybe you want to create a beautiful dish for Mother's Day or charcuterie board. This board above is perfect and will last forever!

Gifts for Mom | Beauty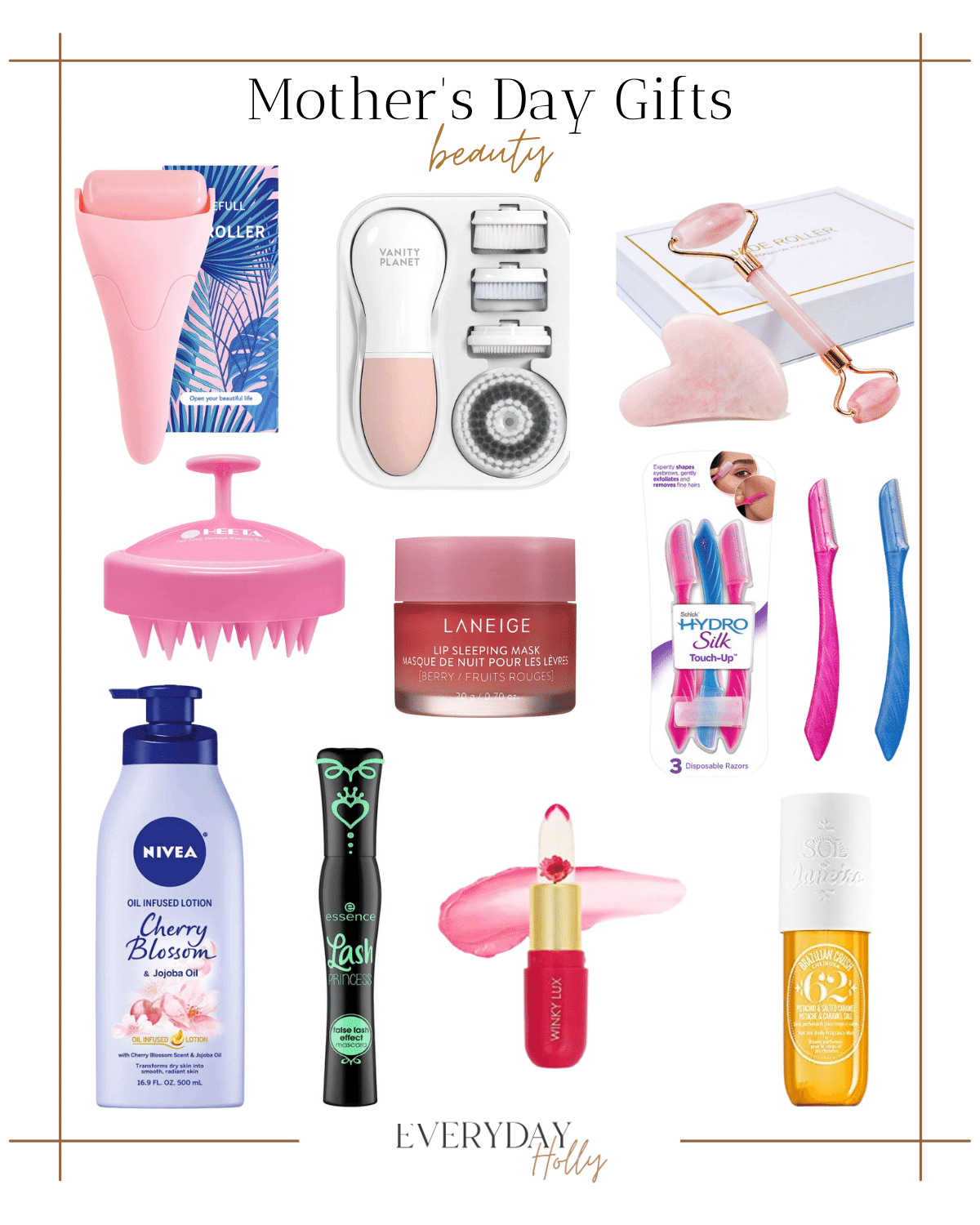 Face Ice Roller (25% off + 10% off coupon) | Spinning Facial Cleansing Brush | Face Roller & Gua'sha (53% off + $3 off coupon) | Scalp Scrubber (33% off) | Laneige Lip Mask | Facial Razor Pack | Nivea Cherry Blossom Lotion | Essence False Lash Effect Mascara | Winky Lux Lip Balm | Sol De Janeiro Body Spray
Amazon has amazing beauty items that your mom would love! I use a bunch of beauty products from Amazon, and can attest that receiving beauty items as a gift are some of the best. When you receive beauty items, it gives you this sense of pampering yourself. Treating your skin good and doing some self care. Well I am here to tell you, that your mom needs some self care! One of the most relaxing gifts is this ice roller. It helps tremendously with headaches but also puffiness. Let your mom have the essentials to pamper herself this Mother's Day!

Mother's Day Gift Ideas | Jewelry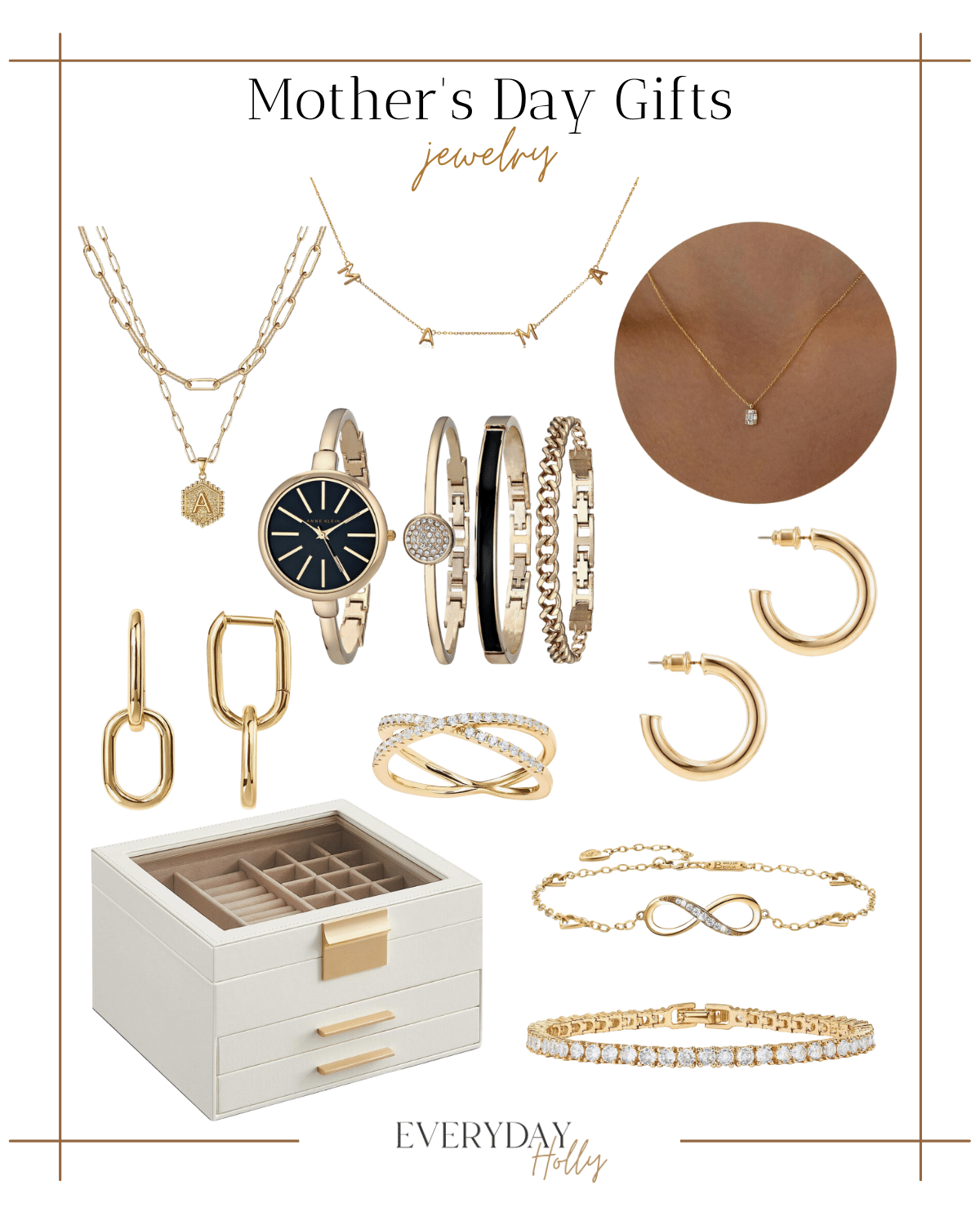 Initial Chain Necklace (15% off) | MAMA Necklace (78% off) | Dainty Pendant Necklace (5% off coupon) | Gold Watch Set (47% off) | Chainlink Earrings (12% off) | Mini Gold Hoop Earrings | Criss-Cross Gold Ring | Jewelry Organizer (33% off) | Infinity Bracelet | Gold Tennis Bracelet
When it doubt buy some jewelry! Personally, I am a gold jewelry lover but these all come in silver, rose gold and more! You can't help but feel special when someone buys you jewelry. Whether it be necklaces, bracelets, earrings or all of the above these pieces are great choices! This jewelry organizer can be an absolute game-changer for your mom. Not only does it have multiple drawers, but the sides open up for even more storage!

Mother's Day Gifts | All The Extras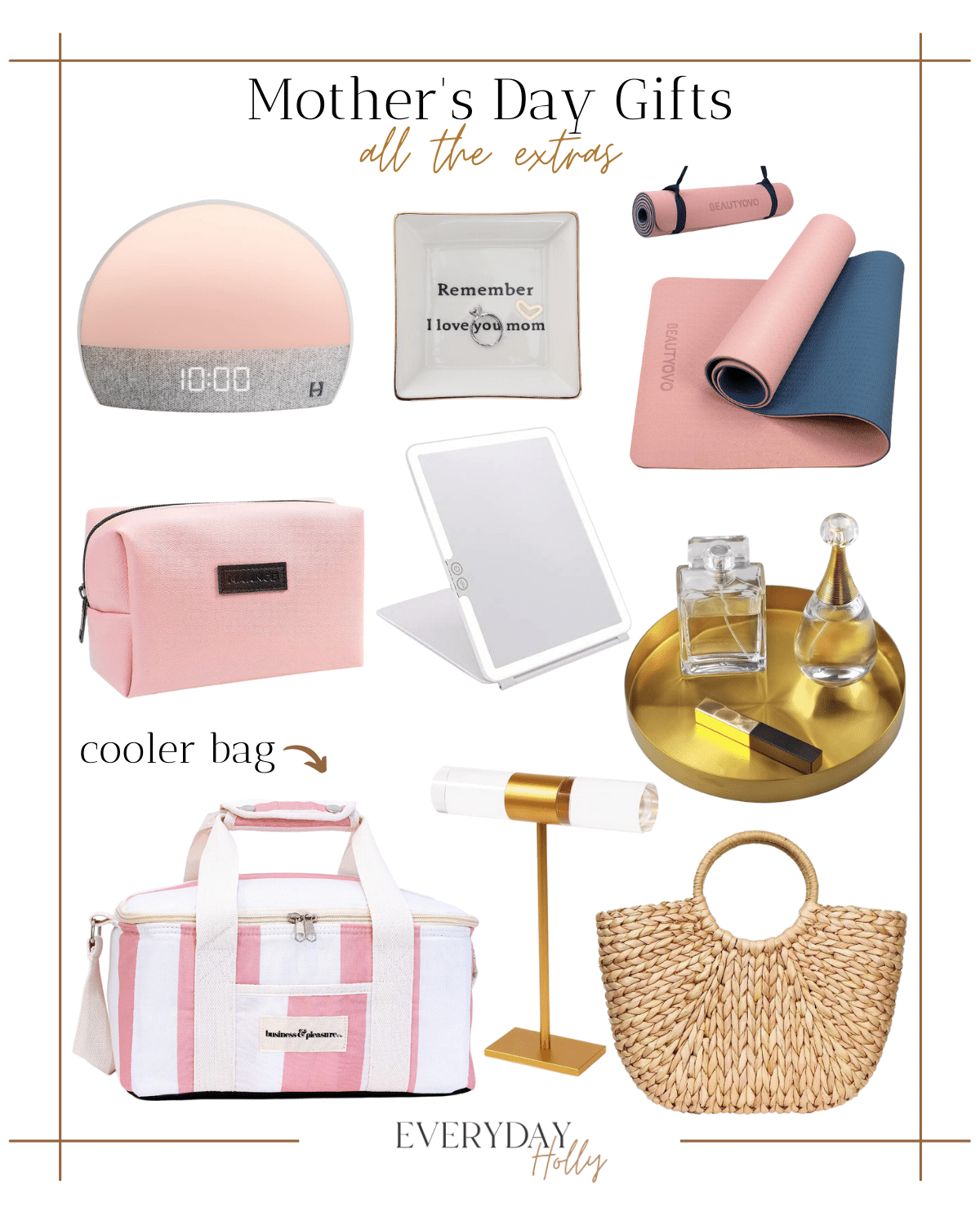 Hatch Alarm Clock | Ring Holder (5% off coupon) | Yoga Mat (8% off $2 coupon) | Makeup Bag (13% off) | Travel Mirror (53% off) | Round Gold Decorative Tray (50% off) | Cooler Bag | Gold Necklace Holder | Woven Summer Bag (5% off)
This is the category that includes all different kind of essential gifts that are great options! This Hatch Alarm Clock is amazing because it is also a sound machine and slowly lights up like a sunrise in the morning. You can change it whatever morning colors you'd like! This cooler bag is perfect for summer time when you are going to the beach, the lake or out with a group of people. Store all the adult beverages in a cute bag this summer!

Shop More Gift Ideas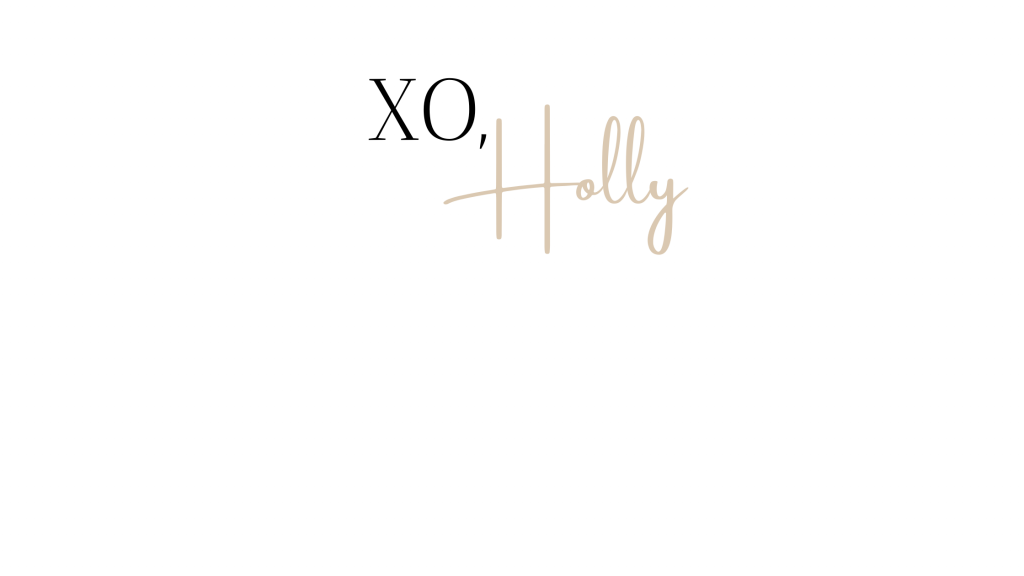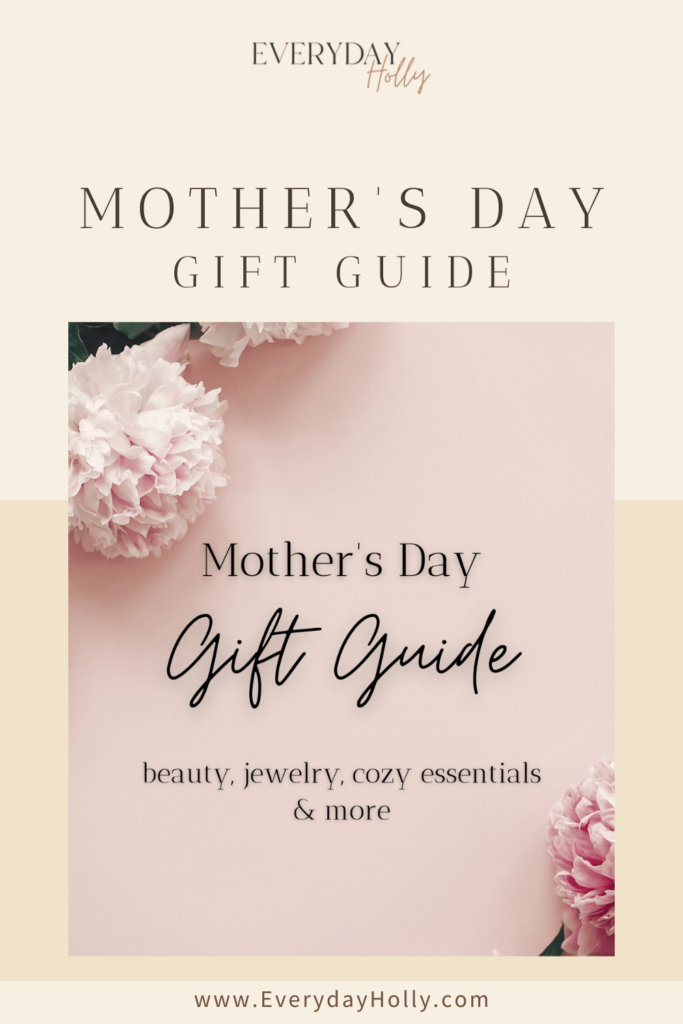 SHOP THE POST