Everyday Holly Weekly Roundup – May Week 1
Happy Mother's Day Mama's!!! I hope you all have the best Mother's Day and get to do exactly what you want to do today. For me, that is to have some alone time and not have to do any cleaning ~ a mama can dream, right?
It's crazy to think that the last time I made a weekly roundup blog post, I was wishing you all a Happy Mother's Day! It's been a whole year! Time really flies!
So, what is my plan with these weekly roundups moving forward? Honestly, I have no clue! I'm just going it and sharing what's on my heart and mind. I'm hoping you are okay with knowing that you'll never know what you will get until you get here. 🙂
Your feedback is always so important to me! Please let me know what you would like to see more of or if you have something new you want me to share in the comments below.
Big News!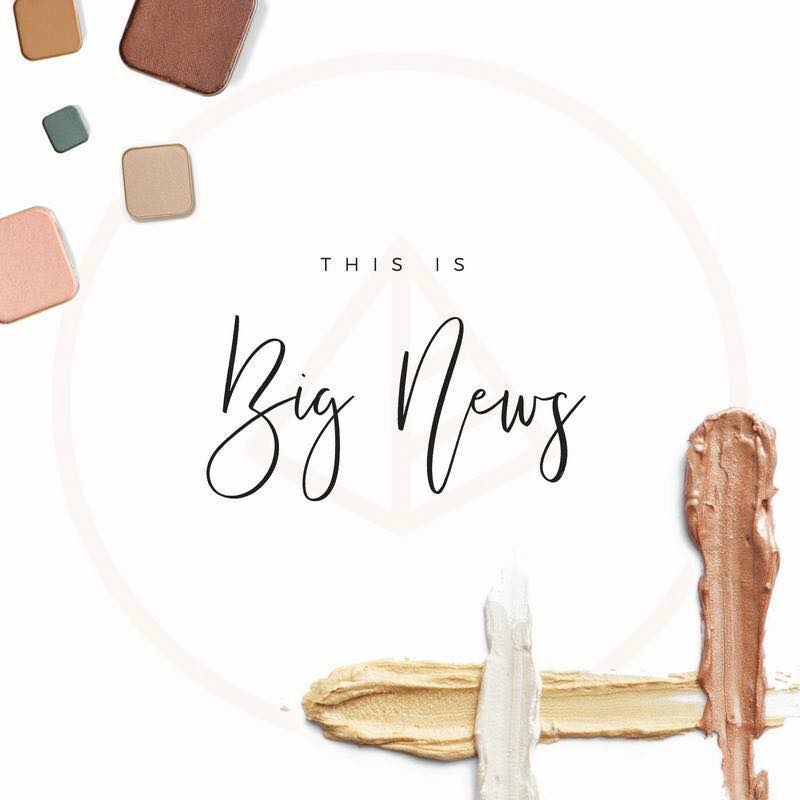 If you follow me on Instagram, you most likely know that I have fallen in love with Maskcara Beauty. It is truly the best make up that I have tried! It gives you the most natural look and it's so quick and convenient! And, their brushes are amazing ~ coming from a brush snob, too!
If you are interested in hearing more about Maskara Beauty message me or if you would like for me to give you a free custom color match, click here.
My Pro Kit arrived and I made a YouTube video to share what is included in the pro kit.
Make sure to subscribe to my YouTube channel. My plan is to upload my makeup tutorials over there!
The weather has been so nice here in California! I love working outside when I can. And, I am obsessed with my cute "caffeine & quarantine queen" mug that I got off of Etsy – Etsy has the best quarantine swag! Click here for all of my Etsy favorites!
How are your nails holding up during this quarantine? I can't do nail polish!
I don't have the patience to wait for it to dry.
They chip almost immediately – so frustrating
My nails are brittle and polish is just too thin to hold them together. And, I do take collagen! Ughh! 🙁
My favorite new obsession are press-on nails! I know, I know! You are thinking "Lee press-on nails" from back in the day. Well, these are so incredible and gorgeous! My two favorite brands are Impress and Dashing Diva are both on sale for BOGO 1/2 off.
I love both brands, but Dashing Diva holds up a little longer, because they are harder. Even though they have glue on them already, I also add use this nail glue (a new tube each set application) to prolong the wear.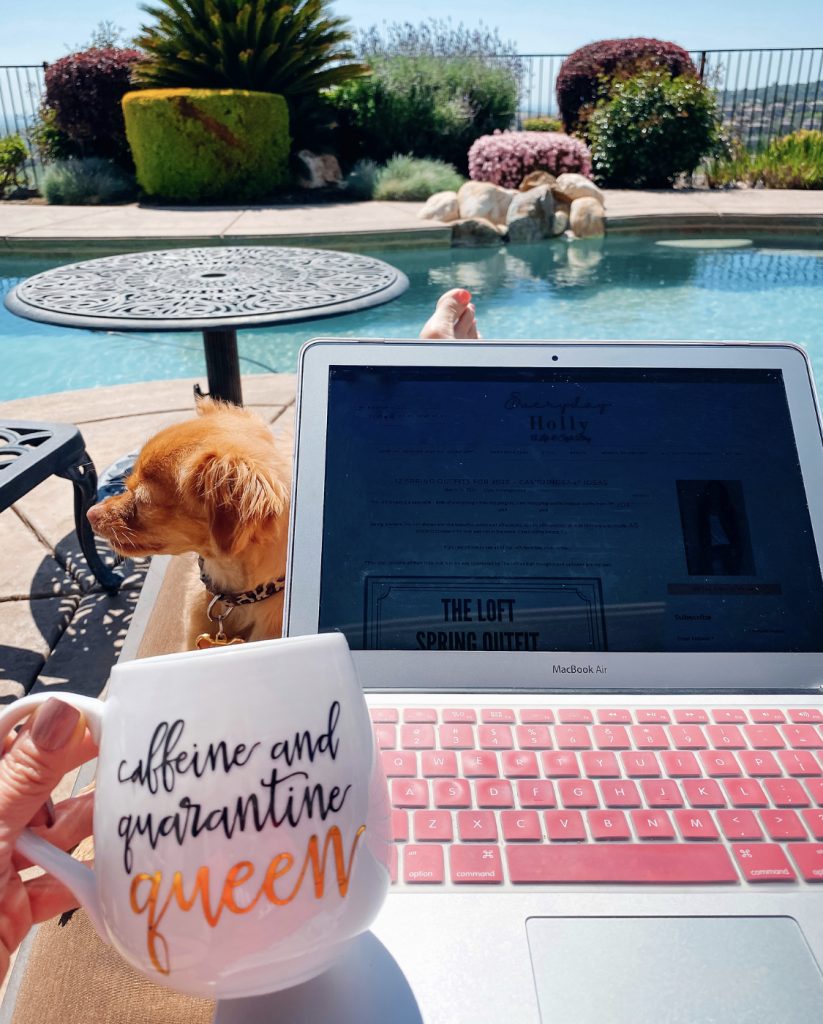 mug // Impress Nails // Dashing Diva // nail glue // keyboard protector
JustFab & Loft
My May JustFab shoes arrived and I am completely obsessed with them! JustFab has the cutest shoes for amazing prices. I love that I can try trendy shoes without breaking the bank. When you sign up, you get your first pair for only $10! I also love that you can skip months, cancel at anytime and they have free exchanges.
LOFT has been having insanely good sales and super cute pieces! And, most pieces come in petite, regular and plus.
Top // bottoms // shoes // bracelets // Cross bracelet // chevron bracelet // bag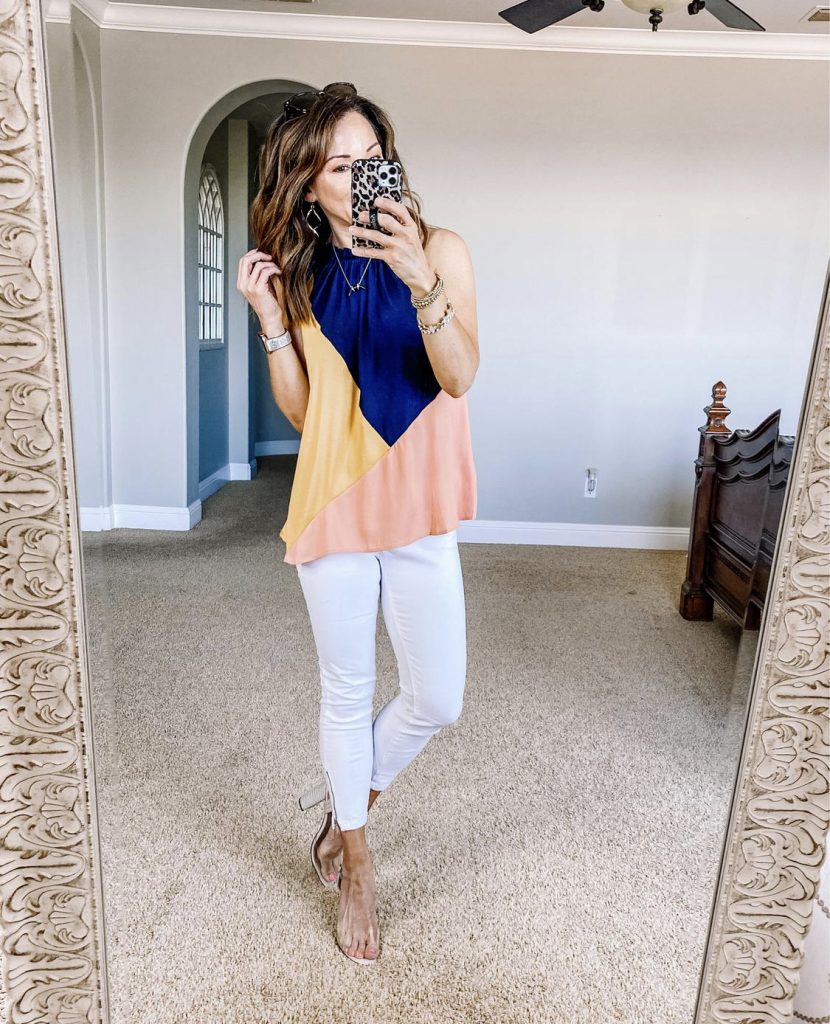 top // bottoms (sold out) // shoes // bracelets // cross bracelet // chevron bracelet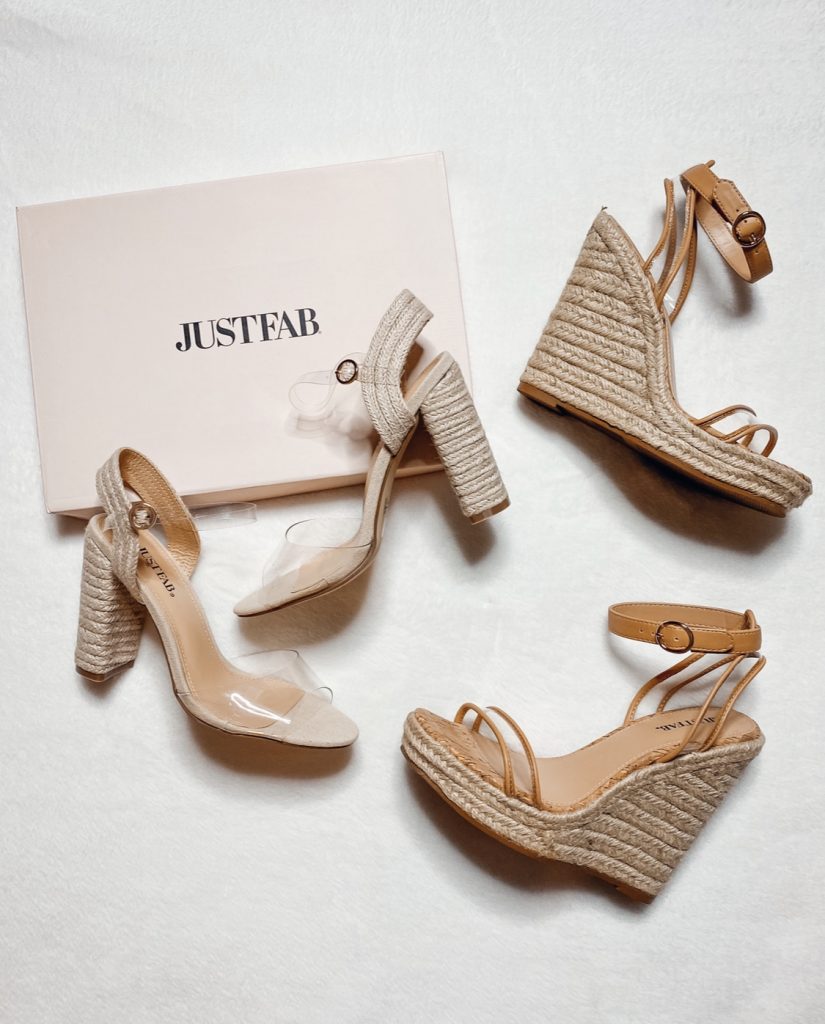 Baubles & Bits
You probably have been hearing me talk about Baubles & Bits non-stop. Well, that's because I love their pieces – affordable & easy to wear. All of their pieces are under $15 and you can save 10% on your order with code HOLLY10. Plus, there is free shipping over $30!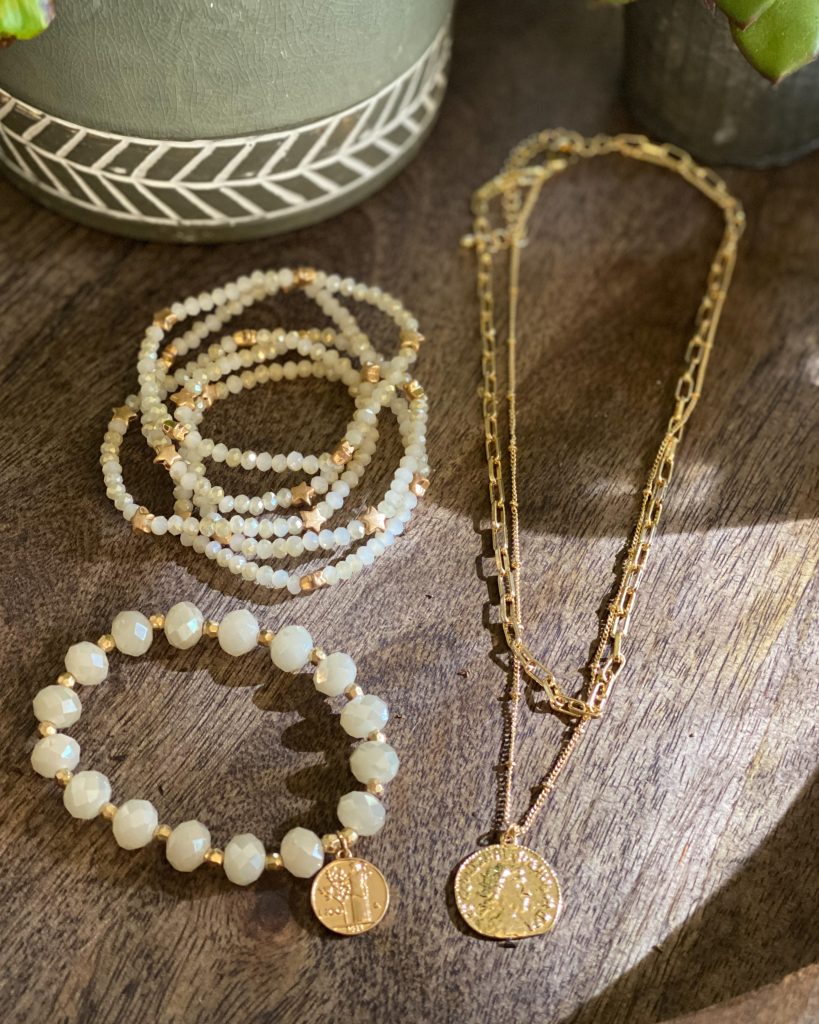 star bracelet set // coin charm bracelet // layered necklace
Face Masks
Are face masks going to be required in your area? I think they will be required for us to wear in California, so I am so glad that Althleta is selling them! And, you get 5 reusable pairs for $30 & free shipping. Such a great deal!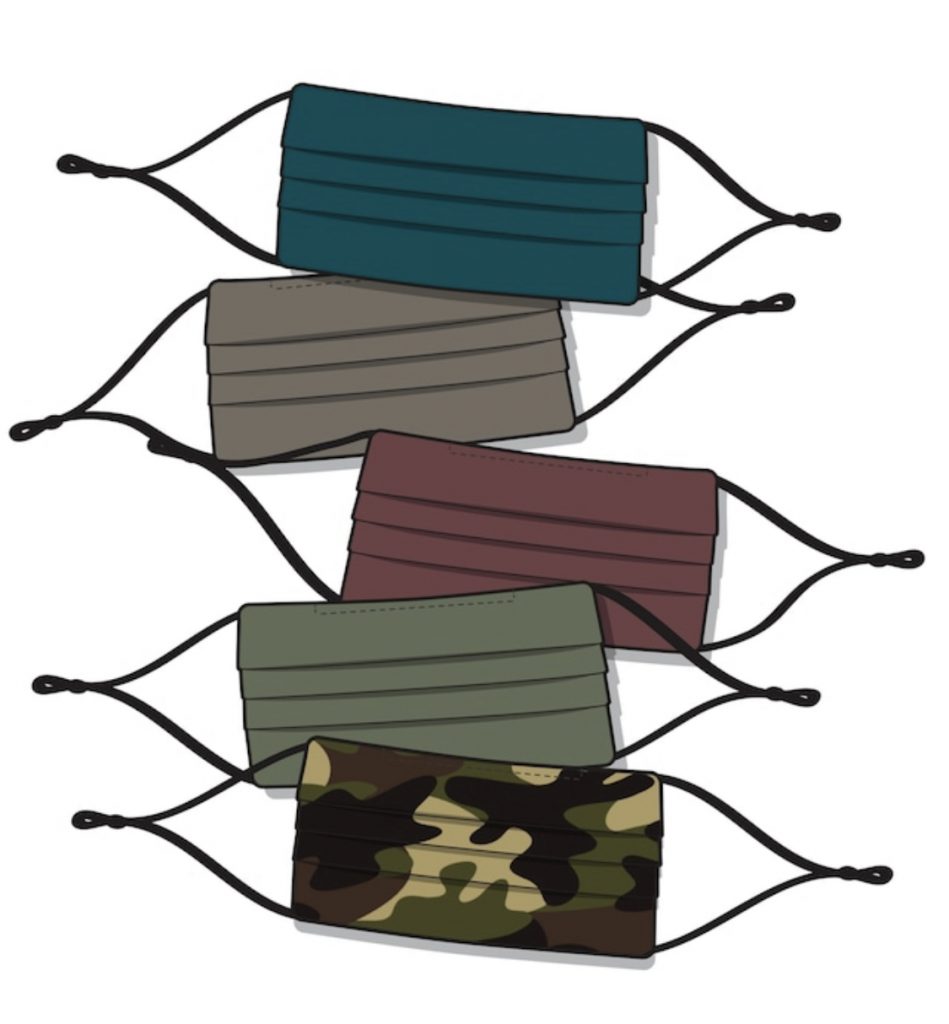 Set of 5 face masks for women & girls
LOFT Sale
Loft sale are still going strong! Here are a few pieces that I shared this week, but if you want to see the whole try-on click here!
Top // shorts // jeans // sandals // gold bracelets // cross bracelet // chevron bracelet // cognac earrings
tank // shell // top // blue denim // white denim
Summer Sandals
Crazy Sales are going on that can't be passed up at DSW! These are only $19.99 reg $90 & $95! I had to grab a few pairs.
Dunja wedge sandal // Daylen Espadrille Wedge Sandal
I had to get these cuties! They are 40% off, amazing reviews, and come in 4 colors. I bought this color and can't wait to get them. They are running low on sizes.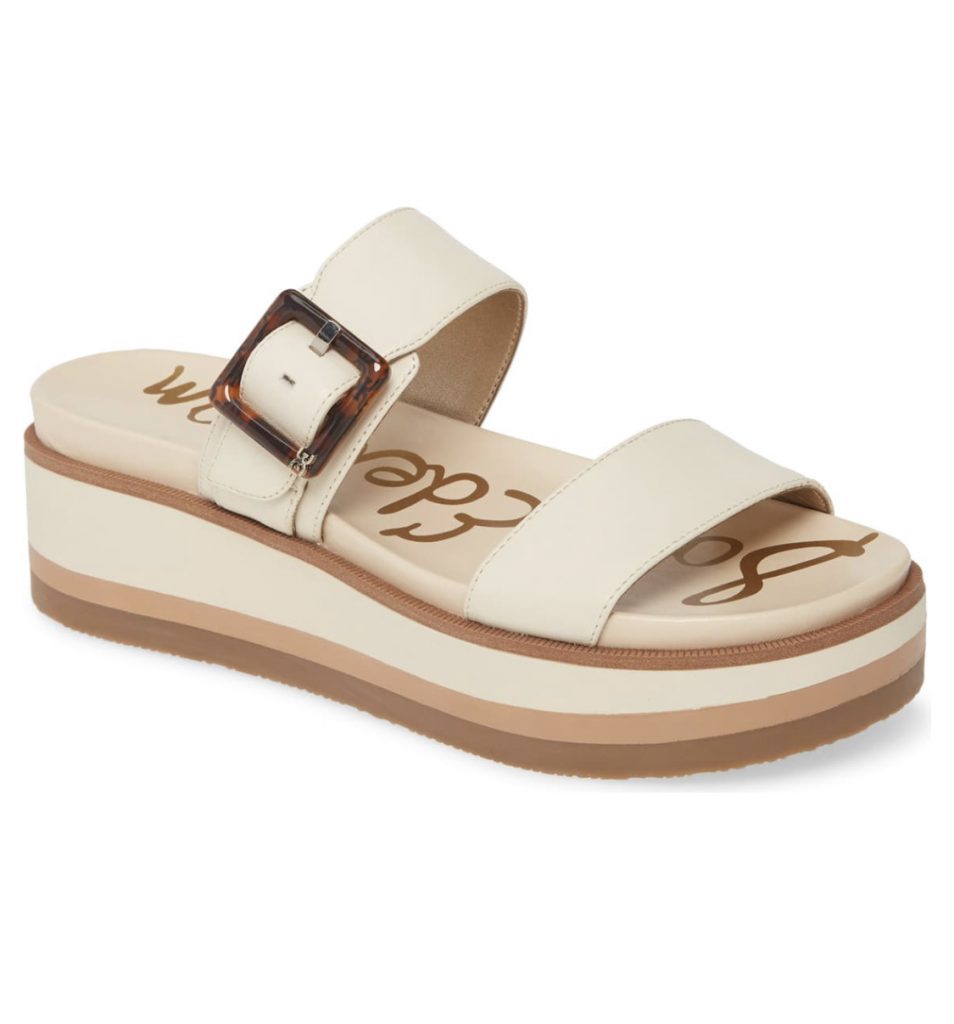 Amazon Favorites
I rounded up some of my Amazon favorites/must-haves and new finds that I love. I added them to my Amazon Storefront which you can find here.
Check out my Amazon Favorites & finds May 2020 Blog Post here.

For the Home
Clorox Toilet Wand – a must-have! I have one in every bathroom! I love that you don't have to touch any part of the cleaner. My kids are cleaning their own toilets now! Woo-hoo!
Beauty
Fashion
This sums up the week! Thank you so much for reading this and I hope it was helpful. If you have any suggestions of what you like to see in my weekly updates, please let me know in the comments below!