Everyday Holly Weekly Roundup – May Week 2
Who's excited that everything is opening back up? It's going to be slow going, but it's progress and that's a win! I can't wait to see businesses thriving again and I don't know about you, but I need to get a pedicure! I painted my toes and they're looking more like my dog did it! Not pretty!
*this post is not sponsored in any way and all thoughts and opinions are my own. Commissioned links are used.
IGTV & YouTube
This week started off with my first Maskcara IGTV! I know! And, I decided to add to my YouTube channel that I needed to dust off. Lol. It's been a long time! I loved watch Ella in our first uploads. Crazy things happening over here. Make sure to subscribe! I might be uploading more over there!
If you are curious about Maskcara and how easy it is, watch this video!
I love Maskcara makeup so much that I want to share it all with you! If you have questions please let me know in the comments below or email me. If you like a custom color match, click here.
.
How it's going…
Are you ready to get your hair done? I know I am! Well, I have decided to just chop off my head and feet for awhile, because my grey roots and pedicure, or lack there of, are out of control! Jk, but not really…
Right now, it's the little things and my morning coffee is one of those things that I look forward to every morning. What do you look forward to each day?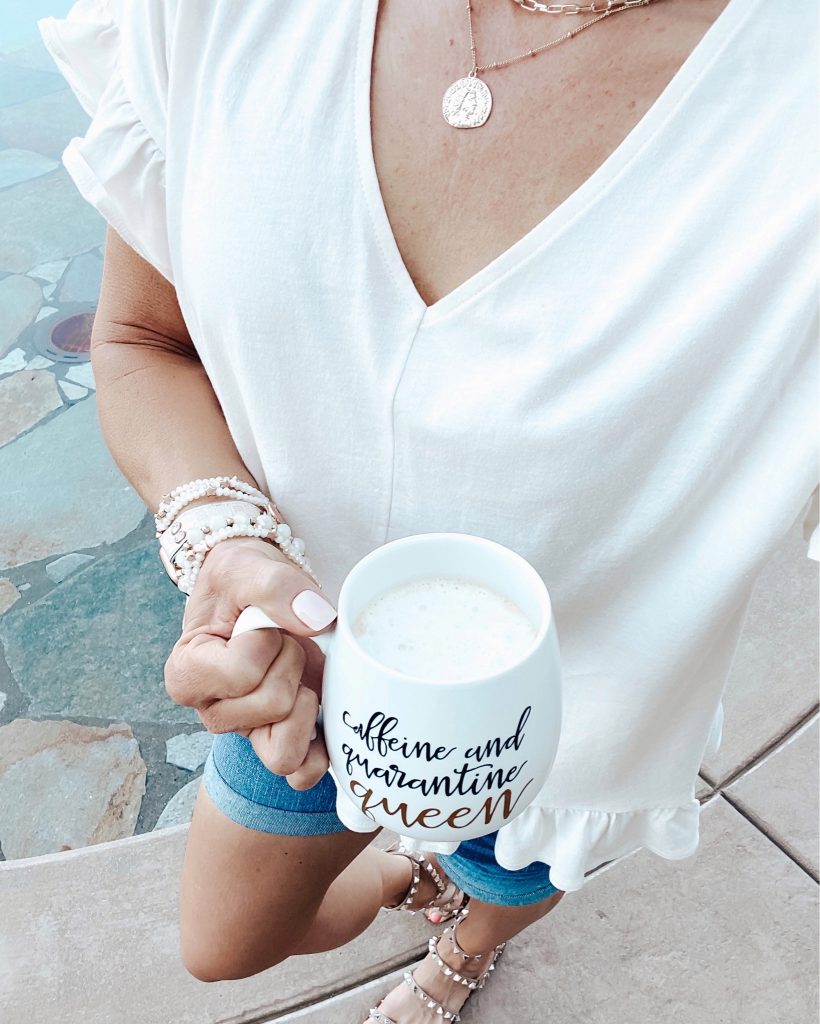 top // shorts // sandals // mug // bracelet stack // cross bracelet // chevron bracelet // necklace

Most of you know that I LOVE my morning coffee and drinking it would not be possible without my Alkamind Acid-Kicking Coffee Alkalizer!
Oh yeah, I could not drink coffee for years! I discovered it was coffee that was causing my cystic acne. I wasn't sure what it was about coffee that was causing it, I just knew that whenever I drank regular or decaf coffee my face would break out with painful cystic acne. It was awful!
My girlfriend told me about Alkamind Acid-Kicking Coffee Alkalizer and I thought why not give it a try and low and behold, no acne! None! This triggered a need to know more about acid in our diets and why we need our bodies need to be alkaline, so I read Dr. Daryl Gioffre's book Get off Your Acid . The best money spent – well written and informative! I highly recommend it!
Not only can I drink coffee now, but my coffee tastes better! All 3 flavors are delicious! There are so many health benefits by adding 1 scoop to your coffee!
Alkamind Acid-Kicking Coffee Alkalizer Benefits
Acid-fighting minerals – neutralizes the acids in your coffee that drain your body of minerals it needs for peak mental and physical performance.
Premium Keto Fats – MCT & Coconut Oils accelerate fat-burning and keep you focused all day.
Himalayan pink sea salt – works to alkalize and energize your body, while crushing your sugar cravings.
Fat-burning enzymes – boosts your metabolism and burns off your stored body fat.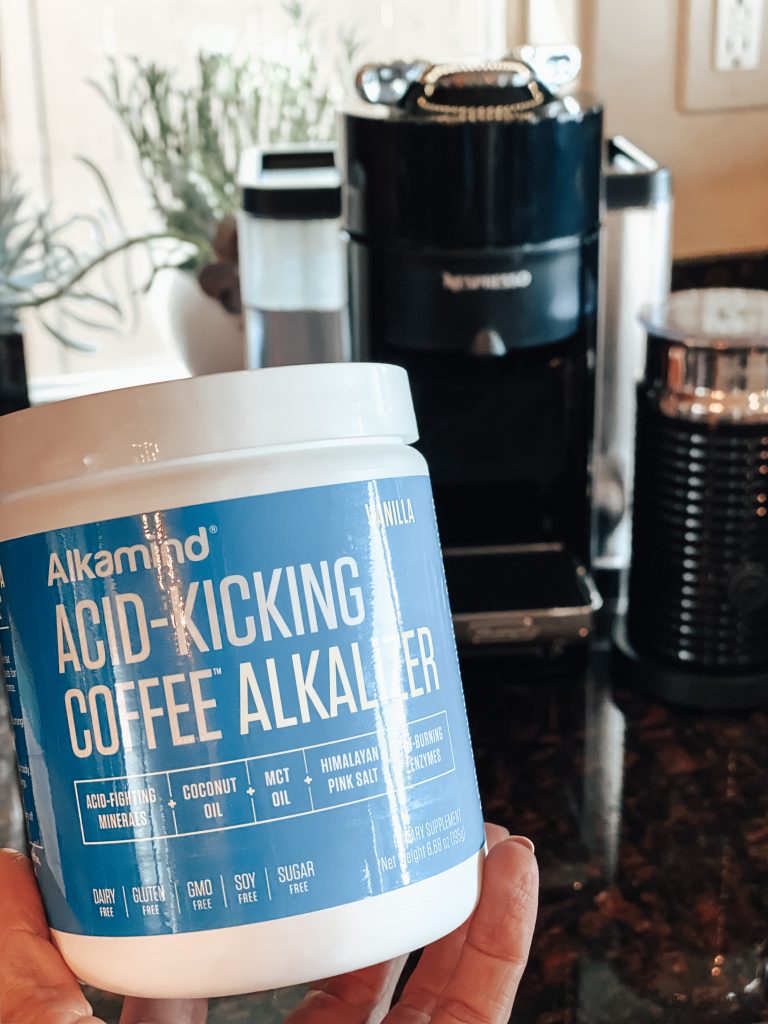 These two things start my day off right! My Nespresso Machine and frother combo is available at the best price here! If you are looking for a deal, they have a similar Nespresso/frother combo on sale here. The frother alone is a $100 value.
Amazon Finds!
This workout tank, which comes in a 3-pack and these shorts are so good! We are talking 5-star, run and grab these good!
These shorts are the perfect length for us moms – no booty cheeks please! Also, these tanks cover everything you want covered while keeping you cool on hot summer days or while working out. They sell out quick, but come back in stock often so put time in your cart and keep checking back.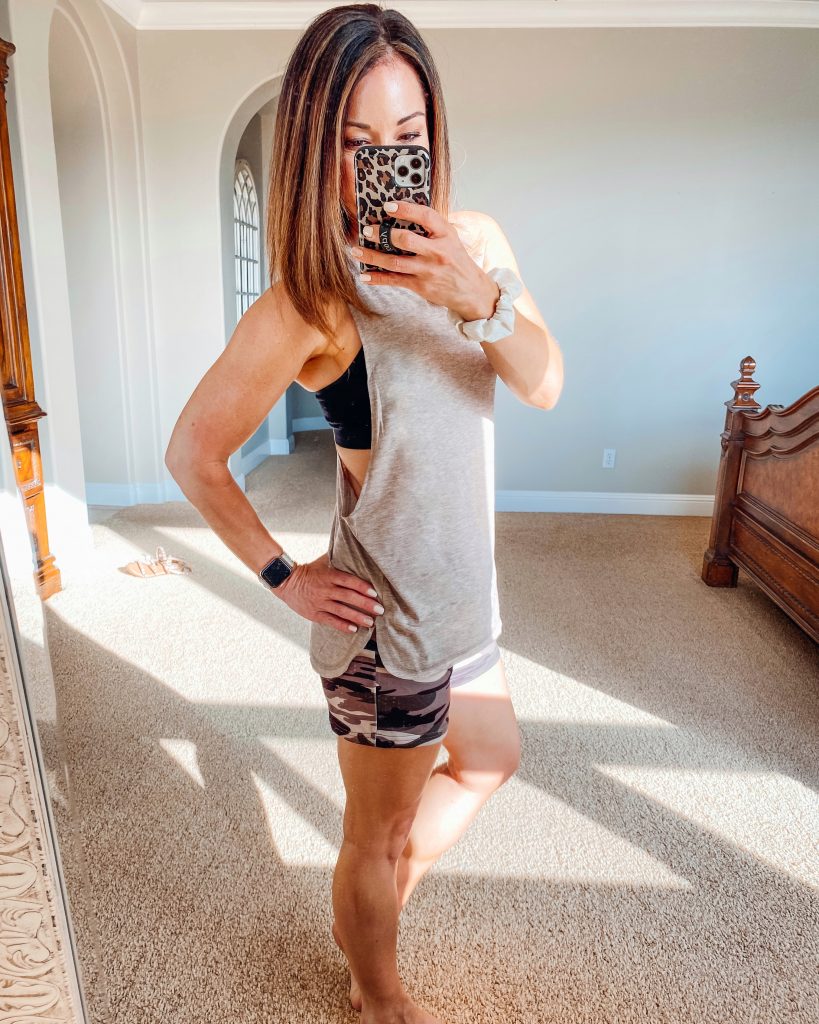 3 pack of tanks // camo shorts

The Perfect Summer Top
When a top is this good, you get it in all the colors! It runs tts, but if you are in-between sizes, size up or size up for a looser fit. These are on currently on sale for $10 today, too!
Save 10% off my necklace and bracelets from Baubles & Bits with code HOLLY10 and free shipping on $30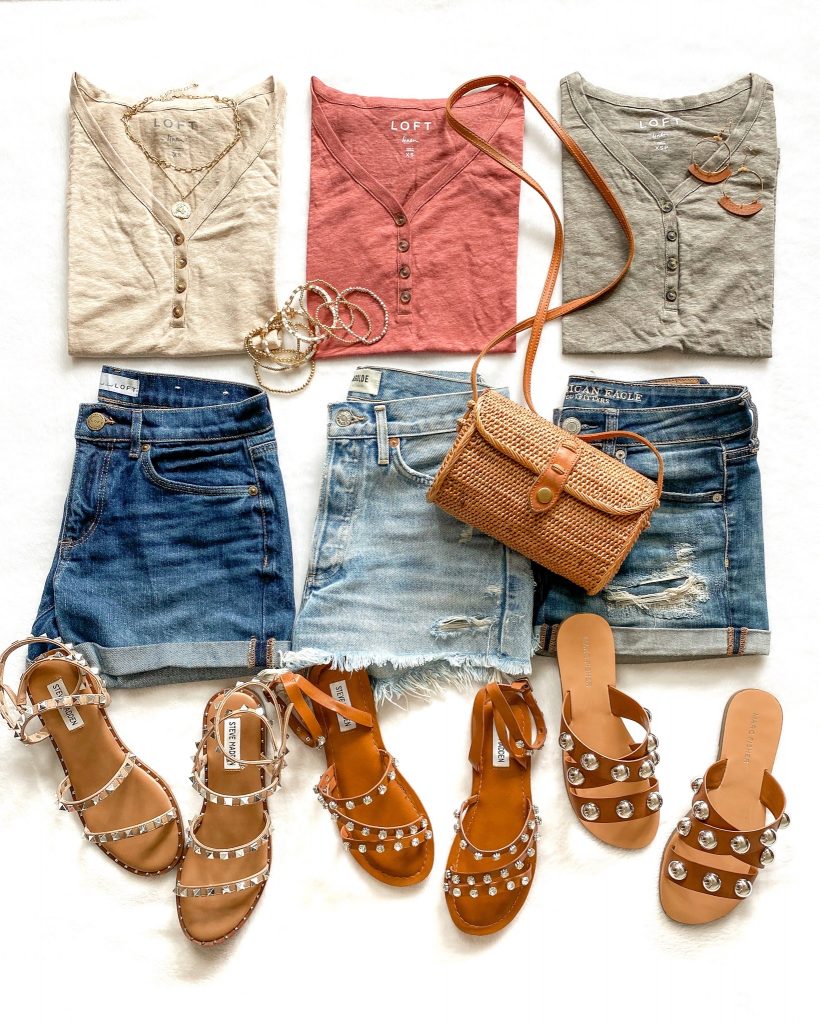 Henley // shorts left // shorts middle // Shorts right // sandals left // sandals middle // sandals right // bag // bracelet stack // cross bracelet // chevron bracelet // necklace

OOTD
It's rare these days to actually get dressed! lol! But, I just got this cute new top in from Elizabeth Bae Boutique, so it inspired me to get dressed like I was going out in the world. You can save 20% off on your entire order at Elizabeth Bae Boutique code EVERYDAYHOLLY.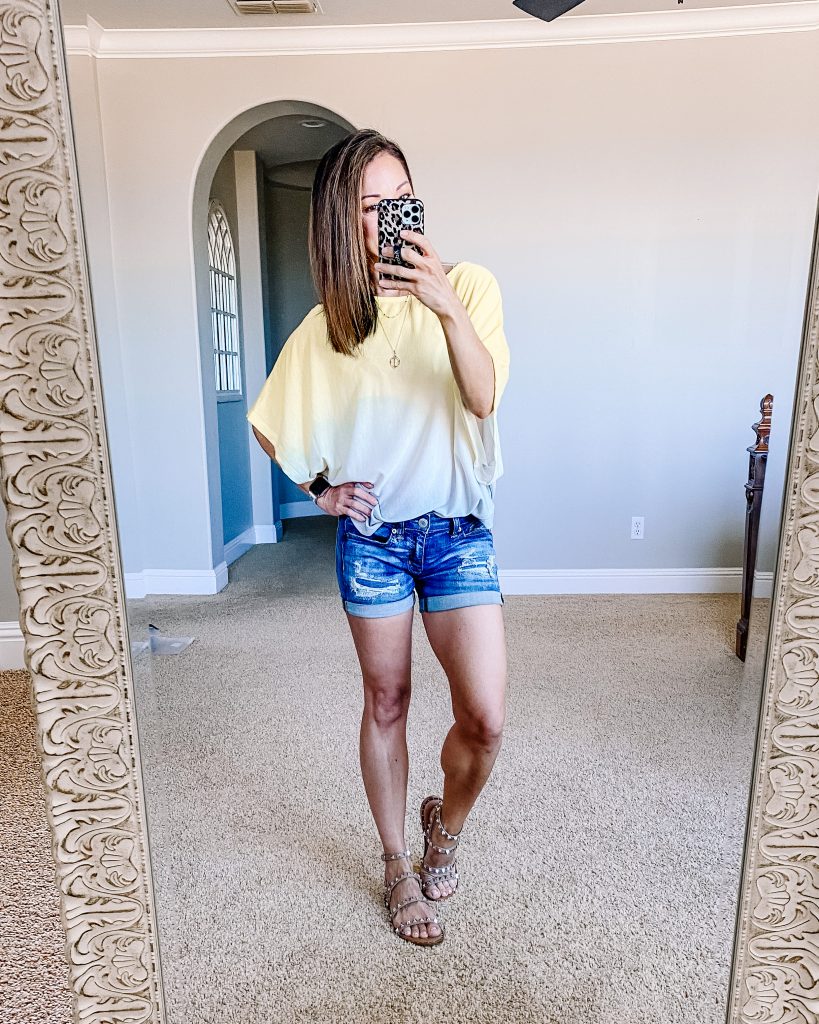 Last Weeks Top Selling Items
Camo shorts // deodorant // bamboo applicators // Henley // leopard tank // sandals // workout tanks // suncreen

SALES + LINKS
Sales + Promotions
25% off 2 or more items (ends 5/14)
Sale up to 50% off
American Eagle • 30-50% off Aerie collection (ends 5/19)
40-60% off AE collection (ends 5/19)
25-50% off tailgate (ends 5/19)
Take $50 Off $100+, $35 Off $80+ Or $25 OFF $60+ with code SOMUCHMORE (ends 5/27)
40% off most loved dresses and shoes
30% off furniture and decor
• Extra 40% off sale styles
50% off dresses and mens shirts, 40% off all denim, 30% off all tees and mens polos (ends 5/19)
25% off site-wide with code FAM25 (ends 5/18)
50% off outdoor best sellers
40% off outdoor entertaining
• All dresses and suits 50% off
• New items to sale
50% off shorts, tees, dresses & more, up to 50% off everything
25% off first box with code 25OFFBOX
Up to 50% off spring sale
15% off your order with code 3987
Entire site BOGO 50% off (ends 5/14)
40% off site-wide with code SAVEMORE40
Warehouse sale – Up to 80% off sale prices
Clearance sale – up to 60% off thousands of items
Up to 70% off swim shop (ends 5/19)
Up to 50% off everything, 25% off your whole order
Memorial Day blowout – 70% off thousands of items
Up to 50% off the outdoor event
30% off performance fabric furniture
30% off all quilts
Style savings 40% off the QVC price
New sale styles up to 50% off
Choose 1 of 3 Supergoop Sunscreen trial sizes with any $25 purchase with code SUNSCREEN (ends 5/31)
Choose a trial size fragrance with any $25 purchase with code TRIALSCENT (ends 6/2)
Audrina espadrille now $39.99 (ends 5/17)
Gorgeous Hair Event – 50% off haircare essentials (ends 5/30)
Up to 70% off bed and bath sale
Up to 65% off the big outdoor sale
Up to 40% off kitchen and dining
Up to 40% off frames, vases, mirrors & more
Up to 60% off outdoor furniture and decor
I hope you all are liking these weekly roundups! Please let me know if you would like me to add anything else to my roundups!
Have an amazing week! And, thanks for reading!