Amazon Spring Fashion & The Best Self-Tanner
I have another Amazon spring fashion roundup for you! And, after putting several new self-tanners to the test, I found a winner! I am sharing the best self-tanner that I have ever tried! And, I am also sharing my favorite self-tanner that I use on my face.
If you would like to see the tryon head my Instagram, you can visit Instagram page.
* This post contains affiliate links however all thoughts and opinions are my own. Using my links does not cost you any more to use and I get paid a small commission, which allows me to continue to do what I do. Thank you! 🙂
Casual Shirt Dress
I love this dress! It's cute, comfy, and casual. It comes in several color options and a t-shirt style as well. The ties are adjustable, and the ruching hides tummy imperfections. I am wearing the small.
Dress // sandals // wedges (similar) // denim jacket (similar)
Jumpsuit
This jumpsuit is perfect for everyday, dressing up or down, and great for vacations! It's so cute and comfy. It comes in a ton of colors. And, it has pockets! I am wearing a small.
Jumpsuit // sandals // wedges (similar) // white shirt // bag // Nip Covers
Graphic Tee
This tee is super comfy! It made of 95% cotton and 5% Spandex, so it's stretchy. It comes in several color options and is long enough to tuck in or tie. I am wearing a small.
shirt // denim (similar) // shoes
Swimsuits
I shared my favorite one-piece swimsuits with vacation styling options in my last blog post, which you can find here. I'm sharing the newest suit (olive tankini) next to them so you can compare them.
I like this tankini swimsuit a lot! It's very chic and modest. Tankinis are a great option if you have a longer torso and like the look of a one-piece. It also has full booty coverage. This comes in a ton of colors. I am wearing a small!
My Favorite Tanning Products
These are my favorite products for a healthy and safe glow…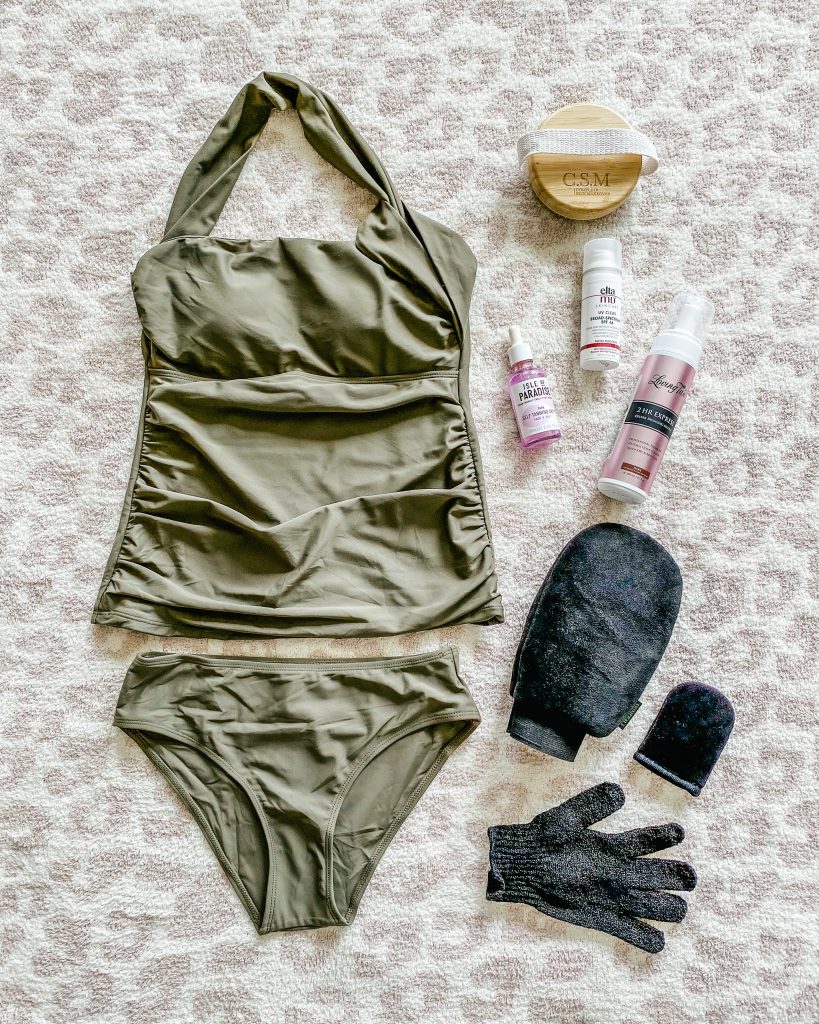 Swimsuit // dry brush // face sunscreen // tanning drops // tanning mousse // tanning mitt set
Love Amazon?
You can check out my Amazon 2020 Best sellers here!