10 Gift Guides for the Easiest Christmas Shopping
Gift Guides are here ladies & gentlemen! Are you in need of figuring out what to get your loved ones? I have compiled 10 different Gift Guides to make Christmas shopping a breeze for you! With that Amazon Prime delivery you can get all of your shopping done early & have confidence they will enjoy these gifts.
For more gifting ideas, check out my 2020 Gift Guides blog HERE for more ideas!
*This post contains affiliate links however, all thoughts & opinions are my own. Does not cost more to use my links*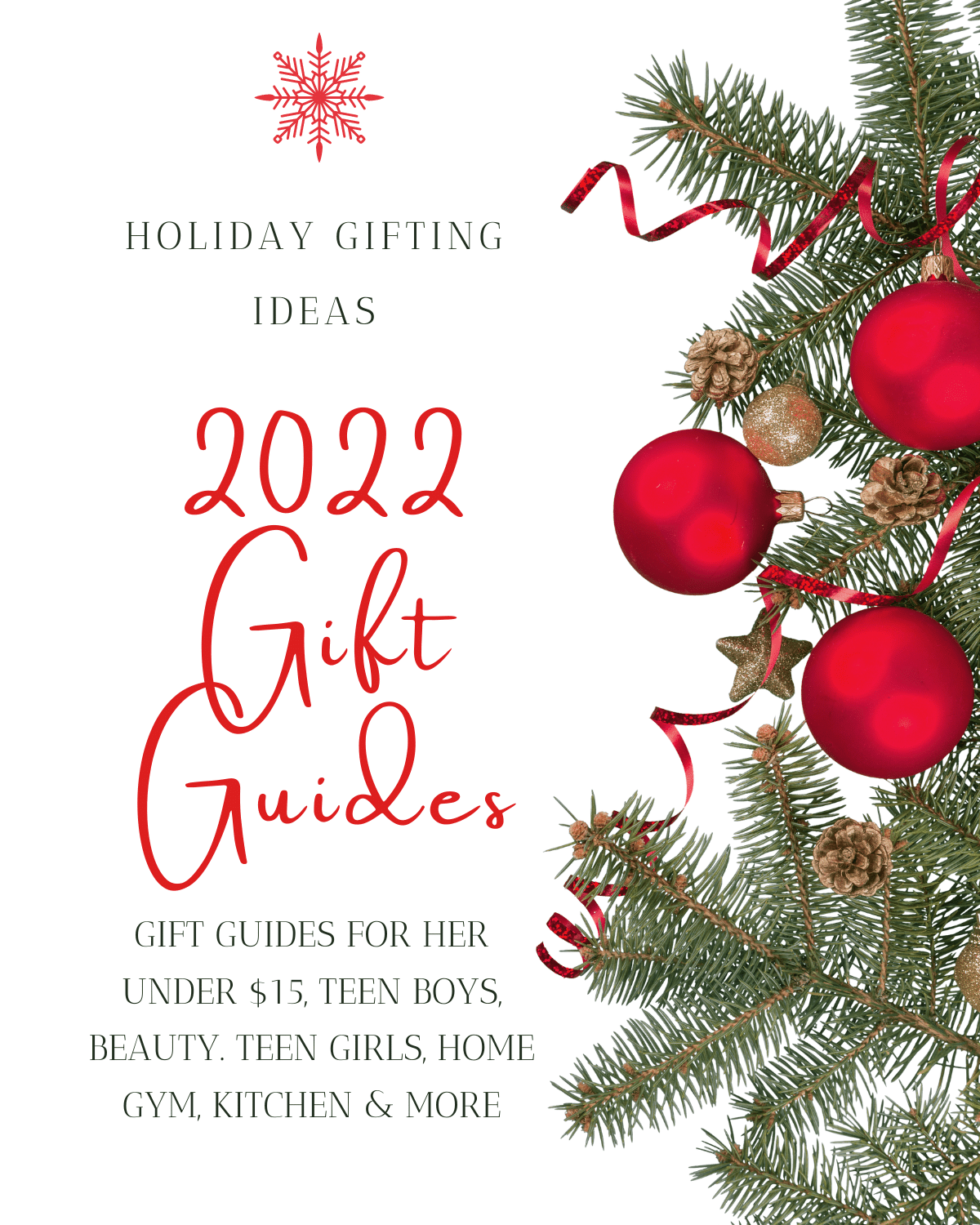 Gift Guides:
Beauty Favorites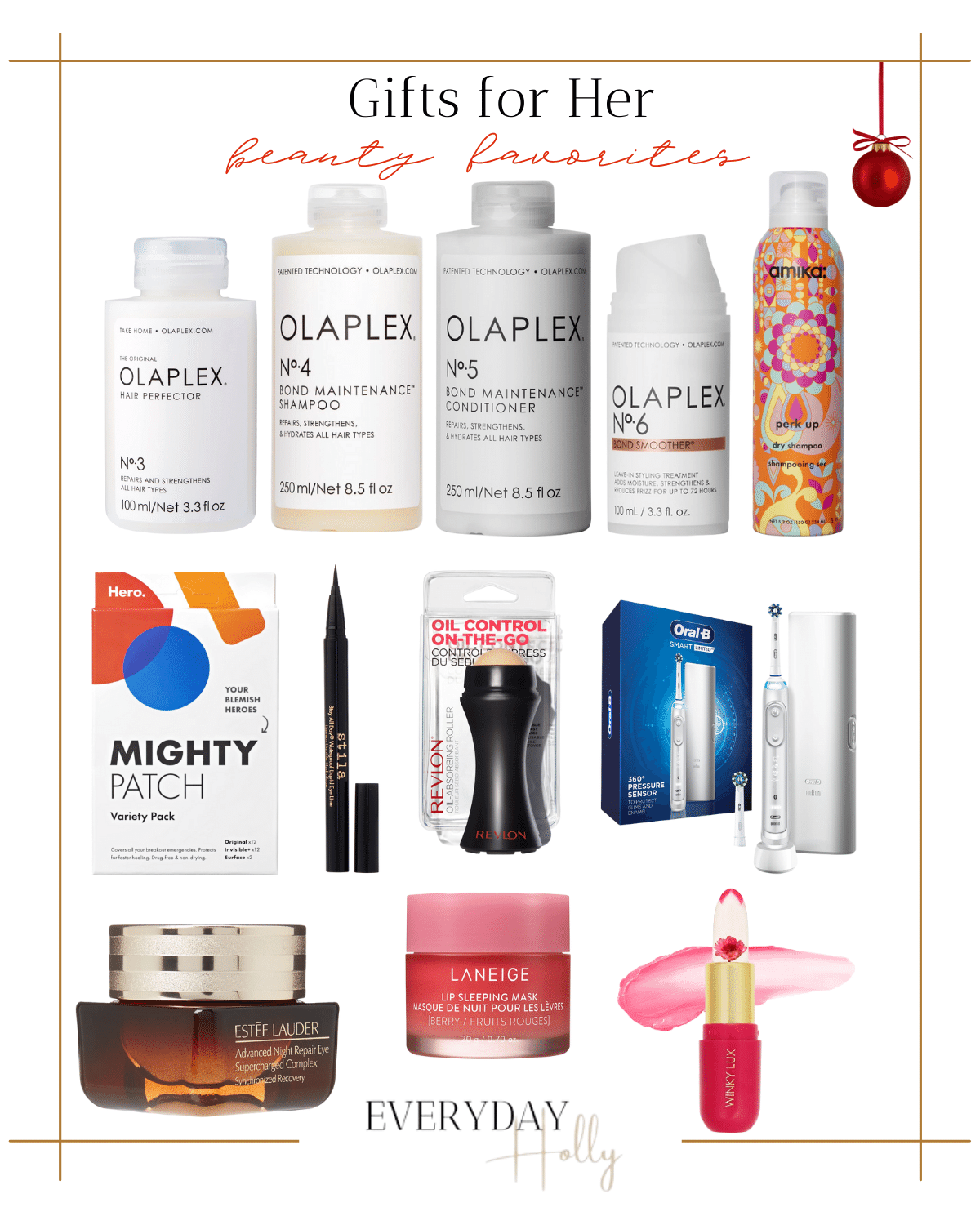 No. 3 Olaplex Hair Perfector | No. 4 Olaplex Shampoo | No. 5 Olaplex Conditioner | No. 6 Bond Smoother | Amika Dry Shampoo | Mighty Patch Pimple Patches | Stila Eyeliner | Revlon Oil Control Roller | Oral B Toothbrush | Estee Lauder Eye Cream | Laneige Lip Mask | Petal Lip Balm
I have been loving these beauty products lately. These are great quality items & if you are looking for someone special who is interested in new, high end products for a good price these are for you! The Olaplex Hair Care is very popular right now & great quality while not being overly expensive. Everyone needs an electric toothbrush & this is a go-to for me! This is actually a really great gift that your friends or loved ones will appreciate after they use it.
Hair Tools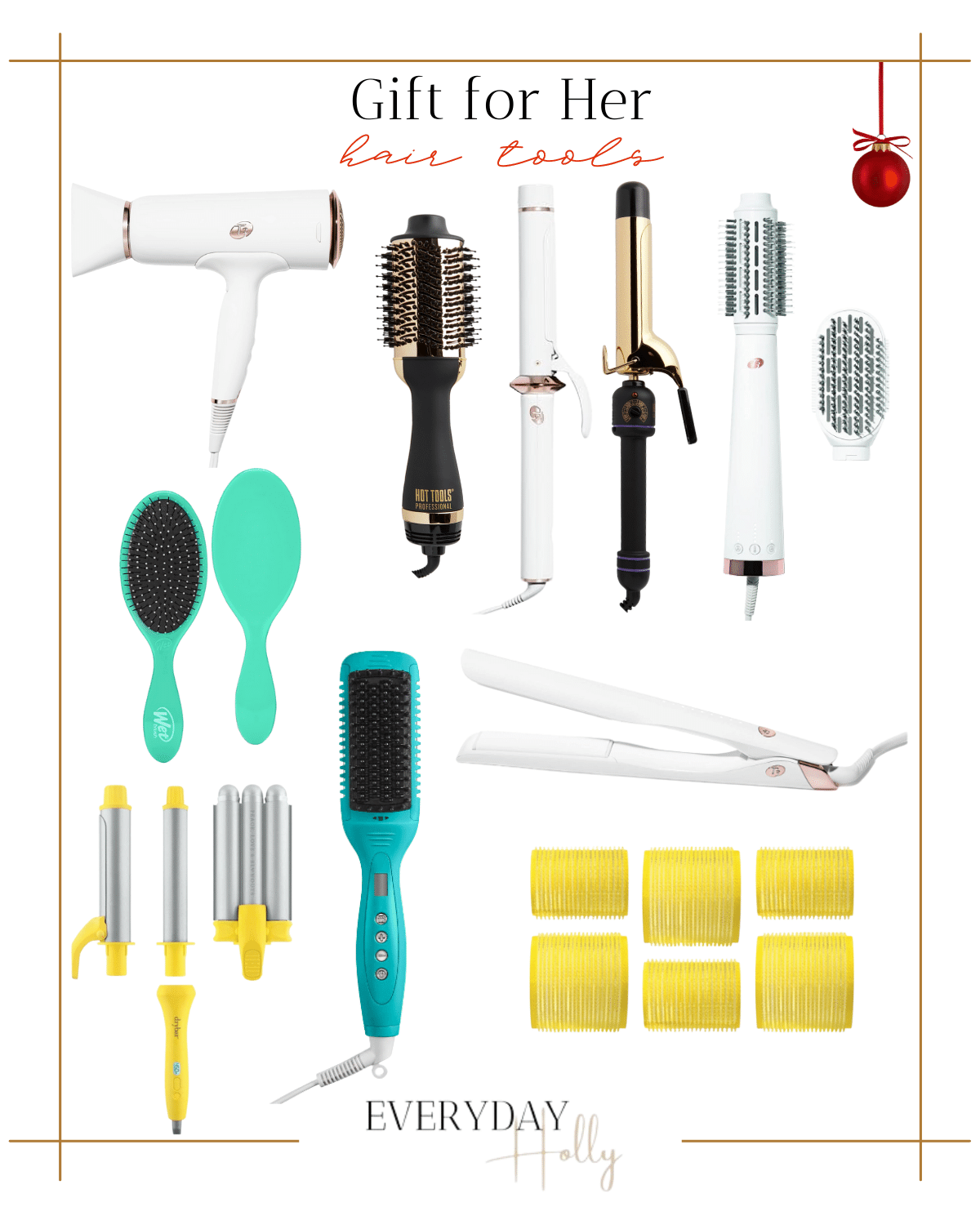 T3 Blowdryer | Hot Tools Blowdrying Round Brush | T3 Curling Iron | Hot Tools Curling Iron | T3 Straightening Brush | Wet Brush | T3 Straightener | Drybar 3-in-1 Hair Tool | Moroccanoil Hot Brush | Drybar Rollers
These hair care styling tools are top favorites for me. I know the blowout look is definitely making a comeback & these tools will help achieve that! I have provided an array of different brands & prices to get the best bang for your buck based on your budget.
Kitchen Essentials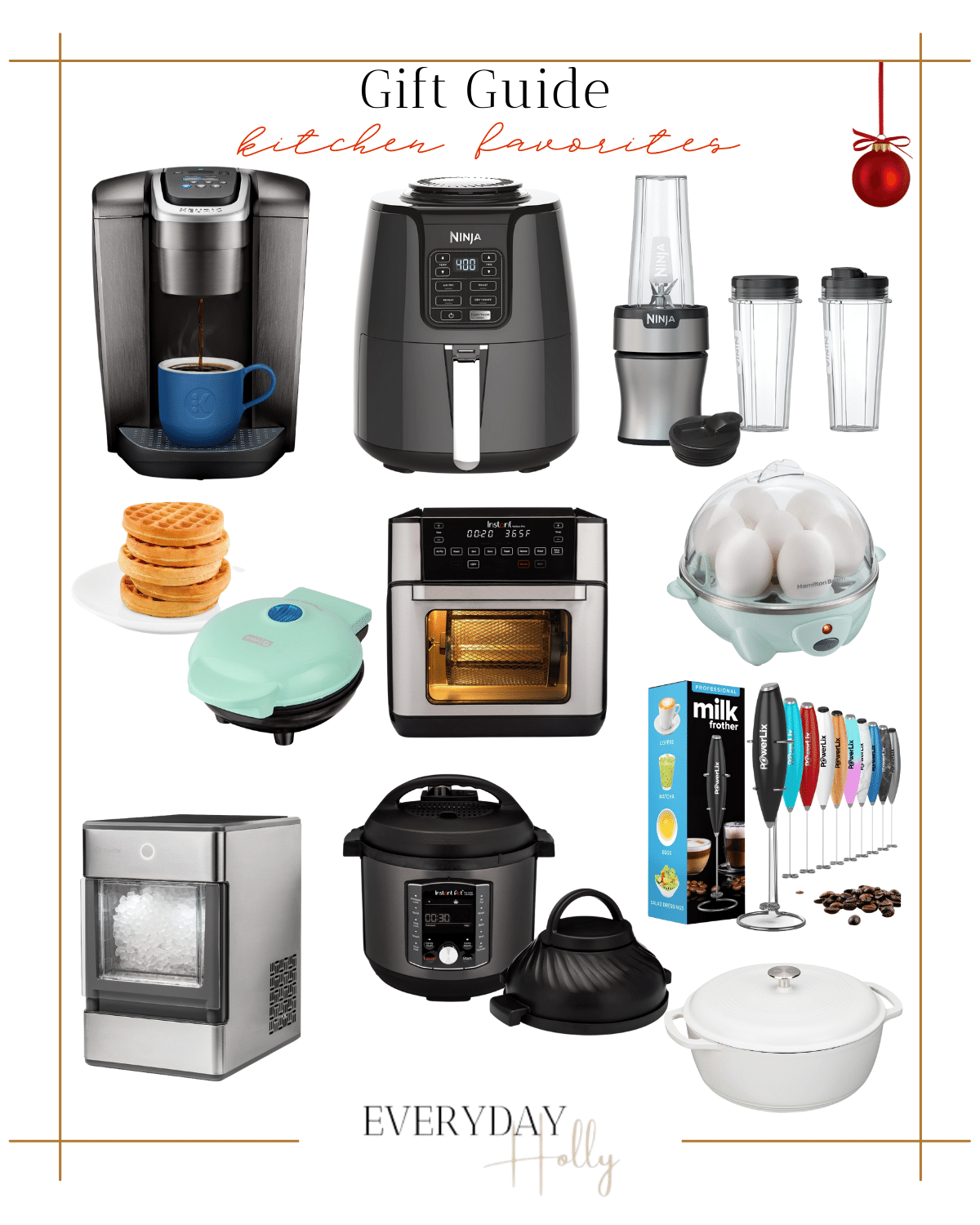 Keurig Nespresso Machine | Ninja Air Fryer | Ninja Blender | Waffle Maker | Convection Oven | Egg Cooker | Ice Maker | Pressure Cooker | Milk Frother | Dutch Oven
If someone you know just moved into a new house or if you are wanting to give them great kitchen items, these products are the best. Listed above is all of the top kitchen essentials like an air fryer, waffle maker, pressure cooker, pebble ice machine & more. Your friends/family will love you for these as it makes cooking so much easier & more enjoyable!
Home Gym Accessories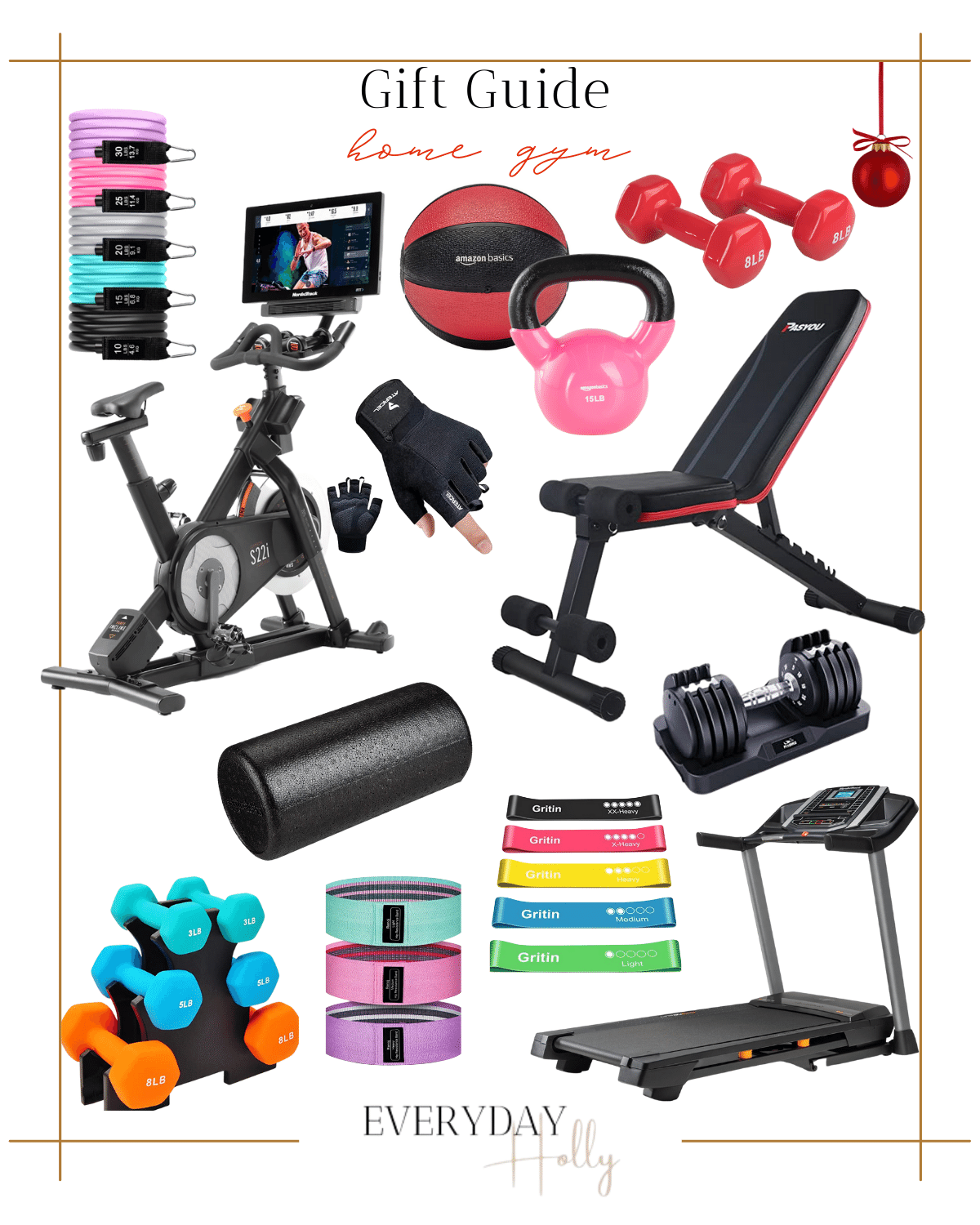 Resistance Bands | Home Bike | Medicine Ball | Kettlebell | Dumbbells | Workout Glovers | Adjustable Weight Bench | Foam Roller | Adjustable Dumbbells | Dumbbell Weight Set | Booty Bands | Set of 5 Resistance Bands | Treadmills
This Gift Guide is one of my favorites because, I am loving workout equipment & home gym machines to elevate your workout from home. Everything from resistance bands, to kettlebells, to treadmills to booty bands! These Amazon items I personally use & love to get a great workout in. Also, when you have a space that feels like your personal gym, you feel more obligated to stay healthy.
Gifts for Him | Men's Grooming Essentials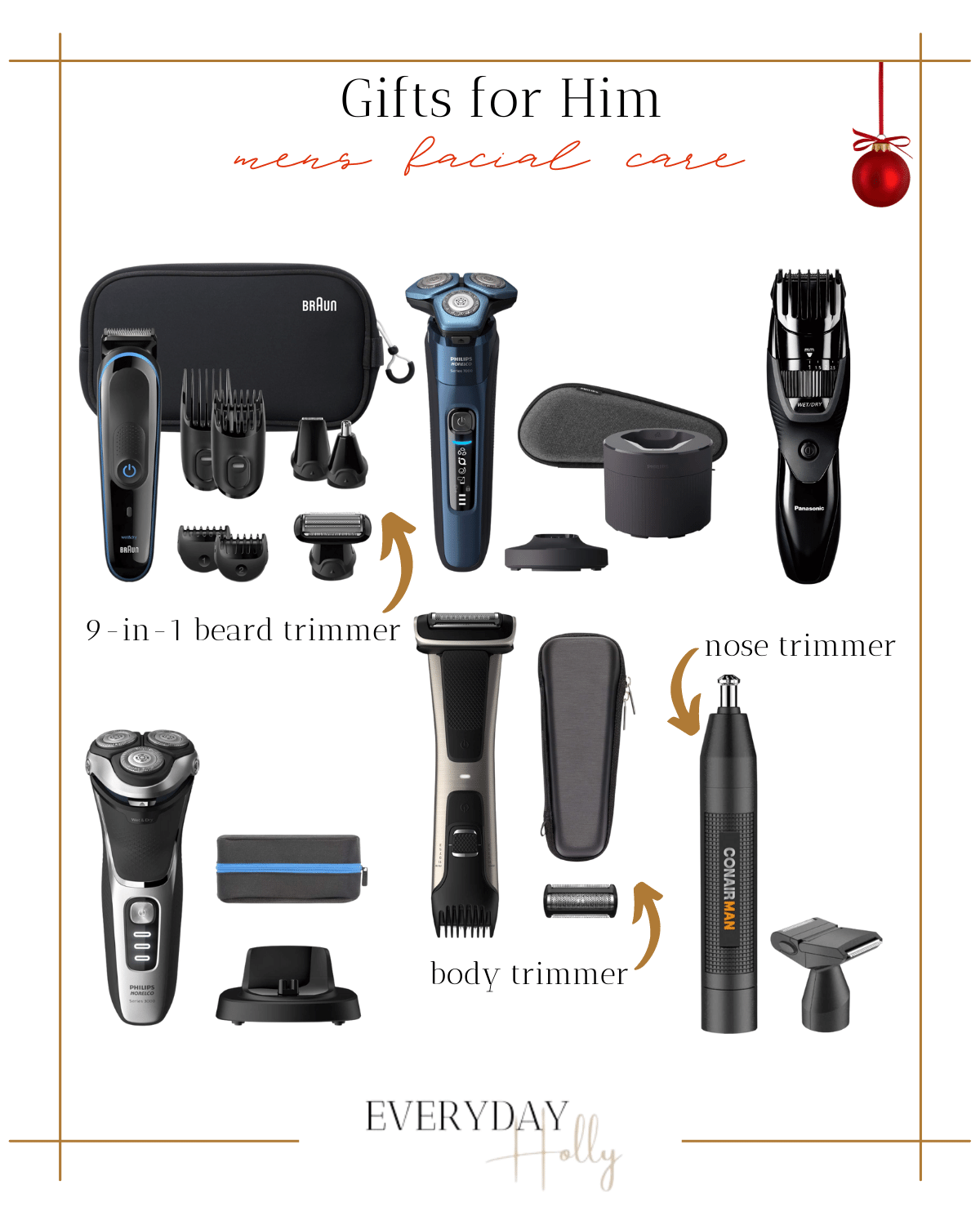 9-in-1 Beard Trimmer | Philips Norelco Shaver 7700 | Cordless Beard Trimmer | Philips Norelco Shaver 3800 | Body Trimmer | Nose Trimmer
Ladies, this is a great gift for your men out there to help keep them groomed & sharp! If your man has a beard he is very passionate about this will make him happy to keep it tidy & looking nice. Get all the essentials for the beard, body & nose. Now they will not have an excuse to stay clean cut!
Gifts for Grandparents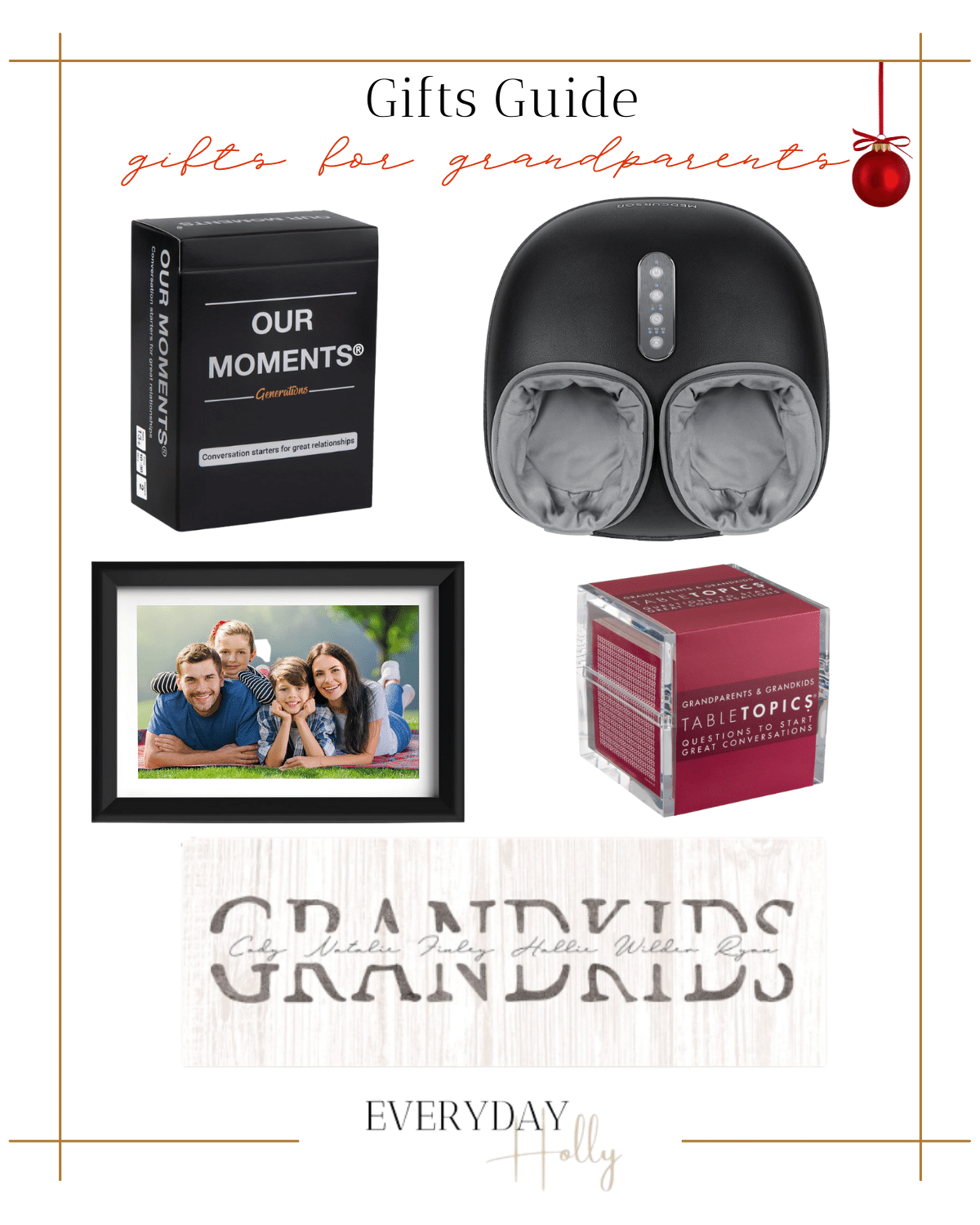 Conversation Family Game | Foot Massager | Family Picture Frame | Table Topics Family Game | Customized Family Name Wall Art
Sometimes, it is difficult to figure out what to get the grandparents for the holidays. I have grabbed some of my favorites above. I have 2 different packs to conversation card games to get to experience & bond with them more! You get asked all of the crazy questions from their childhood that they may not have shared until now. Some secrets might be spilled, but bonding with them is definitely something I enjoy! You can get the wall art custom made with the grandchildren's names & it's very sentimental that they will cherish.
Gifts for Teen Boys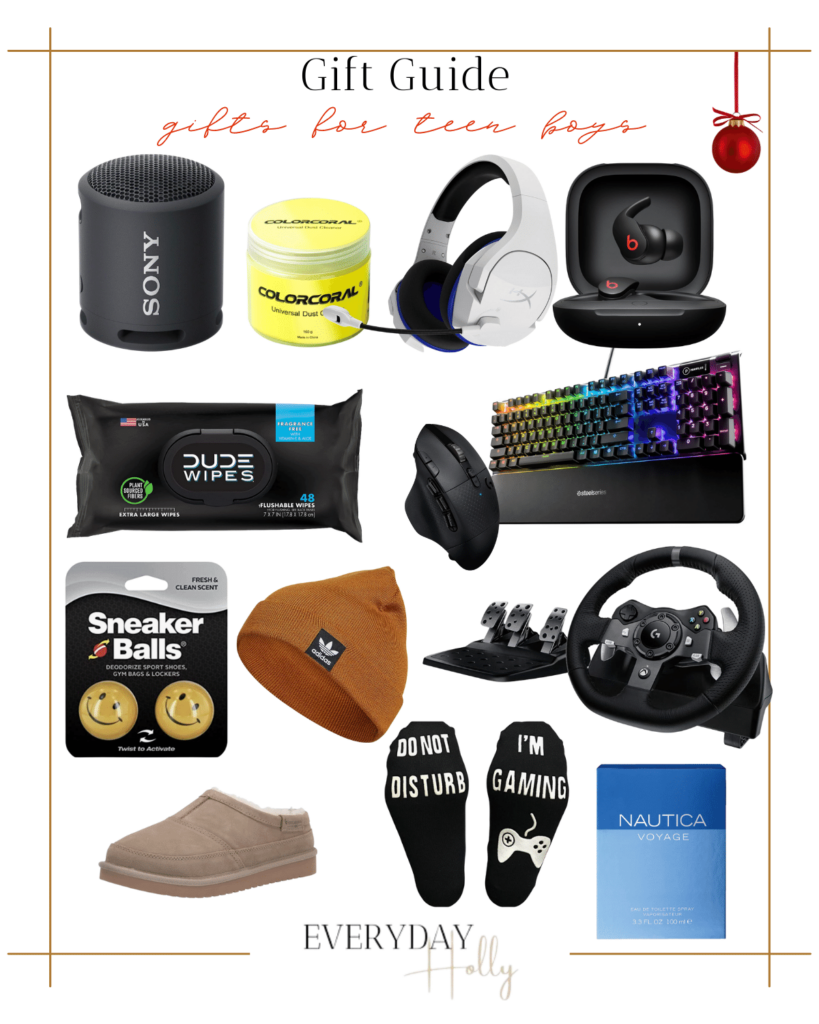 Sony Speaker | Keyboard Cleaning Slime | Wireless Gaming Headset | Beats Wireless Headphones | Dude Wipes | Gaming Mouse | Gaming Keyboard | Sneaker Smell Good Balls | Adidas Beanie | Gaming Pedal & Steering Wheel | UGG Slippers | Gaming Socks | Nautica Cologne
For all the parents that have teen boys I have cracked the code with what to get them from learning from my own kids. If they are gamers like mine, they will love these wireless headsets to connect with their friends! All the different gaming gear will definitely amplify their hobby but it is a gift you know they will use. A lot of teen boys start getting into cologne in their teen years & this Nautica cologne is a top seller!
Gifts for Teen Girls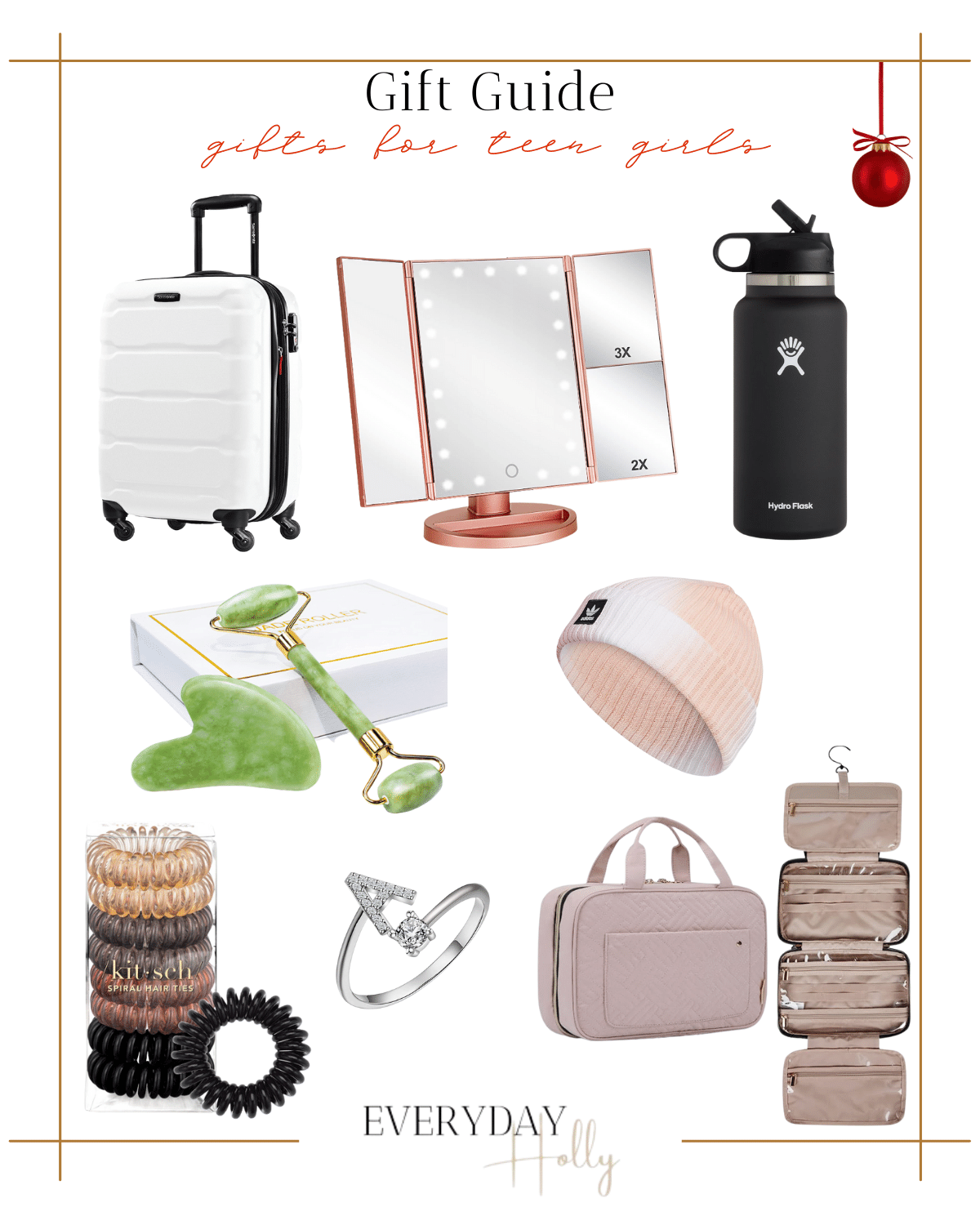 Hard Case Suitcase | Makeup Mirror | Hydroflask | Face Roller & Gua'sha | Adidas Beanie | Elastic Hair Ties | Initial Ring | Travel Makeup Storage
Teen girls are very different from teen boys. This is when they start getting into makeup & self care which I love! The makeup mirror is a great purchase they will love & use daily. It lights up & has different mirrors to get an up close view! I personally use & love the face roller & gua'sha. This has been added to my get ready routine & it makes me feel so refreshed & get blood flowing to face in the morning. All of these items are for a very great price & will not break the bank!
Gifts Under $10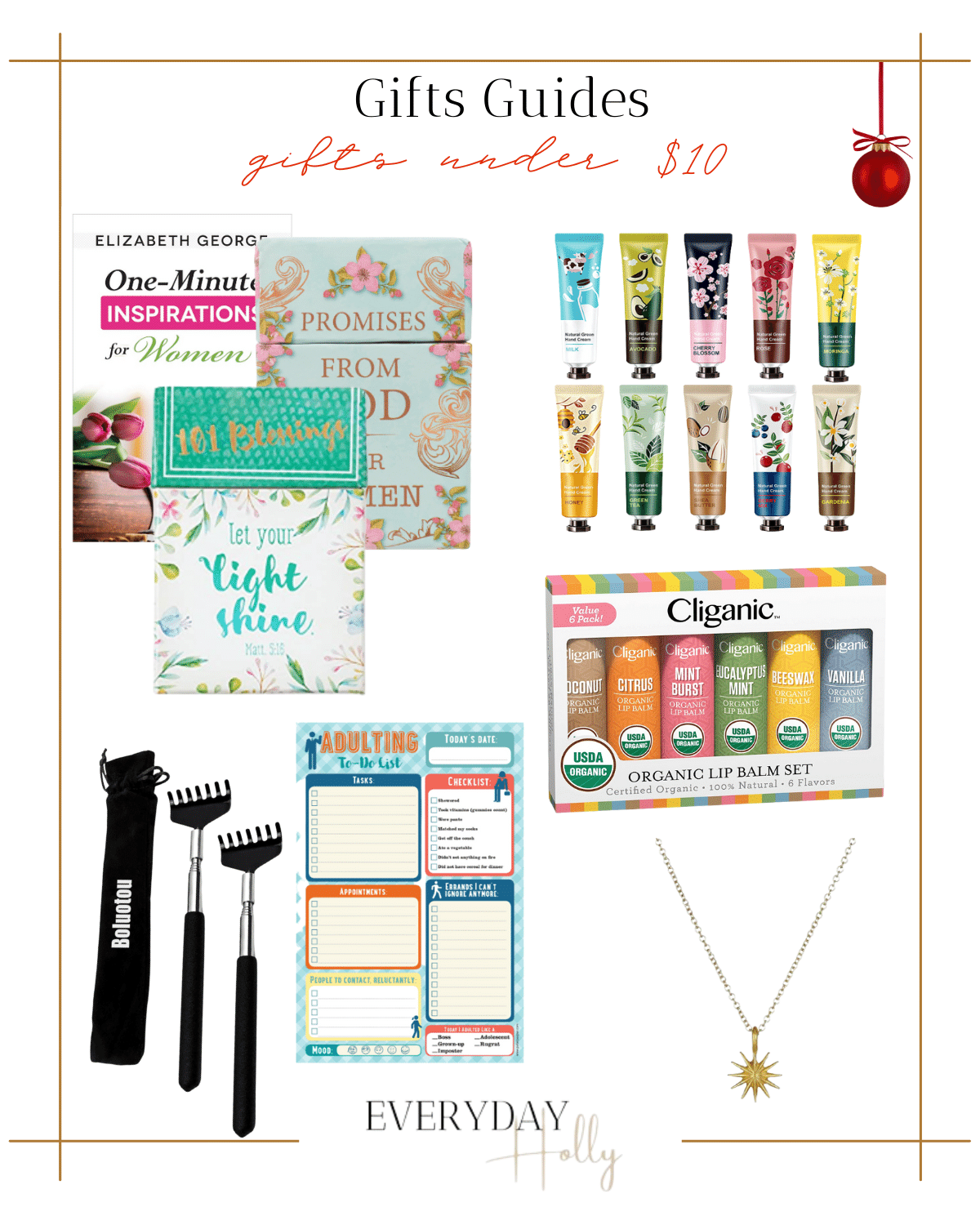 One Minute Inspirations Devotionals | Promises from God Devotional | 101 Blessings Devotional | 10 Pack Lotions | Organic Lip Balm Set | Back Scratcher | Adulting To-Do List | Gold Necklace
I have collection of gifts for under $10! These are good stocking stuffers & little gifts that will add some essence to the holidays that are easy & very affordable! I have daily devotionals, lotion kits, jewelry & more if you are looking for gifts but need to stay on the more affordable end.
Gifts for Her Under $15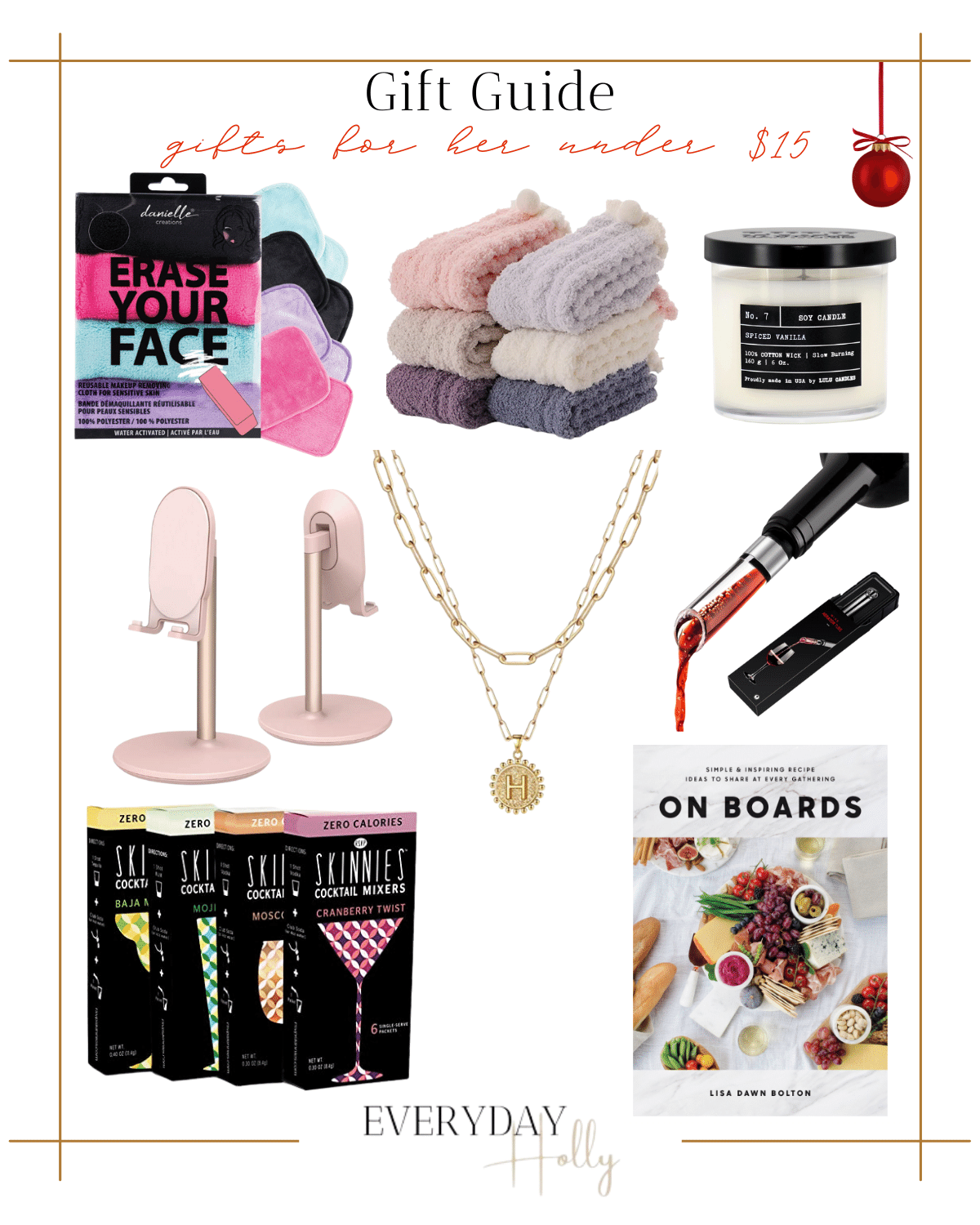 Makeup Removing Towelettes | Fuzzy Socks | Candle | Phone Stand | Initial Necklace | Wine Aerator | Zero Calorie Cocktail Mixers | On Boards Cookbook
This gift guide is great for getting your girlfriend/mama or woman in your life gifts that will not break the bank. I love these makeup removing face cloths that you can wash & reuse! It helps exfoliate & gets rid of dirt & oils built up. Throw in some fuzzy socks & a candle for a self care night that every woman appreciates! This wine aerator is a must-have for my wine lovers to give it the perfect taste!
Shop Additional Gift Guides for More Ideas!