5 Fall Style Staples Under $50
I was given the challenge of sharing 5 fall wardrobe staples under $50. Let me tell you that this was no east task! It was so hard to narrow down what I wanted to share! There were so many staple pieces that I wanted to include, but refrained and stuck with 5. Even as I write this I am wishing I could have included more…
But… in the end, I did sneak in one more item. One more won't harm anyone, right?
** Styled option picture links may include pieces over $50, but the staple pieces are all under $50. This post contains commissioned links.
Here we go….
#1 White Long Sleeve Top
Top | Black Denim | Spanx | Booties | Mules |Adidas

A versatile long sleeve white top will go with everything. The key is finding the right one! As you can see this one is perfect! It checks all the boxes!
Soft
Comfy
Versatile
Not see through
Long enough to front tuck or knot
Long in the back to wear with leggings
Thumb holes
V-neck
Free shipping & returns
#2 Black Denim
Top | Non-ripped Jeans | Ripped Jeans | Denim Jacket | Booties

I am lover of blue and black denim, but as I was only able to pick 5 items I went with black for this challenge. Black denim can be dressed up or down, is slimming and will go with every color! These black jeans are only $30 and they are so good! They come in short, regular and long lengths and several versions. I will link them all for you, but I am wearing the Rockstar mid-rise super skinny's in 0 short.
#3 Booties
Top | Spanx | Denim |Booties | Hat

Well, it is your lucky day! These booties are 60% off now, so they fall under the $50 mark! Woohoo! I paid more, so I am a tad jealous. I love these so much I bought them in both cognac and black. They have on trend pointer toe and the heel height is just right. They are so comfortable, too.
** If you happen to love leggings, make sure to check out my 11 Ways to Style your Spanx for some style ideas.
#4 Military Button Down
White Top | Olive Military Top | Burnt Orange Military Top |Jeans | Booties

A military button is such a great staple piece for the transitioning season of spring and fall. It can be worn on it's own or you can have in on hand by wrapping it around your waste in case it gets chilly. Or, just wear it is light second layer. I have one with me at all times so I can through it on if needed. This one is super soft and feels so good next to your skin.
#5 Denim Jacket
Top | Denim | Ripped Denim | Denim Jacket | Distressed Denim Jacket | Mules

Another must have is a denim jacket. It can be worn over dresses, rompers, or with jeans. It's a nice outer layer that is warmer than the military button down, but light than a regular jacket. I've had this one for years and I love the feel and weight of it. It's a classic! Mine is over $50, but I linked up several ones that are great!
Bonus item – Animal Print Mules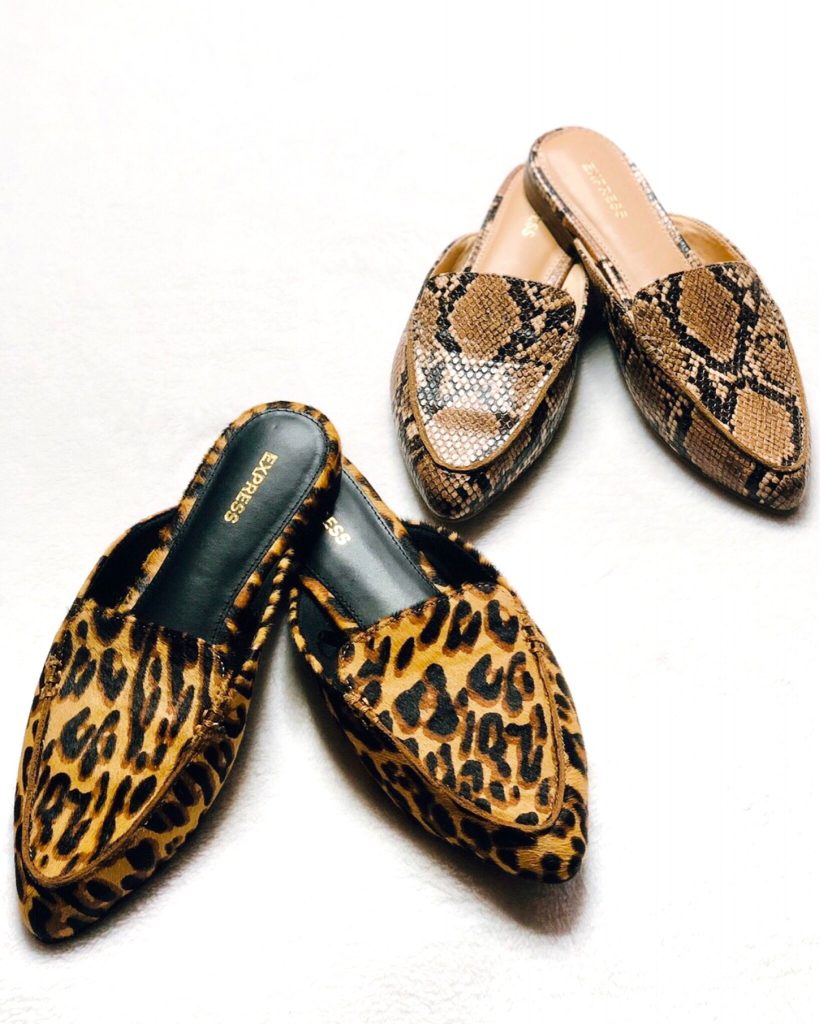 Snake Print Mules | Leopard Mules

For those of you that prefer a low heel, I included these mules. These are so good. I own them in snake print and leopard. I wore the leopard ones on your trip to Europe and we walked 10 miles plus a day and my feet never hurt! They are that good! They also come in solid colors and a flat version.
Well, that sums it up!
I hope you loved some or all of these items!