Express | Best Selling Fashions You Need This Season
I have to give you the inside scoop on all of my Express fashion favorites this season! Express has dropped a tremendous amount in fall styles, everything from pants, bodysuits, tops, blazers and more. If you are in need of some staple basics for your closet that can make a variety of different outfits, Express is the best place for that. Having great quality clothing that lasts forever is a must-have & their jeans are a best seller & favorite of mine. Check out below for fall & winter fashions you need!
To shop some of my favorite looks click HERE
**This post contains commission links, but does not cost buyer more money to use links. Thank you for shopping my style**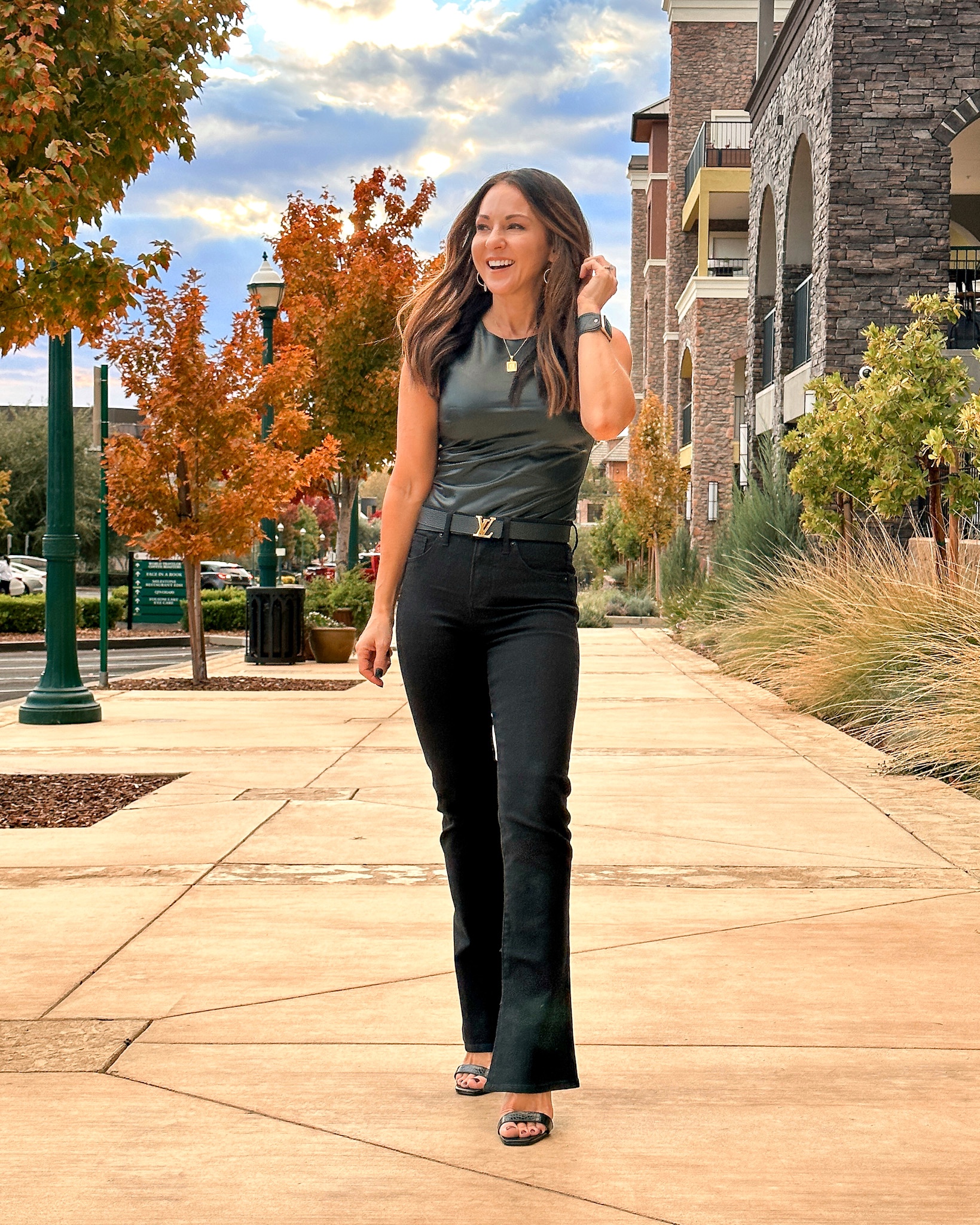 Mid-Rise Black Skyscraper Jeans | Faux Leather Bodysuit | Heels | Similar Belt
Express | Flare Jeans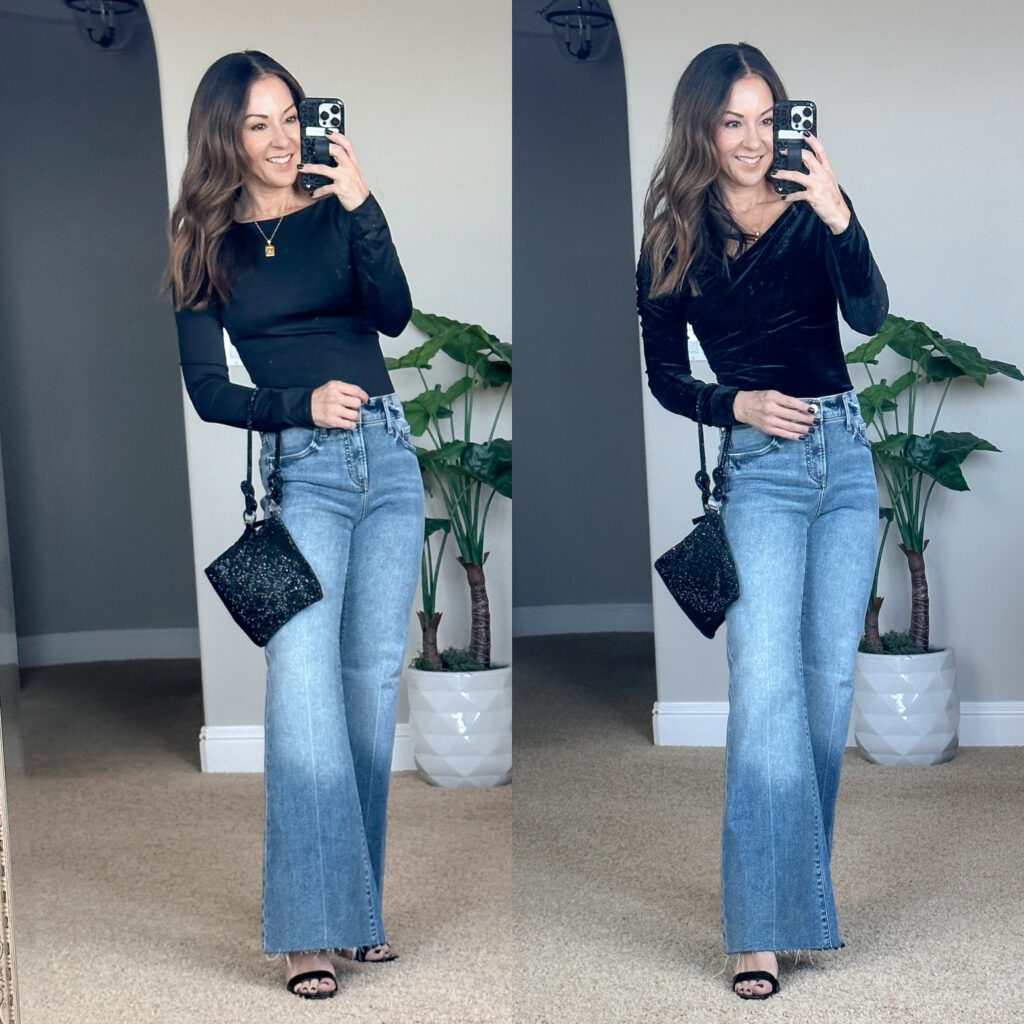 Body Contour Matte Long Sleeve Scoop Back Bodysuit tts xs | Off The Shoulder Asymmetrical Wrap Bodysuit tts xs | Mid Rise Light Wash Raw Hem 70's Flare Jeans tts 0 short | Croc Embossed Square Toe Heels tts | Rhinestone Knot Strap Slouch Bag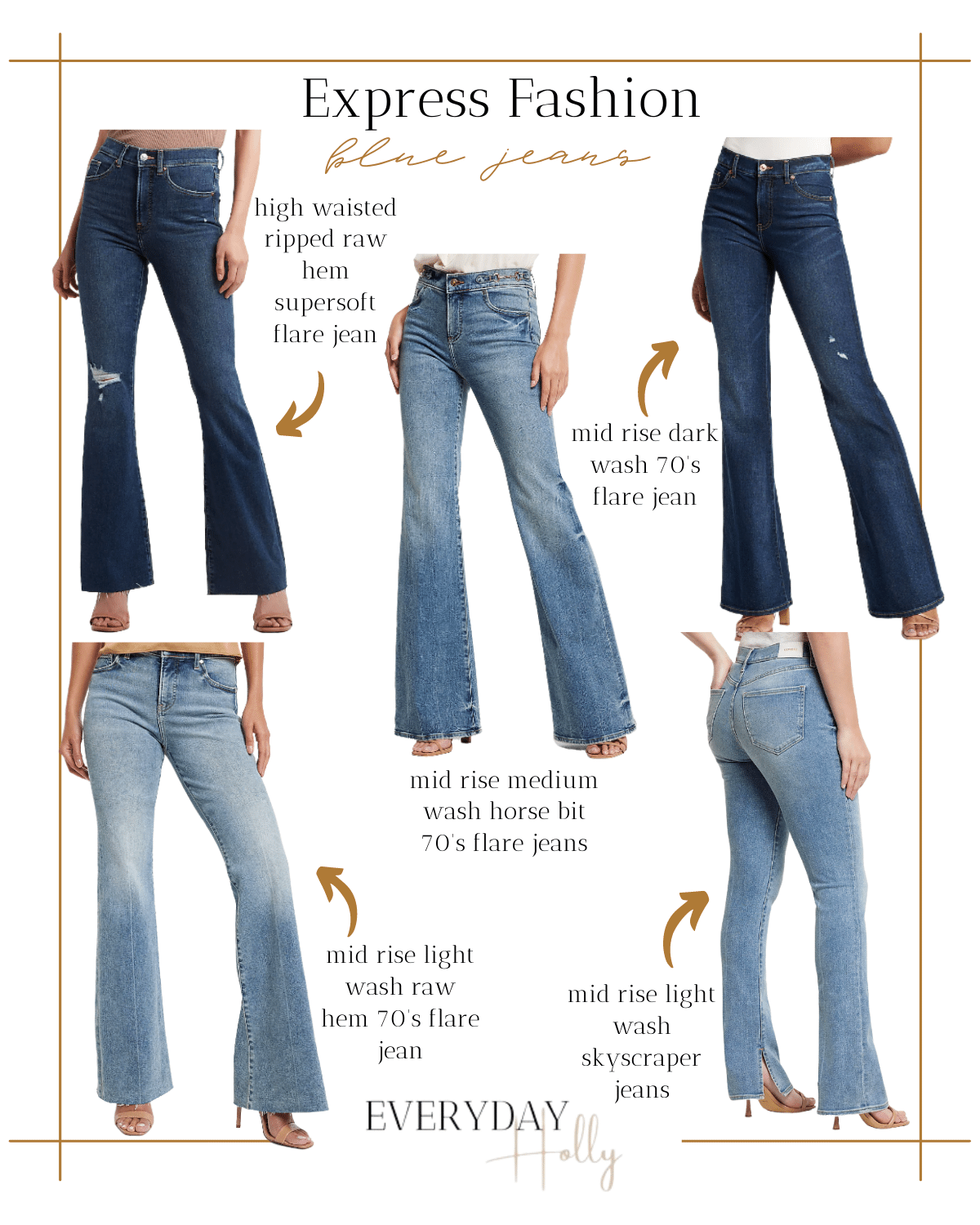 High Waisted Ripped Raw Hem Supersoft Flare Jeans | Mid Rise Medium Wash Horse Bit 70's Flare Jeans | Mid Rise Dark Wash 70's Flare Jeans | Mid Rise Light Wash Raw Hem 70's Flare Jeans | Mid Rise Light Wash Skyscraper Jeans
Express has all different shades of blue jeans for any occasion! Flare jeans are back in style & I am loving them. The way that their jeans elongate the legs, especially for us shorter ladies this is a must. The fit around the booty & thighs are amazing as it slims & the flare jeans portray the illusion of length. I do recommend wearing booties or a shoe with a heel if you are petite size like myself so you are not stepping on the pants.
Express | Skyscraper Jeans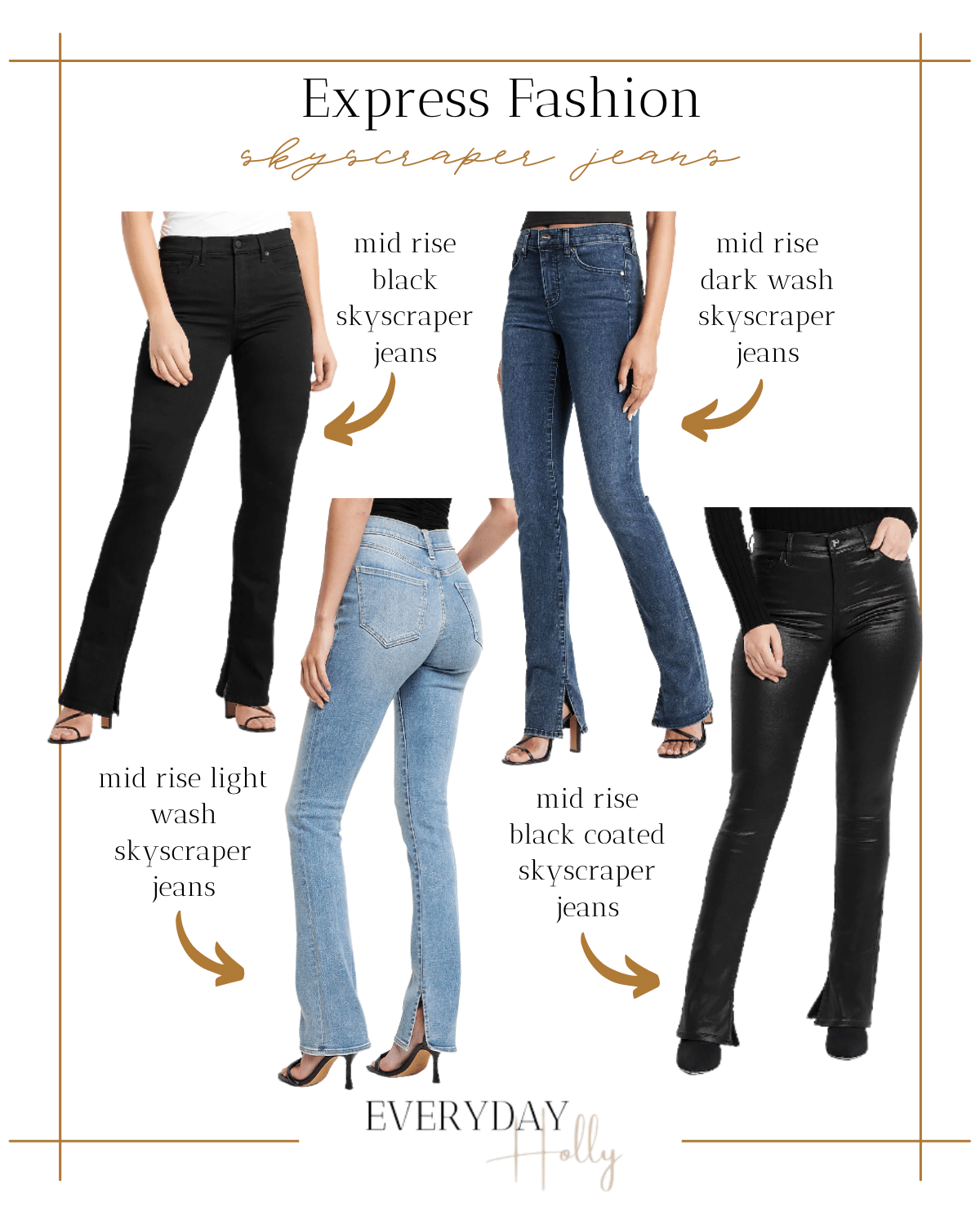 Mid Rise Black Skyscraper Jeans | Mid Rise Dark Wash Skyscraper Jeans | Mid Rise Light Wash Skyscraper Jeans | Mid Rise Black Coated Skyscraper Jeans
Now you want to talk about elongating the legs, these skyscraper jeans have taken this season by storm! This is a fashion find that I cannot live without. The fit of these jeans are amazing & I love the slit at the bottom hem to show off the shoes. The slit allows space for boots & doesn't bunch up around the ankle.
Express | Tops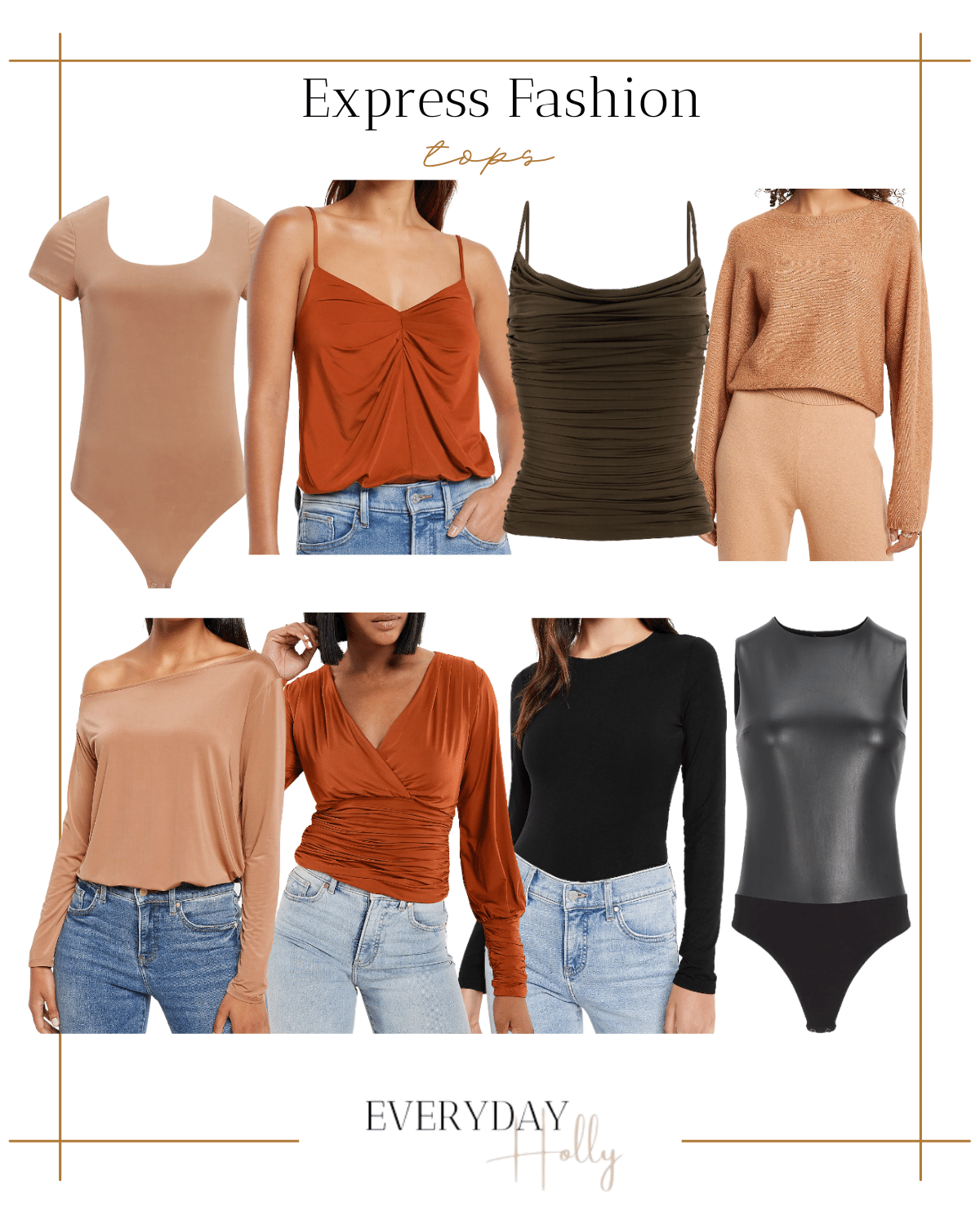 Tan Short Sleeve Bodysuit | Orange Slouch Top | Green Ruched Top | Beige Sweater | Tan Off The Shoulder Top | Orange Long Sleeve V Neck Top | Black Long Sleeve Top | Faux Leather Bodysuit
Here are some tops that I have gotten this season that have been great for the fall. Express has all the essentials from bodysuits, sweaters, blouses & basic tees. If you do not own bodysuits you need to. Bodysuits sculpt the body but also just add a level of flare to the outfit. They are very comfortable & come in many different colors & sizes!
Express | Blazers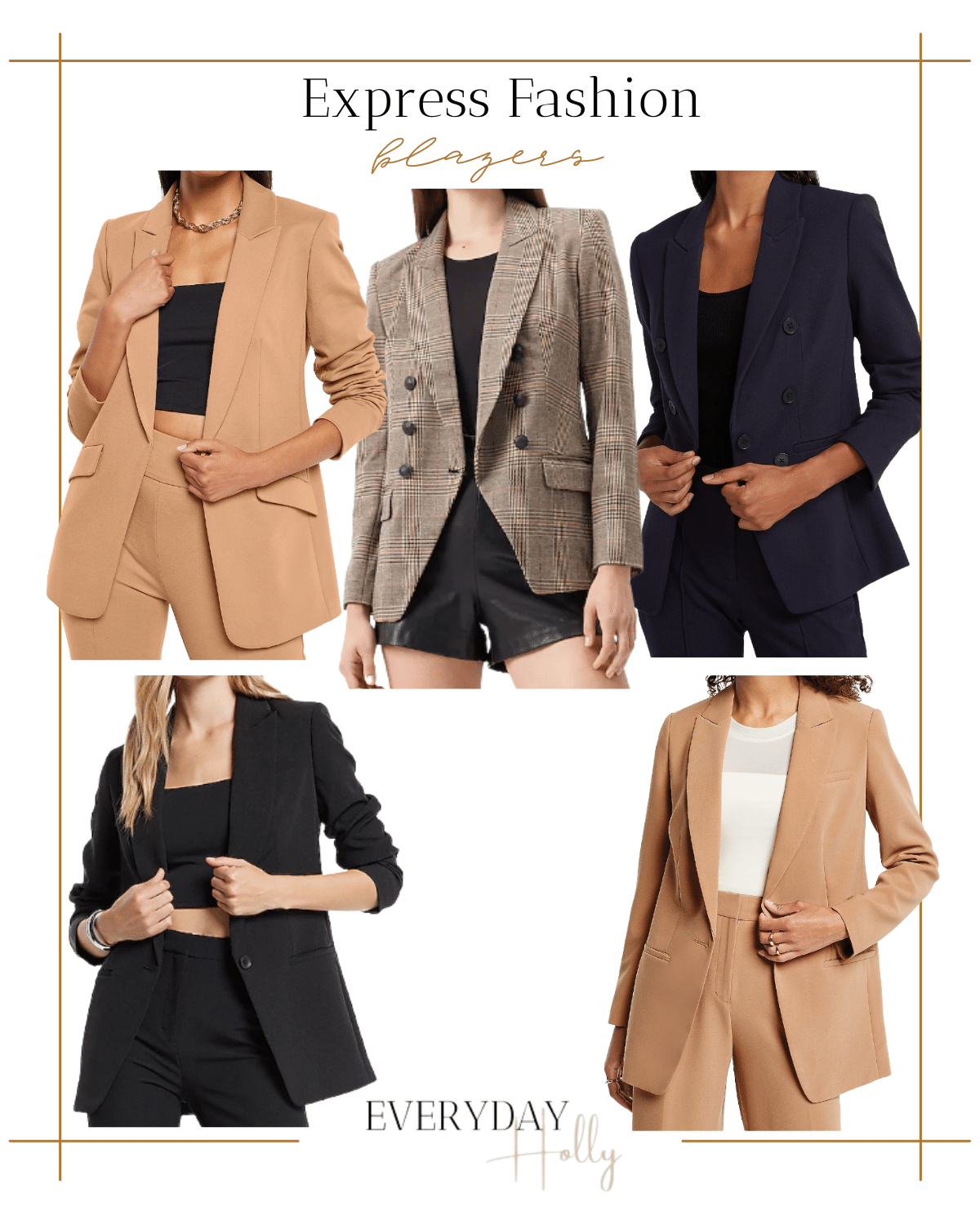 Beige Blazer with Fold Pockets | Plaid Buttoned Blazer | Navy Blazer | Black Everyday Blazer | Beige Blazer with Hidden Pockets
To elevate a simple outfit, add a blazer. You can throw a blazer over a bodysuit and jeans & it takes your casual outfit to the next level. Express has multiple different styles from an everyday look to double breasted blazers for more polished & amplified occasions. For workwear, I recommend having a blazer to 1. add layers and 2. turn an everyday outfit into professional!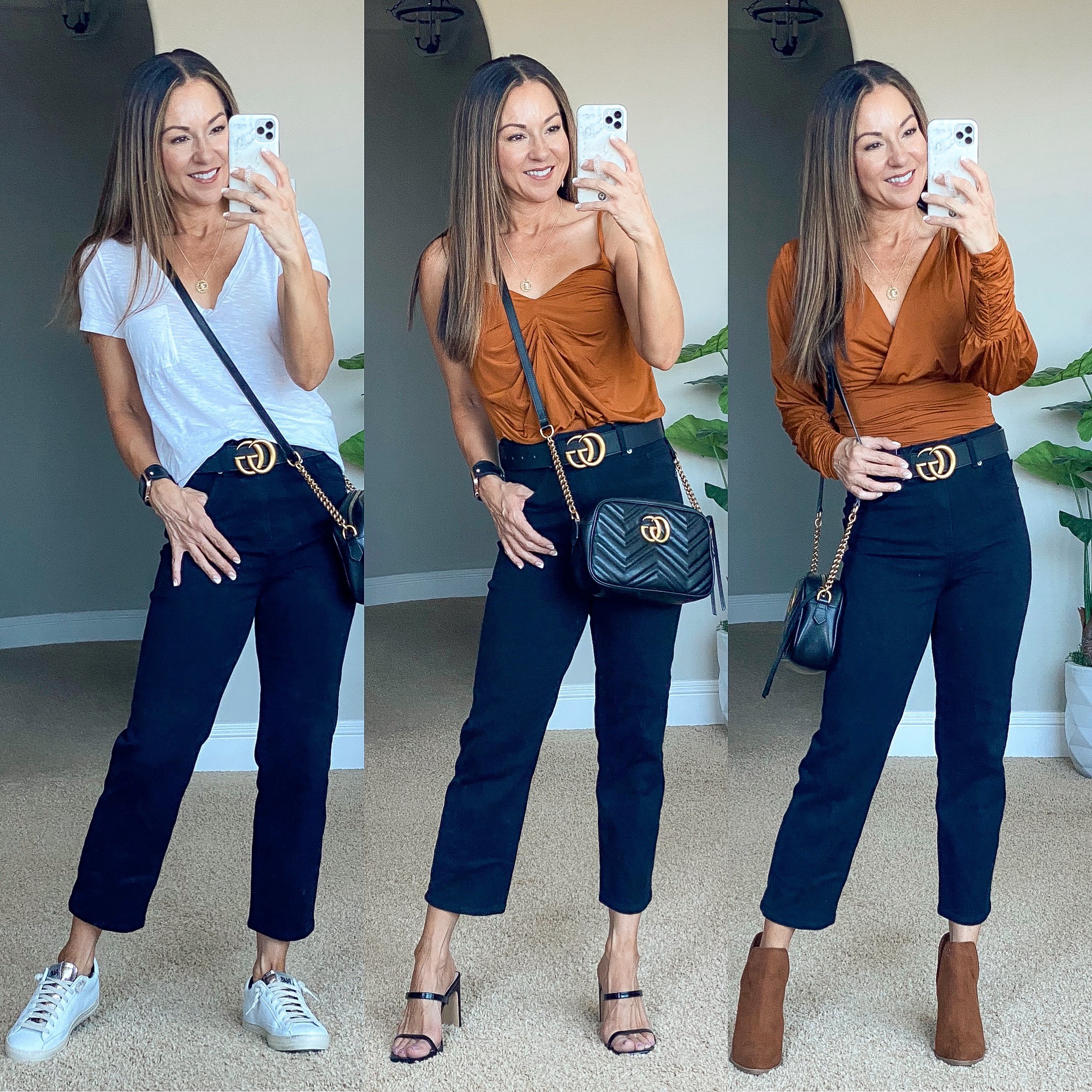 High Waisted Black Straight Leg Jeans size 0 short | Orange Slouch Tank tts, XS | Orange Ruched Top tts, XS

The High Waisted Black Straight Jeans were a best seller this fall season! A ton of people grabbed these jeans for the season & love them. You cannot go wrong with a straight leg pant & if you are in need of one I highly recommend these. These pants are very versatile because you can dress them up or down depending on the occasion. Like in the picture above, you can style with sneakers for a casual look or edge it up with some booties or heels!
Tan Bodysuit tts, XS | Light Wash 70's Style Jeans size 0 short | Light Wash Horse Bit Flare Jeans size 0 short | Ripped Flare Jeans size 0 short | Dark Wash Flare Jeans size 0 short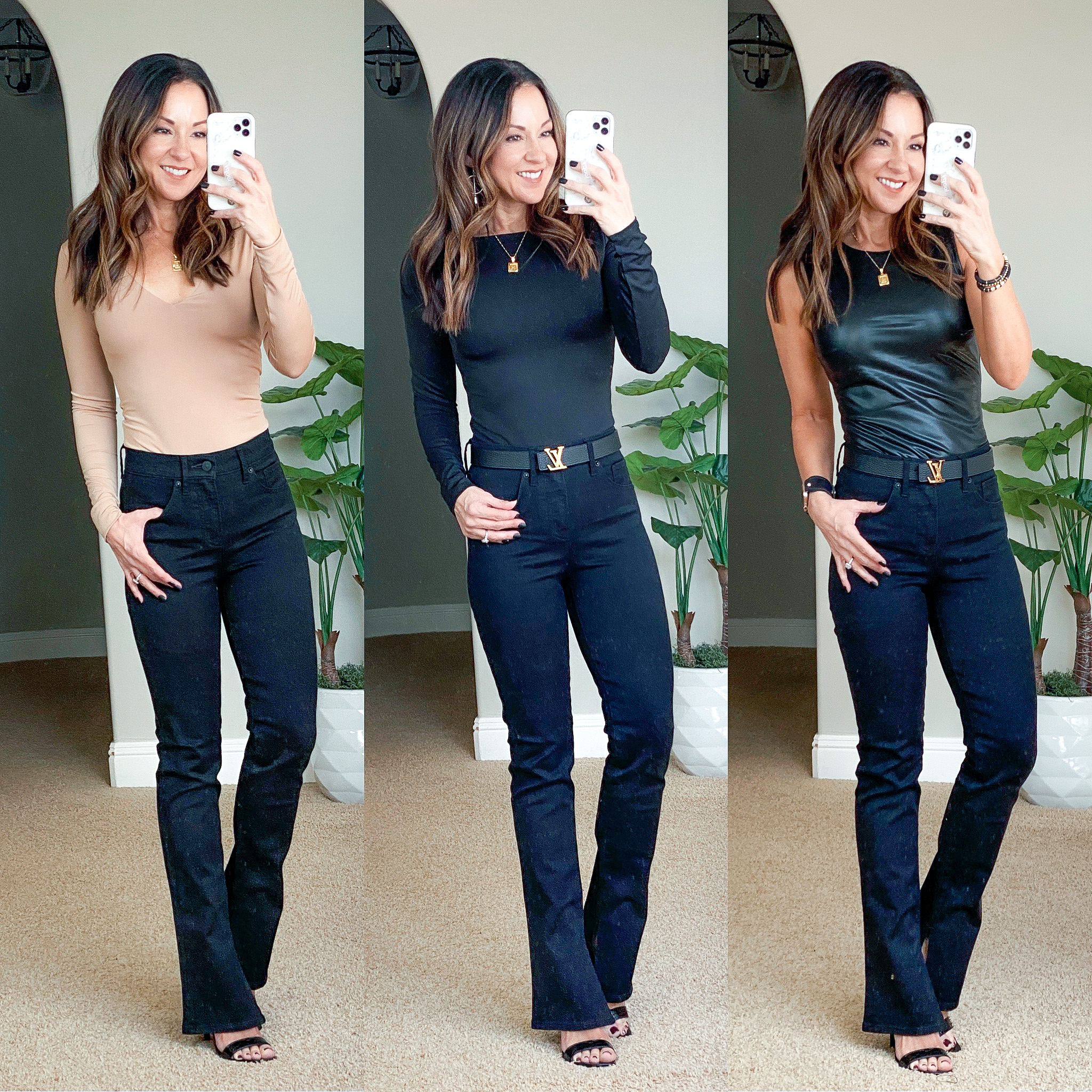 Tan Long Sleeve Bodysuit tts, XS | Black Skyscraper Jeans size 0 short | Black Long Sleeve Top tts, XS | Faux Leather Bodysuit tts, XS | Black Strap Heels tts | Similar Belt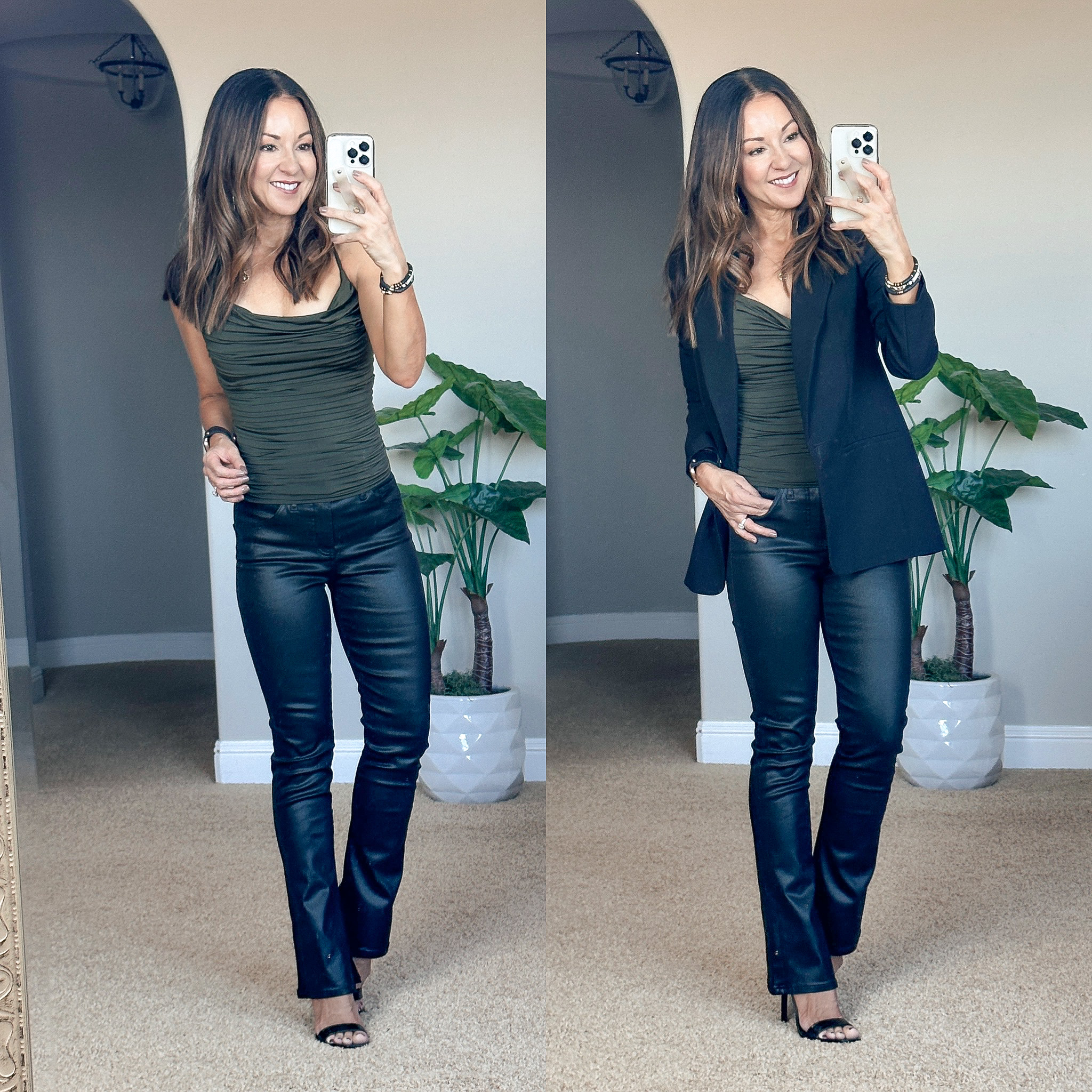 Green Ruched Cami tts, XS | Black Coated Skyscraper Jeans tts, size 0 short | Black Blazer tts, XS Petite | Black Strap Heels tts