The Top 10 Hottest Best Sellers from August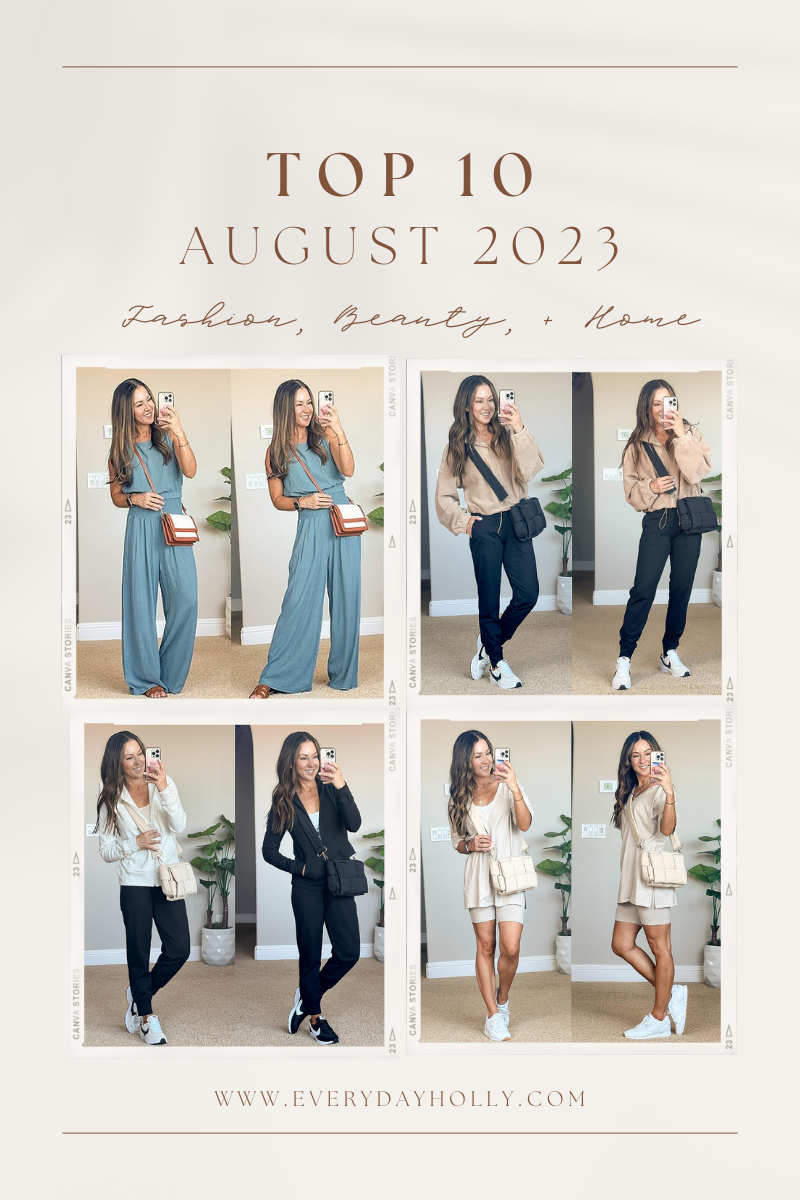 Can you believe that it's already September?! Time flies when you're having fun… and when you're super busy! Summertime is all about traveling, vacations, and getting prepped for back-to-school. It's important to remember to always give yourself time to recharge and feel refreshed – whether it's only two minutes or twenty! As always, I love to compile the BEST selling items from beauty, fashion, and home. Several of these best selling items are some of my personal favorites – it looks like they are some of yours, too!
CLICK HERE for more monthly top sellers!
**This post contains affiliate links, all opinions are my own. Thank you for supporting me!**
Top 10 | Amazon Fashion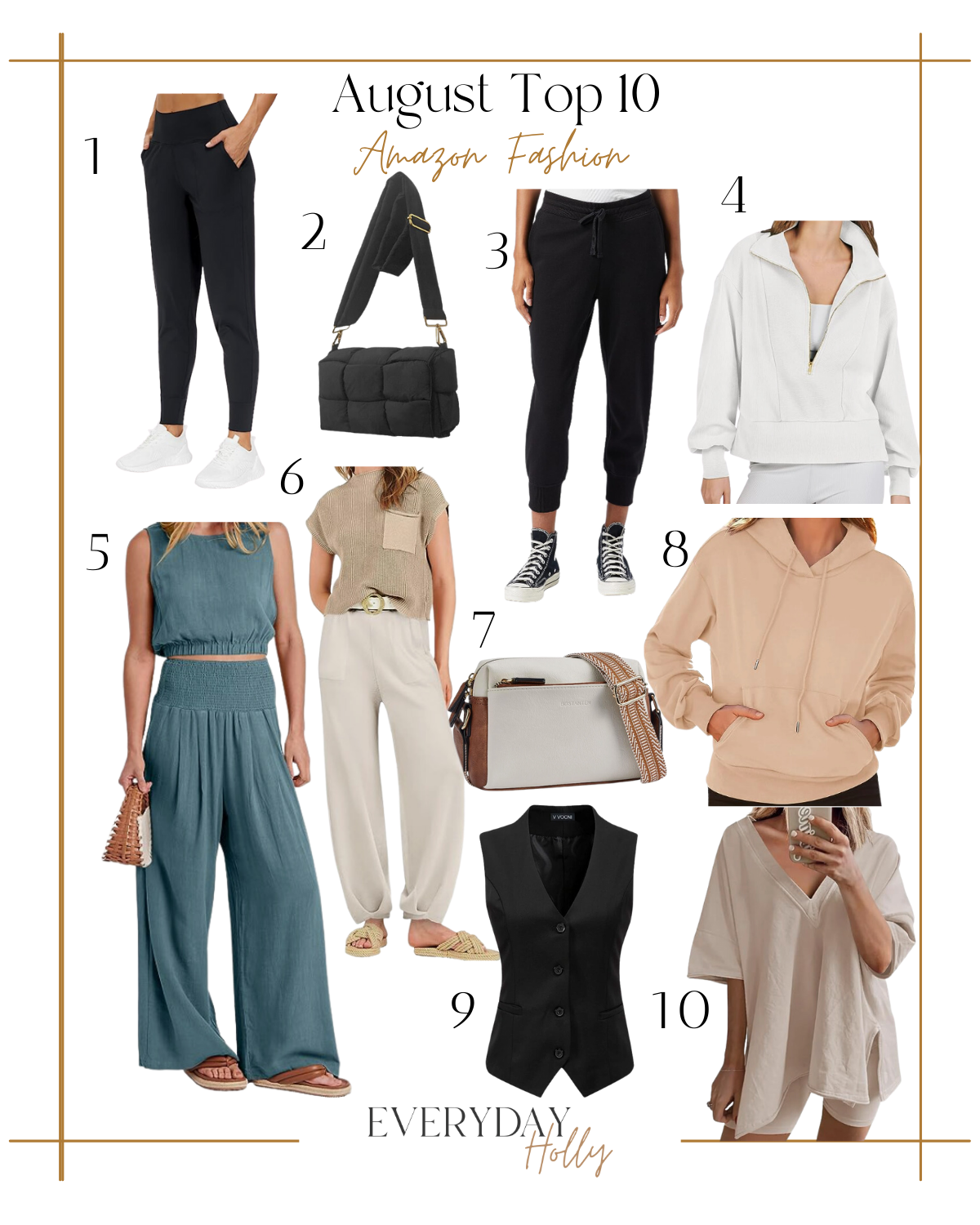 Women's Joggers tts, XS | Puffer Shoulder Bag | Capri Joggers tts, XS | Fleece Quarter Zip | Linen Two-Piece Set tts, S | Two-Piece Sweater Set tts, XS | Crossbody Triple Zip Purse | Hoodie tts, S | Women's Suit Vest tts, XS | Oversized Two-Piece Set tts, S
These are some of my FAVORITE Amazon fashion finds – they are perfect as we transition from warmer summer days to cooler autumn nights. These joggers seem to be your favorite too, I don't think it's left the top five spot for a couple of months now! It is beyond important to be comfortable in your own skin AND what you wear. I highly recommend each of these items, pinky swear, scout's honor – the works!

Top 10 | Beauty Favorites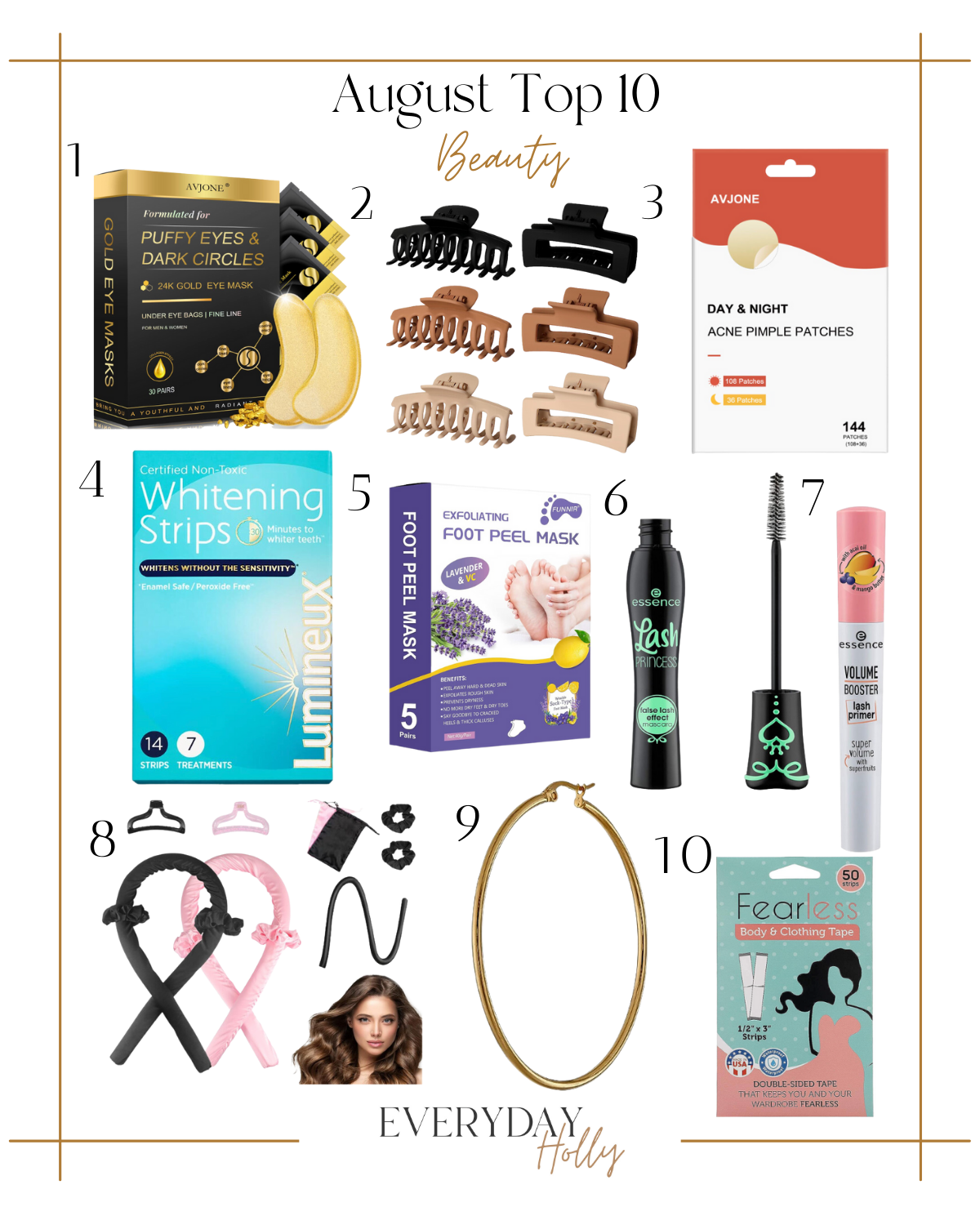 24K Gold Eye Mask | Claw Clips | Pimple Pore Patch | Teeth Whitening Strips | Foot Peel Mask | Volume Mascara | Lash Primer | Similar Heatless Curlers | Gold Hoop Earrings | Fashion Tape
Each of these beauty items are perfect for the summer AND the upcoming fall wedding season. Self-care is beyond important especially if you want to look (and feel) your best for any occasion! My personal favorites are the claw clips and 24k gold eye mask – it keeps my hair out of my face and my eyes looking bright. This top 10 sellers combo is just what you need to feel new, refreshed and ready for any upcoming occasion!

Top 10 | Home Essentials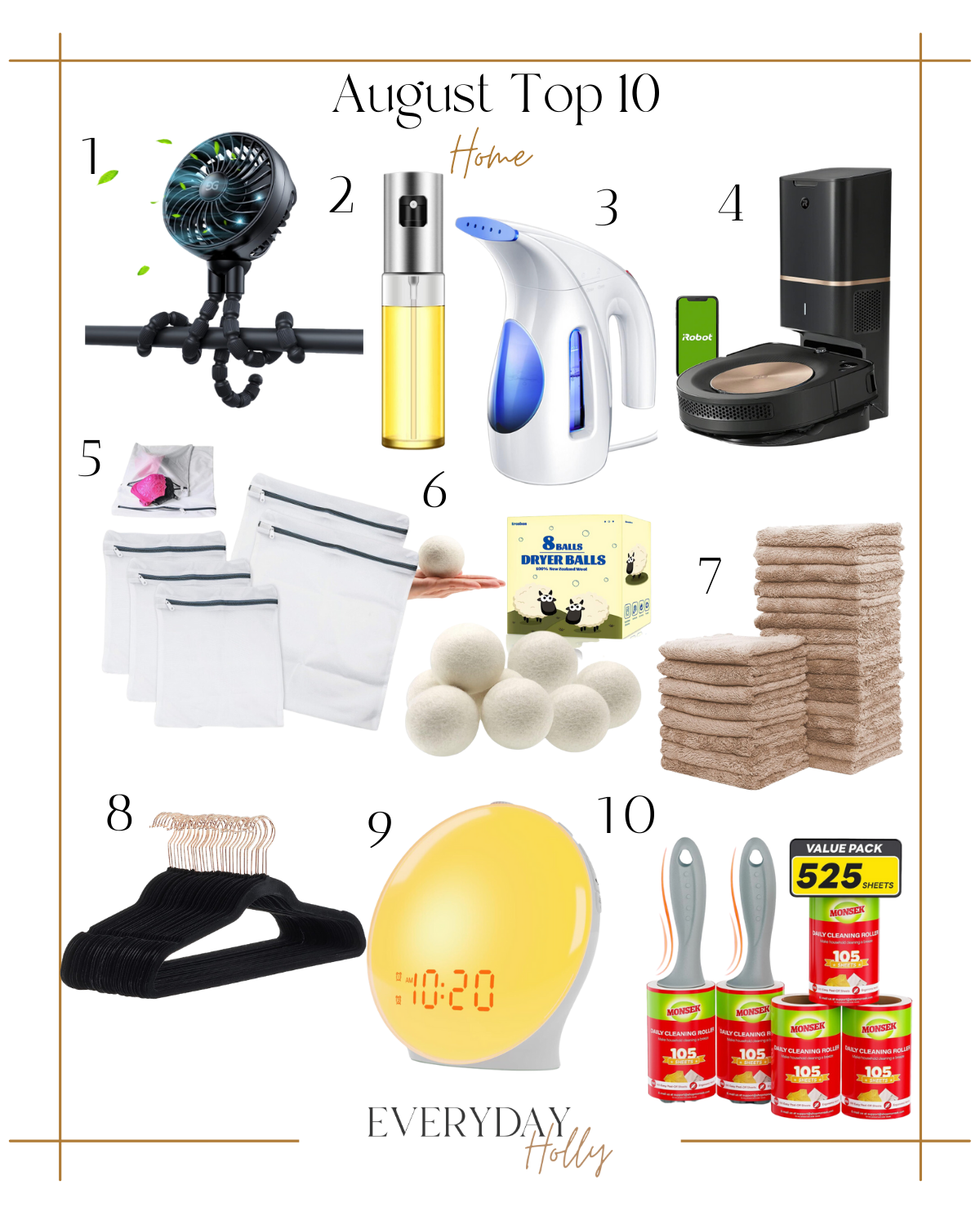 Stroller Fan | Oil Sprayer | Portable Steamer | iRobot Roomba | Laundry Mesh Bags | Wool Dryer Balls | Dish Towels | Velvet Hangers | Sunrise Alarm Clock | Lint Roller Sheets
There are so many great home essentials in August's top sellers! I don't know about you but I don't always think of the little things when I go shopping. These top ten finds remind me of all those things that I have been needing but it slips my mind. Mesh bags are an amazing way to help your undergarments and intimates have a longer lifespan. Velvet hangers? Yes please, I hate when I have creases or marks in my tops and blouses. Last but not least, my personal favorite is this portable steamer. It is perfect for traveling and fits in my suitcase like a dream!

Top 10 | Fashion Favorites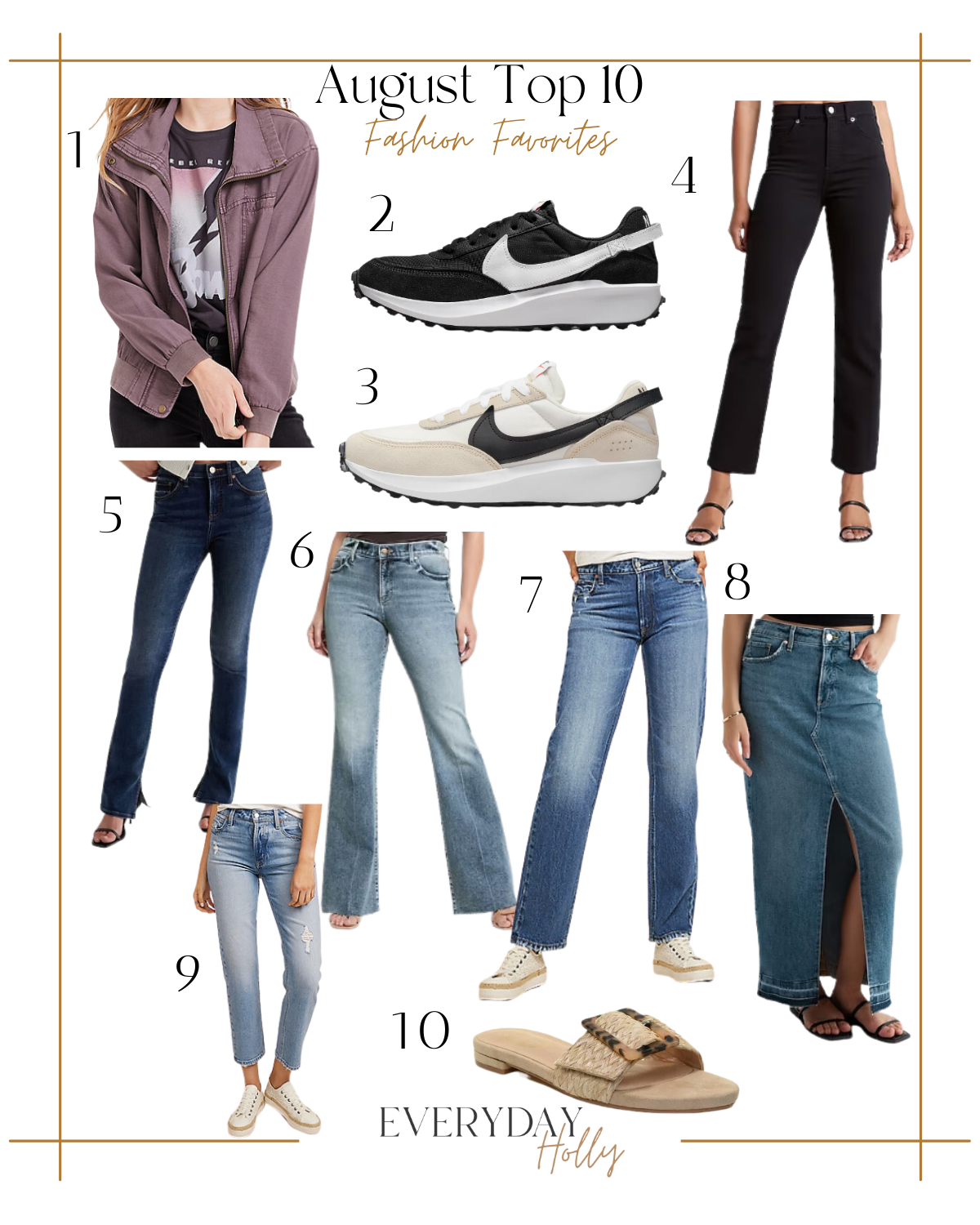 Twill Bomber Jacket | Waffle Debut (black) | Waffle Debut (tan/white) | High Waisted Black Straight Ankle Jeans | Mid Rise Dark Wash Skyscraper Jeans | Mid Rise Light Wash 70's Jeans | Mid Rise Legacy Straight Jeans | High Waisted Maxi Denim Skirt | Light Cheeky Ankle Taper Jeans | Buckle Slide Sandal
Denim, denim, denim – it's everywhere! I am so here for it. It can be tricky to find a good pair of jeans that fit in all of the right places and are actually comfortable to wear. This bomber jacket has been a top contender for a few weeks, it's such an amazing fashion find! Whether you are still building up your back-to-school wardrobe or you are wanting to piece together your fall outfits, these pieces are perfect for you!

Shop These Styles
You all know I love sharing my personal favorites with each of you. See below for some my FAVORITE styles from this August!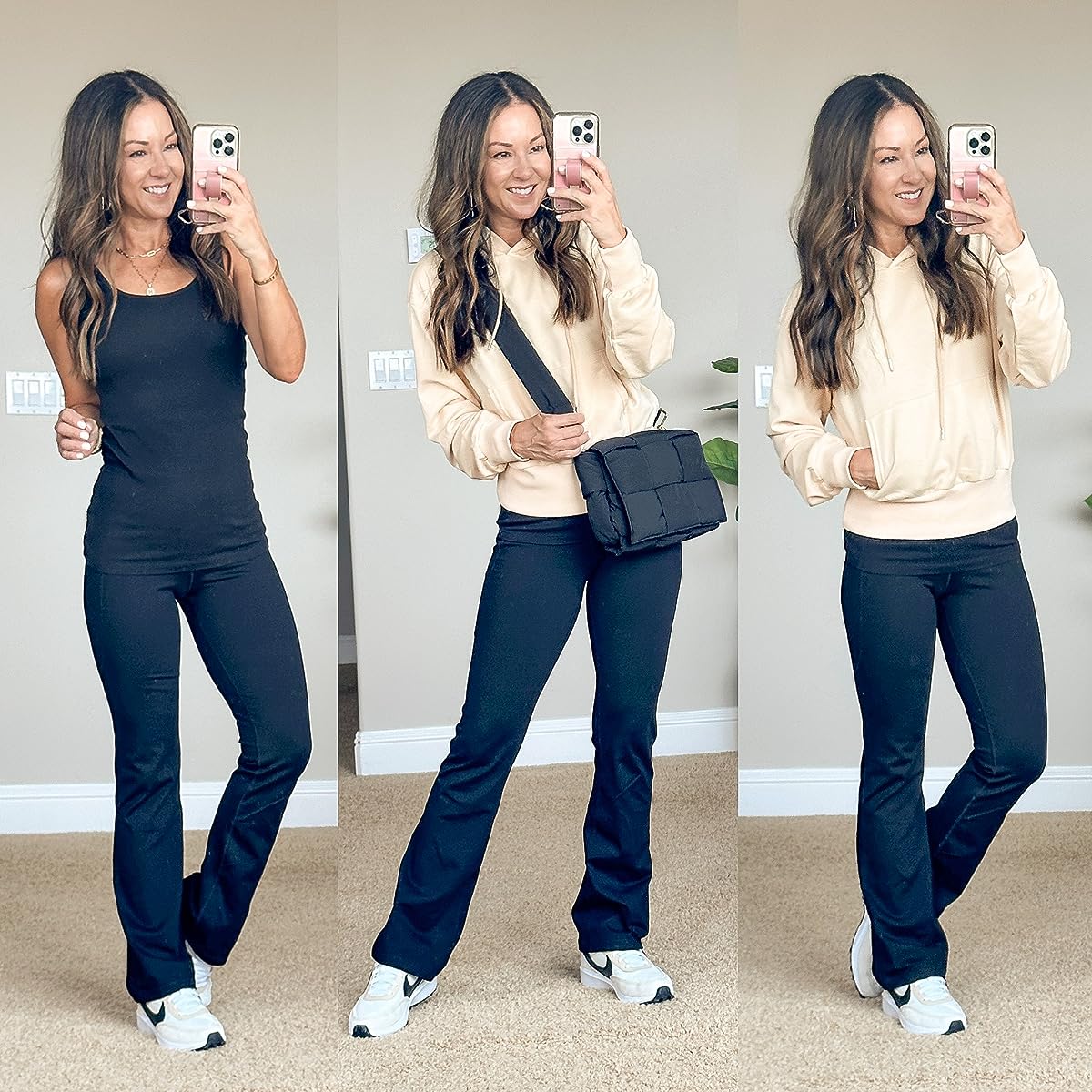 Tank Top tts, XS | Hoodie tts, S | Black Puffer Shoulder Bag | Yoga Pants tts, XS | Seamless Thongs | No Show Socks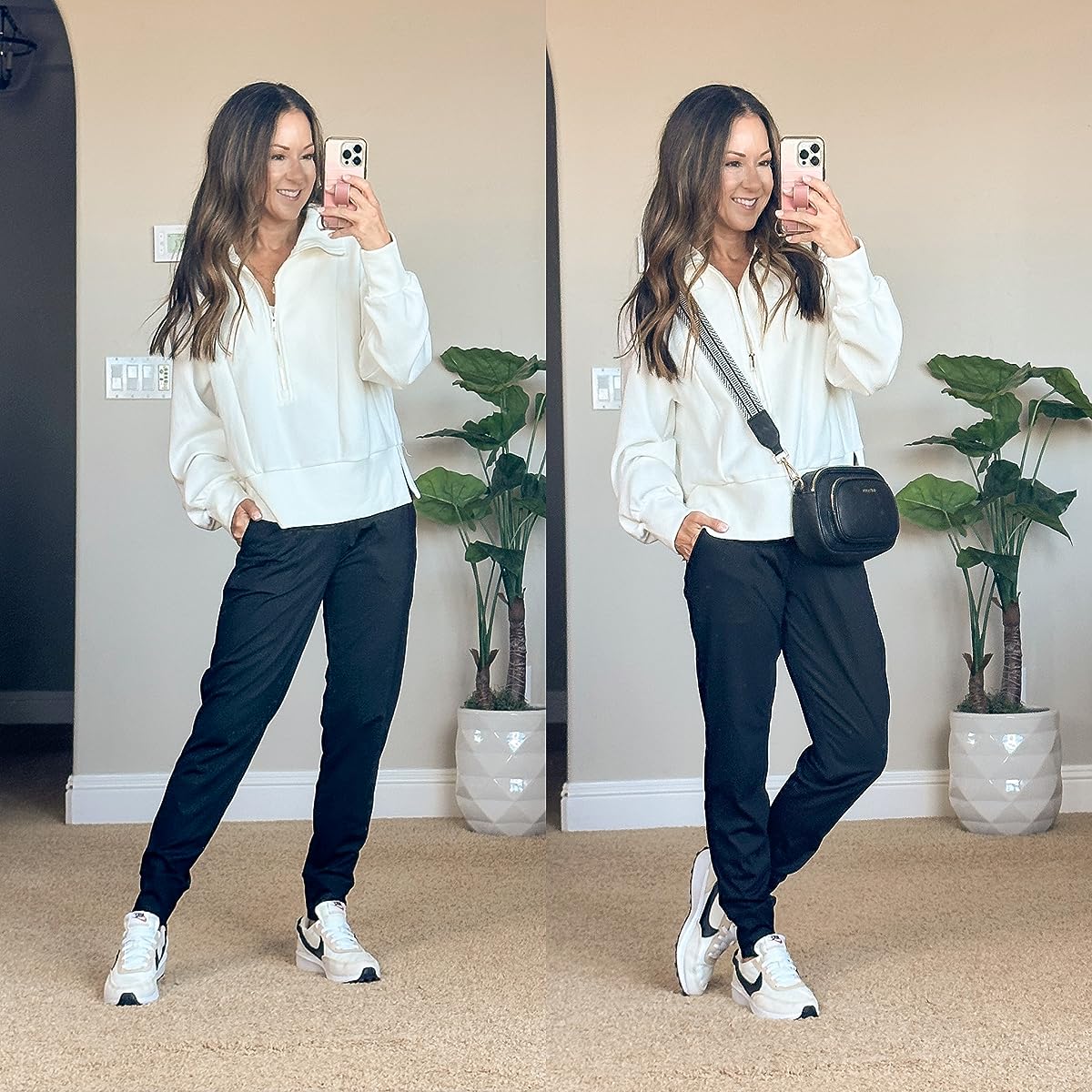 Fleece Quarter Zip tts, S | Longline Sports Bra tts, S | Women's Joggers tts, XS | Crossbody Bag | Seamless Thongs | No Show Socks | Sneakers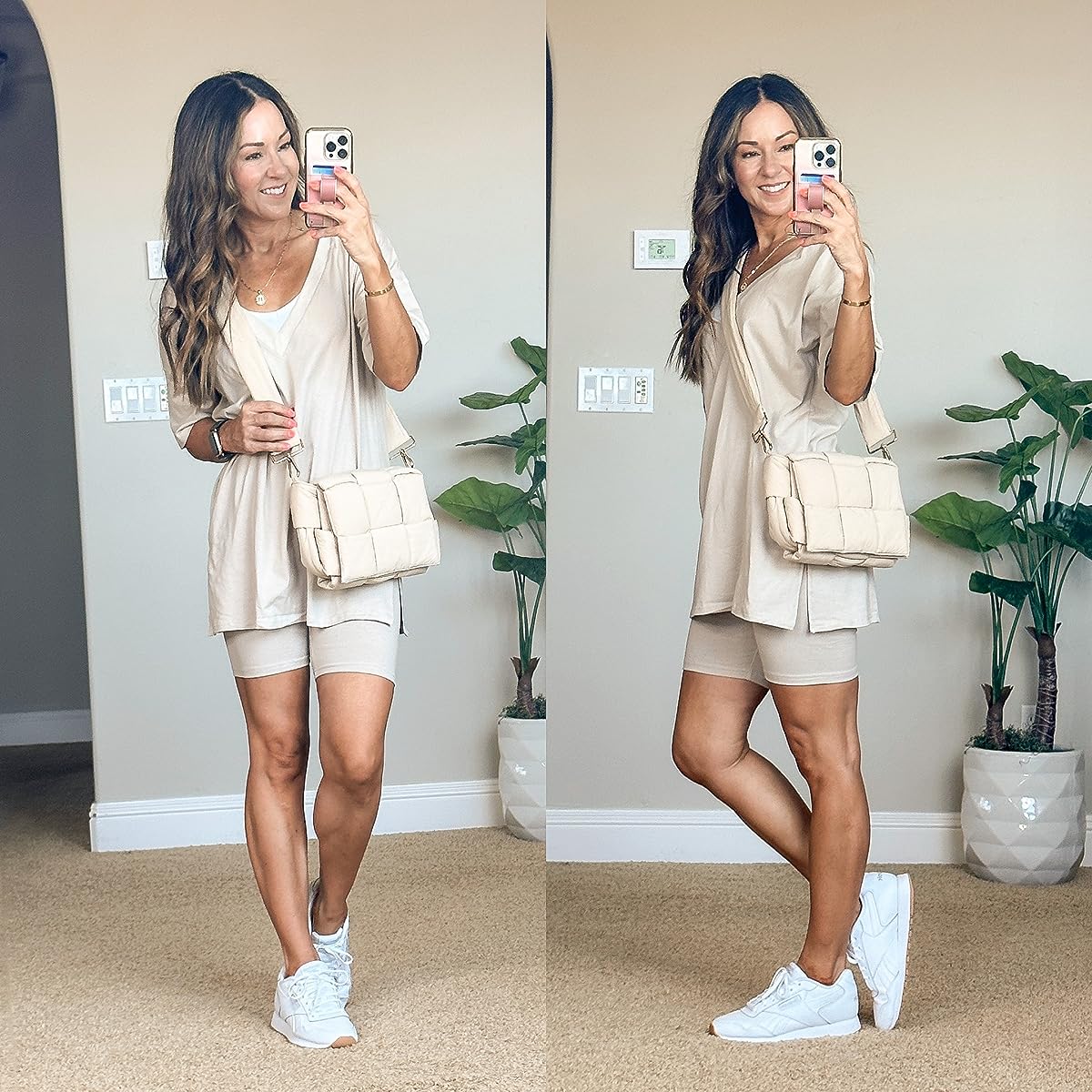 Oversized Two-Piece Set | Longline Sports Bra tts, S | Puffer Shoulder Bag | Gold Initial Layered Necklaces | Sneakers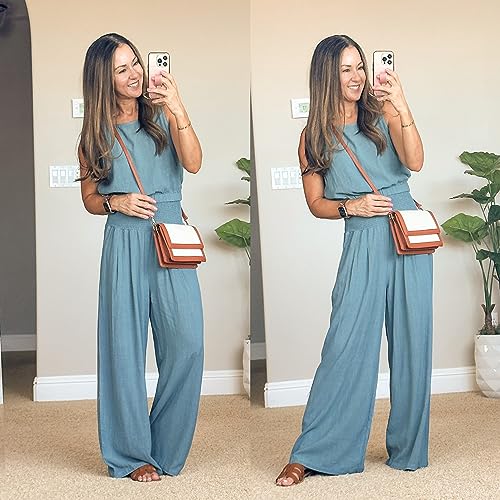 Linen Two-Piece Set tts, S | Sandals 7 | Crossbody Bag | Gold Initial Layered Necklace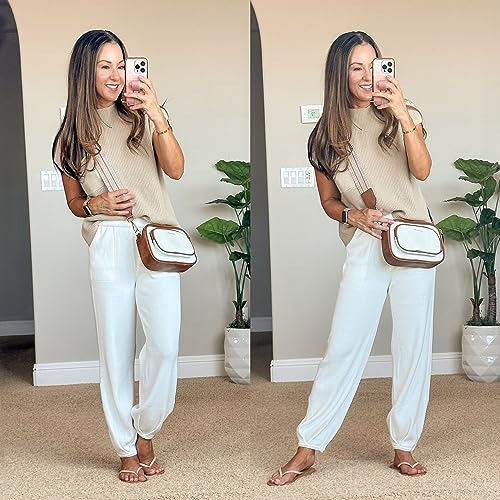 Sweater Two-Piece Set tts. XS | Crossbody Triple Zip Purse | Flip Flops 7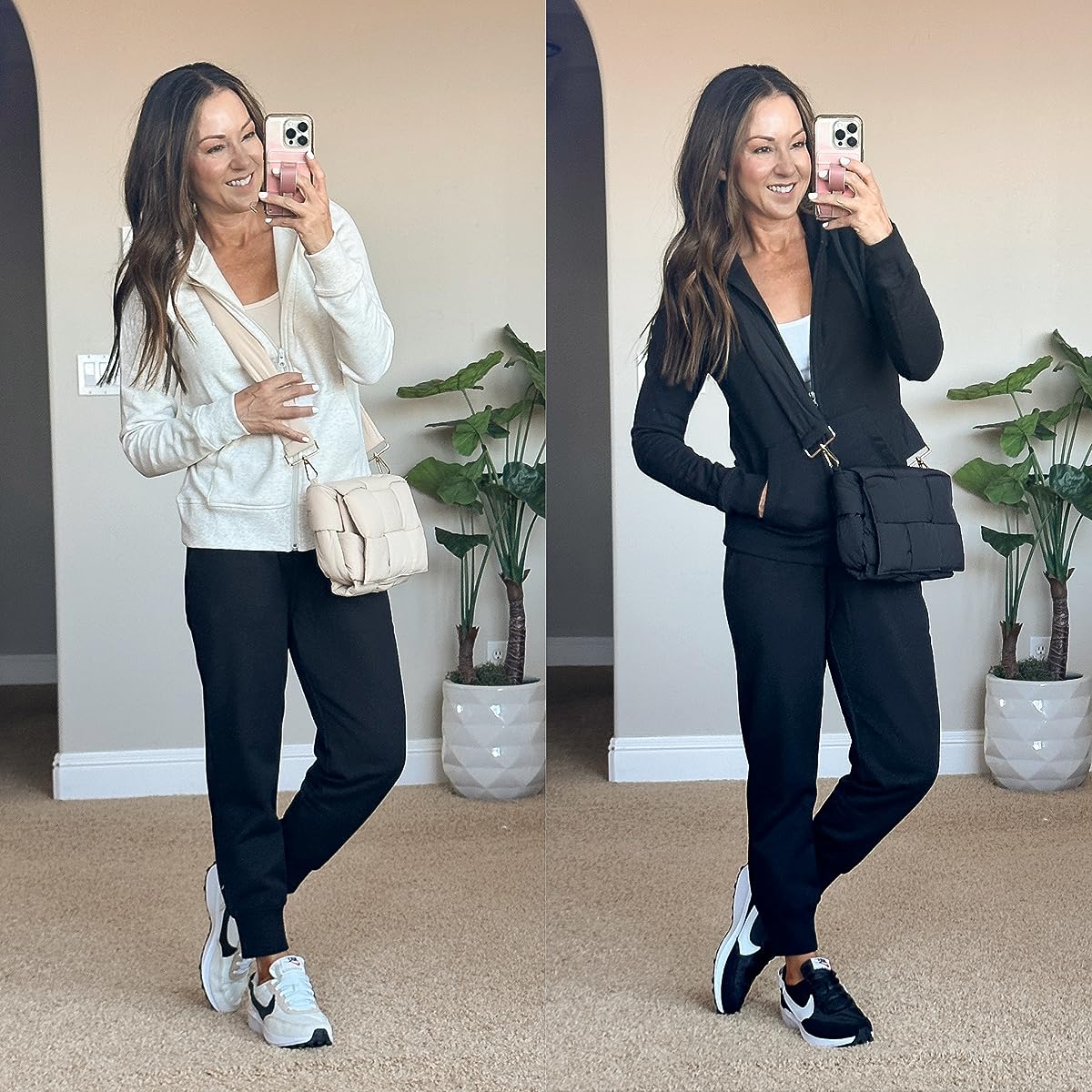 Full Zip Hoodie tts, XS | Capri Joggers tts, XS | Neutral Tank Top tts, XS | White Tank Top tts, XS | Puffer Shoulder Bag | Black Shoulder Bag | Seamless Thongs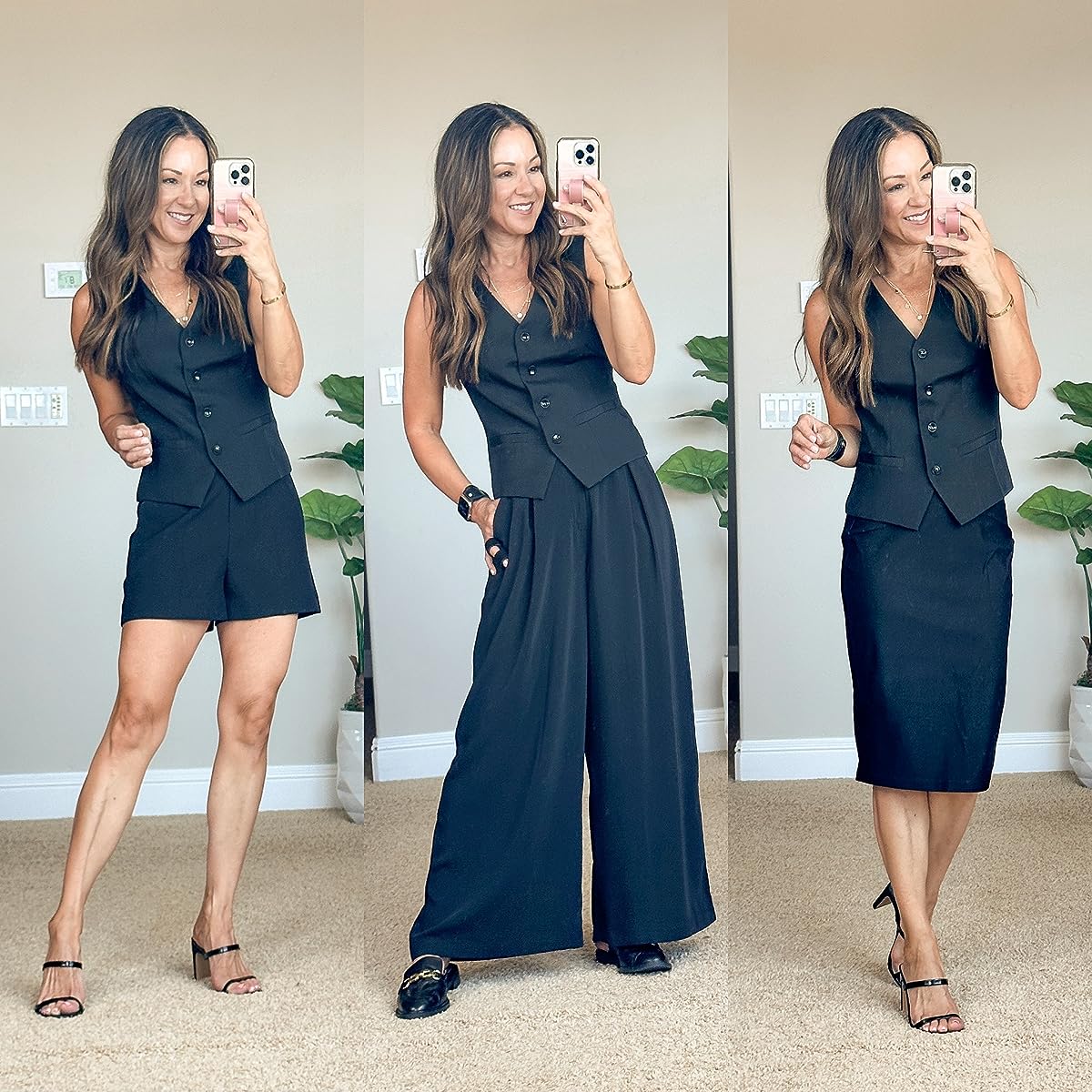 Women's Suit Vest tts, XS | High Waisted Shorts tts, S | Square Toe Two Strap Heel 7 | High Waisted Wide Leg Pant tts, XS | Buckle Mule 7 | Pencil Skirt tts, S

Shop More Fashion, Home & Beauty Favorites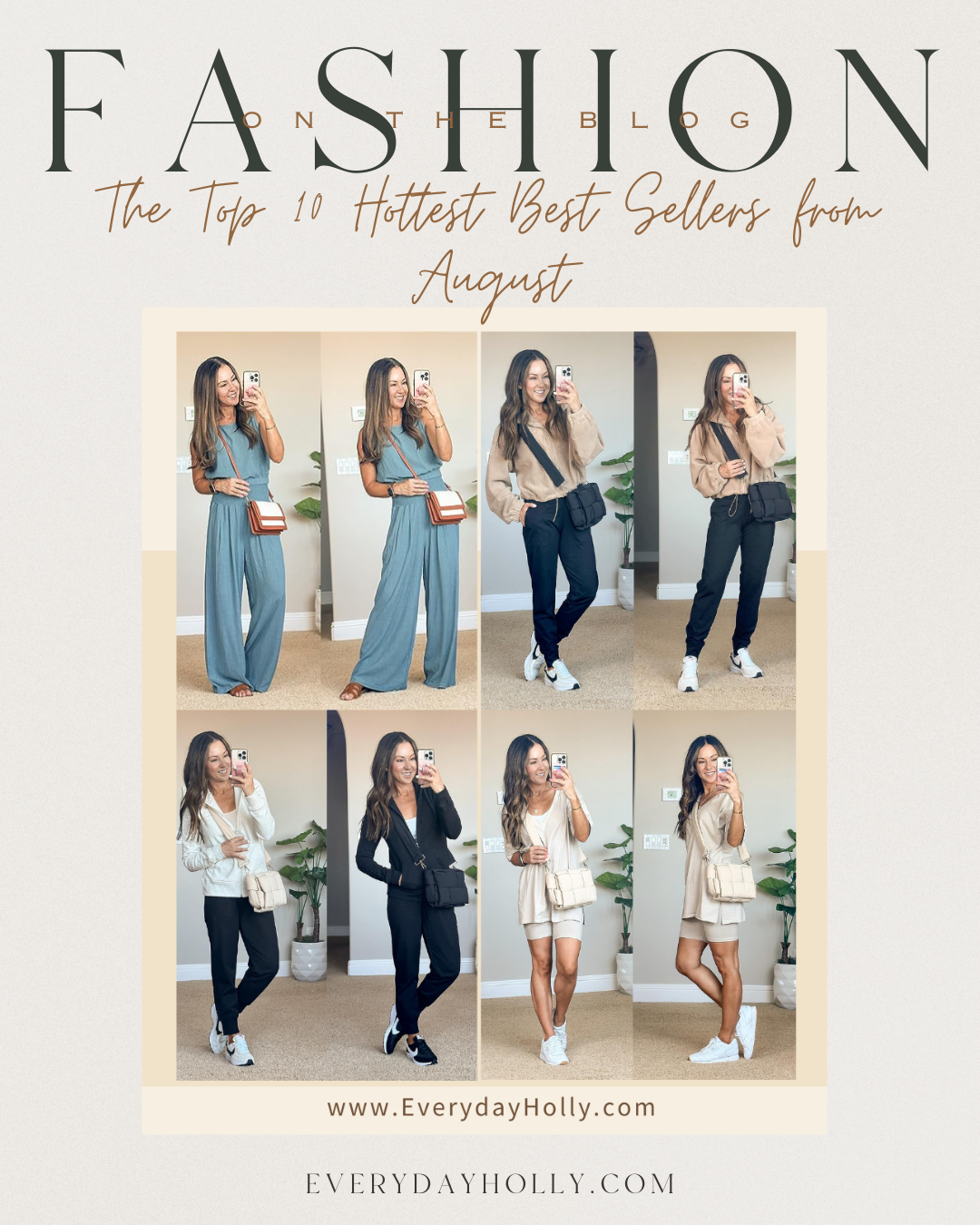 SHOP THE POST