Casual Outfits & Affordable Style Plus Summer Shoes On BOGO
More Target casual outfits coming your way this week! Perfect timing with the Target sale – 20% off dresses and shoes are BOGO get on 50% off! Make sure to check out my top picks for Target summer shoes & bags at the end of this post!
You need to see the cute tops that I found that are all under $10! Also, I found a super cute $16 summer dress, and a lounge romper that is so comfy and cute that you might not ever want to wear anything else! Yes, it's that good!
You can see the try on in my Instagram Stories on Friday & I will save to my highlights.
* This post contains affiliate links however all thoughts and opinions are my own. Using my links does not cost you any more to use and I get paid a small commission, which allows me to continue to do what I do. Thank you! 🙂
$5 Must-Have Tanks & The Best White Denim Shorts!
These tanks come in so many colors! They are super flattering, fit like a glove, and you can wear a normal bra with them! They come in a ton of colors. Runs TTS. I am wearing an xs. See the tank in white in this blog post.
The white denim shorts are so good! They are high-waisted, a great length (not too short), and a wider leg opening. They run TTS for this brand. I am wearing the 00.
My belt comes as part of a 2-pack (black and brown) from Amazon for only $14.99! They are so good! Over 4,000 amazing reviews!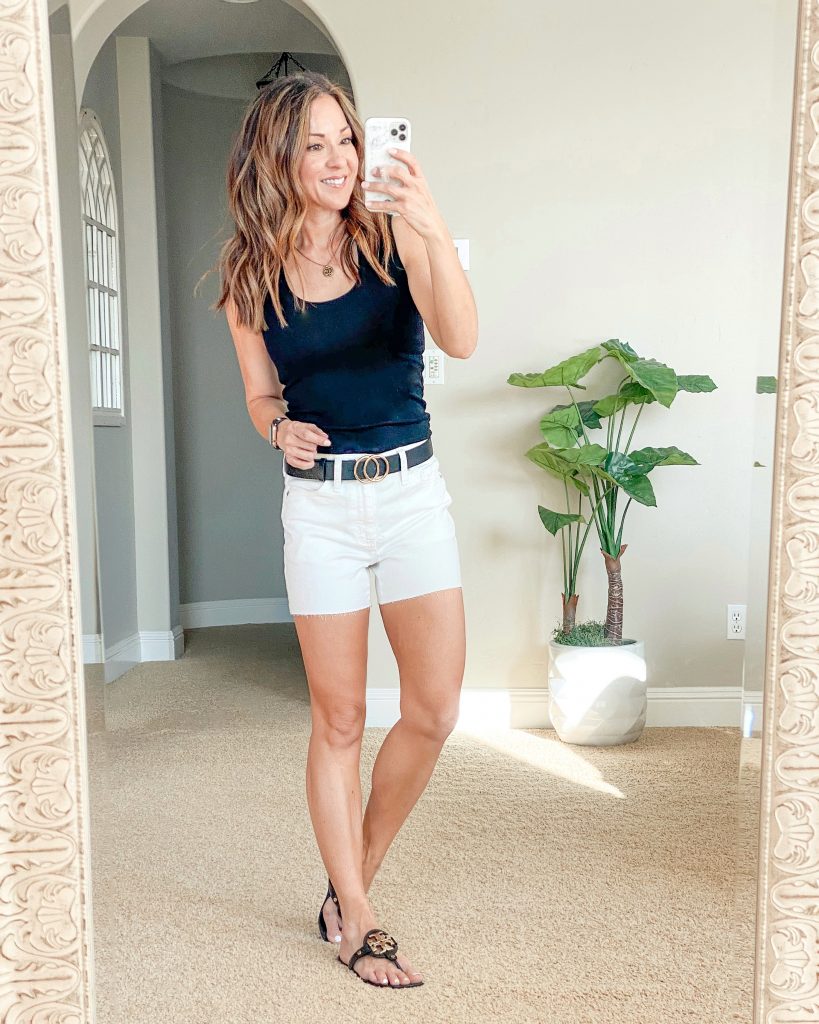 Tank // shorts // belt // shoes
Choose Happy Tank & Fun Summer Platforms
How exciting is to see my favorite Target Choose Happy sweatshirt made into a tank for summer! It's lightweight and perfect for summer. I am wearing an XS.
The summer platforms scream summer and they are BOGO 50% off! The straps have stretch and they feel very secure when wearing. Runs TTS.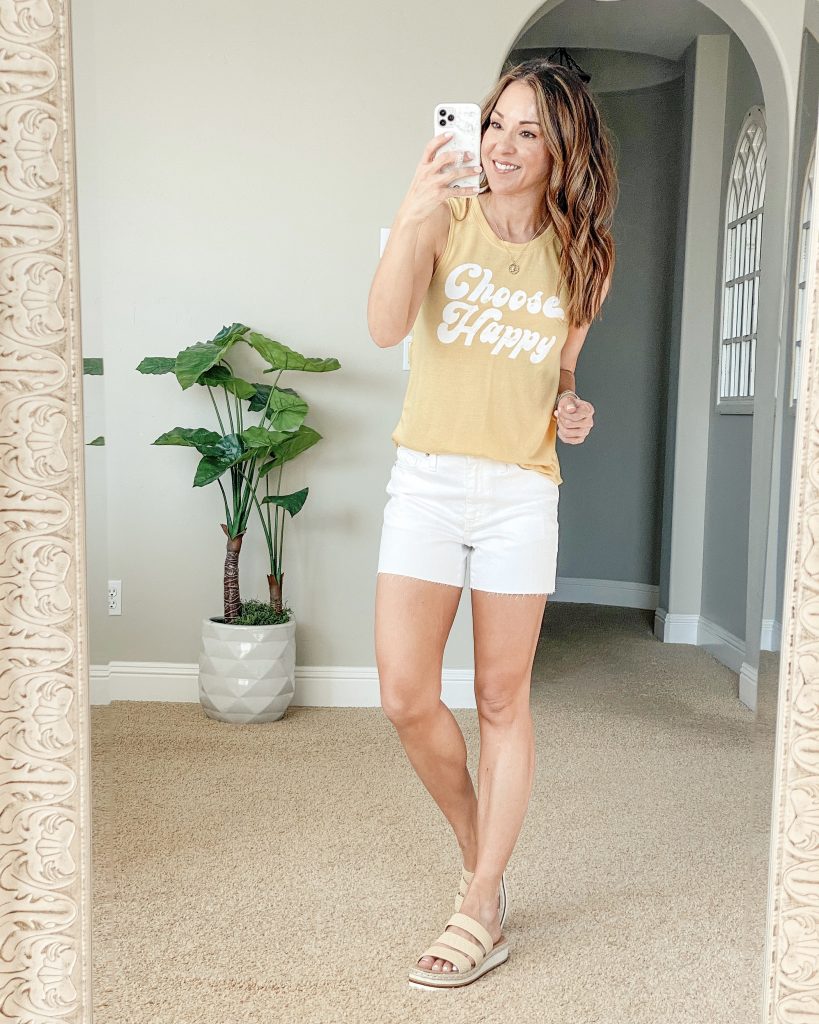 Tank // shorts // belt // shoes
Leopard Tank & Espadrille Mules
This cute leopard tank is under $10 and it is so good! Perfect to throw on with shorts, skirts, and pants to make a quick and easy outfit. You can wear a normal bra and it runs TTS. I am wearing an xs.
If you need a pair of neutral summer shoes these will work well. Neutral shoes are great for elongating your legs, which is a must if you are petite like me!
These mules are good for the price, especially with the BOGO 50% off sale. They are of decent quality. They run a little small – size up a 1/2 size.
Summer Dress
All dresses are 20% off right now! So, this dress is only $16 right now! It's a really cute dress that comes in several colors. It runs a little small. I am wearing a small and the fit & length are great! It makes for an easy outfit!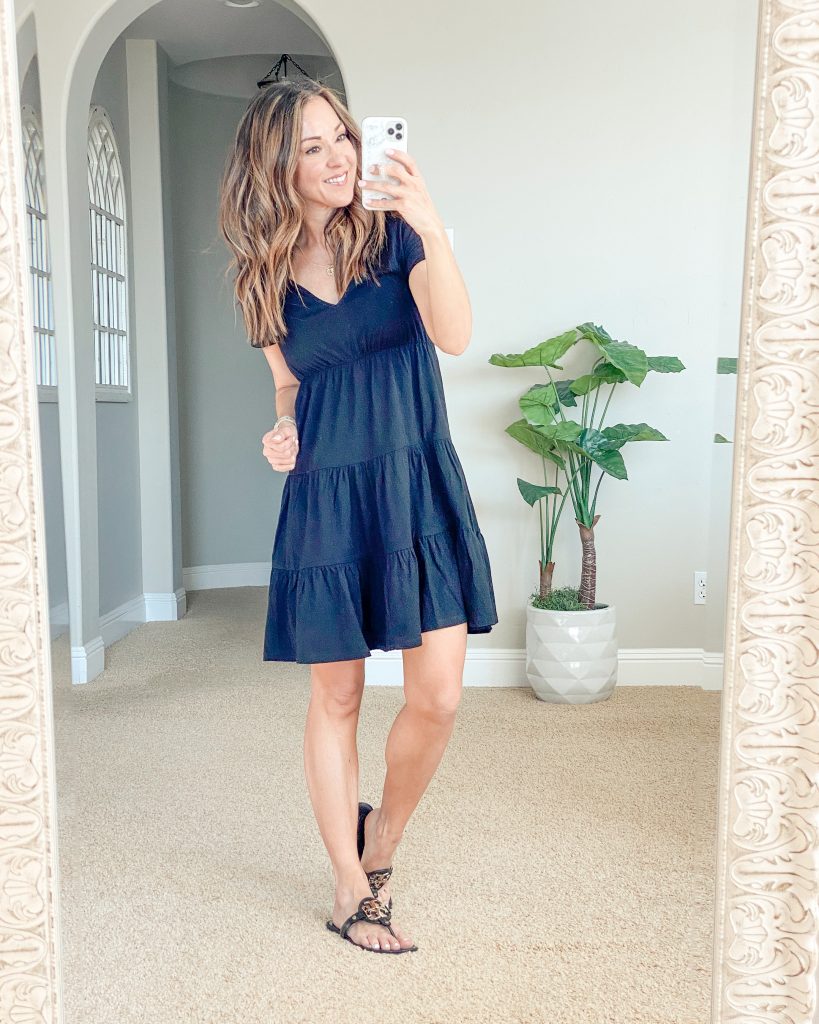 Lounge Romper
Okay, I have to tell you – I am so in love with this romper! It has pockets, a working drawstring, and adjustable shoulder straps. I wish you could feel it – It's so comfy! You will want to wear this all summer long! It runs TTS. I am wearing an xs.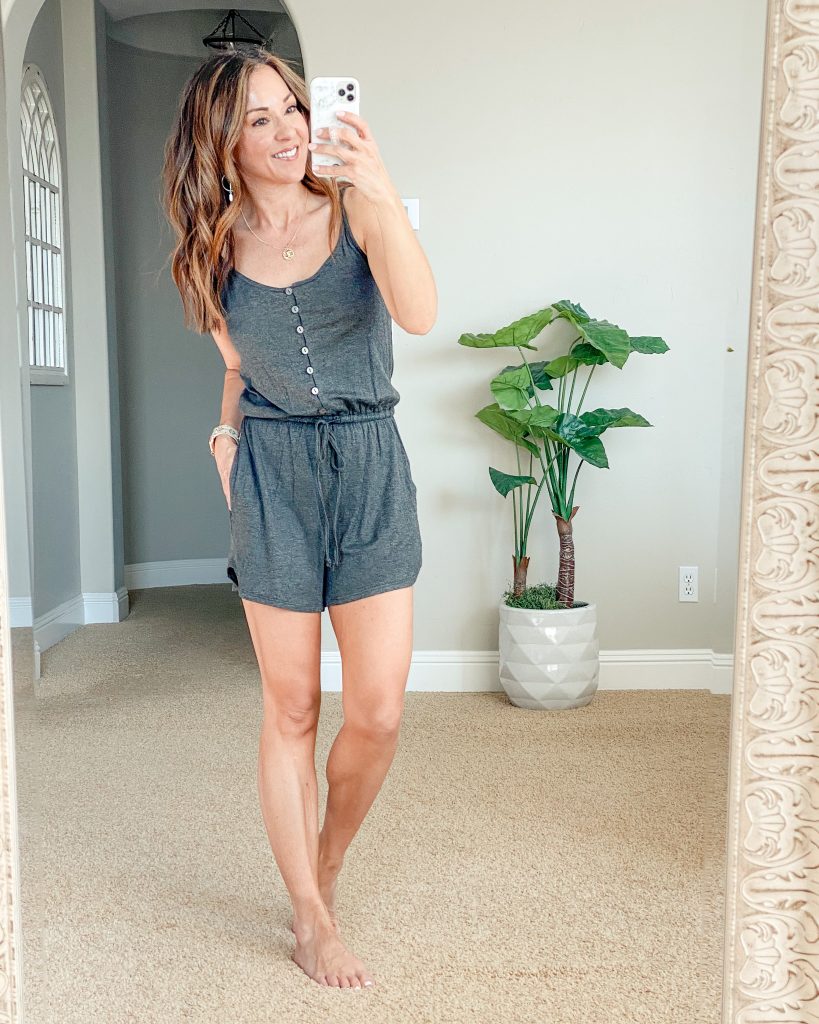 BOGO get one 50% off Shoes!
Yes, all shoes for your whole family are BOGO get one 50% off right now! Here are my faves!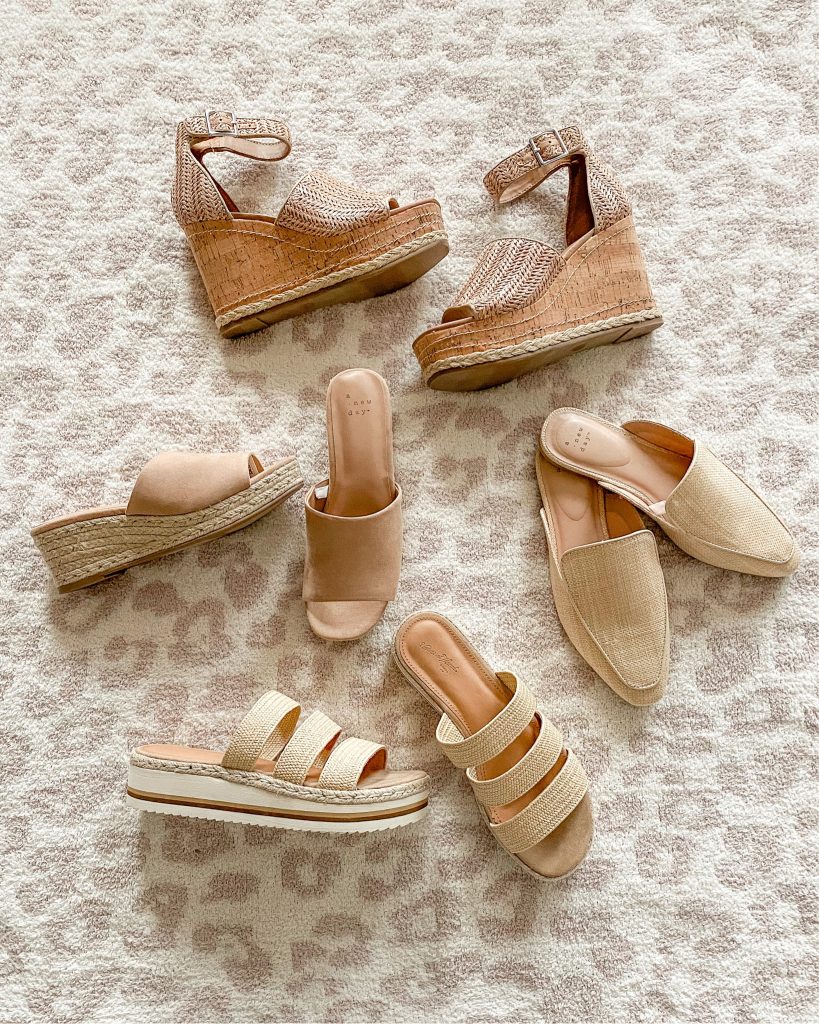 Wedges // Mules // Loafers // platforms
20% Off All Bags!
These are my top picks for fun summer bags!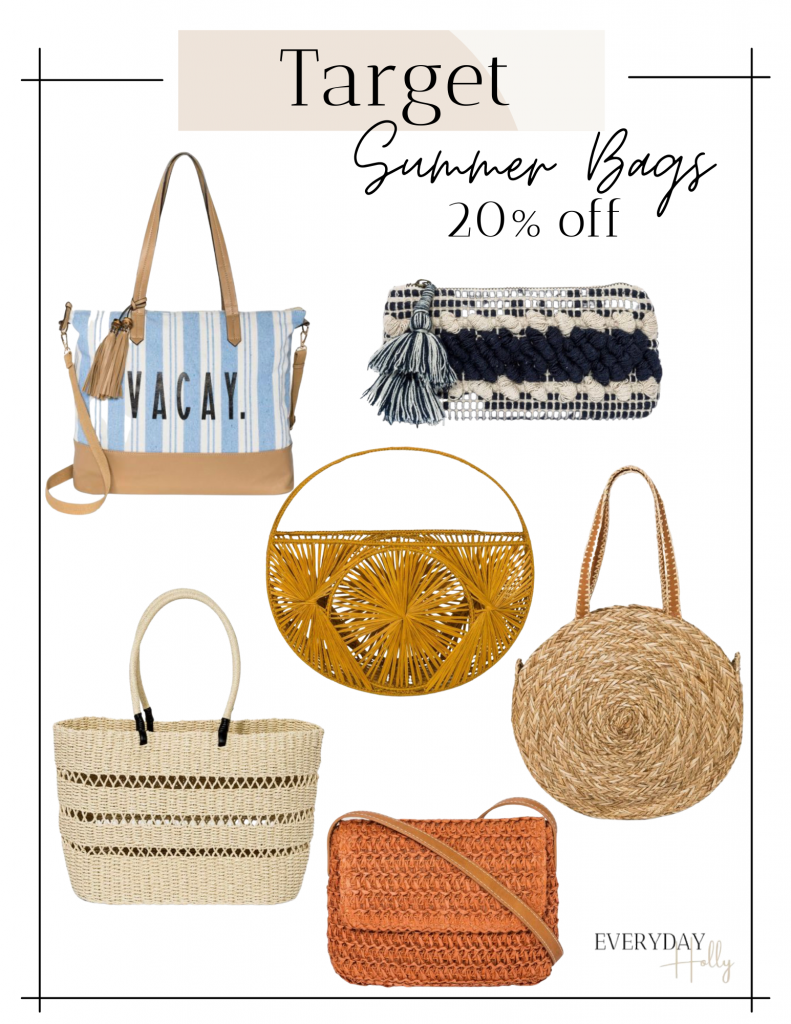 Shop these bags // Shop all Target bags
If you would love to see more of my Target favorites, make sure to check out my "9 Target Pieces you Need for Spring & Summer" blog post!
Have a fabulous weekend friends!