Updated Over 40 Anti-aging Skincare Routine
I have changed things up quite a bit with my skincare routine and I couldn't be happier with the results! So, I am happy to share my updated anti-aging, mature skincare routine with you!
First, you need to know about my skin. I am 46, so that means I came from the generation of no sunscreen as a teen/20 something. I cringe at the memories of me slathering my skin in baby oil, baking in the sun and hopping in tanning beds several times a week – yes, I splurged on the monthly membership plan! Ughhh… if I only knew then what I know now.
My skin is sun-damaged, clearly (read above) as well as oily in the t-zone! My skin used to be oilier, but my new products keep that toned down. So, keep this in mind as you read through my routines and see what products I am using. Most are for all skin types, though.
*this post is not sponsored in any way. These are my true and honest opinions. This post contains affiliate links. Thank you for using my links, it allows me to continue to do what I love – share what I love with you.
Morning Routine

Steps:
This is the exact order I apply these products. I apply the serums in order of ph level maximize the benefits.
Nighttime Routine

Steps:
Organization
I love my new organizer that I got off of Amazon. It's an amazing deal plus free one-day shipping! And at the time of this post, you can save an additional 6% off. It has adjustable shelves and is great if you don't have a lot of space or if you just want to be able to see all of your products. Click here to get this one!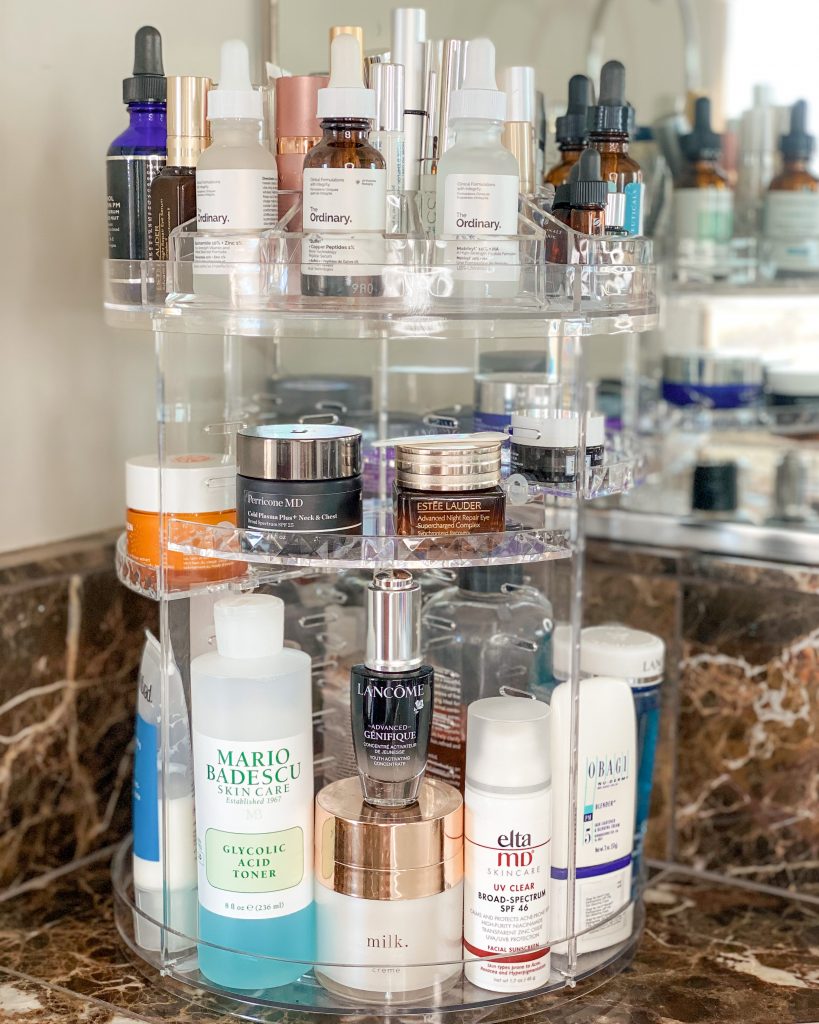 There you have it! That is my updated anti-aging skincare routine!
If are interested in my favorite skincare tools, I will be making a post about those soon. Until then you can see what they are in my Sephora Favorites Blog Post.
.
I am always trying new products and these are the best that I have found to date!