Abercrombie Denim Shorts & Bodysuits – How to choose the right length
I don't know about you, but trying to buy shorts online can a little overwhelming! All the sizing options – short, long, petite, regular, curvy, boyfriend, mom, mid-rise, high-rise, 3″, 3.5″, 4″ and then you add the different washes and distressing or no distressing – all these options make my head spin and just give up! And, then you have bodysuits with are trending again this year, which can be a tough fit, too! Not everyone has the same torso length after all.
Well, that's where I come in! I am here to hopefully help you narrow it down a little. For reference, I am 5'1″ and typically a size 0 or 25 in bottoms and xs in tops and I do have a longer torso for my height.
If you would like to see the Tryon of all of these, please head to my Instagram stories!
For reference, I am 5'1″ and typically a size 0 or 25 in bottoms and xs in tops and I do have a longer torso for my height.
* This post contains affiliate links however all thoughts and opinions are my own. Using my links does not cost you any more to use and I get paid a small commission, which allows me to continue to do what I do. Thank you!
Let's Compare
Mom Shorts Curve Love High-Rise Regular vs 4″
For this try-on, I chose to focus on Mom Shorts in high-rise (the most popular rise right now) and the Curve Love line (gives you more room in the hip and thigh).
Both of these shorts are the Mom shorts from the Curve Love line in size 25. The pair on top is regular and the bottom pair is the 4″ version.
Comparing the XS and Small Seamless Crewneck Tank Bodysuits
I have a longer torso, so I always have to order 2 sizes in bodysuits and one-piece swimsuits to test them out. By the looks of it, there is not that much difference between the two sizes. I ended up keeping the XS in this style, so I would say it runs TTS and go with your normal size in tops.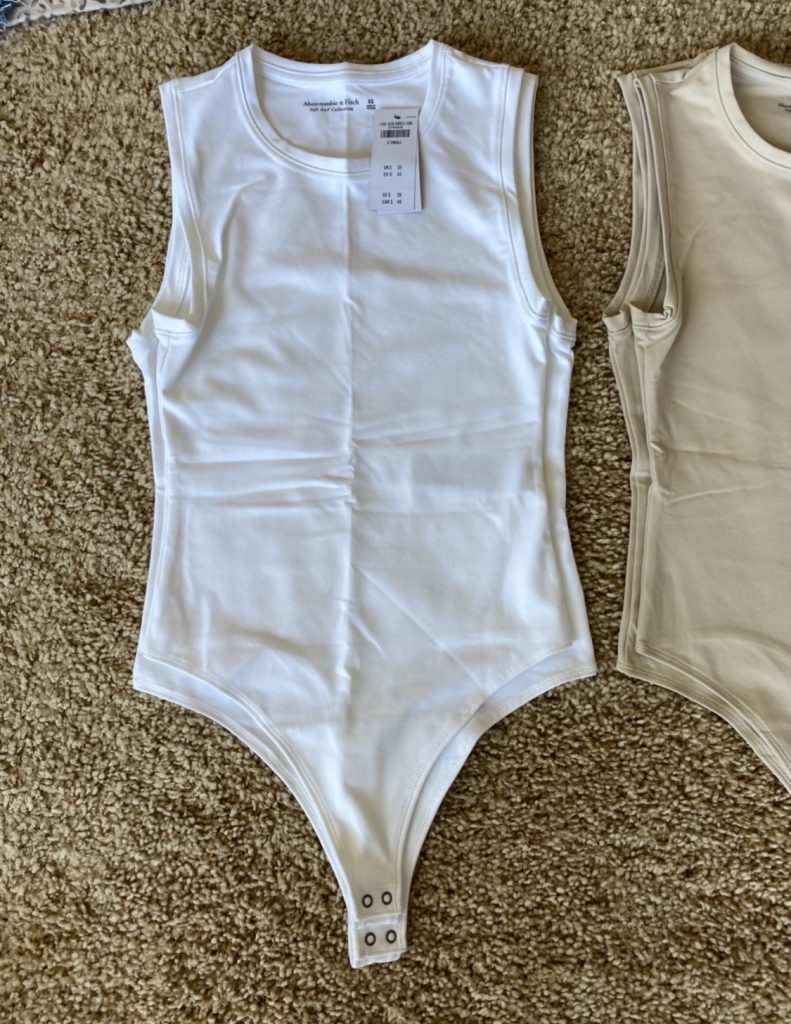 Let's take a look at the shorts side-by-side
These are all Mom Shorts High-rise Curve Love shorts. The two on the left are the regular length and the two on the right are the 4″. If you would like to see the Tryon, head to my Instagram highlights.
Fit – these all run TTS. The leg opening is not tight and not too wide, it's just right.
Thoughts – I feel that if you are petite like me (5'1″) then I feel the regular length is a more flattering fit. If you are taller (5'4″ and up) then the longer length would work for you.
Regular length option // 4″ option // Bodysuit
The Bodysuit
I love this bodysuit!
It feels amazing
it's well-made
it holds everything in & smooths everything
you can wear a regular bra with it
runs TTS – go with your normal top size
Thong style with snaps
Perfect on it's own or for layering
Bodysuit // mom shorts // sandals // bag // bracelet // watchband (save 10% code EVERYDAYHOLLY) // Gucci upcyled necklace (save 10% code DT10HOLLY)
Puff-Sleeve Hoodie – on sale!
LOVE!!! I tried this sweatshirt on in the store and it was instant love! Did I need another sweatshirt? NO! But, this one is so cozy and I love the fun sleeves and cropped fit for summer. It's on sale and comes in several colors! It runs tts, but I sized up to a small for an oversized fit. It's the perfect summer sweatshirt for cool mornings and evenings.
Hoodie // Mom Shorts // Sandals
Scuba Sweater Dress
First, this dress is way to short for me! I ordered the small petite and I am going to try the XS regular and I am hoping it will be the perfect fit. This dress is well made and flattering. It is the perfect dress for so many occasions! It will make a fabulous addition to your closet!
Scuba dress // Heels
Outfit Inspo
I hope this post was helpful for you to pick out the perfect pair of mom shorts and bodysuit!
If you are looking for more affordable shorts, I love the Target shorts this year! Check out this blog post to see which ones I love!