7 Must-Have Affordable Amazon Fall Fashion Pieces You Need!
Finding Amazon winners is tougher than you think! It's a lot of trial and error. I am here for you! My goal is to share the winners with you and I am so excited that I found some winners!
If you would like to see the try-on, head to my Instagram highlight "Amazon Fall Tryon" on my IG Everyday.holly.
*This post is not sponsored or affiliated with Amazon or any retailer shared in this post- all thoughts and opinions are my own, honest, and true. This post contains affiliate links that don't cost you any more to use. Thank you for using my links as it allows me to continue to share with you.
FIRST, The Non-Amazon Items
The Denim
The denim that I am wearing in this post are amazing! They are high-waisted and have a raw-edge hem. They run tts. I usually get the short length from this retailer, but I loved the length of the 2 reg, since these are cropped and I wanted a pair that would look great with booties. At the time of this post they are on sale for under $30. These are perfection!
The Booties
The perfect fall booties! I got these at the NSale, but I am going to link up several others from affordable to higher-end for you to choose from. Keep in mind, that I have not tried them all so cant attest to their quality or comfort.
The Bag
This bag was on my wishlist forever! I finally got it last year for Christmas. It's amazing and a favorite! It holds a lot and goes with everything! It's the perfect neutral bag and worth the splurge. I will link this one and a few affordable others.
Sweaters & Cardigans
I am not even going to lie! I was disappointed when I pulled this cardigan out of the bag. The orange was not even close to what Amazon showed on their site. I even filmed a try-on sharing my disappointment with you and asking if I should keep it, because I loved everything else about the cardigan.
Spoiler alert, I love it! I am keeping it! It's so cozy and soft! And, I love the pop of color! It run tts and comes in several color options. I love it so much it's what I chose to photograph for my feed picture!
The belt comes in a two-pack and so worth the price! Only $15.99 for 2 belts! They come in several combo options including leopard! I chose the camel and black color in size small.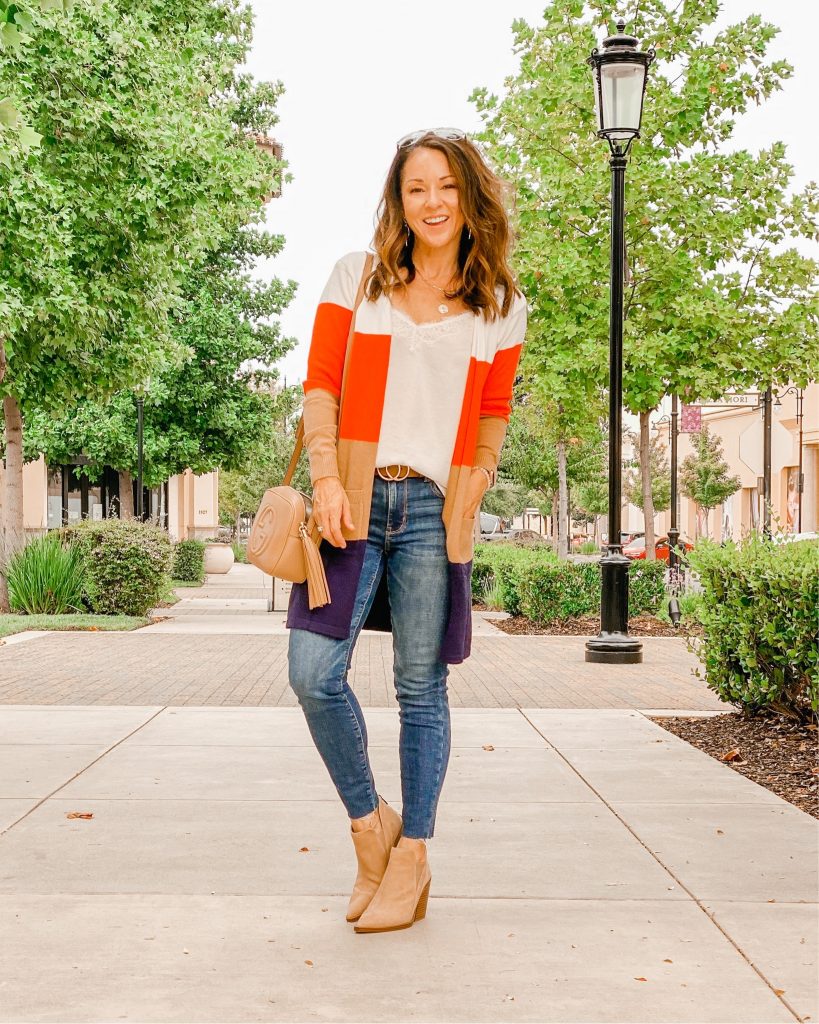 This sweater… once again, I was a little concerned when I pulled this one out of the bag! Lol! It looked huge! But, I tried it on anyway and it's so comfy! Do not size up on this one! It looks and great on with a front tuck. It's great for wearing with denim and leggings. You can even wear it belted! I am wearing a small.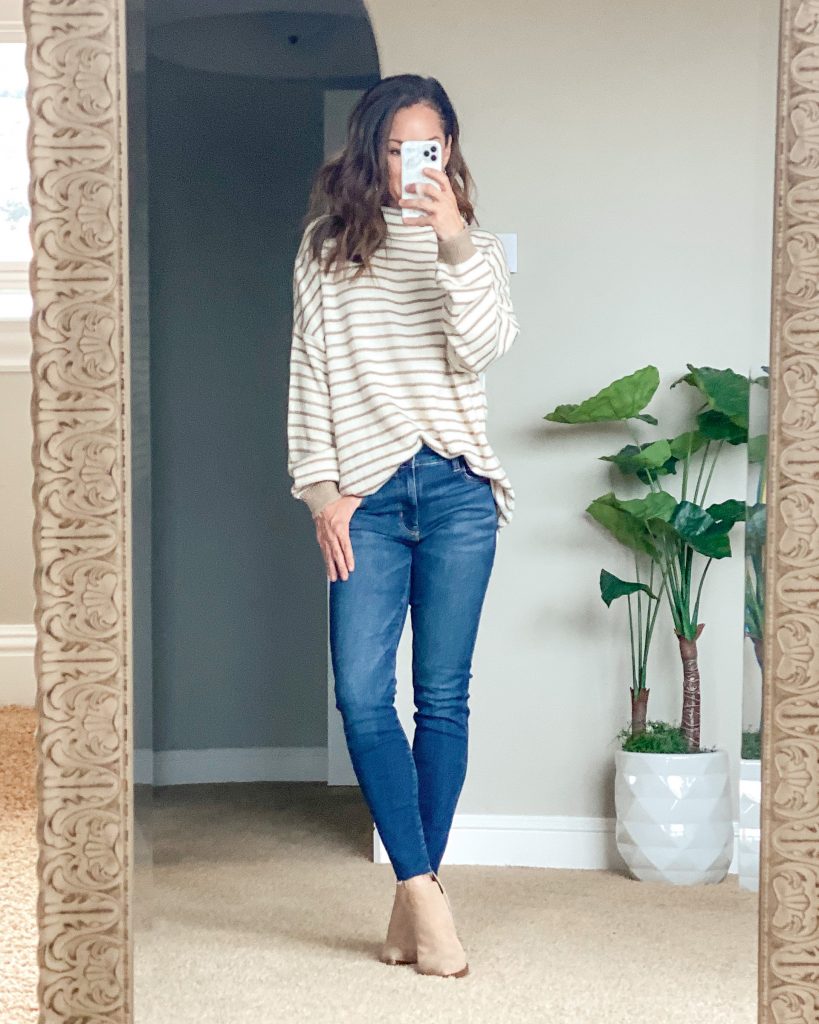 This brick colored sweater looks and feels great! It's super flattering and the details are so pretty and classic! It runs tts. If you want an oversized look like the Amazon picture, size up. I am wearing a small.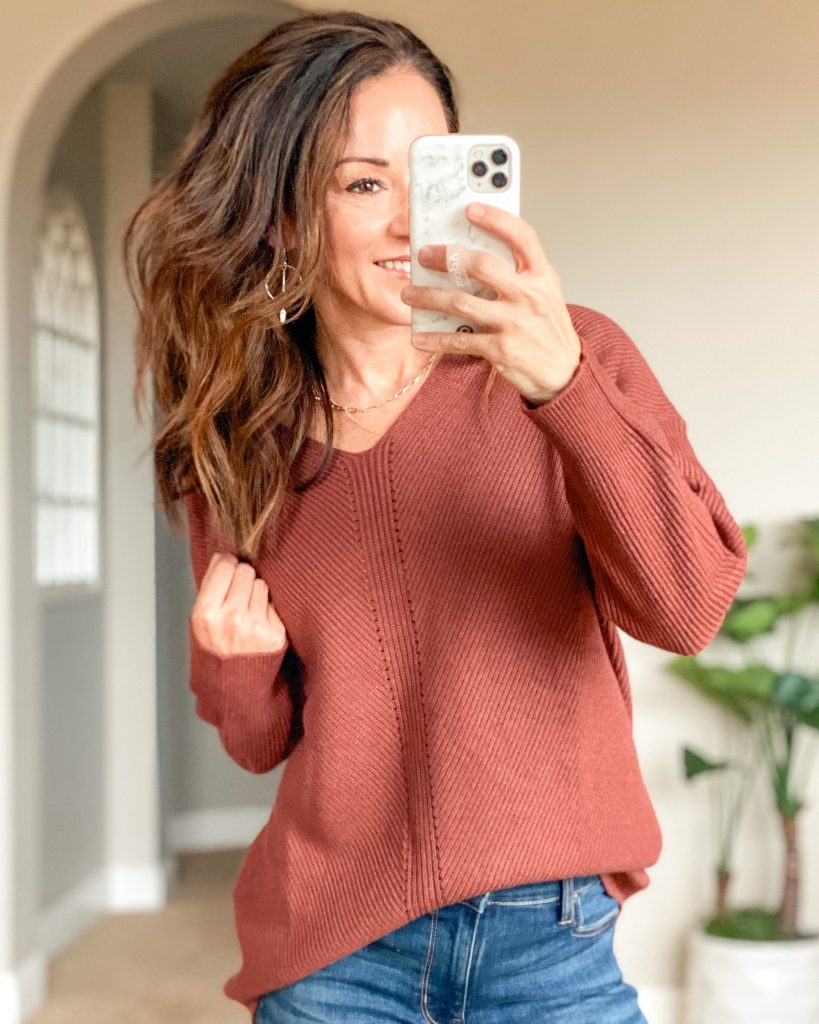 Casual Tops
This is a great long-sleeve v-neck basic. It's comes in a ton of colors! It fits great and runs tts. It's long enough to cover your bum with leggings.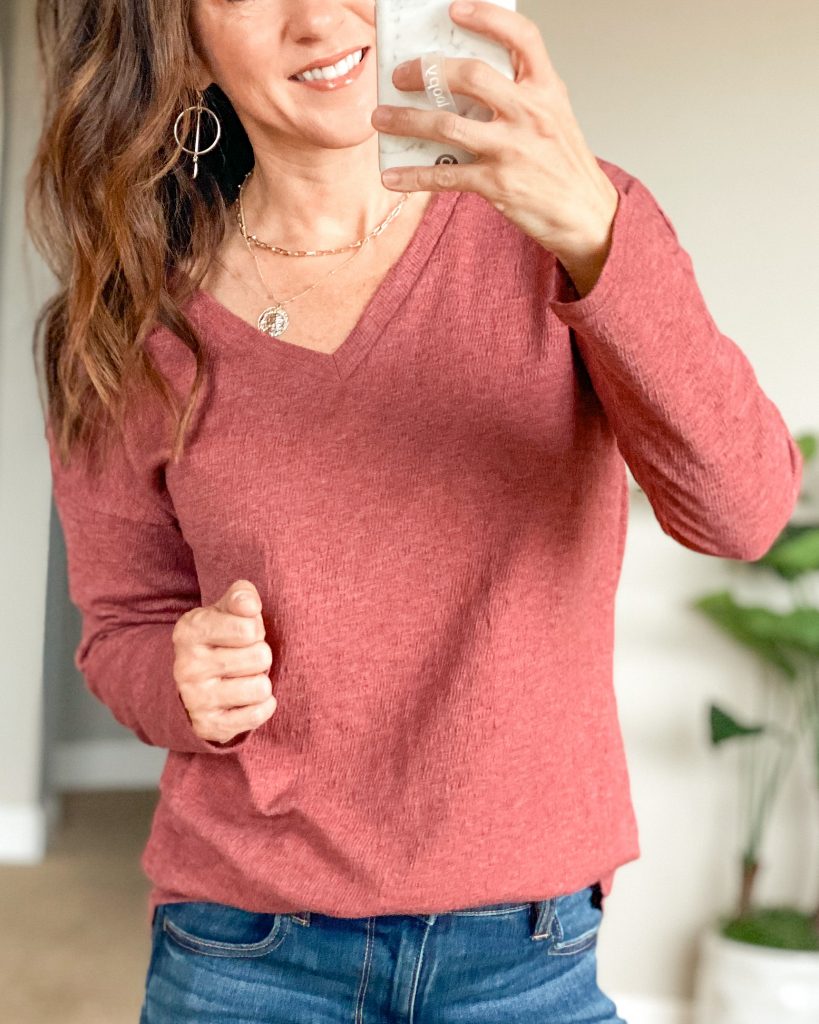 How cute is this Mama Bear top!? And, it has pockets! It's perfect to pair leggings, joggers, or denim. It comes in few colors and runs tts.
The leggings are affordable and super comfy! They come in crop and long length. The wedge sneakers are perfect to give you little height.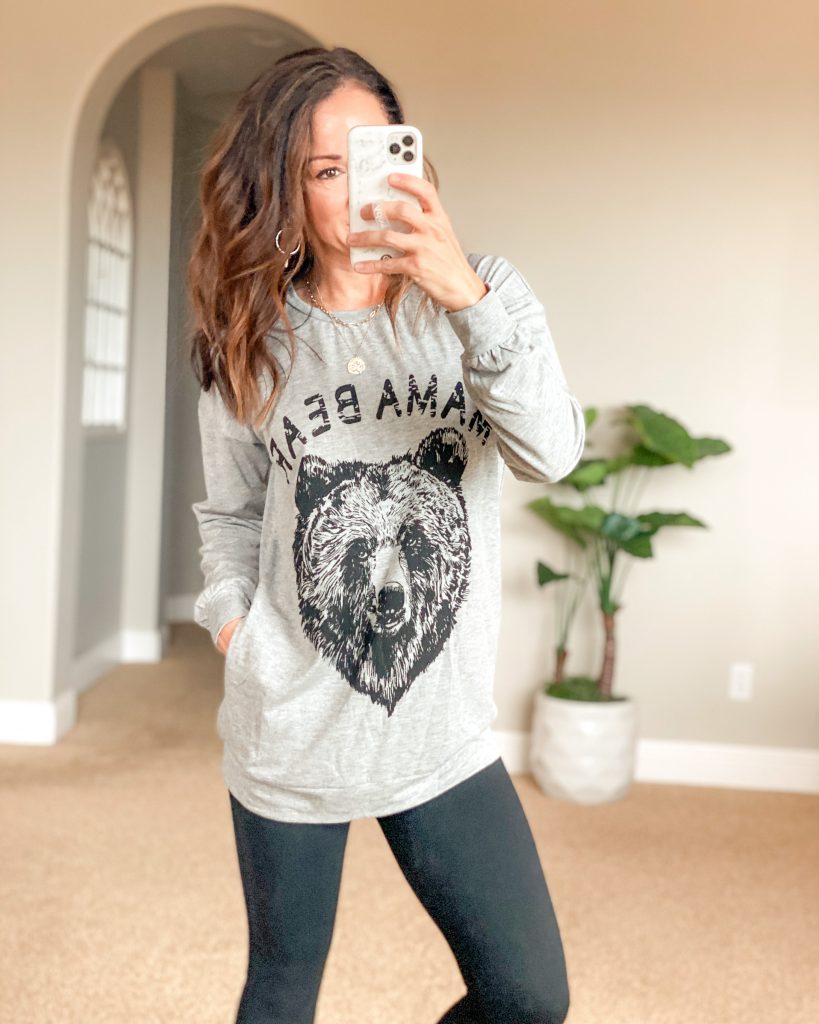 If you love leopard and casual style, this is a good one! It's a lighter weight hooded sweatshirt that runs tts (wearing the small). Make sure to check out the pink option, too! So cute!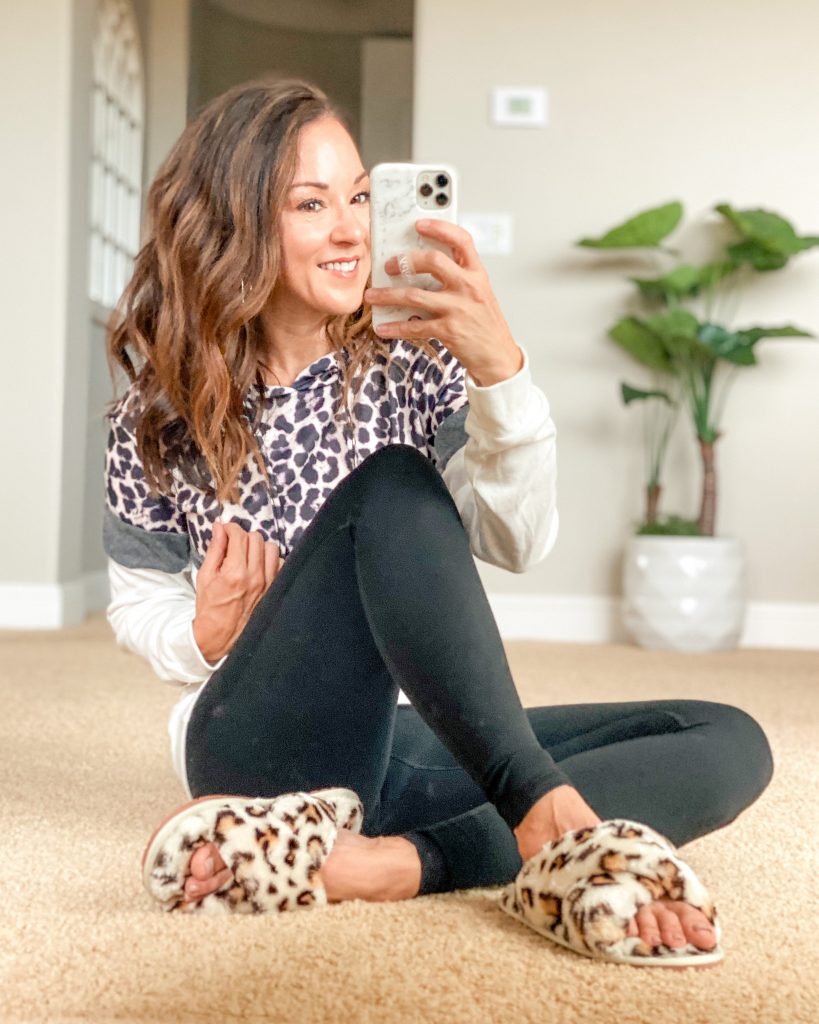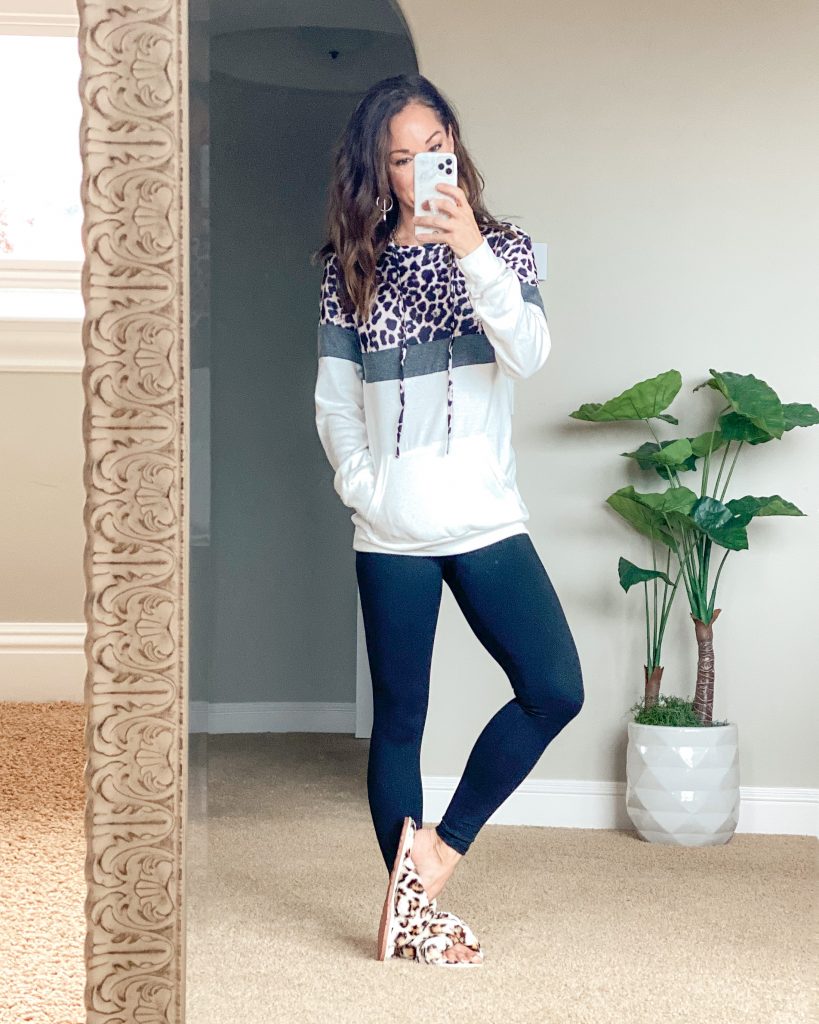 Cozy slippers are life! These are so comfy! They have padding and hard soles, so you can wear them outside if you want. These would make the best gift, too! They come in lots of pattern and solid options.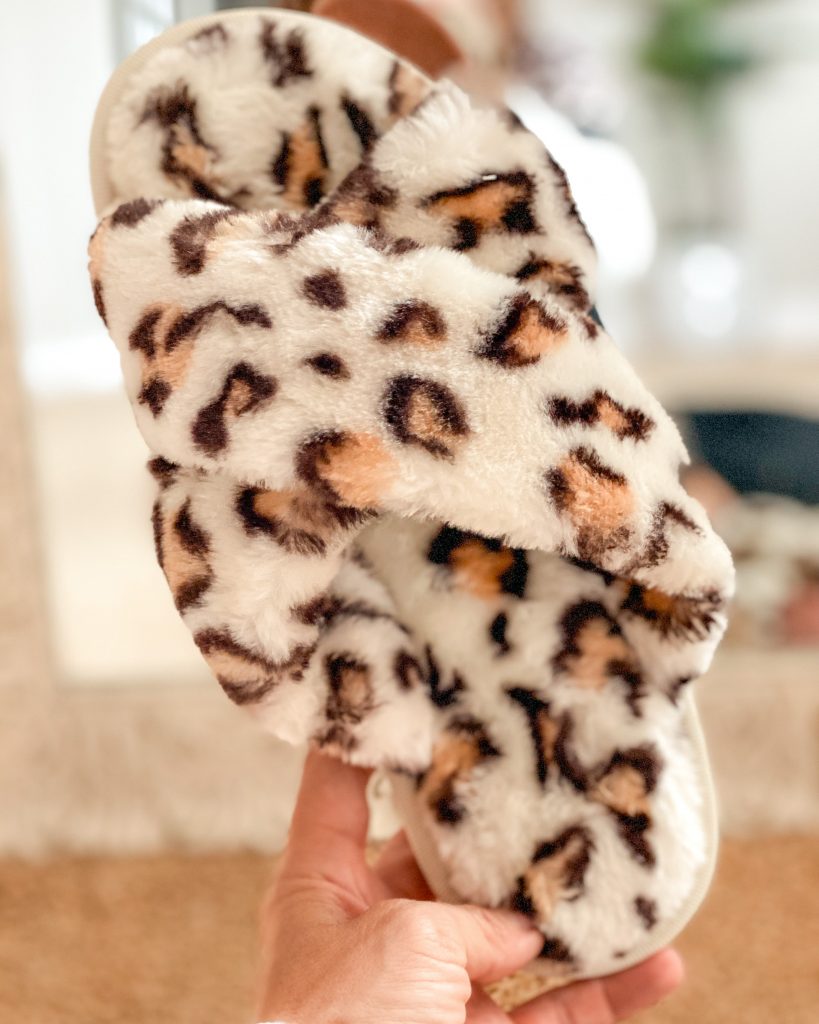 That it! Well, until my next Amazon order comes in! lol!
Let me know what you would like to see next time!