The Best Mature Skincare Products – What I Use Everyday
If you have mature skin and are looking for the best mature skincare products, listen up! This blog post is for you!
SALE ALERT –
5/25 – 5/30: Memorial Day Savings 
Save $25 Off Your Purchase of $100+ with CODE: HONOR25 Save $50 Off Your Purchase of $200+ with CODE: HONOR50
This post contains affiliate links however all thoughts and opinions are my own. Using my links does not cost you any more to use and I get paid a small commission, which allows me to continue to do what I do. Thank you!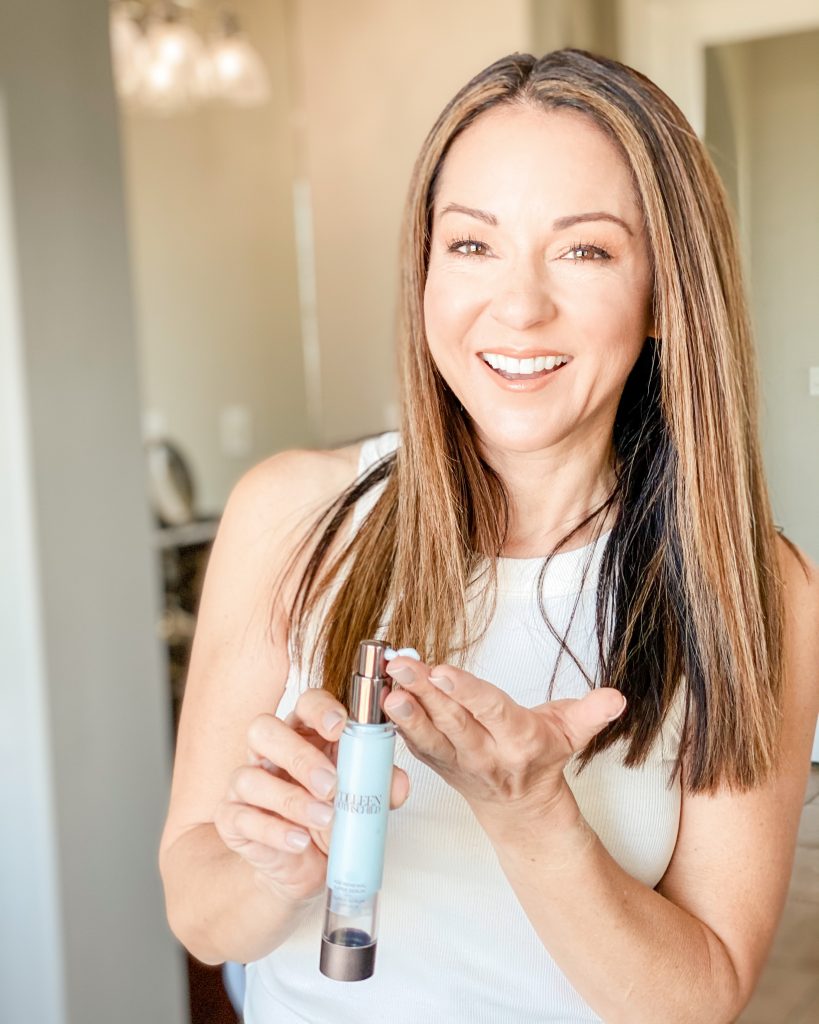 Colleen Rothschild skincare started to come up from friends that I follow on The Gram and I was intrigued. I was a little skeptical at first, so I just kept watching, listening, and looking into it. Several times, I even added some products to my cart after watching their Instagram stories but I didn't pull the trigger.
Here's why ~ I am pretty darn picky about my skincare! We only have one face and there are do-overs!
My skin
My skin has a lot of premature aging thanks to my teen/young adult years when I couldn't get enough sunshine (baby oil and banana chairs) and tanning bed sessions – yikes, so much sun damage! So, now I need the best of the best! Couple that with working for Estee' Lauder where I learned a lot about skincare and then onto other makeup lines where I learned even more.
As I got older and more lines and wrinkles started to surface, I moved onto the big guns at the dermatologist's office where I learned even more. Plus, I have done plenty of research, so I am sure you can see why I was reluctant to pull the trigger.
However, after delving more into Colleen Rothschild's company and products and I knew I wanted to try them. So, I started with the Discovery Collection , Exploration Collection, & the Glycolic Acid Peel Pads and I was impressed immediately!
I am a sucker for packaging and WOW – Colleen Rothschild's packaging is perfection! I know, I know… good skincare has nothing to do with packaging, but I just like to point it out – it's the marketing major in me! The packaging is amazing, but the skincare is even better…
The Best Way to Try it…
The Discovery Collection
I love the Discovery Collection is a $150 value for only $95 and right now it's 25% off code FAM25.
This collection has the Radiant Cleansing Balm & Muslin Cloth and let me start by saying that this is the only cleansing balm that I have ever loved. It didn't even come close to liking any of the others I tried and I LOVE this one! Previously, I only liked gel cleansers and now I look forward to using this every night. The Radiant Cleansing Balm takes it ALL off – eye makeup, mascara & makeup at once! This saves me the step of needing to take off my eye makeup with an eye makeup remover. WIN! Plus, I always used to do a double-wash my face and with this CR cleansing balm, I don't need to! Double win!
This also includes the Extreme Recovery Cream & Face Oil #9. I use a pea size of the Extreme Recovery Cream and one pump of the Face Oil #9 mixed together a few nights a week and after skincare procedures like PICO laser & Microneedling. On the other nights, I use the Sheer Renewal Cream (comes in the Exploration Collection).
You will also love that this collection also includes the Dual Enzyme Polish & Clarifying Detox Mask both are amazing and I use them each a few times a week right after cleansing and toning.
The Exploration Collection
Another must try is the Exploration Collection is a $100 value for only $65 and 25% right now code FAM25.
This collection is another must-have! It includes the Balancing Gel Cleanser which I use in the morning the Matcha Tea Toner with I use in the AM & PM. Also included is the Sheer Renewal Cream which I use AM & PM (a little goes a long way).
Plus, it also includes the Intense Hydrating Mask & Micro Mineral Resurfacing Scrub which I use weekly. Both are amazing and great treatments for skin!
This collection also includes a soft head wrap to keep your hair out of your face.
My Favorite Colleen Rothschild Products
Click here to shop all of my Colleen Rothschild favorites. I use all of these! Honestly, I can't live without any of these!!!
I will be making a blog post of my AM & PM skincare routines soon! Make sure to subscribe if you are not already!