All Time Favorite Must Have Undergarments for Every Occasion
I want to share with each of you my favorite undergarments of ALL time and a few that I have had my eye on lately. With every season comes a new occasion to get ready for. Whether you are a wedding guest, going to the farmer's market or spending your day running errands – you deserve to feel comfortable and fully supported in whatever style you choose! Over the years, after much trial and error, I have found my favorites and am happy to be able share them with you all. Most all of these I own and love, but there are a few that I don't personally own BUT they were requested items and do come highly recommended. Don't worry, you can thank me later!
CLICK HERE to see what some of the most loved items were this summer!
**This post contains affiliate links, all opinions are my own. Thank you for supporting me!**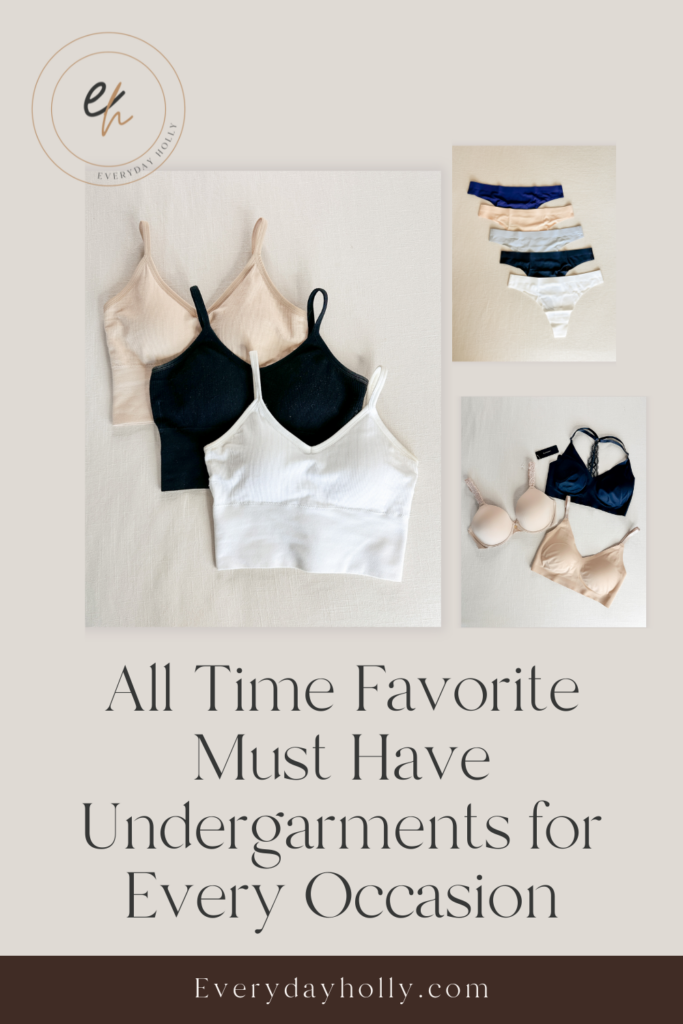 A SPANX reversible comfort bra AND a SPANX seamless thong?! Name a better combo, I don't think you can. Both are insanely comfortable! Save 10% plus FREE shipping and returns at SPANX with code: HOLLYFXSPANX
Shop more great undergarment must haves below!
As I love to share my latest finds with you–be sure to visit my Amazon Storefront and my LTK where I share daily deals, fashion finds, home items, beauty staples, and more.
Bra's For Every Occasion
I own all of these and I love them. All are needed, because they all serve a different purpose. Read more about them as you scroll below!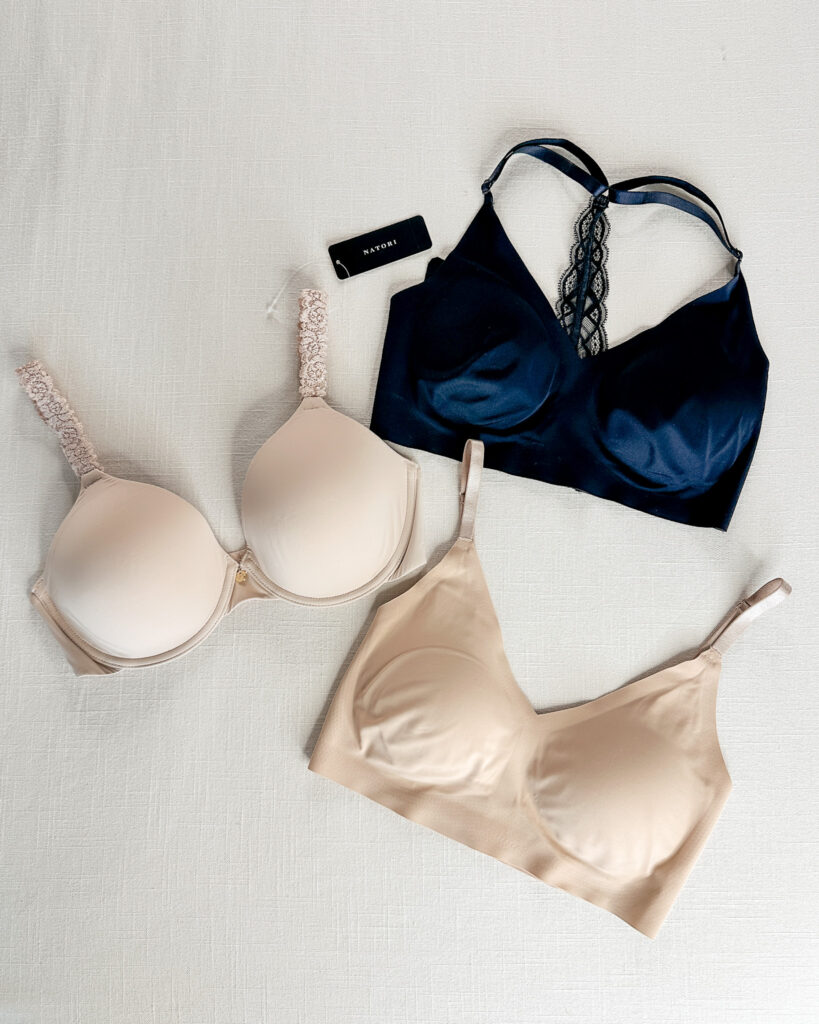 Luxe Contour Bra | Racerback Bralette | Rib Knit Tank Top | Bralette | Longline Sports Bra | Nipple Covers (black case) | Nipple Covers (red case) | Backless Strapless Bra | Strapless Bra (Large Chest Approved) | Strapless Bra

Shop My Favorite Undergarments | Available on Amazon
An item that is near and dear to my heart, LITERALLY! Starting off strong with the best bras available on Amazon that are suitable for any chest size! Confidence and comfort go hand in hand in this department. Show off your favorite low-cut and backless items without worrying about pesky straps. Bras are something us gals utilize almost daily, and it's time to refresh the collection in your closet!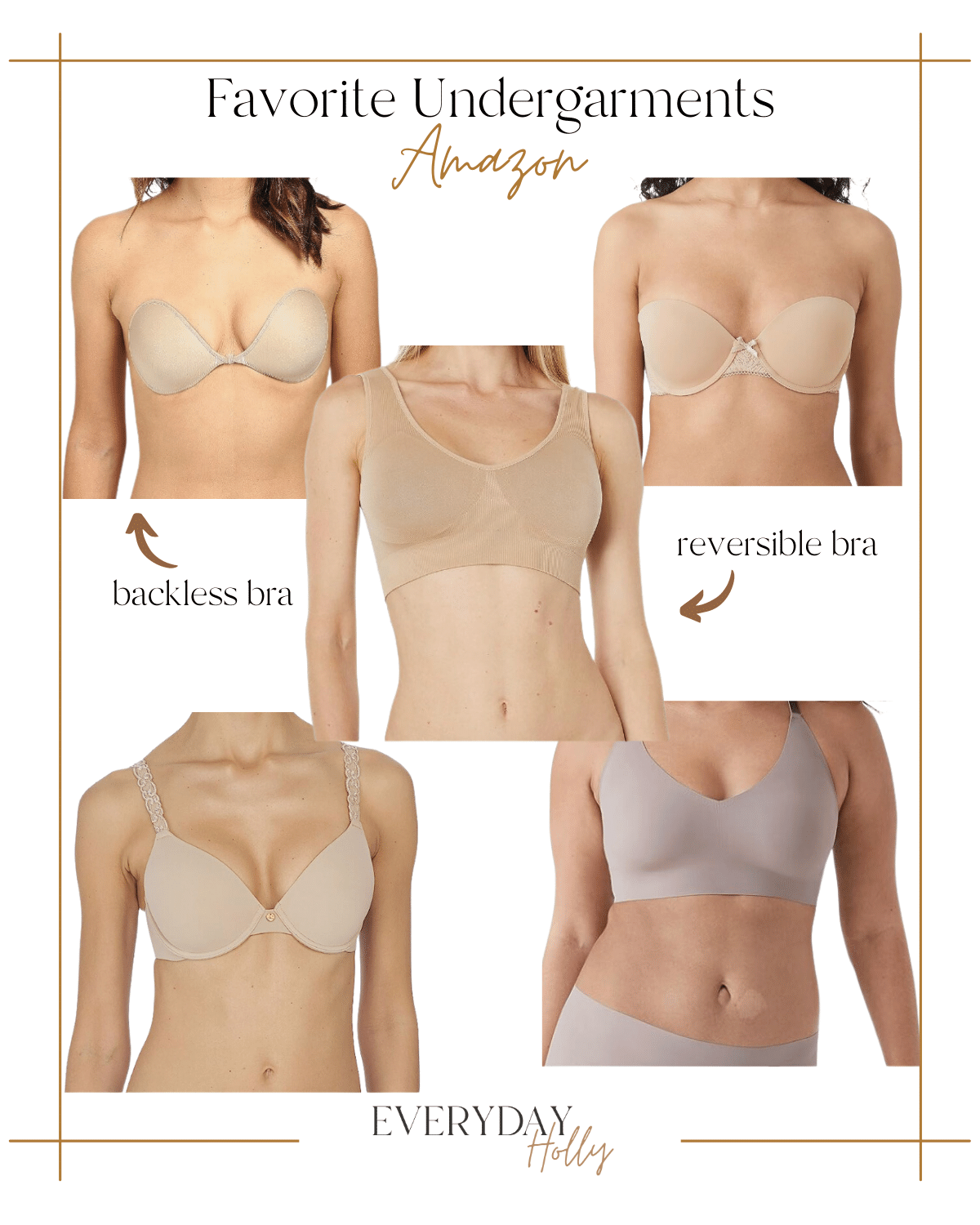 Backless Strapless Bra | Reversible Bra | Strapless Bra | Luxe Contour Bra | Racerback Bralette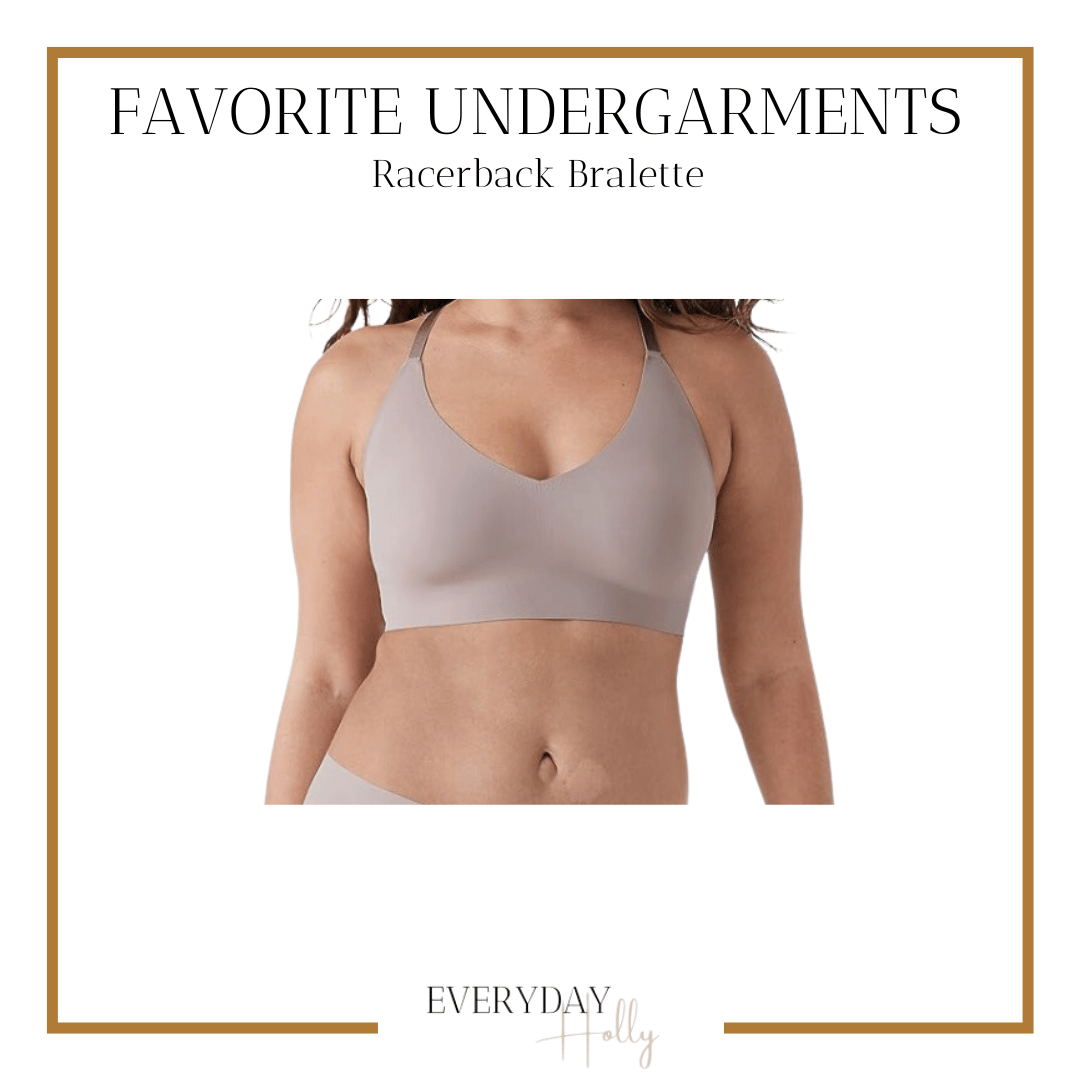 I love this racerback bralette, its microfiber material feels silky smooth against my skin! This bra is suitable for any chest size thanks to the adjustable straps. Make sure to click the link, so that you can see the gorgeous lace back!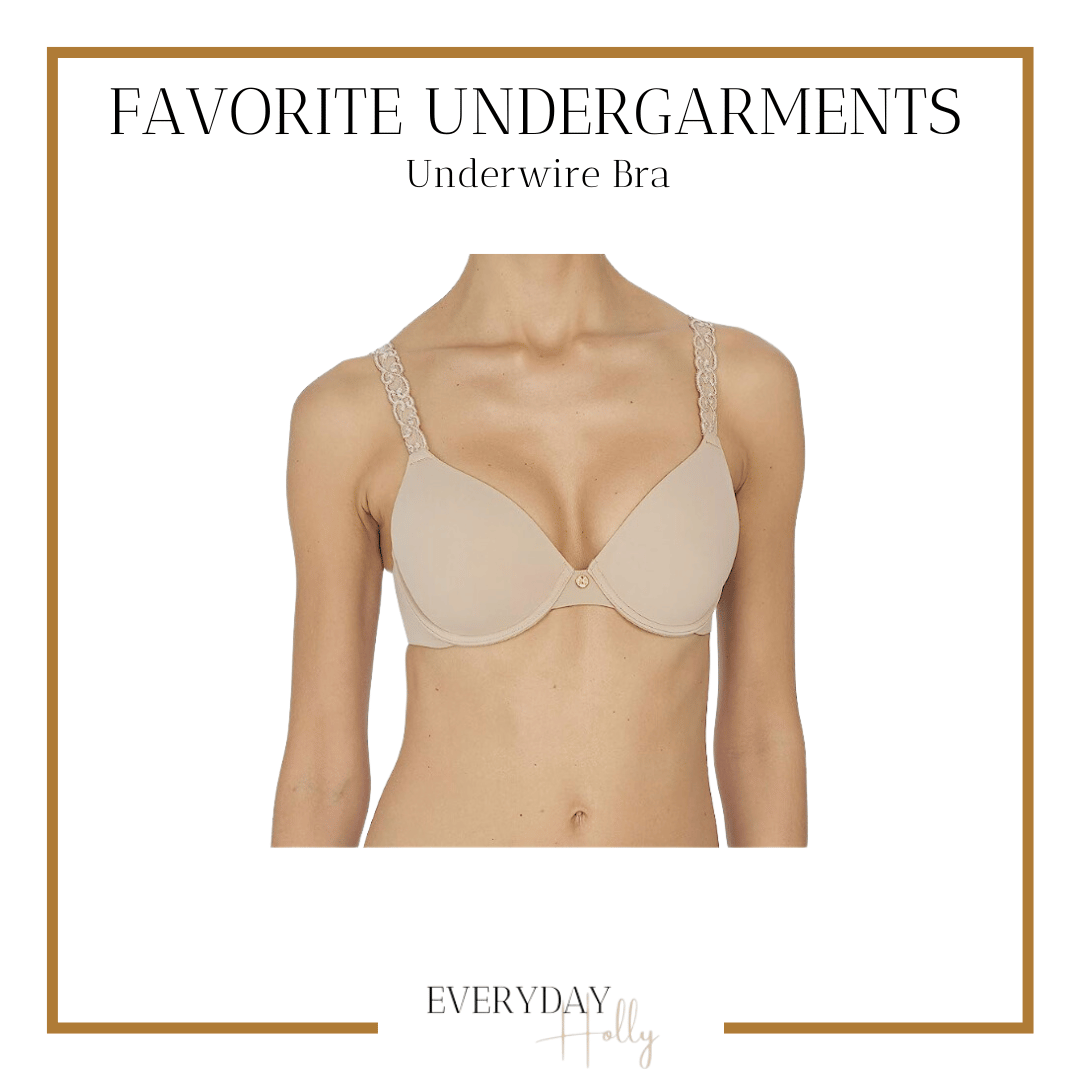 I call this next bra PERFECTION! This is the ONLY underwire bra that I have worn for that past 5 years. It doesn't show under your t-shirts and the rose straps are beautiful. Nude is classic, but it comes in numerous color options. I believe this is a must have basic that every woman should have in her closet!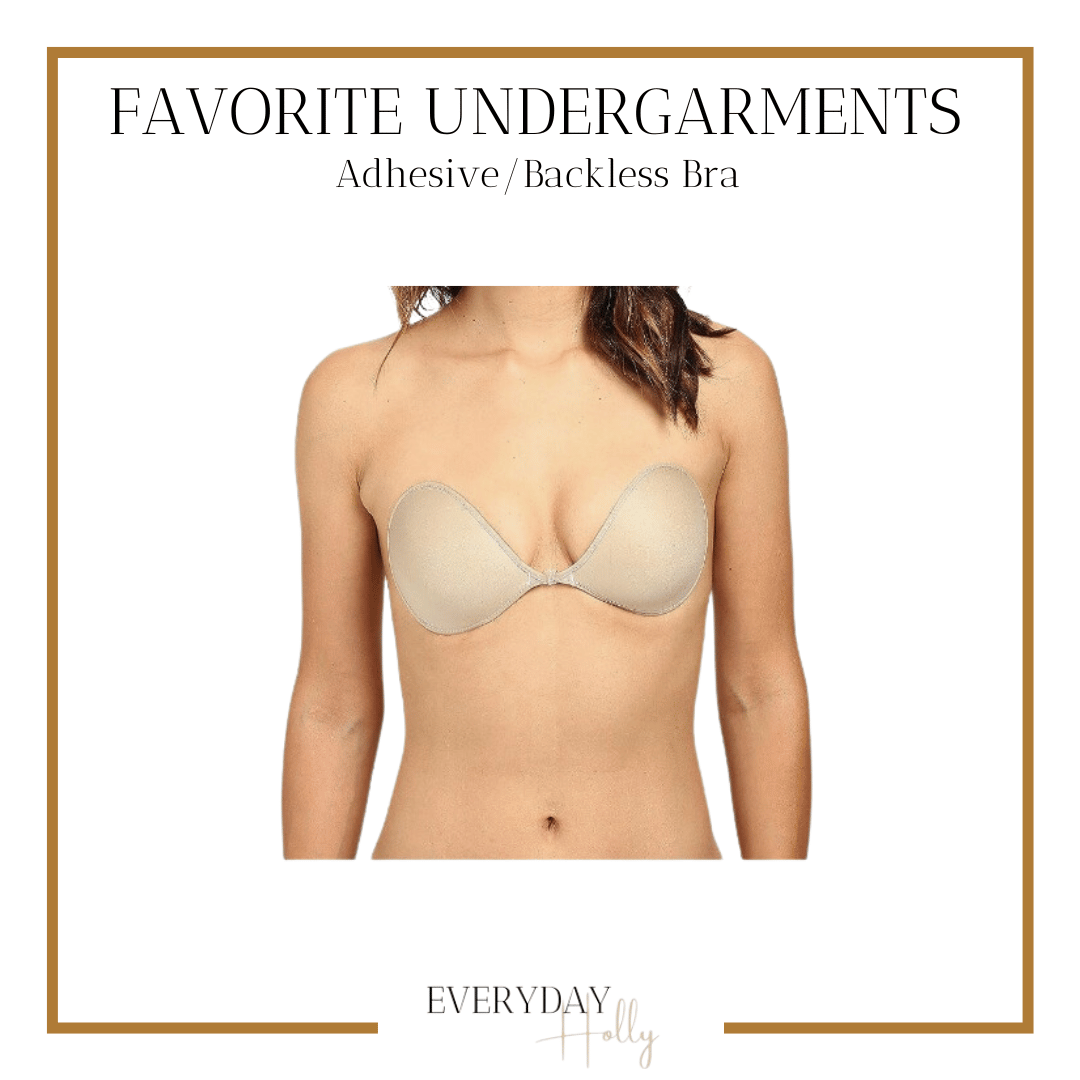 I don't know how I ever survived without this bra! Its strapless and backless design makes it nearly invisible. No more excuses, you can wear any and all of the backless dresses that you want to!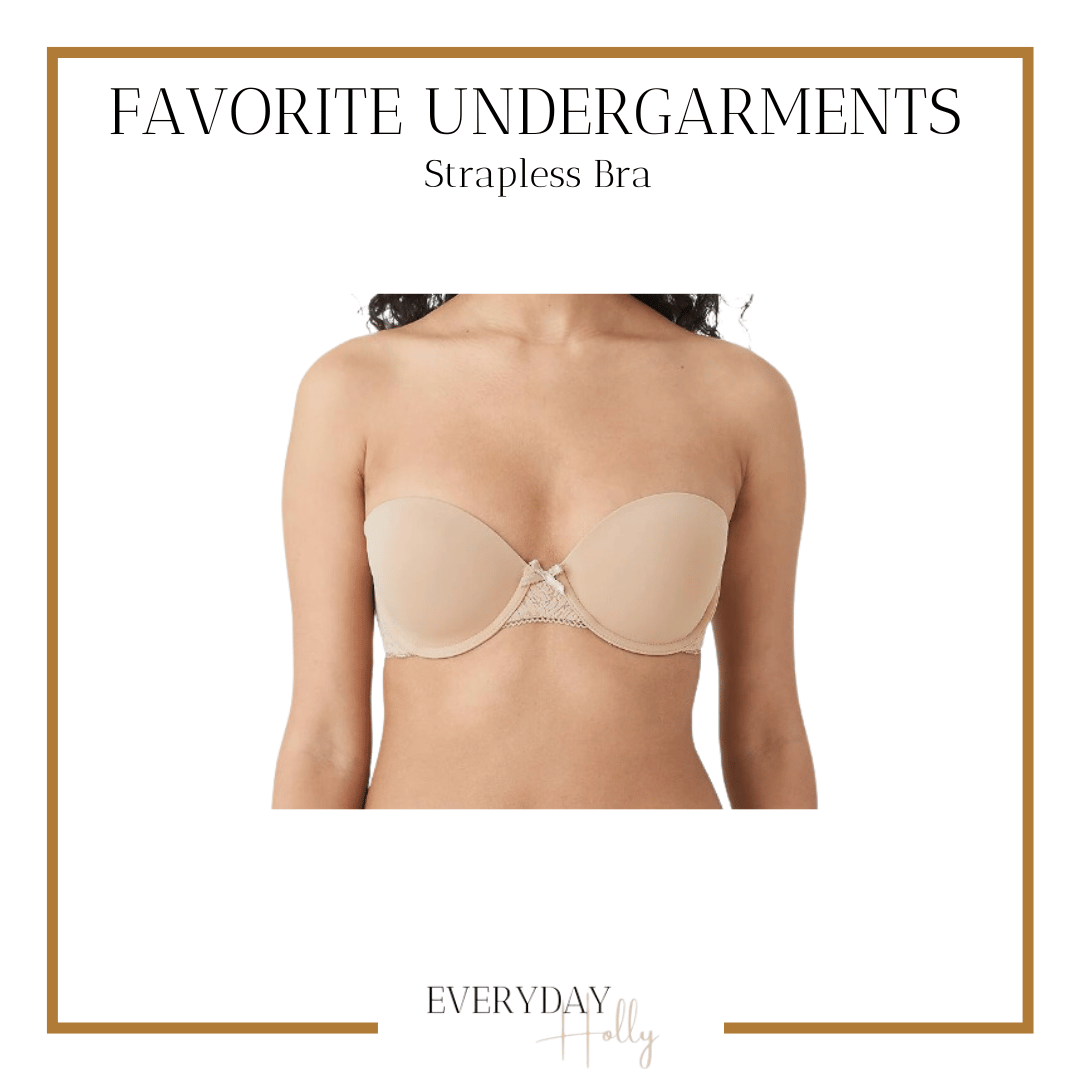 This is the strapless bra of my dreams and the ONLY one that I wear! I have this one in nude, black, and white! Its soft fabric with silicone elastic prevent it from sliding around. It also comes with attachable straps to use for any occasion.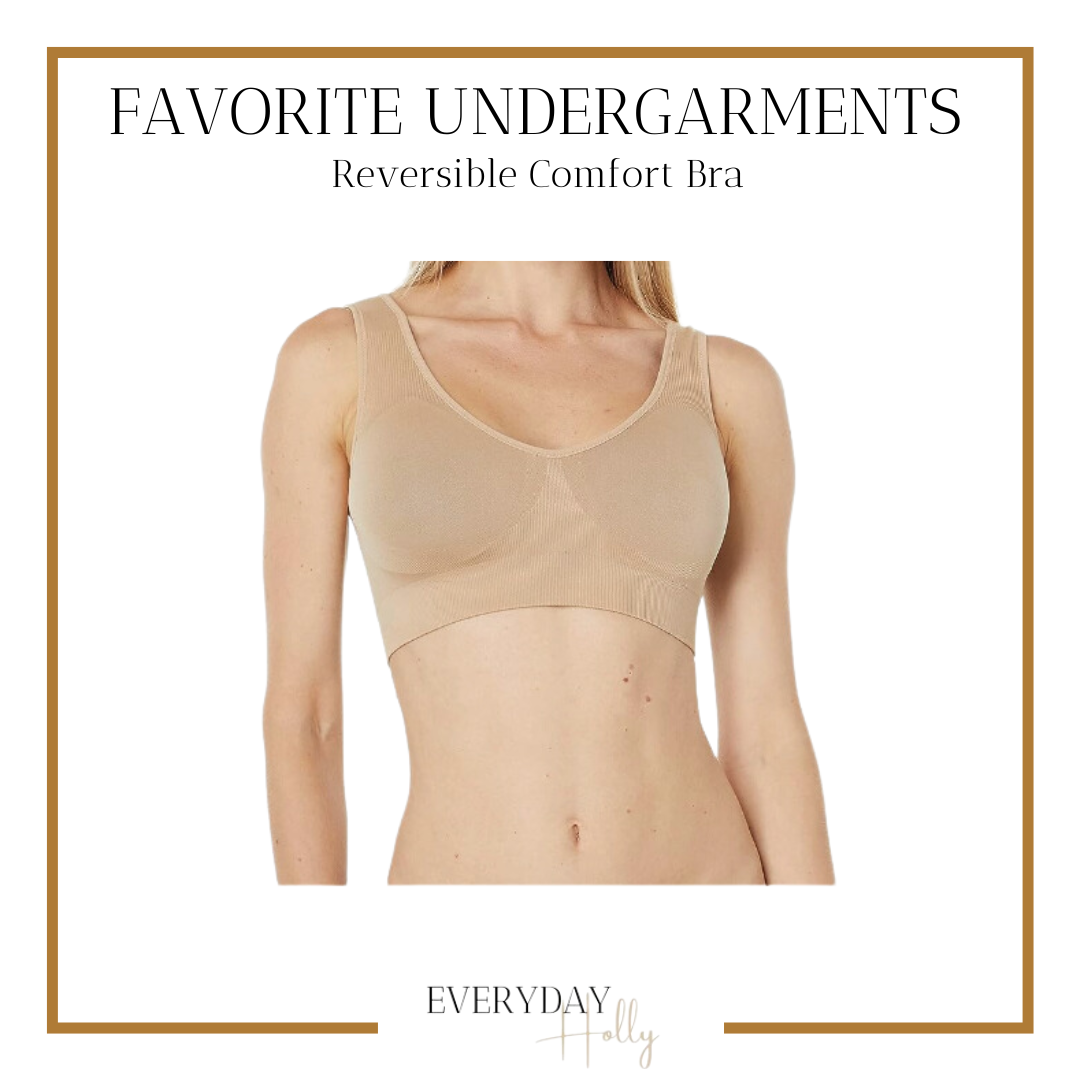 Another great SPANX find! You are able to reverse this bra to reveal a different color, it's versatile AND comfortable? Who knew something like that existed!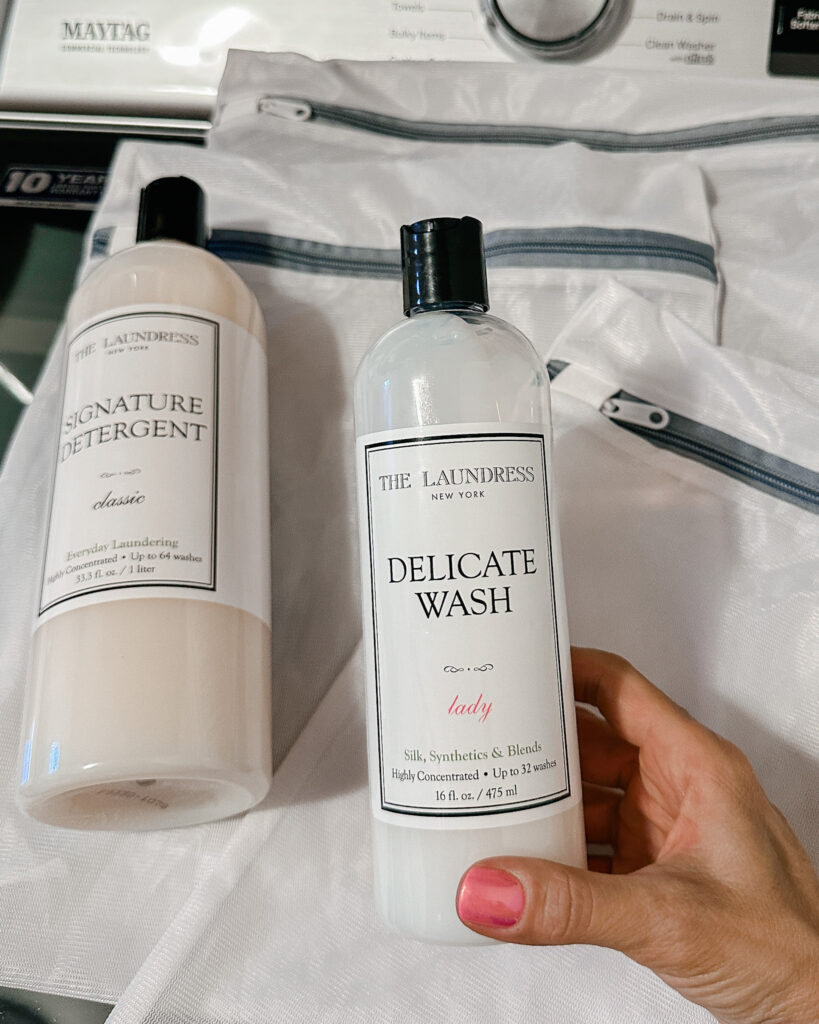 The Laundress Signature Wash | The Laundress Delicate Wash | Seamless Thongs

Favorite Undergarments | On The Go
Now that we have covered the basics, let's take a peek at some undergarments more suited for when we are all on the go! Being comfortable is beyond important whether you are running errands or taking it easy and lounging at home. These finds range from seamless thongs to full coverage sports bras. I am all about comfort and versatility, trust me I have got you covered when it comes to all things 'on the go'.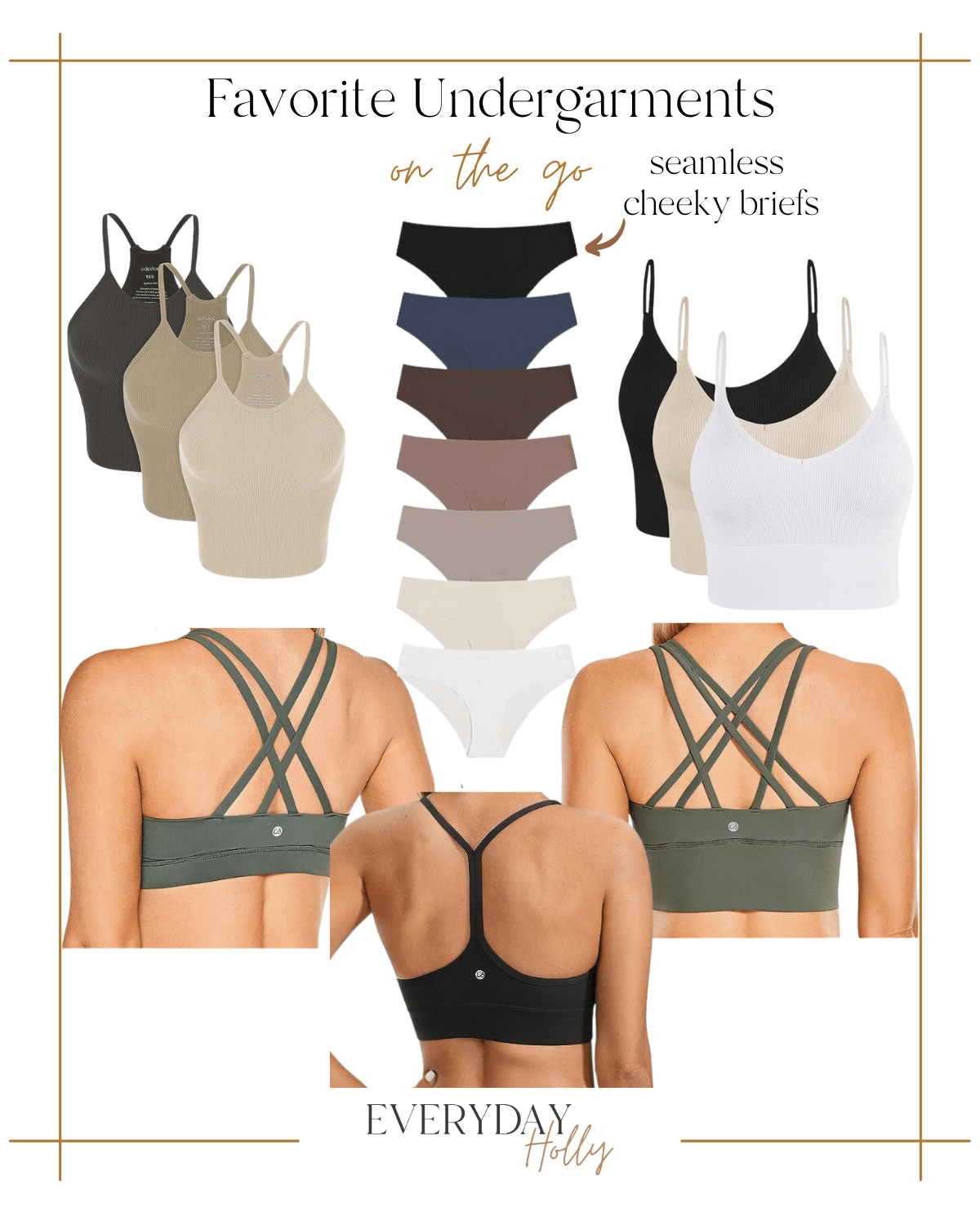 Seamless Rib Knit Tank Top | Seamless Cheeky Briefs | Longline Sports Bra | Criss Cross Yoga Bra | Thin Strap Racerback Bra | Strappy Longline Wirefree Sports Bra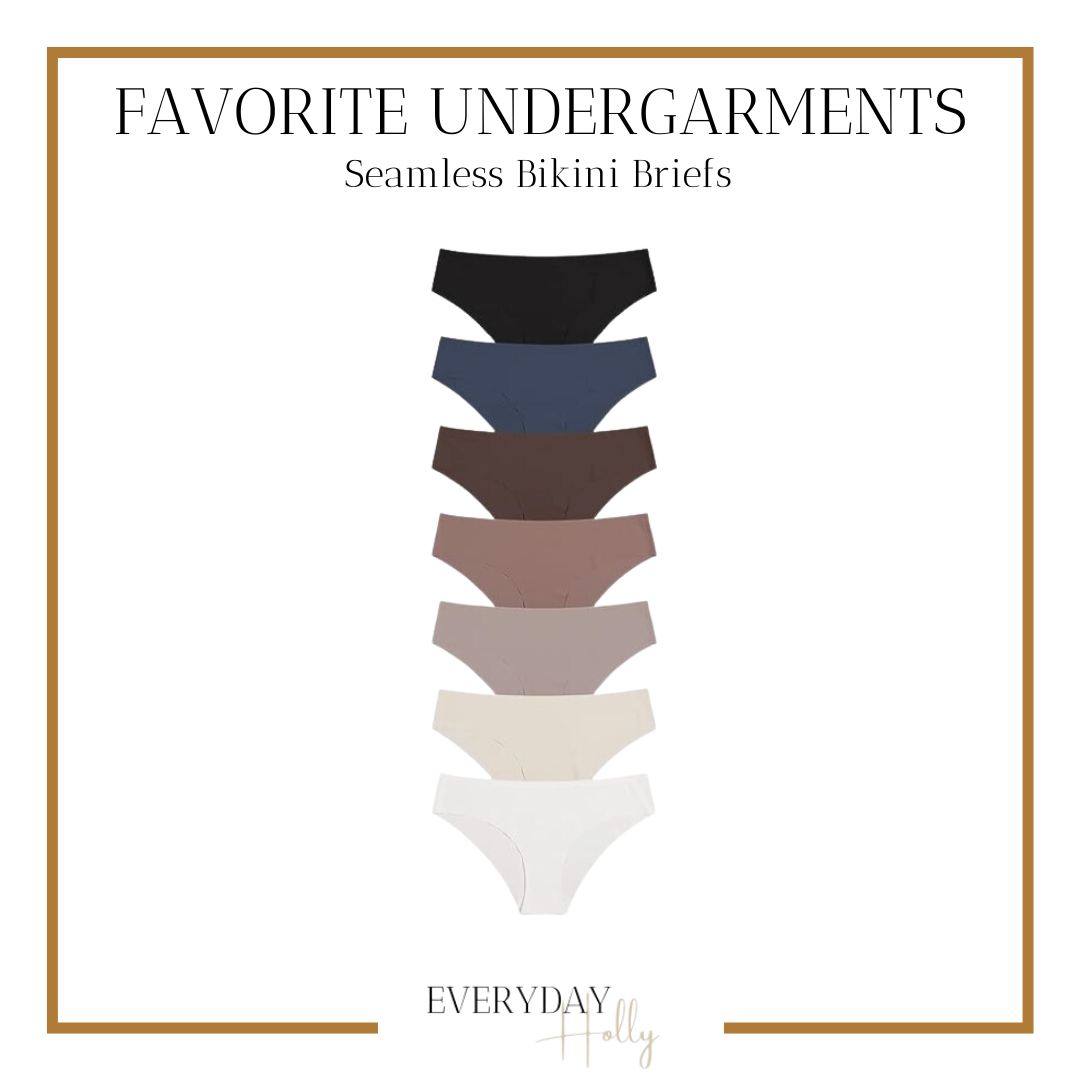 These cheeky bikini briefs are heavenly! They are so soft on my skin and truly are seamless, I wear them all the time. I highly recommend these to anyone looking to try something new!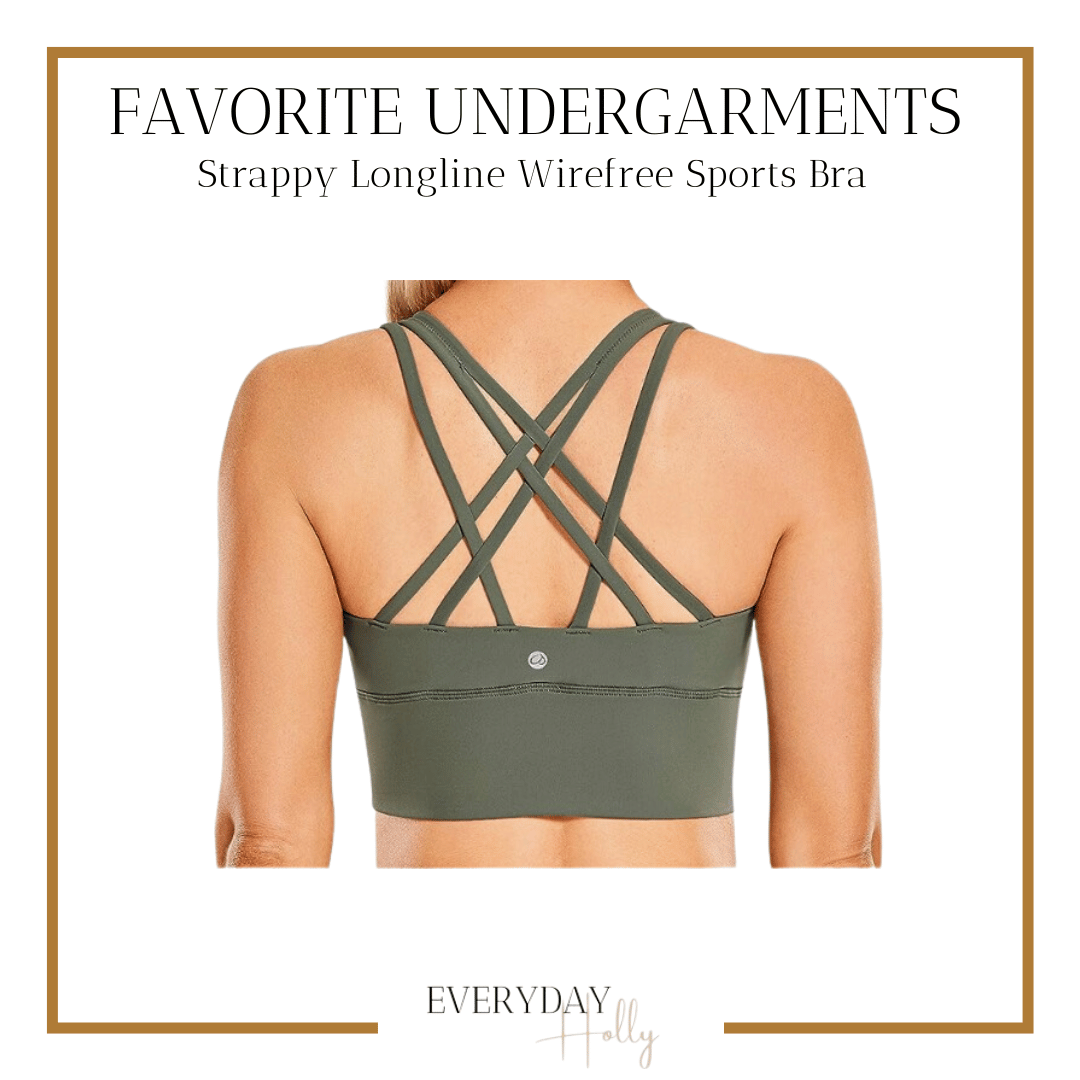 Strappy Longline Wirefree Sports Bra
This longline sports bra is perfect if you are looking for some support. The fabric is buttery soft and comes in 16 different colors!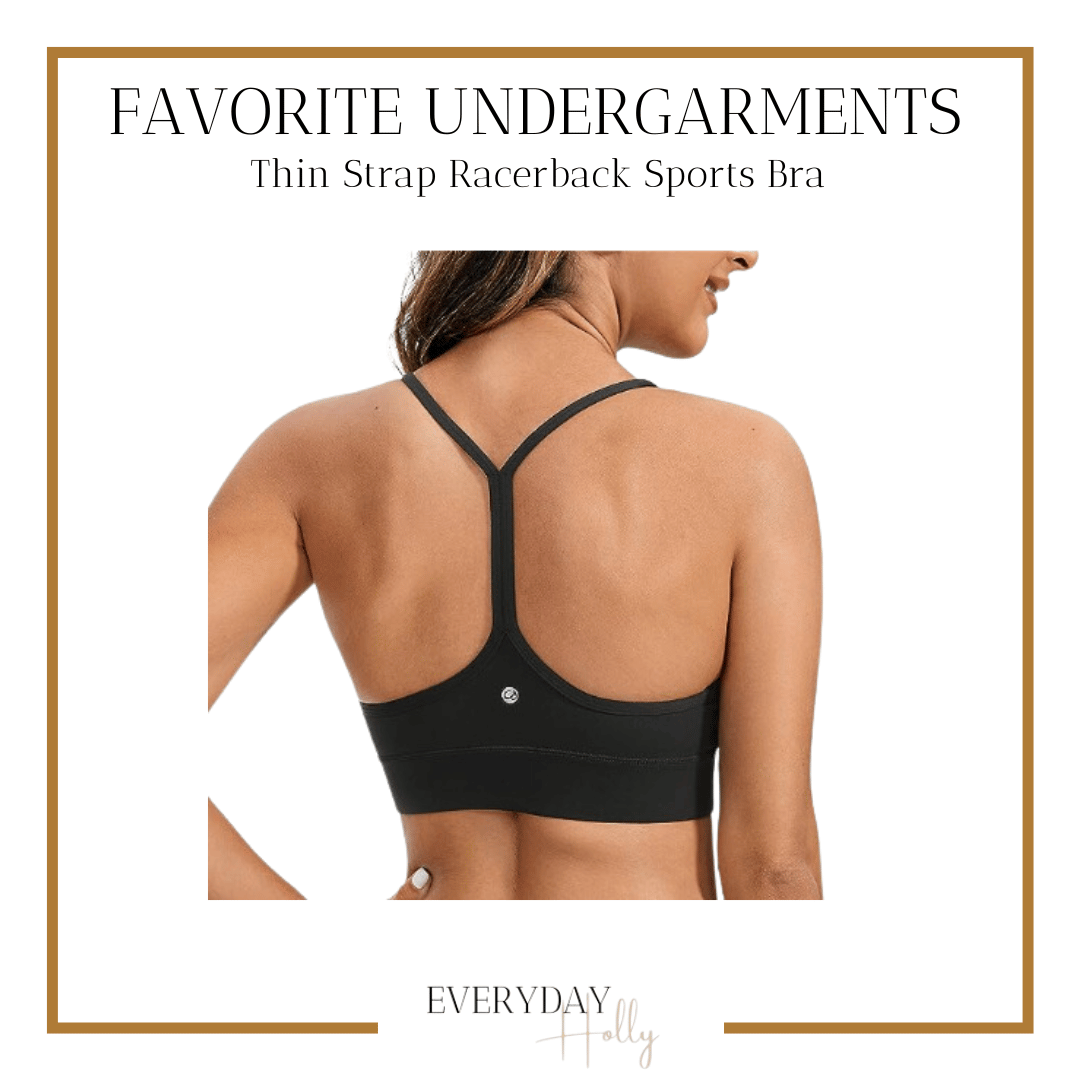 Thin Strap Racerback Sports Bra
This Y-back racerback sports bra is always my go-to when I wear a halter top. It's comfortable, supportive AND I never have to worry about bra straps ruining my outfit!
I know it's another strappy sports bra but I couldn't resist! I have several items from this brand and the fabric is buttery soft and unbelievably comfortable. Wear it to yoga or out running errands – the possibilities are endless!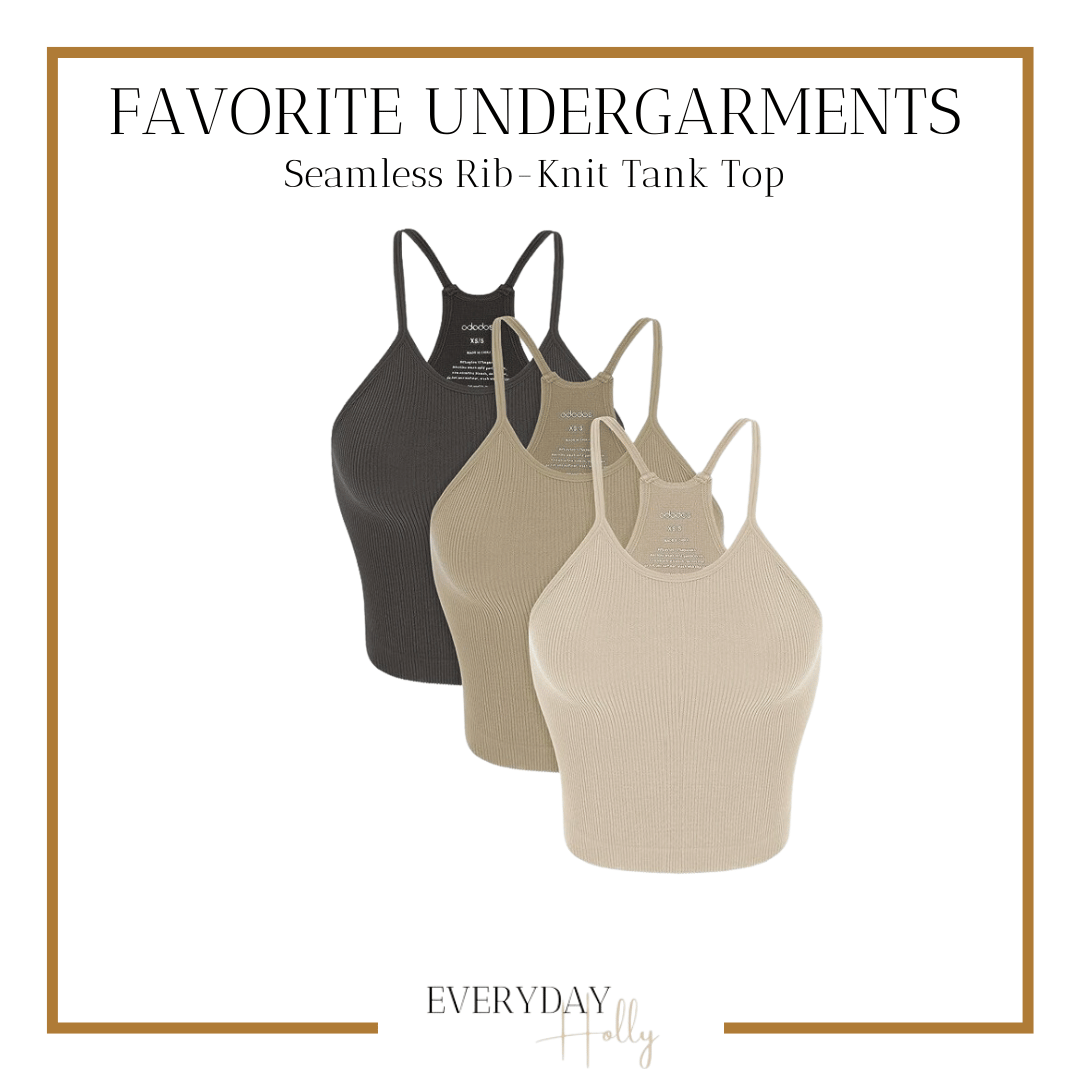 These are an absolute must-have! Perfect for wearing under jumpsuits, rompers, and overalls. They are so comfortable and the fact that they come in a set of three is a lifesaver.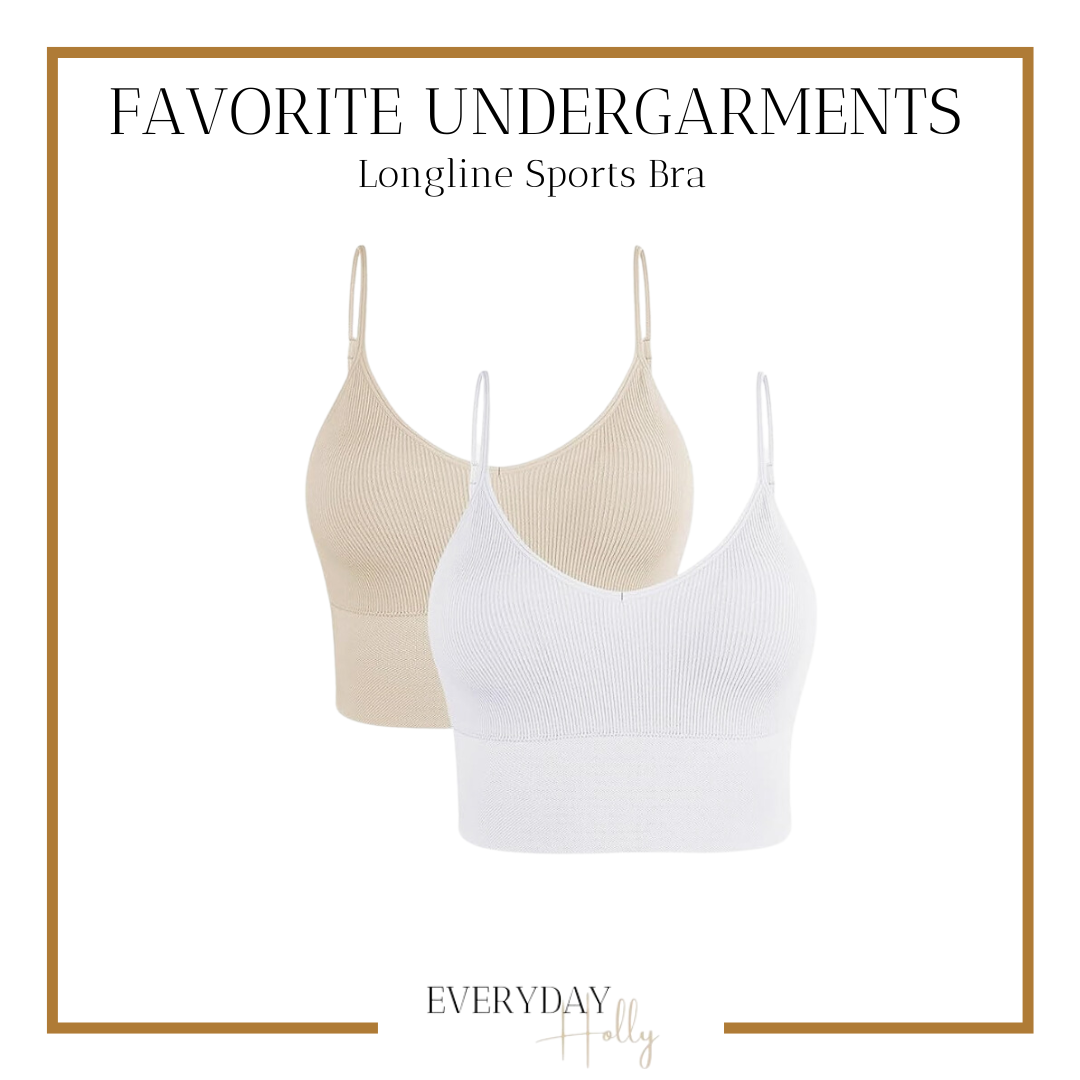 These sports bras have a u-back design that makes them even more comfortable! These also have removable padding and can serve as a seamless and breathable bralette depending on the occasion.
Notable, Ordering, and Highly Recommended
Not all of these items are in my closet, YET! However, I have been doing some searching for notable and highly recommended products for all of you. Some of these I have been eyeing for myself and cannot wait to add to my cart. Take a peek, I'm sure you will see something you have to have!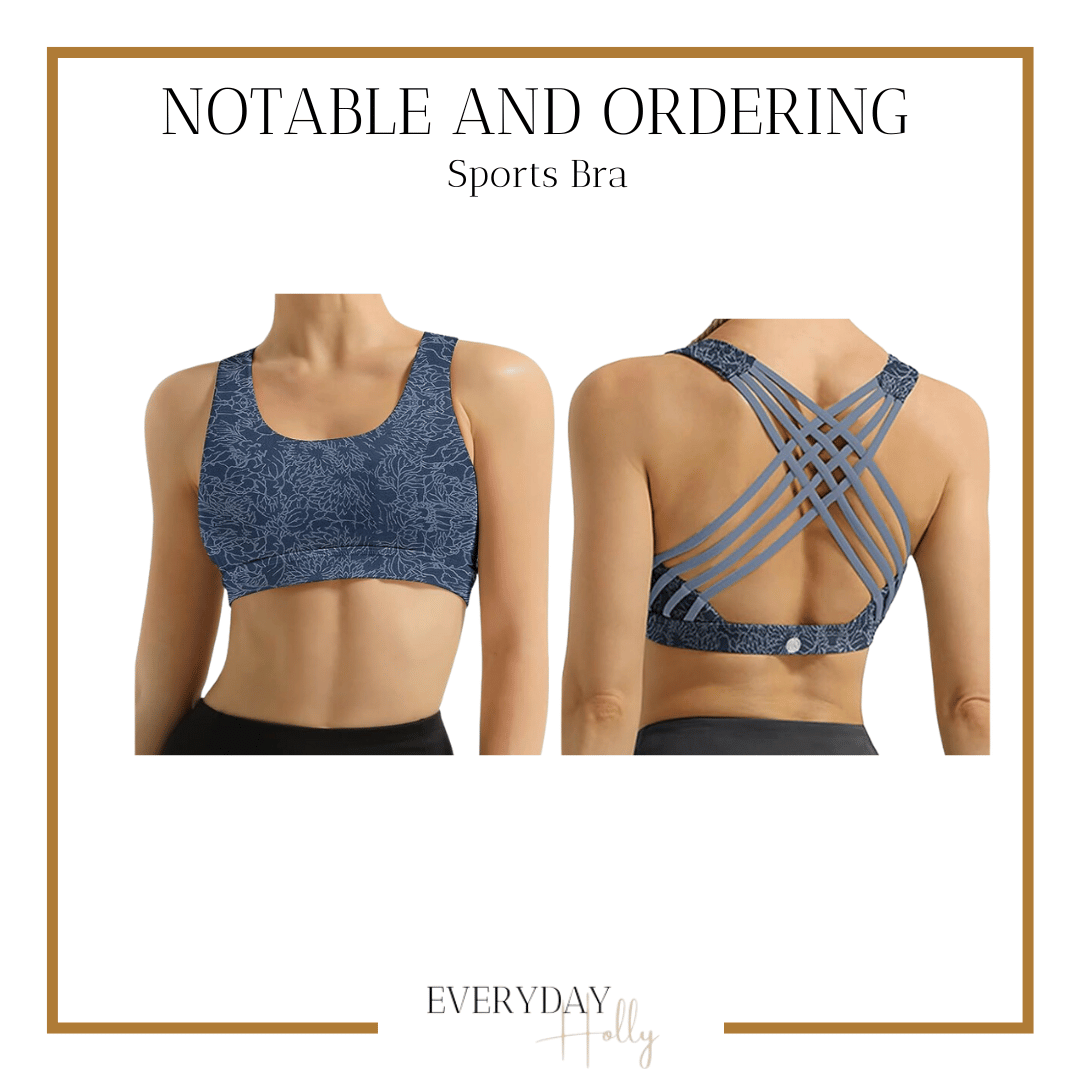 I can't decide if I like the front or back better! This padded, strappy sports bra is supposed to be provide support while also being comfortable. I can't wait to show this off at my next yoga class!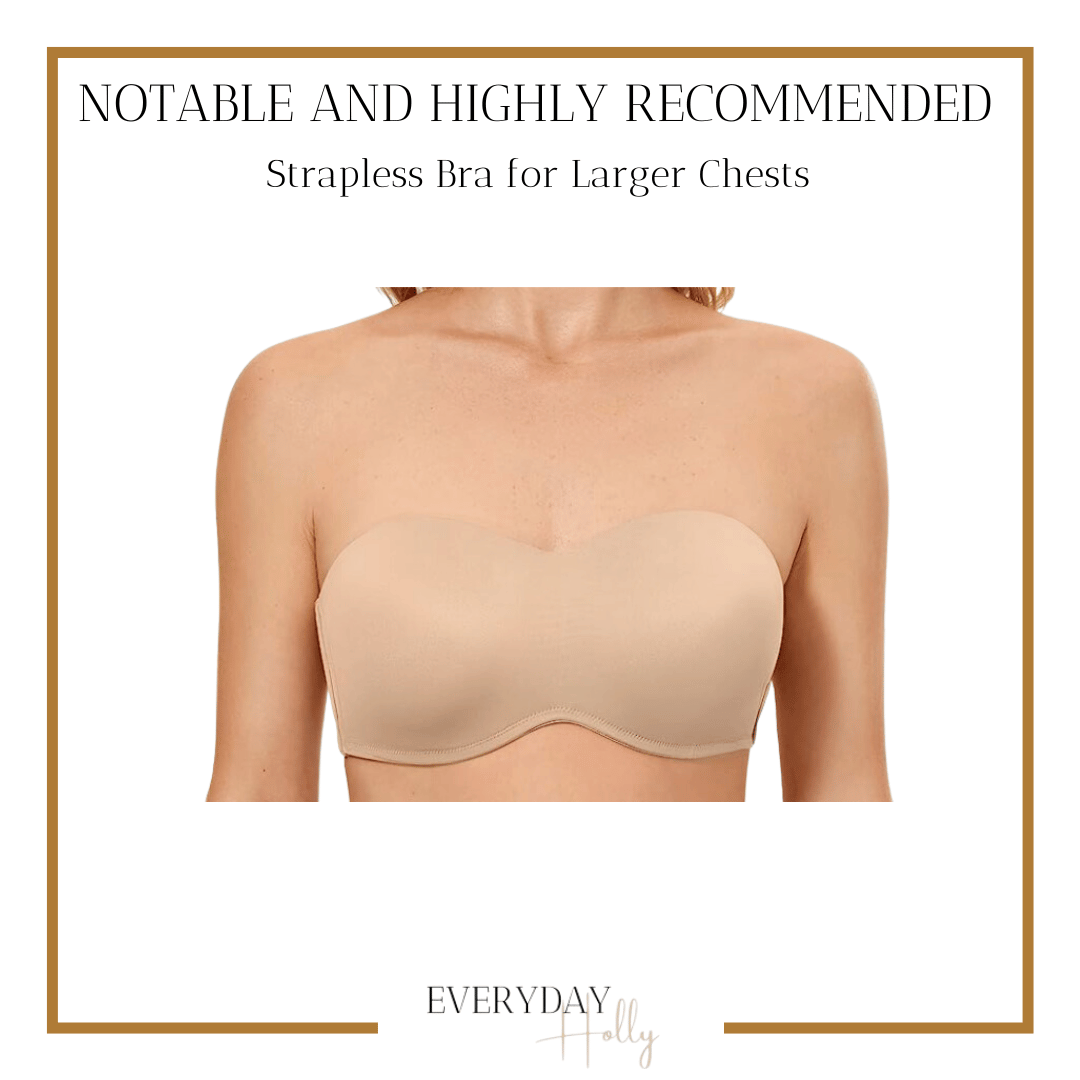 Strapless Bra for Larger Chests
I cannot vouch for this bra from personal experience but I have heard nothing but GREAT things from those who can! This is an underwire minimizer bandeau style bra that's available in 24 different colors and patterns to match any outfit you have planned.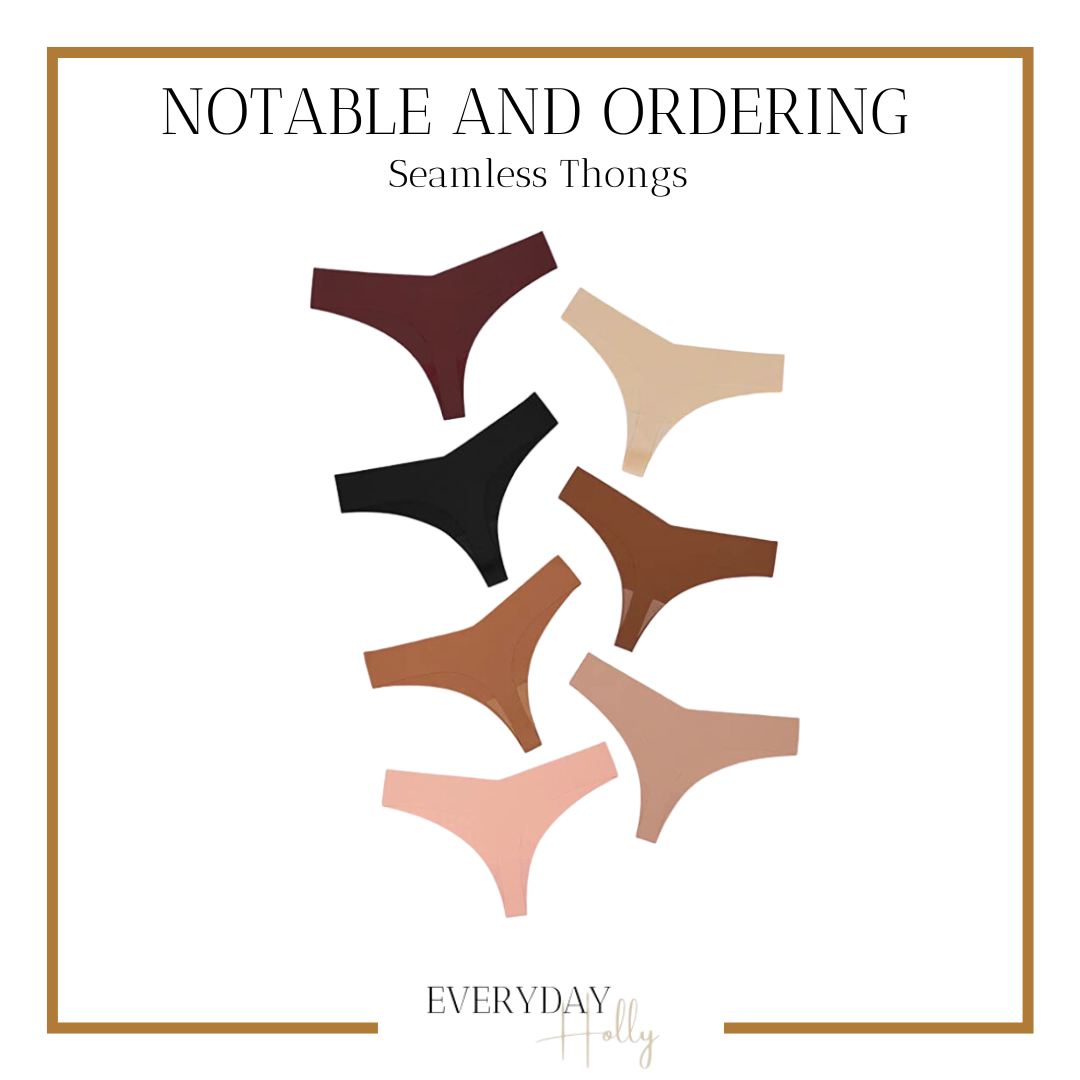 I know not everyone is a fan of thongs but I still wanted to find something that came highly recommended and was similar to the seamless cheeky briefs that I love. These are highly recommended on Amazon and also come in a multi-pack with a variety of neutral colors to choose from!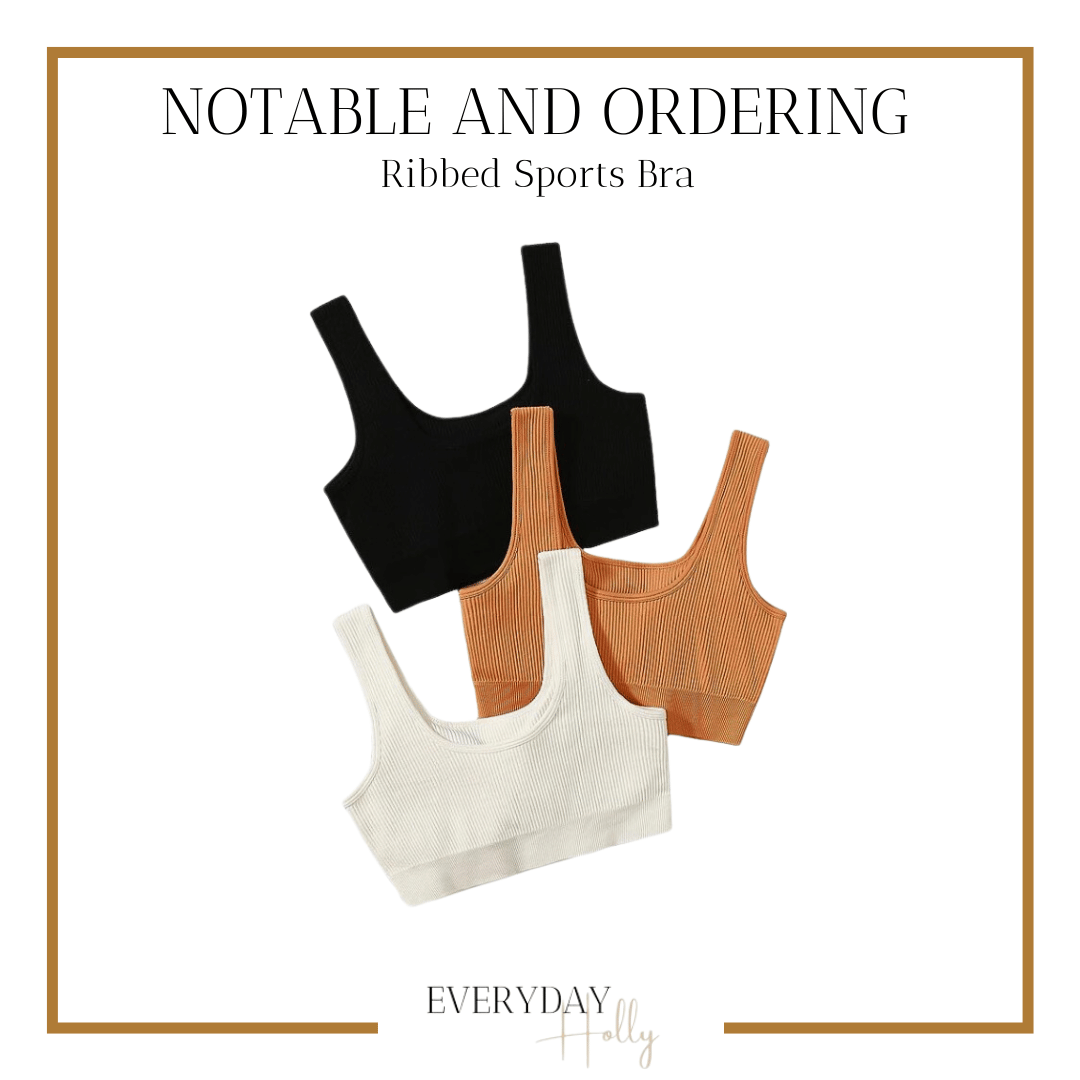 The neckline of this yoga sports bra is extremely flattering, while still being breathable. These would be ideal for your favorite yoga workout or even lounging around the house!
These briefs are good for you and the environment! These shape and hug your body in all the right places. Don't worry, the recycled yarn material makes them extremely breathable.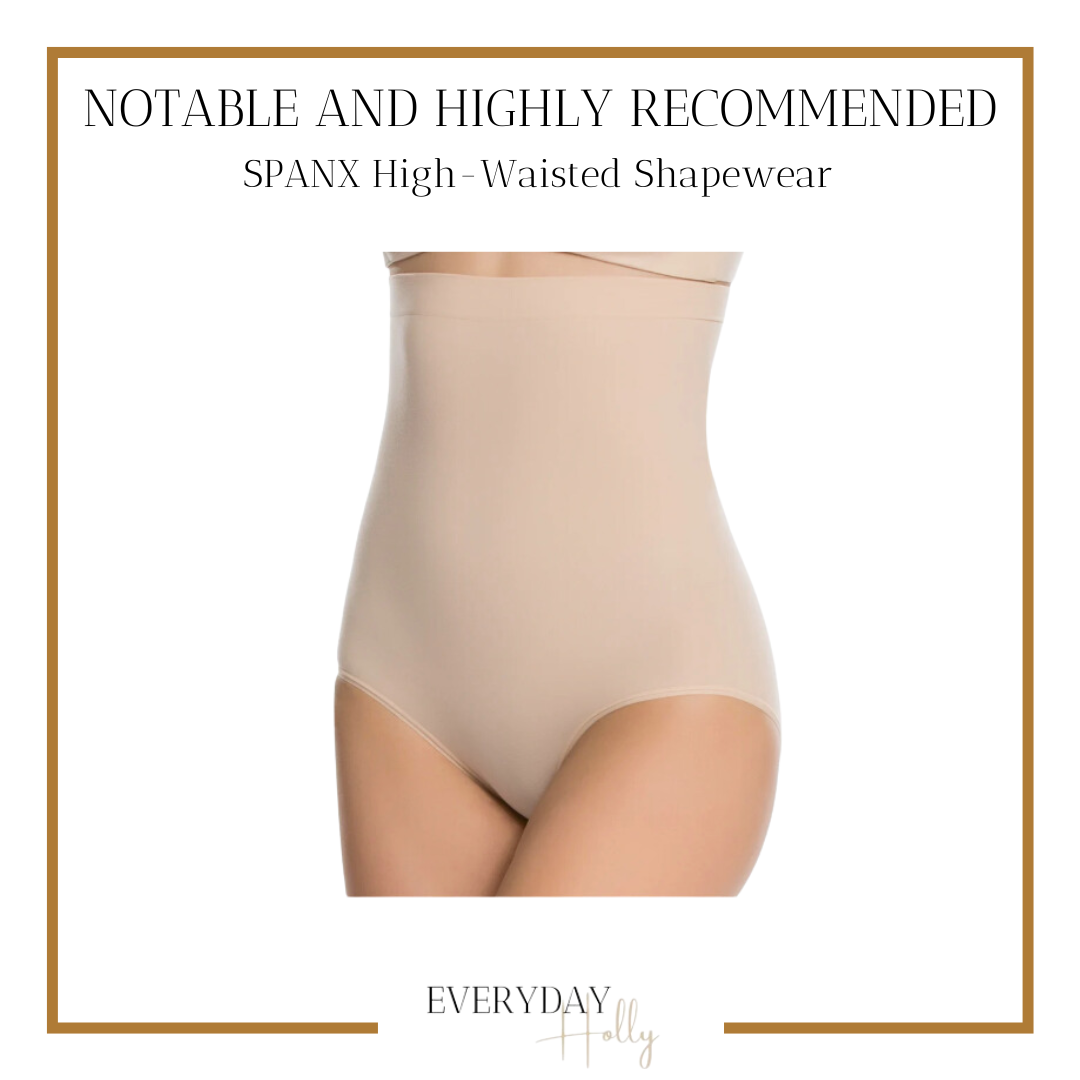 SPANX has you covered with this high-waisted shapewear… literally!
Favorite Undergarments Accessories | Must Have Items
These undergarment accessories are crucial to ensuring there are no wardrobe malfunctions or bra strap mishaps. Some of these items actually help your accessories have a longer lifespan so you aren't constantly having to replace them!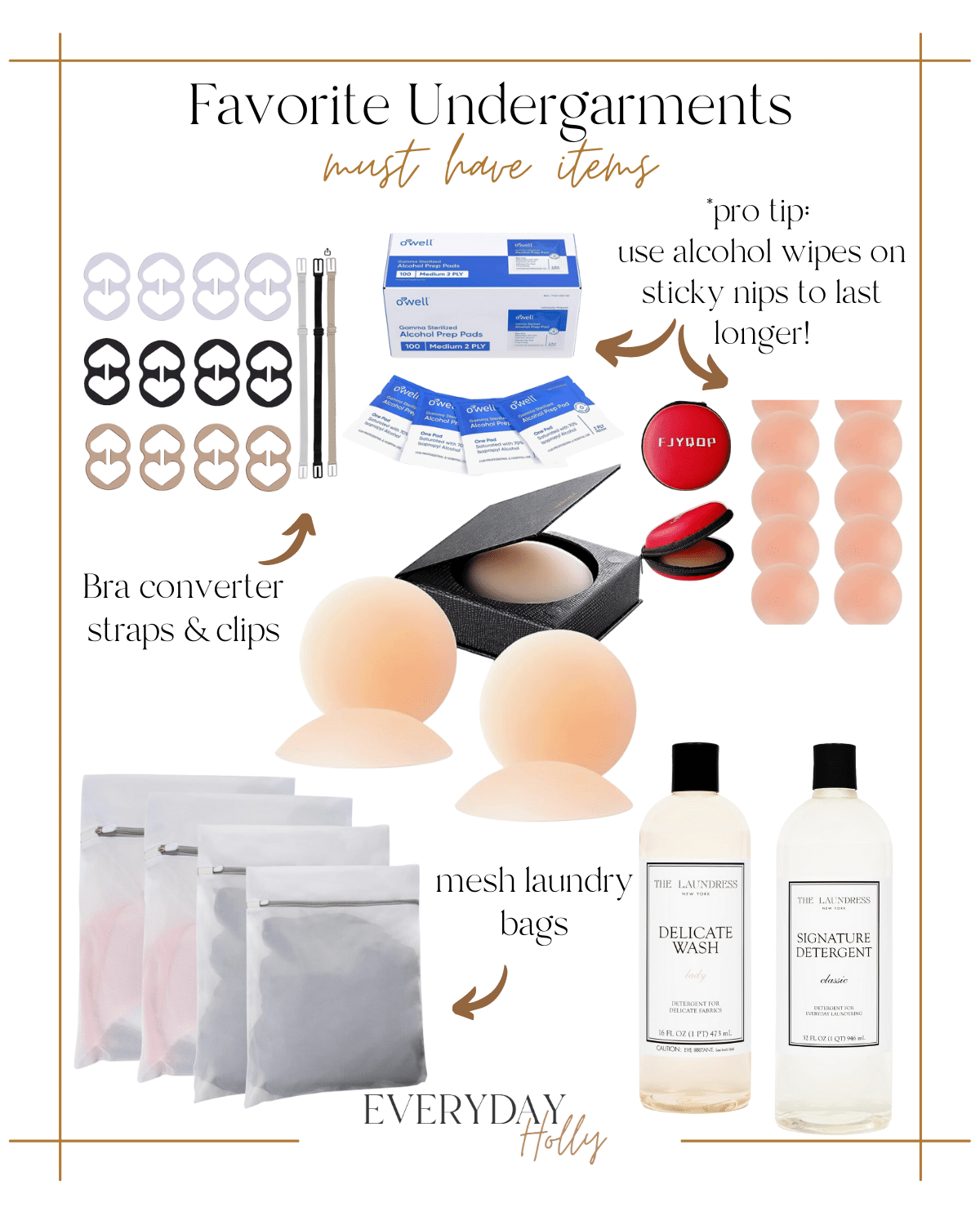 Mesh Laundry Bags | Nipple Covers (red case)| Nipple Covers (black case) | Bra Converter Clips and Straps | Alcohol Wipes | The Laundress Delicate Wash | The Laundress Signature Wash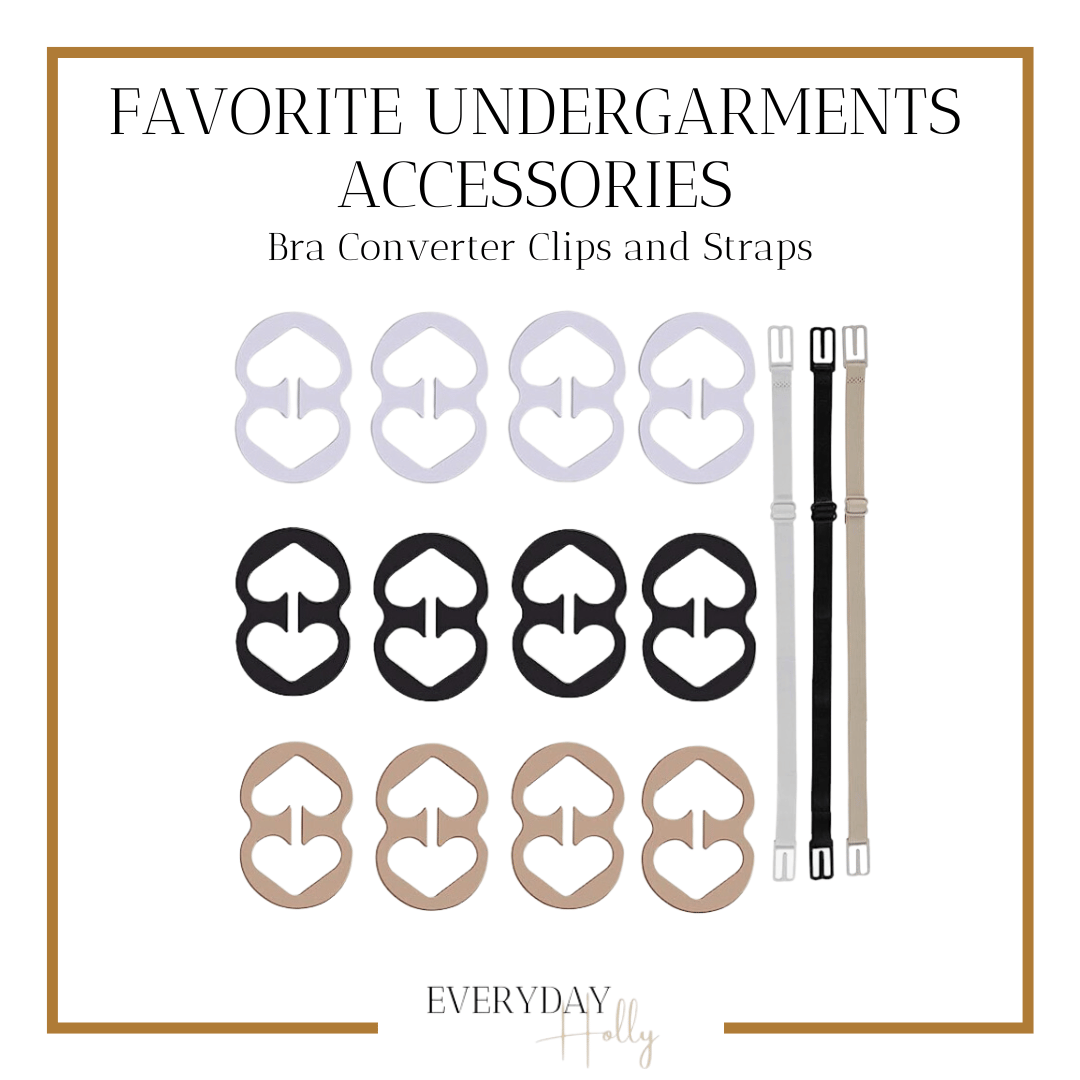 Bra Converter Clips and Straps
Have you been dying to wear that ONE top and you don't have the right bra for it? Not anymore! These bra converter clips and straps help you create whatever you look you need achieve with any bra that you already have.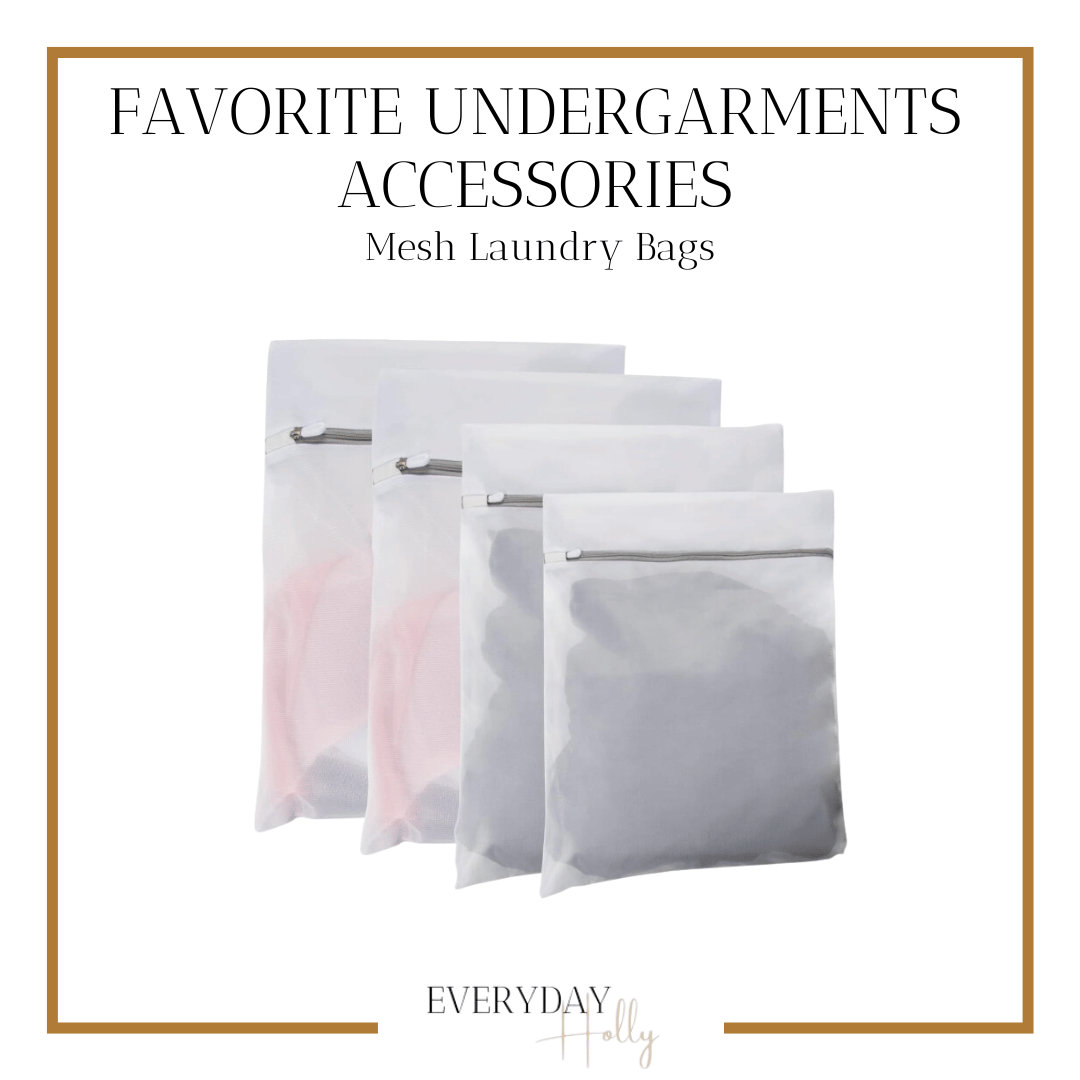 You don't have to believe me if you don't want to but I swear by these mesh laundry bags. They keep my intimates from getting destroyed in the washing machine and they are so much easier to find in any load of laundry!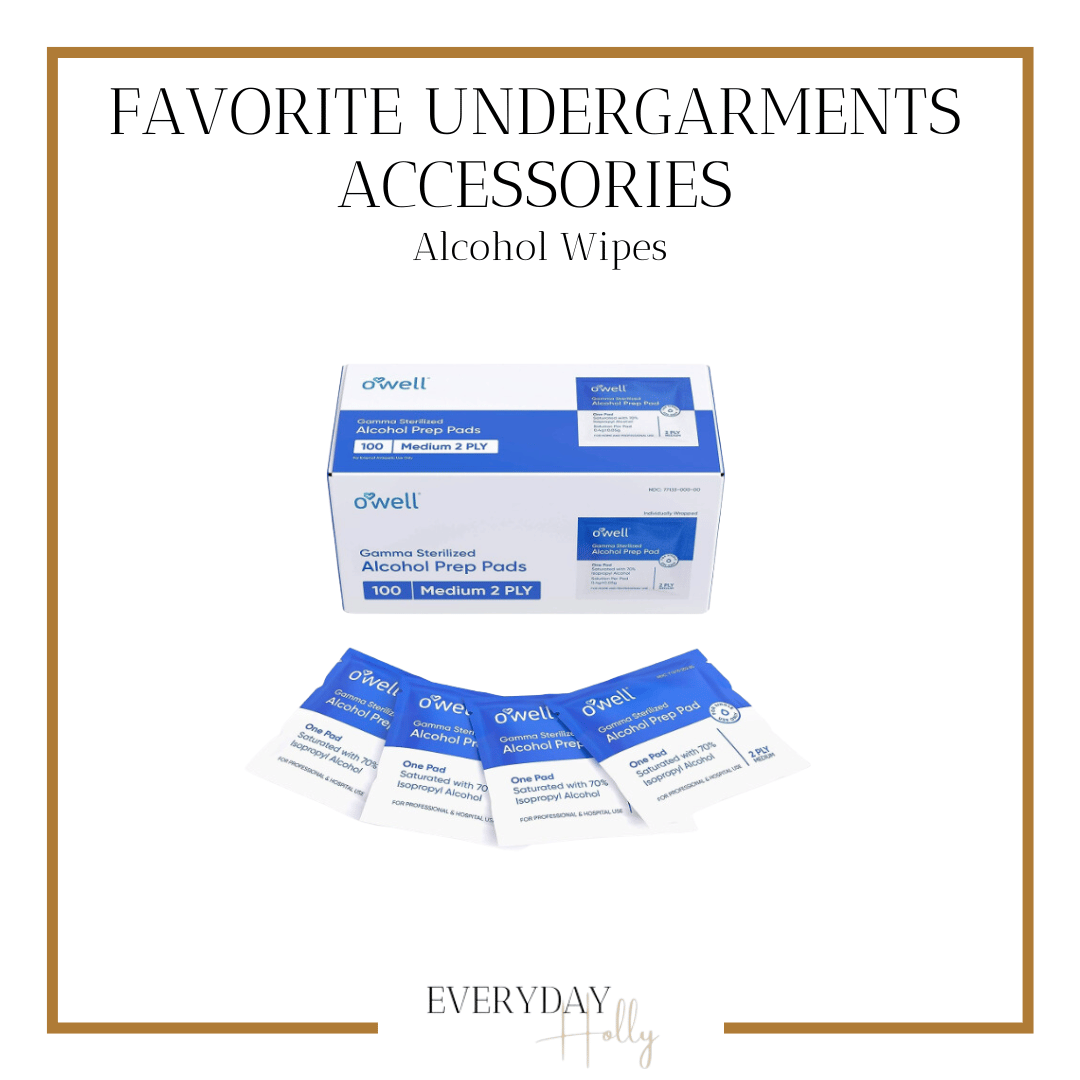 PRO TIP: Use alcohol pads to wipe the area where you are planning to apply nipple covers for a long-lasting stick!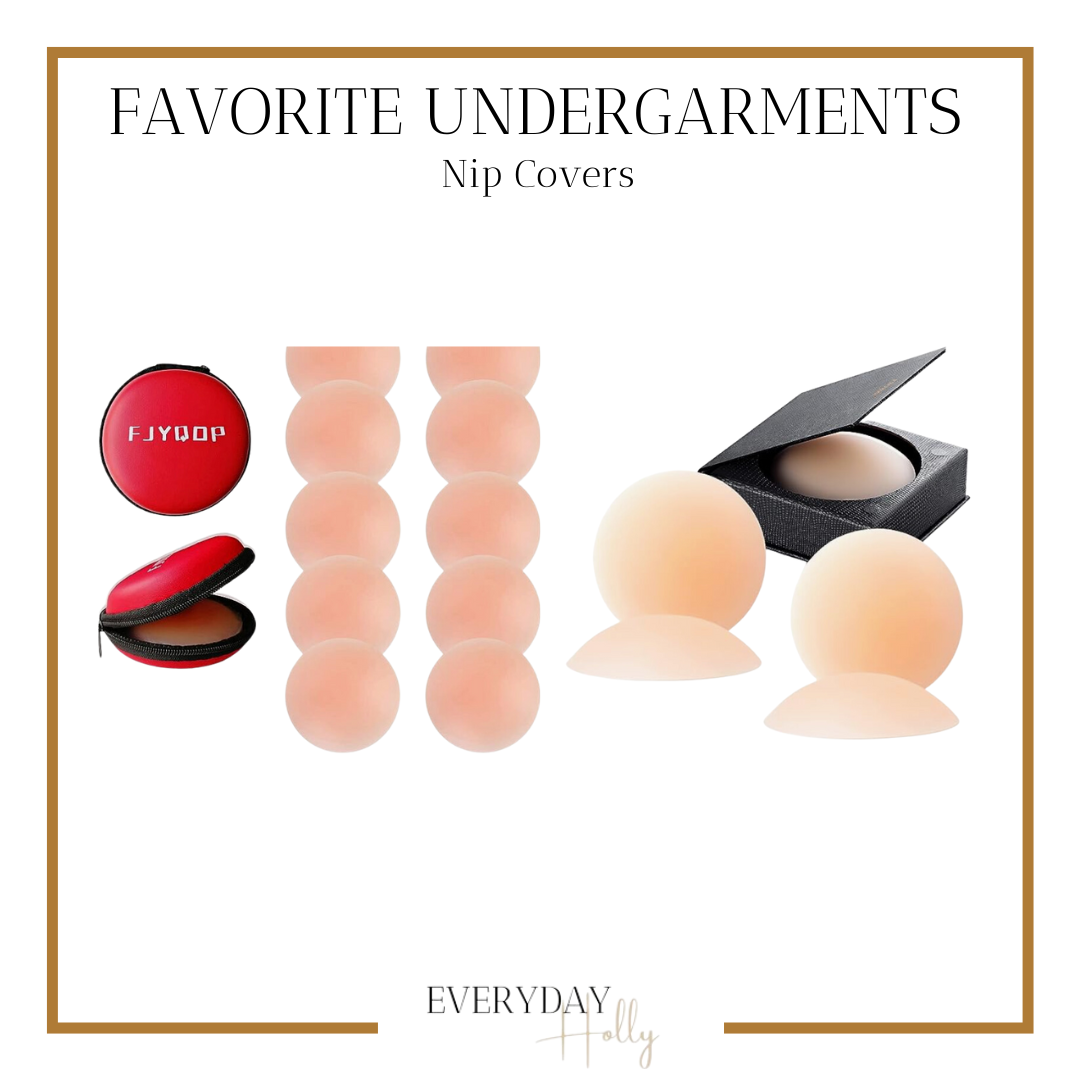 Nipple Covers (red case) | Nipple Covers (black case)
These are perfect if you need some coverage but don't necessarily want to wear a bra. They both come with a nifty travel case which makes them perfect for anyone who is on the go!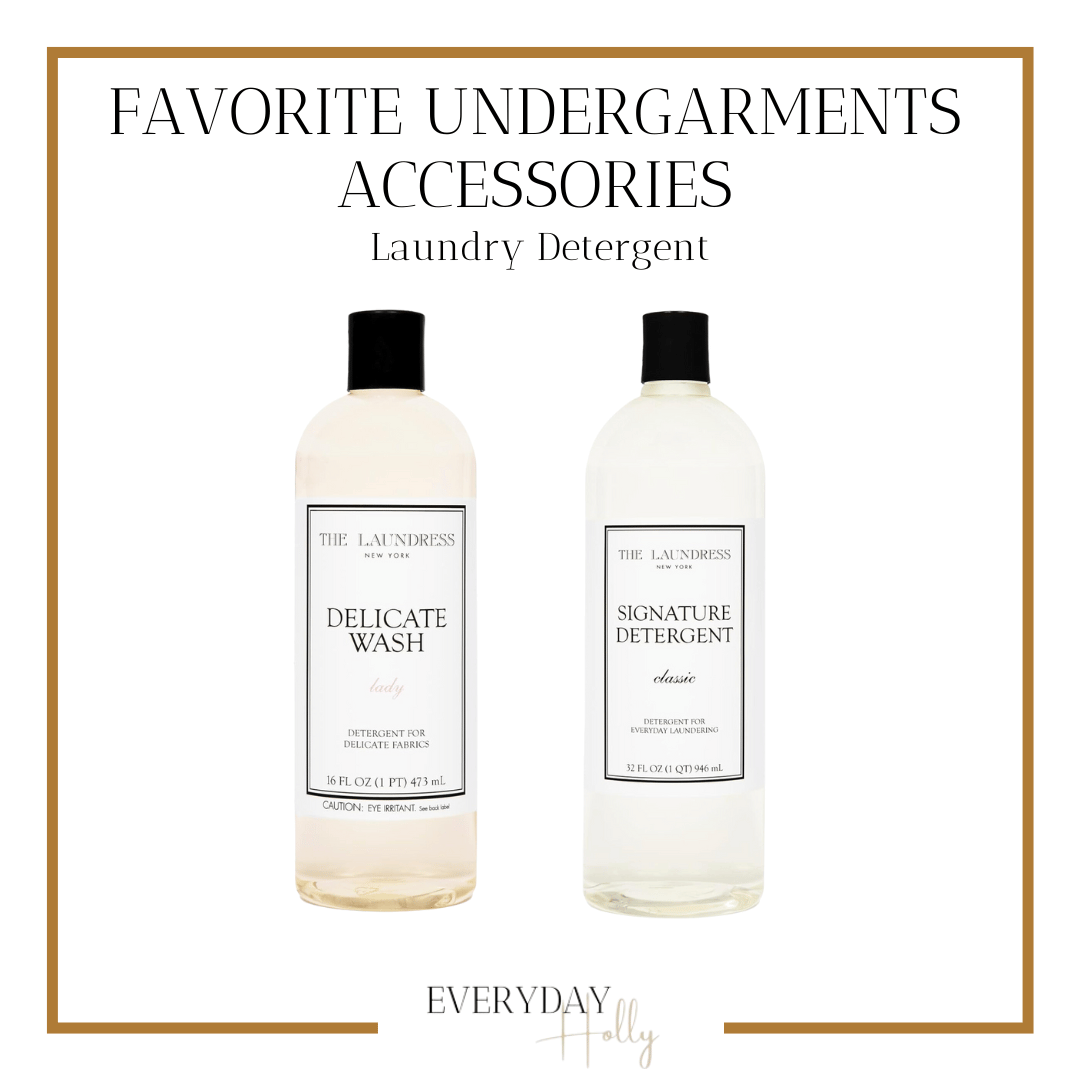 The Laundress Delicate Wash | The Laundress Signature Detergent
This laundry detergent is always stocked in my home. I use it specifically for my delicates and intimates and it hasn't failed me yet!
Shop More Fashion, Home & Beauty Favorites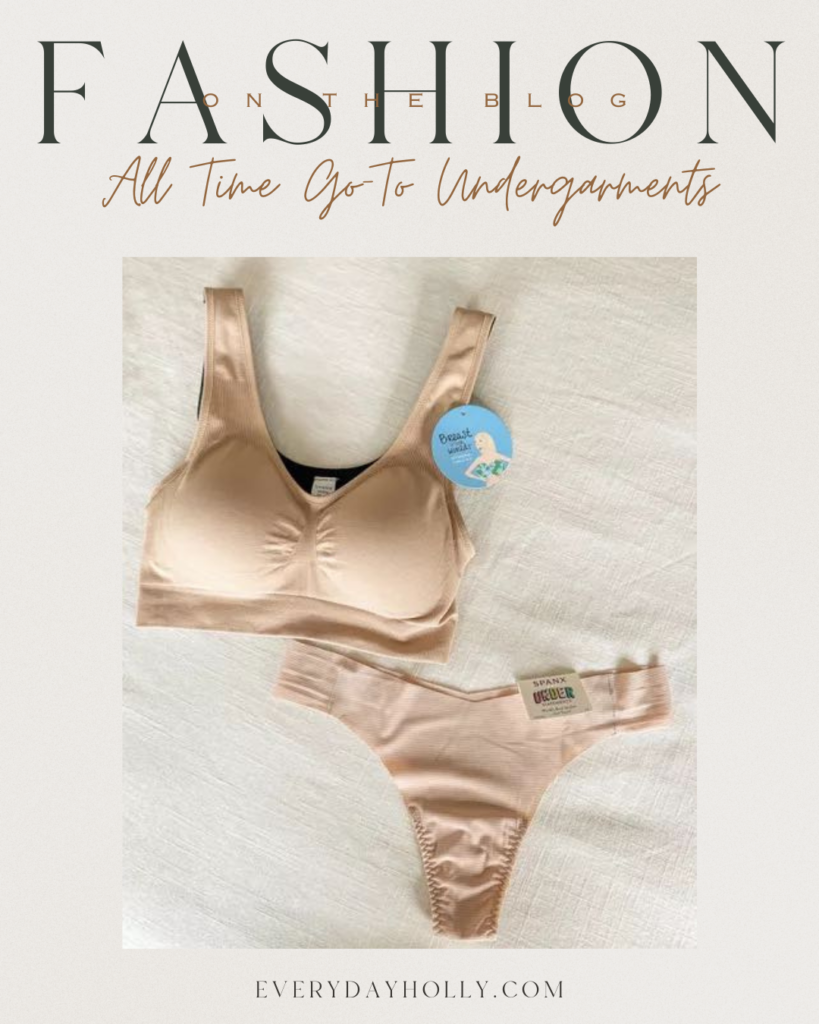 SHOP THE POST