Nordstrom Anniversary Sale 2020 ~ What I Purchased
We did it! Although I was not planning on going to the actual store for the Nordstrom Anniversary Sale this year, I decided at the last minute to go, we needed to be out of the house anyway.
I placed my order online first thing in the morning to ensure I got what I wanted and chose the buy online and pick up in-store option for what I could and had everything else shipped.
NOTE: If you click on an item and it's sold out, keep checking back. They restock and hold back inventory for each level.
**This post contains affiliate links, but all thoughts and opinions are my own. Thank you so much for using my links, it doesn't cost you any more to use my links.
But first…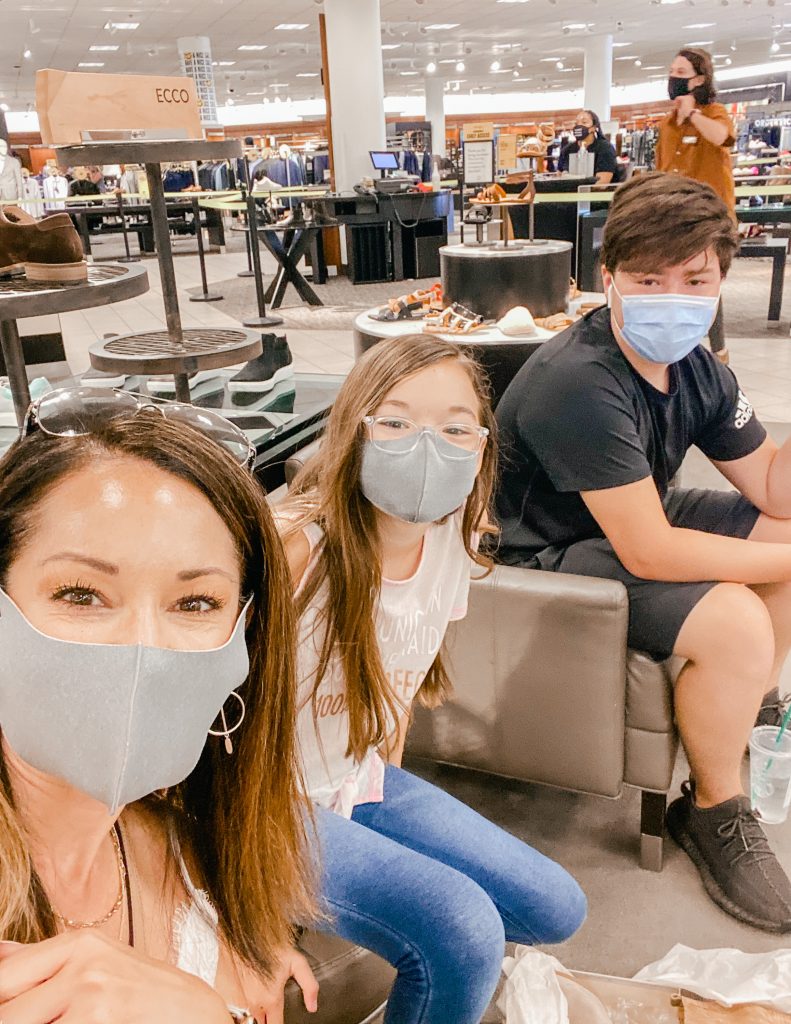 How cute are my shopping buddies?! I love them. Owen wasn't exactly thrilled with our outing. Not sure why? Lol. I rewarded him with Sonic afterward, so he was happy in the end.
Let's get started!!!
I am going to break down the categories for you to make it easy…
SHOES
I ended up getting one pair of shoes in each of these catagories – booties, flats, sneakers and athletic shoes.
I was looking for a pair of all white and pretty plain sneakers and I ended up falling in love with a pair of blingy Steve Maddens – comfy and oh so cute!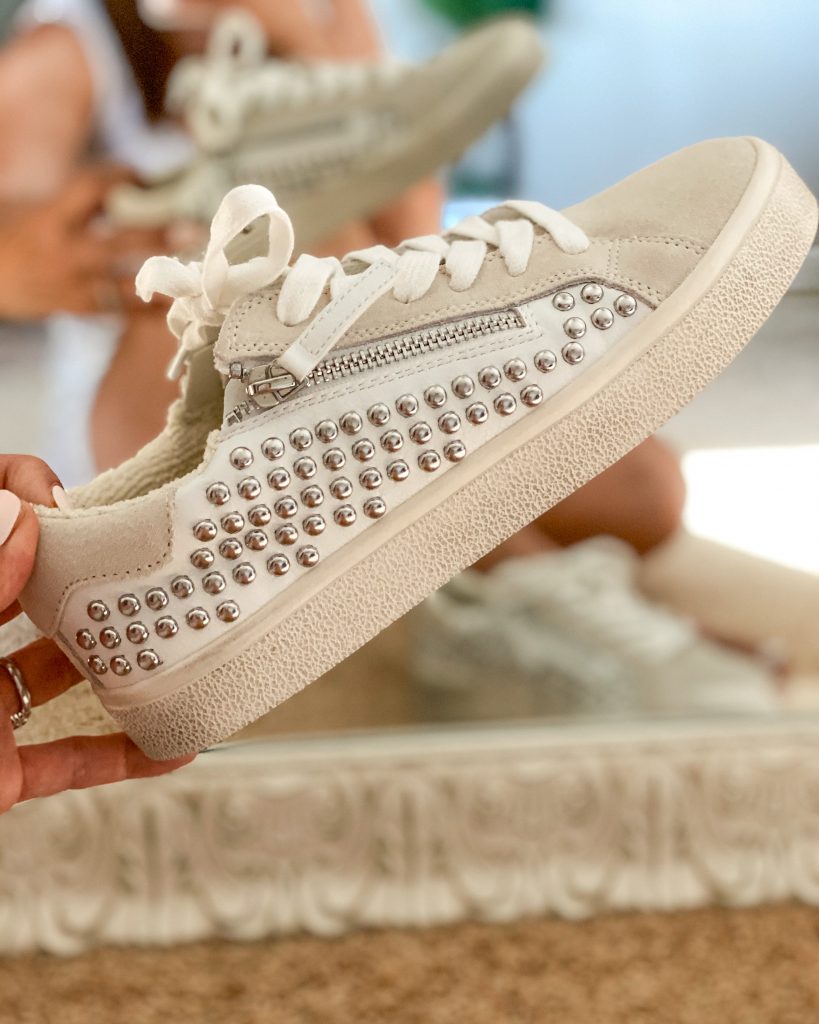 These sneakers will look so cute with jeans, shorts, and dresses! They are lined with the comfiest terry cloth! Never have I worn a more comfortable sneaker in my life!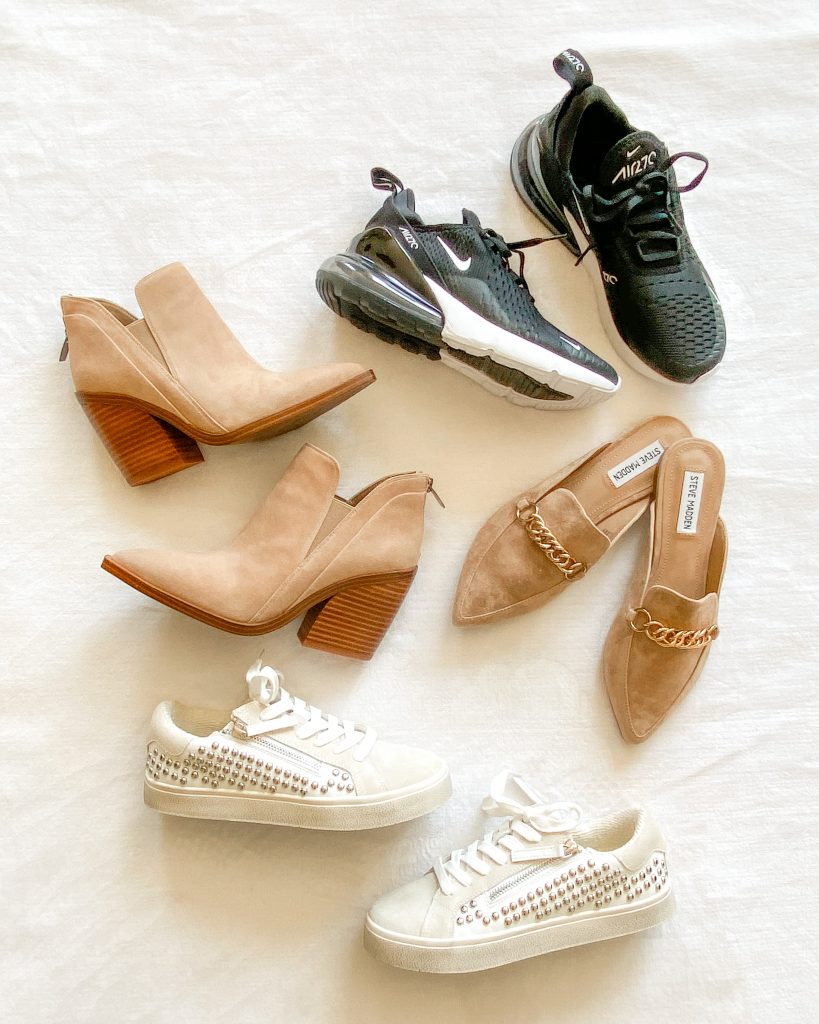 If the link isn't working for the NIKE's, message me. It's tricky! 🙁
I purchased three pairs of booties to compare and I ended up with a clear winner. I will share why I ended up with these over the other two, but they sent me home on 2 of the same bootie – I am missing the Vince Camuto LTD Oshay's.
After seeing them all three in-store, I feel the ones that I chose are the most beautiful, versatile, and the best value. Clearly, it's just my opinion and you might disagree. Take a peek at my Instagram NSALE highlight to see my comparison of the Steve Madden Kaylah's to the Vince Camuto Gradina's.
Here is a picture of both booties that I came home with to share with you along with the Steve Madden Forever Chain Mules. This is just to compare the two, I am keeping the Vince Camuto Gradina's.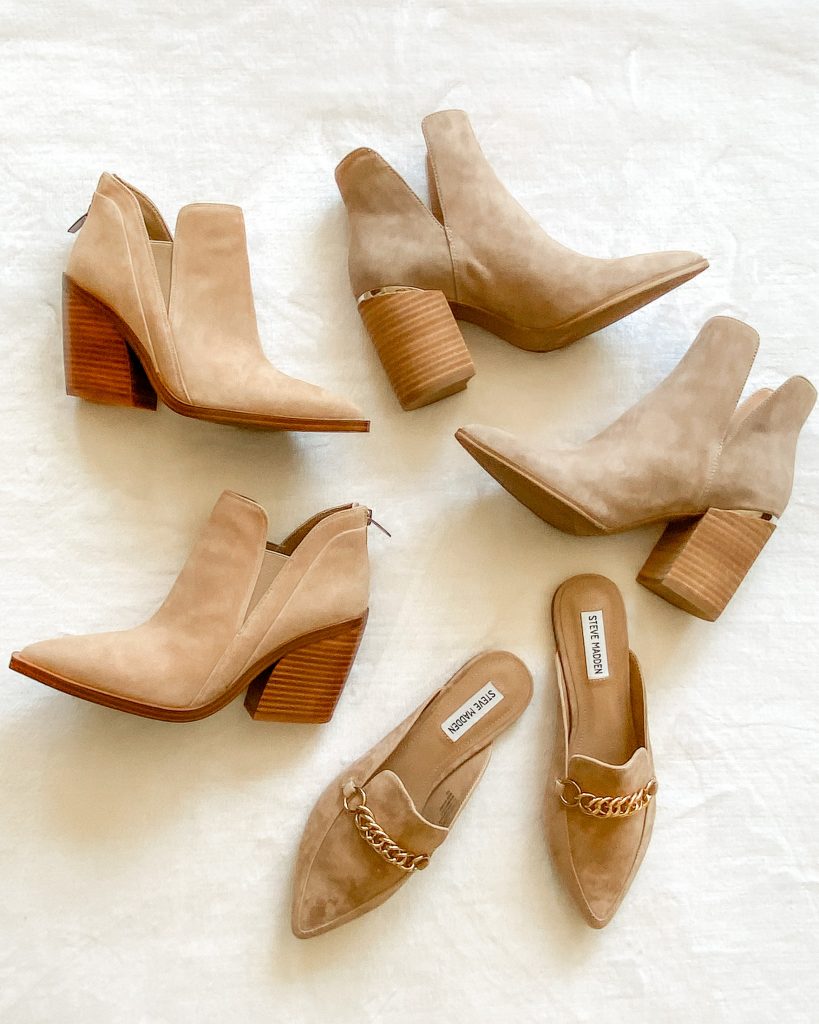 Denim
I tried on several pairs of denim in-store and I didn't care for any of them. I have a few on order and I will share those with you when they come in. In the meantime, I am sharing a pair that I own and LOVE that are on sale this year. They are the comfiest jeans I own and only $44.90 and they come in petite, reg, and plus!
If you don't own a pair, you need to try them. They are called the Ab-Solution Jean and they are marvelous! Jeans that are comfy AND hold your tummy in? Yes, please!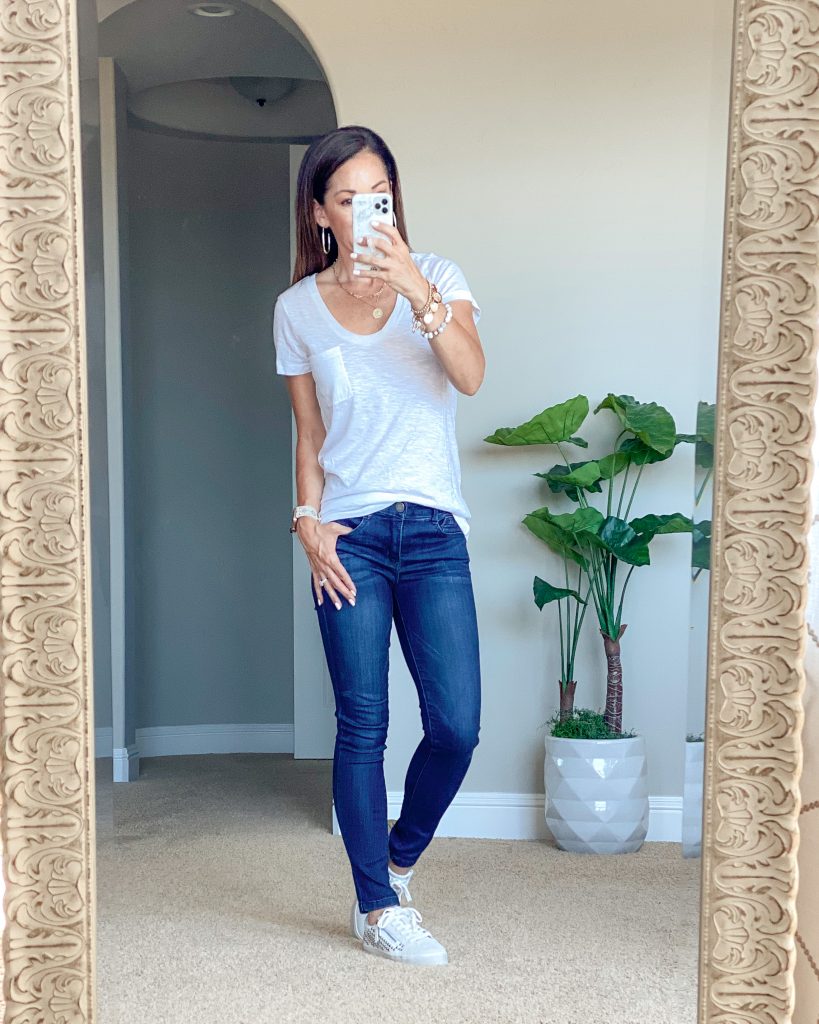 TOPS
There were only a couple that were in-store and I purchased. I always get a few tee's each year. They are the best! I wear them year-round! And, I always get a new one of these long sleeve thermal henley each year, too! Yes, they are amazing! I have the oatmeal color already and a lighter grey. This year, I purchased the color they are calling black, but it's more of a charcoal. I love it!

Jackets & Cardigans
I have been wanting a Patagonia jacket for years! This was the year and this jacket is amazing – so comfy and easy to move. Not too thin and not too thick! LOVE!
And, I have been eyeing the Barefoot Dreams Cardigan for years! YEARS! I don't know they I never tried one on. My girlfriends that own one told me I had to try it on and just buy one. Well, I tried on and I bought one! Immediately! Yep! SOLD! I might be living it all fall and winter!
I have been wanting a black blazer forever. This one has amazing reviews and I have hear other rave about it. I bought the petite XS and the arms are just a tiny bit short. I think it's a little snug, so I am going to order the regular XS. Believe the hype tho! The cute and feel is amazing! Perfect for work or to elevate your denim. Perfect if you are doing Zoom meetings this year! Business on the top, jammies on the bottom!

Althesure Outfit
This will be my go-to look this fall and winter! If you don't own a pair of black leggings, grab the Zella leggings. They are so good!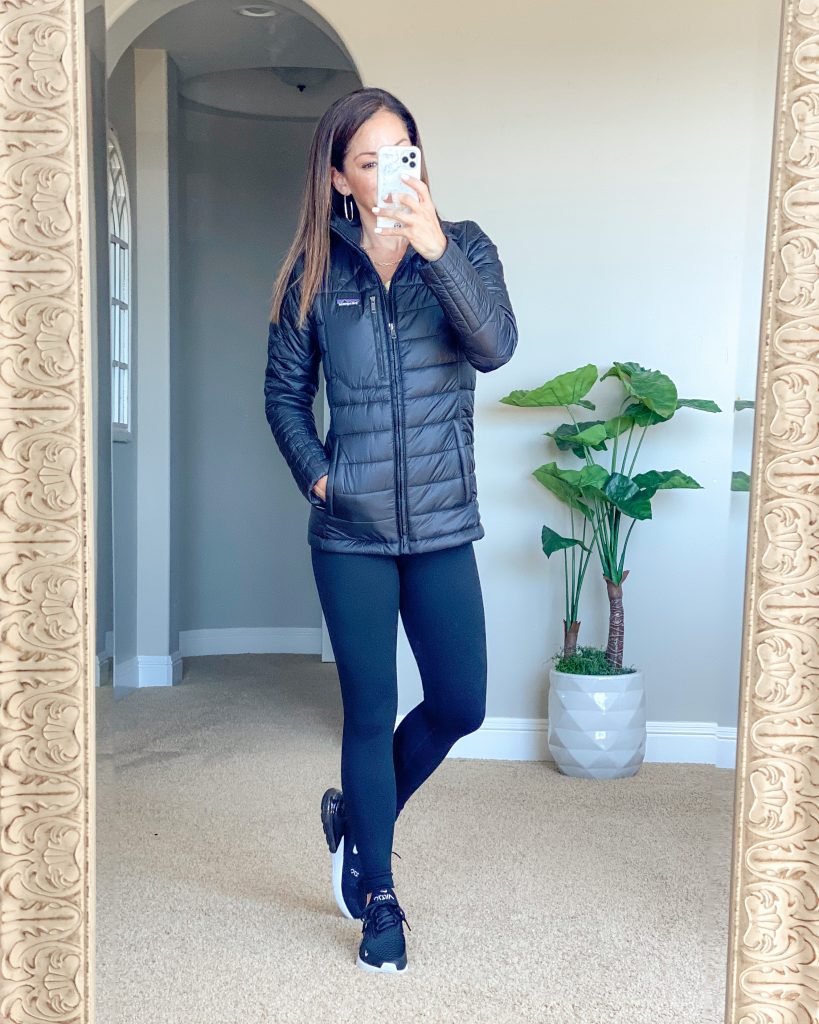 If the link isn't working for the NIKE's, message me. It's tricky! 🙁
Accessories
I almost forgot to take a picture of my accessories! I have been wanting these sunglasses for a while now and I was thrilled to see them included in the Nsale!
And, I already these Kendra Scott earrings that are part of the Nsale! I love these earrings so much that I bought them in silver and gold!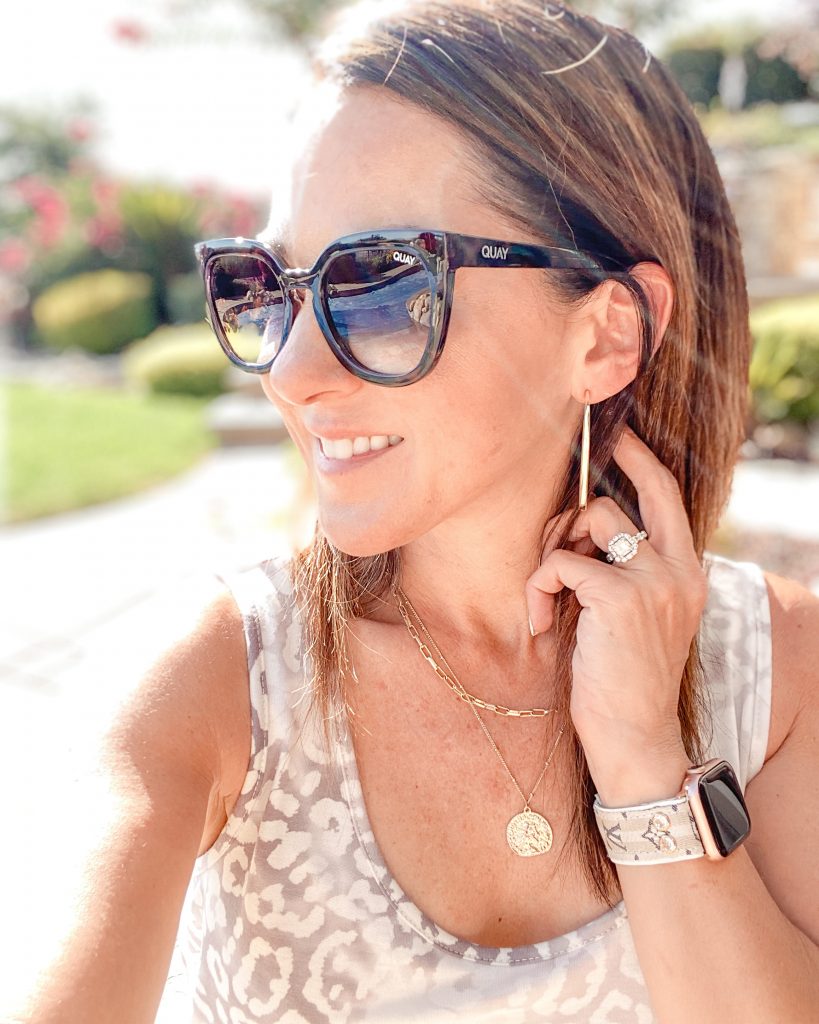 Beauty & Intimates
Oribe is hands down my favorite for Dry Shampoo & Texture Spray! And, Olaplex is my current favorite hair care. A little goes a long way!
I always get a new Natori Rose Dream bra every year! It's my favorite bra! This year, I purchased a different bra, because it looks really comfy and doesn't have an underwire! I can't wait to try it!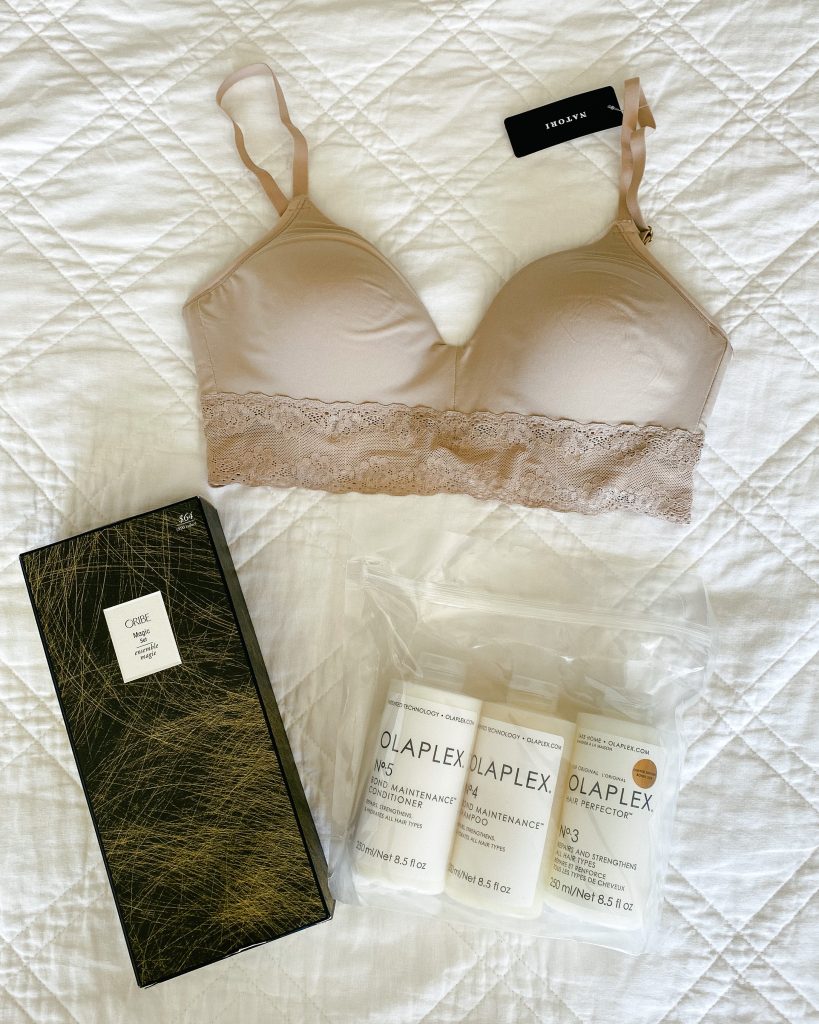 HOME
And, after years of wanting this Barefoot Dreams Blanket, I finally purchased one! Isn't it dreamy? These will make the best gift, too!
I LOVE Nordstroms bath towels, so I am getting another set.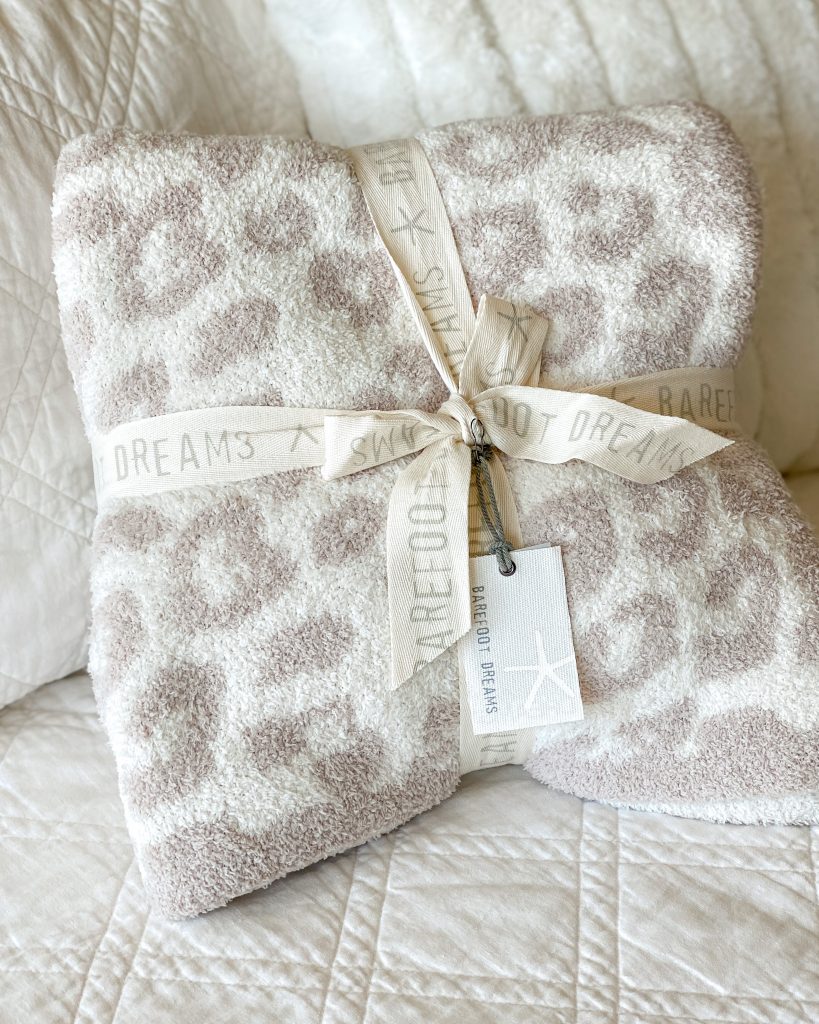 Girls
We found some cute pieces for my sweet girl! She is just like her mama and only wants comfy and cozy clothes.

BOYS
No fashion show for the boys! No surprise there, but they picked these and they are excited about them. lol!

MEN
Here is what I ordered for my hubby! Only one item was in the store and he isn't home yet for a try on. Maybe, I can butter him up for a try-on when all the pieces arrive! heehee!

Top 5 From the NSALE!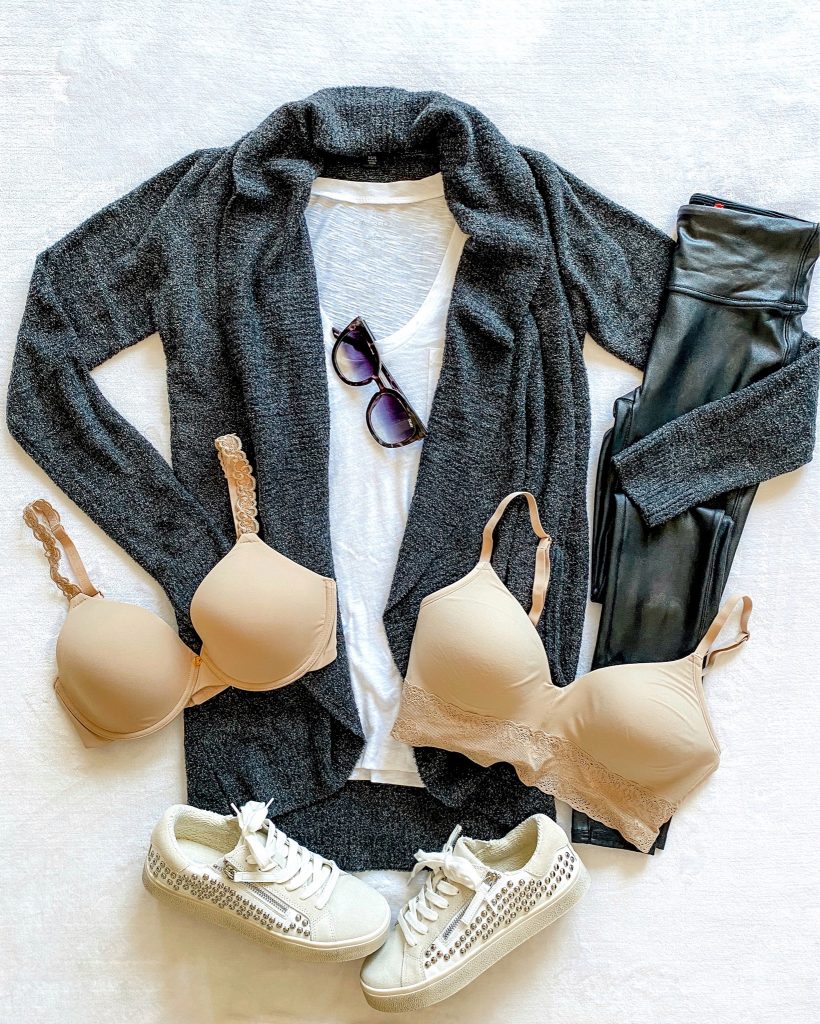 Shop the Pic


Thats it for now!
I will update this post when my ordered items are delivered!
What are your faves? Did you buy anything?