The Top 10 Hottest Best Sellers from September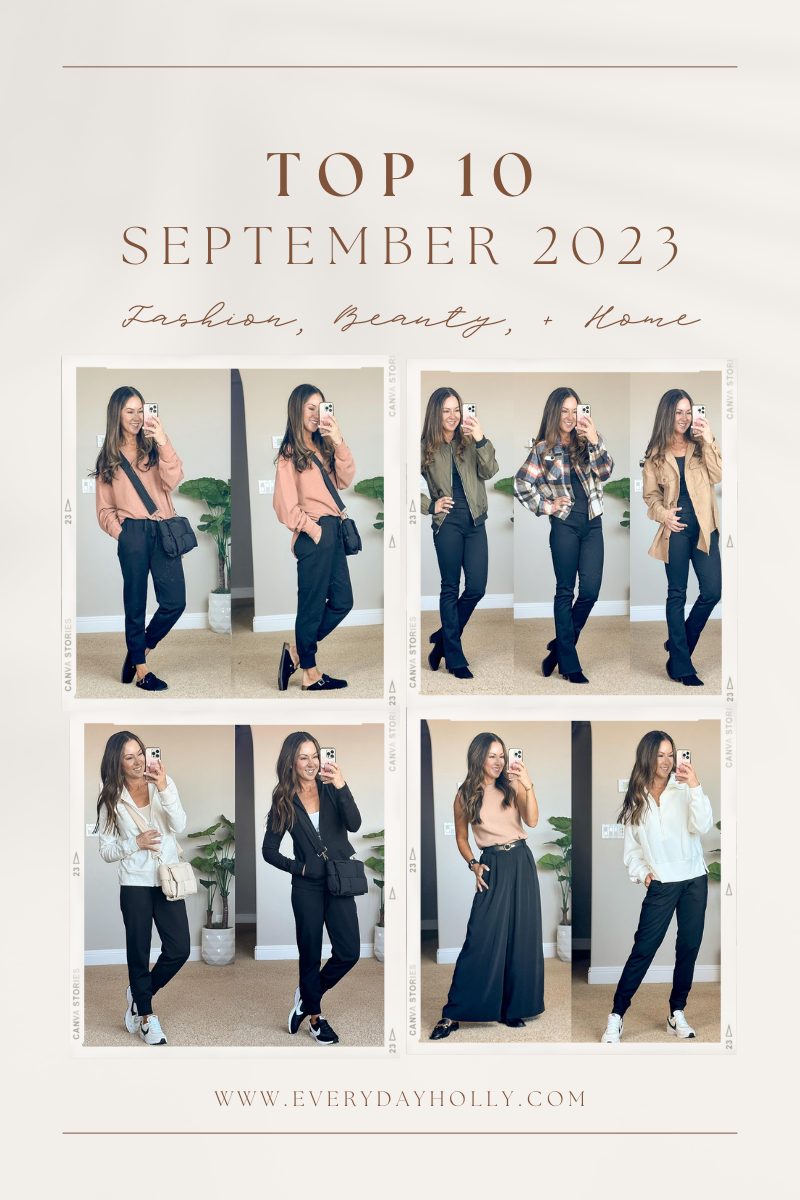 Fall is officially in full swing and I am LOVING it. Most of September's top selling items match the vibe of autumn.. comfy and cozy! As always, I love to compile the BEST selling items from beauty, fashion, and home. Several of these best selling items are some of my personal favorites – it looks like they are some of yours, too!
CLICK HERE for more monthly top sellers!
**This post contains affiliate links, all opinions are my own. Thank you for supporting me!**
Top 10 | Amazon Fashion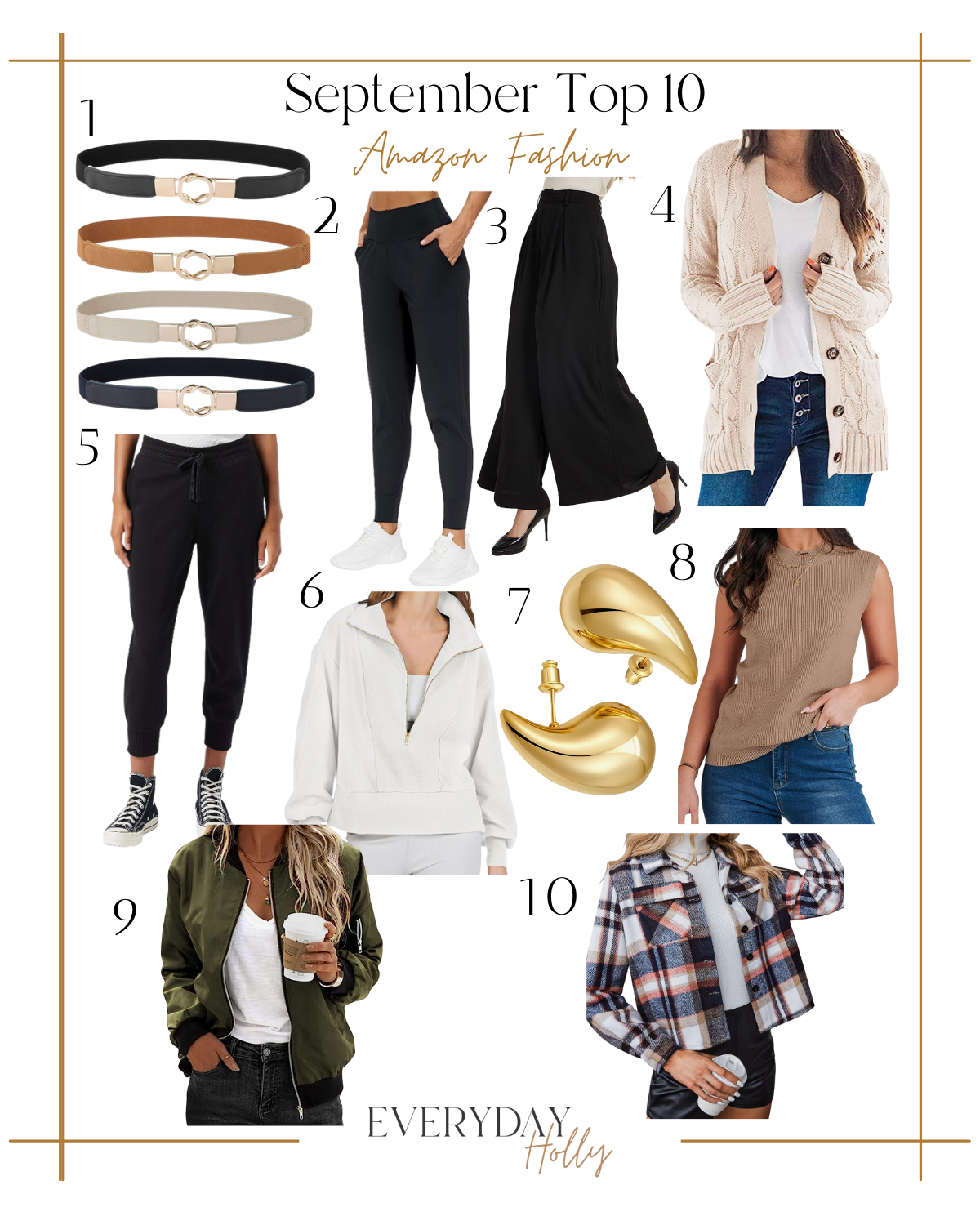 Skinny Belts | Women's Joggers tts, XS | Wide Leg Trousers tts, XS | Cable Knit Cardigan tts, S | Capri Joggers tts, XS | Fleece Quarter Zip tts, S | Gold Earrings | Mock Neck Short Sleeve Sweater tts, S | Bomber Jacket tts, S | Plaid Shacket tts, S
I am loving each and everyone of these items for this fall! Each of these items are a great addition to any wardrobe. September is the perfect time for all things cozy and LAYERING. This bomber jacket and plaid shacket are probably my favorite fashion finds this season. They are so fun and elevate any style instantly!

Top 10 | Beauty Favorites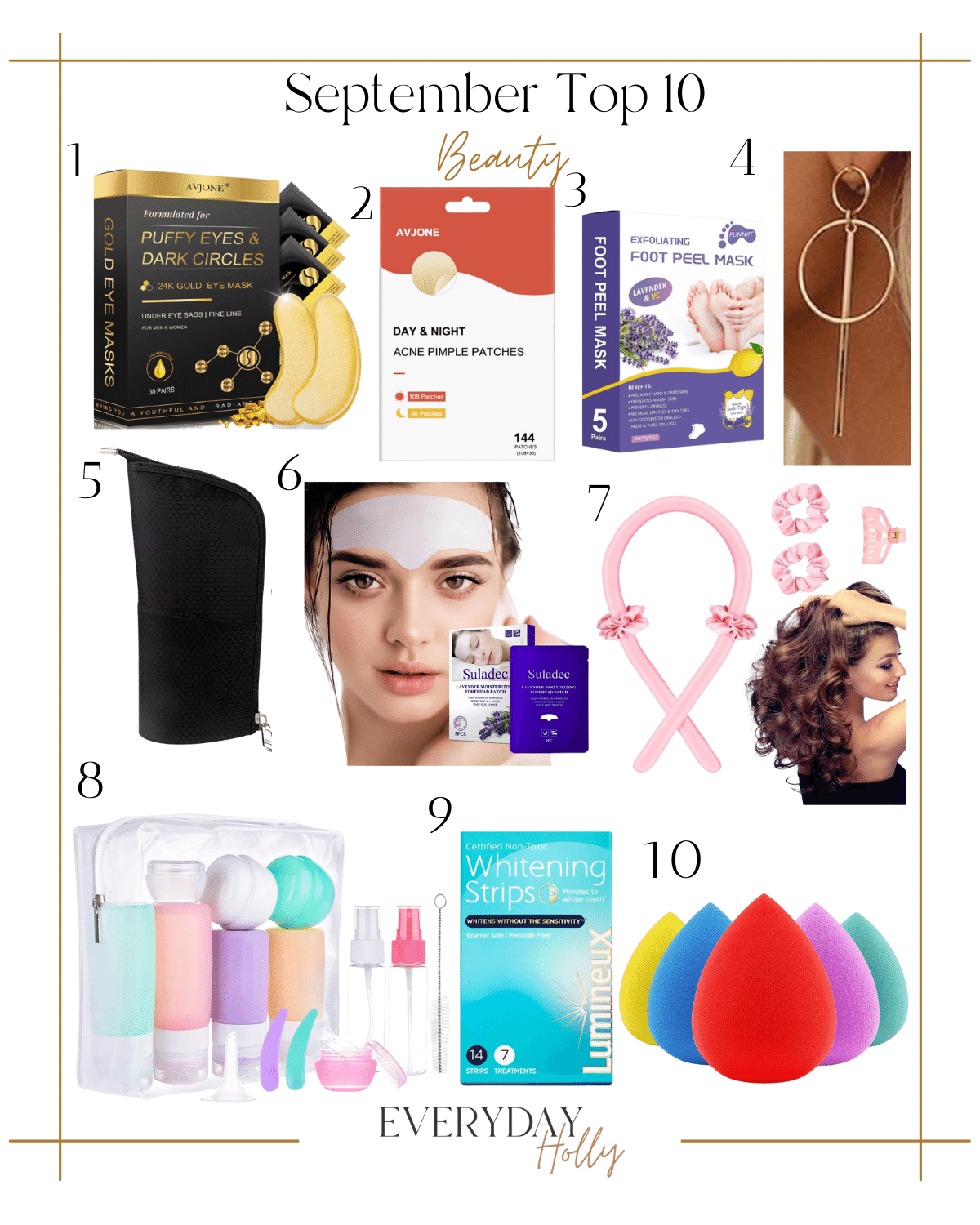 24K Gold Eye Mask | Pimple Pore Patch | Foot Peel Mask | Gold Hoop Earrings | Makeup Brush Holder | Anti-Wrinkle Patches | Heatless Curlers | Travel Bottle Kit | Teeth Whitening Strips | Makeup Sponges
Each of these beauty items are perfect for this fall and upcoming wedding season. Self-care is beyond important especially if you want to look (and feel) your best for any occasion! My personal favorites are the anti-wrinkle patches and 24k gold eye mask – it leaves me feeling bright and refreshed. This top 10 sellers combo is just what you need to feel new, refreshed and ready for any upcoming occasion!

Top 10 | Home Essentials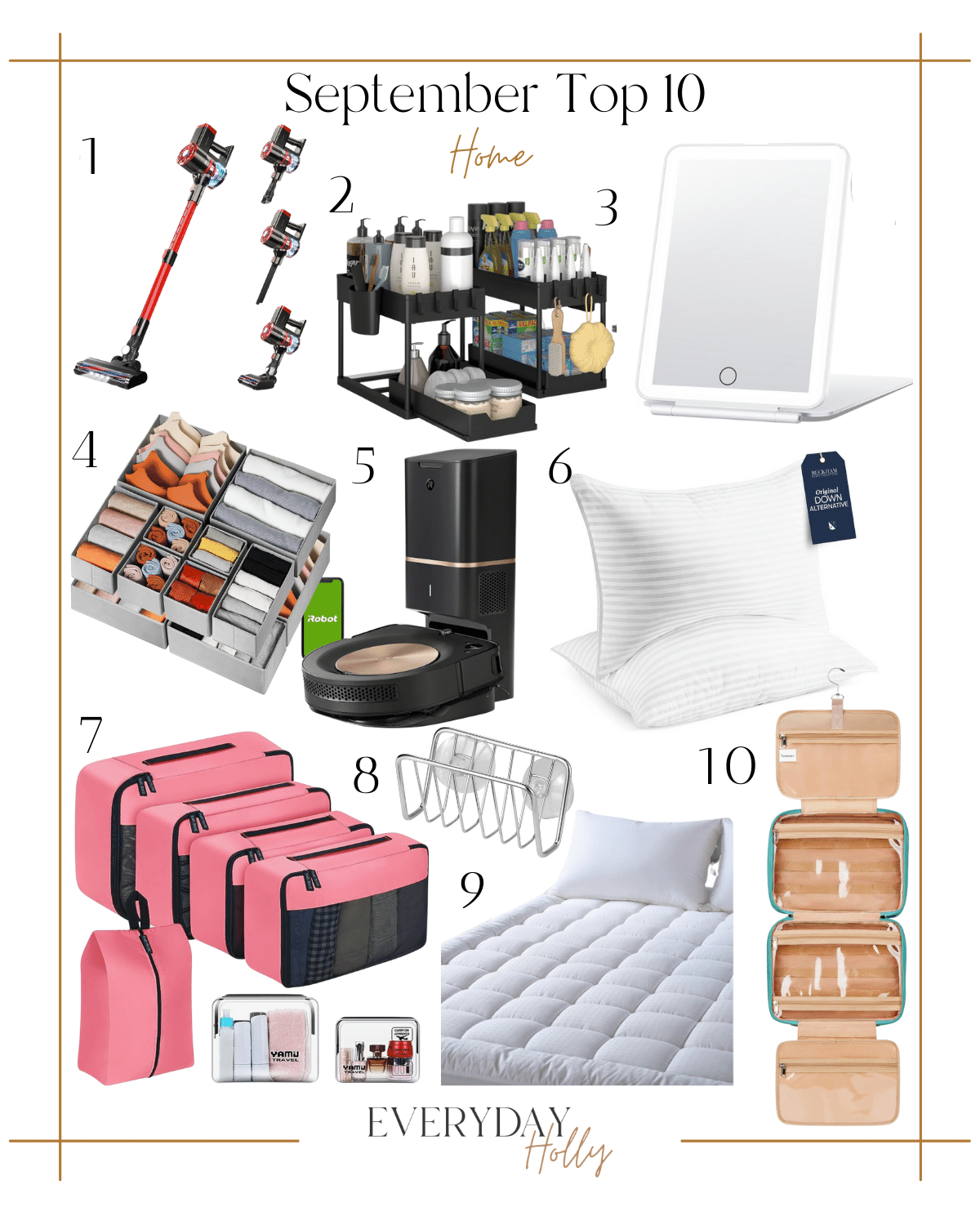 Cordless Vacuum | Under the Sink Organizers | Travel Makeup Mirror | Drawer Organizers | iRobot Roomba | Hotel Pillows | Packing Cubes | Kitchen Sink Caddy | Cooling Mattress Pad | Hanging Toiletry Bag
I love how handy each of these top-selling home essentials are! Last month, it was all about the little things. September seems to be all about being comfy, keeping things organized, and traveling in style! I don't know about you guys but I get HOT when I am sleeping and it is one of the worst feelings – this cooling mattress pad saves the night every time!

Top 10 | Fashion Favorites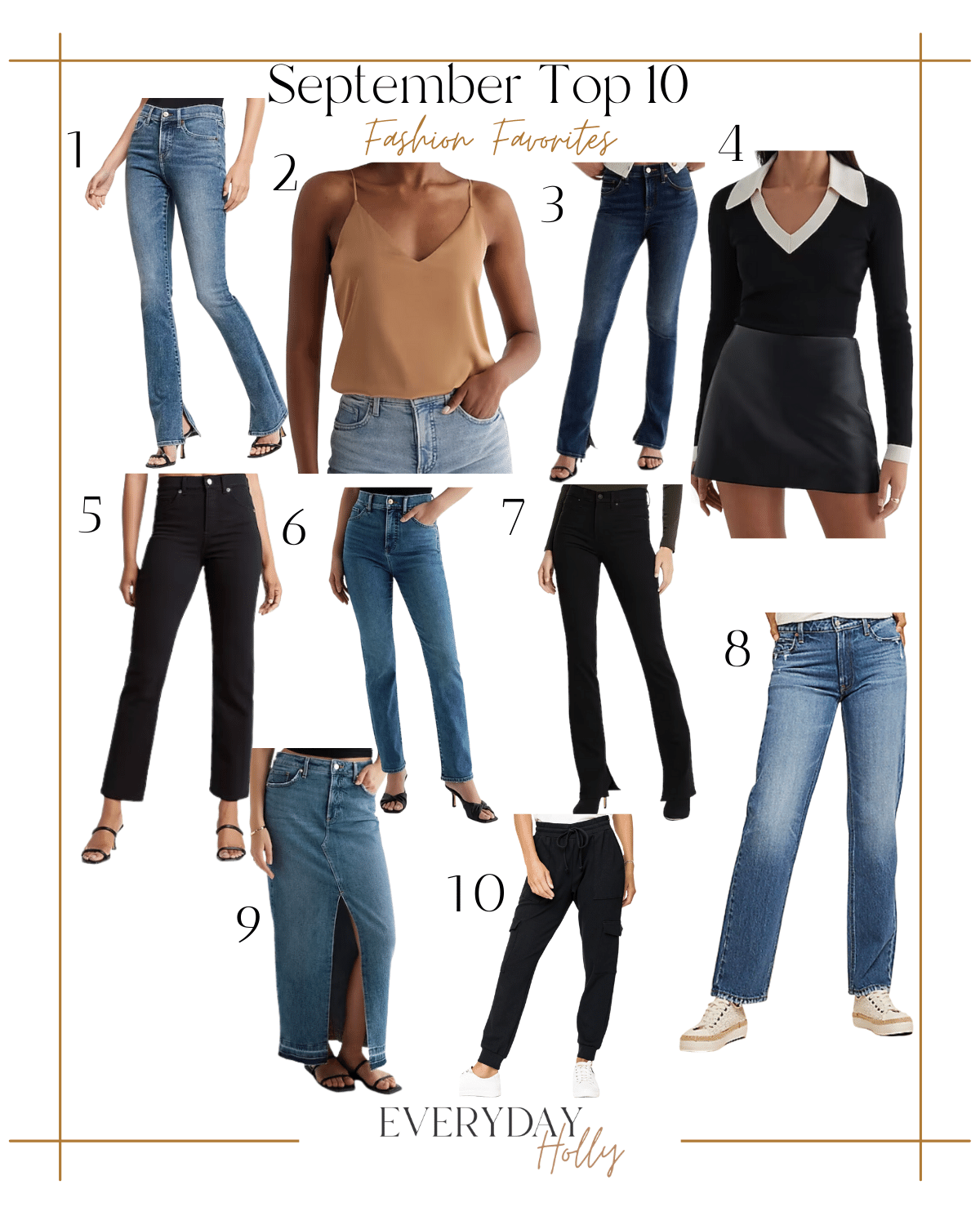 Mid-Rise Skyscraper Jeans | Satin V-Neck Cami | Mid Rise Dark Wash Skyscraper Jeans | Faux Leather Mini Skort | High Waisted Black Straight Ankle Jeans | 90's Slim Medium Wash | Black Skyscraper Jeans | Mid Rise Legacy Straight Jeans | High Waisted Maxi Denim Skirt | Cargo Joggers
Almost every single one of these styles is from Express, isn't that so crazy? Denim has been the top trending item lately. Everyone seems to be searching for that PERFECT pair of denim that's both flattering and comfortable. However, I will say that these cargo joggers are my FAVORITE thing to wear when I'm traveling. I swear I don't go anywhere without them!

Shop These Styles
You all know I love sharing my personal favorites with each of you. See below for some my FAVORITE styles from this September!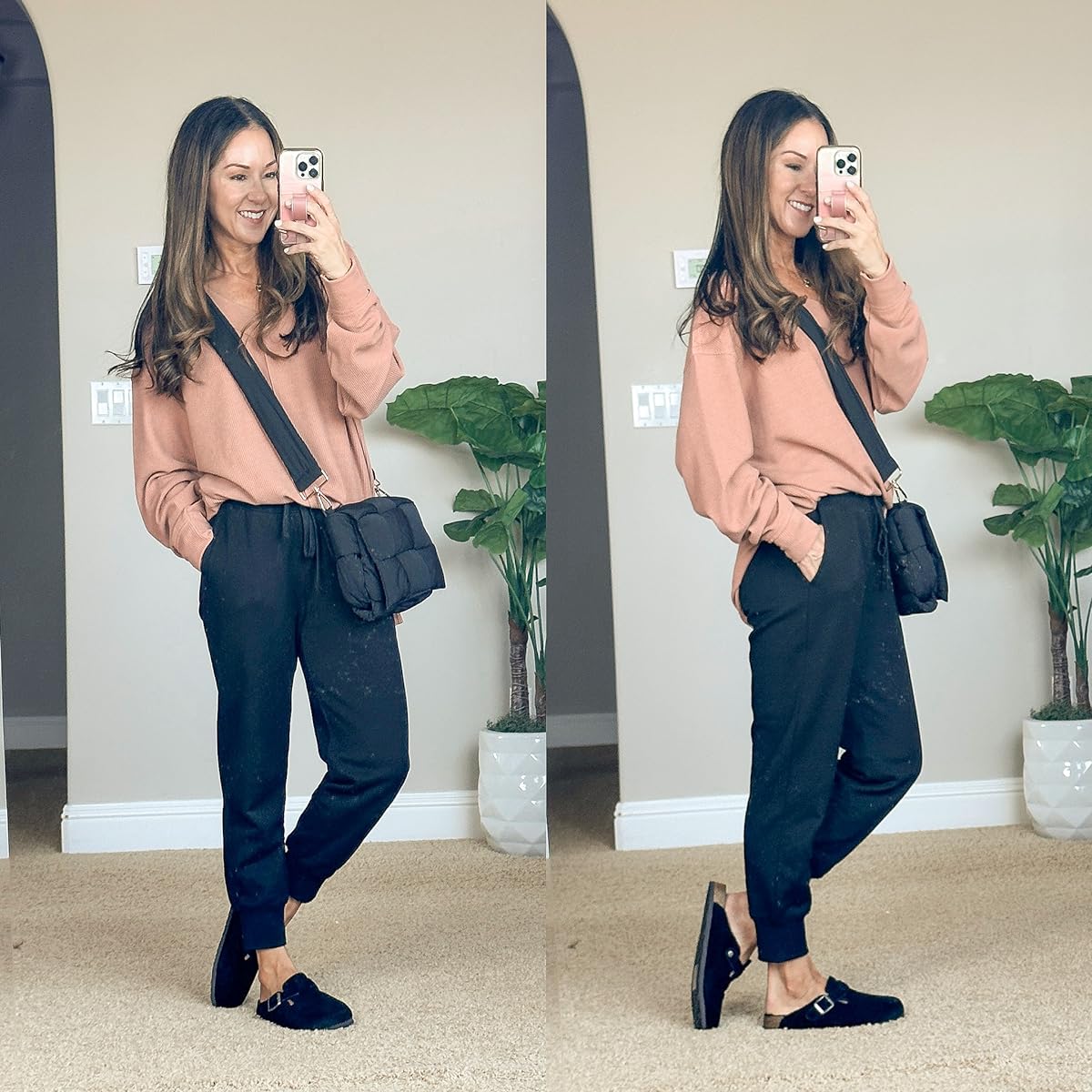 Long Sleeve Off the Shoulder Sweater tts, S | Black Puffer Shoulder Bag | Capri Joggers tts, XS | Sherpa Lined Clogs 7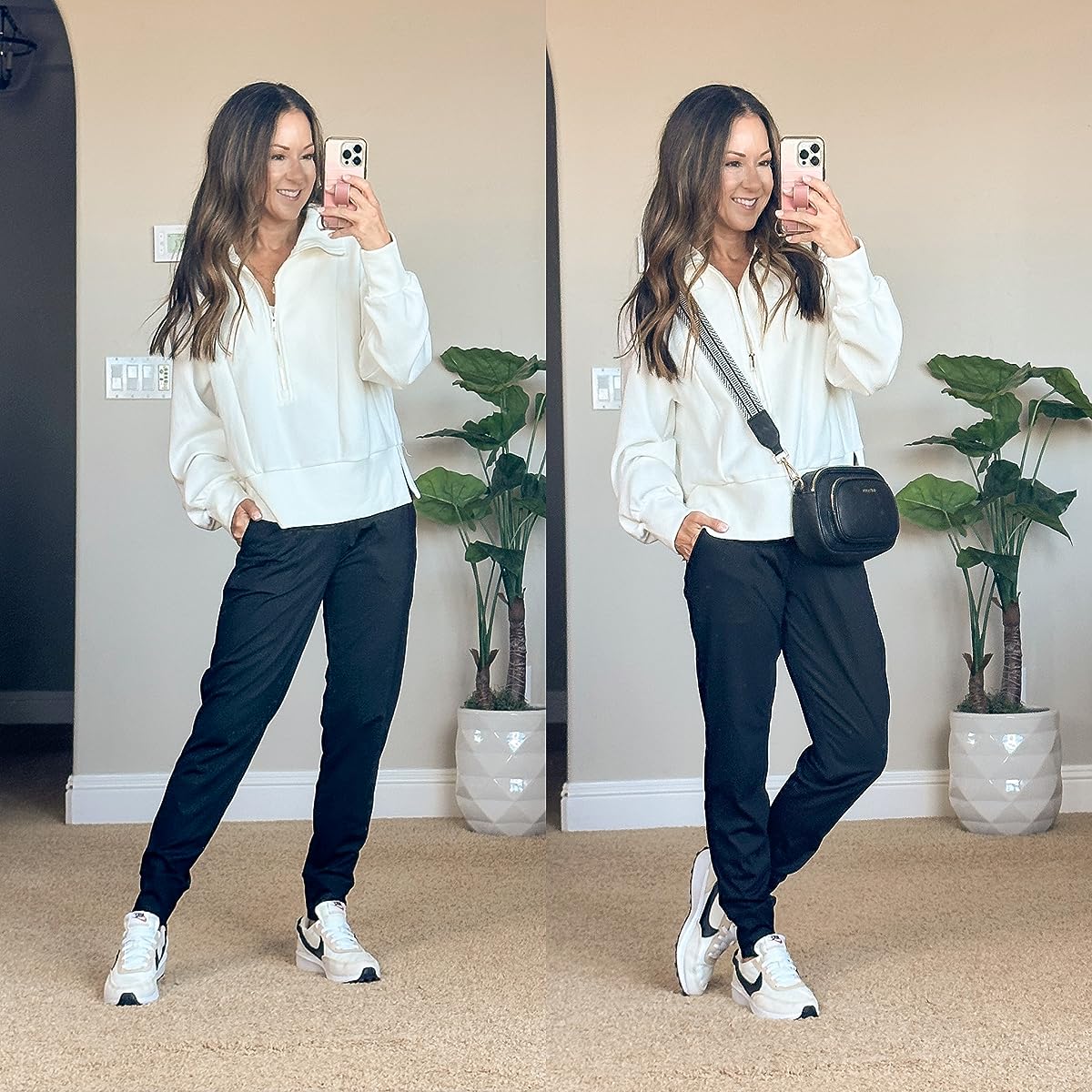 Fleece Quarter Zip tts, S | Longline Sports Bra tts, S | Women's Joggers tts, XS | Crossbody Bag | Seamless Thongs | No Show Socks | Sneakers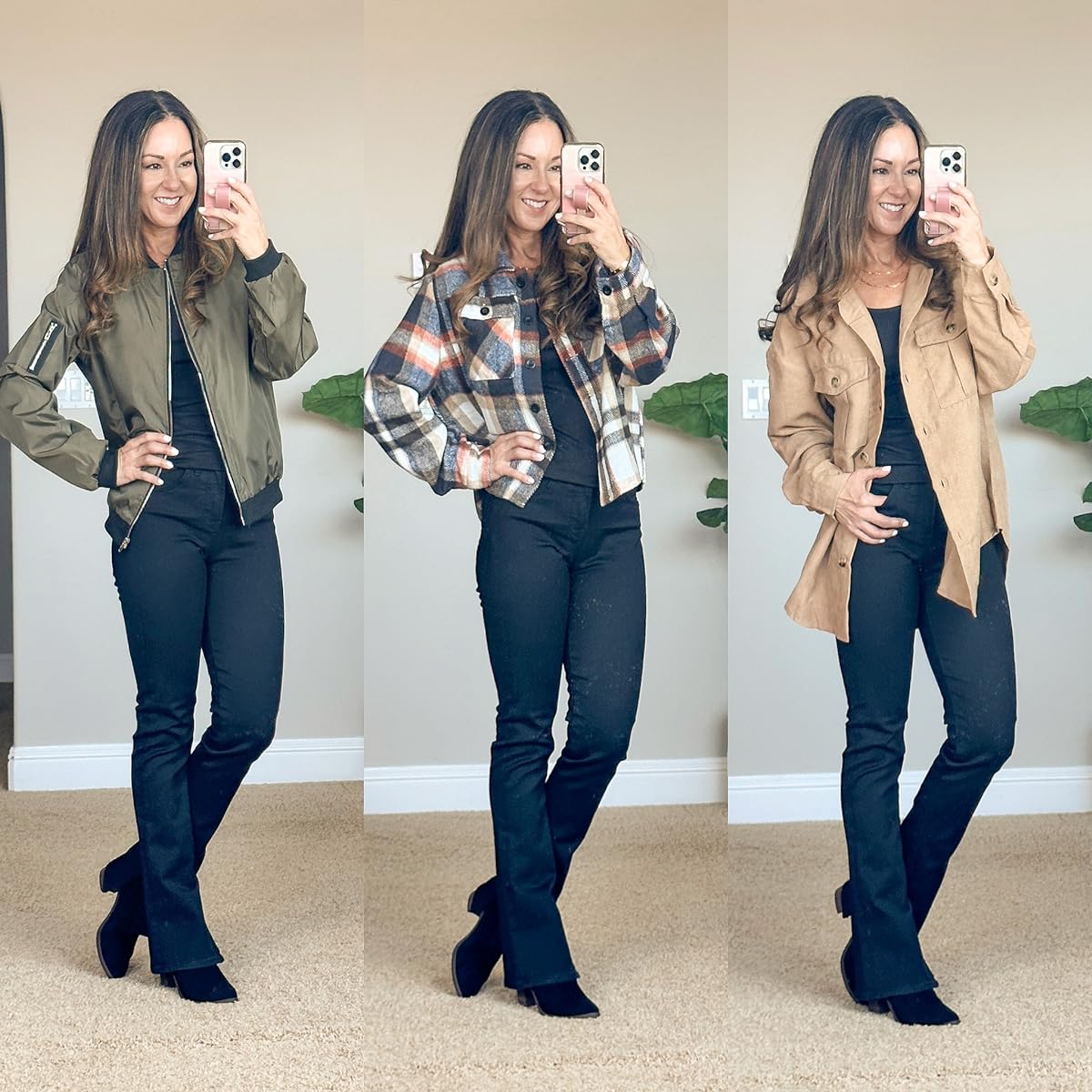 Bomber Jacket tts, S | Plaid Shacket tts, S | Corduroy Button Down tts, S | Tank Tops tts, XS | Mid Rise Black Skyscraper Jeans | Leather Belts | similar V-Cut Booties 7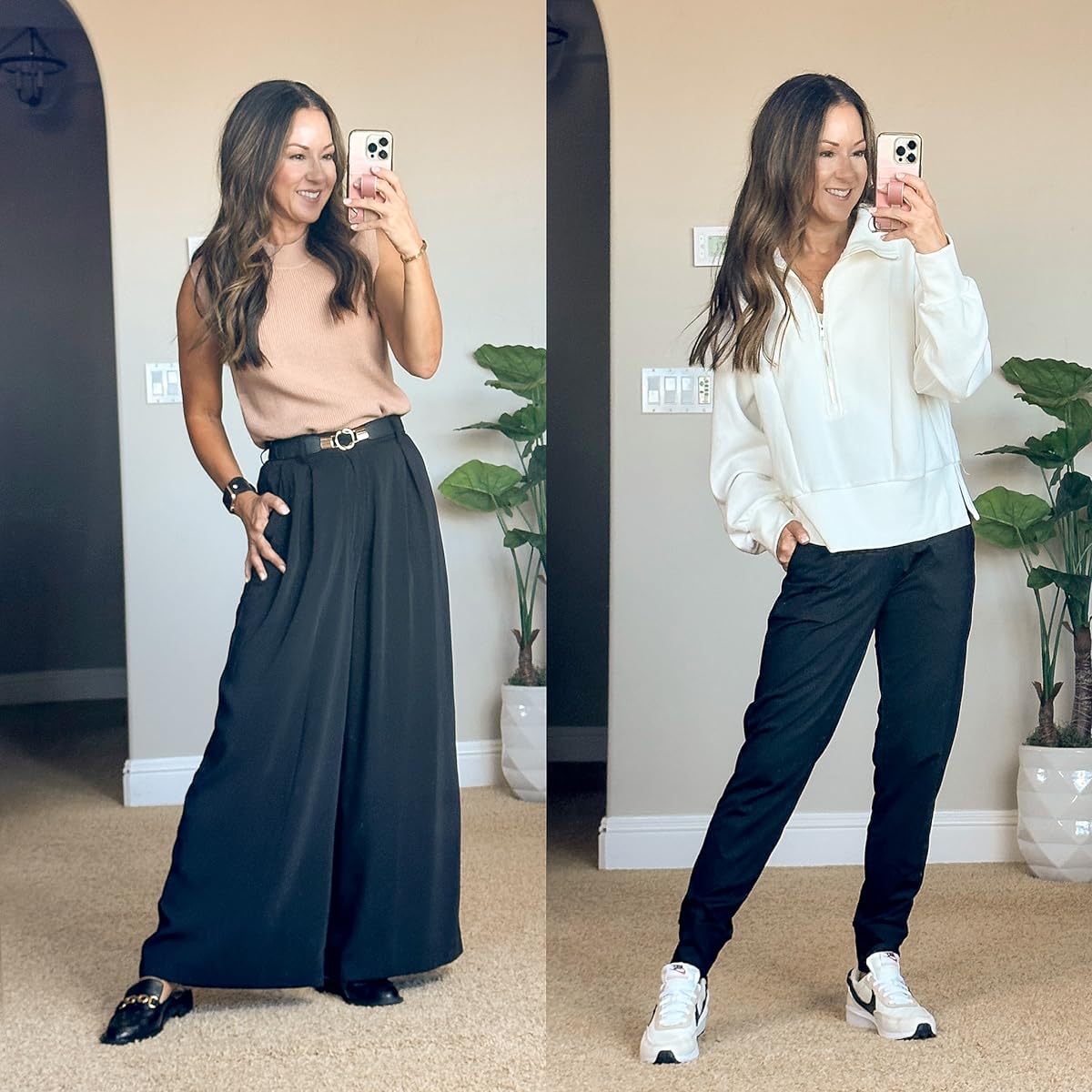 Mock Neck Short Sleeve Sweater tts, S | Skinny Belt | Wide Leg Trousers tts, XS Short | Fleece Quarter Zip tts, S | Women's Joggers tts, XS | Sneakers go up a 1/2 size | Loafer Mules TTS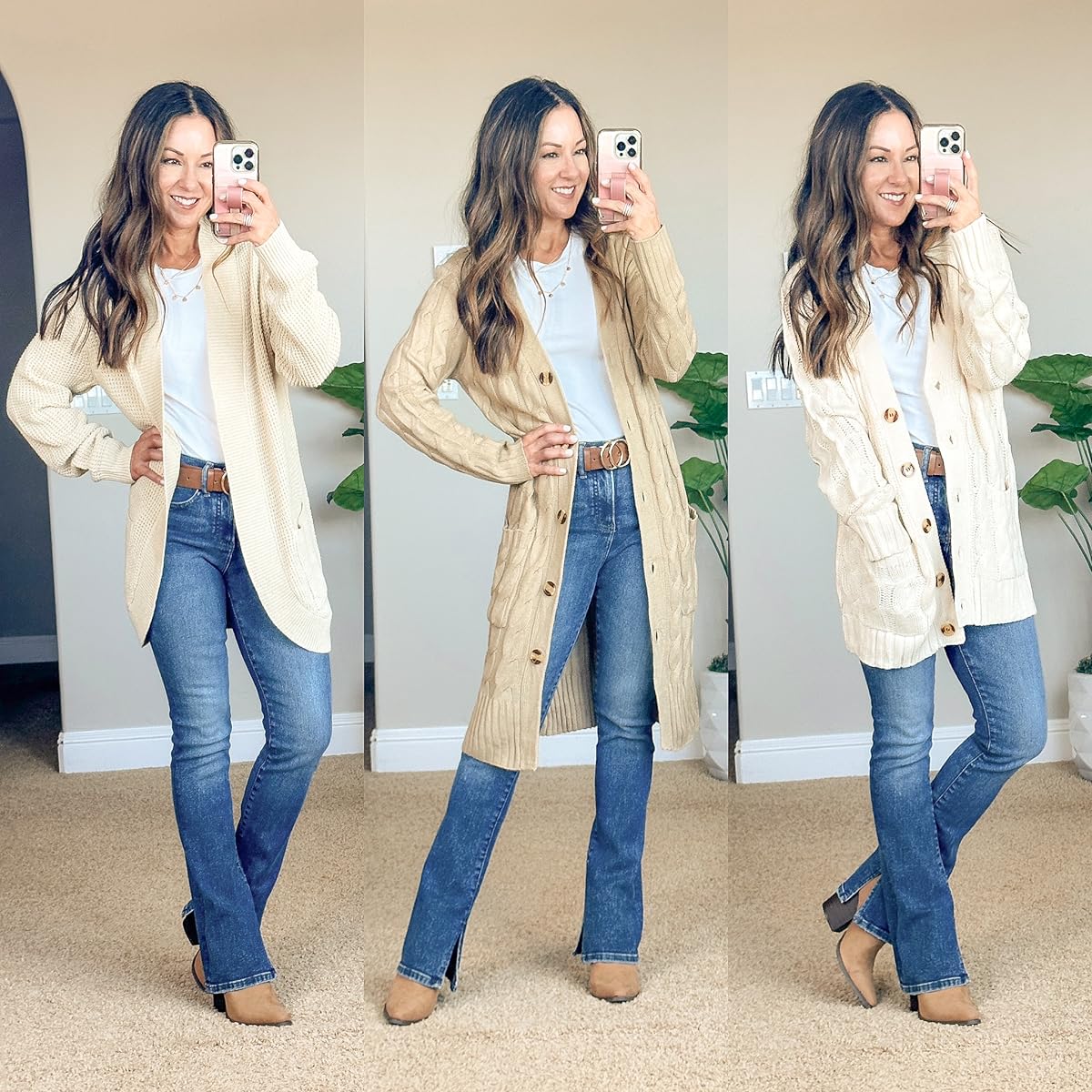 Open Front Cardigan tts, S | Long Cable Knit Cardigan tts, S | Chunky Knit Cardigan tts, S | Bodysuit tts, S | Mid Rise Skyscraper Jeans | Leather Belt | SImilar V-Cut Booties 7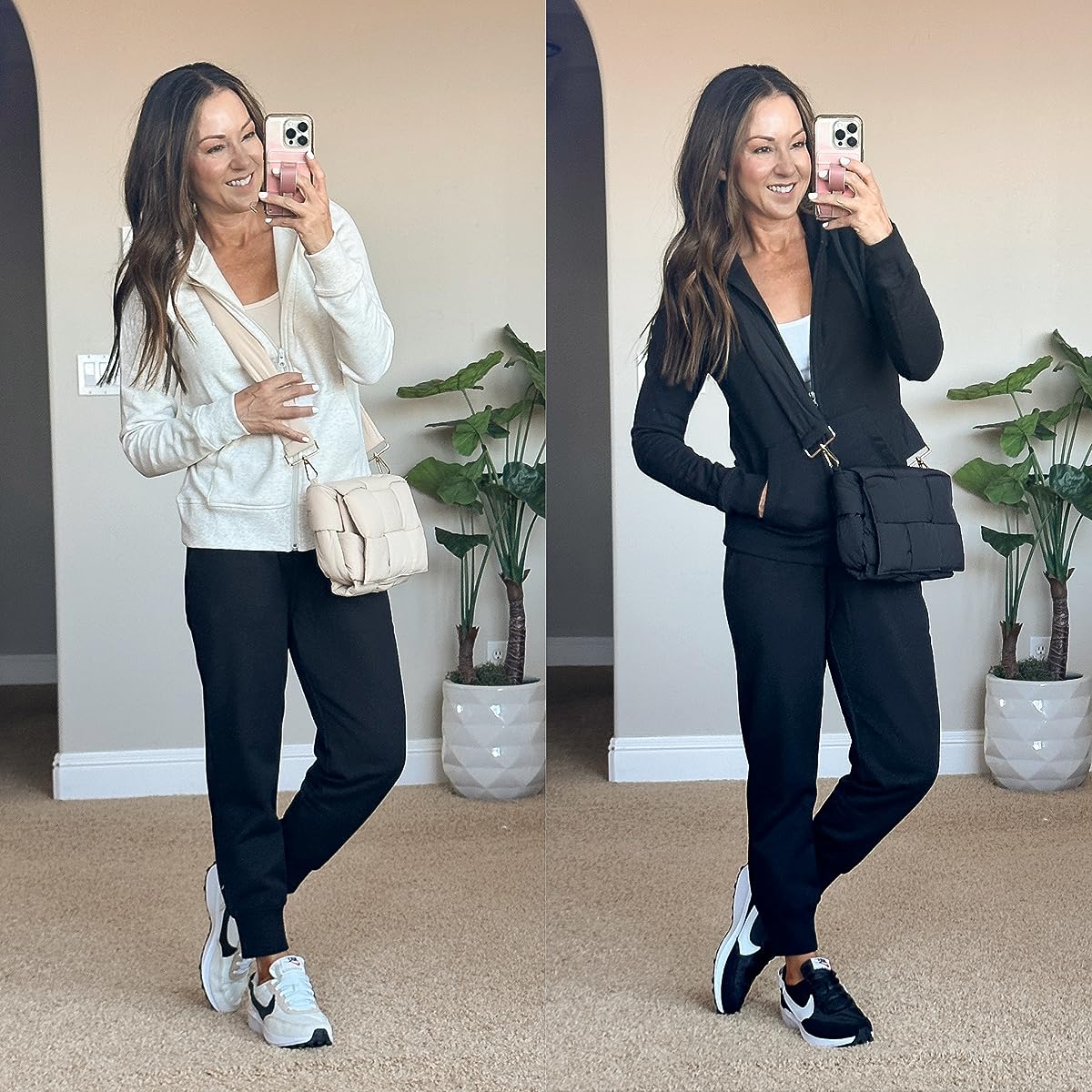 Full Zip Hoodie tts, XS | Capri Joggers tts, XS | Neutral Tank Top tts, XS | White Tank Top tts, XS | Puffer Shoulder Bag | Black Shoulder Bag | Seamless Thongs | Sneakers go up a 1/2 size

Shop More Fashion, Home & Beauty Favorites



SHOP THE POST