American Eagle Fall Denim Try On
Fall is one of my favorite times to shop at American Eagle! They have THE best womens jeans, softest tops, and the best sales! Right now everything is 30-60% off! This post focuses on AE denim, but they have so many great tops right now, that I had to share those, too!
This post ended up being mostly leggings, because that is what they had in store. If you would like to see more options please check out my TOP 5 Fall Denim for Fall post here.
Please note that the pictures are showing whitish spots the denim (especially the skirt and black denim). The jeans do not have on them in person!
For reference, I am 5'1″ and 105lbs. I am wearing a 2 Short in all the jeans I tried on. All the jeans come in short, regular and long length. Some are available in curvy as well.
If you would like to view the try on of these jeans, please head to my Instagram Everyday.holly and it's under the American Eagle Tryon Highlight.
*this post in not sponsored in any way, but it does contain affiliate links. As alway, they you so much for using my links!
1. High-waisted Button Distressed Button Fly Jegging
I LOVE these jeans! They are so fun with the button-fly and distressing. So comfortable! They distressing at the top of thigh and one knee does not go all the way through. This top is ahhh-mazingly soft and super flatting with the v-neckline!
2. Super Soft High-waisted Distressed Jegging
These are the softest jeans of the bunch (these do not have the whitish spots on them IRL, they are solid). Again, these are so incredibly soft and the distressing does not go all the way through so they are perfect for the cold fall and winter months. And, you will never find a softer top than this! EVER! I want to live in this top! I comes in so many colors and striped options.
3. Super High Waisted Non-distressed Jegging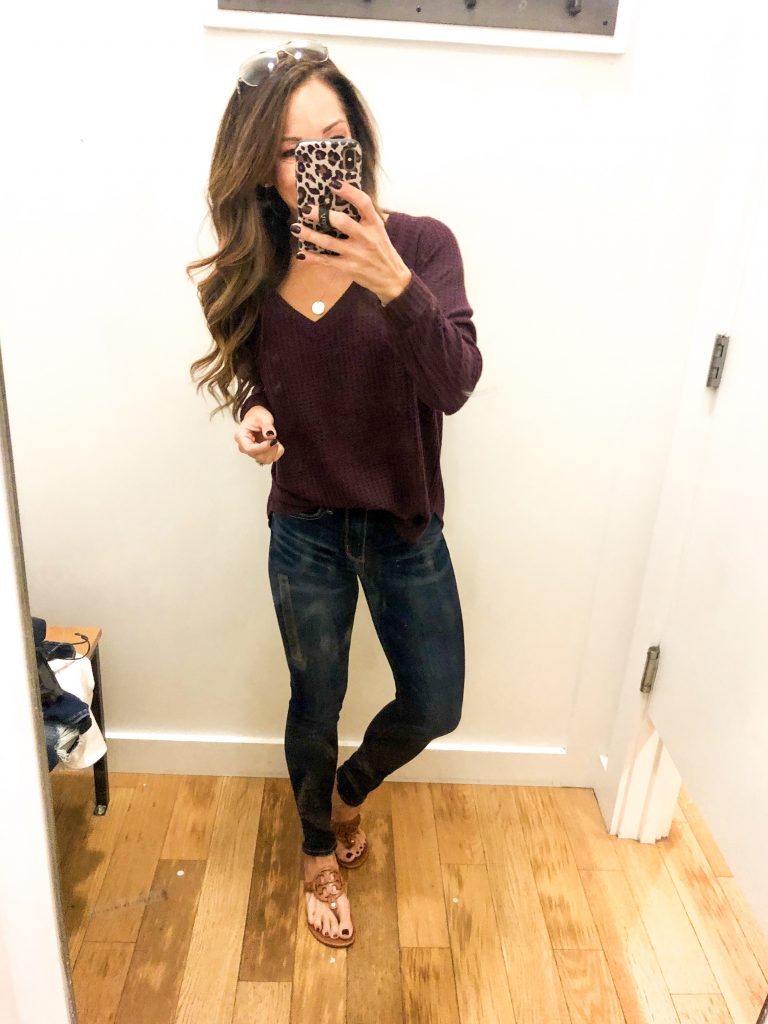 These jeans are so comfortable (these do not have the whitish spots on them IRL, they are solid). They are high-rise and stretchy! These are perfect for casual days at work This top is the coziest! And, the plum color top is gorgeous for fall!
4. High-waisted Denim Mini-skirt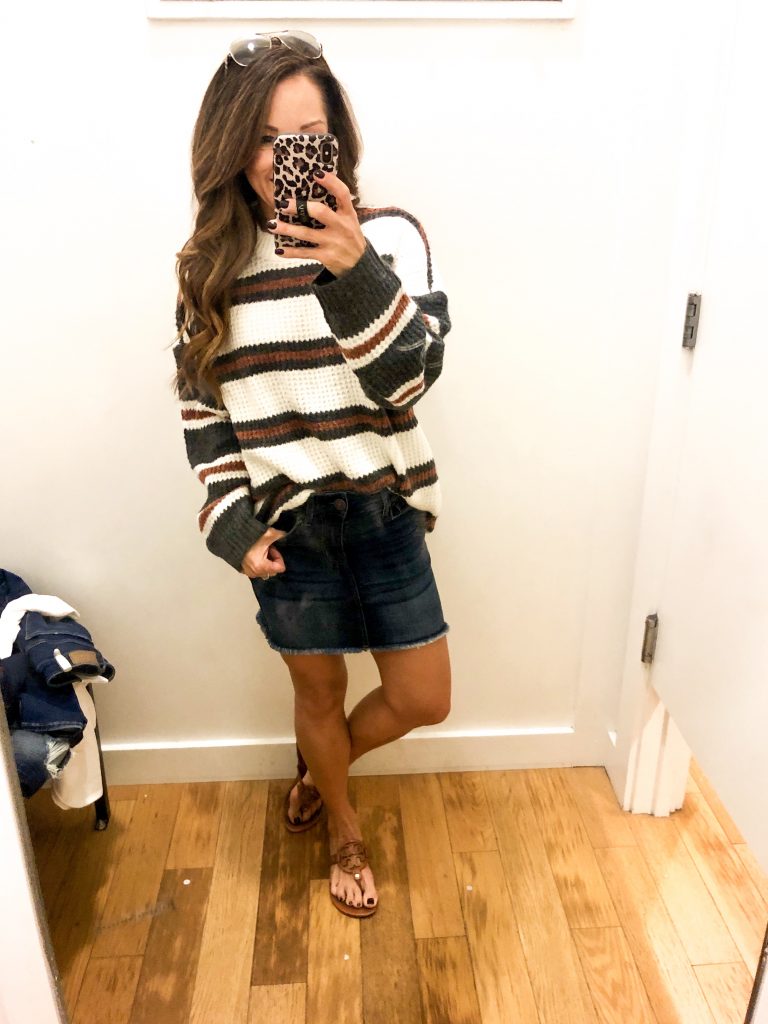 I have been wanting a non-distressed denim skirt with stretch and this one is perfect (this does not have the whitish spots on them IRL, they are solid). And, it comes in short, regular, and long lengths! I got the 2 regular in this one for added length. If you have been wanting a denim skirt, get this one! It's so good! This over-sized sweater is not too thick which I love. It's soft and cozy.
5. Black Distressed/ripped knee Jegging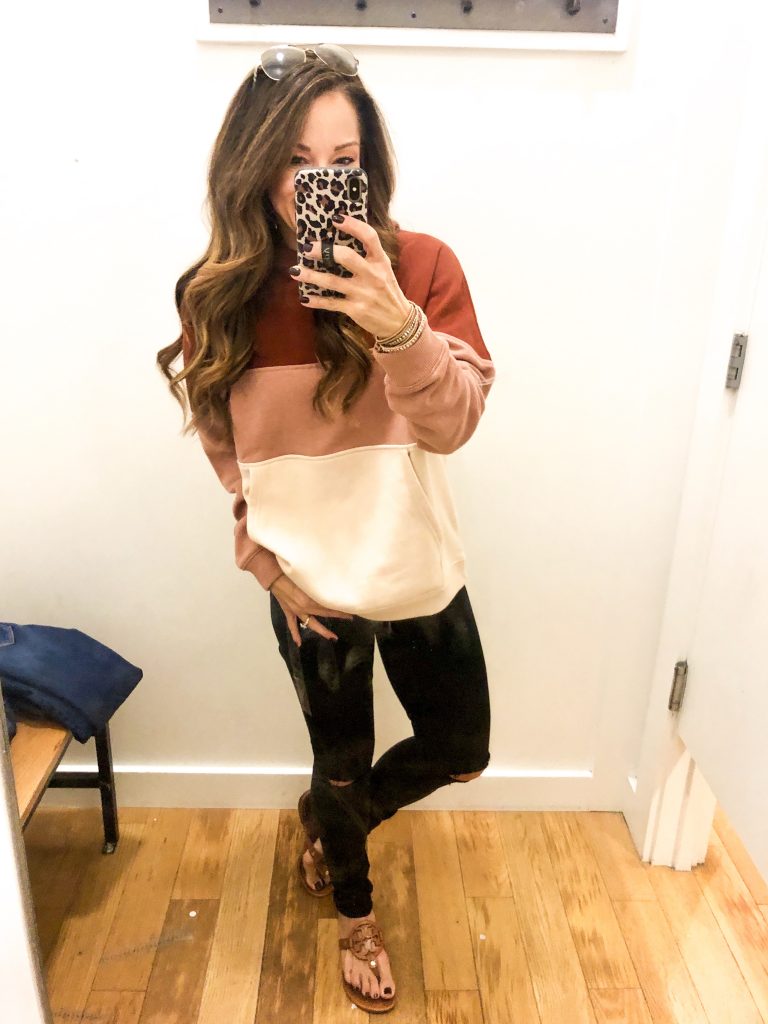 LOVE this pair of black denim! They are so comfortable! I have a similar pair from Express that have been my favorite for couple of years and I might like these just a little more! (these do not have the whitish spots on them IRL, they are solid) And, this sweatshirt is super soft! If you are looking for an oversized comfy sweatshirt, this is a great one!
That sums up my favorites from the store! Make sure to check out my 5 Favorite Fall Denim that I own blog post for even more options and a lot of outfit ideas!