11 Target Pieces You need to… – Jeans, Tops, Sweaters, shoes!
Sale Alert! Who doesn't love a Target sale! Especially when the sale includes tops, sweaters AND jeans! Score!
Target fall fashion never disappoints and it's honestly my favorite season for Target fashion. They nail it every year!
Here are 11 pieces you to grab for fall!
If you are looking for additional fall transition pieces, make sure to check out this blog post with 11 Casual & Affordable Fall transition pieces from Amazon.
And, don't forget to check out latest fall try on from Pink Lily!
For reference: I am 5'1″ and typically a size xs/s in tops and 0/25 in bottoms.
**This post contains affiliate links, but all thoughts and opinions are my own. Thank you so much for using my links, it doesn't cost you any more to use my links.
3 Jean Styles
Right pair – high-rise & tapered, roomy in the thigh area. Wearing a size 0 and are the perfect fit. These jeans are a little long on me (I'm a shorty), so I just cuffed them.
Middle pair – High-rise, skinnies. LOVE this color! These jeans are super comfy and don't show any lumps, bumps, or dimples. Wearing 00.
Right Pair – are a high-rise, wide-leg, carpenter style. I love this style more than I thought I would! This pair is comfy and fits like a glove. Super flattering, too! Wearing 00.
3 Must Have Tops!
Sweater vests are all the rage this fall, so you better try on at least to see if you like them. I really LOVE this one! It's so soft and you can wear it on it's own or with a shirt underneath as the the weather cools down. It comes in several colors. I am wearing an xs.
Do you love Schitt's Creek? Well, whether you do or not, this is the cutest tee from the Target Schitt's Creek line! Wearing an xs.
This cozy sweater is so comfy and I loved it so much that I had to get it in this gorgeous cream color and the fun design in the next pic. Unfortunately, at the time of this post, it's not online yet, so you need to head to your store to find it. Sorry. :-(. Wearing an xs.
sweater vest // high-waisted, taper jeans // mules // Schitt's Creek tee // Ecru skinny jeans // sneakers // sweater // carpenter jeans // similar boots // Another pair of similar boots
More Sweaters!
Left Sweater – This sweater is so soft and perfect for every day. You can wear it untucked or tucked and it comes in several colors. wearing an xs.
Middle sweater – this sweater is so cozy and comes in solid colors like the one in the previous picture. I love it so much that I got both! I loved the colors in the design so much that I couldn't say no! Wearing an xs.
Right sweater – I LOVE this one and it's only $12 right now! How crazy is that? I need all the colors. It's cropped, but not too cropped. No skin will show when you wear high-rise jeans. Wearing a small.
right sweater // jeans // mules ~~~ Middle sweater // jeans // sneakers ~~~ Right sweater // jeans // mules
Cute Cardigan
How cute is this shrunken cardigan? It's super soft, and the puff shoulders and balloon sleeves make this piece a standout! It comes in several colors. Wearing an xs.
This necklace isn't from Target, but I think it's worth mentioning since it is perfect for fall and so cute! I purchased this one from the Nordstrom Anniversary sale, however, there is one on Amazon that looks identical for only $11! What?! It's worth a try since it's free shipping and returns. 🙂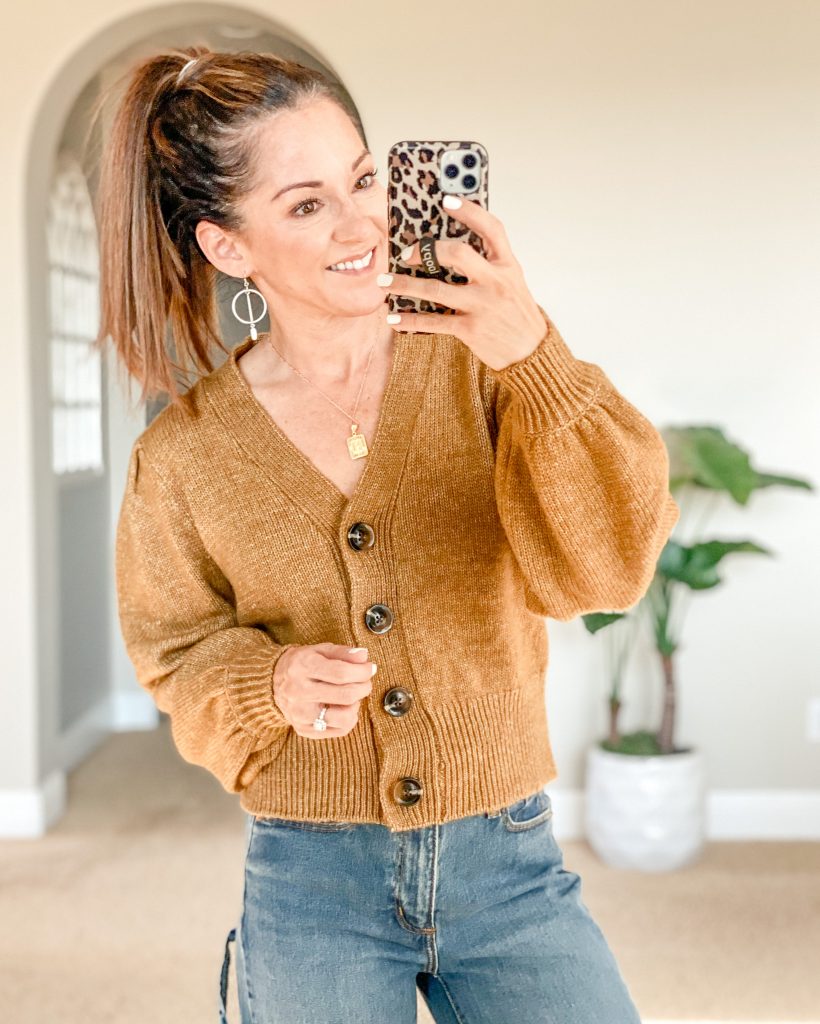 Cardigan // jeans // necklace // less expensive necklace
Schitt's Creek Apothecary Tee
Just a closer look at this cute tee. Size xs
Oufit Ideas and Discount Codes: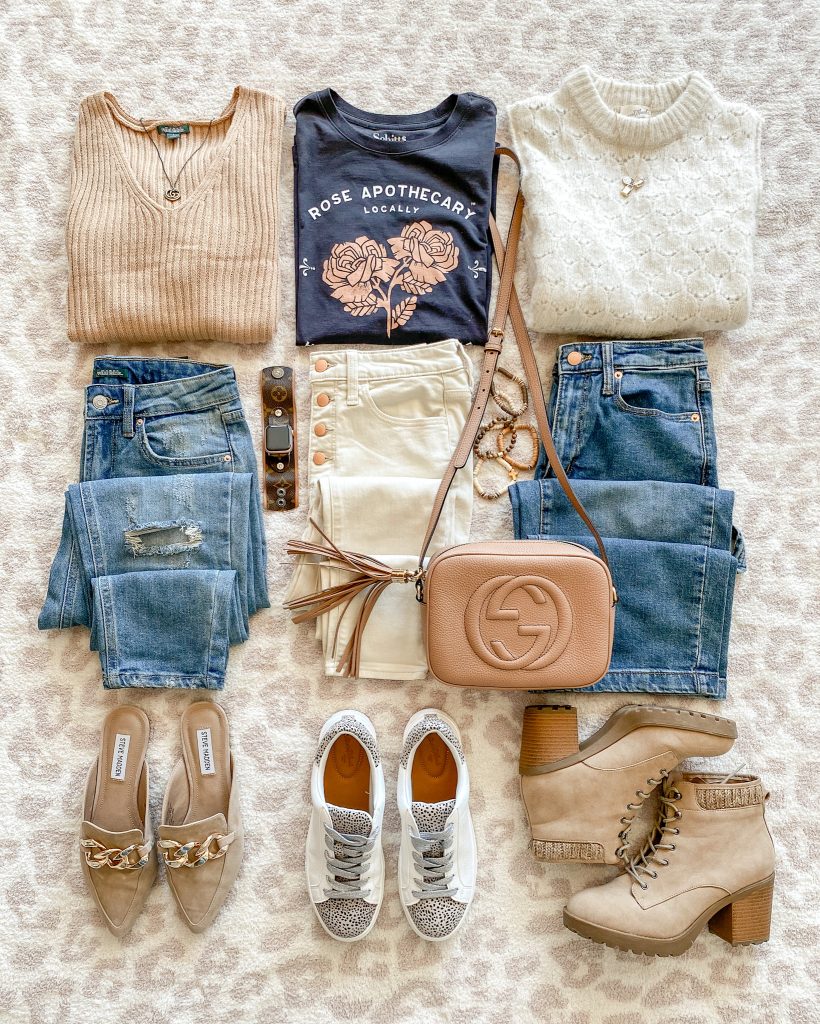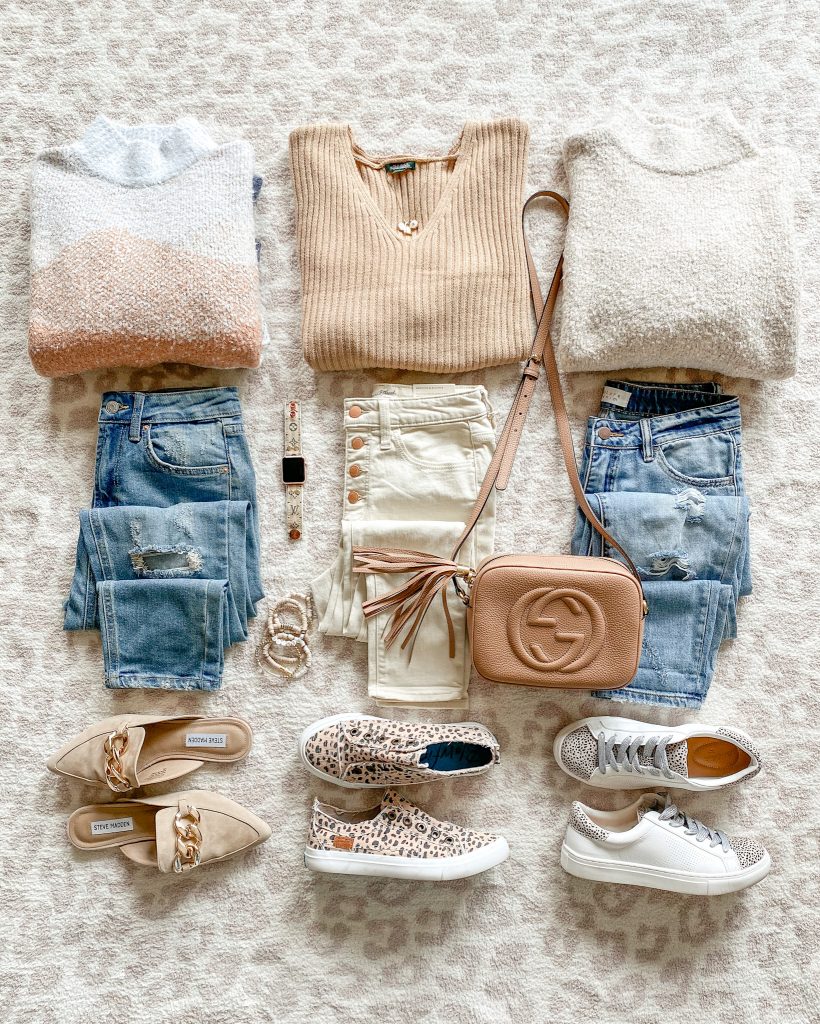 Sparklebands watchband – save 10% code EVERYDAYHOLLY with this LINK!
Custom Bracelets – save 15% code HOLLY15 with this LINK
Far Right Denim – Save 15% Code OCTOBER15 with this LINK
Do you have any favorites? What do you think of the carpenter jeans? Yay or nay?