My Favorite Anti-Aging Skincare Products I Use All Year Round
I get so many questions about my skincare, and what I use to keep my skin fresh all year long. And the secret is that a lot of these products are from Amazon! I have an entire curated list of products that I use for different types of the year. For example, during the winter I use a lot more hydrating products to keep up the moisture. During the summer I will use more dewy and glowy skincare to keep that natural, healthy glow. I am providing you with everything from cleansers, serums, face and body moisturizers, self tanning essentials, sunscreen and more!
For all of my beauty favorites click HERE!
**This post contains affiliate links. All opinions are my own. Thank you for supporting and shopping with me!**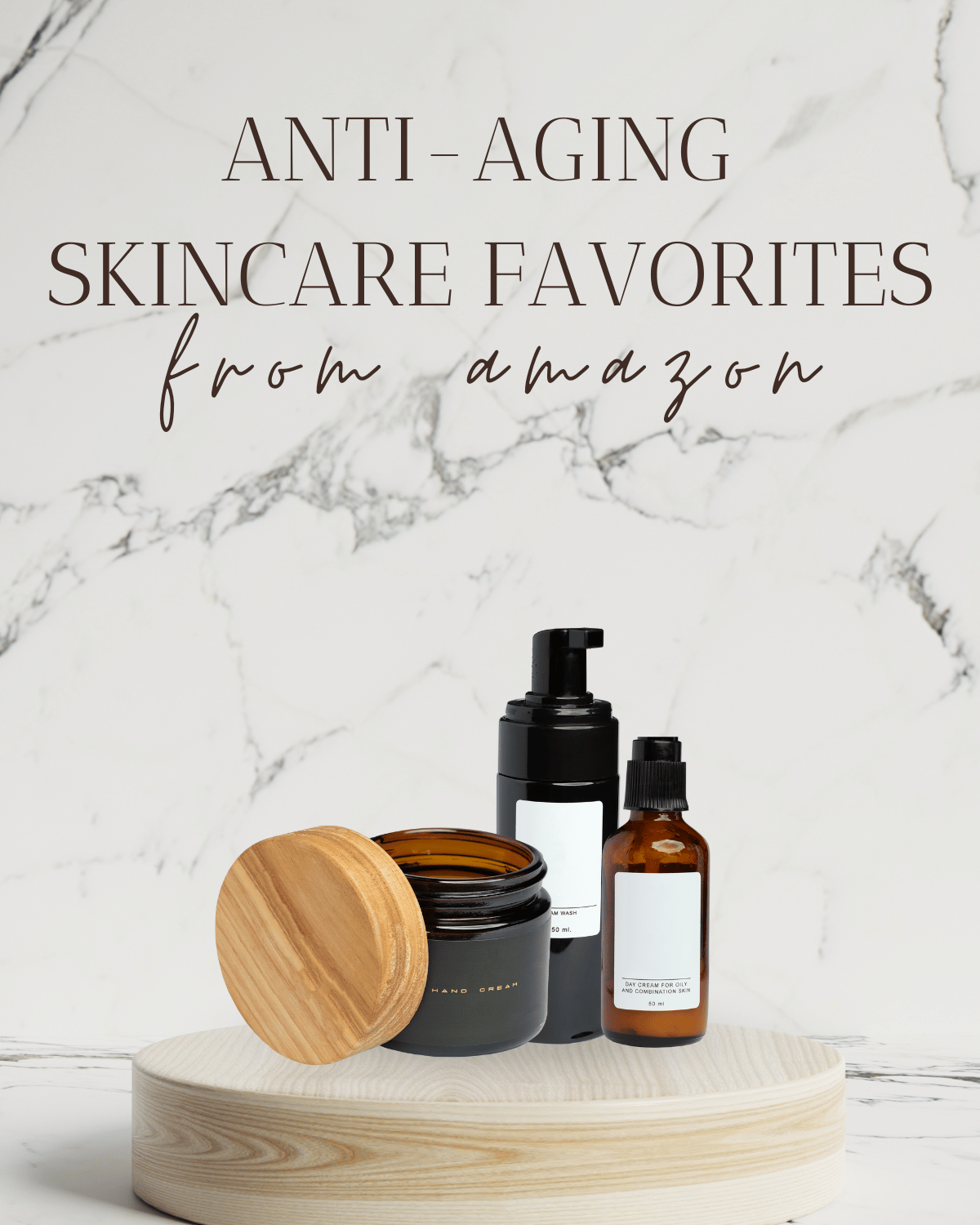 Amazon Skincare | Cleanse the Skin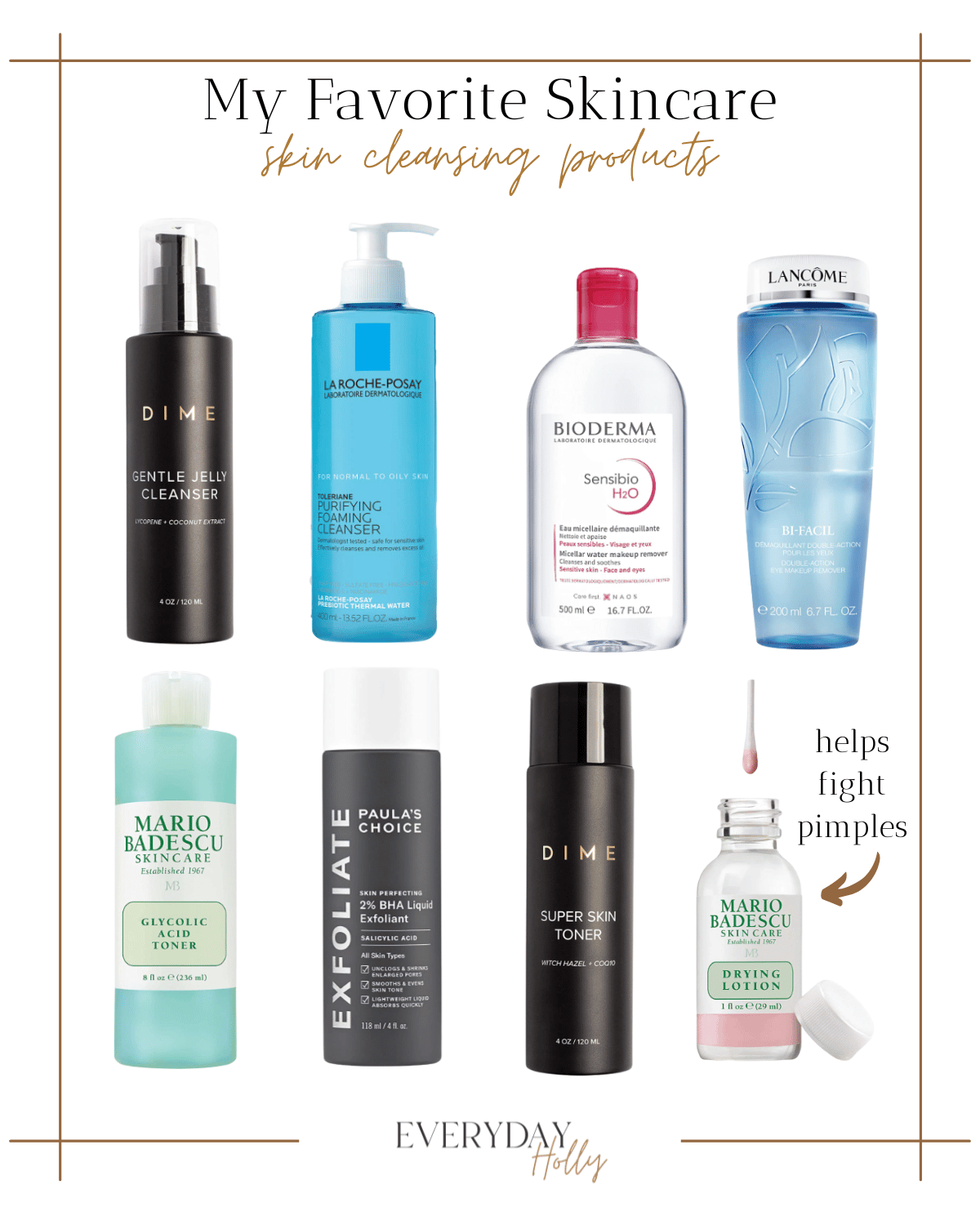 Dime Gentle Cleanser | La-Rosche Posay Cleanser | BioDerma Micellar Water | Lancôme Makeup Remover | Mario Badescu Glycolic Acid Toner | Paula's Choice Exfoliant | Dime Toner | Mario Badescu Drying Lotion
These cleansers and toners are the best products for deep cleaning, and removing makeup. When I wash my face I want to make sure that it is getting fully cleansed of makeup, and excess dirt and oil that builds up throughout the day. I usually start with a makeup cloth like a Makeup Eraser or a the less expensive version on Amazon Erase your Face. When removing eye makeup, make sure to be gentle and do not tug on the skin. I like to use the Micellar Water or the Lancôme Makeup Remover on a cotton pad to really get the eyeshadow, concealer, and powder from around the eyes.
For DIME Skincare, make sure to use click the direct item link above for a greater discount + use CODE: EVERYDAYHOLLY20 for 20% off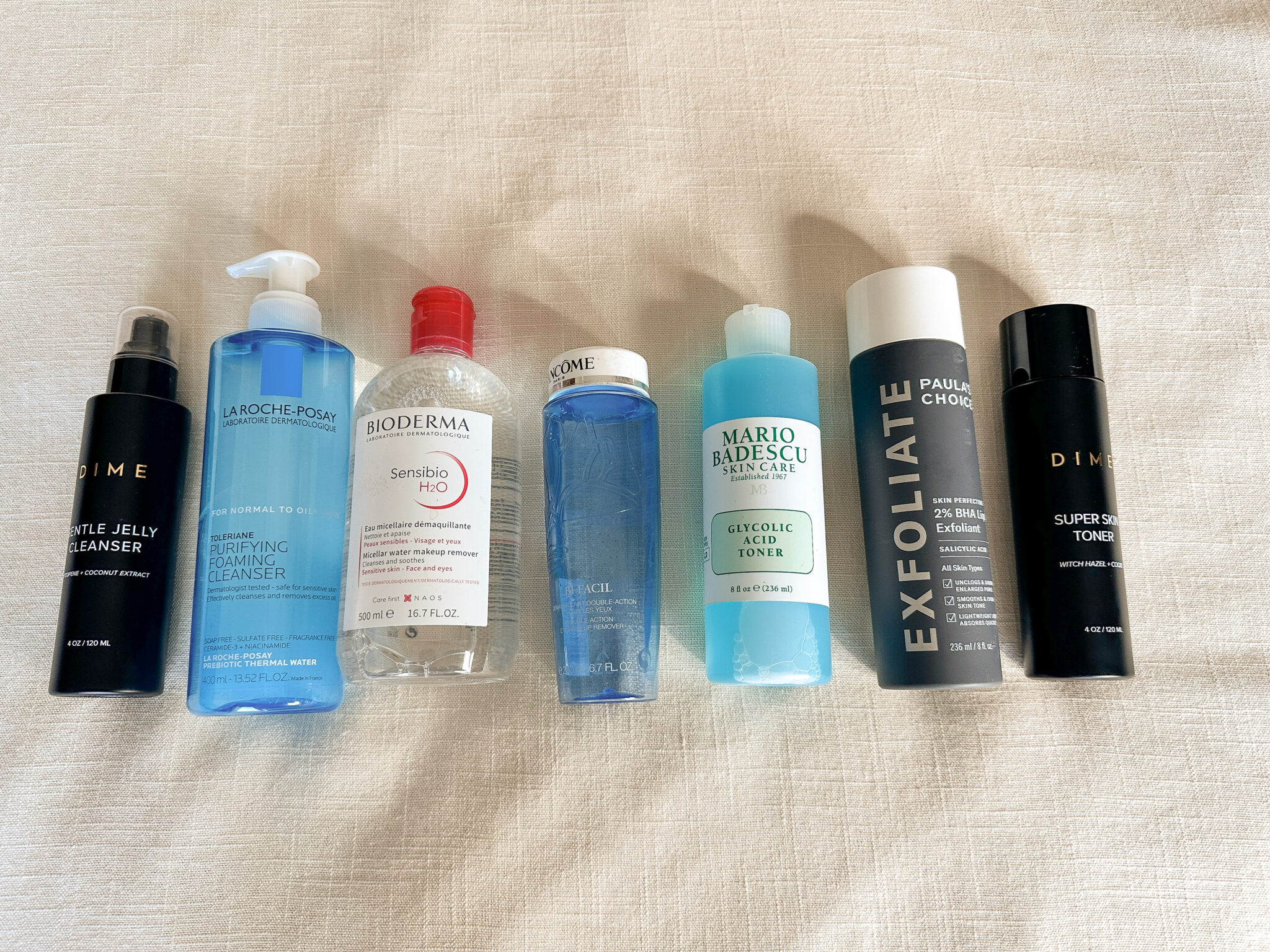 DIME Skincare
SHOP DIME SKINCARE BUNDLES HERE
Use code: EVERYDAYHOLLY20 for 20% off
You can find a few Dime products on Amazon. However, for an additional 20% off of already reduced bundles, the best way to shop is with the link above. You can get individual items, or bundles for a cheaper price than anywhere else. I fully stand behind the skincare products as I have been using them for years! If you are looking for a simple, clean, effective, and comprehensive skin care routine, I recommend the DIME deluxe Anti-Aging Bundle or the DIME The Complete Bundle!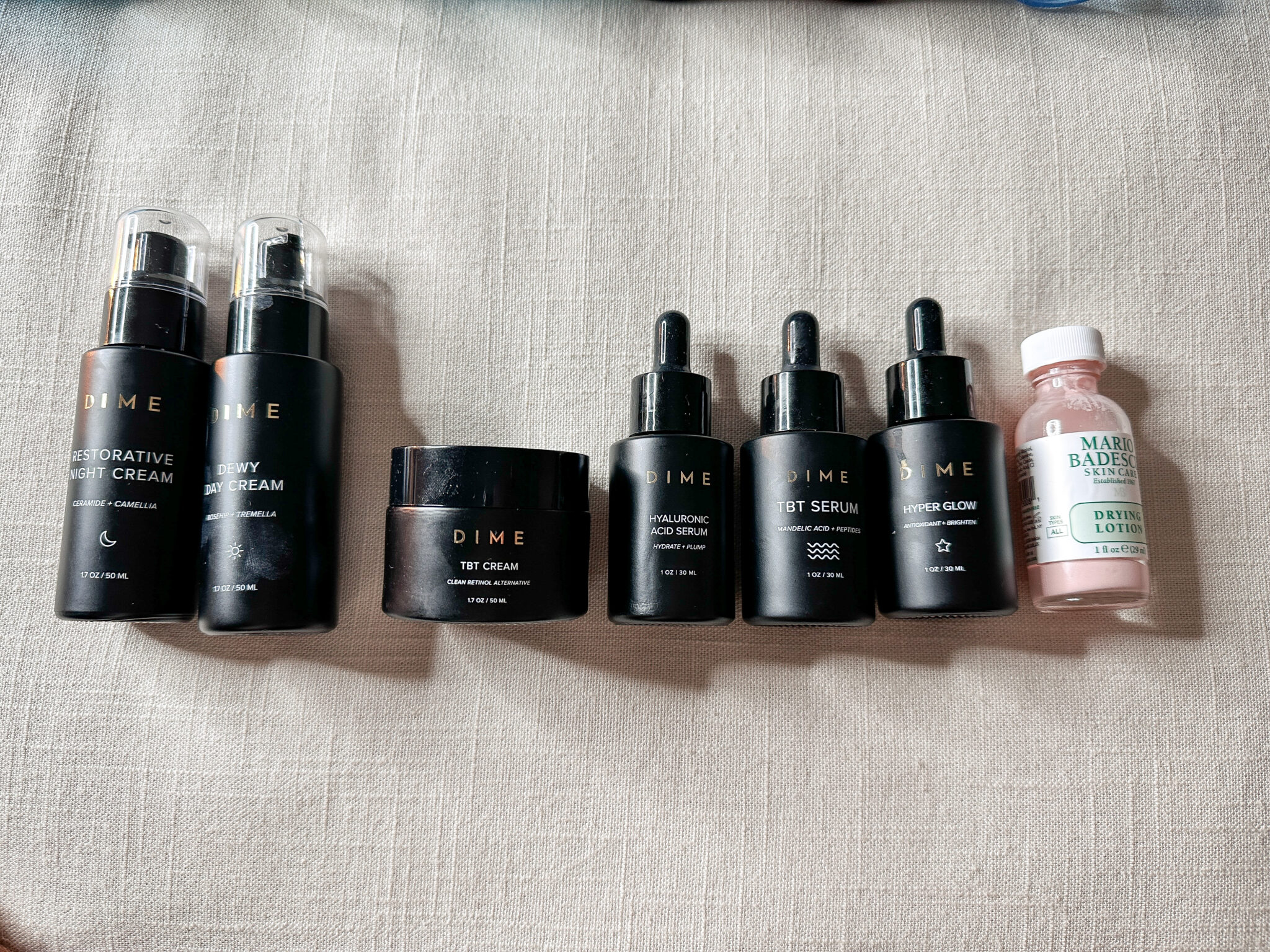 Amazon Skincare | Eye Cream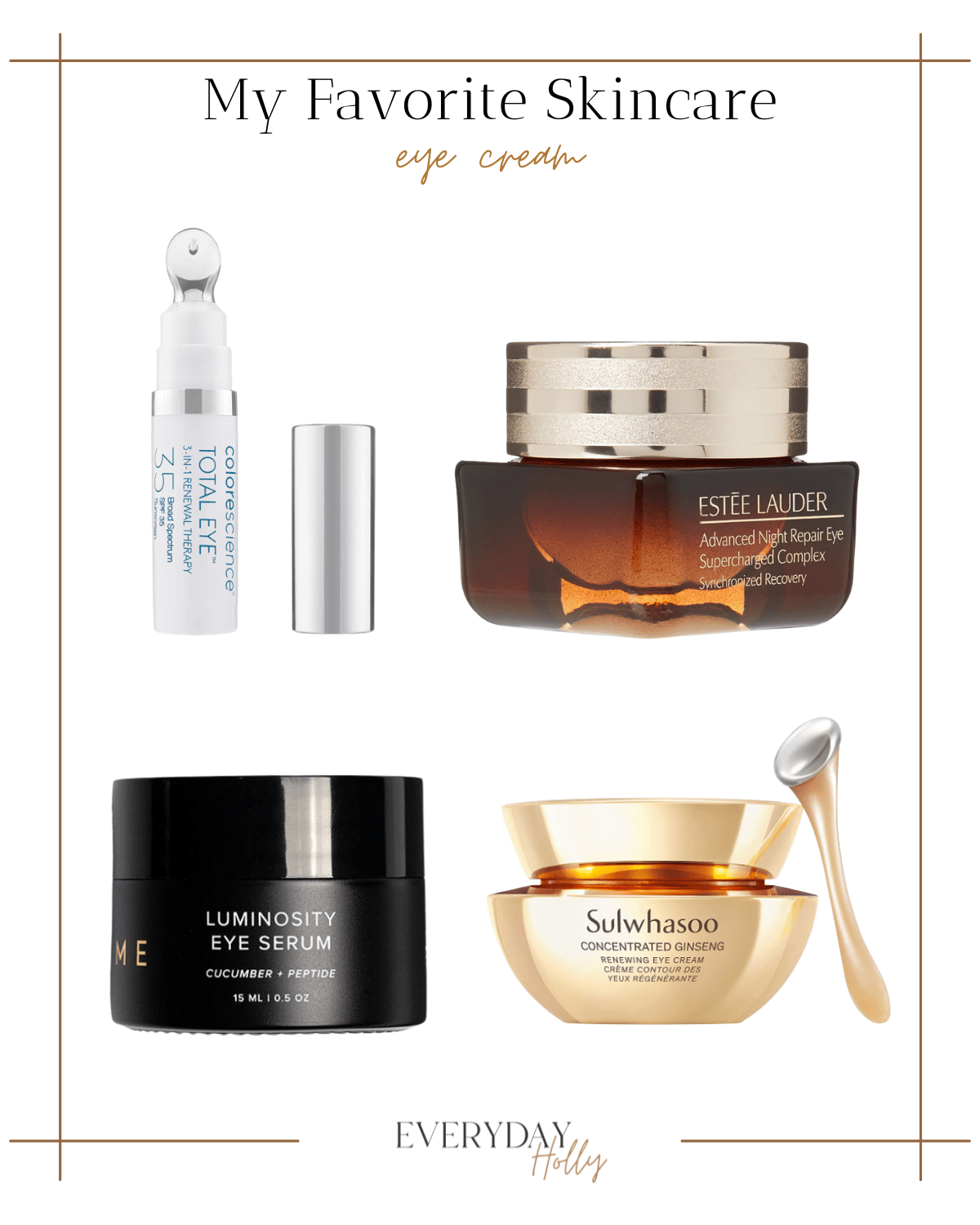 Colorscience 3-in-1 Eye Cream | Estee Lauder Night Repair Eye Cream (62% off) | Dime Luminosity Eye Serum | Sulwhasoo Renewing Eye Cream
Use code: EVERYDAYHOLLY20 for 20% off Dime Eye Serum
One of the biggest key tips when it comes to my ladies, and skincare… you must use eye cream! It is a step you cannot miss and these ones above work wonders. These eye creams come in a range of prices, and truly help tighten and get rid of wrinkles and fine lines. I recommend starting to use eye cream in your earlier years to help combat those fine lines around the eyes!

Amazon Skincare | Body Moisturizers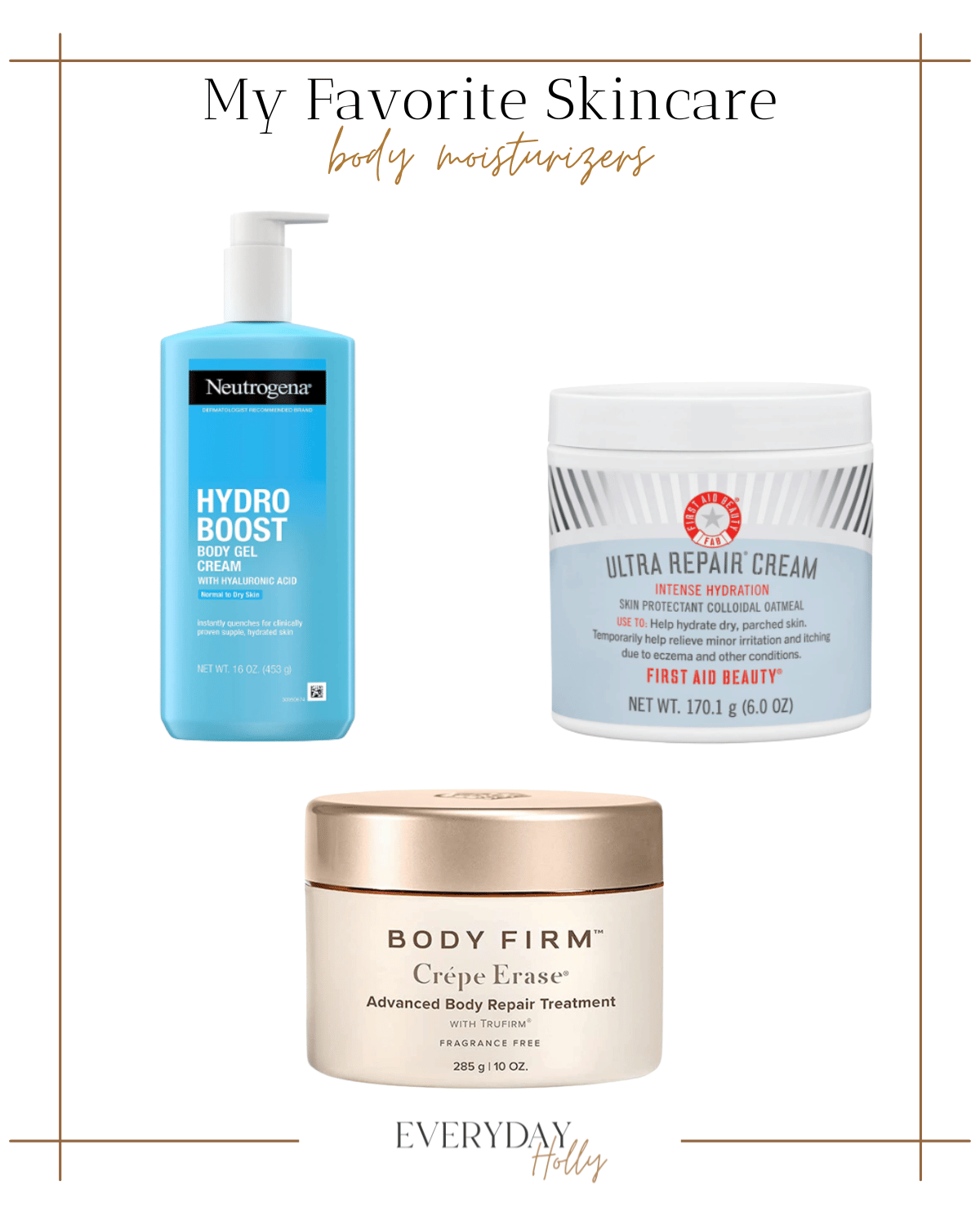 Neutrogena Hydroboost Body Gel Cream | First Aid Beauty Ultra Repair Cream | Body Firm Crepe Erase Body Cream
Next on the list of favorites, is body creams! I use these up so much during the winter because as the air gets more dry, so does my skin. If you are looking for deep moisture, I like to cover my body in these right after my shower to keep the skin hydrated all season long! Crepe Erase is a game changer! Bye-bye creppy skin!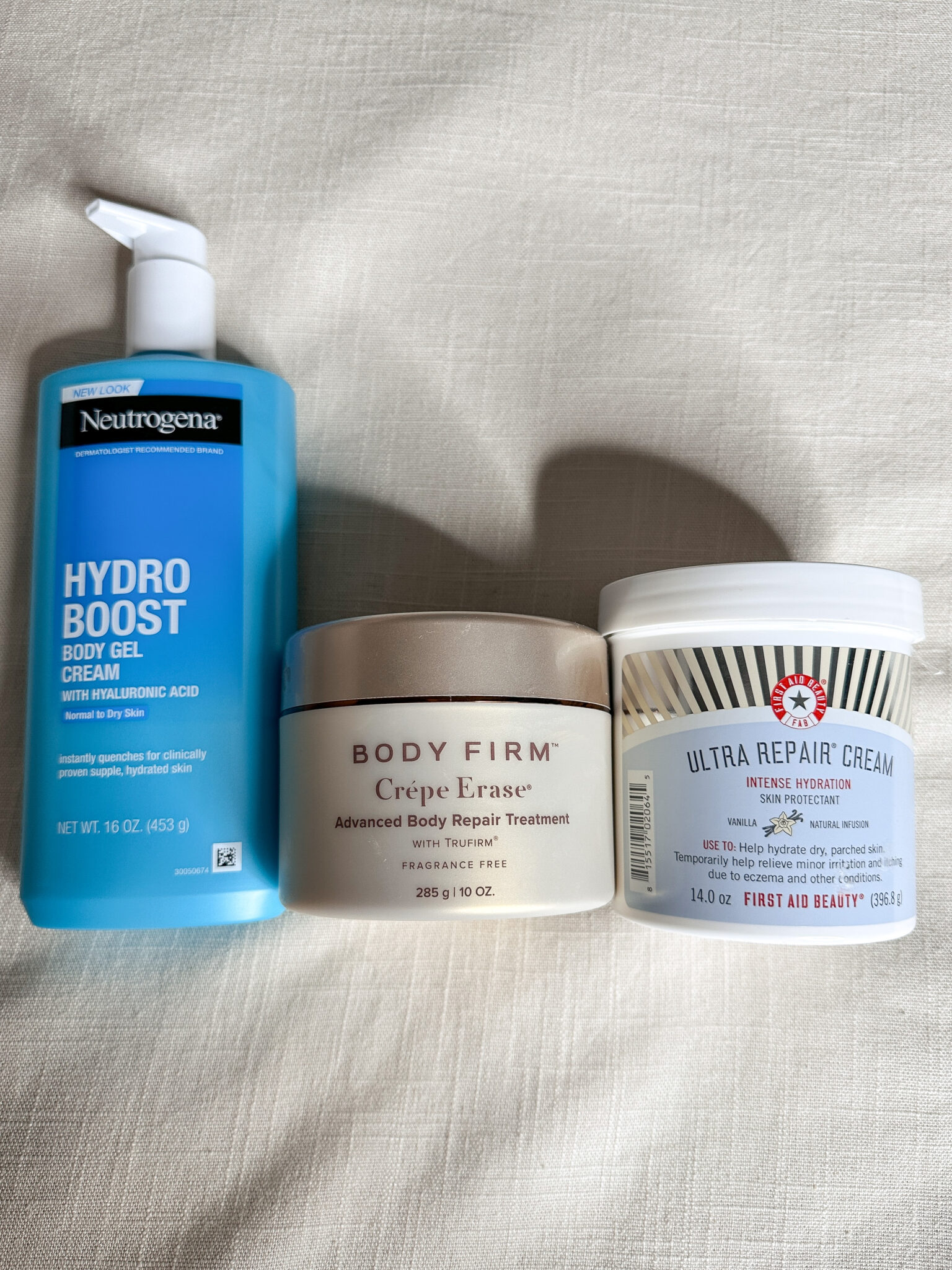 Sunscreen Favorites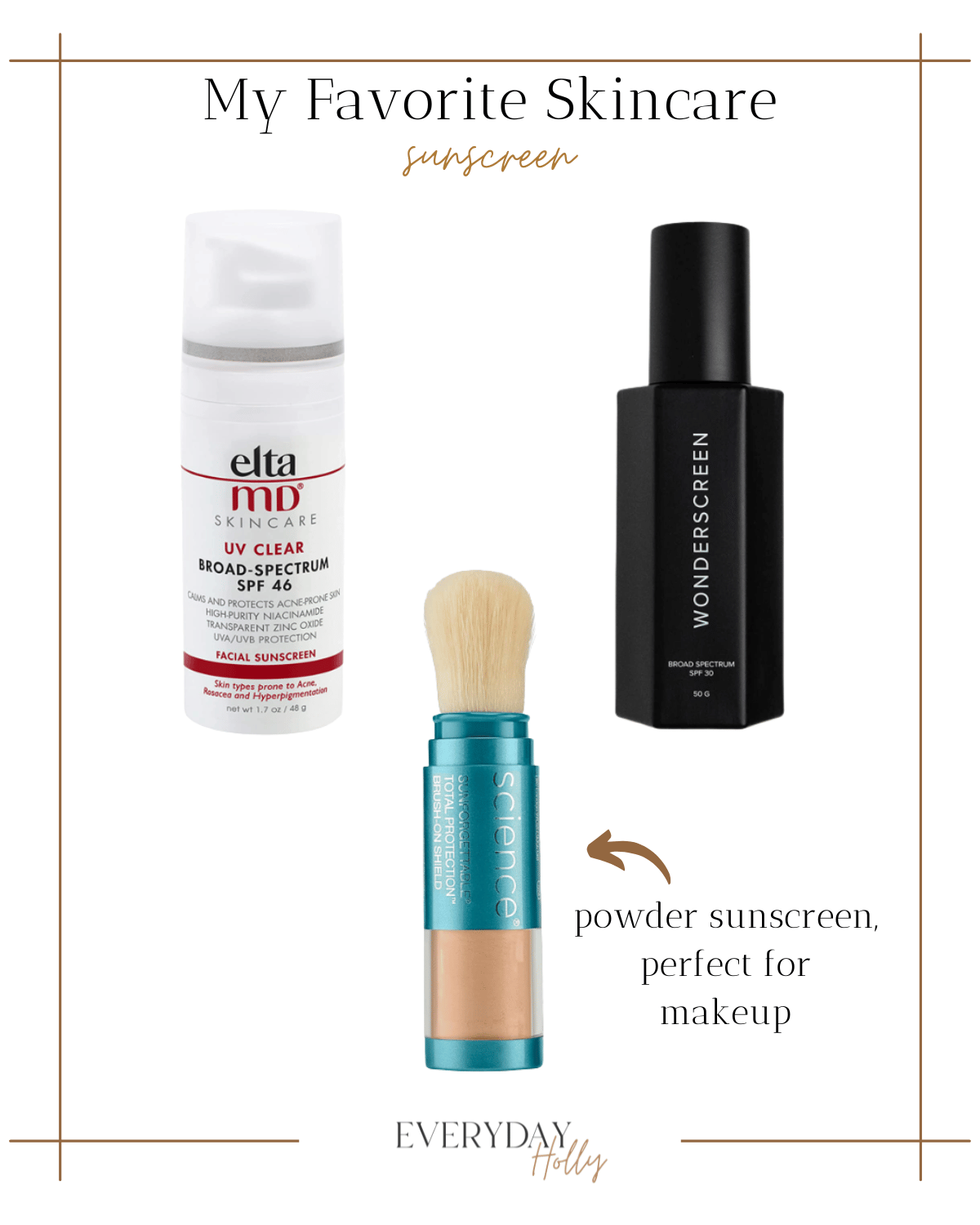 Elta MD Sunscreen | Dime Wonderscreen | Colorscience Tinted Powder Sunscreen
Use Code: EVERYDAYHOLLY20 for 20% off Dime Wonderscreen
As we are coming into Spring time, this is more important than ever. If you are not wearing sunscreen everyday, or at least when you are out in the sun, you need to starting now. This prevents aging by so much, dark spots, and more. Trust me, yourself in 10 years will appreciate you!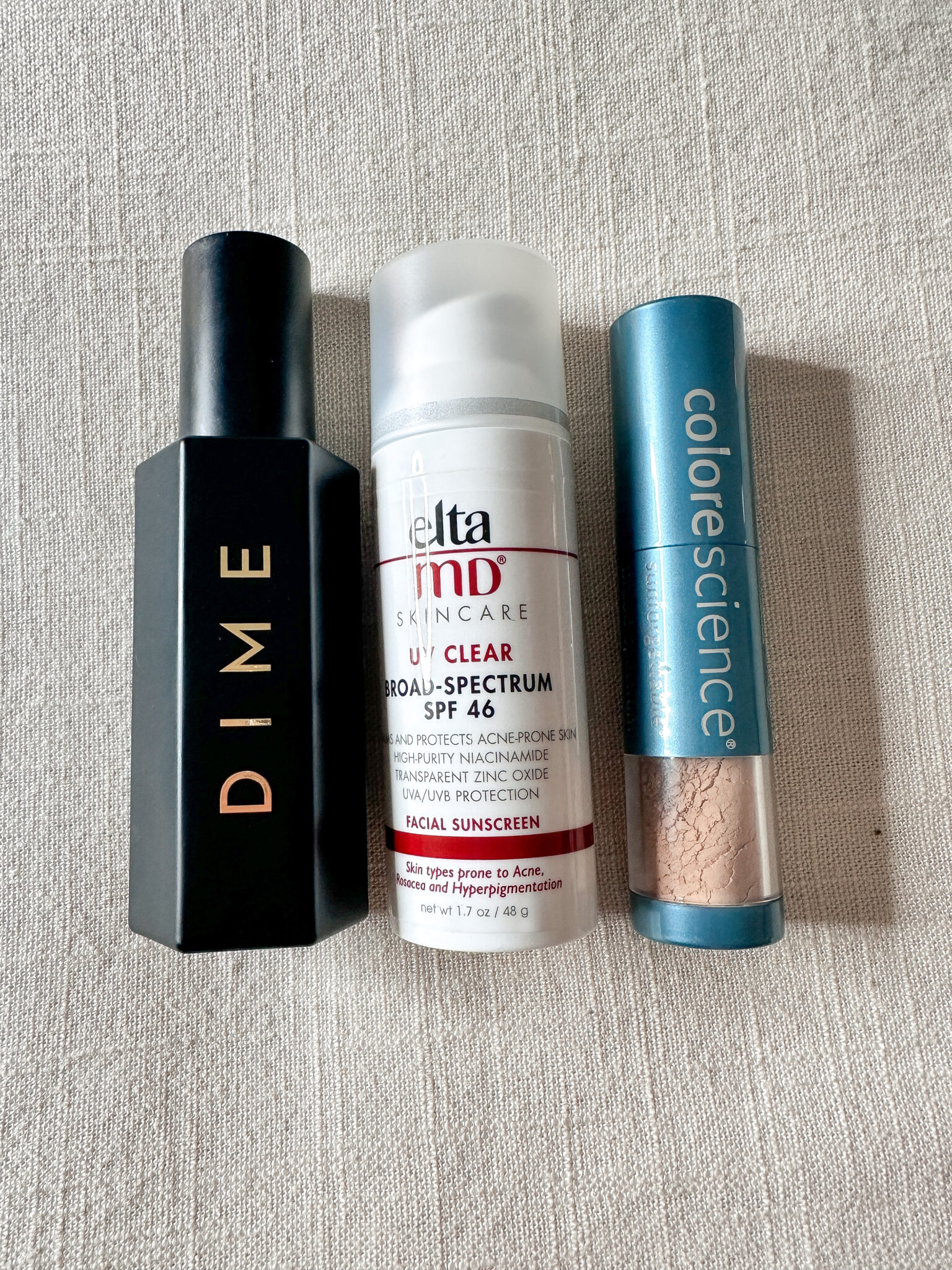 Self Tanning Must-Haves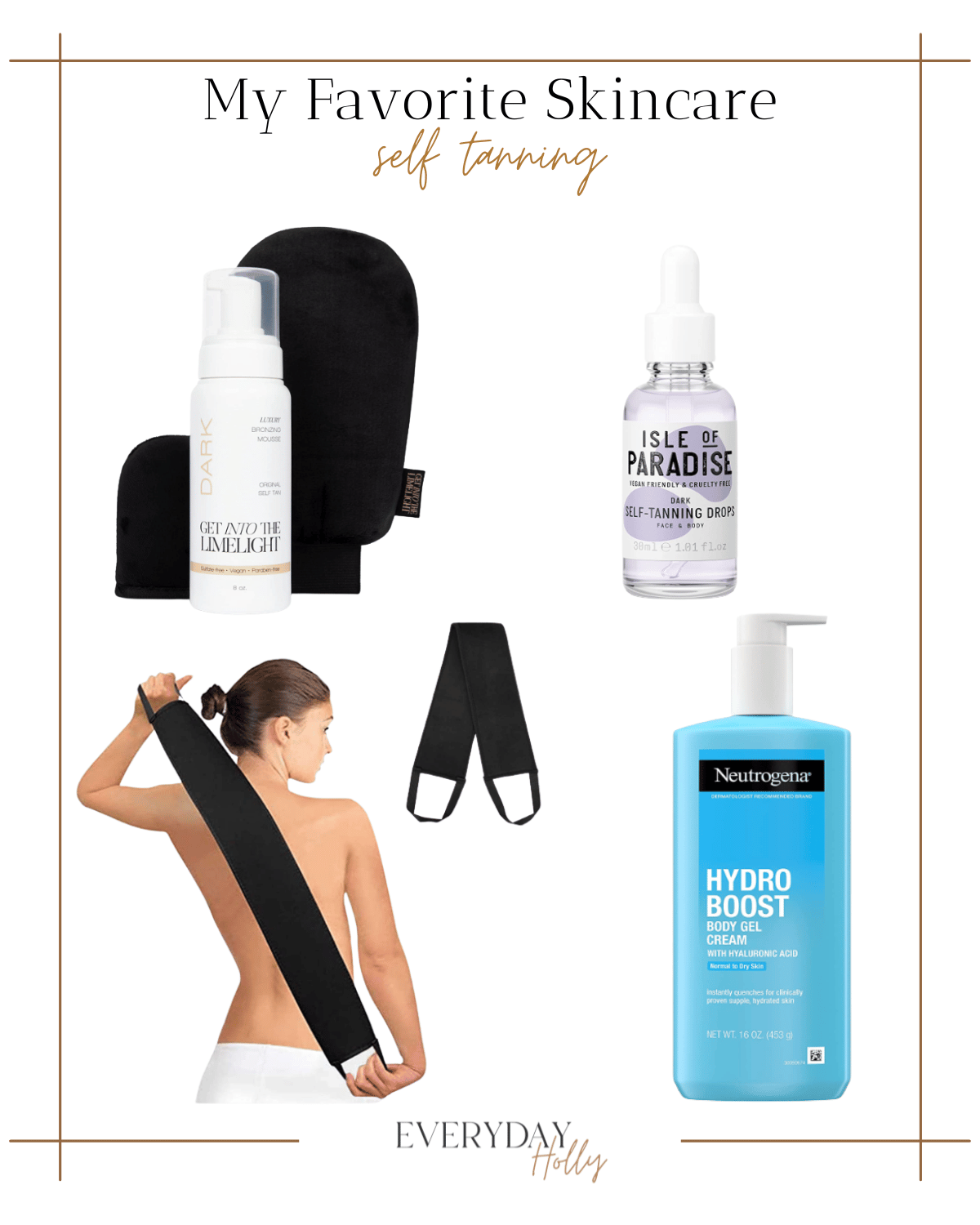 Get Into the Limelight Self Tanning Kit | Isle of Paradise Self Tanning Drops | Back Self Tanning Mitt | Neutrogena Hydroboost Body Gel
You know I love a good tan all year long and these self tanning items are my ride-or-die's. This back self-tanning mitt is absolutely game changing, because you can tan yourself without missing any spots. You'll never have to ask someone to tan your back every again! I like to hydrate my skin about a day after I apply my tanner, this allows the tan to last longer.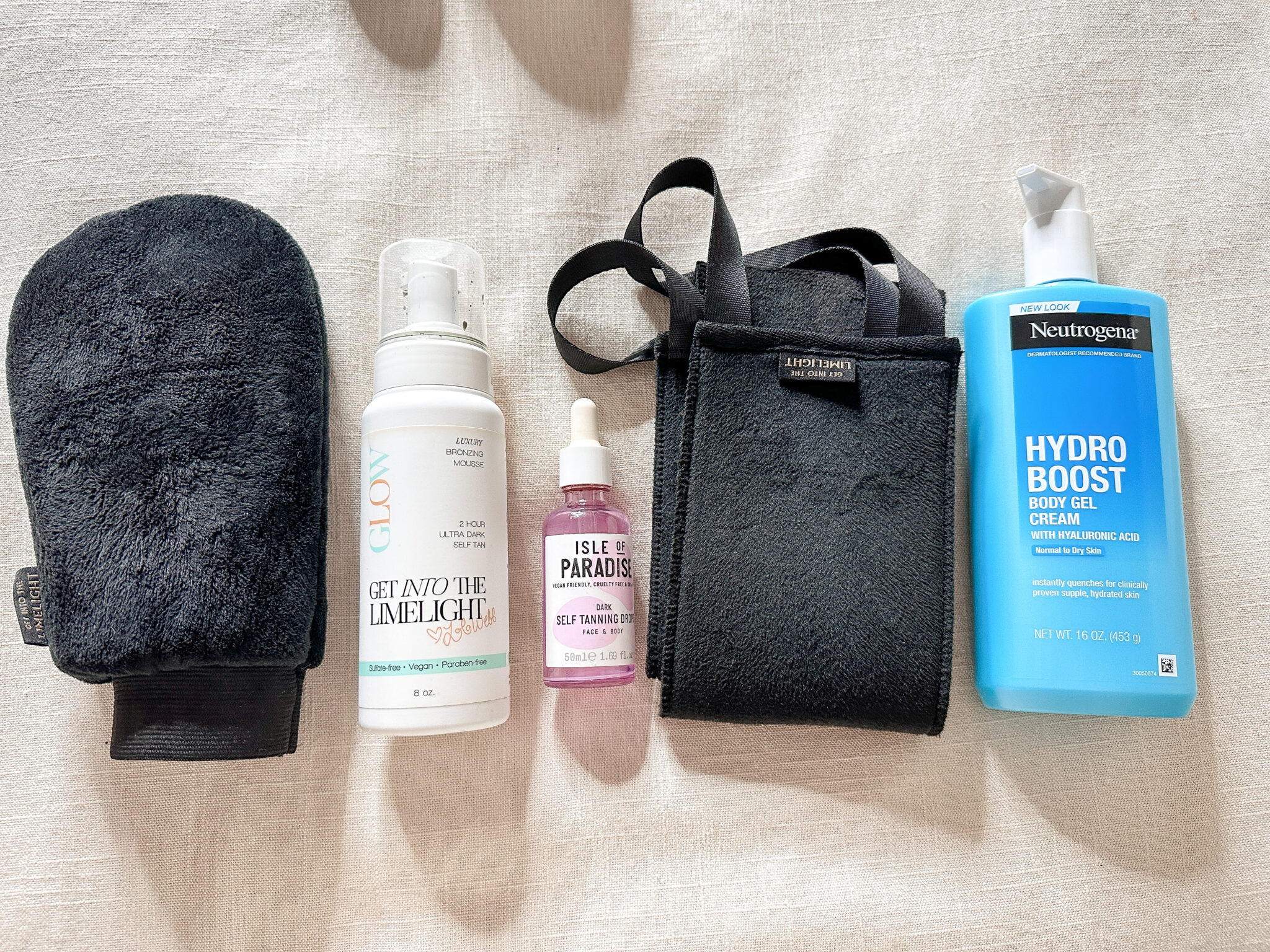 Shop More of My Favorites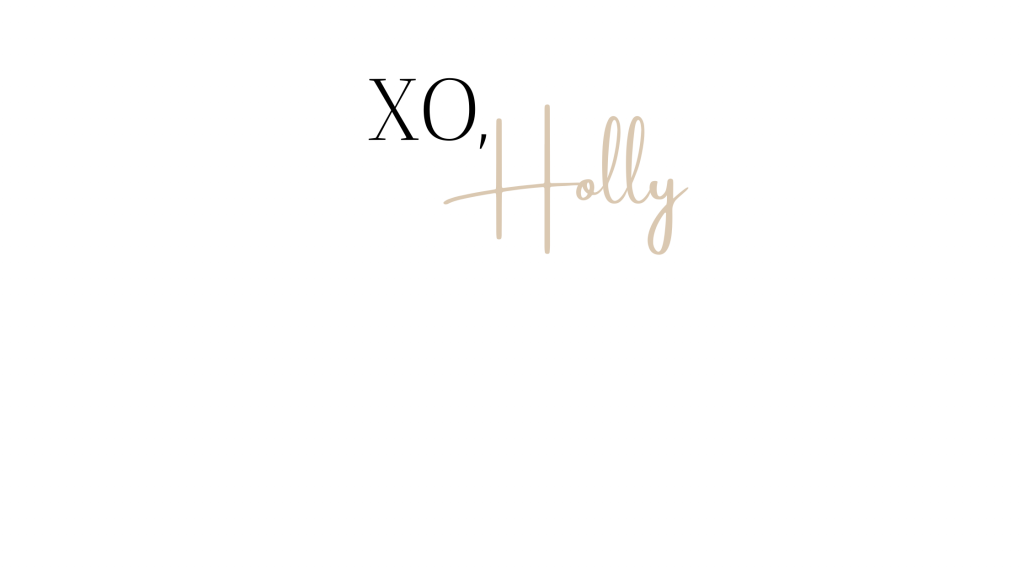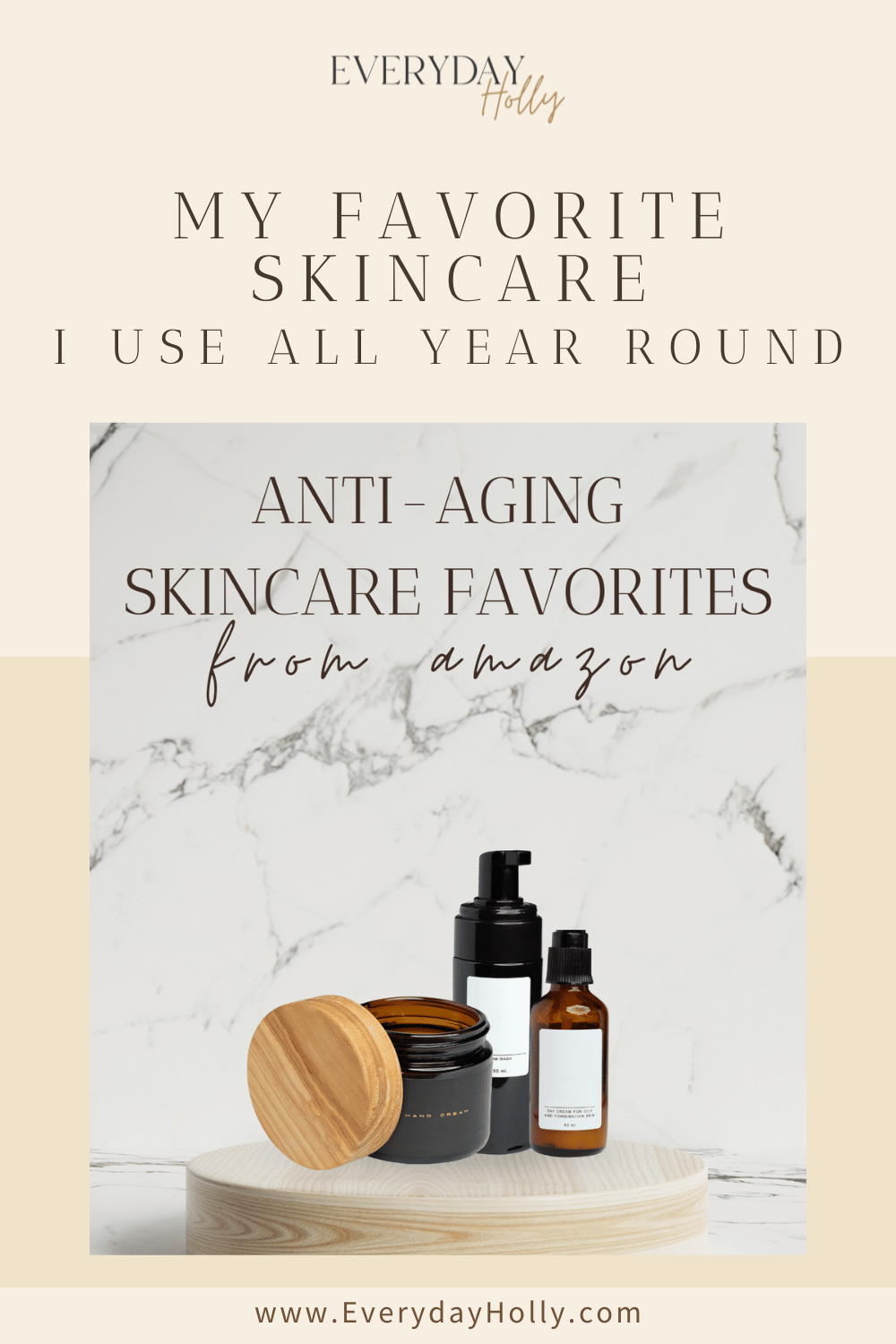 SHOP THE POST